Final Evaluation of the "Deployment of Renewable Energy and Improvement of Energy Efficiency in the Public Sector" project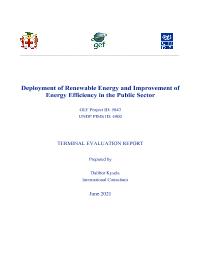 Evaluation Plan:

Evaluation Type:

Final Project

Planned End Date:

02/2021

Completion Date:

07/2021

Status:

Completed

Management Response:

No

Evaluation Budget(US $):

35,000
Title
Final Evaluation of the "Deployment of Renewable Energy and Improvement of Energy Efficiency in the Public Sector" project
Atlas Project Number:

00087974

Evaluation Plan:
2017-2021, Jamaica
Evaluation Type:
Final Project
Status:
Completed
Completion Date:
07/2021
Planned End Date:

02/2021

Management Response:
Yes

UNDP Signature Solution

:
Corporate Outcome and Output (UNDP Strategic Plan 2018-2021)

1. Output 2.5.1 Solutions developed, financed and applied at scale for energy efficiency and transformation to clean energy and zero-carbon development, for poverty eradication and structural transformation

SDG Goal

Goal 9. Build resilient infrastructure, promote inclusive and sustainable industrialization and foster innovation

SDG Target

9.4 By 2030, upgrade infrastructure and retrofit industries to make them sustainable, with increased resource-use efficiency and greater adoption of clean and environmentally sound technologies and industrial processes, with all countries taking action in accordance with their respective capabilities

Evaluation Budget(US $):

35,000

Source of Funding:
Project
Evaluation Expenditure(US $):

14,880

Joint Programme:
No
Joint Evaluation:

No

Evaluation Team members:

| Name | Title | Email | Nationality |
| --- | --- | --- | --- |
| Dalibor | Mr | dkysela@gmx.at | |

GEF Evaluation:

Yes

| | |
| --- | --- |
| GEF Project Title: | "Deployment of Renewable Energy and Improvement of Energy Efficiency in the Public Sector" |
| Evaluation Type: | Terminal Evaluation |
| Focal Area: | Climate Change |
| Project Type: | MSP |
| GEF Phase: | GEF-5 |
| GEF Project ID: | 5843 |
| PIMS Number: | 4900 |

Key Stakeholders:
UNDP, GEF, Ministry of Science Energy and Technology, Petroleaum Corporation of Jamacia
Countries:

JAMAICA
Recommendations
1

UNDP MCO in cooperation with the Government of Jamaica and the Development Bank of Jamaica should consider further capacity building for local private ESCOs to learn the skills and concepts that they need to successfully carry out performance contracting.

2

UNDP MCO should pursue engagement with the Ministry of Health and in order to secure funds for procurement and installation of solar water heaters for the project beneficiary HCFs.

3

UNDP MCO should ensure that the RE/EE projects are based on a clear and explicit theory of change and coherent results framework.

4

UNDP CO should ensure that indicators for the project results and their target values are correctly formulated to measure delivery at the project output and outcome levels and that progress towards achievement of results is regularly assessed at the level of project outputs.

5

The UNDP MCO should consider creation of a database of national experts in RE and EE linked to national post-secondary educational institutions and professional associations in order to have a pool of national RE/EE experts at hand and shorten the recruitment of project personnel for RE/EE projects.

6

For GEF-funded projects, UNDP MCO and the national implementing partners should track actual levels of co-financing during implementation and report the actually realized levels of co-financing in annual PIRs.