Mid-term Evaluation of conservation of critical Wetland PAs and linked landscapes Project (00076965)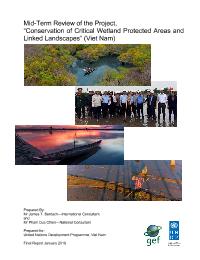 Evaluation Plan:

Evaluation Type:

Mid Term Project

Planned End Date:

01/2019

Completion Date:

01/2019

Status:

Completed

Management Response:

Yes

Evaluation Budget(US $):

30,000
Title
Mid-term Evaluation of conservation of critical Wetland PAs and linked landscapes Project (00076965)
Atlas Project Number:

00076965

Evaluation Plan:
2017-2021, Viet Nam
Evaluation Type:
Mid Term Project
Status:
Completed
Completion Date:
01/2019
Planned End Date:

01/2019

Management Response:
Yes

Focus Area

:
Corporate Outcome and Output (UNDP Strategic Plan 2018-2021)

1. Output 2.4.1 Gender-responsive legal and regulatory frameworks, policies and institutions strengthened, and solutions adopted, to address conservation, sustainable use and equitable benefit sharing of natural resources, in line with international conventions and national legislation

SDG Goal

Goal 12. Ensure sustainable consumption and production patterns
Goal 15. Protect, restore and promote sustainable use of terrestrial ecosystems, sustainably manage forests, combat desertification, and halt and reverse land degradation and halt biodiversity loss
Goal 9. Build resilient infrastructure, promote inclusive and sustainable industrialization and foster innovation

SDG Target

12.4 By 2020, achieve the environmentally sound management of chemicals and all wastes throughout their life cycle, in accordance with agreed international frameworks, and significantly reduce their release to air, water and soil in order to minimize their adverse impacts on human health and the environment
15.1 By 2020, ensure the conservation, restoration and sustainable use of terrestrial and inland freshwater ecosystems and their services, in particular forests, wetlands, mountains and drylands, in line with obligations under international agreements
9.4 By 2030, upgrade infrastructure and retrofit industries to make them sustainable, with increased resource-use efficiency and greater adoption of clean and environmentally sound technologies and industrial processes, with all countries taking action in accordance with their respective capabilities

Evaluation Budget(US $):

30,000

Source of Funding:
Project budget
Evaluation Expenditure(US $):

30,000

Joint Programme:
No
Joint Evaluation:

No

Evaluation Team members:

| Name | Title | Nationality |
| --- | --- | --- |
| James T. Berdach | Independent Consultant | |
| Pham Duc Chien | Independent Consultant | |

GEF Evaluation:

Yes

| | |
| --- | --- |
| GEF Project Title: | Conservation of critical Wetland PAs and linked landscapes Project |
| Evaluation Type: | Mid-term Review |
| Focal Area: | Biodiversity |
| Project Type: | FSP |
| GEF Phase: | GEF-5 |
| GEF Project ID: | 4760 |
| PIMS Number: | 4537 |

Key Stakeholders:
Ministry of Natural Resources and Environment (MONRE)
Countries:

VIET NAM
Lessons
Findings
1.

III. FINDINGS

A. Project Design and Strategy

Two key elements of the project design process, which are requisite for all GEF-supported projects, and which can help to ensure project relevance and strong support among stakeholders, are (i) building on lessons learned from other relevant projects, and (ii) taking the views, perspectives, and knowledge of stakeholders into account as part of the project design process. The Project Document (ProDoc) presents the general methodology employed during the process of designing the project. In Section 2.3.1 of the ProDoc ("Coordination and Related Initiatives"), similar or related projects are discussed, and it is mentioned that lessons have been drawn from these projects, to inform the design of the Wetland PA project. However, no specific lessons are presented or cited, so it is difficult to ascertain the extent to which such lessons may have contributed to project design. In the case of stakeholder engagement, the Stakeholder Involvement Plan (Annex 3 of the ProDoc) describes the stakeholders who were involved in project conceptualization and design, and the mechanisms through which they were engaged during the preparation of the project (e.g., series of workshop/consultations, field visits, meetings with stakeholders and communities) are presented. Thus there is reasonable evidence that stakeholders were adequately consulted during the design of the project. During our review, it was noted that only very minor changes in the SRF were made, from the original version presented in the ProDoc, to the revision presented in the Project Inception Report—this suggests that the assessment of the framework and the feedback on the SRF may have been somewhat limited during the Inception phase.




Tag: Relevance Gender Equality Gender Mainstreaming Programme/Project Design Results-Based Management Theory of Change Natural Resouce management Protected Areas

2.

B. Progress Towards Results

The MTR team is tasked to provide an assessment of the project's progress towards its objective and each outcome. The assessment of progress is based on data provided in the PIRs, supplemented by the findings of the MTR mission, and interviews with the project stakeholders. To facilitate this assessment, and following UNDP/GEF guidance, the MTR team has prepared an analytical matrix to assess progress made by the project towards achieving the intended results (Table 5). The matrix summarizes the progress towards the end-of-project targets for the project objective, and for each of the two project outcomes. The information which has been entered into the matrix enables an assessment of the level of achievement, at the midterm, for each indicator that applies to the project objective and the project outcomes. Based on the assessment of the level of achievement, a rating has been assigned for each indicator. The ratings use a color-coded "traffic light" system to highlight the relevant cells of the matrix. The system is structured as follows:a) GREEN: target has already been achieved; b) YELLOW: target is partially achieved or on-track to be achieved by the end of the project; or c) RED: target is at high risk of not being achieved by the end of the project and needs attention. In order to adequately interpret the findings reflected in the "progress towards results" matrix, additional explanation is provided in the paragraphs below.




Tag: Protected Areas Challenges Efficiency Policies & Procedures Project and Programme management Results-Based Management Country Government

3.

2. Analysis of Outcome 1

The main intended purpose of Outcome 1 activities is to establish two new WPAs and ensure that the managers and stewards of the WPAs have adequate capacity to manage them effectively. Given the fact that the statement for Outcome 1 repeats part of the project objective statement, it is not surprising that the analysis of progress for this outcome mirrors the findings for the objective. Progress made towards accomplishing this outcome has included: • success in advancing changes to major wetlands-related policies, laws and plans; • conducting a range of training programs and related activities aimed at strengthening stakeholder capacity for more effective management and protection of wetlands; and • completing profiles for each of the two WCAs, including details about capacity needs for effectively managing them. Table 5. Progress Towards Results Matrix (Achievement of Outcomes against End-of-project Targets) pg: 16-24.

While these aspects of progress for Outcome 1 are significant. There are also areas where weaknesses have emerged, including the delay to yet establish the two WCAs; setting up feasible mechanisms for sustainable financing for the operation of the WCAs (though some preliminary identification of financing mechanisms has been accomplished); and completing the required METT tracking tools




Tag: Effectiveness Operational Efficiency Institutional Strengthening National Institutions

4.

3. Analysis of Outcome 2

Outcome 2 aims to ensure that conditions favorable for preserving wetlands biodiversity will be maintained, not only within the WCAs themselves, but also, within the broader surrounding connected landscape. As was the case for Outcome 1, while indicators are somewhat different, the accomplishments for this outcome generally support the achievement of the project objective. The project reports that valuation of ecosystem goods and services has been completed—the valuation studies are a tool which can be used to provide justification for provincial governments to investment more in preserving wetlands and surrounding connected landscapes, to protect the important goods and services which they provide. Principal accomplishments to-date include: • steps taken to harmonize and integrate wetland conservation planning within broader provincial development planning, which can reduce threats to wetlands that emanate from within the broader production landscape; and • Measurement of the extent of clam harvesting areas on intertidal mudflats of Thai Thuy wetland to enable monitoring of changes in the area used for harvesting.




Tag: Protected Areas Effectiveness Harmonization Integration Policies & Procedures Results-Based Management Data and Statistics

5.

C. Project Implementation and Adaptive Management

1. Management Arrangements

a. Management Structure: As already mentioned, and as presented in Figure 3, the project is being implemented jointly by two government agencies within MONRE, ISPONRE and BCA (which is a sub-agency of VEA). ISPONRE is the designated NIP, while BCA is the CIP, with ISPONRE responsible for oversight of all project activities, including the implementation of activities by the BCA, and activities in the two project provinces. ISPONRE is responsible for mobilizing all national and international inputs and collaborating with other MONRE agencies to support project implementation, and organizing project activities in accordance with the agreed work plan. As the CIP, the BCA is accountable to the NIP and MONRE for the successful implementation of its assigned activities in NIP-CIP contract and ProDoc was approved by MONRE. While the PMU is the project's operational arm within ISPONRE, the operations center with BCA is designated as a sub-PMU. While these organizational arrangements are set forth in the ProDoc, it was reported that both the PMU and the sub-PMU have had problems in claiming VAT refund from the government as only project owner (NIP) can claim for tax refund . Up to now, the PMU has got VAT refund in October 2018, subPMU has got VAT refund for period from Oct 2015 to Sept 2016 but now the sub-PMU is working with tax authorities to claim for tax refund for Oct 2016 to Sept 2018.




Tag: Protected Areas Efficiency Oversight Project and Programme management Operational Services

6.

2. Work Planning

a. Project start-up

The project officially started on 9 June 2015, and an inception workshop was held on 9 September 2015.9 The first PSC meeting was held on 9 March 2016.

b. Project Implementation Plan and Annual Work Plans

To the best knowledge of the consultants, no Project Implementation Plan (PIP) was prepared for the project; however an overall workplan is presented in the Inception Report. Project Implementation Review (PIR) reports were prepared for 2016, 2017 (draft), and 2018. Annual Work Plans (AWPs) were produced for 2016 and 2017. The Project Steering Committee (PSC) has met three times—in 2016, 2017, and 2018—and minutes of the three meetings (in Vietnamese) have been prepared.




Tag: Challenges Efficiency Human and Financial resources Oversight Policies & Procedures Project and Programme management

7.

3. Finance and Co-Finance

Various reports were referred to in gathering data on the financial management of the project. These included Annual Progress Report, Annual Financial Report, and "micro-assessment report." The project financing and cofinancing commitments, and performance to-date, are shown in Table 6

Information gathered during consultations was helpful in understanding financial management processes for the project. As stipulated in contractual documents, budget flow for project expenses goes from UNDP to ISPONRE to BCA. ISPONRE and BCA have their PMU and sub-PMU, respectively, and each of these has an accountant, who monitors financial issues. ISPONRE and BCA have entered into contracts with coordinators in each of the two provinces (one person per province), who are paid directly. All activities implemented in the two provinces are managed by ISPONRE or BCA; contracts are executed with partners in each of the two provinces by the two agencies. Several partners are named as cofinanciers for the project. However, these partners rarely met with project financial personnel to discuss their commitments to the project. This is because their contributions are for the most part in-kind. For example, they may contribute to the project by attending workshops or meetings, or commenting on documents and project reports. They may also send experts to implement or participate in other activities of the project.




Tag: Challenges Efficiency Government Cost-sharing Operational Efficiency Project and Programme management

8.

4. Project-Level Monitoring and Evaluation Systems

The ProDoc presents a detailed Monitoring and Evaluation (M&E) implementation plan with a total indicative cost of USD102,000. The M&E plan details actions which are required at various stages throughout the project cycle—at inception, quarterly and annual monitoring, at the midterm, and at the completion of the project. M&E functions which are listed in the ProDoc, and which are to have been conducted up through the time of the MTR, are to consist of the following: Inception Workshop and Inception Report; Measurement of Means of Verification for Project Purpose Indicators (with indicators to be finalized in Inception Phase and Workshop, and evaluated annually prior to ARR/PIR and as input to annual work plans); Quarterly progress reports; Combined Delivery Reports (CDRs); Risks Log; and Lessons Learned Log. Another specific M&E tool, required for updating by GEF at the time of the MTR, is the METT (tracking tool). A number of the documents listed have not been made available to the MTR consultants. Furthermore, where the required information is presented, it is not detailed and does not allow careful evaluation (e.g., lessons learned and risk "logs" are incorporated into the PIRs to a very limited degree). These findings lead to a conclusion that many M&E functions may have lacked adequate attention and may not have been completed to the desired degree of rigor.

It was not possible to ascertain how much of the indicated M&E budget of USD 102,000 has been utilized, and whether or not this budget is sufficient to fully cover all M&E activities. Anecdotally, the MTR consultants have expressed their opinion that the resources allocated for their engagement to conduct the MTR are not adequate to cover the full scope of services required under the TORs. It was also noted that funds for the METT are not included in the M&E budget, though METT must certainly be regarded as an M&E function.No formal system for participatory monitoring has been established for the project. However, through various project-supported functions (e.g., training events, workshops, etc.), feedback is obtained from participants which could contribute to the M&E database. One area where there is potential to integrate M&E functions within a national system, is through the wetland and biodiversity website set up and maintained by MONRE. Any M&E data generated through the project can be effectively and efficiently stored and disseminated through the website.




Tag: Protected Areas Challenges Efficiency Gender Equality Gender Mainstreaming Women's Empowerment Monitoring and Evaluation Partnership Policies & Procedures Results-Based Management Country Government Civil Societies and NGOs National Institutions

9.

6. Reporting

Basic project reporting documents which have been provided to the MTR consultants included PIRs, annual reports, and several audit reports. The MTR team did not review quarterly progress reports but PMU personnel have indicated that without submitting these to UNDP, funds would not have been released to the project for advance disbursement, thus it is concluded that these were also prepared. Internal reporting functions such as those mentioned here are regarded to have been carried out to an acceptable level.

7. Communications Effective communications are one of the most important aspects of successful project implementation—without clear channels of freely-flowing information, it is not possible to efficiently coordinate and implement project activities. Also, without effective communications, some key targets of the project cannot be achieved. In evaluating the communications performance of the project, there are two components to consider—internal and external communications. Internal communications refer to communications among project managers. These may include personnel within several different agencies or departments. For the Wetlands PA project, internal communications occur between UNDP, ISPONRE, BCA, PMU, project steering committee, provincial project coordinators, and consultants to the project. External communications refer to communications from the project to other stakeholders. Usually this would include any transfer of information that promotes public awareness of the project, or contributes to knowledge about the subject, namely, the sustainable management of wetlands.




Tag: Efficiency Communication Knowledge management Monitoring and Evaluation Partnership Policies & Procedures Results-Based Management Civil Societies and NGOs

10.

D. Sustainability

There is a direct, inverse relationship between project risks and sustainability: fewer risks, or risks of lesser severity, translate to a higher probability of project success and sustainability. The risks, and how these affect the prospects for sustainability, were taken into account during the design of the project. The project risks were presented in Table 6 of the ProDoc (along with a rating of their level, and possible mitigation measures). The identified risks included: i) Mainstreaming wetland biodiversity conservation into landscape-level development plans and other existing frameworks hindered by competing interests/lack of incentives (medium risk) ii) The effects of climate change degrade the conservation value of wetlands and the new WCAs (low to medium risk) iii) Government institutions are unable to agree on their respective roles & responsibilities with regard to WCA establishment and management (low risk) iv) NWWG and LWWGs are not effective due to insufficient interest and participation of key members and are thus unable to take wetlands agenda forward in a coordinated and strategic manner (medium to low risk) v) Local communities will not participate in wetland conservation because they fear this will lead to reduced access to use of natural resources (medium to low risk) vi) The benefits of competing landuses are perceived by planners and decision-makers to outweigh their costs in terms of wetlands degradation and loss (medium to high risk)vii) Local community engagement in wetlands planning, management and sustainable use is hindered by lack of capacity among key government stakeholders within the People's Committees and government departments at subnational level to effectively promote and strengthen such engagement (medium to low risk) viii) Increased and uncontrolled water transport and fishing vessels (ships and boats) (medium to low risk) ix) Unforeseen larger developments outside the control of project and the Government cause major wetlands degradation and loss at site-level or within wider landscape with knock-on effects on the new WCAs (e.g., a major oil spill at sea) (low risk) Some of the persistent risks which were identified during the MTR are further discussed here, in the context of their impact upon the sustainability of the project.




Tag: Climate Change Adaptation Climate change governance Biodiversity Environment Policy Protected Areas Challenges Sustainability Resource mobilization Change Management Integration Knowledge management Policies & Procedures Project and Programme management Results-Based Management Risk Management Institutional Strengthening National Institutions Vulnerable

11.

D. Sustainability

Institutional and Governance Risks Institutional and governance issues pose some of the more persistent risks which threaten the ability of the project to achieve its intended results, and to ensure that those results, if realized, will be sustainable. This applies both at the central and provincial level. At the central level, the "siloing" of functions between different government agencies—most notably, MONRE and MARD—weakens the beneficial impact of actions that either agency takes on its own. The mandates of the two agencies are quite closely related, and they should be complementary. If cooperation and coordination between the two agencies were closer, greater synergies would result, and this in turn would lead to actions having much greater impact on the ground. While some efforts have been made that have been within the scope of the project's activities to encourage cooperation (e.g., through the participation of MARD in the PSC), they have not been sufficient to overcome the tendency for the two agencies to function quite autonomously.

At the provincial level, the inconsistencies between various government planning processes have been noted. This is exemplified, in particular, by the conflict which exists between wetland conservation planning and overall economic development planning (especially as concerns development of the proposed industrial estate, juxtaposed against the establishment of the Thai Thuy WCA in Thai Binh province). In this instance, though, there is some cause for optimism: definite steps have been taken by provincial agencies, to try to make sure that wetland conservation planning is integrated within broader provincial economic development planning processes. While it has taken considerable time and effort to address the disparities between these two planning processes, it seems quite possible that ultimately, they can be reconciled. This would avert the risk, and could even serve as an example of best practice for local-level conservation planning efforts. This issue will be resolved when the provincial government harmonizes the economic zone and protected area boundaries. Finally, for improved sustainability, PAs must be institutionalized and appropriately positioned in the institutional landscape, in such a way that they can conserve biodiversity even when the political context changes. The legal framework, policies, and governance processes must support the sustenance of the project benefits. The difficulties of accomplishing this objective are exemplified by the project—it has taken considerable time and effort, just to lay the groundwork for the creation of the two proposed WCAs. At the project midterm, there is still considerable work to be done until the two WCAs are formally established and institutionalized. Only when this is accomplished, with adequate provisions for their continued financial support and effective management in place, will their sustainability be more assured. The institutional and governance issues presented here are considered to pose a medium risk to project sustainability.




Tag: Environment Policy Environmental impact assessment Protected Areas Challenges Sustainability Local Governance Partnership Policies & Procedures Results-Based Management Risk Management Coordination
Recommendations
1

IV. RECOMMENDATIONS AND CONCLUSION

A. Recommendations

Emerging from this MTR are a series of 10 recommendations which are intended to respond to challenges or to provide mechanisms to correct weaknesses that could ultimately lead to improved results. A listing of the recommendations has been presented in Table 2 of the Executive Summary. In the paragraphs that follow, more detailed descriptions of the recommendations are provided.

R1. Extend the project timeframe

The principal outcome that is targeted by the project is the establishment of two new Wetland Conservation Areas (WCAs). While there has been definite progress made in laying the groundwork for this outcome (e.g., conducting baseline surveys and profiles, drafting of new government decree on establishment and management of WCAs and circular for guiding the new decree), some delays have occurred for a variety of reasons (e.g., contracting delays, unresolved conflicts between disparate government plans [especially, wetland conservation planning vs. economic zone development in Thai Binh Province]). In order to achieve this critical project outcome, more time is needed to complete the project activities that support it. Therefore, it is recommended that the project timeframe be extended for an additional year, at no additional cost. During the remaining period of project implementation, it is essential that all efforts for the processing and final adoption of the new Decree will be accelerated, and that all other enabling actions required to establish the new WCAs will be undertaken in a timely manner.

Concerned Parties and Specific Actions The concerned parties and actions required to implement this recommendation are as follows: • In consultation with ISPONRE/BCA, UNDP Viet Nam prepare request for extension to be submitted to UNDP-GEF • ISPONRE/BCA conduct advocacy activities for resolving outstanding issues for establishment of WCAs (especially in Thai Thuy wetland) • ISPONRE/BCA conduct internal procedures to get endorsement for extension from government • UNDP-GEF Executive Coordinator grant extension request

2

R2. Strengthen communications and awareness activities

To date, although some mechanisms have been established for sharing information about the project among relevant stakeholders, both at national and local levels, this effort has not been as successful as would have been hoped or expected. By and large, only stakeholders who have been directly involved in project activities (e.g., through the PSC and WWGs, workshops, training, meetings, surveys, etc.) have any significant awareness of the project, its objectives, and activities. Quite a number of relevant stakeholders in Ha Noi, with whom the review team met (and who have responsibilities closely related to wetlands management), were not aware of it. Others at the provincial, district and commune level did not know much about the project, either.

During interviews with provincial personnel (DONRE) at the two project sites, the midterm review consultants inquired whether some of the standard activities which are used to facilitate better communications with stakeholders in the local communities had been conducted, e.g., through distribution of brochures, showing of films or videos, hosting of special events, etc. The respondents indicated that they would like to carry out such activities, but did not have the resources to do so. This highlights a gap, between the willingness to conduct essential activities for promoting improved communications about conservation of wetlands, and the ability to do so. This gap in turn suggests that further support from the project is needed to promote more effective communications.

The Project has implemented some communications and awareness activities, such as information-sharing through meetings, workshops, and public broadcasts at communes. Through collaboration with Thai Binh PPC and DONRE, a World Wetland Day activity was organized in 2016 which brought together more than 1000 participants, including representatives from PPC, relevant Ministries, Departments, international organizations, institutes, the press, and community people. Policy briefs on economic valuation of ecosystem services in two pilot areas have been produced. Factsheets on wetland functions and project brochures have been printed. The project website has been developed and operated. However, the website is not easily located through use of the Google online search engine. The project has also prepared a communications strategy. While it was pointed out by stakeholders that a required communications action plan has not been prepared, the communications strategy has identified specific communications activities and budget for those activities.

It is recommended that efforts be undertaken to strengthen project communications and awareness-raising. To accomplish this, the first step will be to complete the required communications action plan, with main actions following the recommendations made in the communications strategy. This will help to ensure that measures taken to enhance communications are carried out in a coordinated manner. Among the priority steps to be undertaken, which should be incorporated into the action plan, are the following:

• For sustainability, the project website should be embedded in the MONRE website, and linked to the UNDP website. The website should be formatted so as to ensure that it is recognized as a priority site for Vietnam wetlands, through keyword searches on Google or other standard search engines. • Conduct more outreach activities, including, for example, films/videos, advertisements, and TV public service announcements. Other activities, such as activities linked to World Wetland Day (which the project supported on a one-time basis, through mangrove planting at Thai Thuy wetland), to be organized and institutionalized for regular implementation. • Produce and disseminate a range of informational multimedia products (e.g., brochures, posters, videos, CDs, etc.). • Explore and develop mechanisms for increasing public familiarity with the project. This could include the development of a logo to represent the project, or to represent Vietnam's wetlands. Other similar mechanisms for 'branding' of the project should be explored. • Develop messaging about the importance of wetlands. The messages should be scripted and recorded; broadcasting of relevant messaging at communes in the two project areas (and in other communes nationwide, which are adjacent to wetland sites) should be continued. • Explore possibilities to tie project activities to educational programs (e.g., through primary/secondary schools, and colleges/universities). This could involve inclusion of wetlands information and knowledge products in school curricula; production of educational materials specifically targeted at students; and sponsorship of special educational events.

Concerned Parties and Specific Actions The concerned parties and actions required to implement this recommendation are as follows: • PMU to coordinate with UNDP's Media and Communications Analyst to prepare the Communications Action Plan. • PMU to ensure that adequate budgetary resources are allocated to fund priority requirements for improved communications. • PMU to contract services of a communications specialist to undertake the development of appropriate communications multimedia materials, as well as special programs, as mentioned above. • ISPONRE/BCA to engage with the other potential partners (e.g., Ministry of Education and Training (MOET) to explore opportunities for developing and sharing knowledge products to promote greater awareness about wetlands ecology and conservation

3

R3. Ensure greater interagency cooperation and interaction

Some significant overlaps exist in the mandates and areas of responsibility of MONRE and MARD, with respect to management and preservation of wetlands, marine resources, and biodiversity. MARD has a long history of protected area management: its first National Park (Cuc Phuong National Park) was established in 1962. Currently, MARD manages the system of special use forests (protected areas), including marine protected areas. As a result, MARD manages forests, fishery and some of the water areas where high biodiversity occurs. 126. On the other hand, according to the Biodiversity Law (2008), biodiversity management is the mandated responsibility assigned to MONRE. MONRE also manages state lands where forests and water areas occur and biodiversity in PAs. According to mandate (Decree 36/2017/ND-CP and Decree 65/2010/ND-CP), MONRE manages directly the wetland protected areas. 127. This creates a situation where the actions of the two agencies are fragmented—with management functions having become isolated in "silos;"12 such a division makes it difficult for MONRE to effectively manage biodiversity conservation without strong collaboration with MARD. 128. To deal with the above issue, there is a need to harmonize the responsibilities and mandates of these two ministries in relation to the system of protected areas and biodiversity management.In the long term, there should be an organization/agency, including representation of both MONRE and MARD, to manage the protected area system and biodiversity conservation. Policies and regulations are also needed to support this long term strategy.

Such a harmonization initiative would be a major undertaking that would need to be implemented over the long term, and such an initiative is likely beyond the scope of the project. However, measures could be undertaken, on a smaller scale, to minimize conflicts, promote/foster greater cooperation, and facilitate more interagency interaction between MONRE and MARD at the national level, and DONRE and DARD at the provincial level. It is recommended that the PMU support more frequent activities to promote greater coordination between the two agencies. These could include meetings, seminars, exchange programs and expert forums. Although a MARD representative sits on the PSC, and MARD has been invited to participate in project activities, it is apparent that stronger engagement is still needed. The possibility of more closely linking project activities with ongoing MARD/DARD initiatives and strengthening the synergies between them, should also be explored.

Concerned Parties and Specific Actions The concerned parties and actions required to implement this recommendation are as follows: • PMU, ISPONRE/BCA to organize activities to promote more frequent engagement and interaction between MONRE/MARD and DONRE/DARD • MARD/DARD to agree to participate in coordination activities, and to internally disseminate information about MONRE/DONRE activities more widely, so that MARD/DARD personnel who have responsibilities relevant to wetlands conservation and management are aware of such activities.

4

R4. Strengthen the harmonization of wetlands conservation within provincial plans and policies

According to the targets in the project framework, 2 WCAs are to be established by 2019: one in Thai Thuy, Thai Binh province and the second in Tam Giang-Cau Hai, Thua Thien Hue. The profiles to establish the two WCAs have been completed, but are still subject to further review and revision, and other steps still need to be undertaken to ensure that the 2 WCAs can be established. For Thai Thuy wetland, a barrier exists which may hinder the realization of the WCA. In Thai Binh province, the Prime Minister has endorsed the plan to establish an economic zone that includes the proposed site for the WCA. The management board for the economic zone has already been established, and the master plan for the zone is being prepared. A revised provincial Land Use Plan dated May 7, 2018 specifies land for biodiversity conservation and nature reserve (total area of 25,600 ha, including tentatively 13,100 ha for the Thai Thuy WCA). The provincial authority has requested support from the project in harmonizing the planning for WCA establishment, with economic zone planning. However, a danger still exists that the establishment of the economic zone will not adequately take into consideration the plan for establishing the WCA, with the danger that incompatible land uses could be authorized within the proposed WCA site. In Thua Thien Hue, provincial authorities envision to establish the WCA in two phases. During Phase 1, from 2018-2020, the province will establish the WCA over an area covering 2,090.35 ha, including a strict protection zone, ecological rehabilitation zone, and administrative zone. For Phase 2, during the period from 2021-2015, the project will extend the WCA to cover 3,128.8 ha (occupying about16% of the lagoon area). It is projected that by the scheduled end of project in 2019, a WCA covering some 20,000 ha total area (including core and buffer zones) will be established.

During field consultations in Thua Thien Hue, the MTR consultants were informed about several ongoing actions, which have significant implications for the establishment of the WCA at Tam GiangCau Hai lagoon: • The provincial Construction Department is currently conducting master planning for the province.They are interested to reconcile the WCA planning within the provincial master plan; • According to the provincial Department of Planning and Investment (DPI), the new Planning Law, which will become effective in 2019, contains provisions for both national- and provincial-level planning. At the provincial level, this includes requirements for the preparation of socioeconomic master plans; and • According to DARD, there are 23 aquaculture protection areas in the lagoon. The Department has been working for many years with the lagoon fishers' association to promote co-management in the lagoon, which includes community involvement in determining core zones for protection of fisheries resources.

For both Thai Binh and Thua Thien Hue provinces, further harmonization between provincial planning processes and planning for WCA establishment is needed. In Thua Thien Hue province, there seems to be a willingness to engage and consult among the various responsible agencies, so that WCA planning is adequately taken into consideration within the larger context of provincial planning (being carried out by provincial Construction Department and provincial DPI) and to harmonize and integrate this process with ongoing on-site activities (e.g., to ensure that WCA zonation planning takes into account and is harmonized with the fisheries protection areas which have already been established under DARD). This creates an excellent opportunity for wetlands conservation initiatives to be mainstreamed within provincial planning processes. For Thai Binh province, potentially conflicting plans (WCA planning and economic zone planning) are already underway and running on parallel tracks. In this case, more strenuous efforts may be required in order to reconcile these two paths. This will require harmonization of biodiversity conservation objectives with provincial development goals—the overall objective should be to secure environmental, biodiversity, and ecosystem values, while at the same time enhancing economic benefits for local people.

Concerned Parties and Specific Actions The concerned parties and actions required to implement this recommendation are as follows: • ISPONRE to coordinate with DONRE, DARD, provincial Construction Department, DPI in Thua Thien Hue province, for mainstreaming of wetland conservation planning within provincial planning processes • BCA to coordinate with DONRE and other relevant provincial government agencies to harmonize wetland conservation planning with economic zone and economic development planning processes in Thai Binh province • UNDP should discuss with PPC in Thai Binh and Thua Thien Hue to promote the establishment of WCAs in their provinces as they committed.

5

R5. Ensure that business planning is a key feature of Wetland Conservation Area planning

The formal establishment of the 2 WCAs is the key outcome targeted by the project. However, establishing the WCAs is only a beginning step towards promoting more effective management and conservation of natural ecosystems and important associated wetlands biodiversity and other resources, over the long-term. To ensure sustainability and effective management, careful formulation of a welldesigned management plan is required. Accompanying the management planning process for each WCA, and integrated with it, should also be a process of budgetary and business planning. The need for undertaking such planning was further spotlighted through the findings of the MTR consultant team. During interviews, informants mentioned that there has been little provision made to ensure that adequate financial resources will be allocated for the effective operation of the WCAs (once established). In addition, it was also indicated that the provinces have very little financial capability to support the WCAs. Thus, the question of where funding will come from for this purpose, has not been fully answered; while PMU has indicated that there will be sufficient funds to support the first year of operations of the WCAs, and some additional options for funding have been identified, efforts need to continue for securing adequate financing to cover operations and management (O&M) costs for the long-term.

In order to begin to address this concern, it is therefore recommended that detailed business plans be prepared for both conservation areas. (It is the understanding of the MTR consultants that such plans are currently being prepared, but these were not available for review). It is recommended that the business plans should incorporate the following elements: • Annual budgets and costs for the WCA need to be estimated. This should include costs for both capital expenditures (e.g., for facilities, equipment, supplies, etc.) and operations. Operational expenses should include costs associated with staffing, continuing management functions (e.g., administration, monitoring, patrolling, etc.), and maintenance. • Funding sources to support the operation and management of the two WCAs should be confirmed. This could be accomplished through the issuance of letters of commitment, memoranda of agreement, or similar instruments by the proposed funding authorities. • Even if the primary sources of funding are secured, preparations should be made to secure additional funds from other sources, to cover any shortfalls and/or to allow expansion of programs and activities. This could come from one or more of the following sources: user fees, establishment of conservation trust funds, voluntary donations, taxes, corporate social responsibility (CSR) arrangements, payment for ecosystem services (PES), and licensing and certification schemes (among others). Opportunities to link with ongoing UN-affiliated programmes for sustainable financing, including the UNDP Biodiversity Finance Initiative (BIOFIN) and UN Environment's The Economics of Ecosystems and Biodiversity (TEEB) TEEB programme, should be explored. Information that has been produced by those efforts could help to identify other mechanisms for securing biodiversity conservation funding.

Accompanying the formulation of business plans, capacity-building of appropriate government agency personnel (those who will be tasked for management of the WCAs) should also be carried out. This will consist largely of training in such areas as accounting, human resources management, and genera business management. This is needed to ensure that the responsible personnel will have the requisite skills and knowledge to effectively manage the financial requirements for the establishment and long-term operation of the WCAs.

Concerned Parties and Specific Actions The concerned parties and actions required to implement this recommendation are as follows: ISPONRE/BCA to develop TOR for consultants to prepare detailed business plans for the WCAs (to be integrated within WCA management plans), to include identification of source of funds • Consultants contracted for this assignment to prepare comprehensive business plans • MOF, MPI, DPI personnel to cooperate in providing necessary inputs into the business planning process

6

R6. Promote gender-sensitive development

According to the Project Document (ProDoc): "Conservation efforts that fail to take into account gender differences in resource use and management are likely to be unsustainable in the long term and could even contribute to increased poverty, inequality, and resource degradation." To address this potential risk, the ProDoc goes on to detail how women and gender considerations will be well-integrated into the project:

"Recognizing the disadvantages faced by women, the project will make a concerted effort to ensure that women are able to participate effectively in project activities that are most relevant to them, including having access to training and being able to engage in the establishment of the WCAs, and the development and implementation of the WCA management plan. The Project will fully integrate both men and women in the operation of the establishment of Wetland CA, and the planning and implementation of the activities at commune and village level. In particular the training for sustainable livelihood will incorporate a gender perspective, to ensure that the needs of women, who frequently form a marginalized group in the fishery and aquaculture sector, are taken into account and that implementation the project could promote gender equality. Thus, benefits made to households and communities should include safeguards to ensure gender equality. The project will work with both groups to enhance their participation in the project activities as well as to promote gender equality in management of wetland protected areas, and in livelihoods improvement, in order to (1) empower women's role in awareness raising and education activities; (2) engage women in adopting more wetlands-friendly practices; (3) awareness raising and capacity building on climate change adaptation and natural disaster prevention for women."

Despite this strong focus on promoting gender equity in the ProDoc, it appears that only minimal attention has been paid to this aspect during the course of project implementation.14 During site visits, and in other consultations with stakeholders, only passing reference was made to steps taken to promote gender equity (it was only reported that some women and women's groups were participants in some project activities, with no further efforts mentioned about strengthening women's roles, ensuring equitable representation of women, improving awareness about gender issues, etc.). Given the factsthat: (i) gender is a key Sustainable Development Goal (SDG #5) under UN Agenda 2030; (ii) women in the two project sites play important roles in providing for the nutritional needs of their families (e.g.,through gleaning of shellfish and other seafood on tidal flats in the wetlands); and (iii) commitments to promoting a strong gender focus are made in the project ProDoc, it is recommended that efforts should be redoubled, to better integrate gender considerations within all aspects of project implementation, during the remaining time for completion of the project.

Concerned Parties and Specific Actions The concerned parties and actions required to implement this recommendation are as follows: • ISPONRE/BCA to consider how project activities can be re-designed to ensure that: (1) participation and representation by women is increased within project activities; and (2) awareness about women's roles and gender issues is improved • DONRE/project site coordinators to organize stakeholder workshops at the commune and district levels, specifically for the purpose of soliciting community views about women's roles and how to assist them to be more effective in carrying out their responsibilities for livelihood activities and providing support for their families; participation of a large contingent of women and women's organizations in these activities is essential

7

R7. Expand range of options for livelihood enhancement (e.g., value chains, certification and branding, etc.)

It has already been mentioned that, in order to sustainably manage the WCAs, it is necessary to strengthen and ensure the sustainability of the livelihoods of the local people. One aspect of achieving this is to improve their income-generation potential, and one way in which this can be accomplished is by enhancing the value chain of aquatic products being harvested from wetland areas. Value addition can be achieved through several mechanisms, including postharvest processing, branding, and ecocertification.

Postharvest Processing There is a diverse range of fish and shellfish products already being produced, along with others that could be produced in the wetlands of Viet Nam, including at the two project sites. Processing increases the value of products being sold, as compared to the sale of raw, unprocessed products, thus increasing the revenue that can be captured by the seller. Development of new processed products may require instruction and capacity building, as well as development of appropriate infrastructure.

Branding Branding is a process whereby a link is established that enables a particular brand (name of product), being marketed by a specific producer, to be associated with higher quality, thus leading to higher volume sales, or justifying higher pricing (or both). One clear example of branding is in the organic foods market. Organic foods normally command a price premium, compared with non-organic products. Another variant of branding links a particular product to a specific location, with labeling to indicated the product being "locally produced." Locally produced foods in general are fresher than foods brought in from greater distances, and may have certain other taste or quality characteristics which make them more desirable.

Eco-Certification In recent decades, there has been a growing awareness among consumers of the importance of the environment for public health, and the overall future quality of life, both for local communities and the extended "global community." Alongside this growing awareness, there has been a concurrent increase in the number and value of products that are marketed as contributing in some way to protecting the environment. As such, these products are following a "green marketing" approach. Green marketing could be applied as a strategy for improving the value of various products from the wetlands at the project sites. A product labelling and eco-certification system could be developed that has as its focus conservation of the wetlands. Eco-certification of products being produced at the project sites could be linked to already-existing eco-certificates such as the Marine Stewardship Council (MSC) certification

Concerned Parties and Specific Actions The concerned parties and actions required to implement this recommendation are as follows: • ISPONRE/BCA to conduct consultations to investigate prospects for value-adding as a strategy to improve livelihoods of residents in and around the project sites • PMU to formulate TOR for consultant (individual or team) to develop value-addition strategy, and to contract consultant • Consultant to carry out value chain assessment and to recommend feasible options for implementation • Local communities (e.g., through fishers' associations), with guidance from DONRE/project coordinators, to conduct pilot projects to test value chain strategies

8

R8. Review project management modality: NIM vs. DIM

UNDP makes use of two different modalities for project management—the national implementation modality (NIM), and the direct implementation modality (DIM). NIM is designed to allow national government entities to assume full responsibility for the implementation of the project; as such, it promotes greater project ownership, builds capacity, results in institutionalization of project programs, and allows project successes to be credited to government actors. For this project, the NIM approach is being applied. While management of the project has been proceeding under the NIM, during the review, informants reported that delays have been encountered, especially related to procurement and contracting processes; procurement procedures on the government side often require a long approval process. On the other hand, under the DIM arrangement, UNDP can be relatively quicker and more efficient in carrying out such functions. For the reasons stated, a "hybrid" NIM-DIM management system has been informally adopted for project management, with UNDP in charge of recruitment of international consultants, while the PMU is in charge of recruitment of national consultants. This system seems to be effectively addressing some bottlenecks, and should be more widely applied in cases where it is judged that it would be effective. Such a system would help to preserve a high degree of ownership for the project by ISPONRE/BCA, and would allow capacity-building to continue, while at the same time accelerating procurement and contracting processes. Given that the remaining implementation timeframe is very short, improving efficiency of these processes would be very beneficial. Mid-Term Review: "Conservation of Critical Wetland Prot

Concerned Parties and Specific Actions The concerned parties and actions required to implement this recommendation are as follows: • UNDP to consult with ISPONRE/BCA to determine the best way to institute a hybrid NIMDIM administrative and management structure, and to proceed accordingly

9

R 9. Ensure sustainability of NWWG/LWWGs in guiding future wetland conservation efforts

According to informants, the NWWG and LWWGs have no budget for meetings, and have not met very often. However, according to the PMU, LWWG representatives have participated in other project activities, most notably (in Thua Thien Hue province) consultation workshops and activities related to WCA profilinig. While inter-agency coordination has been somewhat improved as a result of WG meetings, generally speaking, the WGs have not been fully effective in carrying out their main responsibility of providing important technical inputs to project activities. In order to address these shortcomings, it is recommended that the functioning of the NWWG and the LWWGs should be strengthened. Strengthening can be accomplished mainly through the following steps: • For NWWG/LWWGs, provide small stipend to compensate participants as may be appropriate • Formulate appropriate mechanisms to institutionalize the LWWGs within relevant provincial government departments, so that an operational budget is secured, thus enabling their operation to be sustained beyond the life of the project • Once LWWGs are effectively operationalized, use the two LWWGs already established as models, to guide the establishment of LWWGs in other provinces

Concerned Parties and Specific Actions The concerned parties and actions required to implement this recommendation are as follows: • ISPONRE to provide disbursement of small stipends for attendance at WG meetings • PMU and DONREs to organize consultations to determine best method for institutionalizing the LWWGs

10

R10. Review project strategic results framework, and revise as needed

During project inception, critical review of the project strategic results framework (SRF) should have been undertaken. There is not much evidence to suggest that this was done in a thorough an comprehensive manner, and only very minor modifications of the SRF from the initial version presented in the ProDoc, to the one presented in the project Inception Report, were noted. The MTR team has conducted a review of the most recent SRF, has identified the following general weaknesses, and makes the following recommendations accordingly: • As pointed out in the forgoing discussion (see especially Table 1), while attempting to evaluate and provide ratings for the project objective and project outcomes, it quickly became apparent to the reviewers that there is no significant differentiation between the statement of the objective and the combined statements for Outcomes 1 and 2 in the SRF. This flaw in the hierarchical logic of the framework should be reviewed and corrected. Perhaps the easiest way to do this would be to elevate the objective statement, to reflect a broader, higher-level biodiversity conservation goal. • As mentioned earlier, promotion of equitable gender opportunities and empowerment of women is an important theme presented in the ProDoc. However, this is not captured in the SRF—there is no specific mention made of gender, no outputs or outcomes are explicitly aimed at promoting gender benefits, and no indicators contain any gender-dependent targets (e.g., targets for a certain percentage of beneficiaries of project activities to be women). It is therefore recommended that gender considerations be appropriately incorporated and reflected in the SRF. • In some cases, baseline values for indicators which could be used to measure progress, have apparently not been established, even at this midterm stage of the project. For example, under Outcome 1, the SRF calls for the updating of the Capacity Development Scorecard for MONRE, to be done within the first year. The MTR consultants were not able to find an updated scorecard. • For Outcome 2, baselines were established for water pollution levels in both provinces, quantified extent of coverage of clam culture activities at Thai Thuy, and catch per unit effort (CPUE) of rabbitfish (Siganus) in TGCH. However, at least one of these indicators—the CPUE for capture of rabbitfish—is quite technical and very difficult to measure. It is therefore recommended that the specified indicators in the SRF be reviewed; in cases where no data are available, or where the indicators are difficult to measure, these should be changed to measurable ones. • Some of the risks described in the SRF, should not be considered as such. For example, the SRF describes the following as a risk: "NWWG and LWWGs are not effective due to insufficient interest and participation of key members…" However, the interest and participation of working Group members is directly influenced by the project, and in fact the effective operation of the NWWG and LWWGs is a target to be accomplished with the support of the project. Thus this should not be considered as a risk. It is recommended that risk factors in the SRF be analyzed. Any factors which are not appropriate as risks, should be removed from the SRF, and if appropriate, replaced by other, actual risks.

Concerned Parties and Specific Actions The concerned parties and actions required to implement this recommendation are as follows: • ISPONRE/BCA convene stakeholders to participate in a review workshop to consider any required changes to SRF • Taking into account the findings of the review workshop, ISPONRE/BCA work with UNDP in revising the SRF to incorporate the required changes
1. Recommendation:

IV. RECOMMENDATIONS AND CONCLUSION

A. Recommendations

Emerging from this MTR are a series of 10 recommendations which are intended to respond to challenges or to provide mechanisms to correct weaknesses that could ultimately lead to improved results. A listing of the recommendations has been presented in Table 2 of the Executive Summary. In the paragraphs that follow, more detailed descriptions of the recommendations are provided.

R1. Extend the project timeframe

The principal outcome that is targeted by the project is the establishment of two new Wetland Conservation Areas (WCAs). While there has been definite progress made in laying the groundwork for this outcome (e.g., conducting baseline surveys and profiles, drafting of new government decree on establishment and management of WCAs and circular for guiding the new decree), some delays have occurred for a variety of reasons (e.g., contracting delays, unresolved conflicts between disparate government plans [especially, wetland conservation planning vs. economic zone development in Thai Binh Province]). In order to achieve this critical project outcome, more time is needed to complete the project activities that support it. Therefore, it is recommended that the project timeframe be extended for an additional year, at no additional cost. During the remaining period of project implementation, it is essential that all efforts for the processing and final adoption of the new Decree will be accelerated, and that all other enabling actions required to establish the new WCAs will be undertaken in a timely manner.

Concerned Parties and Specific Actions The concerned parties and actions required to implement this recommendation are as follows: • In consultation with ISPONRE/BCA, UNDP Viet Nam prepare request for extension to be submitted to UNDP-GEF • ISPONRE/BCA conduct advocacy activities for resolving outstanding issues for establishment of WCAs (especially in Thai Thuy wetland) • ISPONRE/BCA conduct internal procedures to get endorsement for extension from government • UNDP-GEF Executive Coordinator grant extension request
Management Response:
[Added: 2019/05/17]
[Last Updated: 2021/02/24]
Agree
Key Actions:
Key Action

Responsible
DueDate
Status
Comments
Documents

Prepare justification and supporting documents including the project budget, workplan, and MTR report and submit to GEF for approval of one-year non-cost extension




[Added: 2019/05/17]

UNDP/ISPONRE

2019/02

Completed

All documents have been submitted to GCF.

Once approved by GEF, the MONRE submit to the Government for approval




[Added: 2019/05/17]

ISPONRE

2019/03

Completed

MONRE has already submitted the request for project extension to the Government.
2. Recommendation:

R2. Strengthen communications and awareness activities

To date, although some mechanisms have been established for sharing information about the project among relevant stakeholders, both at national and local levels, this effort has not been as successful as would have been hoped or expected. By and large, only stakeholders who have been directly involved in project activities (e.g., through the PSC and WWGs, workshops, training, meetings, surveys, etc.) have any significant awareness of the project, its objectives, and activities. Quite a number of relevant stakeholders in Ha Noi, with whom the review team met (and who have responsibilities closely related to wetlands management), were not aware of it. Others at the provincial, district and commune level did not know much about the project, either.

During interviews with provincial personnel (DONRE) at the two project sites, the midterm review consultants inquired whether some of the standard activities which are used to facilitate better communications with stakeholders in the local communities had been conducted, e.g., through distribution of brochures, showing of films or videos, hosting of special events, etc. The respondents indicated that they would like to carry out such activities, but did not have the resources to do so. This highlights a gap, between the willingness to conduct essential activities for promoting improved communications about conservation of wetlands, and the ability to do so. This gap in turn suggests that further support from the project is needed to promote more effective communications.

The Project has implemented some communications and awareness activities, such as information-sharing through meetings, workshops, and public broadcasts at communes. Through collaboration with Thai Binh PPC and DONRE, a World Wetland Day activity was organized in 2016 which brought together more than 1000 participants, including representatives from PPC, relevant Ministries, Departments, international organizations, institutes, the press, and community people. Policy briefs on economic valuation of ecosystem services in two pilot areas have been produced. Factsheets on wetland functions and project brochures have been printed. The project website has been developed and operated. However, the website is not easily located through use of the Google online search engine. The project has also prepared a communications strategy. While it was pointed out by stakeholders that a required communications action plan has not been prepared, the communications strategy has identified specific communications activities and budget for those activities.

It is recommended that efforts be undertaken to strengthen project communications and awareness-raising. To accomplish this, the first step will be to complete the required communications action plan, with main actions following the recommendations made in the communications strategy. This will help to ensure that measures taken to enhance communications are carried out in a coordinated manner. Among the priority steps to be undertaken, which should be incorporated into the action plan, are the following:

• For sustainability, the project website should be embedded in the MONRE website, and linked to the UNDP website. The website should be formatted so as to ensure that it is recognized as a priority site for Vietnam wetlands, through keyword searches on Google or other standard search engines. • Conduct more outreach activities, including, for example, films/videos, advertisements, and TV public service announcements. Other activities, such as activities linked to World Wetland Day (which the project supported on a one-time basis, through mangrove planting at Thai Thuy wetland), to be organized and institutionalized for regular implementation. • Produce and disseminate a range of informational multimedia products (e.g., brochures, posters, videos, CDs, etc.). • Explore and develop mechanisms for increasing public familiarity with the project. This could include the development of a logo to represent the project, or to represent Vietnam's wetlands. Other similar mechanisms for 'branding' of the project should be explored. • Develop messaging about the importance of wetlands. The messages should be scripted and recorded; broadcasting of relevant messaging at communes in the two project areas (and in other communes nationwide, which are adjacent to wetland sites) should be continued. • Explore possibilities to tie project activities to educational programs (e.g., through primary/secondary schools, and colleges/universities). This could involve inclusion of wetlands information and knowledge products in school curricula; production of educational materials specifically targeted at students; and sponsorship of special educational events.

Concerned Parties and Specific Actions The concerned parties and actions required to implement this recommendation are as follows: • PMU to coordinate with UNDP's Media and Communications Analyst to prepare the Communications Action Plan. • PMU to ensure that adequate budgetary resources are allocated to fund priority requirements for improved communications. • PMU to contract services of a communications specialist to undertake the development of appropriate communications multimedia materials, as well as special programs, as mentioned above. • ISPONRE/BCA to engage with the other potential partners (e.g., Ministry of Education and Training (MOET) to explore opportunities for developing and sharing knowledge products to promote greater awareness about wetlands ecology and conservation
Management Response:
[Added: 2019/05/17]
[Last Updated: 2021/02/24]
Do not agree since the Communication Strategy has included the detail activities and budget
Key Actions:
3. Recommendation:

R3. Ensure greater interagency cooperation and interaction

Some significant overlaps exist in the mandates and areas of responsibility of MONRE and MARD, with respect to management and preservation of wetlands, marine resources, and biodiversity. MARD has a long history of protected area management: its first National Park (Cuc Phuong National Park) was established in 1962. Currently, MARD manages the system of special use forests (protected areas), including marine protected areas. As a result, MARD manages forests, fishery and some of the water areas where high biodiversity occurs. 126. On the other hand, according to the Biodiversity Law (2008), biodiversity management is the mandated responsibility assigned to MONRE. MONRE also manages state lands where forests and water areas occur and biodiversity in PAs. According to mandate (Decree 36/2017/ND-CP and Decree 65/2010/ND-CP), MONRE manages directly the wetland protected areas. 127. This creates a situation where the actions of the two agencies are fragmented—with management functions having become isolated in "silos;"12 such a division makes it difficult for MONRE to effectively manage biodiversity conservation without strong collaboration with MARD. 128. To deal with the above issue, there is a need to harmonize the responsibilities and mandates of these two ministries in relation to the system of protected areas and biodiversity management.In the long term, there should be an organization/agency, including representation of both MONRE and MARD, to manage the protected area system and biodiversity conservation. Policies and regulations are also needed to support this long term strategy.

Such a harmonization initiative would be a major undertaking that would need to be implemented over the long term, and such an initiative is likely beyond the scope of the project. However, measures could be undertaken, on a smaller scale, to minimize conflicts, promote/foster greater cooperation, and facilitate more interagency interaction between MONRE and MARD at the national level, and DONRE and DARD at the provincial level. It is recommended that the PMU support more frequent activities to promote greater coordination between the two agencies. These could include meetings, seminars, exchange programs and expert forums. Although a MARD representative sits on the PSC, and MARD has been invited to participate in project activities, it is apparent that stronger engagement is still needed. The possibility of more closely linking project activities with ongoing MARD/DARD initiatives and strengthening the synergies between them, should also be explored.

Concerned Parties and Specific Actions The concerned parties and actions required to implement this recommendation are as follows: • PMU, ISPONRE/BCA to organize activities to promote more frequent engagement and interaction between MONRE/MARD and DONRE/DARD • MARD/DARD to agree to participate in coordination activities, and to internally disseminate information about MONRE/DONRE activities more widely, so that MARD/DARD personnel who have responsibilities relevant to wetlands conservation and management are aware of such activities.
Management Response:
[Added: 2019/05/17]
[Last Updated: 2021/02/24]
Mostly agree.
Key Actions:
Key Action

Responsible
DueDate
Status
Comments
Documents

Frequent meetings of the NWWG to be conducted to promote interagency cooperation and interaction on Wetland




[Added: 2019/05/17]

[Last Updated: 2021/01/08]

BCA

2020/12

Completed

Frequent meetings have been being held. The project ends by Dec 2020. Further details are in the project evaluation report.

History

Frequent meetings of LWWG to be conducted to promote collaboration at provincial level




[Added: 2019/05/17]

[Last Updated: 2021/01/08]

ISPONRE/BCA

2020/12

Completed

Frequent meetings of LWWG have been being held. The project ends by Dec 2020. Further details are in the project evaluation report.

History

Interagency cooperation and interaction will be a subject to be discussed in the Annual meetings of PSC




[Added: 2019/05/17]

Project Management Unit

2019/01

Completed

The issue has been included in the agenda of PSC annual meetings
4. Recommendation:

R4. Strengthen the harmonization of wetlands conservation within provincial plans and policies

According to the targets in the project framework, 2 WCAs are to be established by 2019: one in Thai Thuy, Thai Binh province and the second in Tam Giang-Cau Hai, Thua Thien Hue. The profiles to establish the two WCAs have been completed, but are still subject to further review and revision, and other steps still need to be undertaken to ensure that the 2 WCAs can be established. For Thai Thuy wetland, a barrier exists which may hinder the realization of the WCA. In Thai Binh province, the Prime Minister has endorsed the plan to establish an economic zone that includes the proposed site for the WCA. The management board for the economic zone has already been established, and the master plan for the zone is being prepared. A revised provincial Land Use Plan dated May 7, 2018 specifies land for biodiversity conservation and nature reserve (total area of 25,600 ha, including tentatively 13,100 ha for the Thai Thuy WCA). The provincial authority has requested support from the project in harmonizing the planning for WCA establishment, with economic zone planning. However, a danger still exists that the establishment of the economic zone will not adequately take into consideration the plan for establishing the WCA, with the danger that incompatible land uses could be authorized within the proposed WCA site. In Thua Thien Hue, provincial authorities envision to establish the WCA in two phases. During Phase 1, from 2018-2020, the province will establish the WCA over an area covering 2,090.35 ha, including a strict protection zone, ecological rehabilitation zone, and administrative zone. For Phase 2, during the period from 2021-2015, the project will extend the WCA to cover 3,128.8 ha (occupying about16% of the lagoon area). It is projected that by the scheduled end of project in 2019, a WCA covering some 20,000 ha total area (including core and buffer zones) will be established.

During field consultations in Thua Thien Hue, the MTR consultants were informed about several ongoing actions, which have significant implications for the establishment of the WCA at Tam GiangCau Hai lagoon: • The provincial Construction Department is currently conducting master planning for the province.They are interested to reconcile the WCA planning within the provincial master plan; • According to the provincial Department of Planning and Investment (DPI), the new Planning Law, which will become effective in 2019, contains provisions for both national- and provincial-level planning. At the provincial level, this includes requirements for the preparation of socioeconomic master plans; and • According to DARD, there are 23 aquaculture protection areas in the lagoon. The Department has been working for many years with the lagoon fishers' association to promote co-management in the lagoon, which includes community involvement in determining core zones for protection of fisheries resources.

For both Thai Binh and Thua Thien Hue provinces, further harmonization between provincial planning processes and planning for WCA establishment is needed. In Thua Thien Hue province, there seems to be a willingness to engage and consult among the various responsible agencies, so that WCA planning is adequately taken into consideration within the larger context of provincial planning (being carried out by provincial Construction Department and provincial DPI) and to harmonize and integrate this process with ongoing on-site activities (e.g., to ensure that WCA zonation planning takes into account and is harmonized with the fisheries protection areas which have already been established under DARD). This creates an excellent opportunity for wetlands conservation initiatives to be mainstreamed within provincial planning processes. For Thai Binh province, potentially conflicting plans (WCA planning and economic zone planning) are already underway and running on parallel tracks. In this case, more strenuous efforts may be required in order to reconcile these two paths. This will require harmonization of biodiversity conservation objectives with provincial development goals—the overall objective should be to secure environmental, biodiversity, and ecosystem values, while at the same time enhancing economic benefits for local people.

Concerned Parties and Specific Actions The concerned parties and actions required to implement this recommendation are as follows: • ISPONRE to coordinate with DONRE, DARD, provincial Construction Department, DPI in Thua Thien Hue province, for mainstreaming of wetland conservation planning within provincial planning processes • BCA to coordinate with DONRE and other relevant provincial government agencies to harmonize wetland conservation planning with economic zone and economic development planning processes in Thai Binh province • UNDP should discuss with PPC in Thai Binh and Thua Thien Hue to promote the establishment of WCAs in their provinces as they committed.
Management Response:
[Added: 2019/05/17]
[Last Updated: 2021/02/24]
Agree
Key Actions:
Key Action

Responsible
DueDate
Status
Comments
Documents

UNDP/ISPONRE/BCA work with Thai Binh PPC and DONRE on the establishment of the Thai Thuy WCA in harmonization with establishment of the industrial zone




[Added: 2019/05/17]

[Last Updated: 2020/08/04]

BCA/ISPONRE/UNDP

2019/08

Completed

Remove 1 duplicated document

History

ISPONRE/BCA work with DONRE and related departments in TTH and TB to mainstream the wetland conservation in to provincial plans




[Added: 2019/05/17]

[Last Updated: 2020/01/05]

ISPONRE/BCA

2019/12

Completed

Both provinces issued proposals to province's people committee on either establishment of WCA or revised land-use plans to mainstream wetland conservation As for Thai Binh, Decision 1089/QD-TT dated 31 August 2018 approving the mission on making the master plan for Thai Binh economic zone to 2040, vision to 2050 requires the planning of functional zones must include mangroves and protected areas and clarifies SEA requirements. This is the foundation and also the obligation for mainstreaming wetland conservation in the master planning process of Thai Binh economic zone.

History
5. Recommendation:

R5. Ensure that business planning is a key feature of Wetland Conservation Area planning

The formal establishment of the 2 WCAs is the key outcome targeted by the project. However, establishing the WCAs is only a beginning step towards promoting more effective management and conservation of natural ecosystems and important associated wetlands biodiversity and other resources, over the long-term. To ensure sustainability and effective management, careful formulation of a welldesigned management plan is required. Accompanying the management planning process for each WCA, and integrated with it, should also be a process of budgetary and business planning. The need for undertaking such planning was further spotlighted through the findings of the MTR consultant team. During interviews, informants mentioned that there has been little provision made to ensure that adequate financial resources will be allocated for the effective operation of the WCAs (once established). In addition, it was also indicated that the provinces have very little financial capability to support the WCAs. Thus, the question of where funding will come from for this purpose, has not been fully answered; while PMU has indicated that there will be sufficient funds to support the first year of operations of the WCAs, and some additional options for funding have been identified, efforts need to continue for securing adequate financing to cover operations and management (O&M) costs for the long-term.

In order to begin to address this concern, it is therefore recommended that detailed business plans be prepared for both conservation areas. (It is the understanding of the MTR consultants that such plans are currently being prepared, but these were not available for review). It is recommended that the business plans should incorporate the following elements: • Annual budgets and costs for the WCA need to be estimated. This should include costs for both capital expenditures (e.g., for facilities, equipment, supplies, etc.) and operations. Operational expenses should include costs associated with staffing, continuing management functions (e.g., administration, monitoring, patrolling, etc.), and maintenance. • Funding sources to support the operation and management of the two WCAs should be confirmed. This could be accomplished through the issuance of letters of commitment, memoranda of agreement, or similar instruments by the proposed funding authorities. • Even if the primary sources of funding are secured, preparations should be made to secure additional funds from other sources, to cover any shortfalls and/or to allow expansion of programs and activities. This could come from one or more of the following sources: user fees, establishment of conservation trust funds, voluntary donations, taxes, corporate social responsibility (CSR) arrangements, payment for ecosystem services (PES), and licensing and certification schemes (among others). Opportunities to link with ongoing UN-affiliated programmes for sustainable financing, including the UNDP Biodiversity Finance Initiative (BIOFIN) and UN Environment's The Economics of Ecosystems and Biodiversity (TEEB) TEEB programme, should be explored. Information that has been produced by those efforts could help to identify other mechanisms for securing biodiversity conservation funding.

Accompanying the formulation of business plans, capacity-building of appropriate government agency personnel (those who will be tasked for management of the WCAs) should also be carried out. This will consist largely of training in such areas as accounting, human resources management, and genera business management. This is needed to ensure that the responsible personnel will have the requisite skills and knowledge to effectively manage the financial requirements for the establishment and long-term operation of the WCAs.

Concerned Parties and Specific Actions The concerned parties and actions required to implement this recommendation are as follows: ISPONRE/BCA to develop TOR for consultants to prepare detailed business plans for the WCAs (to be integrated within WCA management plans), to include identification of source of funds • Consultants contracted for this assignment to prepare comprehensive business plans • MOF, MPI, DPI personnel to cooperate in providing necessary inputs into the business planning process
Management Response:
[Added: 2019/05/17]
[Last Updated: 2021/02/24]
Agree
Key Actions:
Key Action

Responsible
DueDate
Status
Comments
Documents

ISPONRE/BCA work with DONRE to develop/finalize business plan in to the operation plan/management plan of WCA in TB and TTH




[Added: 2019/05/17]

[Last Updated: 2020/08/04]

ISPONRE/BCA

2020/04

Completed

The operation plans/management plans of both new WCAs are included in the establishment proposals approved by the provincial authorities of the respective province.

History

Submit WCA to PPC for approval, including management mechanism, human resources, required budget, etc.




[Added: 2019/05/17]

[Last Updated: 2020/08/04]

DONRE in 2 provinces ISPONRE/BCA

2020/06

Completed

The operation plans/management plans of both new WCAs are included in the establishment proposals approved by the provincial authorities of the respective province.

History
6. Recommendation:

R6. Promote gender-sensitive development

According to the Project Document (ProDoc): "Conservation efforts that fail to take into account gender differences in resource use and management are likely to be unsustainable in the long term and could even contribute to increased poverty, inequality, and resource degradation." To address this potential risk, the ProDoc goes on to detail how women and gender considerations will be well-integrated into the project:

"Recognizing the disadvantages faced by women, the project will make a concerted effort to ensure that women are able to participate effectively in project activities that are most relevant to them, including having access to training and being able to engage in the establishment of the WCAs, and the development and implementation of the WCA management plan. The Project will fully integrate both men and women in the operation of the establishment of Wetland CA, and the planning and implementation of the activities at commune and village level. In particular the training for sustainable livelihood will incorporate a gender perspective, to ensure that the needs of women, who frequently form a marginalized group in the fishery and aquaculture sector, are taken into account and that implementation the project could promote gender equality. Thus, benefits made to households and communities should include safeguards to ensure gender equality. The project will work with both groups to enhance their participation in the project activities as well as to promote gender equality in management of wetland protected areas, and in livelihoods improvement, in order to (1) empower women's role in awareness raising and education activities; (2) engage women in adopting more wetlands-friendly practices; (3) awareness raising and capacity building on climate change adaptation and natural disaster prevention for women."

Despite this strong focus on promoting gender equity in the ProDoc, it appears that only minimal attention has been paid to this aspect during the course of project implementation.14 During site visits, and in other consultations with stakeholders, only passing reference was made to steps taken to promote gender equity (it was only reported that some women and women's groups were participants in some project activities, with no further efforts mentioned about strengthening women's roles, ensuring equitable representation of women, improving awareness about gender issues, etc.). Given the factsthat: (i) gender is a key Sustainable Development Goal (SDG #5) under UN Agenda 2030; (ii) women in the two project sites play important roles in providing for the nutritional needs of their families (e.g.,through gleaning of shellfish and other seafood on tidal flats in the wetlands); and (iii) commitments to promoting a strong gender focus are made in the project ProDoc, it is recommended that efforts should be redoubled, to better integrate gender considerations within all aspects of project implementation, during the remaining time for completion of the project.

Concerned Parties and Specific Actions The concerned parties and actions required to implement this recommendation are as follows: • ISPONRE/BCA to consider how project activities can be re-designed to ensure that: (1) participation and representation by women is increased within project activities; and (2) awareness about women's roles and gender issues is improved • DONRE/project site coordinators to organize stakeholder workshops at the commune and district levels, specifically for the purpose of soliciting community views about women's roles and how to assist them to be more effective in carrying out their responsibilities for livelihood activities and providing support for their families; participation of a large contingent of women and women's organizations in these activities is essential
Management Response:
[Added: 2019/05/17]
[Last Updated: 2021/02/24]
Agree
Key Actions:
Key Action

Responsible
DueDate
Status
Comments
Documents

There is no need to re-design the project activities. Instead, Gender will be integrated into the project AWP's annual targets for activity planning, implementation, monitoring and reporting.




[Added: 2019/05/17]

[Last Updated: 2020/08/04]

PMU/UNDP

2020/07

Completed

The gender issue has been integrated into annual and quarter work planning process.

History
7. Recommendation:

R7. Expand range of options for livelihood enhancement (e.g., value chains, certification and branding, etc.)

It has already been mentioned that, in order to sustainably manage the WCAs, it is necessary to strengthen and ensure the sustainability of the livelihoods of the local people. One aspect of achieving this is to improve their income-generation potential, and one way in which this can be accomplished is by enhancing the value chain of aquatic products being harvested from wetland areas. Value addition can be achieved through several mechanisms, including postharvest processing, branding, and ecocertification.

Postharvest Processing There is a diverse range of fish and shellfish products already being produced, along with others that could be produced in the wetlands of Viet Nam, including at the two project sites. Processing increases the value of products being sold, as compared to the sale of raw, unprocessed products, thus increasing the revenue that can be captured by the seller. Development of new processed products may require instruction and capacity building, as well as development of appropriate infrastructure.

Branding Branding is a process whereby a link is established that enables a particular brand (name of product), being marketed by a specific producer, to be associated with higher quality, thus leading to higher volume sales, or justifying higher pricing (or both). One clear example of branding is in the organic foods market. Organic foods normally command a price premium, compared with non-organic products. Another variant of branding links a particular product to a specific location, with labeling to indicated the product being "locally produced." Locally produced foods in general are fresher than foods brought in from greater distances, and may have certain other taste or quality characteristics which make them more desirable.

Eco-Certification In recent decades, there has been a growing awareness among consumers of the importance of the environment for public health, and the overall future quality of life, both for local communities and the extended "global community." Alongside this growing awareness, there has been a concurrent increase in the number and value of products that are marketed as contributing in some way to protecting the environment. As such, these products are following a "green marketing" approach. Green marketing could be applied as a strategy for improving the value of various products from the wetlands at the project sites. A product labelling and eco-certification system could be developed that has as its focus conservation of the wetlands. Eco-certification of products being produced at the project sites could be linked to already-existing eco-certificates such as the Marine Stewardship Council (MSC) certification

Concerned Parties and Specific Actions The concerned parties and actions required to implement this recommendation are as follows: • ISPONRE/BCA to conduct consultations to investigate prospects for value-adding as a strategy to improve livelihoods of residents in and around the project sites • PMU to formulate TOR for consultant (individual or team) to develop value-addition strategy, and to contract consultant • Consultant to carry out value chain assessment and to recommend feasible options for implementation • Local communities (e.g., through fishers' associations), with guidance from DONRE/project coordinators, to conduct pilot projects to test value chain strategies
Management Response:
[Added: 2019/05/17]
[Last Updated: 2021/02/24]
Agree
Key Actions:
Key Action

Responsible
DueDate
Status
Comments
Documents

ISPONRE/BCA work with DONRE/DARD to identify the possibility expansion of livelihood options. The activities on livelihood will be led by the provincial center for agriculture promotion.




[Added: 2019/05/17]

[Last Updated: 2021/01/08]

ISPONRE/BCA DONREs in 2 provinces

2020/12

Completed

More details are in the terminal evaluation report

History
8. Recommendation:

R8. Review project management modality: NIM vs. DIM

UNDP makes use of two different modalities for project management—the national implementation modality (NIM), and the direct implementation modality (DIM). NIM is designed to allow national government entities to assume full responsibility for the implementation of the project; as such, it promotes greater project ownership, builds capacity, results in institutionalization of project programs, and allows project successes to be credited to government actors. For this project, the NIM approach is being applied. While management of the project has been proceeding under the NIM, during the review, informants reported that delays have been encountered, especially related to procurement and contracting processes; procurement procedures on the government side often require a long approval process. On the other hand, under the DIM arrangement, UNDP can be relatively quicker and more efficient in carrying out such functions. For the reasons stated, a "hybrid" NIM-DIM management system has been informally adopted for project management, with UNDP in charge of recruitment of international consultants, while the PMU is in charge of recruitment of national consultants. This system seems to be effectively addressing some bottlenecks, and should be more widely applied in cases where it is judged that it would be effective. Such a system would help to preserve a high degree of ownership for the project by ISPONRE/BCA, and would allow capacity-building to continue, while at the same time accelerating procurement and contracting processes. Given that the remaining implementation timeframe is very short, improving efficiency of these processes would be very beneficial. Mid-Term Review: "Conservation of Critical Wetland Prot

Concerned Parties and Specific Actions The concerned parties and actions required to implement this recommendation are as follows: • UNDP to consult with ISPONRE/BCA to determine the best way to institute a hybrid NIMDIM administrative and management structure, and to proceed accordingly
Management Response:
[Added: 2019/05/17]
[Last Updated: 2021/02/24]
Agree
Key Actions:
Key Action

Responsible
DueDate
Status
Comments
Documents

In the AWPs of 2019 and 2020, activities will be planned with consideration of direct technical support needed from UNDP. The activities that need direct implementation from UNDP will be planned as DIM with sufficient budget allocation.




[Added: 2019/05/17]

[Last Updated: 2020/01/05]

ISPONRE/BCA/UNDP

2019/12

Completed

Activity on support for TT WCA (equipment, patrolling machines) has been shifted to UNDP for direct implementation based on the request of the Project.

History
9. Recommendation:

R 9. Ensure sustainability of NWWG/LWWGs in guiding future wetland conservation efforts

According to informants, the NWWG and LWWGs have no budget for meetings, and have not met very often. However, according to the PMU, LWWG representatives have participated in other project activities, most notably (in Thua Thien Hue province) consultation workshops and activities related to WCA profilinig. While inter-agency coordination has been somewhat improved as a result of WG meetings, generally speaking, the WGs have not been fully effective in carrying out their main responsibility of providing important technical inputs to project activities. In order to address these shortcomings, it is recommended that the functioning of the NWWG and the LWWGs should be strengthened. Strengthening can be accomplished mainly through the following steps: • For NWWG/LWWGs, provide small stipend to compensate participants as may be appropriate • Formulate appropriate mechanisms to institutionalize the LWWGs within relevant provincial government departments, so that an operational budget is secured, thus enabling their operation to be sustained beyond the life of the project • Once LWWGs are effectively operationalized, use the two LWWGs already established as models, to guide the establishment of LWWGs in other provinces

Concerned Parties and Specific Actions The concerned parties and actions required to implement this recommendation are as follows: • ISPONRE to provide disbursement of small stipends for attendance at WG meetings • PMU and DONREs to organize consultations to determine best method for institutionalizing the LWWGs
Management Response:
[Added: 2019/05/17]
[Last Updated: 2021/02/24]
Agree
Key Actions:
Key Action

Responsible
DueDate
Status
Comments
Documents

BCA will work closely with NWWG to develop a workplan of operation




[Added: 2019/05/17]

[Last Updated: 2021/01/08]

BCA/ISPONRE

2020/12

Completed

The project ends by Dec 2020. More details are in the terminal evaluation report.

History

Allocate budget for operation of NWWG/LWWG




[Added: 2019/05/17]

[Last Updated: 2021/01/08]

ISPONRE/BCA

2020/12

Completed

This action has been regularly taken during the annual/quarter planning process. The project ends by Dec 2020. More details are in the terminal evaluation report.

History

Promote the participation of LWWG in all project activities




[Added: 2019/05/17]

[Last Updated: 2021/01/08]

INSPONRE/BCA

2020/12

Completed

This action has been regularly taken during the annual/quarterly planning process. Evidence could be found in the terminal evaluation report.

History
10. Recommendation:

R10. Review project strategic results framework, and revise as needed

During project inception, critical review of the project strategic results framework (SRF) should have been undertaken. There is not much evidence to suggest that this was done in a thorough an comprehensive manner, and only very minor modifications of the SRF from the initial version presented in the ProDoc, to the one presented in the project Inception Report, were noted. The MTR team has conducted a review of the most recent SRF, has identified the following general weaknesses, and makes the following recommendations accordingly: • As pointed out in the forgoing discussion (see especially Table 1), while attempting to evaluate and provide ratings for the project objective and project outcomes, it quickly became apparent to the reviewers that there is no significant differentiation between the statement of the objective and the combined statements for Outcomes 1 and 2 in the SRF. This flaw in the hierarchical logic of the framework should be reviewed and corrected. Perhaps the easiest way to do this would be to elevate the objective statement, to reflect a broader, higher-level biodiversity conservation goal. • As mentioned earlier, promotion of equitable gender opportunities and empowerment of women is an important theme presented in the ProDoc. However, this is not captured in the SRF—there is no specific mention made of gender, no outputs or outcomes are explicitly aimed at promoting gender benefits, and no indicators contain any gender-dependent targets (e.g., targets for a certain percentage of beneficiaries of project activities to be women). It is therefore recommended that gender considerations be appropriately incorporated and reflected in the SRF. • In some cases, baseline values for indicators which could be used to measure progress, have apparently not been established, even at this midterm stage of the project. For example, under Outcome 1, the SRF calls for the updating of the Capacity Development Scorecard for MONRE, to be done within the first year. The MTR consultants were not able to find an updated scorecard. • For Outcome 2, baselines were established for water pollution levels in both provinces, quantified extent of coverage of clam culture activities at Thai Thuy, and catch per unit effort (CPUE) of rabbitfish (Siganus) in TGCH. However, at least one of these indicators—the CPUE for capture of rabbitfish—is quite technical and very difficult to measure. It is therefore recommended that the specified indicators in the SRF be reviewed; in cases where no data are available, or where the indicators are difficult to measure, these should be changed to measurable ones. • Some of the risks described in the SRF, should not be considered as such. For example, the SRF describes the following as a risk: "NWWG and LWWGs are not effective due to insufficient interest and participation of key members…" However, the interest and participation of working Group members is directly influenced by the project, and in fact the effective operation of the NWWG and LWWGs is a target to be accomplished with the support of the project. Thus this should not be considered as a risk. It is recommended that risk factors in the SRF be analyzed. Any factors which are not appropriate as risks, should be removed from the SRF, and if appropriate, replaced by other, actual risks.

Concerned Parties and Specific Actions The concerned parties and actions required to implement this recommendation are as follows: • ISPONRE/BCA convene stakeholders to participate in a review workshop to consider any required changes to SRF • Taking into account the findings of the review workshop, ISPONRE/BCA work with UNDP in revising the SRF to incorporate the required changes
Management Response:
[Added: 2019/05/17]
[Last Updated: 2021/02/24]
Agree
Key Actions:
Key Action

Responsible
DueDate
Status
Comments
Documents

ISPONRE/BCA will work with UNDP to review the project results framework and revised as needed. The revision would not lead to any changes in the project outputs and outcomes yet will focus on key actions needed to ensure the key outputs and outcomes are achieved.




[Added: 2019/05/17]

[Last Updated: 2019/09/23]

ISPONRE/BCA/UNDP

2019/08

Completed

ISPONRE work with DONRE and related departments in TTH and TB to mainstream the Wetland conservation into provincial plans: Land use planning in TTH and 5 land use plans at district level has been approved by: + Decision No.850/QD-UBND dated April 3rd 2019 on approval of adjustment of land use planning till 2020 of TTH province; + Decision No.1233/QD-UBND dated May 20th 2019 on approval of adjustment of land use planning till 2020 of Quang Dien district, TTH province; + Decision No.1386/QD-UBND dated June 8th 2019 on approval of adjustment of land use planning till 2020 of Phu Vang district, TTH province; + Decision No.938/QD-UBND dated April 13th 2019 on approval of adjustment of land use planning till 2020 of Phu Loc district, TTH province; + Decision No.847/QD-UBND dated April 3rd 2019 on approval of adjustment of land use planning till 2020 of Phong Dien district, TTH province; + Decision No.1087/QD-UBND dated May 4th 2019 on approval of adjustment of land use planning till 2020 of Huong Tra commune, TTH province; As for Thai Binh, Decision 1089/QD-TT dated 31 August 2018 approving the mission on making the master plan for Thai Binh economic zone to 2040, vision to 2050 requires the planning of functional zones must include mangroves and protected areas and clarifies SEA requirements. This is the foundation and also the obligation for mainstreaming wetland conservation in the master planning process of Thai BInh economic zone. Revision of framework: Done (see attached)

History