Mid-term evaluation of energy efficiency in commercial building project (00084022)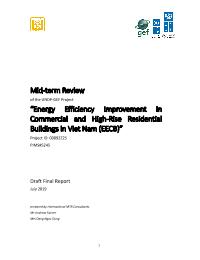 Evaluation Plan:

Evaluation Type:

Project

Planned End Date:

06/2019

Completion Date:

07/2019

Status:

Completed

Management Response:

Yes

Evaluation Budget(US $):

30,000
Title
Mid-term evaluation of energy efficiency in commercial building project (00084022)
Atlas Project Number:

00084022

Evaluation Plan:
2017-2021, Viet Nam
Evaluation Type:
Project
Status:
Completed
Completion Date:
07/2019
Planned End Date:

06/2019

Management Response:
Yes

UNDP Signature Solution

:
Corporate Outcome and Output (UNDP Strategic Plan 2018-2021)

1. Output 2.1.1 Low emission and climate resilient objectives addressed in national, sub-national and sectoral development plans and policies to promote economic diversification and green growth

SDG Goal

Goal 12. Ensure sustainable consumption and production patterns
Goal 13. Take urgent action to combat climate change and its impacts
Goal 9. Build resilient infrastructure, promote inclusive and sustainable industrialization and foster innovation

SDG Target

12.4 By 2020, achieve the environmentally sound management of chemicals and all wastes throughout their life cycle, in accordance with agreed international frameworks, and significantly reduce their release to air, water and soil in order to minimize their adverse impacts on human health and the environment
13.2 Integrate climate change measures into national policies, strategies and planning
9.4 By 2030, upgrade infrastructure and retrofit industries to make them sustainable, with increased resource-use efficiency and greater adoption of clean and environmentally sound technologies and industrial processes, with all countries taking action in accordance with their respective capabilities

Evaluation Budget(US $):

30,000

Source of Funding:
Project budget
Evaluation Expenditure(US $):

30,000

Joint Programme:
No
Joint Evaluation:

No

Evaluation Team members:

| Name | Title | Email | Nationality |
| --- | --- | --- | --- |

GEF Evaluation:

Yes

| | |
| --- | --- |
| GEF Project Title: | |
| Evaluation Type: | Mid-term Review |
| Focal Area: | Climate Change |
| Project Type: | EA |
| GEF Phase: | GEF-1 |
| GEF Project ID: | |
| PIMS Number: | 5245 |

Key Stakeholders:
Ministry of Construction (MOC)
Countries:

VIET NAM
Recommendations
1

Revise Strategic Results Framework

The Project Log frame requires adaptations and rephrasing of some of the project indicators. The list of project indicators stipulated in the log-frame accordingly should be amended by reformulating some indicators while possibly omitting others to reduce the overall number.

2

Strengthen project focus on enforcement of the new building code

A mandatory building EE legislation and enforcement of the building code and other laws and regulations is crucial to ensure the long-term sustainability of the project results. Therefore, a main focus shall be on the finalization and delivery of outstanding activities considering the enforcement of the new building code requirements and capacity building among building professionals and public administration.

3

Ensure that institutional bodies take energy efficiency forward and market awareness is created in the longer term

Enforcement of the new building code and other (by-)laws and regulations will be required and thus public bodies to be created/assigned with specific tasks; although this development is at very early stage in Viet Nam so far and will need more time and efforts to create basic awareness among governmental and institutional stakeholders, building design and construction experts acting on the market, and the general public (mainly residents and users of buildings.

The Project shall emphasize to build a country-wide "Knowledge Center (KC) for Energy Efficiency in Buildings" by providing all information, reports, tools, training materials, publications, guidelines developed by the Project and make them publicly available online. MOC should maintain to be the KC for EE topics in the future.

Institutional building for developing a country building statistics and information base for building energy consumption in Viet Nam should be envisaged in the longer term, since it is understood that such institutions do not exist currently.

4

Introduce a higher level of public outreach and institutionalize public awareness measures in the frame of the country's policy framework

The Project must improve the current level of information dissemination and public awareness creation activities throughout the remaining project period. An update of the Project's communication strategy and plan is required.

Co-operation should be sought with national media and it should be possible to share several substantial success stories and provide specific awareness measures throughout the remaining project period (e.g. among building developers, building users). This plan also will make the EECB project in Viet Nam more consistent with other projects throughout the region, which are already actively documenting their projects' successes via publications, internet, and mass media.

In terms of networking and know-how exchange, the Project shall establish exchange of experience and information through the UNDP network and engage with other on-going international projects supporting building EE in the region.

5

Monitoring & evaluation of GHG mitigation levels and project impacts to be reviewed

That relevant criteria will be considered for a GHG monitoring for the remaining duration of the Project and should thus be integrated into the overall monitoring activities under outcome 3. The PMU is doing well in monitoring the direct GHG impact of demonstration buildings that are receiving technical assistance through the Project; a weak point remains the monitoring of indirect GHG emission reductions, since required data (either from national energy statistics or specific building statistics, e.g. level of building construction, refurbishments, building energy consumption, etc.) is hardly available and requires high efforts for collection.

A "Lessons-learned report" shall be developed towards EOP summarizing the achievements and challenges the Project has overcome in regard to EE in buildings in Viet Nam, and outstanding support that is required for policies (enforcement), technologies and information sources to be replicated in the area of EE in buildings in the future (follow-up projects).