Terminal evaluation of Capacity Building for the Ratification and Implementation of the Nagoya Protocol on Access and Benefit Sharing in Viet Nam (00082536)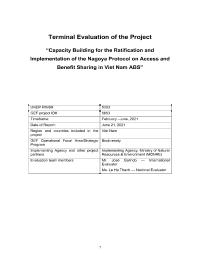 Evaluation Plan:

Evaluation Type:

Project

Planned End Date:

03/2021

Completion Date:

07/2021

Status:

Completed

Management Response:

Yes

Evaluation Budget(US $):

25,000
Title
Terminal evaluation of Capacity Building for the Ratification and Implementation of the Nagoya Protocol on Access and Benefit Sharing in Viet Nam (00082536)
Atlas Project Number:

00082536

Evaluation Plan:
2017-2021, Viet Nam
Evaluation Type:
Project
Status:
Completed
Completion Date:
07/2021
Planned End Date:

03/2021

Management Response:
Yes

Focus Area

:
Corporate Outcome and Output (UNDP Strategic Plan 2018-2021)

1. Output 2.4.1 Gender-responsive legal and regulatory frameworks, policies and institutions strengthened, and solutions adopted, to address conservation, sustainable use and equitable benefit sharing of natural resources, in line with international conventions and national legislation

SDG Goal

Goal 12. Ensure sustainable consumption and production patterns
Goal 15. Protect, restore and promote sustainable use of terrestrial ecosystems, sustainably manage forests, combat desertification, and halt and reverse land degradation and halt biodiversity loss
Goal 9. Build resilient infrastructure, promote inclusive and sustainable industrialization and foster innovation

SDG Target

12.4 By 2020, achieve the environmentally sound management of chemicals and all wastes throughout their life cycle, in accordance with agreed international frameworks, and significantly reduce their release to air, water and soil in order to minimize their adverse impacts on human health and the environment
15.1 By 2020, ensure the conservation, restoration and sustainable use of terrestrial and inland freshwater ecosystems and their services, in particular forests, wetlands, mountains and drylands, in line with obligations under international agreements
9.4 By 2030, upgrade infrastructure and retrofit industries to make them sustainable, with increased resource-use efficiency and greater adoption of clean and environmentally sound technologies and industrial processes, with all countries taking action in accordance with their respective capabilities

Evaluation Budget(US $):

25,000

Source of Funding:
Project budget
Evaluation Expenditure(US $):

22,468

Joint Programme:
No
Joint Evaluation:

No

Evaluation Team members:

| Name | Title | Nationality |
| --- | --- | --- |
| José Galindo | International Evaluator | |
| Le Thanh Ha | National Evaluator | |

GEF Evaluation:

Yes

| | |
| --- | --- |
| GEF Project Title: | Capacity Building for the Ratification and Implementation of the Nagoya Protocol on Access and Benefit Sharing in Vietnam ABS |
| Evaluation Type: | Terminal Evaluation |
| Focal Area: | Biodiversity |
| Project Type: | MSP |
| GEF Phase: | GEF-5 |
| GEF Project ID: | 5653 |
| PIMS Number: | 5303 |

Key Stakeholders:
Ministry of Natural Resources and Environment (MONRE)
Countries:

VIET NAM

Comments:

Postponed due to delays in project approval and start up.
Recommendations
1

Recommendation 1: The results obtained by the project as well as the challenges and opportunities ahead, open the overall expectation for a second phase, to scale up and replicate, it is recommended to map donors and projects in the design phase. Thus, a second phase can be assumed by a new donor, or outcomes or activities of the current project can be included in other projects being designed. (UNDP; MONRE)

2

Recommendation 2: The design of the new biodiversity projects for the GEF as well as for the UNDP portfolio should consider including outcomes or components aiming to increase the number and variety of private-public-community partnerships on access and benefit-sharing. (UNDP, GEF, MONRE)

3

Recommendation 3: The project offers methodological, legal and institutional tools which could be capitalized to support other countries in the region to implement Nagoya Protocol on ABS. To the extent possible, it is recommended that the most relevant information be systematized and synthesized in a format that is easy to read and aimed at the general public. (UNDP; MONRE)

4

Recommendation 4: Several things need to happen before the project can be formally closed. In this sense, the TE considers it important for the project to draft an exit strategy involving all major stakeholders, to generate the engagement needed to fill the existing gaps, as well as to replicate and scale up the results achieved. (MONRE).

5

Recommendation 5: The ABS CHM platform would be a good way to continue sharing the information/knowledge on ABS. The tools and cases might be included in a post-project dissemination strategy with all the knowledge products and tools. Therefore, special attention should be placed in terms of dissemination, knowledge management, and learning opportunities derived from the project´s intervention model. (UNDP; GEF)

6

Recommendation 6: While the project produced a series of training materials, case studies and tools, it is fundamental that these get officially approved by respective institutions to ensure that these could be widely shared and used by targeted audiences. (MONRE).

7

Recommendation 7: The project has strengthened capacities in the management of access to genetic resources, which plays an important role for the ABS system to be sustained so that new ABS agreements are implemented or continue with some that were initiated by the project such as the Clearing House Mechanism. However, these efforts should be further institutionalized since there is no evidence suggesting there is a clear course of action on project activities committing key stakeholders after the end of the project (MONRE)

8

Recommendation 8: It is important to envision the project's objectives over the mid and long term, ensuring continued support to fill existing ABS gaps, as well as to develop new initiatives that facilitate synergies with other projects or sources of funding to enhance the sustainability of achieved results and long-term development goals (MONRE)recommendation 8: It is important to envision the project's objectives over the mid and long term, ensuring continued support to fill existing ABS gaps, as well as to develop new initiatives that facilitate synergies with other projects or sources of funding to enhance the sustainability of achieved results and long-term development goals (MONRE)

9

Recommendation 9: The project has identified opportunities for diversification of livelihood incomes through ABS product development. A roadmap should be drafted to adequately integrate ABS into Vietnam´s COVID-19 recovery plan, as it could offer potential for project´s sustainability, replication and scale up (MONRE)