Evaluation finale du projet « Adaptation basée sur les écosystèmes »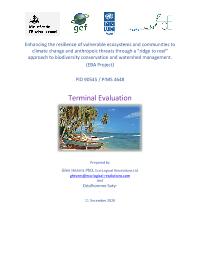 Evaluation Plan:

Evaluation Type:

Final Project

Planned End Date:

12/2020

Completion Date:

12/2020

Status:

Completed

Management Response:

Yes

Evaluation Budget(US $):

30,000
Title
Evaluation finale du projet « Adaptation basée sur les écosystèmes »
Atlas Project Number:

81100

Evaluation Plan:
2017-2022, Haiti
Evaluation Type:
Final Project
Status:
Completed
Completion Date:
12/2020
Planned End Date:

12/2020

Management Response:
Yes

Focus Area

:
Corporate Outcome and Output (UNDP Strategic Plan 2018-2021)

1. Output 2.3.1 Data and risk-informed development policies, plans, systems and financing incorporate integrated and gender-responsive solutions to reduce disaster risks, enable climate change adaptation and mitigation, and prevent risk of conflict

SDG Target

13.3 Improve education, awareness-raising and human and institutional capacity on climate change mitigation, adaptation, impact reduction and early warning
14.4 By 2020, effectively regulate harvesting and end overfishing, illegal, unreported and unregulated fishing and destructive fishing practices and implement science-based management plans, in order to restore fish stocks in the shortest time feasible, at least to levels that can produce maximum sustainable yield as determined by their biological characteristics
15.a Mobilize and significantly increase financial resources from all sources to conserve and sustainably use biodiversity and ecosystems

Evaluation Budget(US $):

30,000

Source of Funding:
Project Budget
Evaluation Expenditure(US $):

30,450

Joint Programme:
No
Joint Evaluation:

No

Evaluation Team members:

| Name | Title | Nationality |
| --- | --- | --- |
| Glen Hearns | Consultant international | |
| Desihomme Satyr | Consultant national | |

GEF Evaluation:

Yes

| | |
| --- | --- |
| GEF Project Title: | Enhancing the resilience of vulnerable ecosystems and communities to climate change and anthropic threats through a "ridge to reef" approach to biodiversity conservation and watershed management |
| Evaluation Type: | Terminal Evaluation |
| Focal Area: | Biodiversity |
| Project Type: | FSP |
| GEF Phase: | GEF-5 |
| GEF Project ID: | 5380 |
| PIMS Number: | 4648 |

Key Stakeholders:
Countries:

HAITI
Recommendations
1

Recommendation or issue 1: The UNDP office should put in place, in connection with point III "Administration and risk management" of the UNDP DCP- (2017-2021) in Haiti, a management guide for programme units on administrative procedures and communication for projects, in particular with GEF projects.

This guide should address the following main points:

More time during the first year for start-up should be built into the planning. This means dealing with administrative and personnel issues - about 6 months. Time must also be allowed at the end of the project for closure (3 months).
First period of six months develop a communication and consultation strategy from the start of the project that informs the project's monitoring and evaluation plan. And ensure a balance between developing support through consultation and engaging in activities. This should be addressed in the planning phase of the project.
To improve communication and synergy, ensure that project teams have close contact with the main national counterpart. Ideally, by situating them together.
Any future project should use the skills, knowledge and mandate of the steering committee to assist in implementation and decision-making, as well as to ensure broad political acceptance of project activities.
Make sure to consult with key stakeholders - various representatives of institutions that are members of the steering committee - on the appropriate date for the availability of all before sending a formal invitation, to avoid absences from the session.

In any future project, plan the targets for results indicators (output-effect-impact) over a [Min - Max] interval of achievement, taking into account a contingency of 15% due to contextual factors likely to cause possible fluctuations in the implementation of the programmed activities.

2

Recommendation or issue 2: The strategic planning of future projects, in particular GEF projects, should take into account the following elements.

In future GEF projects that cut across several GEF programmes, it is important to involve all relevant focal points in the strategic planning phase.
As part of strategic project planning, ways of improving communication between central agencies and their departments should be identified where necessary, such as the use of a third party. For example, the Departmental Directorates Coordination Unit (UCDD) of the MOE.
Future projects should seek to improve existing relationships with organizations at the local level where possible and relevant, and to build their capacity. If EBA approaches are extended to other areas, consideration should be given to using some of these organizations to help build capacity in new areas.

3

Recommendation or issue 3: Build understanding and awareness of activities that have been successful in providing short-term benefits to help replicate them and generate local interest in investments (such as reforestation and slope stabilization, beekeeping, and FCD). This strategic choice to raise awareness of alternative income is directly linked to the UNDP's DCP (2017-2021) in Haiti, which aims to "reduce poverty" by promoting inclusive growth, social inclusion and strengthening of the agricultural sector through a collaborative working mechanism defined between UNDP and the public (technical/strategic) ministries concerned.

4

Recommendation or issue 4: In projects of the same nature, set a target of 40-45% inclusion of women. Maintain the focus on ongoing gender mainstreaming, including gender equality and women's empowerment, in addition to better integration into local interest structures. Achieving this goal of promoting women's inclusion is part of the Country Office's commitment to the "gender equality label" to strengthen gender mainstreaming, in line with the UNDP DCP (2017-2021), which sets out the monitoring and evaluation of related indicators.

5

Recommendation or issue 5 : Seek funding to consolidate the progress made in the three target complexes (investments to provide fishermen's associations with appropriate equipment for FCD fishing in the three complexes, additional support for better management of the National Natural Parks (PNN-SOR and PNN-LDH) and energy forest in the North-East). In terms of consolidating the gains of the EBA, UNDP will continue to support the Haitian government on the environment and disaster risk reduction as stipulated in the "Reducing Vulnerability and Building Resilience" pillar of UNDP's FAD (2017-2021) in Haiti within the framework of bilateral and multilateral cooperation partnerships aimed at reducing vulnerability to natural disasters and their impacts in Haiti.

6

Recommendation or issue 6 : Depending on funding and capacity, it is recommended that the EBA approach be extended to other similar areas in Haiti. In particular, the successful approach to developing alternative income sources such as beekeeping or aquaculture. This would address poverty issues and improve the climate resilience of local communities, which are fundamental objectives of the UNDP Haiti FCP.
Management Response Documents