Annual Assessment (Mid-term) of Local Government Initiatives on Climate Change in Bangladesh Project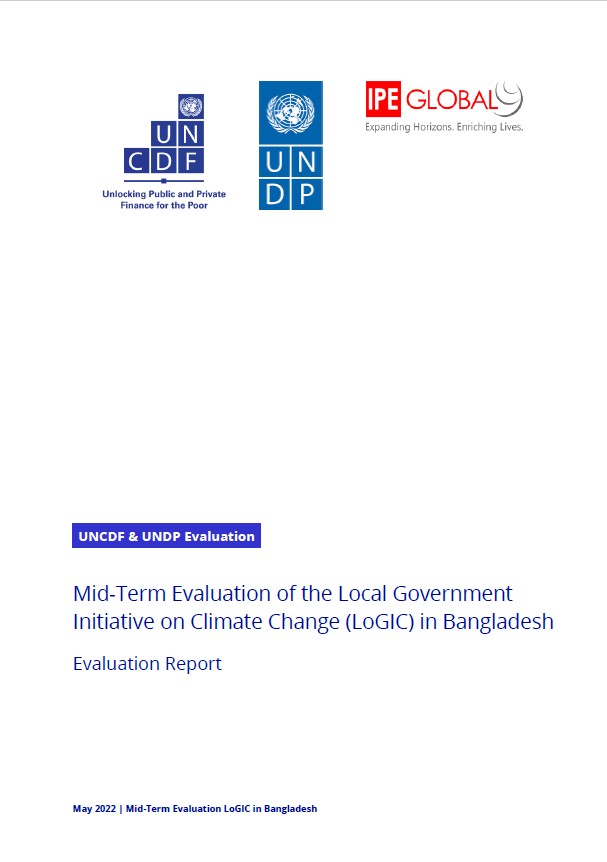 Evaluation Plan:

Evaluation Type:

Mid Term Project

Planned End Date:

03/2022

Completion Date:

06/2022

Status:

Completed

Management Response:

No

Evaluation Budget(US $):

50,000
Title
Annual Assessment (Mid-term) of Local Government Initiatives on Climate Change in Bangladesh Project
Atlas Project Number:

000-

Evaluation Plan:
2017-2021, Bangladesh
Evaluation Type:
Mid Term Project
Status:
Completed
Completion Date:
06/2022
Planned End Date:

03/2022

Management Response:
No

Focus Area

:
Corporate Outcome and Output (UNDP Strategic Plan 2018-2021)

1. Output 1.4.1 Solutions scaled up for sustainable management of natural resources, including sustainable commodities and green and inclusive value chains
2. Output 2.1.1 Low emission and climate resilient objectives addressed in national, sub-national and sectoral development plans and policies to promote economic diversification and green growth
3. Output 3.3.1 Evidence-based assessment and planning tools and mechanisms applied to enable implementation of gender-sensitive and risk-informed prevention and preparedness to limit the impact of natural hazards and pandemics and promote peaceful, just and inclusive societies

Evaluation Budget(US $):

50,000

Source of Funding:
Evaluation Expenditure(US $):

97,975

Joint Programme:
No
Joint Evaluation:

Yes

Evaluation Team members:

| Name | Title | Nationality |
| --- | --- | --- |
| Richard Slater | Team Leader | |
| Shantanu Das | Evaluation and Public Finance Expert | INDIA |

GEF Evaluation:

No

Key Stakeholders:
Countries:

BANGLADESH
Lessons
1.

Political Ownership: One of the major learnings from LoGIC is that incentive-based systems such as the minimum conditions-performance measures of the PBCRG to improve efficiency and effectiveness would be more effective if there is political ownership at both the national and local levels of and the systems/structure facilitates the political economy context. Failing this, there is a high risk that efficiency and effectiveness gains in the project lifetime will dissipate if the program is being majorly driven by the project staff.



2.

Policy Influence and Agenda Steering: It is also important to note that having a National Project Director with a 50%-time commitment and a governing board with different government stakeholders does not necessarily lead to policy influence and embedding in government systems unless the Secretariat takes a more proactive approach to engage and steer the governing board for strategic decision-making.



3.

Convergence with Larger Sectoral Programs: Another key learning emerging from LoGIC is that the selected schemes or interventions should consciously seek synergies and complementarities with large sectoral programs and projects for improved and cascading impacts. For instance, our discussions highlighted that though drainage systems were developed to facilitate sunflower cultivation, the absence of local embankments or dykes in the area led to large-scale flooding which ultimately exposes the LoGIC PBCRG solution to risk.



4.

Efficiency: To ensure lower overheads, it is important to build/mainstream LoGIC within the existing fiscal transfer mechanism of local governments. Otherwise, it creates complexity and silos along with duplication of efforts required for maintaining separate accounts and reporting formats. Alignment with the existing fiscal transfer mechanisms helps strengthen the existing system and also enhances sustainability within the government system.



Findings
1.

Relevance:

LoGIC with its focus on climate change adaptation and climate-resilient livelihoods, awareness, and capacity building on climate change at the local government and community level is well aligned with Bangladesh's national climate policy framework. LoGIC has been particularly relevant to the local context of 72 UPs in 7 Upazilas facing various climate hazards. These UPs are one remotest and most climate-vulnerable areas in Bangladesh with high levels of poverty and low awareness and capacities on climate change and CCA.
On gender and inclusion, LoGIC adopted a 'gender transformative' approach and is supporting the most vulnerable women who have not been covered under any other programs other than normal disaster relief provided. Moreover, the project is being implemented in the remotest and most climate-vulnerable areas of the country with target beneficiaries coming from most marginalized groups such as women-headed households, persons with disability, ethnic minority groups, and small/marginalized occupational groups.



2.

Coherence:

LoGIC's design and implementation strategy are aligned and coherent with the core policy directives of Bangladesh. It is coherent with the national government's Local Government Support Project (LGSP) which seeks to fund infrastructure development in UPs through Block Grants. Some of the processes like annual audit, percentage allocation based on fulfilling certain criteria, etc. for Performance - Based Climate Resilience Grants (PBCRG) are in sync with the LGSP fiscal transfer guidelines.
In its design and results framework, the focus on the institutionalization of outcomes is weak. While the design attempted to address climate resilience both from the community-level livelihood and local infrastructure angles, the evaluation team did not find many synergies between the PBCRG and CRF schemes in implementation. Barring a few instances, they appear to work as two separate interventions – which pose some risks.



3.

Efficiency:

Despite a delayed start due to lags in project approval, LoGIC has made good progress against the targets set in its results framework. It has been rolled out across 72 UPs, albeit with varying degrees of ownership, involvement, and levels of support.
Though LoGIC has mostly achieved its targets, there are a few challenges related to timeliness and quality of implementation.
The project monitoring has been excellent, and this stringent monitoring helps ensure quality and reduces fiduciary risks, which UP chairpersons also admitted.
On governance and management structure, discussions with donors and other stakeholders reflect that LoGIC is perceived to suffer from weak management at the project governance level, resulting in the Project Steering Committee (PSC) meetings focusing on minor operational issues and approvals rather than strategic issues and project direction.
On the project's Value for Money (VfM), a broad analysis of project expenditures highlights the following breakdown: Output-1 - 8%; Output-2 -80%; Output-3 -5% and Management fees -7%. On the economic aspect, the staffing costs are around 12% which appears reasonable given the Technical Assistance (TA) component. The average transfer value of CRF grants to beneficiaries is USD 350, roughly similar to other UNDP livelihood programs such as SWAPNO.



4.

Effectiveness:

LoGIC has contributed to changing the mindset of the local governments on the importance and need for climate adaptation in the local planning, budgeting, and investment. At the Union Parishad level, there have been some improvements in understanding and awareness on climate change but more sustained efforts are needed for elected representatives to own and implement climate adaptive practices.
While there has been a gradual shift towards adopting climate-resilient infrastructure at the UP level rather than traditional roads, culverts, and cyclone shelters, mainstreaming climate change adaptation into local development and investment planning needs to be strengthened. Additionally, mainstreaming LoGIC through building convergence and engagement with other line departments and UPs has been limited.
Many of the LoGIC beneficiaries are unique and excluded from other NGO programs. LoGIC has facilitated the opening of bank accounts, leading to the financial inclusion of these women for the first time.



5.

Likely Impact:

LoGIC has contributed to improving climate-adaptive planning and financing of community infrastructure at the UP level and adaptive livelihoods at the household level to boost resilience to climate stresses. Although at the UP level there has been an incremental shift toward climate adaptive solutions, it is still too early to assess the actual degree of climate resilience and climate additionality.
Furthermore, there was a unanimous perception among Local Government officials and participants that the quality of infrastructure provided under PBCRG is substantially better due to very close monitoring and intense involvement of the LoGIC team.
LoGIC has selected 'unique beneficiaries' and has brought in high levels of transparency and objectivity, and managed well potential 'elite capture' influenced by local politics. While the CALO options being promoted are like other livelihood diversification programs, LoGIC's key differentiator is its attempt to demonstrate community-based climate change adaptation that is driven through government institutions while the others are more civil society-oriented.



6.

Sustainability:

In its current form, prospects for sustainability and mainstreaming appear to be challenging. While counterpart staff from LGD have assisted delivery across the 7 project districts, the project activities have been heavily dependent on and driven by LoGIC staff. At the UP level, it is crucial to acknowledge that while the project has attempted to build institutional capacity, the human and monetary resources of LGIs still remain low.
The decision to construct a Climate Vulnerability Index and use it as a parameter for fiscal transfer is a good beginning. If implemented, it will help vulnerable regions to access funds. Hitherto the focus has been on capacity building and setting up processes, but it will also be crucial for LoGIC to aggressively focus on advocacy and influence with the LGD as well as other agencies such as the Local Government Engineering Department (LGED), Ministry of Finance, Ministry of Environment, Forests and Climate Change, Water Resources, Agriculture and Disaster Management.



View report for recommendation