End of Term Evaluation of the National Climate Change Project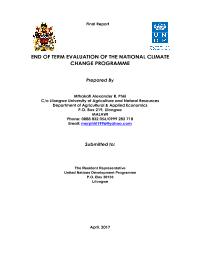 Evaluation Plan:

Evaluation Type:

Final Project

Planned End Date:

05/2017

Completion Date:

05/2017

Status:

Completed

Management Response:

Yes

Evaluation Budget(US $):

25,000
Title
End of Term Evaluation of the National Climate Change Project
Atlas Project Number:

00069211

Evaluation Plan:
2012-2018, Malawi
Evaluation Type:
Final Project
Status:
Completed
Completion Date:
05/2017
Planned End Date:

05/2017

Management Response:
Yes

Focus Area

:

1. Poverty and MDG
2. Environment & Sustainable Development
3. Cross-cutting Development Issue
4. Others

Corporate Outcome and Output (UNDP Strategic Plan 2014-2017)

1. Output 1.4. Scaled up action on climate change adaptation and mitigation across sectors which is funded and implemented

SDG Goal

Goal 13. Take urgent action to combat climate change and its impacts
Goal 7. Ensure access to affordable, reliable, sustainable and modern energy for all

SDG Target

13.2 Integrate climate change measures into national policies, strategies and planning
7.1 By 2030, ensure universal access to affordable, reliable and modern energy services

Evaluation Budget(US $):

25,000

Source of Funding:
TRAC
Evaluation Expenditure(US $):

18,000

Joint Programme:
No
Joint Evaluation:

No

Evaluation Team members:

| Name | Title | Email | Nationality |
| --- | --- | --- | --- |
| Mthakati Alexander Phiri | Dr. | marphiri1996@yahoo.com | |

GEF Evaluation:

No

Key Stakeholders:
Environmental Affairs Department, Department of Disaster Management Affairs and Department of Climate Change and Meteorological Services
Countries:

MALAWI
Lessons
Findings
1.

Relevance of the NCCP and sub-projects

The relevance as an evaluation criterion relates to the degree to which the objectives of a project remain valid and pertinent either as originally planned or as subsequently modified owing to changing circumstances within the immediate context and external environment of that project. The project was very relevant to Malawi. This is for a number of reasons. First the NCCP falls under Theme I of the MGDS II: Sustainable economic growth. The Government of Malawi recognizes the importance of sustainable economic growth to poverty reduction and improvement in the living standards of Malawians. However, it is noted that the achievement of this policy goal is seriously being undermined by a number of challenges which, include climate change and environmental degradation. For Malawi, climate change adds another layer of complexity to existing development challenges (inter alia; high levels of poverty, and inequality, rapid population growth, underdeveloped markets, poor infrastructure and service provision as well as weak governance systems)4 . Thus addressing the problem of climate change will significantly contribute to achieving sustainable economic growth of the economy.




Tag: Climate change governance Relevance National Inclusive economic growth Trade and Development

2.

Design of the NCCP and sub-projects

The design of the project relates to how well project objectives have been articulated including the choice of implementing agencies, structures or mechanisms put in place for achieving them. First, the lack of policy and regulatory frameworks and coordination mechanisms resulted in overlaps and duplication of effort among donors as well as agencies implementing projects on climate change without proper policy guidance. In this regard, it was difficult to measure the contribution of these efforts to addressing climate change impacts and their ultimate contribution to national development. Second, data and knowledge management were lacking. Relevant sectors were operating in silos with inadequate databases to guide choice of interventions, lacked information sharing mechanisms among others. Third, coupled with the lack of evidence and databases was serious capacity gaps at all levels in the understanding and articulating mechanisms and strategies to address the challenges of climate change. The project design was good and appropriate considering these gaps which affected effective implementation of climate change management programmes in the country. The four main outputs of the project around which various activities were carried out have been viewed as appropriate and adequately reflecting the gaps highlighted above and detailed in the project strategy section. Summary outputs focused on the following:

i) Establishing an appropriate policy and regulatory framework for mainstreaming climate change issues in development policies, plans and programmes at all levels;
ii) Establishing data and knowledge management systems to ensure that all key decision makers in government, private sector and CSOs have access to it;
iii) Establishing coordination and implementation guidelines for climate change; and
iv) Development of a NCCIP and establishing its implementation and financing modalities




Tag: National Implementation Modality Knowledge management Programme/Project Design Trade and Development Capacity Building Coordination

3.

Project Implementation and Coordination

The project started with establishing an overall framework followed by implementation. This meant establishment of institutional and coordination structures before starting to implement the project. This is shown in Figure 2 below. It is worth noting that some of the agencies' names have been revised to reflect what they are called today. It is also important to point out that the Ministry of Natural Resources, Energy and Mining (MoNREM) appears at various levels in the Programme Implementation structure because of the roles it has played in the coordination of the programme at various levels. The overall institutional structure for implementation and coordination of programme activities was appropriately designed. Each one of the main components of this structure is discussed below focusing on the roles they have played in this programme. In particular, the focus is on the MoNREM; the National Climate Change Steering Committee (NCCSC) and the National Climate Change Technical Committee (NCCTC). The other components are discussed under other sections that follow.




Tag: Climate change governance National Implementation Modality Programme/Project Design Country Government Coordination

4.

The Role of MoNREM in Project Coordination

The identification of the Ministry of Natural Resources, Energy and Mining5 (MoNREM) to drive the overall coordination for implementing the NCCP was appropriate. Indeed, it is important to acknowledge the fact that some controversies and disagreements existed early in the programme relating to coordination between MoNREM and Ministry of Economic Planning and Development (MoEPD). These were resolved and MoNREM played the Executive role in programme implementation. The MoNREM was thus the main Implementing Partner in the programme. However, the MoEPD chaired the National Climate Change Steering Committee (NCCSC) to ensure planning and monitoring oversight of the programme. To this end, as highlighted in the Figure above, the UNDP and other Development Partners played the role of Senior Supplier which provided guidance regarding the technical feasibility of the project and use of project resources. On the other hand, the senior beneficiary role was represented by sector ministries (e.g. MoEPD, MoAIWD, 5 At the design called Ministry of Environment and Climate Change management Project Organization Structure National Climate Change Steering Committee Senior Beneficiary EPD, MoAIWD, & MoLG&RD Executive MoNREM Senior Supplier UNDP and Development Partners Govt/Donors Working Group Project Assurance National Climate Change Technical Committee + UNDP Programme Coordinator MoNREM Project Support CC Advisor; Programme Manager; Finance Analyst; UNDP CO Ministry of Natural Resources, Energy and Mining Ministry of Local Govt &Rural Development Relevant Sector Ministries (MoAIWD, Energy etc) Local Assemblies Local Communities Energy and Mining, MoLG&RD, etc.) to ensure the realisation of project benefits from the perspective of project beneficiaries.




Tag: Climate change governance National Implementation Modality Project and Programme management Country Government Coordination

5.

The Role of the NCCSC and NCCTC

There are two committees at Government institutional level. These are: the National Climate Change Technical Committee (NCCTC) and the National Steering Committee on Climate Change (NCCSC) that provide oversight on climate change activity implementation. These were a major outcome of the first phase of the NCCP. The two committees are permanent national climate change committees recognized in the National Climate Change Management Policy (NCCMP). The NCCTC provides a platform for efficient and effective implementation of national, regional, and global partnerships on climate change. This provides an institutional framework for national and international co-operation; embracing a holistic approach to climate change interventions towards development of adaptation and mitigation initiatives through partnerships between Government agencies, the private sector, NGOs, CBOs, academia, and local communities. On the other hand, the NCCSC provides a forum for effective policy dialogue on frameworks, priority setting, and ways and means of facilitating investment and transfer of technology on climate change initiatives in the country.




Tag: Climate change governance Disaster risk management National Implementation Modality Country Government Coordination

6.

Flow of Funds to Implementing Partners

There is convergence among Key Informants that the project design for the disbursement of funds was generally good. All external funds were channelled through UNDP which later transferred the funds to the Secretariat or EAD for disbursement to implementing Partners. Funds were disbursed from UNDP only when there was an approved and signed quarterly work plan by the Steering Committee, a correct cash transfers request as well as progress and financial report from the previous quarter. Figure 5 below gives a schematic representation of the funding network for the program stakeholders.In general, the design was good with funds flowing smoothly. Nevertheless, a few challenges have been highlighted with regards to the design and flow of funds to Implementing Partners and districts.




Tag: Human and Financial resources Implementation Modality Partnership Project and Programme management

7.

Some weaknesses and challenges in the design of the project

Despite the fact that the design of the project has been viewed as generally good, a few weaknesses have been highlighted to guide future programming. The main ones are as follows:

Agriculture not adequately focused on: The main engine for Malawi's economic growth and development is agriculture. Besides, more than 80% of Malawi's population lives in the rural areas where their main livelihood is agriculture. Hence, programmes implemented to address the problem of climate change cannot be effective without a special focus on this sector. It has been noted through this project however, that agriculture as a sector did not take the centre stage during implementation. Of course agriculture was clearly highlighted in the PSD as the first key priority area. It was also the main focus of the micro-projects where irrigation, water harvesting, post-harvest management, Land Resources and Conservation and Aquaculture constituted the basket of activities. But the fact that Agriculture at the policy level was largely represented by the Department of Land Resources and Conservation has been seen as a major weakness. It has been noted with concern that the programme failed to engage and involve the mother Ministry of Agriculture. This is because in both Steering Committee and Technical Committee meetings, Department of Land Resources and Conservation Department was delegated to represent the ministry. This was a lost opportunity for the ministry to engage at the highest level and demonstrate that climate change is indeed a key challenge to the sector and that it needs to be confronted head-on. However, in future, it is important that ministry headquarters plays a key role in the design and implementation of climate change management programmes. It is important to engage with the higher policy level right from the conceptualization of the programme to ensure that a clear policy guidance on climate change management is provided since majority of mitigation as well as adaptation activities focus on this sector.




Tag: Agriculture Climate change governance Rural Implementation Modality Programme/Project Design Jobs and Livelihoods

8.

Weak strategies for communication and awareness creation:

Strategies for communication and awareness creation of CC issues are not yet comprehensive enough. Communication strategies have mainly remained at the high level and not focused enough at the districts and communities. Indeed, the Climate Change Week coordinated by EAD each year tends to raise awareness among the general public but this is limited in outreach. It is also noted that there has been an attempt to mount media campaigns to raise relevant CC issues as outlined in the communication strategy. But these attempts were only short lived and did not generate the level of awareness required. People that are most affected need to understand how they are affected by Climate Change but also how they themselves contribute to it. There is a lot of information in policy documents and strategies that the grassroots communities need to know and how they can use it to guide their livelihoods decisions. This was not well harnessed in the design of the NCCP. Policy documents without awareness creation is not enough. To many, climate change is like HIV/AIDS which needs a strong outreach component to make the "noise" which people should hear and be able to adopt mitigation and adaptive strategies.

No Comprehensive M&E Framework for the programme:

While recognizing the fact that a Monitoring and Evaluation Matrix was developed at the programme design stage. However, this is limited to the NCCP with core UNDP funding. The sub-projects that have been discussed above were not part of this framework. The M&E system which was developed and finalised late in the project cycle, was mainly linked to the National Climate Change Investment Plan and not much to climate change in general. Coupled with this weakness is the lack of baseline data. The PSD points to a baseline survey that was to be conducted at the commencement of work in selected districts with a small number of comparable control districts. But this was not done. Baseline data are useful not only to project management in guiding their monitoring activities but also to such activities as the Mid-Term and End of Term Evaluation.




Tag: Climate change governance Communication Monitoring and Evaluation Awareness raising

9.

Missing private sector participation:

Although private sector involvement in climate change management activities is envisaged as reflected in the PSD, but the sector is vividly missing in all the project activities. This is despite the fact that the NCCMP highlights the "polluter –pay" principle. It is acknowledged that one of the main factors explaining private sector absence is that Government usually conducts business through meetings – which unfortunately are sometimes too long therefore not attractive to private sector operators. Nevertheless, there is a need to define a clear niche as a relevant category of private sector operators. Once such a niche is identified, appropriate strategies for engaging and involving these operators in climate change management projects should be devised – of course recognising the fact that "time is money" for them. An example of such strategies is "breakfast meetings" where all invited stakeholders could make a short presentation on how they are being affected by climate change in their business. This could then be turned into how they could be involved in broader strategies at the national level to address climate change related challenges.

Rushed design of the ACA project:

The design of the project was rushed, such that it did not provide the UNDP country office with adequate time to conduct research on areas that would produce high value results. The design of the ACA was done without much involvement of stakeholders in the country. Hence, the contextualization of the project and how to complement existing initiatives was not done. With already proposed activities and implementation structures, the CO was advised to fit the project into a pre-designed concept, which in this case was the NCCP, and as such implementation of some elements like social protection and climate fund proved difficult to implement. Further, the direct implementation where IPs received funds directly from UNDP proved a major challenge negatively affecting the drive by them to implement the planned activities.




Tag: Climate change governance Effectiveness National Implementation Modality Programme/Project Design Social Protection

10.

Efficiency

Efficiency is a measure of how economically resources/inputs (funds, expertise, time etc.) are used to achieve results. One of the questions that could be asked is whether the projects were cost effective compared to similar interventions. In other words, were these the best set of projects to deliver the outcomes? Were the project resources adequate? (Manpower, physical and financial) Many studies point to the fact that although there is a growing concern among the donor community to show cost-effectiveness or indeed value for money in Climate Change and Disaster Risk Management project design and evaluation, there is usually no or limited data for these assessments. According to Moench et al (2008), often little information is available on the economic basis for investment in alternative avenues for risk reduction, making investments in specific DRR activities difficult to justify relative to both alternatives available and to other social investments that contribute toward similar development objectives. In view of this, project evaluations tend to use qualitative indicators which point to factors that help to explain project outputs and outcomes.




Tag: Climate Change Adaptation Disaster risk management Efficiency Human and Financial resources Project and Programme management Jobs and Livelihoods

11.

National Climate Change Programme

The NCCP Programme Support Document (PSD) summarises the outputs and activities that were planned. The discussion under this section will thus focus on the planned activities and the level to which they have been achieved. This will be guided by the four outputs as summarised under the Theory of Change section above. A detailed summary Table of specific achievements has also been attached as an annex to this report.

Output 1: Climate change mainstreamed in policies, development plans, and programmes at national level and implemented in 15 –disaster prone districts: The project has achieved a lot under this output. First, the National Climate Change Management Policy has been finalised and launched. However, it has not yet been operationalised. However, the approval of the policy by cabinet made a recommendation to have a legislation. The proposed Acts (e.g. Environmental MTHAKATI ALEXANDER R PHIRI 45 Management Bill) that would serve as legislation for the operationalisation on the NCCMP has already been drafted and would be presented to parliament soon. But other relevant Acts such as; Forestry Act; Energy Act; and the Forestry Act are to be revised to incorporate climate change issues. Further, other sector policies such as the Forestry Policy; the National Agriculture Policy; and the Fisheries Policy have been revised to incorporate climate change issues. This also includes sector plans where Climate Change Focal Points have been instrumental in incorporation of climate change issues. The Ministry of Local Government and Rural Development has coordinated the capacity building activities for local councils and now climate change issues have been mainstreamed into the district planning process; District Social Economic Profiles and District Development Plans. All these achievements coupled with the requisite capacities that have been built through the project will ensure that CC activities are not overlooked in planning at all levels.




Tag: Climate Change Adaptation Climate change governance Effectiveness National Local Governance Rule of law Capacity Building Policy Advisory

12.

Output 2: Data and knowledge on impacts of climate change collected and made accessible to decision makers in Government, Private Sector and Civil Society: The implementation of the activities under this output were mainly done through the Africa Climate Adaptation and Food Security (ACA) Project. The main results have been: the development of a Monitoring and Evaluation (M&E) Framework for the National Climate Change Investment Plan (NCCIP), one of the first nationally-lead Climate Change M&E Frameworks for the country. The project also supported the development by the Department of Surveys of In-depth Hazard and Vulnerability Maps for the entire country to provide visual locations of high vulnerabilities for use by the Department of Disaster Management Affairs in their Disaster Risk Reduction activities. It also supported the strengthening of District Climate Information Centres (DCICs) in seven districts that serve as a source of climate and weather information for communities, the piloting of climate adaptation initiatives in the form of agroforestry in selected communities, as well as the creation of an online Climate Action Intelligence (CAI) database system to provide information to decision makers on who is where and doing what on climate change in Malawi. Under this output, Research Guidelines were developed but no research has been reported that could be a source of data and information for decision making.

It is clear from the summary achievements provided above that much as information sharing and dissemination has been done using various tools; but some of the planned activities were not done. For example, besides the development of research guidelines, there has been no research on CC whose results could be shared at the national level as was planned in the PSD. In addition, there has been no feasibility study conducted for setting up a Centre of Excellence in Malawi.




Tag: Climate change governance Disaster Risk Reduction Effectiveness National Civic Engagement

13.

Output 3: Coordination mechanisms and implementation arrangements for Climate Change established and used at national level and in disaster-prone districts: The main coordination mechanisms that have been established under this output area are: the National Climate Change Technical Committee (NCCTC) and the National Climate Change Steering Committee (NCCSC). These have been the main platforms for sharing climate change information. Among the donors, a Development Partners Group on Climate Change, Environment and Natural Resources has been established as a direct product of this project. As a result, this now provide a coordinated mechanism for government in engaging with the donors. District Councils through the Ministry of Local Government and Rural Development have been strengthened in support of the planning process to incorporate climate change issues into plans. At all levels, civil society organizations (mainly CEPA and CISONECC) have been actively involved including in the development of the National Climate Change Management Policy. But a Sector Wide Approach (SWAp) has not yet been developed. However, a lot of preparatory work and studies have been done. This includes Capacity Needs Assessments; Training Needs Assessments; National Climate Change Response Framework among others.




Tag: Climate Change Adaptation Natural Resouce management National Rural Local Governance Coordination

14.

Output 4: Implementation modalities and financing mechanisms for the National Climate Change Investment Plan established and operationalised at national and district levels: Some projects have been funded as direct results to operationalise the National Climate Change Investment Plan. Some of these are the FICA support to the NCCP; the USAID PERFORME project and the Climate Planning by EU. Nevertheless; stakeholders would have preferred to see more multisectoral and donor support to this plan. Three projects since 2013 when the plan was launched is viewed as a very small number. The proposed climate change management fund has not yet been established. The present report has made some proposals and recommendations on how such a fund could be developed. On the other hand, steps towards its establishment are being taken among which an exploratory visit to Rwanda where such a fund already exists. The project has set a solid foundation for doing more on climate change management in the country. However, Government needs create a conducive environment for enhanced donor support and mobilisation of more funding at local and international levels towards implementation of climate change adaptation and mitigation measures.




Tag: Climate change governance Resource mobilization National Donor relations Implementation Modality

15.

UN CC Learn The UN CC:

Learn Pilot Project was designed and implemented as a demonstration by the Malawi Government of its commitments to the United Nations Framework Convention on Climate Change (UNFCCC) and the Kyoto Protocol which Malawi signed and ratified among many other multilateral environmental agreements (MEAs). The UN CC Learn pilot project for Malawi was designed and implemented to enable the country undertake deliberate efforts to foster coordinated approaches to training and capacity building process using external resources for the National Climate Change Programme initiatives. The Capacity Needs Assessment (CNA) conducted during the first phase of the NCCP informed the UN CC Learn concept and served as its baseline. Initially coordinated by the Malawi Institute of Education (MIE) but for some reasons later transferred to the Department of the Directorate of Inspectorate Services of the Ministry of Education, Science and Technology, the project has achieved what have been generally qualified as impressive results. The education sector through their involvement in this project has been identified as a "star performer" in the project.




Tag: Climate change governance Effectiveness National Country Government Education Capacity Building

16.

FICA Support to NCCP

The principal objective of the Flanders International Cooperation Agency (FICA) support to Malawi government through United Nations Development Programme (UNDP) was to enhance the adaptive capacity of selected communities in three vulnerable districts of Karonga, Salima and Mulanje to impacts of climate change, and to reduce Malawi's carbon foot print through improved waste management in Lilongwe City. To achieve this objective, the support was designed with the following focus areas:

Improving climate change community resilience through agricultural production-adoption of climate smart agricultural principles;
Enhancing climate change mitigation interventions through proper waste management and pollution control practices.




Tag: Agriculture land resouces Agriculture policy Agriculture water resources Crop production Emission Reduction Natural Resouce management Effectiveness National

17.

Progress towards achievement of programme Outcomes

The National Climate Change Programme was designed to contribute to UNDAF Outcome 1.2: "Improved management of environment, natural resources and climate change for sustainable development at national and district level by 2016". This section highlights the progress that was made through this programme towards the achievement of this outcome. It is thus important to find out the changes that have taken place at the policy and district council levels which could be attributed to project interventions. The achievement of each UNDAF Outcome results from the contribution of various agencies under the leadership of one of the UN agencies based on their comparative advantage. The lead UN agency for UNDAF Outcome 1.2 was the Food and Agriculture Organization (FAO). Thus besides the NCCP, several other projects were implemented to contribute to the achievement of this outcome. As highlighted in section 1.3.1, UNDP planned to contribute to this outcome through three outputs under the NCCP. The key question therefore is to what extent has NCCP contributed to the achievement of this outcome? The programme has contributed a lot to changing the policy landscape in Malawi with respect to management of environment, natural resources and climate change. This is in many ways. First, in line with Expected UNDAF Output One, the National Climate Change Management Policy has been finalised and approved; climate change issues are being mainstreamed into policy documents, strategies and plans; coordination structures have been established and institutionalised; among others. These have now created an environment for better management of climate change in the country.




Tag: Agriculture Climate Change Adaptation Climate change governance Natural Resouce management Effectiveness National Education Capacity Building

18.

Challenges faced in project implementation

Despite the fact that the project largely achieved its target objectives, several challenges were faced in its implementation. These challenges are shared between the project management and some key stakeholders of the project. The main ones can be summarised as follows:

Frustrations with the processes: The long and slow policy approval processes in Malawi affect the momentum of those driving the process. It is important to devise mechanisms for shortening these processes. For example, engaging with policy makers at the higher level early in the policy development process would reduce the "red-tape" and hence shorten the approval process.

EAD has been moved several times during the life of the project in terms of the ministry to which it belongs. This has tended to disrupt the focus of the project. This is compounded by the fact that despite enhanced capacity in EAD in recent years, the available key staff fail to give the attention that is required on the Climate Change related work in the country. Most of them are too busy and usually attending international conferences7 . There is a strong need to see the staff more engaged and available in the country, providing the required attention to stakeholders which gives more confidence to donors.




Tag: Climate change governance National Implementation Modality Project and Programme management Country Government Education

19.

UNDP's added value through the project

The section on UNDP's added value through the NCCP aims to present the perception among the key partners that the UN agency has interacted with during the life cycle of this project. To what extent do these perceptions help to explain the results of the project?

Perception among government agencies and CSOs There is generally a good working relationship between government agencies such as EAD, DCCMS and DoDMA with UNDP. UNDP has adequately supported the project both financially and technically. It has supported a lot of activities aimed at building capacity of relevant sectors but also supporting policy level processes. Further, there seems to be a very positive development at UNDP Country Office. This relates not only to the numbers of staff that have been recruited but also to the quality of staff. Additionally, the mutual understanding and partnership of UNDP and other agencies including implementing partners seems to have improved, resulting in a better working relations.




Tag: Human and Financial resources Project and Programme management Strategic Positioning Country Government Capacity Building

20.

Perception of other Development Partners

Among the Development Partners (DPs), the project has mainly been viewed as a UNDP project. This is mainly due to the fact that UNDP has not adequately taken advantage of the project to engage more with other DPs on issues pertaining to climate change management and support to government. The understanding among the DPs at the design stage was that this would be a National Programme with different agencies involved in the implementation – each implementing a component depending on their comparative advantage. And at that time, all donors felt that they were part of the programme. However, this broad donor focus seems to have been lost on the way. The involvement of other donors has largely been limited to attending Steering Committee or Technical Committee meetings than being part of the process. And in some of these meetings, all agenda items have come from UNDP. Hence, some donors have not adequately influenced the process – another example of "lukewarm" support. This has also been compounded by some inconsistencies in the invitations of various agencies to the Technical Committee meetings. Hence, most donors view this phase of the NCCP more as a UNDP and Government being in the driving seat alone.




Tag: Climate change governance Natural Resouce management Resource mobilization Donor relations Programme/Project Design

21.

Sustainability

Sustainability is the durability of project positive results after the termination of the technical and financial contribution channeled through the project. This sustainability can be static or dynamic. Static sustainability refers to the continuous flow of the same benefits that were set in motion by the completed project to the same target groups. Dynamic sustainability refers to the use in, or adaptation of project results to a different context or changing environment by the original target groups and/or other groups. This evaluation assessed both dimensions of sustainability. Several elements have been isolated which point to sustainability of the momentum that has been generated through implementation of the National Climate Change Project.




Tag: Climate change governance Sustainability National Rural Local Governance Implementation Modality

22.

Second, the institutional legacy of the project (NCCSC and NCCTC) on the one hand and the existence of the Development Partners Group on Environment and Natural Resources and Climate Change on the other are a clear testimony that the climate change management agenda in Malawi will continue. In addition to these positive changes, the development of a National Resilience Plan coordinated from the Office of the Vice President is testimony of a strong political will from the Government of Malawi to maintain the fight against the climate change challenge. In parallel, there is growing donor interest to support climate change management initiatives in the country. However, there is a need for government and its development partners to devise appropriate strategies for mobilising and leveraging resources for broader support to climate change management in Malawi.

Third, the evaluation has revealed that the NCCP has induced a lot of interest among various players in the country to join the Technical Committee on Climate Change not only to share their experiences and lessons but also to learn from others. In the process, there is a growing "Think Tank" on climate change management which will continue to work together for mutual benefit. More and more initiatives are willing to be coordinated through these structures, a sign of the emergence of a coherent effort toward addressing the problems of climate change. Evident from all this is that there are stronger synergies among players and better division of labour, which is resulting in better use of the available human and financial resources.




Tag: Climate change governance Sustainability National Health Sector Implementation Modality Country Government Education Capacity Building

23.

Missing links to climate change mainstreaming into development plans

The main challenge that the country has been facing to mainstream CC into development planning is the lack of policy. The National Investment Plan on Climate Change was developed as a shopping basket for investments in this sector. But the lack of policy made it difficult to operationalise the plan. For example, the Minister of Natural Resources, Energy and Mining could not easily lobby for funds on climate change using the NCCIP without the policy. However, the policy is now in place but some missing links still exist that hinder effective mainstreaming of CC into national development plans. With the policy in place, it is now possible to link investments on climate change to the Public Sector Investment Plan (PSIP). The PSIP is the tool that Government of Malawi uses to link national development plans with the national budgeting process. However, while climate change management plans could be linked to the national budgeting process through the PSIP, the lack of legal instruments in the form of National Climate Change Management Act there is still a gap in the budgeting process for climate change management investments. However, consistent with the Public Finance Management Act, all funds mobilised through the budgeting process will be channelled into Account Number One at the Accountant General's Office. This means that the Ministry of Finance is to be a key stakeholder in this process.




Tag: Climate change governance Natural Resouce management Human and Financial resources Trade and Development Coordination

24.

Gender and Social inclusion

Gender and social inclusion focuses on how the project addressed these issues in the project design as well as during implementation. At the policy level, there are deliberate strategies to ensure that gender issues are integrated into all policy and strategy documents. Thus all these documents have been developed with gender as a crosscutting issue. For example, the NCCMP, the NAMAs, the NAPA and all other documents have integrated gender. Gender is also strongly reflected in the Ministry of Natural Resources, Energy and Mining, and in EAD in particular. Gender is also addressed in the COP delegations from Malawi where gender negotiators are always part of the delegation. Gender has also guided targeting of beneficiaries in the micro-projects implemented in the three pilot districts. Deliberate steps were taken to ensure that women and other MTHAKATI ALEXANDER R PHIRI 62 gender groups such as the youth are included. For example, in the two districts that were visited during the evaluation, it was reported that targeting of project beneficiaries was gender sensitive in the sense that it had a deliberate focus on women since they are considered most vulnerable to the impacts of climate change. The target in all the districts was to achieve a 50-50 representation of men and women across all the project components. The project noted that irrigation and post-harvest activities were dominated by women. However, aquaculture was dominated by men due to the need to excavate fish ponds which is labour demanding




Tag: Climate Change Adaptation Climate change governance Gender Equality Gender Parity Awareness raising Capacity Building
Recommendations
1

Develop a New Climate Change Management Programme following a Catchment Approach

There is a need to adopt a programmatic approach targeting catchments. Investments on climate change should follow a catchment management approach while maintaining the focus on the areas that most prone to the impacts of climate change. This approach will borrow a lot from Productive Public Works Programme (PPWP) under the Malawi Social Action Fund IV Project; which has already adopted a catchment management approach in its interventions. The Operational Manual of the PPWP indicates that a Catchment Management Approach aims at minimizing the adverse effects of natural disasters and improve the quality of life by using integrated bio-physical, social and economic techniques. The catchment forms a dynamic and integrated bio-physical, economic, social, environmental and political system containing people, agriculture, forestry, water, industry, etc. It is clear that since climate change is cross-cutting and affects several sectors at the same time, a holistic approach to addressing its impacts is necessary. What this means is that while ensuring synergies and complementarities across sectors at the district council level it is also necessary to build strong spatial linkages. There should be a clear division of labour among sectors with clearly defined roles in the catchment. It has already been demonstrated through the FICA funded project that a multisectoral approach generates better impact in the target communities. Further, for better visibility, reporting and policy guidance, district councils need to be strongly linked with the centre. In other words, district councils should serve as sources of information to inform policy in the various sectors. For this to happen, proper reporting structures and systems need to be established and/or strengthened. For greater impact these initiatives can be broadened by establishing linkages with other existing programmes in the country. For example, linkages could be established with such programmes as the Social Cash Transfers (SCT) with skills development for climate change related work on adaptation or mitigation activities. This will avoid continuity of free cash handouts every month. Appropriate activities could be identified for the target beneficiaries who in the current design of the SCT are considered labour constrained. This could be an entry point to the catchment management approach like working on nursery establishments for trees rather than receiving free cash alone. The activities that constitute a programme could be arranged into clusters within a broad catchment approach.

For example: ? Agriculture cluster; ? Early warning cluster ? Social support cluster ? Education cluster ? Water cluster ? Health cluster, and so on. Cross cutting issues of gender and social inclusion for example need to be incorporated in all the different clusters. Facilitating functions or special considerations are the following: 1. Catchment conservation requires a clear understanding of upstream and downstream relationships. This entails disregarding the boundaries of the districts, the Traditional Authorities etc but only consider the catchment area. 2. Standard Operating Procedures or guidelines are important when there are several organizations working together. They need to develop a common approach and "rules of the game" to dealing with the problems that they aim to address. 3. There is a need to scale up the training in all the districts and upstream particularly aimed at ensuring stronger coordination within and across sectors. UNDP still has a big role to play in this endeavour to ensure that requisite capacities are built for stronger coordination between downstream and upstream levels. There is a need to develop a more strategic arrangement at the higher policy level before going down to the lower levels - districts. The whole of this exercise needs to start with identification of the key catchments and the areas that are most prone to the effects of climate change. Once these areas have been defined, a mapping exercise of projects being implemented, their focus, scale and duration need to be conducted to guide the design of the successor National Climate Change Management Programme.

2

UNDP should adopt a more Participatory Approach in the Next Programme.

The End of Term Evaluation has revealed that despite a good start at the design stage of the NCCP where UNDP engaged with all key donors and development partners in the country; however, in the course of its implementation the level of engagement dissipated resulting in the loss of the broad perspective in the ownership of the programme. As a result, the NCCP has ended up to be viewed among the development partners as a UNDP-Government of Malawi (MoNREM-EAD) programme. This has among others led to weakening their support to the programme since they are less identified with it and yet there is growing interest among them to support the government of Malawi in its efforts in addressing the challenge of climate change. It is clear that UNDP missed an opportunity through implementation of the NCCP to mobilize more donor support to the climate change agenda in Malawi. As alluded to in this report, UNDP is viewed as a credible development partner who could play an effective liaison role between the donor-community on the one hand and the Government on the other in driving the climate change management agenda in the country. Besides, it has extensive experience in supporting the sector. Thus, guided by the recommendation above (5.2.1); UNDP needs to facilitate the development of a concept note for the next programme which should be used as a selling tool to other development partners. The entry point to selling the ideas contained in the concept note will be the Donor Group on Environment, Natural Resources and Climate Change. Pledges of support to specific thematic areas or indeed clusters as proposed above will be made and these will be used in the development of a comprehensive and coherent programme. While facilitating the development of a more accommodating National Climate Change Management Programme, UNDP's defined role in the implementation of this programme should be coordination and provision of support to capacity building at all levels. This should include building the capacity of decentralized structures so that they too play a better role in supporting implementation of adaptation and mitigation initiatives at the community level.

3

There is a need to finalize the Sector Wide Approach (SWAp)

Under output 3 in the PSD of the NCCP, it was envisioned that a series of preparatory work would be conducted for setting up a Sector Wide Approach (SWAp) around Climate Change, Environment and Natural Resources. Instead of developing a strategic plan, a National Climate Change Investment Plan (NCCIP) was developed; MTHAKATI ALEXANDER R PHIRI 71 some capacity assessments were already conducted under the first phase among others. But all these activities did not culminate in the establishment of a SWAp. As a means to mobilize the donor community and other development partners around Climate Change, Environment and Natural Resources; UNDP should support the finalization of the SWAp for this sector. This will be commensurate with the Catchment Approach and the broad donor involvement in the development of the successor programme to the NCCP as proposed in the two recommendations above. Under the SWAp, donors willing to support the sector will thus contribute to a single basket of funds, which in turn will contribute to the national plan as may be developed under the two recommendations above. It is expected that the Government of Malawi and its development partners as facilitated by UNDP, will agree on a more coherent resource allocation system and plans to be supported under such an arrangement. Since the funds will be used on priority areas as may be guided by the NCCMP and its Implementation Plan; such an approach will among others result in more efficient management of donor funds in the sector.

4

Facilitate Establishment of a Climate Change Management Fund

The NCCMP proposes enhanced prioritization of financing for implementation and coordination of climate change management activities through increased national budgetary allocation, establishment of a Climate Change Management Fund, improved access to international climate financing (both multilateral and bilateral) and private sector investments. The special focus of this evaluation is on the establishment of the Climate Change Management Fund and its implications for the future role of UNDP in this area. The main question is what form should this fund management agency take to gain confidence of both bilateral and international development partners? There is convergence of ideas on the need to establish a body that will operate impartially with no or minimum government influence. The need to have no or limited government influence is, inter alia, to ensure that climate change work is not politicized which does not usually please the donor community. It is expected that the proposed SWAp in the recommendation above (5.2.3) will evolve into a fully-fledged Climate Change Management Fund. The SWAp should therefore be viewed as a transition into the establishment of the Fund. With these views in mind EAD would not be the best to manage this fund. As a guide to the design of the climate change management fund agency, whatever form it takes, it should have two components as follows: 3. A fully-fledged secretariat with a technical team that has technical know-how on Climate Change issues; and 4. A strong accounting office or system to manage the funds. MTHAKATI ALEXANDER R PHIRI 72 Both of these units should be under one body – the National Aids Commission (NAC) model has generally been perceived as the best structure. The Reserve Bank of Malawi and the Ministry of Finance could serve as Trustees to this body to play an oversight role to ensure that donor funds are appropriately (financial prudence) used for the interest of the country. Overall, the Board to this body should have a strong financial background. On the other hand, the technical secretariat will be responsible for scrutinizing project proposals and small grants applications from a cross section of agencies with expertise in implementation of climate change adaptation and/or mitigation activities. All such project proposals will be developed within the broad framework of interventions that will be developed by the agency. It is strongly believed that such an arrangement would win the trust of donors. Since such a fund management organization will be accredited to existing multilateral green fund bodies such as the Global Environmental Fund (GEF); the Green Climate Fund (GCF) and others, UNDP's role with regards the coordination of international financial support to Climate Change and Environmental and Natural Resources work in the country would be significantly weakened. Once this is achieved, it will be a major milestone in UNDP's support to the sector in Malawi. The fund would sustain itself through levies that it would draw from the funds mobilized for various activities in the country. But there is need for its capitalization in the early stages before it could become self-sustaining.

5

Need for a robust M&E system for climate change investments

The NCCP was implemented without a comprehensive M&E system. Although a broader and more detailed M&E system was eventually developed, but this was late in the project cycle and developed for the National Climate Change Investment Plan and not much focusing on climate change in general. The difficulty of operationalizing the M&E system also arose from the fact that the MGDS II was already running and was toward the end of the cycle. In pursuance of the four recommendations above, what needs to be done is to develop a robust and comprehensive M&E framework on climate change. This could be similar to the M&E framework for Food Security Policy for example, where all agencies involved in implementing various climate change related activities (on adaptation and mitigation) should be reporting to this national M&E framework with clear indicators to which they are contributing. The comprehensive M&E Framework should be linked to the MGDS M&E system, which is the overarching system for monitoring development programmes in Malawi.

6

Consolidate Climate Change Management and Disaster Risk Management

The End of Term Evaluation has established that Climate Change Management and Disaster Risk Management are being implemented in Malawi as if they are totally different. The two use different coordination institutional structures (SC and TC). But in reality, Disaster Risk Reduction initiatives cannot be implemented without making reference to climate change. To many, these terms address the same problems but only have different historical perspectives or time horizon. In essence, Climate Change Adaptation is the same as Disaster Risk Reduction. It has also been reported that usually, the same people participate in meetings of the Steering Committee and Technical Committee for DRM and CCM. It is therefore recommended that the two coordination structures should be merged. However, collapsing the two structures should be limited to the Steering Committee (SC). This is due to the fact that both CCM and DRM are very broad. Thus combining them at Technical level will result in not adequately discussing and addressing issues within each thematic area or sub-sector. Hence, only the Steering Committees should be merged into one while maintaining separate Technical Committees where more membership could be co-opted as necessary. Nevertheless, the fact that DoDMA is anchored to the Office of the President and Cabinet while Climate Change Management is in the Ministry of Natural Resources, Energy and Mining calls for careful consideration of how the restructured Steering Committee will be chaired. This will definitely require extensive high level consultations to ensure that a practical and politically acceptable structure is established. What is critical, however, is to isolate all related issues that require high level coordination to be brought at this level.

7

Create Awareness of the National Climate Change Management Policy

It has been noted through this evaluation that strategies for communication and awareness creation of climate change issues are not yet comprehensive enough. Communication strategies have mainly remained at the high level and not focused enough at the districts and communities. The National Climate Change Management Policy launched at the end of November, 2016 should be taken as an opportunity for creating more awareness of Climate Change at all levels within the country. The awareness creation should start with sensitization campaigns of the general public about the existence of the NCCMP, its purpose and objectives. Several tools for disseminating the messages could be used. These could include radio and Television messages and jingles; short plays aired on the radio and Television; thematic discussions by experts aired on the radio and Television; policy briefs which could be handed out to participants during major events as well as Press Releases widely published in the Local Press. This would also entail translating key aspects of the policy document for wider dissemination and outreach. The Ministry of Natural Resources, Energy and Mining should take the lead in these campaigns.

8

Establish a "Think-Tank" on Climate Change and Disaster Risk Management

The evaluation has established that engagement of local leaders, such as Members of Parliament, serves as an effective means of encouraging further interest on climate change issues from communities. However, Climate Change is a very new phenomenon and is still poorly understood by many including policy makers. Therefore, in terms of moving forward on this subject including on how government could be induced to allocate more budgetary resources to climate change management, there is a need to establish a "Think Tank" responsible for generating research results and packaging them in a way that policy makers and other decision makers could understand and use. It is clear in this regard, that the academia and research institutes need to be mobilised and organized to play this role. Research Guidelines developed under this project could be used to manage a competitive grant scheme. What is crucial in this endeavour is to generate information that will demonstrate to policy makers that action is needed. For them to be convinced there is a need to generate information that demonstrates various impacts of climate change. One of the platforms for sharing such research results is the Parliamentary Committee on Environment, Natural Resources and Climate Change. In addition to presentation and discussion of research results, policy briefs should be prepared from each one of the studies so that policy makers could use these as reference materials in lobbying for more resources for the sector.

9

Design "Tailor-made" Mechanisms for Engaging with the Private Sector

Modalities of enticing the private sector and Civil Society Organizations to get engaged should also be devised.