End of Term Evaluation of the National Climate Change Project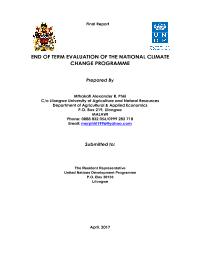 Evaluation Plan:

Evaluation Type:

Final Project

Planned End Date:

05/2017

Completion Date:

05/2017

Status:

Completed

Management Response:

Yes

Evaluation Budget(US $):

25,000
Title
End of Term Evaluation of the National Climate Change Project
Atlas Project Number:

69211

Evaluation Plan:
2012-2018, Malawi
Evaluation Type:
Final Project
Status:
Completed
Completion Date:
05/2017
Planned End Date:

05/2017

Management Response:
Yes
Focus Area:

1. Poverty and MDG
2. Environment & Sustainable Development
3. Cross-cutting Development Issue
4. Others

Corporate Outcome and Output (UNDP Strategic Plan 2014-2017)

1. Output 1.4. Scaled up action on climate change adaptation and mitigation across sectors which is funded and implemented

Evaluation Budget(US $):

25,000

Source of Funding:
TRAC
Evaluation Expenditure(US $):

18,000

Joint Programme:
No
Joint Evaluation:

No

Evaluation Team members:

| Name | Title | Email | Nationality |
| --- | --- | --- | --- |
| Mthakati Alexander Phiri | Dr. | marphiri1996@yahoo.com | |

GEF Evaluation:

No

Key Stakeholders:
Environmental Affairs Department, Department of Disaster Management Affairs and Department of Climate Change and Meteorological Services
Countries:

MALAWI
Recommendations
1

Develop a New Climate Change Management Programme following a Catchment Approach

Investments on climate change should follow a catchment management approach while maintaining the focus on the areas that most prone to the impacts of climate change. This approach will borrow a lot from Productive Public Works Programme (PPWP) under the Malawi Social Action Fund IV Project; which has already adopted a catchment management approach in its interventions.

the proposed catchment approach to consider the following activities which could be arranged into clusters, for example: Agriculture, Early warning, Social support, Education, Water, Health, and so on and include cross cutting issues of gender and social inclusion and keep in mind the special considerations on catchment conservation of the relationships between upper and downstream communities.

2

UNDP should adopt a more Participatory Approach in the Next Programme.

UNDP needs to facilitate the development of a concept note for the next program which should be used as a selling tool to other development partners. The entry point to selling the ideas contained in the concept note will be the Donor Group on Environment, Natural Resources and Climate Change.

UNDP's defined role in the implementation of this program should be coordination and provision of support to capacity building at all levels.

3

There is a need to finalize the Sector Wide Approach (SWAp) as a means to mobilize the donor community and other development partners around Climate Change, Environment and Natural Resources; UNDP should support the finalization of the SWAp for this sector.

4

Facilitate Establishment of a Climate Change Management Fund

The NCCMP proposes enhanced prioritization of financing for implementation and coordination of climate change management activities through increased national budgetary allocation, establishment of a Climate Change Management Fund, improved access to international climate financing (both multilateral and bilateral) and private sector investments.

As a guide to the design of the climate change management fund agency, whatever form it takes, it should have two components as follows: (1) A fully-fledged secretariat with a technical team that has technical know-how on Climate Change issues; and (2) A strong accounting office or system to manage the funds.

5

Need for a robust M&E system for climate change investments

To develop a robust and comprehensive M&E framework on climate change, where all agencies involved in implementing various climate change related activities (on adaptation and mitigation) should be reporting to this national M&E framework with clear indicators to which they are contributing. The comprehensive M&E Framework should be linked to the MGDS M&E system, which is the overarching system for monitoring development programmes in Malawi.

6

Consolidate Climate Change Management and Disaster Risk Management

It is recommended that the two coordination structures should be merged. However, collapsing the two structures should be limited to the Steering Committee (SC).

7

Create Awareness of the National Climate Change Management Policy

The National Climate Change Management Policy launched at the end of November 2016 should be taken as an opportunity for creating more awareness of Climate Change at all levels within the country.

The awareness creation should start with sensitization campaigns of the general public about the existence of the NCCMP, its purpose and objectives. Several tools for disseminating the messages could be used.

8

Establish a "Think-Tank" on Climate Change and Disaster Risk Management

There is a need to establish a "Think Tank" responsible for generating research results and packaging them in a way that policy makers and other decision makers could understand and use.

Information that demonstrates various impacts of climate change will demonstrate to policy makers including the Parliamentary Committee on Environment, Natural Resources and Climate Change that action is needed.

The information, research results, policy briefs etc could be used by government as reference materials in lobbying for more resources for the sector.

9

Design "Tailor-made" Mechanisms for Engaging with the Private Sector

Modalities of enticing the private sector and Civil Society Organizations to get engaged should also be devised.