MTR of Promoting climate-resilient development and enhanced adaptive capacity to withstand disaster risks in Angolan Cuvelai River Basin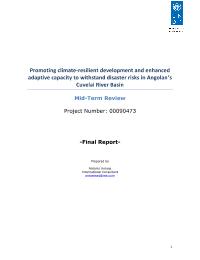 Evaluation Plan:

Evaluation Type:

Project

Planned End Date:

10/2018

Completion Date:

01/2019

Status:

Completed

Management Response:

Yes

Evaluation Budget(US $):

25,000
Title
MTR of Promoting climate-resilient development and enhanced adaptive capacity to withstand disaster risks in Angolan Cuvelai River Basin
Atlas Project Number:

00081003

Evaluation Plan:
2015-2019, Angola
Evaluation Type:
Project
Status:
Completed
Completion Date:
01/2019
Planned End Date:

10/2018

Management Response:
Yes

UNDP Signature Solution

:
Corporate Outcome and Output (UNDP Strategic Plan 2018-2021)

1. Output 1.4.1 Solutions scaled up for sustainable management of natural resources, including sustainable commodities and green and inclusive value chains

SDG Goal

Goal 1. End poverty in all its forms everywhere
Goal 11. Make cities and human settlements inclusive, safe, resilient and sustainable
Goal 13. Take urgent action to combat climate change and its impacts

SDG Target

1.5 By 2030, build the resilience of the poor and those in vulnerable situations and reduce their exposure and vulnerability to climate-related extreme events and other economic, social and environmental shocks and disasters
11.5 By 2030, significantly reduce the number of deaths and the number of people affected and substantially decrease the direct economic losses relative to global gross domestic product caused by disasters, including water-related disasters, with a focus on protecting the poor and people in vulnerable situations
13.1 Strengthen resilience and adaptive capacity to climate-related hazards and natural disasters in all countries

Evaluation Budget(US $):

25,000

Source of Funding:
GEF LDCF
Evaluation Expenditure(US $):

23,000

Joint Programme:
No
Joint Evaluation:

No

Evaluation Team members:

| Name | Title | Email | Nationality |
| --- | --- | --- | --- |
| Antonio Arenas | International Consultant | antarenas@me.com | |
| Antonio Arenas | International Consultant | antarenas@me.com | |

GEF Evaluation:

Yes

| | |
| --- | --- |
| GEF Project Title: | Promoting climate-resilient development and enhanced adaptive capacity to withstand disaster risks in Angolanâ??s Cuvelai River Basin |
| Evaluation Type: | Mid-term Review |
| Focal Area: | Climate Change |
| Project Type: | FSP |
| GEF Phase: | GEF-5 |
| GEF Project ID: | 5177 |
| PIMS Number: | 5166 |

Key Stakeholders:
MINAMB; Project team; UNDP
Countries:

ANGOLA

Comments:

Outcome: Expected CP Outcome(s):

By 2019, the environmental sustainability is strengthened through the improvement of management of energy, natural resources, access to green technology, climate change strategies, conservation of biodiversity, and systems and plans to reduce disasters and risks.

Output: Expected CPAP Output (s)

CPAPC 2015-2019: Priority Area 4: Environmental sustainability for disaster risk reduction and economic advancement.
Lessons
1.

C1. Project benefits conceived so far will contribute to solving some baseline sustainable development problems, pointing toward adaptation to climate change impacts such as improved access to food security, fresh water availability, enhanced local productivity, protect natural resources and provide early warning system.

C2. Project design has two basic errors: first, believing that a problem exists when something is missing, assuming that if the project provides what's missing the problem will be resolved. Second, an unclear strategy in terms of defining clear and strong commitment to changes needed to achieve the project's objective. Project strategy has been influenced by a "technocracy" approach, which assumes that provide a FFEWS is an outcome by itself.

C3. The project's objectives and outcomes or components need to become more results-oriented and to improve their focus on development changes and real improvements in people's lives. The project results framework should describe the real changes that can "Enhance or improve capacity" and "Increase resilience" people's lives "to reduce" their vulnerabilities.

C4. Cuvelai River Basin Project has a clear idea about the need to be linked with other initiatives and how closing some identified gaps in other investments. Project made an effort in describing how to fulfil the Angola's NAPA priority interventions and National Programme for Environmental Management, taking into account the perspectives of those institutions that could contribute information and other resources.

C5. Although limited, project has developed ideas and specific definitions to gender approach and women empowerment.

C6. Project has demonstrated important delay in starting and then, the very low and sometimes non-execution. Given the activities made, the road that remains to be travelled and the short time remaining, Cuvelai River Basin Project will not achieve the expected results by the planned end of project.

C7. In the institutional context, the "National Implementation Modality" was a bold decision and undoubtedly the lessons to be learnt have a high value for implementers, especially in themes such as result-based management and the early warning related to project execution. However, and given the circumstances, the Responsible Partner should place itself in position to provide more direct service support.




Tag: Climate change

Findings
1.

The project performance is rated unsatisfactory after 2 years of slow implementation and very slow progress toward the outcomes.

So far, the project has had some important achievements, such as the assessment of the training needs for the Institutions for meteorology and hydrology, the beginning of the training of community extension officers on climate resilient farming methods (IDA), seeds collection for research and improvement (CRF), creation of CBO related to DDR and water (Civil Protection), and the rehabilitation of water wells (NGO Development Workshop). In December 2018, the contract for setting up a network of meteorological stations in the basin, selected based on a public procurement process early in the year, was also finally signed by the IP.

However, it is clear that the project's objectives will not be achieved unless a project extension is granted, based in a strong adjustment of management and implementation modality, in order to ensure that the most vulnerable people can access to the necessary knowledge and tools to progress toward development-based risk reduction and climate change adaptation.



Recommendations
1

Perform a 'no-cost extension' for two years in order to achieve outcomes of sufficient quality, sustainability and impact

2

Enhance the PMU, allocating all personnel to work as a unit, including a high-level Technical Advisor. All PMU positions as defined in the PRODOC should be placed permanently in Cunene province.

3

MTR strongly recommends to UNDP to modify its implementation modality to Assisted NIM

4

Group activities into comprehensive tender packages to be launched as soon as possible.

5

Extend the scope and increase finances of climate change adaptation actions

6

The project needs a "tailor made" M&E tool with clear protocols and procedures to oversee the contracts, including a participatory tool were the final beneficiaries can be involved in the process

7

Project needs a "tailor made" social communication strategy and actions to develop awareness campaigns related to EWS, climate change and agriculture adaptation measures and tools

8

Project Board and/or Steering Committee should take strong measures to assure that their decisions become effective at institutional level and on the ground