Evaluation of Czech-UNDP Trust Fund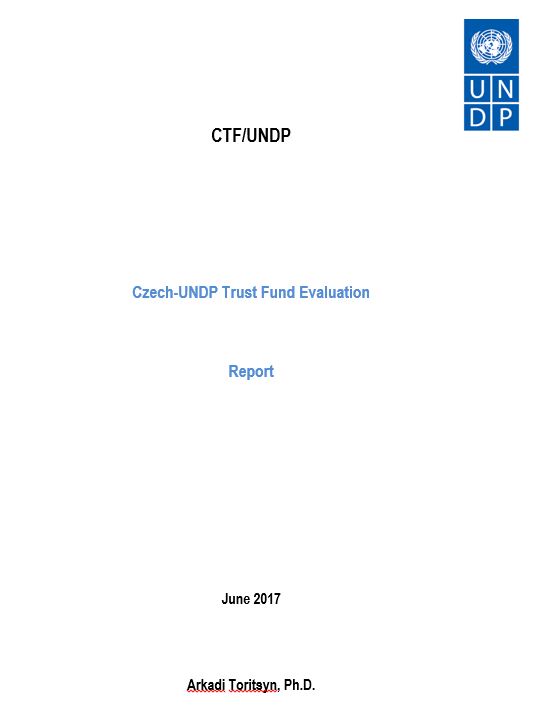 Evaluation Plan:

Evaluation Type:

Mid Term Project

Planned End Date:

08/2017

Completion Date:

06/2017

Status:

Completed

Management Response:

Yes

Evaluation Budget(US $):

13,000
Title
Evaluation of Czech-UNDP Trust Fund
Atlas Project Number:

00035692

Evaluation Plan:
2014-2017, RBEC
Evaluation Type:
Mid Term Project
Status:
Completed
Completion Date:
06/2017
Planned End Date:

08/2017

Management Response:
Yes

Focus Area

:

1. Cross-cutting Development Issue
2. Others

Corporate Outcome and Output (UNDP Strategic Plan 2014-2017)

1. Output 7.5 South-South and Triangular cooperation partnerships established and/or strengthened for development solutions

SDG Goal

Goal 17. Strengthen the means of implementation and revitalize the Global Partnership for Sustainable Development

SDG Target

17.16 Enhance the Global Partnership for Sustainable Development, complemented by multi-stakeholder partnerships that mobilize and share knowledge, expertise, technology and financial resources, to support the achievement of the Sustainable Development Goals in all countries, in particular developing countries
17.9 Enhance international support for implementing effective and targeted capacity-building in developing countries to support national plans to implement all the Sustainable Development Goals, including through North-South, South-South and triangular cooperation

Evaluation Budget(US $):

13,000

Source of Funding:
Government of Czech Republic
Evaluation Expenditure(US $):

13,256

Joint Programme:
No
Joint Evaluation:

No

Evaluation Team members:

| Name | Title | Email | Nationality |
| --- | --- | --- | --- |
| Arkadi Toritsyn | | artoritsyn@rogers.com | |

GEF Evaluation:

No

Key Stakeholders:
The Ministry Foreign Affairs of the Czech Republic, UNDP Armenia, Kosovo, Kyrgyzstan, Moldova, Montenegro, Serbia, Tajikistan Country Offices, UNDP Istanbul Regional Hub,
Lessons
1.

The main lesson learned is that in the face of a highly competitive market of international development consultants, declining donors' resources and increasingly diverse UNDP COs needs, the CTF has to be more results oriented and address both the demand and supply side of its activities. The consultant identifies the following lessons learned:

CTF can achieve systemic changes by focusing on a limited number of priorities. Achieving strategic and long lasting impact is challenging if CTF pursues multiple objectives and is spread too thin. CTF can achieve more results if it focuses on those areas where there is a supply of internationally recognized Czech expertise and a strong ECIS countries' demand for Czech "know-how" and expertise.

It is important to focus on sustainable results, beyond activities. Achieving long-term impact is possible when individual CTF-supported activities are based on a simple but well developed log frame matrix where outcomes, outputs and indicators are properly identified and monitored and the necessary changes are made to ensure matrix relevance.
"Best practice" breakthroughs in the Czech Republic may not work in an entirely different country setting. While Czech expertise and experience can illuminate options for reform in ECIS countries, Czech solutions have to be adapted to local realities to be successfully implemented.



Findings
1.

Available in the Evaluation Report as a seperate Findings Section



Recommendations
1

Focus on a limited number of areas of support.[1] CTF is advised to identify priorities, countries to focus on and support modalities in close consultation with the MFA, Czech Development Agency and UNDP Istanbul Regional Hub (IRH) to reduce duplication and maximize the impact. It is advisable, in particular, to promote activities involving a number of countries, especially in the field of environment where there is a significant Czech expertise and where multiple COs implement comparable programmes/projects. In addition to promoting proven and region-tailored Czech "know how", cross country activities would involve exchange of information among national partners that may lead to formation/strengthening of regional networks.

---

[1] CTF may focus in particular on MFA-identified priority countries in the region. See, The Development Cooperation Strategy of the Czech Republic, 2010–2017

2

Deepen partnerships with the private sector that can be seen as an equal partner of development actors. As this would be a new area for CTF, it is advisable to hire Expert on Demand (EoD) to develop a new partnership modality, including processes and accountabilities. Many UN sister agencies in Europe and Commonwealth of Independent States (ECIS) work extensively with corporate private partners and another EoD study can be commissioned to gather this information, identify lessons learned and develop recommendations for partnership with Czech and non-Czech businesses.

3

Plan activities strategically with involvement of the RBEC COs and IRH experts with at least one year planning window. Consider establishing a special budget line for long-term multi-country activities. Actively promote CTF across all COs that can learn from experiences of other COs that have benefitted from Czech expertise.

4

Encourage Czech experts to make their training and advice more practical and tailored to targeted country realities. Beneficiaries greatly appreciated support with operationalization of advice provided and expressed a need to strengthen practical aspects in those instances where the advice provided was too generic or only reflected Czech experience without customization to local realities.

5

Further elaborate accountabilities of IRH, UNDP COs and CTF for supporting activities at the country level. UNDP accountabilities for CTF that it manages are weaker than for UNDP funded and implemented activities. Although the CTF is mainstreamed into UNDP operational processes, including procurement, such mechanisms as M&E are not explicitly elaborated for activities supported by CTF and the Project focuses mostly on inputs and outputs with very little attention to outcomes. Although the authority for activities implementation is delegated to UNDP COs, the role of IRH experts in identifying Czech experts, identification and prioritization of areas for CTF support, design of UNDP COs' activities and their monitoring should be better elaborated to enhance the focus on results and promote ECIS cross-country collaboration. The consultant is confident that COs staff would appreciate more support from IRH advisors in identification, preparation and implementation of CTF-funded activities

6

Streamline results into monitoring, evaluation and reporting mechanisms. Establish a standardized activity-level M&E framework, including consistent formats for final reports, lessons learned summaries, mini logframes, with a focus on outcomes. Lack of clarity about specific expected outcomes/results contributes to an inability to track needed data or to tracking data that are not useful in assessing impact. CTF, in collaboration with IRH evaluation team, can develop a short guide on how to measure activities' success, taking into account short and focused nature of these interventions, and how to select right indicators. Some results-focused indicators may include: a number of specific policy recommendations made by Czech experts adopted by the Government, satisfaction of Government officials with the quality and timeliness of advice/support provided by Czech experts; number of requests coming from national partners for Czech expertise; number of visits of CTF web-site by country and specific documents downloads; and use of knowledge and skills acquired by beneficiaries. One of study tour beneficiaries suggested, for instance, to monitor how training beneficiaries use knowledge and skills acquired in their work.

7

Give more extensive and elaborate consideration to sustainability principle. Share the sustainability strategies identified in this report more broadly across UNDP COs considering applying for CTF funding. Develop a more robust follow up process, supporting COs in ensuring that sustainability strategies/approaches outlined in their applications are implemented.

8

Increase CTF budget to at least 1M USD per year and ensure that CTF managers stay for at least 3 years in their positions. It is difficult to ensure sustainability and impact of CTF-supported activities if the funding is very limited and the Project management does not plan strategically for at least two years. It also takes time for Project managers to develop effective relationships with IRH experts and UNDP COs that is critically important in developing and implementing successful activities.

9

Knowledge is a key asset of CTF and the intersection of that knowledge with UNDP COs and countries' needs is one of its critical comparative advantages. However, the results and lessons learned from these activities are not systematically identified, captured or generated to inform broader learning or regional knowledge for all ECIS countries. This knowledge could be better leveraged for the benefit of future activities through better capture, storage and dissemination. Concerted efforts to vet, catalogue and share knowledge products generated through CTF activities can have longer-term development benefits for ECIS, while also helping promote Czech development experts. To address these gaps, a knowledge management mechanism has to be developed, which defines a systematic process for identifying, generating, disseminating and storing/organizing knowledge.

CTF should develop a knowledge management strategy and in consultation with MFA and IRH determine what knowledge generated by Czech experts has to be transferred, to whom and which means of knowledge transfer should be utilized. Effective knowledge mobilization can happen if a comprehensive strategy is developed and implemented as discrete interventions cannot achieve significant long lasting impact. There is a wide range of capacity building/knowledge transfer strategies that can be considered by the CTF, but the consultant suggests exploring the following:

Some innovative activities were able to achieve great impact in spite of their smallness. These activities could be showcased as innovative approaches that might be replicated in other countries, be treated as lessons learned or be an example of which ingredients are needed for an activity to be successful.
The existing CTF web-site can be expanded to collect and systematize various know-how products developed by Czech experts. In addition, a more comprehensive web-site that contains knowledge products will facilitate exchange among beneficiaries and the information and knowledge-sharing along thematic, sectoral or other lines.
Explore use of new media such as facebook and twitter to support information exchange, dissemination and application.
Require Czech experts to produce short summaries of their work that should be easily accessible in terms of format, language and length and highlight their achievements and make them available on the CTF website. Develop videos, webinars and online resources based on Czech experts' work implemented in ECIS that are relevant to a number of ECIS countries and make them available on CTF website.
Require beneficiaries who attended learning events (e.g. study tour) to provide other national colleagues with a brief, written summary of key learnings and lessons learned and make a short presentation to decision makers and staff of relevant national institutions.
It is advisable to translate relevant materials into national languages only if COs are committed to widely disseminate them and follow up with national counterparts.

10

One of challenges faced by CTF was identifying Czech experts with the necessary technical and practical expertise. For some positions only one or few experts have applied and sometimes they did not have the necessary qualifications and expertise that negatively affected activities' outcomes. Some beneficiaries acknowledged that although some Czech experts have the necessary skills and competencies, they did not always have deep understanding of local circumstances and local language skills. Some experts may not have the necessary experience in the international development as well. When short-term EoD instrument was utilized, experts without the necessary language skills, country background knowledge and ability to produce practically applicable and understood by beneficiaries materials are unlikely to make long-term and sustainable impacts. It is advisable for both COs and CTF to be as specific as possible in outlining region and country expertise expectations in experts/companies TORs.

Once a range of areas of CTF focus is reduced and priorities for Czech experts' engagement are identified for the next few years, CTF is advised to establish a pool of Czech experts and invest into their capacity building. More specifically, CTF may consider implementing the following activities for experts who do not have sufficient ECIS experience:

Establish pool of well recognized Czech experts and companies in narrowly defined areas who have the necessary country and language skills and actively promote them among COs by showcasing their work to UNDP COs and IRH. It is not advisable to offer support in those areas where there is no internationally competitive Czech expertise is available.

Facilitate yearly face-to-face events or online forums of Czech experts involved in CTF funded work and IRH colleagues and other relevant parties to disseminate effective practices and share lessons learned. Support professional learning communities among Czech experts who in addition to technical expertise will be able to discuss countries' political and economic context and practical lessons learned. Some more experienced experts can be requested to develop and deliver webinars on practical hints of being an international development expert working in ECIS.