Mid-Term Review Strengthening the Marine Protected Areas to Conserve Marine Key Biodiversity Areas (SmartSeas) Project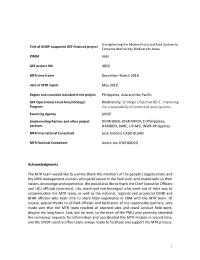 Evaluation Plan:

Evaluation Type:

Mid Term Project

Planned End Date:

06/2018

Completion Date:

06/2018

Status:

Completed

Management Response:

Yes

Evaluation Budget(US $):

50,000
Title
Mid-Term Review Strengthening the Marine Protected Areas to Conserve Marine Key Biodiversity Areas (SmartSeas) Project
Atlas Project Number:

00076994

Evaluation Plan:
2012-2018, Philippines
Evaluation Type:
Mid Term Project
Status:
Completed
Completion Date:
06/2018
Planned End Date:

06/2018

Management Response:
Yes

Focus Area

:
Corporate Outcome and Output (UNDP Strategic Plan 2018-2021)

1. Output 2.4.1 Gender-responsive legal and regulatory frameworks, policies and institutions strengthened, and solutions adopted, to address conservation, sustainable use and equitable benefit sharing of natural resources, in line with international conventions and national legislation

SDG Goal

Goal 14. Conserve and sustainably use the oceans, seas and marine resources for sustainable development

SDG Target

14.2 By 2020, sustainably manage and protect marine and coastal ecosystems to avoid significant adverse impacts, including by strengthening their resilience, and take action for their restoration in order to achieve healthy and productive oceans
14.5 By 2020, conserve at least 10 per cent of coastal and marine areas, consistent with national and international law and based on the best available scientific information

Evaluation Budget(US $):

50,000

Source of Funding:
Project funds
Evaluation Expenditure(US $):

50,000

Joint Programme:
No
Joint Evaluation:

No

Evaluation Team members:

| Name | Title | Nationality |
| --- | --- | --- |
| Joe Antonio Cabo Bujan | International Consultant | |
| Andre Jon Uychiaoco | National Consultant | |

GEF Evaluation:

Yes

| | |
| --- | --- |
| GEF Project Title: | Strengthening the Marine Protected Area System to Conserve Marine Key Biodiversity Areas |
| Evaluation Type: | Mid-term Review |
| Focal Area: | Biodiversity |
| Project Type: | FSP |
| GEF Phase: | GEF-5 |
| GEF Project ID: | 4810 |
| PIMS Number: | 4389 |

Key Stakeholders:
DENR, BFAR, NCIP, Haribon, KKPFI, RARE Phils, CI Phils, DTI, DoT  
Countries:

PHILIPPINES
Lessons
Findings
1.

The project strategy is sound and conforms with the GEF-5 biodiversity strategy and UNDP quality standards. The project has a major component of capacity development activities that are reflected in increased scores of the capacity development scorecard as well as increases in MPAN and MPA METT scores. However, MPA management councils still need much more support both in terms of individual skills and organizational strengths, as well as equipment: even with external support, most councils are not yet able to design, implement, monitor and evaluate MPA management plans, and their proposed business plans have excessively optimistic expectations on, e.g., number of visitors and the transaction and management costs of running tourism operations.

While the project has effectively promoted the concept of networks of marine protected areas, the current agreements are insufficient to guarantee the level of protection committed in the project document. Additional area covered under IUCN Protected Area Category V must at minimum have legally established boundaries and legally specified regulations: the current project MPAN drafts, even if legalized, do not establish PAs and thus do not add to the area already covered under protected area.

MPA management plans examined by the MTR include insufficient financial information that would help determine the financial sustainability of the municipal marine protected areas. Among others, the MPA management plans do not account for current expenses, allocated budget and, being mere drafts, also lack financial commitment by LGUs. Management effectiveness scores for individual MPAs and MPANs have generally increased as per mid-term targets; however, these are not backed up by adequately-documented evidences. Administration of METT, and capacity development scorecard must also be improved.

The project governing structures do include all relevant stakeholders, from fishing communities involved in the management councils of their MPAs, to LGUs linked through the development partners to the PMU. However, the project board seems unbalanced since two of the project's most important stakeholders, BMB and BFAR-NFDRI have the same role as relatively less influential players, such as the Department of Tourism or the National Antipoverty Commission. While the project has increased efforts to improve coordination with provincial and regional DENR offices, these efforts have not yet given tangible results. The project has much less involvement from private sector actors operating on the coastal zone or on watersheds affecting the coastal zone.

To be able to achieve its goal, the project would need to increase annual delivery to comply with the expected closing date of mid 2019, or request a no-cost extension.



Recommendations
1

Recommendation 1. Project manager and PMU to focus on establishment of 4,412 km2 and inclusion in an expanded national PA system which includes both NIPAS and non-NIPAS protected areas.

2

Recommendation 2. Capacity development on administration of METT and capacity development scorecard: standardization and documentation.

3

Recommendation 3. Better administration and documenting of capacity development based on actual delivery of quality outputs (e.g. management plans and field enforcement) and METT

4

Recommendation 4. Strongly advocate enforcement of regulations in MPAs and in MPAN areas in between MPAs, through IEC, including buoys and signs of MPAs, and advocacy work with LGUs together with appeals for financial commitment (outcome 2)

5

Recommendation 5.Monitor LGU budget for MPAs and advocate for its increase, by pointing at distribution of ecosystem service values supported by the MPAs. RPs should select and focus on five best examples for the development of realistic business opportunities, including 1) low cost/ low risk ecotourism ventures 2) joint ventures/ cooperation with established businesses

6

Recommendation 6.Pilot implementation, improved DENR and BFAR mechanisms, and sharing of good practices on MPAN policy which should include identification of scientifically-based needs (e.g. to considerably increase area of no-take zones and/or decrease in fishing effort) to reach sustainability.

7

Recommendation 7.Harness the extensive complementary experience of the RP partnership to develop joint knowledge products to provide guidance (e.g. on MPA and MPAN management and financial planning, on MPAN ordinances, behaviour change communication, enforcement, bio-physical assessment and monitoring, etc.) for replication and upscaling

8

Recommendation 8. PMU to improve knowledge management system (KMS), with strong support from UNDP to set-up an evidence-based and more objective M&E database system at least including the indicators of the project log-frame.

9

Recommendation 9. Project could be extended till end of 2020 to consolidate policy outcome (Outcome 3) and knowledge management system and dissemination, after ending field phase as expected by mid-2019

10

Recommendation 10. Responsible Partners (RPs) to advocate with local stakeholders, specially LGUs and business operators on need to increase protected area cover (such as in Narra municipality in SP) to increase likelihood of sustainable MPA ecological and social outcomes, and press for improved financial flows for MPAs.