TERMINAL EVALUATION REPORT OF ESTABLISHMENT OF NATIONAL LEADERSHIP INSTITUTE PROJECT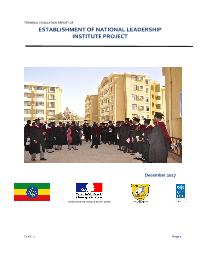 Evaluation Plan:

Evaluation Type:

Final Project

Planned End Date:

10/2017

Completion Date:

12/2017

Status:

Completed

Management Response:

Yes

Evaluation Budget(US $):

13,648
Title
TERMINAL EVALUATION REPORT OF ESTABLISHMENT OF NATIONAL LEADERSHIP INSTITUTE PROJECT
Atlas Project Number:

00059751

Evaluation Plan:
2017-2020, Ethiopia
Evaluation Type:
Final Project
Status:
Completed
Completion Date:
12/2017
Planned End Date:

10/2017

Management Response:
Yes

Focus Area

:

1. Democratic Governance
2. Others

Corporate Outcome and Output (UNDP Strategic Plan 2014-2017)

1. Output 3.2. Functions, financing and capacity of sub-national level institutions enabled to deliver improved basic services and respond to priorities voiced by the public

Evaluation Budget(US $):

13,648

Source of Funding:
UNDP
Evaluation Expenditure(US $):

13,648

Joint Programme:
No
Joint Evaluation:

No

Evaluation Team members:

| Name | Title | Email | Nationality |
| --- | --- | --- | --- |
| Teshome Legesse | Dr. | | ETHIOPIA |
| Samrawit Hagos | Ms. | | ETHIOPIA |
| Demissie Gudisa | Mr.. | | ETHIOPIA |

GEF Evaluation:

No

Key Stakeholders:
Ministry of Civil Service, Ministry of Finance and Economic Development
Countries:

ETHIOPIA
Lessons
1.

Lesson Learned

Lessons extracted from observations and comments forwarded by participants of the study

ILG differs from other colleges in the University in its peculiar curriculum and the courses that are offered as they are wide and real life related ones;
ILG works directly on producing reformists;
The institute works on understanding diversity and unity;
ILG works towards implementation of modern bureaucracy;
Trainees graduated from ILG are exposed to multi-dimensional lessons which contributed in creating confident and successful leaders;
As part of the training, ILG sends students for internship to different federal and regional offices who were involved in mentoring workshops to practically implement what they have learned in theory. Since some of the mentors participated in the workshops at federal and regional offices are replaced through time ILG needs to train and familiarize its programs to these new officials to play their roles as mentors;
The placement of graduates was not holistic as expected due to many factors among which MoPSHRD did not including the Masters' degree holders in Leadership and Good Governance in their Job grading system;
The courses offered in the institute are helpful to implement the different policies of the government. The cultural exchanges among students and the course that is offered in relation to the major languages in the country is creating harmony among the trainees.



Findings
Recommendations
1

Evaluation Recommendation or Issue 1: Close cooperation with regional Civil Service/PSHRD offices, Office of Regional Presidents and Cabinets avoids gaps in recruitment and placement. The Ministry of Public Service and Human Resource Development (MoPSHRD) requires stepping up on dedicated directive towards placement with series of proactive awareness to federal and regional stakeholders of the ILG.

2

Evaluation Recommendation or Issue 2 Even though the quota set to regions is based on the population and territorial size, due emphases must be given for those developing regions as they need more skilled and professional leadership that can support the implementation of the regional development plans. This will extend to maintaining and advancing development gains as well as minimizing critical challenges to early graduates from the sphere of developing regions

3

Evaluation Recommendation or Issue 3: Despite the quota and affirmative actions, women are not taking part as candidates as needed, the proportion of female graduates until 2016, only reached to a total of 26% though increasing from year to year. To enhance increased number of female graduates, ILG needs to apply a different modality such as conducting training near female students in close cooperation with Regional Management Institutes (RMI).

4

Evaluation Recommendation or Issue 4: With the growing demand for leadership at all levels, ILG should enhance its intake by strengthening block, extension and weekend classes and by having branches that accommodate additional students from various sectors that require support from skilled and professional graduates who will be able to serve as backbone of the civil service reform.

5

Evaluation Recommendation or Issue 5: To avoid some of the problems faced during internship, ILG should continue working on awareness raising on the peculiar nature of the Institute to mentors at different federal and regional offices so that they can coach the interns in a way to enables them to acquire the intended skills and knowledge.

6

Evaluation Recommendation or Issue 6: ILG is now under the College of Leadership and Governance and will resume its functions as any other Department which will jeopardize its unique facilitates such as internship, mentorship and use of trainers. To continue delivering in a similar or in a better way and sustain the training program, ECSU must consider all required inputs in its academic excellence initiatives and budgetary allocations.