Scaling up Adaptation Project Evaluation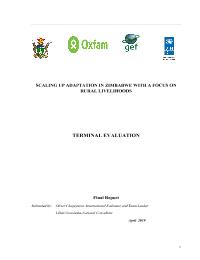 Evaluation Plan:

Evaluation Type:

Final Project

Planned End Date:

06/2019

Completion Date:

05/2019

Status:

Completed

Management Response:

No

Evaluation Budget(US $):

45,000
Title
Scaling up Adaptation Project Evaluation
Atlas Project Number:

00081032

Evaluation Plan:
2016-2020, Zimbabwe
Evaluation Type:
Final Project
Status:
Completed
Completion Date:
05/2019
Planned End Date:

06/2019

Management Response:
Yes

UNDP Signature Solution

:
Corporate Outcome and Output (UNDP Strategic Plan 2018-2021)

1. Output 3.3.1 Evidence-based assessment and planning tools and mechanisms applied to enable implementation of gender-sensitive and risk-informed prevention and preparedness to limit the impact of natural hazards and pandemics and promote peaceful, just and inclusive societies

SDG Goal

Goal 13. Take urgent action to combat climate change and its impacts
Goal 7. Ensure access to affordable, reliable, sustainable and modern energy for all

SDG Target

13.1 Strengthen resilience and adaptive capacity to climate-related hazards and natural disasters in all countries
13.2 Integrate climate change measures into national policies, strategies and planning
7.1 By 2030, ensure universal access to affordable, reliable and modern energy services

Evaluation Budget(US $):

45,000

Source of Funding:
UNDP,GEF
Evaluation Expenditure(US $):

30,000

Joint Programme:
No
Joint Evaluation:

No

Evaluation Team members:

| Name | Title | Email | Nationality |
| --- | --- | --- | --- |
| oliver chapeyama | mr | ochapeyama@yahoo.co.uk | |

GEF Evaluation:

Yes

| | |
| --- | --- |
| GEF Project Title: | Scaling up Adaptation Project Evaluation |
| Evaluation Type: | Terminal Evaluation |
| Focal Area: | Climate Change |
| Project Type: | FSP |
| GEF Phase: | GEF-5 |
| GEF Project ID: | 4960 |
| PIMS Number: | 4713 |

Key Stakeholders:
Countries:

ZIMBABWE
Lessons
1.

What could have been done differently/ better?

The factors for success are described above, including lessons learned. In terms of what could have been done better, the climate services component had a number of challenges during implementation. This was partly due to the resource constraints on the involved departments as well as the institutional collaboration structures. There is still a need for support for the Meteorological Services Department to develop a truly modern weather service that meets the expectations of users; in doing so advocating for a sufficient national budget for this will be key. Whereas the meteorological observation network in the project sites was clearly improved by the project there is not enough evidence that the Met Department will be able to sustain this network beyond the project. Automatic Weather Stations for example, require regular servicing and a monthly data bundles to automatically transmit data to head office.

What would you recommend to improve future programming or for other similar projects elsewhere

Strategic partnerships, participatory approaches and dialogue across levels were key to facilitate lasting resilience building wins for communities, as opposed to top-down implementation of externally developed projects. The participatory approach used by the project helped to leverage skill and resources at multiple levels to deliver on solutions.

Nature based and holistic solutions, based on landscape and climate risk analysis, helped ensure more sustainable impact, e.g. catchment management for long term water availability.

Economically empowered rural households are more resilient to climate shocks, however livelihood diversification needs to be targeted and contextualised based on a local climate resilience analysis. Similarly, rural micro-enterprise development informed by the comparative production advantage of the area stimulates rural economic development as a resilience building strategy.

A holistic, concentrated approach to enhancing economic, social and natural capital bases for communities

simultaneously is key to enhance households capacity to absorb shocks, adapt to shocks and transform livelihoods for long term resilience

o What mistakes should be avoided if the initiative were to be replicated?

N/A

o How easy would it be to replicate the successes in a different context/ country?

The participatory multi stakeholder approach to climate change adaptation and resilience building may easily be replicated in other contexts, and has informed current and planned UNDP and OXFAM interventions. The holistic management framework, taking into account social, economic and environmental considerations at the landscape and community level is replicable in other contexts, in as much as multiple stakeholders buy into the process.



Findings
1.

Overall, the expected projects results were attained to a satisfactory degree as evidenced by the findings of the mid term review and the terminal evaluation. 8862 (3590 M and 5272 F) households were reached through adaptive investments, market linkages and financial access across the three districts. These interventions resulted in that by the end of the project 27% of targeted households reported a significantly lower vulnerability than before the intervention; 15.2% Households reported that they had secure access to livelihood assets. Market linkages were established for 2053 households (1,016M, 1037F) in the three district (Buhera, 711 hhs (388 M, 323 F); Chimanimani, 350 hhs (201 M, 149 F) and Chiredzi, 940 (395M, 545F)) which resulted in significant income increases. 32% of targeted smallholder farmers have increased their agricultural income by a range of 15 to 198% across the districts. At least 63% of targeted locally produced commodities in the three districts were value added and/or marketed by smallholder farmers. An average of 80.6% of farmers received weather and seasonal forecast information from various sources, 33.7% used it to make climate sensitive decisions for crop and livestock production risk management.

The project was designed to bring together four organizations with different strengths and experience to attain synergies between the implementing partners Oxfam, SAFIRE, Plan International and University of Zimbabwe (Department of Geography and Environmental Science). The project activities were effectively divided between the organizations, based on that each partner had an already existing MoU with the local authority to operate in a particular district. The project setup cross-learning activities between partners and between districts, which resulted in improved collaboration and exchange of skills between partners. Project Steering Committee structures at national and district levels were also a key component of project governance, supporting local ownership and action.

Project interventions were preceded by an inclusive process to assess landscape and land use, determine climate risks and prioritize adaptation options. This process resulted in excellent stakeholder buy-in, project ownership from district to village levels and gave the project team the opportunity to better understand the project context thereby ensuring knowledge based interventions. The project further employed a model of beneficiaries demonstrating project interest and ownership by contribution in cash and free labour for some interventions. This shared ownership and 'skin in the game' in terms of investments by multiple stakeholders and beneficiaries was key to project success. Interventions that built on targeted communities' own adaptation initiatives had a higher chance of success than those that sought to introduce a completely new idea in a short period of time.

Based on the landscape and climate risk analysis, the project took a holistic approach to dealing with environmental degradation and climate change adaptation. Natural resources, particularly soil, water, pastures, woodlands and non-timber forest products have an indispensable role to play in resilience building. The project demonstrated the value of working with a landscape/catchment approach which promoted watershed health, including wetlands protection. This contributed to ensure long term water availability and limited siltation, rather than simply rehabilitating irrigation schemes in an isolated manner or provide access to water through boreholes. Policy makers should make conservation of these natural resources a priority for building resilience- and ensure an integrated multi-stakeholder approach in watersheds that have been extensively degraded. Similarly, for areas where irrigation is the only option for crop production, it will be important to pay attention to catchment management to ensure sustainable water supply.