Scaling up Adaptation Project Evaluation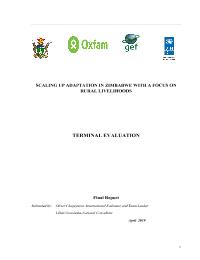 Evaluation Plan:

Evaluation Type:

Final Project

Planned End Date:

06/2019

Completion Date:

05/2019

Status:

Completed

Management Response:

No

Evaluation Budget(US $):

45,000
Title
Scaling up Adaptation Project Evaluation
Atlas Project Number:

00081032

Evaluation Plan:
2016-2021, Zimbabwe
Evaluation Type:
Final Project
Status:
Completed
Completion Date:
05/2019
Planned End Date:

06/2019

Management Response:
Yes

Focus Area

:
Corporate Outcome and Output (UNDP Strategic Plan 2018-2021)

1. Output 3.3.1 Evidence-based assessment and planning tools and mechanisms applied to enable implementation of gender-sensitive and risk-informed prevention and preparedness to limit the impact of natural hazards and pandemics and promote peaceful, just and inclusive societies

SDG Goal

Goal 13. Take urgent action to combat climate change and its impacts
Goal 7. Ensure access to affordable, reliable, sustainable and modern energy for all

SDG Target

13.1 Strengthen resilience and adaptive capacity to climate-related hazards and natural disasters in all countries
13.2 Integrate climate change measures into national policies, strategies and planning
7.1 By 2030, ensure universal access to affordable, reliable and modern energy services

Evaluation Budget(US $):

45,000

Source of Funding:
UNDP,GEF
Evaluation Expenditure(US $):

30,000

Joint Programme:
No
Joint Evaluation:

No

Evaluation Team members:

| Name | Title | Email | Nationality |
| --- | --- | --- | --- |
| oliver chapeyama | mr | ochapeyama@yahoo.co.uk | |
| oliver chapeyama | mr | oliver.chapeyama@gmail.com | |

GEF Evaluation:

Yes

| | |
| --- | --- |
| GEF Project Title: | Scaling up Adaptation Project Evaluation |
| Evaluation Type: | Terminal Evaluation |
| Focal Area: | Climate Change |
| Project Type: | FSP |
| GEF Phase: | GEF-5 |
| GEF Project ID: | 4960 |
| PIMS Number: | 4713 |

Key Stakeholders:
Countries:

ZIMBABWE
Lessons
1.

What could have been done differently/ better?

The factors for success are described above, including lessons learned. In terms of what could have been done better, the climate services component had a number of challenges during implementation. This was partly due to the resource constraints on the involved departments as well as the institutional collaboration structures. There is still a need for support for the Meteorological Services Department to develop a truly modern weather service that meets the expectations of users; in doing so advocating for a sufficient national budget for this will be key. Whereas the meteorological observation network in the project sites was clearly improved by the project there is not enough evidence that the Met Department will be able to sustain this network beyond the project. Automatic Weather Stations for example, require regular servicing and a monthly data bundles to automatically transmit data to head office.

What would you recommend to improve future programming or for other similar projects elsewhere

Strategic partnerships, participatory approaches and dialogue across levels were key to facilitate lasting resilience building wins for communities, as opposed to top-down implementation of externally developed projects. The participatory approach used by the project helped to leverage skill and resources at multiple levels to deliver on solutions.

Nature based and holistic solutions, based on landscape and climate risk analysis, helped ensure more sustainable impact, e.g. catchment management for long term water availability.

Economically empowered rural households are more resilient to climate shocks, however livelihood diversification needs to be targeted and contextualised based on a local climate resilience analysis. Similarly, rural micro-enterprise development informed by the comparative production advantage of the area stimulates rural economic development as a resilience building strategy.

A holistic, concentrated approach to enhancing economic, social and natural capital bases for communities

simultaneously is key to enhance households capacity to absorb shocks, adapt to shocks and transform livelihoods for long term resilience

o What mistakes should be avoided if the initiative were to be replicated?

N/A

o How easy would it be to replicate the successes in a different context/ country?

The participatory multi stakeholder approach to climate change adaptation and resilience building may easily be replicated in other contexts, and has informed current and planned UNDP and OXFAM interventions. The holistic management framework, taking into account social, economic and environmental considerations at the landscape and community level is replicable in other contexts, in as much as multiple stakeholders buy into the process.



Findings
1.

3. Evaluation Findings

3.1 Project Design / Formulation

The TE team adjudges the design of the project to have correctly articulated the issues that affect livelihoods of poor rural communities in Natural Regions IV and V against the background of climate change and variability.

3.1.1 The Project Theory of Change

Project design was based on a Theory of Change which identified three pathways that rural communities can follow for them to build the capacity to effectively adapt to the impacts of climate change and variability. The testing of options for responding to climate change among smallholder farmers and policy makers has laid the foundations for upscaling successful interventions as well as mainstreaming of these into national and district level planning systems. This is particularly so in Climate Smart Villages where a variety of options including sustainable land and natural resources management, climate smart agriculture, energy efficiency initiatives and sustainable water resources management have been tested. Project design recognised the need to provide support services such as training and appropriate financing without which rural communities would have been unable to adopt the options suggested to them. The evaluation team's assessment of the Theory of Change is that it was broad enough in terms of scope and scale to influence the upscaling of climate change adaptation in the three project districts and beyond. This project logic was presented in a Results Framework with indicators for use in tracking progress towards the project's intended objective and Outcomes as discussed in section 2.5 above.

3.1.2 Project Focal Areas

Project activities were designed to focus on strengthening and diversifying rural livelihoods as a basis for building resilient communities. The introduction of new agricultural practices such as the development of short value chains linking farmers with private sector entities which guaranteed markets for livestock and other agricultural produce helped create new sources of livelihoods and increased income at farmer level all of which contributed to improved resilience to the impacts of climate change and variability. The ninety-five (95) Village Savings and Lending Associations (VSLA) established and strengthened through project support have gone a long way towards providing affordable financing especially to women who previously had no access to this resource. The members of Kupfuma Ishungu VSLA in Chimanimani District testified to the impact these schemes have had which has seen women beginning to accumulate livelihood assets such as small stock which have improved their resilience in the face of climate change.

Climate change impacts are usually accentuated by lack of knowledge and understanding of the risks that the phenomenon presents among most rural communities. The Theory of Change that underpinned project design recognised this and provided for the generation and dissemination of knowledge about the risks of climate change as well as the improvement of the levels of understanding of this phenomenon among rural communities. Field Climate Schools/ Farmer Field Schools (6 demo plots and 22 baby demo plots) were established in all three project districts and used as vehicles for improving knowledge and understanding of climate change. Examples of these include community groups that were engaged in conservation agriculture and reforestation initiatives as responses to climate change.

The design of the project also included a climate services component which was aimed at building the capacities of smallholder farmers and government stakeholders for enhanced provision of climate services. At the community level, farmers were trained to gather and record primary weather related data such as rainfall through the use of rain gauges that were provided by through the project. The dissemination of this information at the local level equipped farmers with knowledge about climate trends and risks which enabled them to make informed decisions about their agricultural practices. In addition to this intervention at community level, the University of Zimbabwe DGES provided training on ODK and the use of frontline SMS to Agritex officers, MSD provincial officers and SAFIRE and established automated weather stations which were linked to climate and weather information dissemination systems such as desktop computers and laptops. This infrastructure was supposed to generate weather related information for use in the production of climate advisory notices to inform farmers about climate risks. At the time of the evaluation this system was not functional and no weather related advisory notices were being disseminated to participating communities. This aspect of the project was adjudged not to have worked as envisioned due to institutional constraints at various levels. The provision of weather and climate advisory notices is a critical aspect in the monitoring of droughts, floods and general weather phenomena which impact smallholder farmers. It is recommended that as the project closes, UNDP and Oxfam identify a support mechanism to ensure continued attention to this aspect of the project.




Tag: Rural development Climate Change Adaptation Relevance Local Governance Integration Partnership Programme/Project Design Risk Management Theory of Change Private Sector Capacity Building

2.

3.1 Project Design / Formulation (continuation)

3.1.4 Lessons from other relevant projects (e.g., same focal area) incorporated into project design

The design of the SCCA project was based upon the lessons generated from prior investments in this sector from the SCCF. The "Coping with Drought and Climate Change (2008-12) project implemented in Chiredzi was used as a primary source of guidance in this process. There is evidence that the project effectively applied lessons from this project and other projects. The United States Agency for International Development (USAID) supported Enhanced Nutrition Stepping Resilience and Enterprise (ENSURE) Project which was implemented in Chimanimani and Buhera Districts, the Food Security and Livelihoods Project implemented by Plan International in Chiredzi district and the Oxfam Zimbabwe Food and Climate Justice Programme (2014-2017) also provided lessons which informed the design of the SCCF SCCA project. The principal lessons from these previous projects were that rural household and community food security can be improved through the introduction of a combination of measures including: crop diversification and introduction of drought tolerant crop varieties, improved pest management techniques, use of minimum tillage, rainwater harvesting and other water harvesting techniques, controlling soil erosion, improving soil fertility, introduction of micro-irrigation and use of locally relevant climate information to support decision making. The project also demonstrated that improved animal husbandry practices and pasture management contribute directly to improved animal productivity even during drought periods.

These lessons were used to inform policy mainstreaming work through building capacities of government entities and other stakeholders to mainstream climate change adaptation in district and national development planning processes. Project development also made use of existing national and district level development planning frameworks as entry points to promoting mainstreaming of climate change adaptation practices. The National Development Plan is developed through the bringing together of lower level plans which are developed from the village level, through the district and the provincial development plans. This approach to development planning is already institutionalised in Zimbabwe and is operationalised through the District Administrators and District Council offices. The SCCA project was developed to make use of this process to avoid creating new institutions which would have required the training and orientation of project beneficiaries before they embarked on the planning and implementation of the project. Both smallholder beneficiaries and service providers were able to effectively engage in project development and implementation as they were familiar with the processes proposed by the IP.

In addition to the planning process, the project was also developed with a context provided by a development planning policy framework defined by the following policies and strategies: the 2nd National Communication to the UNFCCC, Zimbabwe Agenda for sustainable socio-economic Transformation (2013-2018) which was cascaded down to provincial and district level government structures, ZUNDAF (2012-2015), Comprehensive African Agriculture Development Programme (CAADP) adopted by the then Ministry of Agriculture Irrigation Development and Mechanisation (MAMID) as its strategic investment framework for agriculture. The use of already existing development planning frameworks obviated the need for the creation of new approaches as well as institutions.

This approach facilitated working through micro-catchments as entry points and lays the foundation for scaling up of adaptive capacity at local level and reduction of vulnerability to climate change. Addressing traditional challenges that rural communities have faced before (such as water scarcity) and turning them into opportunities for mainstreaming adaptation and sustainability (use of new technologies built upon traditional practices) also helped increase the potential for uptake of project elements by participating communities as it reduced dependency on external support agencies in the implementation of the project. Project design also used well known livelihood enhancement strategies such as integrated planning which have been tried and tested over the years. This helped with the mobilisation of participating communities.




Tag: Climate Change Adaptation Coherence Relevance Gender Mainstreaming Integration Knowledge management Partnership Policies & Procedures Civil Societies and NGOs Country Government Private Sector Jobs and Livelihoods

3.

3.1 Project Design / Formulation (continuation)

3.1.6 Linkages between project and other interventions within the sector

As stated in the project description section of this report, the design of the SCCA project was influenced by the lessons learnt from the implementation of the Coping with Drought and Climate Change project in Chiredzi District from 2008-2012. This project piloted a number of potentially viable adaptation measures among small farmers. The project also added the climate change adaptation dimension to elements of the USAID funded ENSURE programme which was being implemented through World Vision Zimbabwe in partnership with CARE, SNV and SAFIRE in Buhera and Chimanimani districts. Plan International who participated as one of the responsible parties under this project were also implementing the Food Security and Livelihoods Programme (2014-2018) in Chiredzi District with a focus on improving rural livelihoods through capacity building of both government entities and rural farmers to promote food security through growing of small grains, poultry farming and establishment of nutrition gardens among the most food insecure households in the district. The experiences shared between these projects has resulted in the Plan International supported project adopting some of the climate change adaptation strategies such as the promotion of uptake of appropriate seed varieties and land preparation and management strategies that farmers are adopting in increasing numbers in all three districts.

Finally, Oxfam was also implementing the Zimbabwe Food and Climate Justice Programme (2014- 2017) which targeted the promotion of investment in productivity resilience and sustainability of smallholder farmers in Natural Regions IV and V. These investments were intended to enhance women's participation in agriculture and improve their capacity to influence policy changes to ensure the integration of climate change into the production chain.The SCCA project also promoted partnerships with Local Authorities, government, civil society, private sector and UN agencies in building resilience to climate change among rural livelihoods. In addition, synergies have also been created with other projects and programmes working in the same focus area. Notable examples of this were the sourcing of a grant from the UNDP Korean Trust Fund which was used to assist with the response to the El Nino induced drought that ravaged project areas during the 2016 to 2017 cropping season. The grant was used to implement drought mitigation measures in Buhera District and served as a form of crisis modifier to protect the gains of the Scaling Up Adaptation Project. The project also partnered with the UNDP-Government of Zimbabwe supported project: Supporting Enhanced Climate Action for Low Carbon and Climate Resilient Development Pathway (SECA-LCCRDP) which provided additional resources that were used to install solar powered water systems in Chiredzi and Buhera Districts which served to reduce the carbon footprint of the livelihood improvement activities supported through the project.

The parallel Integrated Planning Systems project implemented through EMA also provided linkages with government actors that worked to support the scaling up of adaptation experiences to the policy level as has occurred through the development of the district adaptation planning guidelines. From the above it is clear that the SCCA project had direct linkages with a number of already ongoing projects and programmes in the country. Its specific contribution was the integration of climate change adaptation dimensions into the areas these other initiatives were promoting.




Tag: Climate Change Adaptation Coherence Relevance Local Governance Implementation Modality Partnership Programme Synergy Project and Programme management Civil Societies and NGOs Private Sector

4.

3.2 Project Implementation

3.2.1 Partnership arrangements (with relevant stakeholders involved in the country/region)

The project was implemented through a number of partnership arrangements to promote the achievement of its objective. Examples of such partnerships include working with Supporting African Life Trust (SALT) to provide technical support in training farmers on natural resources management and the promotion of the uptake of energy efficient stoves and biogas digesters among farmers.

For market access, the project partnered with Cairns Foods who are providing technical training to farmers and market for Michigan Pea Bean. Farmers interviewed in the Bonde and Nyanyadzi Irrigation schemes were happy with the arrangement as it provides a ready market for their produce and a reliable source of inputs. Marketing agreements are negotiated annually with the facilitation of government entities such as AGRITEX at district level. For the honey value chain the project has partnered with Organoseven who are providing organic certification training and market for honey value chain farmers. Other private sector actors that are also providing a market for honey include, Heavenly Delights and Keans honey. These value chains still need strengthening as farmers (Chapanduka) felt they could still get better prices if they obtained the SAZ certification. The farmers also need support with product quality control as the honey being produced at the moment has a distinct "smokey taste" (TE team personal experience) which might be due to harvesting methods used. The TE recommends that the farmers be sent for training to the International Centre for Insect Physiology and Ecology (ICIPE) in Nairobi Kenya which runs a programme that promotes the use of commercial insects, including bees, for livelihood enhancement. Payment modalities used by the private sector buyers were also an issue raised by farmers as some of them wanted to pay through the Banks while the Chapanduka Honey processing centre paid its members who delivered honey though mobile money transfers. Training is a continuous process which the private sector may be unable to provide in the future. For sustainability of gains made, involvement of government entities such as the Ministry of Small to Medium Enterprises (SMEs) will ensure continuous provision of training for the enterprise.




Tag: Climate Change Adaptation Natural Resouce management Partnership Country Government Private Sector Capacity Building Technical Support

5.

3.2 Project Implementation (continuation)

3.2.2 Replication approach

Meeting the project objective of scaling up adaptation to climate change required that lessons and experiences from pilot initiatives which showed results be repeated at scale. The project promoted the use of local trainers from among the participating communities to promote replication of successful initiatives such as the VSLs and lead farmers in CSVs. As stated earlier, the SCCA project has been implemented jointly with the Integrated Planning Systems project which is implemented through the Environmental Management Agency. Government of Zimbabwe has used the experience from SCCA to develop and pilot a District level adaptation guide which will be rolled out through the National Adaptation Plan process in the same focus districts that the SCCA project was implemented. The implementation of this project will help with the replication of SCCA achievements over the four year implementation period. As a result of their experience working on this project and knowledge of the need for additional funding for some project elements, Oxfam has mobilised resources to support and consolidate the achievements scored in other parts of the country where similar initiatives are being implemented through the Climate Adaptation for Rural Livelihoods (CARL) project. UNDP CO has also used the results of this project as baseline for the UNDP-CRIDF-Government of Zimbabwe Project: "Building Climate Resilience of rural livelihoods in the Southern Part of Zimbabwe" for submission to the Green Climate Fund.

The building of resilience among rural communities has become a critical consideration in the delivery of development support in Zimbabwe. UNDP is using the experience from this project to inform the design of the analysis leading to the development of approaches to resilience building under the Zimbabwe Resilience Building Fund as well as the development of a scaling up project focusing on fifteen (15) districts experiencing similar climate change challenges which was submitted to the Green Climate Fund in October 2018. As highlighted in the ProDoc, upscaling of project results is facilitated through the creation of an enabling environment made up of financial support systems, effective policies, effective markets for products as well as functional institutions and governance arrangements. The SCCA project was designed to focus on these elements as a way of generating results for replication at all levels from local through district to national levels. Scaling up was also facilitated through stakeholder workshops and exchange visits and the use of various media including the dissemination of pamphlets describing project objectives and results, radio and television and presentations and displays at major events such as district and national agricultural shows.




Tag: Climate Change Adaptation Sustainability Resource mobilization Local Governance Communication Knowledge management Project and Programme management Resilience

6.

3.3 Project Finance and co-financing

The project financing was based on the SCCF grant from GEF through UNDP and co-financing commitments from UNDP, Government, NGOs and communities. Table 3 shows the annual project budgets and actual expenditures incurred up to project end. Table 4 shows the co-financing commitments and status at project end.

A larger portion of the project budget was allocated to Outcome 1 (US$ 3,488,100) because the activities supported under this component were largely infrastructure projects which are capital intensive. The project supported projects that targeted reduction of vulnerability to climate change and resilience building through enhancement of water security. In all the project had supported the drilling of 21 boreholes, 12 rainwater harvesting systems at 13 schools, the rehabilitation of 2 weirs including the one supplying water to Nyanyadzi irrigation scheme in Chimanimani district. Livelihoods can only be sustainable in the long term if they do not undermine the natural resource base upon which they are based. The project therefore was designed to ensure ecological integrity of the areas activities were implemented through reduction of soils erosion which is a widespread problem in Natural Region V. Support was provided for rehabilitation of degraded land, construction of erosion control structures, reclamation of gullies and construction of silt traps to stem the problem of siltation which had compromised economic infrastructure such as irrigation schemes. In all more than 1,500 hectares of land had been rehabilitated in all three district at the end of the time of the TE.

Rehabilitation works were supplemented by the introduction of climate smart farming practices such as the use of ripper tines in place of the conventional ox-drawn plough, establishment of woodlots, rangeland restoration for use as grazing as well as the introduction of energy saving technologies. Most of these interventions were implemented in Climate Smart Villages which were established to demonstrate the utility of an integrated approach to livelihood enhancement. Common running themes that were also integrated into these investments were capacity building and training and the provision of sustainable financing for rural farmers through the establishment of VSLs. The improved accumulation of livelihood assets that has been recorded in CSVs, especially among women and other disadvantaged groups, and the establishment of business enterprises such as the various value chains which have resulted in more resilient rural households clearly demonstrate that the project Theory of Change was correctly articulated. Pilot testing of sustainable interventions coupled with knowledge generation and capacity building of local and national support institutions are now leading to the diversification of rural livelihoods and increased adaptation capacity among beneficiary communities in the three districts.

The total expenditure under the project was estimated at 85% of total budget which is a very good burn rate, given the fact that the project was implemented in an environment characterised by financial uncertainty for most of the project lifespan. The money spent, is considered well spent when compared to the results which have been realised to date. The Scaling Up adaptation in Zimbabwe with a focus on rural livelihoods project is inherently a human development project targeting behaviour change leading to the adoption of new ways of practicing activities that define the relationship between rural smallholder farmers and the resources which they have at their disposal. It is not always possible to pinpoint physical outputs that such projects generate. In the case of this project however, it is possible to track the expenditures incurred and relate them to direct benefits which have accrued to both the rural community beneficiaries and the nation at large. Beneficiary communities have started making money from the agricultural development interventions which were supported through the project with some communities realising increases in income of the order of 198%! Increased incomes at household levels have started providing participating communities, especially women, with "choices" in their lives through the broadening of opportunities this comes with. These rural communities can now invest in off-farm activities which was unheard of in the past. Of most significance is the improved food security at household level that has been brought about by the project through interventions.




Tag: Climate Change Adaptation Green Climate Green Economy Efficiency Global Environment Facility fund Government Cost-sharing Women's Empowerment Donor Jobs and Livelihoods

7.

3.4 Monitoring and Evaluation: Design at entry and Implementation

A comprehensive fully costed Monitoring and Evaluation Framework was developed for the project at design stage. Table 5 below summarises the elements of this M&E framework.

The TE assessment of the project Monitoring and Evaluation processes is that this has been effectively implemented by the Implementing Partner, UNDP Country Office and Responsible Parties at the project site level. At least 12 Project National Steering Committee meetings were convened, albeit with varying attendance from the membership, since project start up. Minutes of these meetings have been compiled and kept on record both at UNDP-CO and the Oxfam Zimbabwe project offices. Project Performance Monitoring was managed and conducted by Oxfam working with the SAFIRE and Plan International who coordinated to produce Quarterly report reflecting the project's progress towards the achievement of its intended objective as well as recommend remedial actions needed to address any implementation challenges experienced over specific reporting periods.




Tag: Monitoring and Evaluation Oversight Partnership Results-Based Management

8.

3.4.1 UNDP and Implementing Partner implementation / execution (*) coordination, and operational issues

The project was implemented based on the UNDP NGO/CSO Implementation Modality with Oxfam as the NGO implementing partner. The Implementing partner, Oxfam, reported to the Project Board, which was chaired by UNDP CO and Climate Change Directorate of the Ministry of Agriculture, Lands, Water, Climate and Rural Resettlement. UNDP support to the IP was adjudged to be focused on ensuring that project implementation remained focused on the achievement of project objectives. UNDP ensured that the IP adhered to project management principles, especially with respect to financial reporting. Annual independent project audits were conducted on the direction of UNDP-CO. UNDP-CO also guided project implementation in a manner that facilitated response to the context within which the project was implemented. Of particular significance was the advice given to the IP to expedite project implementation ahead of the general election in 2017 which could had the potential to affect project delivery. The APRs and PIRs produced by UNDP reflected this as well as UNDP support to the project was satisfactory with timely disbursements of funds (except in the first quarter of the project implementation), adequate technical support and input through review of progress reports, workplans and undertaking regular field missions to project site. UNDP has had a long association with the GEF for whom the organization has been one of the largest implementing agencies globally over the years. UNDP has implemented climate change adaptation projects on behalf of GEF in more than 80 countries including southern Africa. The UNDP Country Office in Zimbabwe has a highly qualified and competent staff complement under the Environment, Climate and Energy portfolio who provide management oversight on GEF financed projects and programmes within the context of the UNDP Country Programme Action Plan and the New UN Development Framework in Zimbabwe which was recently revised and extended to cover the period 2016-2020.




Tag: Climate Change Adaptation Implementation Modality Operational Efficiency Oversight Partnership Project and Programme management Civil Societies and NGOs Country Government Private Sector Coordination Operational Services Technical Support

9.

3.5 Progress towards Project Results

This section of the TE report evaluates the extent to which the project has achieved the results intended from the deployment of the resources made available by GEF through the SCCF. The evaluation was conducted at the Objective and the Outcome levels with the output level analysis being used to generate the evidence required to justify or explain the results of the evaluation. The evaluation uses the indicators identified at design stage as amended in conducting the assessments. Annex 3 to this report also presents these achievements using the "traffic light" system to present the ratings of project achievements. The TE was conducted through the use of the concept and logic of Results Based Management where the achievement of results by an intervention is based upon the transformation of inputs into outputs or products which then determine the nature and extent of the effects this has on targeted beneficiaries of the intervention. The project was designed with the objective to scale up climate change adaptation measures and to reduce the vulnerability of rural communities, particularly women, to climate change and variability in the project areas of Buhera, Chimanimani and Chiredzi districts all of which lie in Natural Region V.

This objective was to be met through the implementation of activities under two Outcomes, namely: Outcome 1: Diversified and strengthened livelihoods and sources of income for vulnerable people in targeted areas; Outcome 2: Increased knowledge and understanding of climate variability and climateinduced risks in targeted vulnerable areas. Project implementation and management arrangements have been discussed elsewhere in this report.

3.4.1 Progress towards Achievement of Project Objective

Project Objective: To scale up adaptation measures and reduce the vulnerability of rural communities particularly women to climate variability and change in the project area of Buhera, Chimanimani and Chiredzi districts of Zimbabwe.

The achievement of the project objective of scaling up adaptation measures and reducing the vulnerability of rural communities, particularly women to climate variability and change was tracked through measuring the Vulnerability Reduction Perception Index at community level. This was measured by tracking the Indicator: Change in the Vulnerability Perception Index on a scale of 1-5 (5- No vulnerability; 4-Low; 3-Medium; 2-High; 1-Extreme Vulnerability).

The baseline for vulnerability perception at project inception was high at an average score of 8 on an index of 1 to 10 across all three districts. The end of project target was set at reducing this to a score of 4 for 35% of households. A survey conducted in June 2018 showed that up to 8,103 (3282 M and 4811 F) households had been reached by the project and vulnerability perception had decreased to a score of 4. Across all three districts, households with high vulnerability had decreased from 88% at baseline stage to around 27%. This trend was confirmed in all three project districts with Buhera recording a reduction in vulnerability perception from 87% to 22- 28%; Chimanimani district recording a reduction from 90% to 7-18% and Chiredzi a reduction from 86% to 24-42%. According to the Household Vulnerability Survey conducted in June 2018, the household vulnerability perception index stood at a Low of 4 on the scale for 64% of target households. The end of project target of a score of 4 for 35% of households had therefore been exceeded.




Tag: Climate Change Adaptation Vulnerable Environmental impact assessment Effectiveness Gender Equality Gender Mainstreaming Women's Empowerment Local Governance Results-Based Management Jobs and Livelihoods

10.

3.5 Progress towards Project Results (continuation)

3.4.2 Progress Towards Achievement of Project Outcomes Outcome 1: Diversified and strengthened livelihoods and sources of income for vulnerable people in targeted areas;

The TE assessment is that the project has been Highly Successful (S) towards achieving Outcome 1

Four indicators were identified for use in assessing progress towards the achievement of Outcome 1: Diversified and strengthened livelihoods and sources of income for vulnerable people in targeted areas. The first indicator was set to measure the number of households and communities that were adjudged to have more secure livelihood asset bases at the end of the project as measured on a 5 point rating. Access to these would be disaggregated by gender. At project start up (baseline) households in all project sites had poor access to livelihood assets (average rating of 2) and the target for end of project was set at 4 which equated to a 20% increase from the baseline. An average score of 3 had been reached at the end of the project. In Buhera up to 25% (up from 3.2%) of households had reached a score of 4 while in Chimanimani 8% (up from 4%) and in Chiredzi District 13% (up from 2.1%) had achieved the same level of asset accumulation.

The second indicator established at project start up was to track increases in agricultural income as a result of project interventions with a target of 50% of targeted smallholder farmers achieving a 25% increase in income from agriculture. By the end of the project 32% of targeted farmers had increased their income from agriculture by between 15 and 189% through initiatives which were introduced by the project to strengthen linkages between producers and the private sector (market) which established value chains. Up to 38% of smallholder farmers in Buhera had increased their incomes from $444 at baseline to $1,321 per year (198%) by 2018. In Chimanimani average household income for 30.4 % of farmers increased from $864 to $994 per year (15%) while in Chiredzi the increase was from $456 to $1,072 per year (135%) for 27% of the farmers sampled over the same period. It is important to note however that these increases in income were measured from a mixed basket of commodities which in the case of Buhera included livestock, honey, beef and Michigan pea. The highest increases in income were recorded for livestock and horticulture value chains. While average household income has been increasing at the SCCA project sites as reflected above, the ZIMVAC Rural Livelihoods Assessment of 2018 indicated that these have been declining over the period 2013-2017 as shown in the table below. This variation from the "norm" at project sites is a clear indication of the impact the SCCA project has had on rural incomes at project sites and points to the potential the approach adopted for project implementation has for creating diversified rural livelihoods. Table 8: Average Rural Household Income per year: 2013-2017 for 2 Provinces.

The TE however has some reservations regarding the sustainability of these increases in income in the post-project period especially given the volatility of the Zimbabwean economic environment. Some of the indicators at outcome level such as "Two financial transactions for 50% of women-headed household members of VSL groups" which did not capture the value of transactions in VSL members to ascertain the increase in financial assets at group level. This was highlighted at MTR and amended accordingly in the remaining period of project implementation. Another indicator was that at least 25% of targeted locally produced commodities in the three districts have value added and are marketed by smallholder farmers. Value addition is process orientated and process indicators could have been used to show project input even for those value chains that were not concluded during project implementation.




Tag: Agriculture Climate Change Adaptation Effectiveness Sustainability Gender Mainstreaming Women's Empowerment Results-Based Management Inclusive economic growth Jobs and Livelihoods Poverty Reduction Data and Statistics

11.

3.5 Progress towards Project Results (continuation)

3.4.2 Progress Towards Achievement of Project Outcomes Outcome 1: Diversified and strengthened livelihoods and sources of income for vulnerable people in targeted areas;

The TE assessment is that the project has been Highly Successful (S) towards achieving Outcome 1

Increased agricultural Income

Agriculture is the main economic for communities living in the project target areas but returns from the activity have always been low. The implementation of the adaptive interventions above was expected to result in increased income streams from agriculture which would translate into improved and strengthened livelihoods. The highest increases in income at individual household level were realised from livestock value chains supplemented by Village Savings and Lending groups. The increased incomes have provided farmers, especially women with opportunities to broaden their livelihood options. The TE however observed that these activities have the highest potential for being captured by the elite and better resourced members of the community. They are also susceptible to collapse when they implemented without adequate support from extension service providers. Overall household income increased for 32% of farmers targeted by the project. In Buhera District farmers increased their income to an average of $1 321/year for 38.6% of farmers from $444/year at baseline representing a 198 percent increase in income. In Chimanimani District average household income increased to $994/year for 30.4%% of farmers from $864/year at baseline representing a 15 percent increase in income. In Chiredzi District average household income increased to $1 072/year for 27% of farmers from $456/year at baseline which is a 135 percent increase in income. This is a significant impact as ZIMVAC reports show a decline in household incomes for Manicaland and Masvingo since project inception (Manicaland 2014- $1482, 2017-$672 and Masvingo- 2014-$1068, 2017- $696). Nationally ZIMVAC reports a decline of 23% of household incomes since 2014 (ZIMVAC 2017 Report).




Tag: Agriculture Effectiveness Local Governance Inclusive economic growth Jobs and Livelihoods Micro-credit

12.

3.5 Progress towards Project Results (continuation)

Outcome 2: Increased knowledge and understanding of climate variability and climate-induced risks in targeted vulnerable areas.

Outcome 2 sought to generate knowledge and understanding of climate change and variability and disseminate relevant risk information to concerned stakeholders in the project area for use in agricultural decision making at all levels. The project target was to have at least 70% of smallholder farmers in the project area having access to localised climate forecasts. In addition an El Nino based seasonal climate forecast and rainfall outreach protocol has been developed for the project areas by MSD. This allowed for the advance dissemination of the 2016/17 seasonal forecast in all three districts and 50% of targeted farmers receiving this information through extension services operating at local level. The assessment at the TE stage is that up to 45% of farmers in the project area had access to locally relevant rainfall data on a near real time basis as this was collected through the network of rain gauges which were distributed across the project area and managed by fellow farmers who were trained to record and disseminate such data to their peers. Smallholder farmers could therefore make management decisions about their farming operations.




Tag: Climate Change Adaptation Local Governance Communication Knowledge management Risk Management Technology Data and Statistics

13.

3.5 Progress towards Project Results (continuation)

Outcome 2: Increased knowledge and understanding of climate variability and climate-induced risks in targeted vulnerable areas.

Weather forecasts sent to stakeholders:

The project supported the collection of weather data at the local level through the use of rain gauges which were managed by local farmers working with local extension officers. This data was disseminated in real-time to farmers allowing them to make decisions on their farming activities, This system has been used extensively in Chiredzi District as well as in the other two districts where farmers in Climate Smart Villages have been trained to keep rainfall and data relating to soil moisture content. In tandem with this, the project also supported the development of a digital weather forecasting methodology through which weather and climate related data would be collected through Automated Weather Stations located in Chimanimani and Buhera Districts. The data sources from this system was to be used in the development of a weather messaging service by MSD for transmission to the farmer through the Agricultural extension services. Technical support for the operationalisation of this system was to be provided by the Department of Geography and Environmental Sciences at the University of Zimbabwe. This system has not been operationalised due to capacity limitations at MSD and inability of AGRITEX to operate the equipment which has been procured by the project for this purpose. Some equipment (desk top computer) were lying idle at the district centers (Chimanimani).




Tag: Climate Change Adaptation Vulnerable Effectiveness Impact Women's Empowerment Local Governance Knowledge management Jobs and Livelihoods Technology

14.

3.5 Project Relevance, Effectiveness, Efficiency and Impact and Sustainability

3.5.1 Relevance and Ownership

The evaluation team's analysis, of the country context and the changes that happened over the project period revealed that the project was relevant to the situation at local district and national level. This view was confirmed by all the stakeholders who we interviewed as part of this evaluation process. In addition to being relevant to national priorities, the project as designed was also relevant to the ZUNDAF and SCCF GEF programmes of action as already discussed in Section 2 of this report. The SCCA project was designed to address the major climate change related problems facing rural communities in the dry regions of Zimbabwe. Increasing frequency of droughts has caused reductions in food production while the food production capacities of communities in the country have been damaged by unpredictable weather patterns. Capacity limitations in mainstreaming climate change adaptation into planning systems were also impacting directly on the livelihoods of rural communities.

The focus of the project on capacity building as a foundation for the adoption and mainstreaming of climate change adaptation into the policy making processes is viewed to have been strategic for Zimbabwe. Rural communities in the country also face serious resource constraints to facilitate this. The project focus on the provision of resources through the VSLs which have been established in all three districts is already showing results especially among the women participating in the project who are investing in livestock through the goat and livestock value chains. Gains made in the VSLs will be sustained through the model used of local trainers/agents and the demand for local informal financing services in the rural economy given the constraints communities face in accessing loans in the formal financial sector. The SCCA project was also consistent with the UNDP Country Programme and GEF Programming priorities as discussed under the project description section of this report. In this context, the TE confirms that the project reflects and incorporates the broad UNDP priorities of poverty alleviation, improved governance especially with reference to empowerment and the building of resilience and capacity to recover from natural disasters. These priorities are closely associated with the purpose of the project which was the diversification of community livelihoods to enable them to adapt to climate change and variability.

Poverty alleviation has been a central tenet of development planning in Zimbabwe since the attainment of independence in 1980. It is not surprising therefore that all development planning frameworks, policies, strategies and action plans have this as a major target. The SCCA project was aligned with ZimASSET, a national economic development planning framework for the period 2013-2018, the National Climate Change Response Strategy (2014), the National Poverty Reduction Strategy, the Draft National Agricultural Policy, the National Disaster Risk Management Policy and the National Environment Policy all of which in one way or another promote rural poverty alleviation and food security against the backdrop of climate change and variability. The involvement of key stakeholders in the Project Steering Committee as well as the District Project Steering committee ensured ownership of the project at national and district level. This was confirmed by the clear articulation of the project objectives and results by all the steering committee members interviewed at district level (Chimanimani and Chiredzi).




Tag: Rural development Climate Change Adaptation Climate change governance Relevance Sustainability Integration Ownership Resilience Capacity Building Poverty Reduction

15.

3.5 Project Relevance, Effectiveness, Efficiency and Impact and Sustainability (continuation)

3.5.2 Effectiveness

The SCCA project was designed to promote the adoption of climate change adaptation as a pathway to developing sustainable livelihoods in the dry regions of Zimbabwe (Natural Region V). Project implementation has involved participating communities working in close collaboration with government and NGO service providers. Significant progress has been achieved in institutionalising adaptive strategies to climate change at community level through the promotion of integrated planning systems, rehabilitation of degraded lands, introduction of value chains through which communities have started realising direct benefits and the generation of knowledge about climate change for mainstreaming into local, district and national policy development processes. It is significant to mention that these achievements have been made under very difficult and challenging political and economic conditions in the country with some level of political interference in the governance of high visibility project initiatives such as Nyanyadzi Irrigation Scheme. The involvement of direct project beneficiaries in decision making processes around project activities promoted a sense of ownership of the initiatives which led to effective implementation. At Nyanyadzi Irrigation, for example, there has been a shift from the old practice which left decision making regarding management of water supply systems in the hands of government extension services to one in which beneficiaries themselves are now responsible for the maintenance of the weir and the canal system which delivers water to the irrigated lands. Participating community groups consulted during the evaluation stated that they would be able to continue implementing elements of the project on their own in the post-project era because they had fully grasped the importance of local action over outside support with respect to issues that affect their own livelihoods. The effectiveness of project implementation under the SCCA project was adjudged to have been Highly Successful (HS) as it was contributing directly to the achievement of project objectives.




Tag: Climate Change Adaptation Climate change governance Effectiveness Efficiency Impact Local Governance Integration Knowledge management Operational Efficiency Policies & Procedures Resilience

16.

3.5 Project Relevance, Effectiveness, Efficiency and Impact and Sustainability (continuation)

3.5.5 Sustainability

Table 9: Sustainability Ratings

Financial Sustainability The majority of rural development projects fail to continue in operation after the end of external financial support because such projects have built in long term management and operational costs which communities fail to carry on their own when external funding comes to an end. This was the case with Nyanyadzi Irrigation scheme in Chimanimani District in the past. The SCCA was designed to ensure that beneficiary communities realise direct income benefits which they can reinvest into the activities they are participating in. The project does not have costly management and maintenance requirements which means that beneficiary communities will be able to support these initiatives when external support comes to an end. Participating communities are also realising incomes from the activities they are engaged in, with those participating in the livestock value chains stating that their livelihoods have been made more secure since they joined the project. Income streams from the various project elements are projected to increase as participating communities acquire more skills to manage their activities through the project. Almost all participants interviewed indicated that they had plans to plough back some of their income into the activities they are engaged in which will enhance the financial sustainability of the initiative over the long term. The localized operations of the VSLs have created local financial market/system which is almost insulated against external (national) market volatility as was shown by their ability to adjust to cash shortages and inflation during 2017/18. The livestock and agricultural value chains which depend on external markets on the other hand are potentially vulnerable to negative impacts from changes in external financial factors if their contractual agreements do not factor in these changes. It will therefore be necessary for contracts between involved communities and private sector entities to be reviewed annually to factor in these externalities. Local government agencies working with community groups will need to be involved in these contract discussions as a risk mitigation measure. There is also potential for investments in project elements through follow-on projects such as the Oxfam project that will start in Buhera in 2019. The TE determined that there are limited risks associated with the financial sustainability of this project financial sustainability is Likely (L).

Socio-economic Sustainability The SCCA project is aimed at developing and supporting sustainable livelihoods which have direct implications for the social and economic status of beneficiary households and communities. The project approach, which focuses on building capacity for adapting to climate change using tried and tested mechanisms which community groups are familiar with promotes stakeholder ownership of these skills thereby ensuring that participating communities will be able to manage their own socio-economic development without outside support. The community members involved in livestock and agricultural value chains in Buhera and Chimanimani districts confirmed that they will be able to continue funding the activities they are currently involved in and even expand on these over time. Beneficiary communities in the three project areas have started creating social networks through which they are sharing experiences which further enhance their project planning and management capabilities. The SCCA project has contributed to the creation of a new socio-economic paradigm which is driven by reliance on local capacity in the rural areas of Zimbabwe that are located in Natural Region V. With effective replication and scaling up over the rural landscape it is expected that the adaptation strategies which have been promoted by the SCCA project will contribute to greater access to livelihood assets by participating communities, especially women, which will reduce their vulnerability to climate change and variability.




Tag: Agriculture Livestock Climate Change Adaptation Vulnerable Sustainability Gender Equality Women's Empowerment Operational Efficiency Private Sector Capacity Building Inclusive economic growth Jobs and Livelihoods

17.

3.5 Project Relevance, Effectiveness, Efficiency and Impact and Sustainability (continuation)

3.5.5 Sustainability (continuation)

Institutional Sustainability The SCCA project supported the building of local level institutions at community level through project management committees that were established to guide the implementation of various activities and introduced comprehensive training and capacity building activities aimed at enhancing the ability of these institutions to manage projects and programmes. The project also supported the introduction of governance arrangements that are now in use to administer project activities. Perhaps more importantly, the SCCA project is promoting the involvement of women and youth in project implementation and management thereby improving upon the governance of these initiatives. Most of the projects supported under the project now have women representation in the order of 68% or more as members with membership and management of VSLs predominantly female.

Situations where proceeds from activities such as livestock management were management exclusively by men usually with little or no impact on household incomes have been reduced by these new governance arrangements. Joint management of household incomes has resulted in higher welfare for families while female headed households have increased their participation in rural economic activities. Support with institutionalisation of these arrangements will however continue to be required beyond the project life span. Project implementation at district level has been grafted onto already existing district development planning processes which are implemented through the Rural District Council and coordinated by the District Administrators. This arrangement affords the project access to all the relevant development planning agencies which operate from the district headquarters. The Departments of Mechanisation and AGRITEX were the most prominent district level agencies that were mobilised to work with beneficiary communities in planning for and execution of land and ecosystems rehabilitation and restoration projects, rainwater harvesting and the establishment of the livestock and agricultural value chains.

Private sector and civil society entities operating at district level were also mobilised to support project elements. The mobilisation of district level development planning and extension agencies to participate in project funded activities is expected to promote the mainstreaming of climate change adaptation into district development planning processes as well as the operational protocols of these planning entities. At the national level, the project promoted collaboration with the responsible parties and the members of the Food and Nutrition Cluster which served as members of the Project Steering Committee/Project Board. This collaboration is expected to facilitate the mainstreaming of climate change adaptation into national policy formulation processes. Overall therefore the SCCA project has contributed to the building and strengthening of the institutional frameworks for livelihoods enhancement in the three districts. Promoting the involvement of previously secluded members of society, such as women, in project management has changed the governance systems at the local level with women being involved in decision making in greater numbers. It is expected that the Institutional framework and governance arrangements in the project areas in the three districts will be sustainable over the long term as a result of the implementation of the project. Institutional sustainability is Likely (L)




Tag: Rural development Climate Change Adaptation Sustainability Women's Empowerment Local Governance Integration Partnership Project and Programme management Civil Societies and NGOs Private Sector Capacity Building Technology Youth
Recommendations
1

One of the primary objectives of the SCCA project was the mainstreaming of climate change adaptation strategies into the policy making processes at various administrative levels. The project has yielded a lot of useful lessons which can be used to influence development planning policies and practice to ensure climate change adaptation is taken into account as development planning policies are developed in all relevant sectors of government.

Recommendation 1: It is recommended that UNDP and the Climate Change Directorate at the Ministry of Lands, Agriculture, Water Climate and Rural Resettlement consider packaging the lessons learned from the SCCA project into policy briefs for use in informing national level decision makers about the implications of climate change for national development planning.

2

The SCCA project has supported a number of pilot initiatives which have started yielding results which might not be sustainable if left unsupported after the project stops. Aspects of the project such as institution building at community level still require additional support as the institutions created to date are not mature enough to stand on their own and perform their intended functions without external support.

Recommendation 2: It is therefore recommended that UNDP and Oxfam package these results and pass them on to successor projects to be implemented in the same districts for continued support to these aspects.

3

The SCCA project has supported sixty-three (63) pilot projects covering all adaptation approaches. These include 25 community gardens, 9 CSVs, 6 demo plots, 22 baby value chain demo plots and 1 honey value chain project. Some community groups involved have however not mastered the intricate management and negotiation skills that are involved in building and maintaining these value chains. Relationships created between community groups and private sector entities could therefore working to the disadvantage of community groups if management capacities at community level are not adequately strengthened. There will therefore be need for continued external backstopping by appropriate government extension services working with the private sector entities to ensure scalability and sustainability of these initiatives over the long term.

Recommendation 3: It is recommended UNDP engages with the relevant government entities responsible for enterprise development as well as private sector companies providing market linkages to ensure that these nascent business enterprises are supported beyond the life of the project. Institutional capacity building support at community level should be provided to facilitate increased income flows into the communal areas of the country as a way of promoting their participation in the mainstream national economy.

4

Climate information is not always packaged in formats that smallholder farmer communities easily understand. This has resulted in climate information documented under SCCA not being communicated for use by farmers in the project sites.

Recommendation 4. Follow-on projects should collect all the climate information collected under SCCA and package it in formats that communities understand. Consideration should also be given to the use of local languages in drawing up weather advisories in line with the decision taken by SADC.

5

There is the looming threat of successful value chains such as livestock and agriculture value chains being captured by the elites in the communities.

Recommendation 5. Value Chains need further support beyond the project as the institutions established to manage them at community level are not fully established.

6

Development planning at district level has largely been sector based which has not yielded sustainable results to date.

Recommendation 6. The CSV concept should be institutionalised as an approach to district development planning process. This is particularly important in the context of the recently announced policy of devolution of the responsibility for development planning to provinces in Zimbabwe.

7

Smallholder initiatives such as CSV and community financing need continued support especially as they relate to the building of resilience and adaptation to climate change and adaptation. Market linkages between smallholder farmers and private sector entities are not fully developed as the project reaches closure. Community groups still require support with building of negotiation skills.

Recommendation 7. GEF SGP will be operational in Chimanimani District in the next cycle. It is recommended that the programme should engage successful VSLs and CSVs and support them with training and larger financial facilities to make them sustainable.