Climate Change Adaptation Programme in Water and Agriculture in Anseba region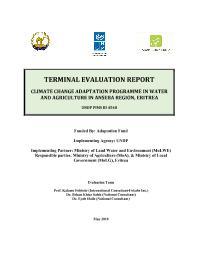 Evaluation Plan:

Evaluation Type:

Final Project

Planned End Date:

12/2018

Completion Date:

05/2019

Status:

Completed

Management Response:

No

Evaluation Budget(US $):

30,000
Title
Climate Change Adaptation Programme in Water and Agriculture in Anseba region
Atlas Project Number:

00061576

Evaluation Plan:
2017-2021, Eritrea
Evaluation Type:
Final Project
Status:
Completed
Completion Date:
05/2019
Planned End Date:

12/2018

Management Response:
Yes
Corporate Outcome and Output (UNDP Strategic Plan 2018-2021)

1. Output 1.4.1 Solutions scaled up for sustainable management of natural resources, including sustainable commodities and green and inclusive value chains

SDG Target

13.2 Integrate climate change measures into national policies, strategies and planning
15.1 By 2020, ensure the conservation, restoration and sustainable use of terrestrial and inland freshwater ecosystems and their services, in particular forests, wetlands, mountains and drylands, in line with obligations under international agreements
15.2 By 2020, promote the implementation of sustainable management of all types of forests, halt deforestation, restore degraded forests and substantially increase afforestation and reforestation globally

Evaluation Budget(US $):

30,000

Source of Funding:
UNDP/Adaptation Fund
Evaluation Expenditure(US $):

21,080

Joint Programme:
No
Joint Evaluation:

No

Evaluation Team members:

| Name | Title | Email | Nationality |
| --- | --- | --- | --- |
| Prof. Kalame Fobisssie | International Consultant | kfobissie@fokabs.com | CAMEROON, REPUBLIC OF |
| Prof. Kalame Fobisssie | International Consultant | kfobissie@fokabs.com | CAMEROON, REPUBLIC OF |
| Prof. Kalame Fobisssie | International Consultant | kfobissie@fokabs.com | |

GEF Evaluation:

No

Key Stakeholders:
MLWE, MND, MoA-Zoba Anseaba, Adaptation Fund, FAO, UNICEF.
Countries:

ERITREA

Comments:

This is Adaptation Fund.
Lessons
Findings
1.

3.1. Programme design / Formulation
The design and formulation of the programme's goal, objectives and components were very clear, practicable
and feasible within the proposed time frame. This sub-section provides further analysis and discussion on
the different aspects of the programme design and formulation.





Tag: Agriculture water resources Livestock Climate Change Adaptation Water resources Women's Empowerment Integration Results-Based Management Theory of Change

2.

3.1.2. Assumptions and Risks
Assumptions and risks were clearly identified, and steps were taken to mitigate most of them during the implementation of the programme (see Table 2). Some of the assumptions and risks identified were however not successfully mitigated and the programme ended up not accomplishing activities related to those risks.
An example is the hiring of an international expert to help develop capacity to design climate risk information systems for use by local communities. Steps were never taken in this regard and this part of the programme was consequently not accomplished.




Tag: Technical Support

3.

3.1. Programme design / Formulation

3.1.3. Lessons Learned from other Programmes Incorporated into Programme Design
The programme generally capitalized on existing legal frameworks and on previous experiences in the implementation of other development and climate change projects such as the Anseba local development project (ALDP) and the sustainable land management (SLM) project. Table 3 provide concrete examples.





Tag: Partnership Programme/Project Design Project and Programme management Country Government

4.

3.1.5. Replication Approach

The programme design talked about replication under the section on learning and knowledge management. According to the project design (page 30), "the conditions for success, and failure factors, with regard to replication and scaling up" will be documented. Moreover, the programme's experience and lessons will be
used to assist with the "required replications of the programme adaptation measures throughout Eritrea and elsewhere in the region".




Tag: Climate Change Adaptation Water resources Global Climate Fund Knowledge management Programme/Project Design Capacity Building Inclusive economic growth Trade and Development

5.

3.1.6. UNDP Comparative Advantage

UNDP has the comparative advantage of being physically present in Eritrea and working on development issues as a whole and climate change in particular. A credible partner that has been implementing several programme over the past two decades in Eritrea with a strong focus on the Millennium Development Goals
(MDGs) in the past and now on the Sustainable Development Goals (SDG). In 2013, UNDP signed the Strategic Partnership Cooperation Framework (SPCF 1) in 2013 with the GoSE to further the implementation of Eritrea's national development plan aimed at reducing poverty levels, expanding national capacity, increasing food security and supporting environmental sustainability. UNDP continues to collaborate with the government and plays a key role in supporting the government's implementation of international conventions related to Climate Change (UNFCCC), Biodiversity (UNCBD) and Desertification (UNCCD).Being an accredited entity of the GCF and an implementing agency of GEF and other conventions, UNDP is well respected globally and understands all the international processes, contracting and reporting procedures, and many more of the different multilateral and bilateral institutions. One of the main advantages of UNDP is therefore its capacity to mobilize financial resources on behalf of the GoSE, prepare, endorse and support the implementation of programme proposals for the GoSE. A case in point being this programme, which is also part of the SPCF 2.






Tag: Climate Change Adaptation Adaptation Fund Global Environment Facility fund Least Developed Countries Fund Multilateral Partners Project and Programme management Country Government UNDP management UNDP Regional Bureaux Coordination Agenda 2030

6.

3.1. Programme design / Formulation

3.1.8. Management Arrangements

This programme was executed by the Ministry of Land, Water and Environment (MoLWE) with the support of UNDP Eritrea. The programme was monitored by a management structure composed of a National Steering Committee (NSC), Programme Technical Committee (PTC), and the Anseba Regional Administration hosting the Programme Coordination Unit (PCU). The three bodies were interacting with each other and at different levels.





Tag: Oversight Project and Programme management Technical Support

7.

3.2. Programme Implementation

3.2.1. Adaptive Management
The programme deployed a number of adaptive management measures. The most significant measures were:

The establishment of six class A stations. The plan was to establish one class A and six class C metrological stations within the programme area. However, during the implementation period consultation with experts recommended to increase the number of class A stations to six and distribute hem within the programme area and surrounding location with diverse agro-climatic characteristics for comparability and better data analysis.




Tag: Agriculture Rural development Clean Energy Energy Renewable energy Water resources Project and Programme management Food Security Education

8.

3.2. Programme Implementation

3.2.2. Partnership Arrangements

The partnership in this programme was limited to stakeholders in the country at the national, regional, sub-regional and community levels and no evidence exists to show involvement of stakeholders from outside Eritrea. Initially, the involvement of the stakeholders in the programme started by a consultation process during the programme preparation period. The programme formulation team consulted and identified the MoLWE as executing body and MoLG, Anseba region as implementer. Individuals from the MoA, Department of Land, Department of Water, Department of Energy, Meteorological Service Unit were also approached. The organizational structure of the programme coupled with the field discussions and observations of the evaluators showed that various stakeholders participated in all levels within the National Steering Committee (NSC), Programme Technical Committee (PTC) and at the Programme Coordination Unit (PCU) at the sub-regional levels.




Tag: Integration Project and Programme management

9.

3.2. Programme Implementation

3.2.3. Feedback from M&E Activities Used for Adaptive Management

Adaptive management measures were taken in some cases in response to the annual programme performance reports (PPR). Interviews and group discussions during the Midterm Review (MTR) indicated that all the approached stakeholders and farmers had positive response to the adapting of micro-dams in the place of subsurface dams. However, none of the programme documents, reports or minutes of meetings indicated a feedback on all the adaptive management activities of the programme related to MIHAP, solar lighting, and six class A meteorological stations.





Tag: Integration Monitoring and Evaluation Operational Efficiency

10.

3.2. Programme Implementation

3.2.4. Programme Finance

The total programme cost was US$ 6,010,000 and US$ 5,423,000 was for programme implementation (Table 5). It is also important to note the strong co-financing contribution of US$ 510,850 of the government of Eritrea and the community through the programme cycle management fee. Co-financing is one of the strong sides of the government of Eritrea during project implementation which reveals their commitment and ownership of the project.




Tag: Efficiency Government Cost-sharing Local Governance Ownership

11.

3.2. Programme Implementation

3.2.5. Monitoring and Evaluation (M&E) (*)

Monitoring and Evaluation during design and implementation is satisfactory because it comprised of different activities that included the inception workshop, quarter and annual reports, field visits, back to office reports, mid-term evaluation, terminal evaluation and annual financial auditing. The normal procedure for delivering reports was as follows: The programme coordinator prepared the reports and sent them to the MoWLE who approved and submitted them to the Ministry of National Development (MND) who finally sent them to UNDP after approval. Since the programme is under the Anseba Region's supervision and the MoA is the executor, this means the reports were also reviewed by the major stakeholders.




Tag: Efficiency Monitoring and Evaluation Operational Efficiency

12.

3.2. Programme Implementation

3.2.6. UNDP and Implementing Partner, Coordination, and Operational Issues (*)

UNDP as International Implementing Agency (IA) and MoLWE as the Executing Entities (EE) exercised prudent and quality management actions to ensure achievement of programme outcomes and objective in a timely manner. UNDP as the IA, as stipulated in the Management Arrangements, provided support to and worked cooperatively with the MoA, MoLWE, MoND and Ministry of Finance and other members of the National Steering Committee during the programme implementation and contributed in undertaking some of the adaptive management measures to ensure achievement of the programme results and objective. Despite some delays in the disbursement of funds, and the operational completion of the programme, for all their individual and collective efforts and strong support exercised throughout programme implementation to successfully achieve the programme results and ensure sustainability, the evaluators rate the IA and EE coordination and cooperation as Satisfactory.




Tag: Resource mobilization Project and Programme management Country Government UNDP Regional Bureaux Coordination Operational Services

13.

3.3.Programme Results
3.3.1. Overall Results (Attainment of Objectives) (*)

The overall goal of the programme to promote increased food security in Eritrea through ecologically sustainable and climate-resilient improvements in agricultural production is satisfactory. The objective of the programme to increase community resilience and adaptive capacity to climate change through an integrated water management and agricultural development approach in the sub-regions of Hamelmalo and Habero, Anseba Region is satisfactory.




Tag: Crop production Livestock Effectiveness Sustainability

14.

3.3.Programme Results

3.3.2. Relevance (*)

The programme remains relevant to local, regional and national priorities as well as to the UNDP strategic
priorities as explained in detail below.




Tag: Agriculture Crop production Livestock Rural development Climate Change Adaptation Vulnerable Adaptation Fund Water resources Relevance Innovation Capacity Building Agenda 2030 SDG Integration

15.

3.3.Programme Results

3.3.3. Effectiveness (*)
The overall effectiveness of the programme is rated as Satisfactory (S). Despite the less impressive performances of activities under outcomes 3 and 4, the results of outcome 1 and 2 are much better and focus on the core aspects of improving the resilience and adaptive capacities of the programme beneficiaries.





Tag: Agriculture Livestock Rural development Climate Change Adaptation Recovery Drinking water supply Energy River basin management Water resources Effectiveness Impact Gender Equality Women's Empowerment Innovation Knowledge management Operational Efficiency Results-Based Management Capacity Building Inclusive economic growth

16.

3.3.Programme Results

3.3.4. Efficiency (*)

Overall, the efficient use of human and financial resources in line with international and national norms and standards was satisfactory. The programme has been able to implement almost all its activities with the AF resource allocated, while additional activities not originally included in the programme such as the MIHAP and solar panel installations were supported by funds that were diverted from other programme activities deemed to be of less priority to local vulnerable communities. Efficiency can also be demonstrated by the day-to-day programme management functions directly assumed by the assigned personnel in MoA, MoLWE, MLG and UNDP and the close involvement and effective participation of local communities who are the main beneficiaries. These two actions have enhanced the implementation capacity and facilitated the successful achievements of the programme's objective, outcomes and outputs.




Tag: Efficiency Human and Financial resources Oversight Project and Programme management

17.

3.3.Programme Results

3.3.5. Country Ownership
Thanks to the very strong involvement and leadership of the various government Ministries especially MoA, MoLG, and MoLWE, the programme was designed and implemented according to the priorities of and by the government of Eritrea. Local communities played a leading role in the realization of the programme activities and outcomes that also benefitted them directly. The programme directly implemented priorities expressed by The Government of The State of Eritrea in its 2007 National Adaptation Programme of Action (NAPA) and has used government procedures for its implementation. Moreover, the programme has acted consistently in partnership with Anseba Regional and Sub-regional authorities and aligned with the government's policies and strategies regarding integrated land and water resource management, agricultural productivity and food security and its strong commitment to environmental issues (climate change, biodiversity, desertification etc.).




Tag: Local Governance Operational Efficiency

18.

3.3.6. Mainstreaming Poverty Alleviation
The programme provided and secured water, food (crops and livestock), fodder, arable land, and clean solar energy for communities as well as the strengthening of community organization and development of skills through trainings. All these livelihood assets will go a long way to improve the well-being of the
communities and programme beneficiaries and would eventually contribute towards poverty alleviation.





Tag: Recovery Gender Equality Women's Empowerment Elderly Jobs and Livelihoods Youth Coordination

19.

3.3.Programme Results

3.3.7. Sustainability (*)
The overall likelihood of sustainability is rated as Moderately Likely (moderate risks), consistent with ratings
given in the sub-categories below.




Tag: Rural development Environmental impact assessment Impact Sustainability Capacity Building Inclusive economic growth Jobs and Livelihoods

20.

3.3.Programme Results

3.3.8. Impact
Our evaluation through field observations, FGDs and review of documents show that the immediate verifiable impact of the programme is minimal. We acknowledge that it might be a bit early to fully appreciate and demonstrate the contribution of the programme to reduce environmental stress or improve ecological status especially in the context of climate change vulnerability. However, it is worth mentioning that the programme is already yielding some very impressive positive changes in the lives of farmers and their immediate environment. Just to name a few cases that indicate enhanced resilience of farmers and their ecosystems:




Tag: Rural development Impact Inclusive economic growth
Recommendations
1

Terminal evaluation recommendation 1. Experience sharing and learning on SWC and livelihood diversification as adaptation strategies should be encouraged by the government (MoLWE, MoLG, MoA) and UNDP at all levels. Implementation of SWC measures should be enhanced in the catchment to reduce risk of siltation while planted trees should be properly protected and managed by communities.

2

Terminal evaluation recommendation 2. Community organizations, local leaders and extension agents should ensure that a robust, systematic and community-based maintenance scheme should be in place to either reduce or timely respond to physical damages to the irrigation infrastructures including dams and diversion canals that are often hit by seasonal flash floods.

3

Terminal evaluation recommendation 3. In similar future projects, a groundwater monitoring system should be introduced by national research institutes such as the Hamelmalo Agricultural College with the support of technical and financial partners, in order to compare the recharge of underground water as a result of the dams constructed with a benchmark. This will provide a more reliable and scientific method to inform decision making and management around water sources in Eritrea.

4

Terminal evaluation recommendation 4: The local administration should create a support system for very successful farmers who are able to transform their livelihoods (that has been supported by this programme MIHAP activities) into a thriving small business model that can be replicated in other communities in Eritrea.

5

Terminal evaluation recommendation 5. Manufacturers of energy efficient stoves need to design and adapt the stoves to local contexts. They should be accompanied by continuous technical support, monitoring and checkup by extension agents and locally trained technicians to address complaints and challenges. Researchers should conduct an integrated analysis to understand reasons for using or not using energy efficient stoves. Such a research might facilitate the adoption of the stoves by communities.

6

Terminal evaluation recommendation 6. Extension agents, MoA and the MoLG should promote farmer-led conflict prevention, management and resolution in relation to water and land utilization for agriculture.

7

Terminal evaluation recommendation 7. In similar future projects, local ownership should be encouraged by project proponents in project design and implementation: As seen in the programme, this entails strong involvement of farmers in the implementation; part time job creation for farmers and youths; training of community members to acquire new skills and reinforcing their sense of ownership of the programme.

8

Terminal evaluation recommendation 8. Local administration with the support of MoLWE and MOA should encourage farmers and train on how to transform by-products from their farms into compost as there is often a high demand for fertilizer for various crop production activities.

9

Terminal evaluation recommendation 9. The various institutions running the meteorological stations should make sure that the climate data being collected is analyzed and disseminated to the end-users – who are especially the farmers and extension agents. The Government and UNDP should follow up and support the effective functioning and utilization of the stations.

10

Terminal evaluation recommendation 10. The GoSE, UNDP and partners should make efforts to prepare knowledge products especially a few key documents on best climate change adaptation practices in the different aspects of the programme related to SWC, MIHAP.

11

Terminal evaluation recommendation 11. The government and its partners should consider a second phase of the programme. This means that the core objective will not be very different. A potential option is to upscale the programme activities to cover more regions and target more farmers. The challenges and shortcomings of the current programme should be incorporated into the phase two as additional aspects of the programme. A tentative title can be: Ecosystem-based Adaptation (EbA) of Anseba River catchment for integrated rural development. Potential funding source can be the Green Climate Fund (GCF) which will therefore require the preparation of a (pre)feasibility study and a concept note. The feasibility study and concept note will greatly benefit from the current programme document and experience. A GCF simplified approval process (SAP) of maximum 10 Million USD or a small size GCF project between 10 to 50 Million USD can be explored by the programme proponent.