UNDAF evaluation 2017-2021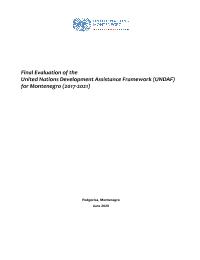 Evaluation Plan:

Evaluation Type:

UNDAF

Planned End Date:

09/2020

Completion Date:

12/2020

Status:

Completed

Management Response:

Yes

Evaluation Budget(US $):

30,000
Title
UNDAF evaluation 2017-2021
Atlas Project Number:
Evaluation Plan:
2017-2022, Montenegro
Evaluation Type:
UNDAF
Status:
Completed
Completion Date:
12/2020
Planned End Date:

09/2020

Management Response:
Yes

Focus Area

:

1. Environment & Sustainable Development
2. Others

Corporate Outcome and Output (UNDP Strategic Plan 2018-2021)
Evaluation Budget(US $):

30,000

Source of Funding:
UNCT
Evaluation Expenditure(US $):

27,667

Joint Programme:
Yes
Joint Evaluation:

Yes

Evaluation Team members:

| Name | Title | Nationality |
| --- | --- | --- |
| OLivera Komar | Independent Evaluator, Senior Evaluation Expert | |
| Tomislav Novovic | Independent Evaluator, Team Leader | SERBIA |

GEF Evaluation:

No

Key Stakeholders:
UNCT
Countries:

MONTENEGRO
Recommendations
1

Focus new UNDAF on the most critical issues for the achievement of SDGs and EU accession priorities for Montenegro. Ensure strong focus on the inclusion of vulnerable groups and full implementation of "leave no one behind" principle (also addressing the needs of those left furthest behind).

2

It is recommended that UNCT remain flexible and responsive to the needs and priorities of the citizens and authorities in Montenegro and also consider actions in areas where UNCT has been less present);

It is recommended UNCT in Montenegro explore supporting the digital transformation agenda of the GoM in various sectors;

It is recommended for UNCT to support green recovery of the country, especially in the key economic sectors;

It is recommended to work on a systematic and integrated approach to youth programming;

Considering already existing, significant regional development differences, with even more negative perspectives, UN Agencies together with the Government of Montenegro and other stakeholders, should explore options for SDG-focused and area-based development programming within these areas to achieve local tangible results and combat the existing challenges;

It is recommended to explore entry points for a holistic and coordinated approach to address demographic challenges and migration (including sustainable return and reintegration when appropriate);

It is also recommended to strengthen policy capacities in all stages of the policy cycle, linking it with the EU accession priorities and SDGs. Part of these efforts should be to strengthen systems and capacities for monitoring, reporting, and evaluation of public policies. UNCT should work to ensure that policy implementation is based on sound gender sensitive costing, with predictable financing sources. In connection to this, the mechanism for policy coordination should be strengthened.

Also, it is recommended to explore support to the Parliament of Montenegro to implement core functions (including the law-making, analytical and oversight capacities).

It is recommended to support the development of a systemic and holistic system for continued development of capacities of the authorities (all branches of power) to exercise their functions

It is recommended to explore approaches for strengthening the role of non-government actors and civil society, following a two-fold approach by providing technical assistance to CSOs and continuing partnerships

3

It is recommended that UNCT continue to strengthen its normative work, assisting the key governance actors in Montenegro to understand, and implement norms and standards deriving from international charters and agreements. The focus should be to integrate norms and standards in public policies, laws, strategies and development plans but also remain active in the implementation.

It is recommended to strengthen gender mainstreaming and empowerment of women under all UNSDCF outcomes, following gender transformative approach.

4

It is recommended to strengthen membership of the UNSDCF Steering Committee to ensure its strategic involvement and guidance for UNDAF implementation.

It is recommended to expand the number of participants in the UNDAF Results Groups, bringing other partners in to improve planning, implementation and coordination of activities within UNDAF implementation. Intensive joint planning should be strengthened through preparation of Annual Work Plans (WPs), setting the basis for holistic and integrated planning and programming.

5

In the next programming cycle UNCT in Montenegro should invest more efforts to define appropriate qualitative and quantitative indicators to adequately measure progress under outcomes and capture UNCT contribution to this progress.

In parallel, it is recommended to strengthen monitoring processes, and further build on the established results-oriented reporting practice.

It is also important that UN Agencies allocate financial resources to support collection of data under specific indicators, as needed.

Also, it is recommended to plan a mid-term review of new UNSDCF (that should complement regular monitoring)

6

It is recommended to define practical sustainability strategy under all outcomes within new UNSDCF. It is also recommended to perform regular analysis of factors external to interventions (risks and assumptions) that could affect sustainability and propose measures to mitigate their adverse effects.

It is recommended that UN develop a sound, hands-on approach to measure capacity development across all priority areas, linking them with changes and reform needs.

(Linked with Recommendation 5) Part of the monitoring system should include efforts to measure progress and monitor the extent to which newly gained capacities are being utilized (particularly analysis benefits for the poor).
Management Response Documents