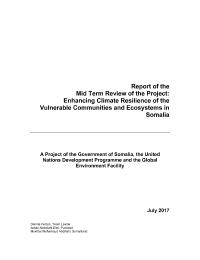 Mid-Term evaluation - Climate Change Resilience
Summary
The Project, in an extremely challenging context, has made numerous remarkable achievements.
The Project has demonstrated that it is possible to undertake community based, climate change
adaptation projects in Somalia, at least in Somaliland and Puntland. The Project has also
demonstrated that this is a worthwhile aim.
However, the Project has also demonstrated that, compared to most countries, Somalia is a
challenging and expensive place to implement development projects. And, for the southern States, it
may not yet be feasible to run community-oriented, development projects.
The Project has adopted an approach whereby it first focuses on 'on-the-ground' actions, and uses
this to demonstrate success and to build partnerships and momentum. The on-the-ground actions
have delivered success before steps have been taken to clarify the Project's strategic aspects. This
approach has been validated so far in this Project. By the mid-term, the Project has created a good
foundation. It has the potential to continue to be a highly successful project.
However, there are some weaknesses in the approach, and some subsequent weaknesses in the
results achieved. Hence, corrective measures will be necessary if the Project is to meet its full
potential.
Mid-Term evaluation - Climate Change Resilience
Corporate Outcome and Output

UNDP Strategic Plan 2018-2021
Output 1.4. Scaled up action on climate change adaptation and mitigation across sectors which is funded and implemented
Goal 1. End poverty in all its forms everywhere
Goal 13. Take urgent action to combat climate change and its impacts
1.5 By 2030, build the resilience of the poor and those in vulnerable situations and reduce their exposure and vulnerability to climate-related extreme events and other economic, social and environmental shocks and disasters
13.1 Strengthen resilience and adaptive capacity to climate-related hazards and natural disasters in all countries
13.2 Integrate climate change measures into national policies, strategies and planning
1: Environment & Sustainable Development
2: Others