Project Terminal Evaluation MEER/GEF/UNDP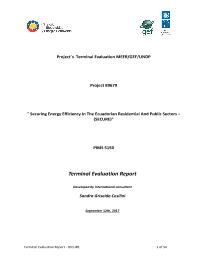 Evaluation Plan:

Evaluation Type:

Final Project

Planned End Date:

09/2017

Completion Date:

09/2017

Status:

Completed

Management Response:

Yes

Evaluation Budget(US $):

20,000
Title
Project Terminal Evaluation MEER/GEF/UNDP
Atlas Project Number:

00079790

Evaluation Plan:
2015-2018, Ecuador
Evaluation Type:
Final Project
Status:
Completed
Completion Date:
09/2017
Planned End Date:

09/2017

Management Response:
Yes

Focus Area

:

1. Environment & Sustainable Development
2. Others

Corporate Outcome and Output (UNDP Strategic Plan 2018-2021)

1. Output 1.5. Inclusive and sustainable solutions adopted to achieve increased energy efficiency and universal modern energy access (especially off-grid sources of renewable energy)

SDG Goal

Goal 12. Ensure sustainable consumption and production patterns
Goal 13. Take urgent action to combat climate change and its impacts
Goal 15. Protect, restore and promote sustainable use of terrestrial ecosystems, sustainably manage forests, combat desertification, and halt and reverse land degradation and halt biodiversity loss
Goal 7. Ensure access to affordable, reliable, sustainable and modern energy for all

SDG Target

13.2 Integrate climate change measures into national policies, strategies and planning
7.1 By 2030, ensure universal access to affordable, reliable and modern energy services

Evaluation Budget(US $):

20,000

Source of Funding:
GEF
Evaluation Expenditure(US $):

12,500

Joint Programme:
No
Joint Evaluation:

No

Evaluation Team members:

| Name | Title | Nationality |
| --- | --- | --- |
| Sandra Cesilini | International consultant | ARGENTINA |

GEF Evaluation:

Yes

| | |
| --- | --- |
| GEF Project Title: | Securing Energy efficency in the Ecuadorian Residential and Public sectors (SECURE) |
| Evaluation Type: | Terminal Evaluation |
| Focal Area: | Climate Change |
| Project Type: | MSP |
| GEF Phase: | GEF-5 |
| GEF Project ID: | 5114 |
| PIMS Number: | 5150 |

Key Stakeholders:
Ministry of Electricity and Renewable Energy
Countries:

ECUADOR
Recommendations
1

The Maximum Energy Efficency Label (DMEE) has to be promoted through communication campaigns.

2

It is recommended that the MEER through the support of UNDP CO, follows up with the Ministry of Environment (MAE) on the approval of the NAMA. Additionally, a road map has to be prepared in order to apply for international funding to implement this initiative.

3

It is recommended that the Ministry of Environment, through the Climate Change Undersecretariat supports the MEER technically in order to integrate SECURE Project's outcomes into new GEF initiatives as part of the Climate Change Framework based on the National Energy Efficiency Plan (PLANEE).

4

Systematize the experience in the develpment of the DMEE and disseminate it at a national and regional levels.

5

Continue to provide technical training in Energy Efficiency (EE) standards to other Government entities that have a key role at implementing EE policies.

6

One (1) project specialist continues to work for the MEER (according to indicator 2.3 - (b) of the PRODOC) - Continuity to the outcomes of the project, with special emphasis at keeping the DMEE Technical Operative Commitee (CTO) on track.

7

It is recommended to implement the National Laboratories Network and, if neccesary, prepare a funding proposal for international donors.

8

It is recommended to develop a strategy of gender approach, to be applied in social communication campaigns and to highlight the achievements of the women scientists involved in the Project . Also it is important to perform an analysis of the participation of women in the implemented training sessions at the level of the National Secretariat for Public Administration, and the role of women engineers and technicians in laboratories and companies.

9

Continue with the awareness-campaigns in The Galapagos Islands.

10

It is recommended to asses the changes on the consumers´ behaviour and the demand of household appliances awarded with the DMEE, and also establish a baseline in terms of the consumption of electrical energy since the implementation of the DMEE and thereby assess the impact and benefits of such an initiative.

11

It is recommended that the RENOVA Program implements during its second phase the plans and improvement tools designed during the SECURE Project implementation.

12

Continue to provide technical support to electric companies to ensure adequate implementation of programs to replace electrical appliances.

13

Share and disseminate the road map for the accreditation of national laboratories, that was prepared by the Project team.

14

It is recommended to apply the Government by Results (GPR) tool updating it to the third year of project execution at the end of the Project in 2017, to achieve an integral implementation of the tool throughout the Project´s cycle and to complete the M & E Plan.

15

It is recommended to systematize the experience of the SECURE Project and share it with other countries in the region (such as Mexico and Brazil), for example, through a Regional Workshop where other experiences are also involved, emphasizing South-South cooperation.