Final Evaluation of Cabo Verde Country Programme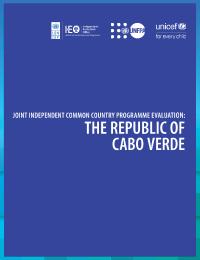 Evaluation Plan:

Evaluation Type:

Country Programme Evaluation

Planned End Date:

03/2022

Status:

Overdue

Management Response:

No

Evaluation Budget(US $):

80,000
Title
Final Evaluation of Cabo Verde Country Programme
Atlas Project Number:

00065851

Evaluation Plan:
2018-2022, Cape Verde
Evaluation Type:
Country Programme Evaluation
Status:
Overdue
Planned End Date:

03/2022

Management Response:
Yes
Corporate Outcome and Output (UNDP Strategic Plan 2018-2021)
Evaluation Budget(US $):

80,000

Source of Funding:
REGULAR RESOURCES
Joint Programme:
No
Joint Evaluation:

Yes

Joint with UN Agencies
Joint with

UNDPA, UNFPA and UNICEF

GEF Evaluation:

No

Key Stakeholders:
MINISTRY OF FOREIGN AFFAIRS AND COMMUNITIES AND MINISTRY OF FINANCE
Countries:

CAPE VERDE
Recommendations
1

R1. The three agencies should accelerate measures underway to finalize the setting up of the JO governance model, the office structure, recruiting key staff, and putting in place the management and coordination mechanisms necessary for the new CCP definition and implementation.

2

R2. The new CCP should strengthen the coherence of the programme and its potential effectiveness.

3

R3. In the context of post COVID-19, the CCP should help the country strategize on its recovery seeking out new opportunities for sustainability and capacity-building of senior staff of the Government and the private sector.

4

R4.1. The CCP should increase the support to the health management system and improve services for the youth and people with disabilities delivered in remote locations.

5

R4.2. The CCP should increase support to give coherence to social protection benefits available to the most vulnerable, aiming at making them more integrated and more extensive especially to rural areas.

6

R4.3. The CCP should increase support to the education system by assisting in the implementation of new policies for preschool education, education for children with special needs, and child protection.

7

R5. The CCP should mainstream national and municipal environmental goals across all the programme portfolios/outcomes, exploiting the comparative advantages of the three agencies.

8

R6. The CCP should increase support to foster economic transformation and sustainable and inclusive growth by progressively consolidating the current trend of bolstering its work and presence at the local level as more experience is gained.

9

R7. The CCP should continue the support on democratic governance, rule of law and human rights to increase the programme contribution and sustainability of the results.

10

R8. Foster work and long-term thinking beyond Government to involve communities, CSOs, the private sector, and academic organizations to improve demand and capacity, ensuring active and meaningful participation and protagonism by stakeholders.

11

R9. In view of the country's MIC status, the JO, with the support of the agencies' ROs, should explore new resource mobilization opportunities and seek to diversify funding sources.

12

R10. The JO should better develop the programmatic integration of key cross-cutting issues and development accelerators. The JO should strengthen its work on gender and make it more transformative through the design and implementation of new initiatives that integrate thematic areas concerned with gender issues.