Independent Country Programme Evaluation: Philippines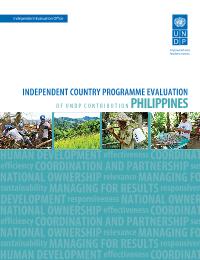 Evaluation Plan:

Evaluation Type:

ICPE/ADR

Planned End Date:

12/2017

Completion Date:

12/2017

Status:

Completed

Management Response:

Yes

Evaluation Budget(US $):

100,000
Title
Independent Country Programme Evaluation: Philippines
Atlas Project Number:
Evaluation Plan:
2014-2017, Independent Evaluation Office
Evaluation Type:
ICPE/ADR
Status:
Completed
Completion Date:
12/2017
Planned End Date:

12/2017

Management Response:
Yes

Focus Area

:
Corporate Outcome and Output (UNDP Strategic Plan 2018-2021)

1. Output 1.3. Solutions developed at national and sub-national levels for sustainable management of natural resources, ecosystem services, chemicals and waste
2. Output 1.4. Scaled up action on climate change adaptation and mitigation across sectors which is funded and implemented

Evaluation Budget(US $):

100,000

Source of Funding:
Evaluation Expenditure(US $):

80,000

Joint Programme:
No
Joint Evaluation:

No

Evaluation Team members:

| Name | Title | Nationality |
| --- | --- | --- |
| Richard Jones | Evaluation Advisor | |

GEF Evaluation:

No

Key Stakeholders:
Countries:

PHILIPPINES
Lessons
Findings
1.

Finding 1. UNDP has played a strong role in the improved provision of services, especially integrated water and sanitation, through the introduction of more comprehensive, integrated and coordinated governance approaches for service delivery. This has included the introduction of regional hub approaches to governance structures, improving levels of participatory governance and collaboration that are in turn replicable across a range of service delivery areas, and governance interventions.




Tag: Sanitation Waste management Effectiveness Sustainability Local Governance Knowledge management Service delivery Civil Societies and NGOs Country Government UN Agencies Operational Services SDG Integration

2.

Finding 2. UNDP support to regional human rights issues and the development of a Regional Human Rights Commission (RHRC) in the Autonomous Region in Muslim Mindanao (ARMM) was the first of its kind in the Philippines and was in many ways ground breaking, providing access to human rights services for remote groups who would not normally have access to such services.




Tag: Challenges Effectiveness Sustainability Gender Equality Gender-Based Violence Women's Empowerment Human rights Justice system Local Governance

3.

Finding 3. UNDP has developed a number of programmes targeting and supporting a range of vulnerable groups including the poor, female migrants, women, indigenous groups and groups impacted by HIV and AIDS. Activities and interventions remain somewhat limited in nature and lack a medium to long-term strategic plan or sustainability focus. At the same time, synergies across interventions and targeting of vulnerable groups could have been further explored.




Tag: Vulnerable Effectiveness Sustainability Gender Equality Women's Empowerment HIV / AIDS Programme Synergy Indigenous people

4.

Finding 4. UNDP has recently expanded its governance operations into new service delivery areas acting as a delivery agent for the Government under NAM starting with two large projects in 2016. More NAM projects with several government agencies are in the pipeline for 2017 and beyond. The transition was challenging to a degree for the country office and programme design, risk assessment, partnership development, financing and management arrangements, reporting structures and implementation modalities have all come under pressure.




Tag: Challenges Effectiveness Efficiency Civic Engagement Implementation Modality Innovation Operational Efficiency Partnership Programme/Project Design Results-Based Management Risk Management Country Government Education Technology Technical Support

5.

Finding 5. UNDP has continued to support a range of interventions and programmes in human rights, democratic governance, anti-corruption and access to justice in partnership with key government partners in these areas. These interventions would have been better served under improved strategic planning approaches with partners and stakeholders. UNDP Philippines continues to operate a large number of small annually planned and funded projects and activities in this area with little or no strategic focus evident or mediumto long-term strategic plan, which limits overall impact as well as the opportunity to leverage funds for broader interventions in existing and emerging areas of need.




Tag: Effectiveness Anti-corruption Human rights Justice system Public administration reform Partnership Results-Based Management Theory of Change Country Government

6.

Finding 6. UNDP has always worked towards ensuring strong partnerships and participation in programme and project implementation among Government, UNDP, implementing partners, civil society organizations, communities and a broad range of stakeholders. This approach has strengthened project implementation with the Government, service delivery through NAM projects and within other outcome areas, which can be replicated across other interventions.




Tag: Disaster Risk Reduction Sanitation Water resources Effectiveness Sustainability Implementation Modality Innovation Ownership Partnership Civil Societies and NGOs Country Government Peace Building Promotion of dialogue Education Technology

7.

Finding 7. UNDP has developed comparative strengths and strong value added in its DRM support, developing a broad range of interventions and support to better prepare LGUs and communities for possible natural disasters.




Tag: Disaster risk management Natural Disaster Resilience building Effectiveness Local Governance

8.

Finding 8. DRM, preparedness and planning support and subsequent disaster response work, despite the successes outlined above, were not well coordinated within the UNDP country office, with two outcome areas, ISD and RPB implementing DRM work with little knowledge sharing and some duplication of activities and products.




Tag: Disaster risk management Donor relations Integration Knowledge management Multilateral Partners Programme Synergy Results-Based Management Coordination

9.

Finding 9. UNDP's environmental portfolio builds on the organization's comparative strengths in institutional capacity-building and has successfully supported the implementation of a range of environmental and natural resource activities in partnership with the Philippine Government which has had a balanced mix of upstream and downstream impacts that are strongly aligned to national priorities and commitments as well as UNDP's own strategic priorities.




Tag: Natural Resouce management Effectiveness Relevance Global Environment Facility fund Partnership Country Government Capacity Building

10.

Finding 10. UNDP is well positioned to help the Government of the Philippines further support the entire government environmental system and management structure in a way that addresses continuing bottlenecks. At the same time, support to the environment is tied to current funding channels and remains mostly programmatic. While individual projects and programmes have seen upstream and downstream success, this could have been coordinated to produce greater synergies across programmes to leverage success for greater impact.




Tag: Natural Resouce management Effectiveness Integration Programme Synergy Results-Based Management Strategic Positioning

11.

Finding 11. UNDP's continued presence and experience in disaster response, recovery and preparedness in the country has enabled it to be a strong partner with local and national governments. UNDP has built valuable experience and knowledge of the needs of communities during the response stages of disasters and the transition to recovery as well as strengthened preparedness to address any future disasters. At several times, UNDP has been a leader in response and recovery work and has set construction benchmarks for housing and evacuation centres.




Tag: Disaster Risk assessments Disaster risk management Disaster Risk Reduction Resilience building Water resources Effectiveness Aid Coordination Local Governance Knowledge management Multilateral Partners Partnership Displaced People

12.

Finding 12. UNDP remains a trusted partner in the Bangsamoro peace process, working closely with the ARMM administration, the Philippine Government and the Office of the Presidential Adviser to the Peace Process as well as local communities. It supports the Peace Process, the Bangsamoro Framework agreement, ARMM and the Bangsamoro Basic Law as well as communities that have suffered from upheaval and displacement due to the conflict.




Tag: Effectiveness Human rights Local Governance Rule of law Partnership Strategic Positioning Country Government Conflict Displaced People Peace Building Promotion of dialogue Coordination Technical Support

13.

Finding 13. UNDP is well positioned to continue to support the ARMM, the transition and adoption of the Bangsamoro Basic Law in any format. UNDP's role in the implementation of the new Mindanao Peace and Development Financing Facility (seen in draft format) reflects this.




Tag: Civic Engagement Human rights Local Governance Rule of law Multilateral Partners Strategic Positioning Peace Building Promotion of dialogue Security Coordination

14.

Finding 14. UNDP continues to align itself closely with the Philippine Development Plan, initially with the 2011 to 2016 plan and more recently with the 2017 to 2022 plan, and harmonizes its partnerships with the Government's development focus. The country office has also strongly supported the Government in addressing its global commitments and treaty ratifications.




Tag: Disaster risk management Natural Disaster Vulnerable Relevance Global Environment Facility fund Harmonization Partnership Country Government Peace Building Technical Support

15.

Finding 15. The Philippines country office has made a number of changes to address previous Assessment of Development Results recommendations as well as those of the Office of Audit and Investigation (OAI), which had identified inefficiencies in the programme portfolio where the country office was seen as operating too many small and medium-sized programmes with high implementation and operational costs.




Tag: Disaster risk management Efficiency Change Management Human and Financial resources Implementation Modality Operational Efficiency Results-Based Management

16.

Finding 16. The country office has shown strong commitment to monitoring and evaluation (M&E) and has ensured in recent years that a dedicated M&E focal point is in place. Implementation of the evaluation plan for the period reflects mostly mandatory evaluations (GEF) over others. This means much of the work under the CPD period has not been evaluated and little evidence is available to support the ICPE and the new CPD.




Tag: Efficiency Global Environment Facility fund Monitoring and Evaluation

17.

Finding 17. At the time of the evaluation, the country office was restructuring its programme areas, bringing the DRM teams in ISD and RPB together to increase coordination, improve use of resources, and strengthen greater synergies across the office's work.




Tag: Efficiency Country Support Platform Integration Programme Synergy

18.

Finding 18. The country office's move to a large procurement and service delivery programme portfolio for the Philippine Government, which could dwarf the existing programme portfolio financially, has understandably been a challenge, whose scale has varied by NAM project. The new approach was adopted and implemented within the existing office structure and democratic governance outcome area, putting a strain on existing human resources, though additional resources were available to the outcome team in implementation.




Tag: Human and Financial resources Implementation Modality Procurement Service delivery

19.

Finding 19. There is an expectation that NAM projects currently being implemented and developed will have a strong technical assistance component that will strengthen procurement and monitoring systems, so that in the future the Government will not have to rely on UN systems for procurement and service delivery.




Tag: Sustainability Implementation Modality Monitoring and Evaluation Procurement Capacity Building Technical Support

20.

Finding 20. Several areas of UNDP's work have been viewed very positively by the Philippine Government and are being integrated into larger programmes or as parts of existing government programmes.




Tag: Sustainability Global Environment Facility fund Integration Partnership Country Government

21.

Finding 21. UNDP Philippines has not placed a priority on gender mainstreaming in the office during the CPD period. There is no gender equality strategy in place, and the 'gender focal point' responsibility in the office has always been a part-time role undertaken by one of the programme officers, who has other responsibilities.




Tag: Effectiveness Gender Equality Gender Mainstreaming Data and Statistics

22.

Finding 22. The United Nations in the Philippines has some way to go in coordinating its activities, working jointly as requested by the Government in the past and has made little progress towards becoming a 'Delivering as One' (DAO) country.




Tag: Coherence Joint UN Programme UN Agencies UN Country Team

23.

Finding 23. UNDP has been more successful in working closely with other donors in the Philippines who have recognized their value added and comparative strengths in many areas including peace and resilience and governance.




Tag: Effectiveness Local Governance Donor relations Strategic Positioning Peace Building

24.

Finding 24. Considerable work has occurred during the period to ensure that CSOs and academia are included in programme interventions.




Tag: Sanitation Water resources Local Governance Innovation Partnership Civil Societies and NGOs Education Technology

25.

Finding 25. South-South cooperation (SSC) support from the country office has been consistent over the CPD period but has been somewhat ad hoc with little strategic approach or focus.




Tag: Coherence South-South Cooperation

26.

Finding 26. UNDP has given strong support throughout its programmes to reducing poverty as well as supporting the Philippine Government's adoption of the SDGs.




Tag: Poverty Reduction Agenda 2030 SDG Integration
Recommendations
1

Recommendation 1. National Acceleration Modality approaches need to be planned, entered into and implemented within an agreed memorandum of understanding between UNDP and the Government of the Philippines. This should include a clear strategic understanding of technical assistance needs and focus with a strategic vision for UNDP moving out as a service delivery agent and the Government acting as primary delivery agent in the future.

UNDP and the Government of the Philippines need a clear understanding and updated and improved general agreement on the NAM approach including project design, roles and responsibilities, implementation and financial reporting schedules, management oversight responsibilities and should not rely on historic agreements between the Government and the UN as the basis for NAM implementation. This should also include from the outset of projects a clear and agreed understanding of all project and technical support costs. UNDP should also undertake very detailed risk analysis prior to all NAM approaches that details implementation, financial and reputation risk and this should be monitored throughout implementation. An understanding and agreement should also be reached on the role of NEDA in the oversight of this new form of support in its position as overseer of inward ODA and donor activities within the country. At the same time, UNDP as a whole, globally and regionally, as it increasingly pursues Government cost sharing agreements (GCS) needs to develop guidelines and approaches for country offices that outline how to address design, contractual, implementation, financial and reputational risk aspects of the service delivery modality and also allow and recognize the need for country-level flexibility in design. This is especially needed if regional and country office annual targets for GCS are going to continue to be set and increased (the target is currently 15 percent for public and private co-financing for the region). The experience of NAM in the Philippines provides strong support to this process. UNDP in the Philippines needs to develop a technical capacity support strategy for the NAM modality as a whole and for individual projects and its support to key service delivery areas, especially in procurement. This should include a detailed assessment of constraints within the Philippine Government's procurement and service delivery systems and a clear plan of support to address these challenges as well as an action plan for regulatory and policy changes that will ensure strengthened government procurement systems and service delivery. UNDP should continue to ensure that it moves towards improvements in the government system itself and provides capacity and technical support to strengthen service delivery by the responsible government agencies ensuring that future use of parallel systems is avoided and a clear exit strategy for UNDP is developed. As part of this, UNDP and the Government of the Philippines need to clarify roles and come to an agreement on how and for what accrued technical assistance funds can be used.

2

Recommendation 2. Experience from the response to and recovery from Typhoon Yolanda and other disasters over the period needs to be consolidated and documented and UNDP Philippines could ensure that this strengthens its own response plan and its coordination role for future disasters as well as feeds into existing and developing government response, recovery and preparedness work.

During this period, UNDP has been highly responsive to a range of disasters across the country, including flooding, typhoons and storms, earthquakes and conflict. It holds a strong partnership with the Government in response and recovery as well as disaster preparedness. However, challenges remain and UNDP should support a review of DRM to clearly identify weaknesses and future areas that may need to be strengthened when responding to disasters and moving to recovery work. This could include a review of access to the many government systems and funds in place to support impacted LGUs and communities but which were reported by some to be difficult to access and slow to disburse. This would be in line with proposed PFM reviews under NAM programmes. The UNDP/EU programme was implemented in a highly professional way, with a focus on quality and smart demonstration. The UNDP/ EU programme provided model demonstrations with observed capacity strengthened and targeted implementation of solution-oriented projects, including resilient infrastructure and sustainable livelihoods and was highly illustrative of the technical implementation links between environment/climate change and risk reduction. A key finding based on the evaluation of the UNDP/EU recovery activities was the need for reconstruction to a medium standard. While it was positive that UNDP supported high standards for building and construction, a major finding was the need for a minimum standard and support for a low standard which is safe and secure and is also financially accessible by the Government, LGUs and communities. At the same time, a high number of shelters have been constructed or are under construction, supported by a range of donors including the Government, international donors as well as CSOs and individual citizen donations. In turn, there are a large number and variety of construction styles and levels. UNDP could consider a broad review of permanent shelter construction with the Government of the Philippines to help implement policy and standards for future disaster support.

3

Recommendation 3. UNDP needs to give greater strategic focus to areas of crosscutting concern to UNDP as a whole including gender, South-South cooperation (SSC) as well its evaluation of programmes and projects.

While a gender focal point is in place, it is important that adequate training is given to the focal point in order for them to give support to projects and staff. At the same time, project staff in general need to also ensure that gender is integrated within all programme and project designs. Management should also develop a gender strategy, prioritizing gender mainstreaming in the next country programme and implement a strategy for achievement of the gender seal. The country office should also identify areas where South-South cooperation could benefit the development needs of the country and also where the experience and knowledge of the Philippines could be shared to aid the development of other countries. The country's experience in disaster response and preparedness is one such area. UNDP should continue to support the Government of the Philippines in its localization of the SDGs across its plans and strategies as well as ensuring that the SDGs and targets are addressed within its own work. The evaluation plan for the next CPD cycle should ensure a well-balanced approach enabling all outcomes and large or strategic programmes opportunity for evaluation to ensure lessons are learned and UNDP Philippines is accountable to the Government. This will also allow for course correction if needed. At the same time, new modalities such as NAM, though funded by the Government of the Philippines, should also be evaluated to capture their impact and identify future programmatic adjustments that may be needed.

4

Recommendation 4. UNDP in the Philippines needs to develop a more strategic approach in some areas of intervention, especially aspects of its governance work including human rights issues and support to responsible Philippine institutions, in order to ensure support is optimal and targeted and allows UNDP and Philippine partners to address challenges strategically and sustainably.

Current interventions in key democratic governance programmatic areas including support to human rights, anti-corruption, access to justice and the deepening of democracy are not strategically focused and do not strategically address existing and emerging needs of the country in these areas. To a degree, this is due to the declining funding available for support. UNDP's strong role and history of support and partnership in areas many others might consider sensitive or struggle to find opportunities for support, such as human rights, places UNDP in a strong position to seek further external funding. UNDP Philippines in coordination with partner agencies for human rights, access to justice, anti-corruption and support to democracy should develop a strategic framework for support beyond the previous programmatic structure that allowed for loose interventions. A greater strategic focus going forward would recognize and address key issues within the government system and areas and would also support the leveraging of additional support from other donors. UNDP should consider the continuation of support to the Regional Human Rights Commission in ARMM and should encourage support for the RHRC from the ARMM administration as well as through the newly developing Mindanao Peace and Development Financing Facility Trust Fund.

5

Recommendation 5. UNDP with the Government of the Philippines should review its current and past interventions and support to the environment, natural resources and climate change, especially those financed through the Global Environment Facility (GEF), to ensure that the support is balanced and is addressing the main needs and priorities of current and future policy and strategy priorities, that interventions are meeting key needs and that gaps in support are not developing.

UNDP in partnership with the Government of the Philippines should review GEF programmes and their alignment with the Government's range of strategies and policies for environment, natural resources and climate change to ensure that interventions are aligned with current Philippine legislation for the environment and climate change, identify gaps in support and weakness in legislation and to ensure that future support and programme implementation is aligned with both the demands of the Philippine Government and at the policy as well as at the grassroots levels. This analysis should then inform a longer term strategy of support for use of the GEF funds and programmatic support that has a broader strategic framework ensuring coordination and harmonization across programmes and avoiding individual programme-focused interventions.