Independent Country Programme Evaluation: Yemen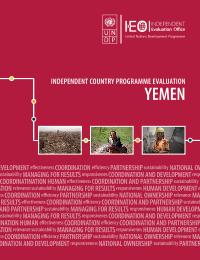 Evaluation Plan:

Evaluation Type:

ICPE/ADR

Planned End Date:

12/2018

Completion Date:

12/2018

Status:

Completed

Management Response:

No

Evaluation Budget(US $):

40,000
Title
Independent Country Programme Evaluation: Yemen
Atlas Project Number:
Evaluation Plan:
2018-2021, Independent Evaluation Office
Evaluation Type:
ICPE/ADR
Status:
Completed
Completion Date:
12/2018
Planned End Date:

12/2018

Management Response:
No
Focus Area:
Corporate Outcome and Output (UNDP Strategic Plan 2014-2017)

1. Output 1.3. Solutions developed at national and sub-national levels for sustainable management of natural resources, ecosystem services, chemicals and waste
2. Output 1.4. Scaled up action on climate change adaptation and mitigation across sectors which is funded and implemented

Evaluation Budget(US $):

40,000

Source of Funding:
Evaluation Expenditure(US $):

39,000

Joint Programme:
No
Mandatory Evaluation:
No
Joint Evaluation:

No

Evaluation Team members:

| Name | Title | Email | Nationality |
| --- | --- | --- | --- |
| Ian Holland | Evaluation consultant | ianrholland@yahoo.com | |

GEF Evaluation:

No

Key Stakeholders:
Countries:

YEMEN
Recommendations
1

UNDP should adopt a more flexible instrument and template in extreme or protracted crisis where the standard CPD has been temporarily suspended or is no longer relevant or appropriate. The CPD for Yemen (2012–2015) remained valid through the first adjustment of the CO programme, since it had anticipated UNDP engagement in a process of political and democratic transition. However, the CPD was not the correct strategic planning, resource mobilization, communications and results monitoring instrument when Yemen slid tragically into civil war and humanitarian crisis in 2015. Further consideration should be given to the following:

• What should replace CPDs when they are made irrelevant or redundant by circumstances within the country, and/ or in instances where the CPD is recurrently 'extended' due to conflict or crisis, as in the case of Yemen.

• That interim (or revised) CO strategies or plans, such as the Yemen Resilience Programme, should be reported to the Executive Board "for information or consultation" so that the Board may continue to fulfil its oversight responsibilities for those countries' programmes and resources.

• Country offices affected by conflict or crisis should be permitted some flexibility in reporting to the ROAR. For example, where a CPD has effectively been superseded by an alternative temporary programme, (such as the Yemen Resilience Programme) whereby the country office is able to report against the interim strategy, rather than a CPD which is obsolete.

• UNDP should consider a designation for slow onset and protracted crises within the broader corporate crisis response system, to facilitate an elevated status for those countries requiring sustained supplementary resources and fast-track administrative measures over an extended time period.

2

Building on the success of the Yemen Resilience Programme, the country office should develop a more comprehensive and integrated programme framework for the next two to three years through which to leverage UNDP's comparative advantages. This should entail a broad partnership extending into security and peacebuilding, which will also enable the better sharing of risks. Consultation with the United Nations Resident Coordinator/ Humanitarian Coordinator, the UN Office of the Special Envoy, the Humanitarian Country Team and donors will be important. Core programming principles such as sustainability and gender need to feature more prominently alongside conflict prevention and strengthened UN joint programming.
Management response not available