Terminal Evaluation for Strengthening the capacity of the protected area system to address new management challenges (PASS)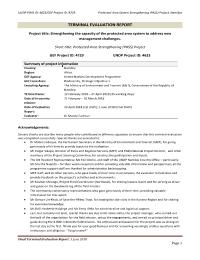 Evaluation Plan:

Evaluation Type:

Final Project

Planned End Date:

05/2018

Completion Date:

05/2018

Status:

Completed

Management Response:

Yes

Evaluation Budget(US $):

50,000
Title
Terminal Evaluation for Strengthening the capacity of the protected area system to address new management challenges (PASS)
Atlas Project Number:

00079312

Evaluation Plan:
2014-2018, Namibia
Evaluation Type:
Final Project
Status:
Completed
Completion Date:
05/2018
Planned End Date:

05/2018

Management Response:
Yes
Focus Area:

1. Environment & Sustainable Development
2. Others

Corporate Outcome and Output (UNDP Strategic Plan 2014-2017)

1. Output 1.1. National and sub-national systems and institutions enabled to achieve structural transformation of productive capacities that are sustainable and employment - and livelihoods- intensive
2. Output 1.4. Scaled up action on climate change adaptation and mitigation across sectors which is funded and implemented

Evaluation Budget(US $):

50,000

Source of Funding:
Evaluation Expenditure(US $):

30,000

Joint Programme:
No
Joint Evaluation:

No

Evaluation Team members:

| Name | Title | Email | Nationality |
| --- | --- | --- | --- |
| Mandy Cadman | | | |

GEF Evaluation:

Yes

| | |
| --- | --- |
| GEF Project Title: | Strengthening the capacity of the protected area system to address new management challenges (PASS) |
| Evaluation Type: | Terminal Evaluation |
| Focal Area: | Biodiversity |
| Project Type: | FSP |
| GEF Phase: | GEF-5 |
| GEF Project ID: | 4729 |
| PIMS Number: | 4623 |

Key Stakeholders:
Countries:

NAMIBIA
Recommendations
1

Weaknesses in project design

Recommendation: The PASS project design included a number of weaknesses. To ensure that the project's Strategic Results Framework is useful as a monitoring and evaluation tool, it is essential to ensure that: (i) the indicator and targets framework is robust, appropriate and well-formulated (complying with SMART criteria – i.e. specific, measurable, achievable/attributable, reliable and time-bound). Particular care needs to be taken with the use of tracking tool scores as indicators, and ensuring that the selected indicators are reliable and accurate measures of the project's contribution to observed impacts; (ii) the SRF remains internally coherent when changes are made through adaptive management, and that all necessary changes are made to keep the SRF relevant; and (iii) the risk management strategy is robust, systematically structured and related to the outputs and activities of the project.

Weaknesses in the indicator and targets framework could be addressed by: (i) contracting the services of an M&E expert to participate in the development of the indicator and targets framework, or to evaluate it during the project design phase, to ensure that inherent weaknesses do not run through the entire project lifecycle; (ii) UNDP commissioning a set of experts to develop an indicative list of SMART indicators relevant to PA strengthening projects, giving particular attention to the use of tracking tool scores, appropriate indicators for measuring the effectiveness of enforcement, and, specifically how to assess more meaningfully, the contribution the project makes to the observed changes.

2

Project Governance: balancing representation and functionality

Recommendation: The configuration and composition of the project's governance structures need to balance stakeholder representation with functionality. Project Steering Committee had fourteen members. Whilst this maximized representation of stakeholders, it hampered effectiveness as it was difficult to achieve a quorum at four meetings per year (the planned interval). It would have been preferable to have a smaller, more tightly constituted PSC (with oversight and executive functions), that met only twice a year, complemented by a Technical Working Group (comprising designated technical experts from relevant stakeholder institutions). The TWG would provide practical guidance to the project team, on a one-on-one, needs-driven basis, complemented by an annual or twice-yearly working group session to focus on cross-cutting issues.

3

Composition of the project team

Recommendation: In the original project design, the plan was to have two technical experts – one for PA financing and one for law enforcement. A decision was later taken to appoint only one technical expert, in an advisory capacity. It is, however, rare to find one person with knowledge and experience in two such specialised fields. The Project Manager and one Field Co-ordinator brought with them considerable practical experience in protected area management, so it would have been appropriate to appoint a Technical Adviser with expertise in PA financing, OR, to retain the advisory services of two experts on a part time basis: one for PA finance and the other for monitoring and evaluation. Alternatively, if the project had a Technical Working Group, with the right spread of expertise represented on it, an M&E expert could have been appointed to the project staff – this would have strengthened a slightly weak area of performance.

4

Induction of the project team and UNDP support

Recommendation: The project team had not been appointed at the time the Inception Workshop was held. This meant that they did not benefit from a proper induction and familiarization process, and many tasks that are carried out at the Inception Workshop (such as developing the detailed stakeholder engagement plan, and setting impact-level indicators) did not take place. In future, project staff should be in office at the time the Inception Workshop takes place, and they should be afforded a proper induction, to familiarize them with the SRF, UNDP-GEF reporting procedures, results-based monitoring, effective use of GEF tracking tools, and so on. This should be backed up by consistent and regular technical and M&E backstopping from the UNDP country office. Executing Agencies should also embrace active participation of UNDP staff in supervisory missions

5

Knowledge products and lesson sharing

Recommendation: One of the areas where the PASS project was less effective was in the development of knowledge products that could be used to promote broader awareness of the project's activities and contribute to reflexive learning – for example, by capturing and communicating technical lessons learnt, or through the publication of other communications pieces (stories). To address this: (i) the UNDP CO should work closely with projects to maintain a 'lessons learnt' log throughout the project; (ii) Capacity should be secured to develop appropriate knowledge products and disseminate them through available channels (e.g. best practices published on the IUCN Panorama webpage). The UNDP Communications Officer could provide support to projects for this and stories could be posted on the UNDP Namibia webpage.

6

Sustainability

Recommendation: Sustainability of large, complex, donor-funded projects always presents a challenge to developing countries, even if the likelihood of sustainability is rated as high, with all things being equal. However, all things are often not equal and, although, the gains made in a project are sustained for a few years after project closure, momentum is soon lost, for a variety of reasons. The PASS project has developed a sustainability plan, which includes a listing of priority actions and describes staff and management requirements. This should be workshopped by the MET and its partners, to develop a practical resourcing plan and formalize implementation arrangements and commitments. (In future projects, more emphasis should be placed on the development of a detailed Sustainability Plan as an integral part of the project's workplan; the Sustainability Plan should be developed collaboratively, workshopped extensively and accompanied by formal implementation agreements and a resourcing plan).

Essential components of the sustainability plan should include, as a minimum, the following measures (some of which can be implemented with available resources and capacity, and others may be incorporated into future projects):

Component 1:

Refine and roll-out of the automated entry system:

MET should retain the IT Technician at Etosha National Park, and strengthen regional IT capacity to support roll-out at other parks[1] (partners in the IT sector could be approached, with support of UNDP, to fund this process), and enable linkage between individual park systems and a centralized data repository at MET head office.
Secure dedicated budget for maintenance and upgrade of the hardware and software and associated equipment on which the system depends (monthly maintenance is required, and system upgrades will likely be necessary about every two years), and provide ongoing skills development for MET staff operating the system.
allocate dedicated budget (in line with determinations made during the feasibility study) to roll-out the system on a prioritized basis at other parks (using infrastructure development funds – e.g. from public works budgets, or from externally-supported MET programmes such as NAMParks, rather than park operational budgets).

Strengthen and diversify revenue generation mechanisms:

Secure technical capacity (e.g. secure advisory services of a PA financing specialist, and a coordinator/facilitator) to support MET staff with implementation of the sustainable financing plan, specifically to implement some of the alternative financing mechanisms that build on existing platforms, have the lowest transaction costs, and can yield quickest returns (e.g. developing Friends of Parks schemes). This will contribute to ensuring sustainability not only of PASS interventions, but also interventions catalysed through other time-bound projects, and core operations in national parks.
Strengthen and leverage partnerships with private sector and development partners through establishment of a Forum that enables joint planning, prioritization and strategic deployment of available resources.

Component 2:

Ensure that anti-poaching teams are adequately equipped and accommodated:

Budget must be allocated to maintain all equipment that was installed/supplied through the project, and enable replacement when necessary – this could be funded through development rather than operational budgets.
Leverage partnerships with private sector partners to replicate the Skerpioen Bult anti-poaching camp model, to ensure that anti-poaching teams are adequately accommodated at field bases – the re-purposed shipping containers used at Skerpioen Bult will be much more durable than tents, which should be used for temporary encampments.

Maintain and expand the Waterberg Training Centre as a specialized centre of excellence, for building skills and capacity for addressing wildlife crime and human-wildlife conflict:

Ensure that the Centre Manager, and appropriate support staff (for infrastructure maintenance and operation of the Centre), are appointed.
Build on relationships with partners to provide ongoing financial support to enable completion of all facilities (e.g. the dog unit) and ongoing provision of specialist training.

Strengthen capacity for case preparation and prosecution and enhance cross-border co-operation to address drivers of wildlife crime:

Maintain the partnership between MET, the LAC and the Office of the Prosecutor General, to promote co-operation across the diverse institutions involved in the law enforcement chain, and provide ongoing, specialized training to investigators, prosecutors, magistrates and customs/border control officials, and raise high-level political awareness.
Work with relevant partner institutions to establish specialized, regional forensic facilities for processing wildlife crime scene evidence, to reduce processing times and strengthen intelligence gathering.
Leverage the cross-border collaboration that has been established through the KAZA TFC to develop an integrated, transfrontier approach to law enforcement and monitoring, and broker co-operation between governments to address the drivers of wildlife crime.

Strengthen the enabling policy/legal framework for more cost-effective enforcement:

Prioritize enactment of the Wildlife and Parks Management Bill, and put in place appropriate measures to address any remaining barriers to this process. (UNDP is willing to play a supporting role if required).
Lobby national treasury to allocate budget to operationalize the planned Anti-Poaching Units, in a phased approach.

Component 3:

Finalize adoption of SOPS and Fire Monitoring Plans:

The Integrated Fire Management Strategy and the Standard Operating Procedures for fire detection and response include detailed technical information of a high standard. Implementation of these important fire management tools could be enhanced by:

Working with park managers to develop flexible and locally-appropriate practical arrangements for implementation (without requiring establishment of new staffing structures, for which there may not be resources available at present)
Re-packaging the information so that it is practically useful and palatable to operational staff.
Ensuring that parks have adequate equipment for fire-fighting and management.

---

[1] Note: The IT service provider who developed the system still has ownership of it. The MET should negotiate with the service provider to provide in-house training to MET staff, so that they are empowered to roll-out and manage the system internally, with phased-out support provided by the external service provider. Whilst it is important to respect the intellectual property rights of the system's developer, ideally, the MET IT staff need to be able to install, maintain and manage the system into the future.