Mid-term evaluation of Ridge to Reef Concept for Biodiversity Conservation and for the Enhancement of Ecosystem Services and Cultural Heritage in Niue Project (R2R) MTR"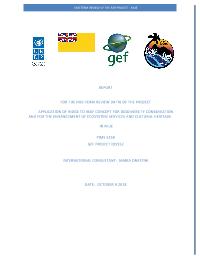 Evaluation Plan:

Evaluation Type:

Mid Term Project

Planned End Date:

02/2019

Completion Date:

10/2018

Status:

Completed

Management Response:

Yes

Evaluation Budget(US $):

30,000
Title
Mid-term evaluation of Ridge to Reef Concept for Biodiversity Conservation and for the Enhancement of Ecosystem Services and Cultural Heritage in Niue Project (R2R) MTR"
Atlas Project Number:

00078842,00088927

Evaluation Plan:
2018-2022, Samoa
Evaluation Type:
Mid Term Project
Status:
Completed
Completion Date:
10/2018
Planned End Date:

02/2019

Management Response:
Yes

Focus Area

:
Corporate Outcome and Output (UNDP Strategic Plan 2018-2021)

1. Output 1.4.1 Solutions scaled up for sustainable management of natural resources, including sustainable commodities and green and inclusive value chains

Evaluation Budget(US $):

30,000

Source of Funding:
GEF Trust Fund
Evaluation Expenditure(US $):

30,000

Joint Programme:
No
Joint Evaluation:

No

Evaluation Team members:

| Name | Title | Email | Nationality |
| --- | --- | --- | --- |
| Maria Onestini | Evaluator consultant | rponesti@criba.edu.ar | ARGENTINA |

GEF Evaluation:

Yes

| | |
| --- | --- |
| GEF Project Title: | Ridge to Reef Concept for Biodiversity Conservation and for the Enhancement of Ecosystem Services and Cultural Heritage in Niue Project |
| Evaluation Type: | Mid-term Review |
| Focal Area: | Multifocal Areas |
| Project Type: | FSP |
| GEF Phase: | GEF-5 |
| GEF Project ID: | 5552 |
| PIMS Number: | 5258 |

Key Stakeholders:
Government of Niue, Ministry of Natural Resources
Countries:

SAMOA
Recommendations
1

Streamline and accelerate procurement and administrative processes in order to avoid further delays that are impacting upon the implementation process.

2

Update and rationalise the numerous activities that were originally planned in order to streamline implementation, reforming work plan as needed and seeking effectiveness and high impact processes and products, maintaining planning of the project's second tranche focused on obtaining results, generating results-based incentives, effects and outcomes, as well as weaving in sustainability factors in all products and processes the project implements.

3

Fully incorporate staff to Project Implementation Unit as needed (such as national technical staff) in order to have a completely functioning management unit with all needed personnel as soon as possible.

4

Strive to generate national capacity at all levels and in all areas (technical, project management, etc.).

5

Establish and enhance work with communities being fully aware of their needs without creating false expectations, and without overburdening communities with activities. Imbed livelihood aspects and income generation issues related to comparative advantages of sustainable use of biodiversity.

6

Impel work, analysis, concept notes, and other processes and mechanisms to deal with sustainable financing of the products and process the project is and will achieve

7

Continue to promote linkages with different government departments as well as other related projects so that these linkages in turn support and anchor further collaborations and sustainability.

8

Generate an exit strategy/sustainability plan for all the implementing aspects of the project. This sustainability plan/exit strategy should outline explicitly what is needed for sustaining products, outcomes, and effects

9

Orientation mechanisms (presentations, inception-type meetings, written materials) should be developed at this mid-point stage.

10

Improve communication as well as dissemination of the information the project is and will be generating.

11

Start generating knowledge management mechanisms to promote the exchange of knowledge and expertise that is being created throughout the Project and sharing best practices and lessons learned.

12

Assure that gender issues are more than just participation of women. Interweave gender equality outlooks in all tools, studies, publications, etc

13

Generate exit and sustainability strategies for all the implementing aspects of the Project.

14

An extension should be requested for the Project

15

Generate exchange mechanisms (South-South, between and among Ridge to Reef Projects in the Pacific, etc.) sharing best practices and lessons learned as well as technical issues that arise out of the interventions.

16

Support staff and associated stakeholders in generating and obtaining capacity (both at the technical and at the organizational level and well as technical issues that arise out of the interventions.

17

Having learned that whatever is or is not included in design of projects permeates into implementation and often in results, design should be specific in certain aspects and expected results.
Management Response Documents