Evaluation of UNDP inter-agency pooled financing services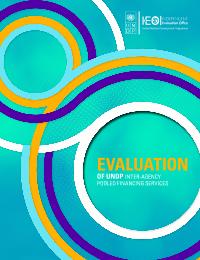 Evaluation Plan:

Evaluation Type:

Thematic

Planned End Date:

09/2018

Completion Date:

08/2018

Status:

Completed

Management Response:

Yes

Evaluation Budget(US $):

135,000
Title
Evaluation of UNDP inter-agency pooled financing services
Atlas Project Number:
Evaluation Plan:
2018-2021, Independent Evaluation Office
Evaluation Type:
Thematic
Status:
Completed
Completion Date:
08/2018
Planned End Date:

09/2018

Management Response:
Yes
Corporate Outcome and Output (UNDP Strategic Plan 2018-2021)

1. Organisational Output 2.2 Cost-sharing agreements and projects ensure full cost recovery
2. Organisational Output 2.4 Efficient, professional and transparent procurement and value for money
3. Organisational Output 3.1 Common UN approaches facilitate efficient and accelerated joint delivery against sustainable development objectives

Evaluation Budget(US $):

135,000

Source of Funding:
Evaluation Expenditure(US $):

88,000

Joint Programme:
No
Joint Evaluation:

No

Evaluation Team members:

| Name | Title | Email | Nationality |
| --- | --- | --- | --- |
| Charles Downs | Independent Consultant | | |

GEF Evaluation:

No

Key Stakeholders:
Countries:

GLOBAL
Lessons
Findings
1.

The total value of annual contributions to the pooled funding managed by the MPTF Office increased in the period 2010– 2017 compared to the 2004–2009 period, and has been largely stable annually more recently. While the number of donors has increased over time, the annual contribution per donor has decreased.



2.

Over 110 countries benefited from pooled financing between 2004 and 2017. The number of UN organizations participating in the MDTFs and joint programmes increased significantly from the first period (2004–2009) to the second (2010–2017). Participation was expanded to national governments in three funds and to NGOs in the Peacebuilding Fund. UNDP received the single largest share of funding, while the top five participating UN organizations received approximately three fourths of all funding.



3.

There was a significant variation in donor contributions among the five fund themes (climate change, Delivering as One, development, humanitarian and transition) between 2010 and 2017. Funding increased for climate change (from $39.7 million to $99.8 million), development ($65.2 million to $80.6 million, with a peak in 2014 of over $200 million) and transition funds ($103.4 million to $288.8 million). Contributions to humanitarian funds remained largely unchanged, averaging $265 million. Delivering as One funds saw a decline over the period from $66.9 million to $28.8 million.



4.

UN Secretariat funds (particularly humanitarian funds) and UNDG Multi- Donor Trust Funds attract more funding, while Secretary-General funds attract more donors, primarily with small contributions.



Recommendations
1

UNDP should initiate a dialogue with the United Nations Development Group to increase transparency in fund utilization further down the results delivery chain, and to demonstrate a clear United Nations comparative advantage and value for money, enhanced by long-term country presence as a trusted partner with government and the international community. To contribute to that effort, the MPTF Office should refine its financial and narrative reporting framework and guidelines for participating United Nations organizations. This will increase donor confidence, help mobilize resources, and contribute to the Secretary- General's vision and reform agenda, including by doubling pooled financing over the next four years.

2

UNDP should advocate for a much stronger administrative agent role in monitoring the fulfilment of United Nations Development Group quality standards by the respective steering committees and participating United Nations organizations. The administrative agent should be charged not only with supporting the design of funds and programmes, but also monitoring and supporting organizational quality in implementation. The MPTF Office should require that all fund terms of reference include a clear theory of change and results framework as part of fund design to structure reporting. The Office should engage with the participating United Nations organizations of each fund and provide support and quality assurance regarding compliance with the terms of reference, confirmed in the administrative agent's written acceptance of the fund.

3

UNDP may consider initiating a dialogue with the United Nations Development Group for the revision of its policy and documents to properly reflect the role of the managing agent by indicating that its accountability is limited to financial and project management issues, while programmatic accountability lies with the responsible project authority (steering committee or humanitarian coordinator) and the respective non-governmental organization.

4
UNDP needs to fast-track the implementation of its updated guidelines and responsible party agreement for the managing agent function under humanitarian funds (and update programme and operations procedures) to reflect the special dispensation required for provision of such services.
5
The MPTF Office should assess the non-United Nations participating organization pilot for direct access to United Nations pooled funds by non-governmental organizations, and should propose necessary adjustments to United Nations Development Group guidance (including the preparation of a revised standard administrative arrangements and memorandum of understanding for such modality), so that they can be rolled out as an option for other funds (particularly humanitarian and transition funds) where relevant.
6
The MPTF Office ought to make information on new funds available to all interested parties. The Office should act to ensure that any potential participating organization could become aware of new opportunities, by providing that information on the Gateway. Furthermore, the Office should encourage resident coordinators to make such information available and to actively brief the country teams about new funds under discussion or agreed, without implying that everyone will necessarily have a "share".
7
UNDP, as a participating United Nations organization, should increase its efforts to close the backlog of old project allocations that are essentially concluded but not yet financially closed, particularly in the four countries where it is managing agent to country-based pooled funds.
8
The MPTF Office should initiate a process for establishing a multi-stakeholder steering committee, including partner United Nations organizations and donor representatives, that meets at least on an annual basis to review progress and discuss trends in global financing and strategies on the way forward. Such a mechanism will strengthen partner engagement and reinforce the confidence of donors and partner organizations in the mechanism and its use.
9
The MPTF Office should develop guidelines and procedures to ensure that considerations related to gender equality and empowerment are reviewed for 'quality at entry' and incorporated into fund design, appraisal and allocation processes.
Management Response Documents