Evaluation of UNDP inter-agency pooled financing services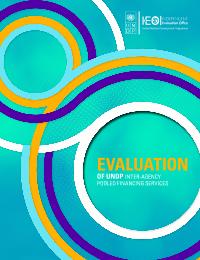 Evaluation Plan:

Evaluation Type:

Thematic

Planned End Date:

09/2018

Completion Date:

08/2018

Status:

Completed

Management Response:

Yes

Evaluation Budget(US $):

135,000
Title
Evaluation of UNDP inter-agency pooled financing services
Atlas Project Number:
Evaluation Plan:
2018-2021, Independent Evaluation Office
Evaluation Type:
Thematic
Status:
Completed
Completion Date:
08/2018
Planned End Date:

09/2018

Management Response:
Yes

Focus Area

:
Corporate Outcome and Output (UNDP Strategic Plan 2018-2021)

1. Organisational Output 2.2 Cost-sharing agreements and projects ensure full cost recovery
2. Organisational Output 2.4 Efficient, professional and transparent procurement and value for money
3. Organisational Output 3.1 Common UN approaches facilitate efficient and accelerated joint delivery against sustainable development objectives

Evaluation Budget(US $):

135,000

Source of Funding:
Evaluation Expenditure(US $):

88,000

Joint Programme:
No
Joint Evaluation:

No

Evaluation Team members:

| Name | Title | Nationality |
| --- | --- | --- |
| Charles Downs | Independent Consultant | |

GEF Evaluation:

No

Key Stakeholders:
Countries:

GLOBAL
Lessons
Findings
1.

ANALYSIS OF TRENDS IN POOLED FINANCING

The evaluation team analysed the full MPTF Gateway pooled financing dataset in order to develop a profile and analyse important trends. The team considered the development of pooled financing over the period 2004–2017. The period 2004–2009 provides background; the principal attention of the evaluation was focused on 2010– 2017. The Gateway dataset is quite comprehensive, albeit dense and challenging to decipher. This section summarizes key elements of the analysis to clarify the development and trends in use of pooled financing.

Finding 1. The total value of annual contributions to the pooled funding managed by the MPTF Office increased in the period 2010– 2017 compared to the 2004–2009 period, and has been largely stable annually more recently. While the number of donors has increased over time, the annual contribution per donor has decreased.




Tag: Efficiency Multi Donor Trust Funds Donor relations Operational Efficiency Bilateral partners Donor UN Agencies

2.

Finding 2. Over 110 countries benefited from pooled financing between 2004 and 2017. The number of UN organizations participating in the MDTFs and joint programmes increased significantly from the first period (2004–2009) to the second (2010–2017). Participation was expanded to national governments in three funds and to NGOs in the Peacebuilding Fund. UNDP received the single largest share of funding, while the top five participating UN organizations received approximately three fourths of all funding.




Tag: Efficiency Multi Donor Trust Funds Civil Societies and NGOs Country Government UN Agencies Peace Building

3.

Findng 3. There was a significant variation in donor contributions among the five fund themes (climate change, Delivering as One, development, humanitarian and transition) between 2010 and 2017. Funding increased for climate change (from $39.7 million to $99.8 million), development ($65.2 million to $80.6 million, with a peak in 2014 of over $200 million) and transition funds ($103.4 million to $288.8 million). Contributions to humanitarian funds remained largely unchanged, averaging $265 million. Delivering as One funds saw a decline over the period from $66.9 million to $28.8 million.




Tag: Climate Change Adaptation Climate change governance Efficiency Multi Donor Trust Funds Donor relations Joint UN Programme Multilateral Partners Bilateral partners Humanitarian development nexus Peace Building

4.

Finding 4. UN Secretariat funds (particularly humanitarian funds) and UNDG Multi- Donor Trust Funds attract more funding, while Secretary-General funds attract more donors, primarily with small contributions.




Tag: Efficiency Multi Donor Trust Funds Donor relations Joint UN Programme

5.

EFFECTIVENESS AND EFFICIENCY OF INTER-AGENCY POOLED FINANCING MECHANISM

Finding 5. The pooled financing mechanism administered by the MPTF Office is highly regarded by donors and agencies alike. The Office and its staff are praised for their client-focused professionalism and support to the design of new funds. Donors and agencies recognize the value of the work done by the MPTF Office to standardize various agreements used for pooled financing, as well as the Office's provision of standard financial reports acceptable to donors. Respondents stated that the Office sets the standard for administrative agent service of all agencies.




Tag: Effectiveness Efficiency Multi Donor Trust Funds Operational Efficiency Policies & Procedures Service delivery Operational Services

6.

FUND ESTABLISHMENT

Multi-donor trust funds are a UNDG instrument. UNDG has issued guidance, standard legal documents and processes that UNDG members have agreed to apply in all relevant cases established by the UNDG; these also serve as reference for funds that are not under UNDG oversight that choose to utilize the same documents. First approved in 2008, this guidance was updated in 2015. The revised guidelines and standard legal documents, in effect at the time of the evaluation, reflect a shift in focus from partnership with donors ('good donorship' through pooling contributions) towards partnership with UN organizations ('UN coherence') and other partners. This is consistent with the change of name from multi-donor trust funds to multi-partner trust funds.

Partnerships under some pooled funds have also since expanded to include national governments and NGOs. While the updated policy guidance and standard documents maintain the key elements of the earlier ones, they clarify certain aspects regarding (a) the roles and procedures of the various participants in the MDTF structure; (b) fraud, corruption and unethical behaviour; (c) risk management as a task of the steering committee; and (d) a new focus on development effectiveness, including the need for clear fund focus articulated in a theory of change and a related results framework for each fund.

The process of fund establishment is clearly laid out in the UNDG guidelines, with standard UN organization and donor agreements (MOU and SAA, respectively). Support is available from the MPTF Office, or in principle from any other candidate administrative agent for the fund. While each participating organization manages the funds according to its own regulations, rules and processes, any variation from the standard arrangements must be reviewed and approved by the Fiduciary Management Oversight Group,comprised of the principal agencies that most often make use of the MDTF mechanism. Although some funds take longer to establish, and some funds never achieved the level of capitalization (contributions) that had been planned, there were no complaints regarding the timeliness of establishment of funds (Figure 17).

FUND ESTABLISHMENT – RESULTS FOCUS

Finding 6: With notable exceptions (MDG Fund, Peacebuilding Fund), earlier funds often lacked a clearly articulated theory of change and results framework, which has greatly weakened results reporting. UNDG 2015 guidance highlights the importance of these for each fund. Donors and agencies recognize that the lack of an appropriate results framework at the time of establishment of each fund weakens the attractiveness to donors as well as the agency's ability to manage and report on results. While the administrative agent can be called upon to support the development of the logical framework, no party is responsible for ensuring that the theory of change or results framework are of acceptable standards. If this is not done when the fund is established, fund quality and results reporting will be weaker.




Tag: Coherence Effectiveness Efficiency Multi Donor Trust Funds Donor relations MDGs Partnership Policies & Procedures Results-Based Management Service delivery Shared Services Theory of Change Civil Societies and NGOs Country Government UN Agencies Peace Building

7.

FUND ESTABLISHMENT – ADMINISTRATIVE AGENTS

Finding 7: UNDG guidelines accept that any agency may be the administrative agent of MDTF and joint programme funds. Usually when an agency other than the MPTF Office serves as administrative agent, it is because the agency is the lead organization for a joint programme and thus a logical choice for playing this role. Most agencies do not have the same level of capability as the MPTF Office, and they typically provide administrative services through non-dedicated finance department units. This often results in non-uniform reporting, a lower level of support and less transparency. Agencies and donors consistently affirmed that the MPTF Office sets the standard for administrative agent service and is able to support development of funds better than any other entity. These capabilities are especially important for MDTFs, since joint programmes can often rely on the design support of the lead entity.




Tag: Efficiency Multi Donor Trust Funds Policies & Procedures Programme/Project Design Service delivery Operational Services

8.

FUND ESTABLISHMENT – THRESHOLDS

Finding 8: The establishment of a minimum financial threshold for acceptance of new MDTFs and joint programmes may have resulted in some cost savings to the MPTF Office and a reduction in the acceptance of new joint programmes. Agencies report that the thresholds have left them without a good alternative for administering smaller funds, resulting in higher support costs and use of standard agreements not designed to support joint programming.




Tag: Efficiency Multi Donor Trust Funds

9.

STEERING COMMITTEE INCLUSION OF DONORS

Finding 9: The UNDG 2015 guidance does not set out clear best practice to include donors as members of the steering committee for all global funds and Delivering as One funds, instead leaving each fund to make its own determination. While most global or country funds include donors on the steering committee, sometimes the donors have to ask to be included, which frustrates them. The UNDG needs to revisit the guidance and make it explicit.




Tag: Donor relations Joint UN Programme Policies & Procedures Service delivery Operational Services

10.

NGO PARTICIPATION, MANAGING AGENT AND PROGRAMMATIC ACCOUNTABILITY

Finding 10: UNDG guidelines stipulating that "Each participating organization assumes full financial and programmatic accountability for the funds disbursed to it by the administrative agent and for the implementation of the project" do not apply in situations where the steering committee selects an NGO and its project and then allocates funds to a UN agency as managing agent to contract the NGO.




Tag: Efficiency Civil Societies and NGOs UN Agencies

11.

COUNTRY-BASED POOLED FUNDS AND THE MANAGING AGENT FUNCTION

Finding 11: UNDP has been slow in adapting its procedures to provide the managing agent services (NGO access for NGO projects) under CBPFs, which are under the overall authority of the humanitarian coordinator, supported by OCHA. This has been the cause of tensions between UNDP and OCHA. UNDP's delay in full implementation of these procedures undercuts the argument for its comparative advantage in provision of such services.




Tag: Effectiveness Efficiency Operational Efficiency Policies & Procedures Service delivery Civil Societies and NGOs UN Agencies Humanitarian development nexus Operational Services

12.

LEGAL DOCUMENTATION IN CONTEXT OF HUMANITARIAN POOLED FUNDS

Finding 12: Differences between the legal instruments and contracts for humanitarian pooled funds issued by the MPTF Office and OCHA create complexity and raise transaction costs for donors contributing to humanitarian funds.




Tag: Operational Efficiency Policies & Procedures Service delivery UN Agencies Humanitarian development nexus Operational Services

13.

DIRECT PARTICIPATION OF NGOS AS NON-UN PARTICIPATING ORGANIZATIONS

Finding 13: Working with the Peacebuilding Fund since 2016, the MPTF Office has managed a pilot for direct transfer of funds to NGOs as non-UN participating organizations. This provides a third option for NGOs and civil society organizations to access UNDG pooled financing resources (in addition to serving as implementing partner for a UN agency or contracting to serve as managing agent of the NGO's own project). The pilot has demonstrated promising results for the Peacebuilding Fund, but delays in standardizing the MOU have impeded its full roll-out for wider use.




Tag: Efficiency Multi Donor Trust Funds Civil Societies and NGOs Peace Building

14.

OPERATIONAL PERFORMANCE – FINANCIAL TRANSFERS

Finding 14: Financial transfers to and from the MPTF Office generally take place promptly. However, internal delays sometimes occur in UN organizations when transfers are not clearly identified.




Tag: Efficiency Multi Donor Trust Funds Operational Efficiency Operational Services

15.

OPERATIONAL PERFORMANCE – TRANSACTION COSTS

Finding 15: Pooled financing has reduced transaction costs for donors, but they have substantially increased for UN agency country staff and resident coordinators.




Tag: Efficiency Donor relations Operational Efficiency Service delivery Country Government UN Agencies UN Country Team Operational Services

16.

REPORTING AND ACCOUNTABILITY OVERVIEW

Finding 16: The MPTF Gateway is recognized by stakeholders as a transparent tool for reporting information on donor contributions. Multiple improvements to make the site more useful were identified during the evaluation, in particular, more frequent updating of expenditures and clearer organization of documents.




Tag: Multi Donor Trust Funds Donor relations Operational Efficiency

17.

REPORTING AND ACCOUNTABILITY – FINANCIAL REPORTING

Finding 17: Annual financial and narrative reporting of MPTF Office-administered funds and joint programmes follows the UNDG guidance on reporting and fulfils donor HQ requirements. However, annual reporting is not considered sufficiently frequent for stakeholder monitoring or management of the funds.




Tag: Efficiency Multi Donor Trust Funds Policies & Procedures

18.

REPORTING AND ACCOUNTABILITY – NARRATIVE/RESULTS REPORTING

Finding 18: The quality of narrative reporting is generally acceptable for agencies and governments, but more than half of HQ and country-based donor respondents consider results reporting to be less than satisfactory. The primary concerns are that reports do not present outcome-level changes or show how fund resources contribute to outcomes down the delivery chain. Respondents attribute the weakness to insufficient attention to the theory of change and results frameworks during fund establishment. Resolving this would not necessarily ensure good results reporting, but it is a pre-condition to obtaining it.




Tag: Effectiveness Efficiency Multi Donor Trust Funds Donor relations Results-Based Management Theory of Change UN Agencies

19.

ADMINISTRATIVE AGENTS AND THE FIREWALL

Finding 19: The firewall between the MPTF Office as administrative agent and UNDP as implementer is working appropriately. Nevertheless, a significant minority of participating UN organizations feel that UNDP's connection with the resident coordinator at the country level gives it an unfair advantage vis-à-vis access to multi-donor funding. Dissatisfaction is greater among specialized agencies and UN Secretariat entities. The evaluation found no evidence of firewall violation.




Tag: Multi Donor Trust Funds Operational Efficiency Service delivery Shared Services UN Agencies UN Country Team

20.

FUND CLOSURE

Finding 20: MPTF Office closing of funds is significantly backlogged due to agency delays in closure of projects. As a result, significant resources may be held by the recipient agency until project closure, making them unavailable for use by others, and perhaps leaving a significant balance to refund at closure. The problem is greatest with UNDP and OCHA in their managing agent roles, but it is also significant for other UNDP and OCHA allocations, as well as those for UN-Habitat and UN-Women.




Tag: Efficiency Multi Donor Trust Funds UN Agencies

21.

AUDIT ARRANGEMENTS

The MPTF Office is audited as part of the annual UNDP audit by the UN Board of Auditors, which was established by the General Assembly in 1946 to carry out the external audit of the accounts of the United Nations and its funds and programmes. As such there is no separate audit of the MPTF Office, and its audit findings are contained in the UNDP annual audit report. For internal audit purposes, the fund projects are audited individually by the respective agency's internal audit office (including the administrative and managing agent functions when within the audit scope). Attention is paid to coordination of joint audits according to the United Nations Representatives of Internal Audit Services riskbased selection and UNDG joint audit policy.

When asked if the existing MPTF Office audit arrangements provide necessary assurance that pooled funds are used as planned, one third of respondents had no opinion. But 60 percent of the survey respondents, both donors and partners, found the MPTF Office audit arrangement satisfactory to provide necessary assurance on the appropriate use of funds (Figure 23).

3.3 MPTF OFFICE POOLED FINANCING AS A SYSTEM-WIDE SERVICE: VALUE-ADDITION, BENEFITS AND RISKS

MPTF OFFICE AS A SYSTEM-WIDE PROVIDER OF ADMINISTRATIVE AGENT SERVICES

Finding 21: The MPTF Office has established itself as a strong, credible and neutral provider of UN pooled financing services, establishing standards for administrative agent services. However, there is considerable scope for strengthening the design and governance of funds. This would be best accomplished with a much stronger MPTF Office role not only to ensure the quality of fund design but also to monitor implementation of UNDG quality standards by respective steering committees and participating UN organizations, and through a system-wide advisory and consultative mechanism.




Tag: Effectiveness Efficiency Multi Donor Trust Funds Programme/Project Design Strategic Positioning

22.

PERSPECTIVES OF CONTRIBUTING PARTNERS/DONORS

Finding 22: UN pooled funds are seen by donors as harmonizing aid in line with the Paris principles and good donor practices. They bring together the multiple strengths of different UN organizations, promote UN coherence and collaboration, assure proper fund utilization, provide an opportunity to work at scale, reduce overhead costs and help leverage resources to address national priorities. Concerns remain, however, on the unclear results focus of funds, loss of donor visibility and transparency in fund utilization down the delivery chain, and value for money.




Tag: Coherence Efficiency Aid Coordination Multi Donor Trust Funds Donor relations Harmonization Service delivery UN Agencies Operational Services

23.

3.4 SUPPORT TO UN DEVELOPMENT SYSTEM PRIORITIES AT THE COUNTRY LEVEL

Finding 23: MPTF Office-supported UN pooled funds have positively contributed to promoting donor coordination and UN coherence, despite the increased competition for resources among participating UN organizations. MDTFs and joint programmes have been instrumental in promoting integrated planning at the country level in support of UNDAFs and of national ownership. However, respondents view the success of these efforts as varied and largely dependent on (a) the resident coordinator's commitment to the One UN philosophy; (b) the relationship between the resident coordinator and the UN country team heads/resident representatives; and (c) pressure from the recipient government on how the UN should operate in their country (under Delivering as One). More systematic efforts are needed, however, to promote gender equality and women's empowerment in MPTF Office-supported funds and programmes.




Tag: Coherence Efficiency Multi Donor Trust Funds Gender Equality Gender Mainstreaming Women's Empowerment Donor relations Integration Joint UN Programme Ownership Country Government UN Agencies UN Country Team
Recommendations
1

UNDP should initiate a dialogue with the United Nations Development Group to increase transparency in fund utilization further down the results delivery chain, and to demonstrate a clear United Nations comparative advantage and value for money, enhanced by long-term country presence as a trusted partner with government and the international community. To contribute to that effort, the MPTF Office should refine its financial and narrative reporting framework and guidelines for participating United Nations organizations. This will increase donor confidence, help mobilize resources, and contribute to the Secretary- General's vision and reform agenda, including by doubling pooled financing over the next four years.

2

UNDP should advocate for a much stronger administrative agent role in monitoring the fulfilment of United Nations Development Group quality standards by the respective steering committees and participating United Nations organizations. The administrative agent should be charged not only with supporting the design of funds and programmes, but also monitoring and supporting organizational quality in implementation. The MPTF Office should require that all fund terms of reference include a clear theory of change and results framework as part of fund design to structure reporting. The Office should engage with the participating United Nations organizations of each fund and provide support and quality assurance regarding compliance with the terms of reference, confirmed in the administrative agent's written acceptance of the fund.

3

UNDP may consider initiating a dialogue with the United Nations Development Group for the revision of its policy and documents to properly reflect the role of the managing agent by indicating that its accountability is limited to financial and project management issues, while programmatic accountability lies with the responsible project authority (steering committee or humanitarian coordinator) and the respective non-governmental organization.

4

UNDP needs to fast-track the implementation of its updated guidelines and responsible party agreement for the managing agent function under humanitarian funds (and update programme and operations procedures) to reflect the special dispensation required for provision of such services.

5

The MPTF Office should assess the non-United Nations participating organization pilot for direct access to United Nations pooled funds by non-governmental organizations, and should propose necessary adjustments to United Nations Development Group guidance (including the preparation of a revised standard administrative arrangements and memorandum of understanding for such modality), so that they can be rolled out as an option for other funds (particularly humanitarian and transition funds) where relevant.

6

The MPTF Office ought to make information on new funds available to all interested parties. The Office should act to ensure that any potential participating organization could become aware of new opportunities, by providing that information on the Gateway. Furthermore, the Office should encourage resident coordinators to make such information available and to actively brief the country teams about new funds under discussion or agreed, without implying that everyone will necessarily have a "share".

7

UNDP, as a participating United Nations organization, should increase its efforts to close the backlog of old project allocations that are essentially concluded but not yet financially closed, particularly in the four countries where it is managing agent to country-based pooled funds.

8

The MPTF Office should initiate a process for establishing a multi-stakeholder steering committee, including partner United Nations organizations and donor representatives, that meets at least on an annual basis to review progress and discuss trends in global financing and strategies on the way forward. Such a mechanism will strengthen partner engagement and reinforce the confidence of donors and partner organizations in the mechanism and its use.

9

The MPTF Office should develop guidelines and procedures to ensure that considerations related to gender equality and empowerment are reviewed for 'quality at entry' and incorporated into fund design, appraisal and allocation processes.
Management Response Documents