Evaluation of UNDP Support to Climate Change Adaptation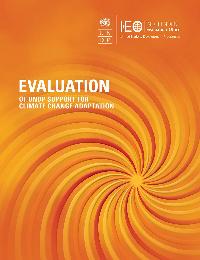 Evaluation Plan:

Evaluation Type:

Thematic

Planned End Date:

01/2021

Completion Date:

01/2021

Status:

Completed

Management Response:

Yes

Evaluation Budget(US $):

250,000
Title
Evaluation of UNDP Support to Climate Change Adaptation
Atlas Project Number:
Evaluation Plan:
2018-2021, Independent Evaluation Office
Evaluation Type:
Thematic
Status:
Completed
Completion Date:
01/2021
Planned End Date:

01/2021

Management Response:
Yes

Focus Area

:
Corporate Outcome and Output (UNDP Strategic Plan 2018-2021)

1. Output 1.3.1 National capacities and evidence-based assessment and planning tools enable gender-responsive and risk-informed development investments, including for response to and recovery from crisis
2. Output 2.3.1 Data and risk-informed development policies, plans, systems and financing incorporate integrated and gender-responsive solutions to reduce disaster risks, enable climate change adaptation and mitigation, and prevent risk of conflict
3. Output 3.3.1 Evidence-based assessment and planning tools and mechanisms applied to enable implementation of gender-sensitive and risk-informed prevention and preparedness to limit the impact of natural hazards and pandemics and promote peaceful, just and inclusive societies
4. Output 3.3.2 Gender-responsive and risk-informed mechanisms supported to build consensus, improve social dialogue and promote peaceful, just and inclusive societies

Evaluation Budget(US $):

250,000

Source of Funding:
Evaluation Expenditure(US $):

250,000

Joint Programme:
No
Joint Evaluation:

No

Evaluation Team members:

| Name | Title | Nationality |
| --- | --- | --- |
| David Slattery | Lead Evaluator | |
| Harvey Garcia | Associate Lead Evaluator | |
| Ashwin Bhouraskar | Evaluation Consultant | |
| Cassandra Brooke. | Evaluation Consultant | |
| Aasha Subedi | Research Consultant | |
| Ashley Suyeon Kim | Research Consultant | |

GEF Evaluation:

No

Key Stakeholders:
Countries:

GLOBAL
Recommendations
1

UNDP needs to accelerate its attention to mainstreaming consideration of climate risks across its entire development portfolio.

This will require more rigorous application of the UNDP social and environmental safeguards policy in project formulation and monitoring, and tailored guidance and advice on how to assess and mitigate the risks of climate change and variability in different sectors, with a focus on climate exposed sectors. Periodic spot-checks of the application of climate risk screening policies would then be in order.

This will also require increased clarity in UNDP programmes, based on the scientific evidence, about the magnitude of the medium and long-term risks presented by climate change and actions required to address them. While outcomes of climate change mitigation efforts will determine the profile of these risks and their consequences, scaled up adaption efforts are required now, even under the most optimistic mitigation scenarios.

2

UNDP should establish a system for tracking all investments that have significant climate change objectives, ensuring these are provided with appropriate technical support, oversight and visibility as part of the UNDP adaptation portfolio and as a basis for strengthening internal collaboration.

The objective should be to ensure all projects that have significant adaptation objectives are supported to integrate the best available methods for incorporating climate science into project design and implementation and are recognized as part of a portfolio that cut across a significant proportion of UNDP business. This would also support better coordination between vertical fund programming and other funding streams, as well as continuing efforts to improve coordination among climate and disaster risk reduction personnel across the UNDP policy and crisis bureaux.

3

UNDP should take steps to reduce fragmentation across its climate change adaptation programming, to more effectively achieve intended benefits at scale.

To address fragmentation and more effectively promote realization of intended benefits at scale, UNDP should look for opportunities to establish larger programmes that blend development and adaptation finance, working in concert with multiple partners. Regardless of the scale of the finance it brings to bear, UNDP should increase attention to scalability in project selection and design and be more explicit in articulating how benefits will be realized beyond pilot project boundaries. UNDP should also seek to build on the success of its GEF international waters model, establishing more multi-phase projects working on the same geographic areas and sites, especially in cases where benefits can only be expected to become evident over longer time frames.

4

UNDP should improve the technical underpinnings of its adaptation service offer in each sector, with special attention given to strengthening capacities in disaster risk reduction.

Given the importance of disaster risk reduction for adaptation efforts, steps should be taken to strengthen UNDP capabilities in this area, capitalizing on the growing allocation of ODA for disaster risk reduction associated with the emphasis on climate change adaptation.

With respect to agriculture and food security, a clearly articulated set of UNDP programme objectives and guidelines would help bring greater strategic coherence to the organization and its regional and country offices, given UNDP comparative advantages. Opportunities include increasing coordination with specialized United Nations and non-United Nations agricultural organizations to help governments design adaptation solutions, and facilitating multi-stakeholder collaborations to generate more transformative innovations for adaptation.

UNDP should seek to increase the rigour of its evaluation techniques across its adaptation portfolio, capitalizing on lessons from the application of impact evaluation techniques in its portfolio of recently established UNDP GCF projects.

UNDP should seek to systematize engagements with academic institutions at the global and regional levels in order to strengthen the scientific underpinnings needed to consider climate risk in the design, implementation and evaluation of UNDP projects and provide iterative feedback on how to strengthen them.

5

UNDP should expand its adaptation support in small island developing states.

Recognizing the specific vulnerabilities and high costs of operating in SIDS, UNDP should prioritize its climate change adaptation support to these countries. This should include giving priority to SIDS in the allocation of existing flexible funding mechanisms, amending the resource allocation policy to enable increased core resource allocation for SIDS, and revising the policy governing funding of differentiated physical presence to reduce expectations for SIDS local office contributions. Such measures are important both in recognition of existing vulnerabilities but also in anticipation of growing vulnerabilities, given the risks posed by global warming.

Action taken on these fronts would be consistent with UNDP Executive Board-accepted recommendations of the recent IEO evaluation of UNDP support services to middle-income countries. It would also be in line with the views of the Secretary-General, expressed in his 2020 report on the implementation of General Assembly resolution 71/243 on quadrennial comprehensive policy review of operational activities for development of the United Nations system (A/75/79), that the United Nations development system should explore new multi-dimensional ways of assessing country needs that go beyond country typology and national income and take into account vulnerability aspects.

6

UNDP should establish clear priorities for private sector engagement on climate change adaptation.

Private sector engagement and scaling up private finance has a critical role to play in adaptation, and UNDP can benefit from a prioritized strategy for strengthening its engagement in this area. Deepening engagement with the private sector will require significant investment, strong prioritization, careful choices and clear metrics to assess impact. Limitations in the availability of technical and financial resources implies the need to focus on a limited number of priorities, which can be addressed well and provide the basis for progressive expansion.

7

UNDP should strengthen the gender equality dimensions of its policy and capacity-related support in adaptation-related programming.

Attention to strengthening gender mainstreaming should focus on weaknesses in policy and capacityrelated support in the environmental protection portfolio. Practical and well-researched objectives should be established in adaptation programming to improve gender equality results. Adopting context-sensitive gender approaches and strengthening the resilience of women to negative impacts of climate change on ecosystems are crucial to the success of environmental programming.

8

To better coordinate across an increasingly complex portfolio of environment projects, including for climate change, UNDP should take steps to upgrade its information management system and avoid running separate/parallel information systems for specific programme portfolios.

The development of a separate information system for the GEF portfolio highlights deficiencies in the UNDP mainstream project management system and suggests that the solution is not to dissolve personnel information management systems but rather raise the capabilities of the corporate information system.

Having two separate project management systems that serve essentially the same purposes is not an efficient use of UNDP resources. It also reinforces continuation of parallel business models, which potentially undermines the objective of better integrating vertical fund finance within UNDP operations.

Other potential efficiencies could be gained by increasing the efficiency of mechanisms for tracking and aggregating results across the UNDP portfolio. This will contribute to addressing a broader challenge with current UNDP systems, which is to ensure requirements are kept simple, in order to ensure there is space for more adaptive and flexible approaches to managing and accounting for results. Currently, reflecting vertical fund and internal requirements, there are a large number of indicators on which UNDP is obliged to collect data. To the extent there is flexibility, UNDP should focus on prioritizing its core information requirements to minimize the reporting burden for staff on the ground, focused on those indicators that best capture the value of its adaptation work.