UNDP development support services to middle income countries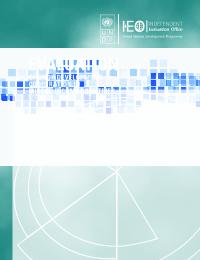 Evaluation Plan:

Evaluation Type:

Thematic

Planned End Date:

09/2020

Completion Date:

08/2020

Status:

Completed

Management Response:

Yes

Evaluation Budget(US $):

250,000
Title
UNDP development support services to middle income countries
Atlas Project Number:
Evaluation Plan:
2018-2021, Independent Evaluation Office
Evaluation Type:
Thematic
Status:
Completed
Completion Date:
08/2020
Planned End Date:

09/2020

Management Response:
Yes

Focus Area

:
Corporate Outcome and Output (UNDP Strategic Plan 2018-2021)

1. Organisational Output 2.3 Quality and efficient management services to support programme delivery

Evaluation Budget(US $):

250,000

Source of Funding:
Evaluation Expenditure(US $):

250,000

Joint Programme:
No
Joint Evaluation:

No

Evaluation Team members:

| Name | Title | Nationality |
| --- | --- | --- |
| Deqa Musa | Evaluation Specialist | |
| Thi Kieu Oanh Nguyen,Deqa Musa | Evaluation Specialist,Evaluation Specialist | |
| Amanuel Zerihoun ,Nana Gibradze | Evaluation Specialist,Research Consultant | |
| Natalia Acosta | Evaluation Specialist | |
| Tobias Schillings | Research Consultant | |
| Boris Houenou | Research Consultant | |
| Landry Fanou | Research Consultant | |
| Eduardo Gomez Rivero | Research Consultant | |

GEF Evaluation:

No

Key Stakeholders:
Countries:

GLOBAL
Recommendations
1

UNDP should revisit its positioning in MICs, including rethinking the incomebased approach. The HDI and/or other criteria should be utilized to create a more differentiated programmatic approach, which could also include new financial strategies to assist newly classified MICs.

UNDP should stimulate a broader discussion among development partners on the use of the HDI and other human development parameters for developing more differentiated programmatic approaches to support the wide diversity of MICs. Rethinking the income-based approach to programming is especially needed for recently classified MICs, whose development challenges are similar to those faced by least developed and low-income countries.

2

UNDP should seek balanced programme portfolios in MICs, with development services support generating opportunities for strategic thought leadership aimed at enhancing the effectiveness of public policies and achievement of the SDGs.

UNDP has a comparative advantage in having both operational and conceptual/analytical arms, which it needs to use to the greater benefit of national partners. UNDP strategic thought leadership should be an integral component of country programming. It should support Governments in their efforts to rethink the effectiveness of public policies and prioritize actions for achievement of the SDGs. UNDP should continue to make use of its flagship products such as the HDI and MPI as entry points and maintain equality and social inclusion as central themes for development dialogue and advocacy in MICs.

Under the new United Nations resident coordinator system, with UNDP no longer responsible for United Nations country team coordination, UNDP has an excellent opportunity to redefine and promote its strategic advisory capabilities, including through SDG integration and impact finance, as well as other cross-cutting areas such as climate finance and energy efficiency. UNDP should leverage its internal corporate knowledge networks effectively to respond to the diverse needs of MICs, including the Global Policy Network and knowledge- sharing initiatives such as SparkBlue.

3

UNDP governance work in MICs should maintain its focus on the effort to build inclusive and accountable institutions and strengthen the enabling environment for institutional reform.

As UNDP alone does not have sufficient human and financial resources and standing to address the root causes of weak institutions, it should promote long-term change processes required for systemic transformation of accountable institutions, and seek to better leverage knowledge networks and multidisciplinary partnerships that include civil society as an essential actor with a crucial role to play in improving the quality of governance and demanding transparent, free and accountable institutions.

4

UNDP should consolidate and sustain the results achieved to date under the environment, natural resources management and climate change programmes in MICs.


The themes of environment, natural resource management, climate change and energy will continue to be critically important in MICs as economic and population growth will continue to pressure the global community. There is a strong link between the effectiveness of programme results in the area of environment and energy and the relevance of the overall UNDP programme actions.


Many of the issues in the environment and energy sector have their grounding in governance. UNDP should capitalize more on its implementation role in environmental funding platforms such as the GEF to engage in high-level policy discussions with Governments of MICs and leverage domestic financing in addressing cross-sectoral institutional barriers to achieve scale and sustainability on environment and energy initiatives. UNDP should leverage its innovation agenda to come up with new business approaches to fully harness partnerships with private sector and United Nations organizations that have financing instruments which UNDP could use in MICs.

5

UNDP should establish clear corporate norms for implementing private sector initiatives in MICs, including appropriate standards for programme staff and implementation processes.


Private sector engagement is an important aspect of UNDP partnership, particularly in MICs. UNDP is placing greater emphasis on private sector funding partnerships, but there remains considerable ambiguity as to the derived benefits for all partners and insufficient consideration of reputational risks. UNDP should strike a balance between its role as convener of SDG platforms promoting impact investments and that of implementer of corporate social initiatives of large conglomerates.