End of Programme Cycle Evaluation of Strengthening Rule of Law Programme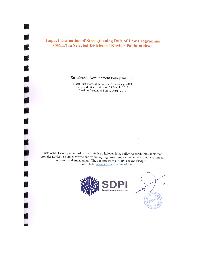 Evaluation Plan:

Evaluation Type:

Final Project

Planned End Date:

05/2019

Completion Date:

02/2019

Status:

Completed

Management Response:

No

Evaluation Budget(US $):

40,000
Title
End of Programme Cycle Evaluation of Strengthening Rule of Law Programme
Atlas Project Number:

00061652

Evaluation Plan:
2018-2022, Pakistan
Evaluation Type:
Final Project
Status:
Completed
Completion Date:
02/2019
Planned End Date:

05/2019

Management Response:
Yes

UNDP Signature Solution

:
Corporate Outcome and Output (UNDP Strategic Plan 2018-2021)

1. Output 2.2.3 Capacities, functions and financing of rule of law and national human rights institutions and systems strengthened to expand access to justice and combat discrimination, with a focus on women and other marginalised groups

SDG Goal

Goal 16. Promote peaceful and inclusive societies for sustainable development, provide access to justice for all and build effective, accountable and inclusive institutions at all levels
Goal 5. Achieve gender equality and empower all women and girls

SDG Target

16.3 Promote the rule of law at the national and international levels and ensure equal access to justice for all
16.6 Develop effective, accountable and transparent institutions at all levels
5.1 End all forms of discrimination against all women and girls everywhere

Evaluation Budget(US $):

40,000

Source of Funding:
Donors
Evaluation Expenditure(US $):

44,516

Joint Programme:
No
Joint Evaluation:

No

Evaluation Team members:

| Name | Title | Email | Nationality |
| --- | --- | --- | --- |
| Shafqat Munir | Dr | | PAKISTAN |
| Ehtisham Anwar | Dr | | PAKISTAN |

GEF Evaluation:

No

Key Stakeholders:
UNDP; Home and P&D Departments; Central Police Office; Peshawar High Court; KPJA; SDC; DfID; EU; US-INL
Countries:

PAKISTAN
Lessons
Findings
1.

Findings of Impact Evaluation: Field Responses

Output 1:

Access to justice, legal aid and representation mechanism for men, women and vulnerable groups

This section presents the impact of the provision of legal aid services on communities, i.e. empowering communities and enhancing access to justice using legal aid, in selected districts of Khyber Pakhtunkhwa. This assessment has been carried out utilizing the lens of evaluation criterion of relevance, efficiency, effectiveness, impact and sustainability. Legal aid is a constitutional right in Pakistan yet due to geographical limitations, lack of awareness and institutional reasons, the State fails to effectively provide this benefit to all citizens. Thus, the SRLP strives to address this gap in attaining free legal aid, as the formal justice system imposes a heavy financial burden on families in the lower income groups and is also inaccessible to women due to prevailing cultural norms in select districts. Therefore, there is a need for continued legal aid in the province. Under SRLP, legal aid included the facilitation of bar council/associations in the formation of free LADs. The bar association then appoints members as LAD desk officers to promote a culture of taking on pro-bono cases (cases in which lawyers do not charge professional fee).




Tag: Rule of law Financial Inclusion Vulnerable

2.

Impact Evaluation of Strengthening Rule of Law Programme in Selected Districts of Khyber Pakhtunkhwa

The legal aid and access to justice output comprised:

1. Legal awareness: This was done in partnership with implementation partners, civil society organizations, local Bar Associations and Bar Council. Post-2015, individual members and community-based paralegals also started helping in mobilizing communities and organizing Legal Aid Clinics (LACs). A LAC is mobile in nature and has five sections:

Introduction to the SRLP
Legal awareness on laws, rights, and services
Questions and answers
On spot legal advice and referral to LAD or ADR as required

2. Referral to ADR or LAD for further assistance and also provide counsel to local communities. If required, they refer their cases to legal aid committees. The application is scrutinized by the committees and declared appropriate for legal aid. The case is then referred to pro-bono support.

3. The SRLP also worked with Pakistan Bar Council to review and amend its Free Legal Aid Rules 24 under the Legal Practitioners and Bar Council Act according to UNDP documents.

4. For sustainability, the SRLP has supported the Khyber Pakhtunkhwa Bar Council to establish a Legal Aid Unit and Human Rights Focal Points to supervise the legal aid work being undertaken and provide support to young lawyers particularly in their pursuit of pro-bono cases.




Tag: Human rights Rule of law Awareness raising

3.

Relevance

Legal Aid Desks/Clinics and Beneficiaries

LADs were set up across 8 districts26, Swat, Kohat, Bannu, D.I. Khan, Buner, Upper Dir, Lower Dir and Chitral to ensure equitable access to legal aid. There are many positive stories including once concerning the LAD Kohat. The focal person of a local implementation partner reported that after filing a suit for the dissolution of marriage through the LAD, a woman petitioner won the case and later successfully started her business in Kohat, demonstrating the positive impact these interventions have had within the community.

Lawyers and members of the community highlighted and helped disseminate legal aid information to communities, with the help of implementation partners and coordination with Bar Associations and Bar Council, in the form of LACs, which were held inside the communities. These helped spread awareness about basic rights, answered legal questions, provided on-spot legal advice and referred litigants to LADs based on pre-set criteria to improve access to the justice system as well as promote legal awareness.

38 beneficiaries of LAD services, across the selected districts, were approached for feedback through FGDs and KIIs; specifically, 04 in Bannu, 05 in D. I. Khan, 11 in Buner 06 in Lower Dir, 03 in Upper Dir, and 10 in Chitral.

Survey results show that 56 percent of the respondents approached LADs due to poverty (as shown in Figure 3). 13 percent said that these desks are beneficial for the underprivileged and marginalized sectors of society including women. 8 percent of the respondents approached LADs owing to a lack of information in approaching the legal system and not having knowledge about their legal rights.




Tag: Relevance Rule of law Communication Financial Inclusion Awareness raising Vulnerable

4.

7 percent of the respondents mentioned that these platforms are important for women from conservative backgrounds. However, it was also observed that majority of the women were not even aware of their rights accorded by the Constitution and laws. LADs, therefore, help in increasing awareness among women regarding their rights. Only 3 percent respondents mentioned the early disposal of cases and help from local elders as key reasons for accessing legal aid services, whereas 01 percent reported that such facilities are beneficial for the community.

The district-wise break-up (refer to Figure 3), it show that the early disposal of cases and facilities beneficial for communities were only mentioned by the respondents in Swat. Similarly, women rights formed part of the discussion by respondents in Upper Dir, Lower Dir, and Bannu with challenges being linked to the prevalence of societal norms which prevent the empowerment of women. This was confirmed through FGDs. A number of reasons were cited to approach the Legal Aid Services.

The district-wise responses give a holistic insight into the various demands of the beneficiaries and the opportunity to make specifically designed future interventions. The chart signifies that there is now demand for legal aid support for women as seen in Upper Dir, Lower Dir and Bannu. However, it also implies that there is a need for more work to be done in this regard in other districts to improve the representation of women. In Lower Dir and Bannu, support for a better understanding of women rights was assessed at 14 percent and 10 percent respectively (see Figure 4).

The region of Chitral has a relatively high rate of suicides committed by women victims. The major reason, as relayed by police officials based in Chitral, is that women are not aware of their basic rights or facilities that can help them when they face stress from society or family. Most of the responses in support of legal awareness came from Buner and Swat with responses tabulated from 40 percent and 25 percent of the districts' population respectively. The district of Swat has a strong and quick informal justice system and the early disposal of cases was highlighted as one of the reasons why beneficiaries reach out to the LACs and LADs. Finally, 13 percent of the respondents in Swat said LADs supported them, and LACs were beneficial for the community.




Tag: Gender Equality Women's Empowerment Rule of law Vulnerable

5.

Effectiveness

It is important to evaluate and gauge the contributions of the SRLP and the medium used to implement them. Lawyers participated in legal trainings and guided locals to free legal aid by creating awareness of alternative methods to settle disputes and rights awareness. The community also referred their own cases, as necessary, to the LADs or DRCs. Moreover, scholarships in law degree and stipends during apprenticeships were provided to women law students and graduates.

a. Promotion of Legal Aid Awareness

When beneficiaries were asked about legal aid awareness in their respective areas, 89 percent of the survey respondents mentioned that these LADs and LACs helped in promoting free legal aid awareness as seen in Figure 5. Almost 89 percent (see Figure 5) of the beneficiaries provided a positive feedback about the LADs and supported the initiative and the positive role they played in enhancing women's access to the justice system. During an FGD in DI Khan, several women beneficiaries praised the LACs and LADs for providing free legal aid, whereas earlier they lacked legal knowledge and were unable to access the formal justice system due to high costs.

Legal aid awareness in communities was delivered through community sessions and LACs conducted in these districts. The results have been largely positive with 89 percent indicating the effectiveness of legal aid as a tool for providing indigent clients relief, however, 11 percent of the respondents indicated being unaware of these mechanisms. Beneficiaries, through FGDs, mentioned the lack of outreach of implementation partners and individuals to effectively transfer information to the entire district as a possible reason for the lack of awareness.





Tag: Effectiveness Women's Empowerment Rule of law Communication Financial Inclusion Awareness raising Vulnerable

6.

b. Effectiveness of Legal Aid Desks

The provision of legal aid is a right that is enforceable, pursuant to explicit provision of legal aid services in line with the Constitution of Pakistan. The Constitution stipulates the provision of legal aid services to the needy and marginalized members of the society. Legal aid services are to be provided for the quick disposal of cases and providing access to justice for all.

At the stage of conducting the survey, a total of 38 beneficiaries, i.e. 04 in Bannu, 05 in D.I. Khan, 11 in Buner 06 in Lower Dir, 02 in Upper Dir, and 10 in Chitral were asked about LADs effectiveness in the provision of legal services at the local level. 61 percent (see Figure 6) of the beneficiaries termed the services as being very effective whereas 39 percent (see Figure 6) said that these desks were somewhat effective.

Looking at the district-wise response in Figure 6, we can see that in Lower Dir, 100 percent of the respondents consider the interventions as very effective.

The beneficiaries termed the interventions as being very effective as compared to the remaining districts, namely Buner, DI Khan and Kohat (where both responses were equal). It is pertinent to mention here that the above referred were beneficiaries of a LAD. Respondents who reported LADs as being somewhat effective stated that while free legal aid helps them immensely, they still have costs associated, such as travel costs, documentation costs, etc. that still act as a barrier to properly availing these services.




Tag: Effectiveness Rule of law Financial Inclusion

7.

c. Women Beneficiaries

The response showcases that the legal aid desks established by the SRLP are beneficial for the communities and women specifically with 90 percent respondents agreeing (see Figure 8). The combined effort of implementation partners and lawyers attending LADs and LACs is one of the reasons through which there has been improvement in legal representation across all regions. This indicates that it is essential to generate more awareness and support for the proliferation of LADs.

During the survey, the team encountered 38 beneficiaries, i.e. 04 in Bannu, 05 in D.I. Khan, 11 in Buner, 06 in Lower Dir, 02 in Upper Dir, and 10 in Chitral who received legal representation and advice from the free Legal Aid Desk. Most of the cases contested by the LAD on behalf of these beneficiaries were of a civil nature pertaining to family matters, rectification of record and personal information, and inheritance matters. This was confirmed by most judicial officers, members of local communities, members of bar associations and LAD lawyers across the districts in KIIs and FGDs; LADs mostly facilitated cases of a civil nature, similar to ADR forums, which also deal with civil issues.

When asked about the issues being faced, the beneficiaries responded that due to their low income they find it difficult to bear the traveling cost to and from the court.




Tag: Women's Empowerment Rule of law Financial Inclusion Awareness raising

8.

d. Difficulties in accessing Legal Aid Services

Although the legal aid services were successful in reaching many communities and in the promotion of legal aid, the team investigated whether some beneficiaries face difficulties in the services offered. The overall results show that 73 percent (see Figure 10) responded that they did not face difficulties from accessing the services. However, 27 percent of beneficiaries, across all districts excluding Bannu, responded that they faced challenges in accessing the services (see Figure 9)

In a KII with a Bannu-based civil society partner, it was found that the difficulties faces amongst the respondents had possibly arisen because of lawyers being unable to entertain individuals due to the high demand of services. While the SRLP is meant to enable free legal aid for all impoverished, women and vulnerable groups, the service providers are instructed with criteria that help define cases of litigants based on urgency, importance and eligibility. Hence, if their case is not selected, the citizens unfortunately feel that they have been.




Tag: Women's Empowerment Rule of law Financial Inclusion Vulnerable

9.

e. Satisfaction of beneficiaries towards Young Lawyers

As discussed, lawyers through LACs and LADs assisted the beneficiaries or clients in the settlement and disposal of cases while also promoting affordable access to justice. When beneficiaries were asked about the professional skills of young lawyers, who are selected by the Bar Associations to take on such pro-bono cases, 76 percent beneficiaries stated that they were satisfied with the professional skills of young lawyers and that they were effectively handling their cases in the courts whereas 24 percent respondents mentioned that they were somewhat satisfied with the professional skills of young lawyers as illustrated in Figure 12.

From across the districts, Chitral and Lower Dir were the prominent ones where 100 percent respondents showed full satisfaction. This is followed by Upper Dir with 78 percent, Swat with 75 percent, Buner with 70 percent, D. I. Khan with 67 percent, Kohat with 63 percent and Bannu with 60 percent (See Figure 11). Moreover, 24 percent of the beneficiaries said they were 'somewhat satisfied' with the performance of young lawyers.




Tag: Effectiveness Rule of law Financial Inclusion

10.

f. Bar Councils and Associations role to promote awareness

Regarding the Bar Council and Association's role in promoting free legal aid awareness, survey responses show that 75 percent of the feedback had been positive as seen in Figure 14. Furthermore, it was gathered that the Bars had been included in disseminating the interventions, as evidenced in the KII of the President Kohat Bar Council who remarked:

'…For free legal aid cases, we handpick young lawyers ourselves who we deem fit for properly addressing the needs of the litigants as per the case…'

The promotion efforts of free legal aid (district-wise chart) (See Figure 13) indicate that efforts to do so were prevalent in most districts. All the Bar Associations of the relevant districts were found to have promoted their legal aid desks. In Buner, a KII revealed that the interventions had been limited in the district as compared to other regions. Notwithstanding, Buner still provided positive feedback to the role of the Bar Council and Association, with 71 percent of respondents recognizing their contributions.




Tag: Rule of law Communication Awareness raising

11.

g. Capacity-building of women lawyers

Under SRLP, 70 women received law scholarships, 60 women law college graduates received stipends during their apprenticeships and 10 women were supported in obtaining license from Bar by payment of membership fee. During an FGD, women lawyers in Kohat mentioned that they had received books from the UNDP and felt satisfied by the SRLP's efforts in terms of capacity-building and facilitation for women. Furthermore, in Swat, in a KII with a woman lawyer, she confirmed receiving trainings from the UNDP and stated that she greatly benefitted from the provided trainings. 35 women lawyers were provided law books and were also facilitated in joining Women Lawyers Networks. In 2016, the membership of this network has increased from 35 to 120 in 2018.




Tag: Women's Empowerment Rule of law Capacity Building

12.

Financial Efficiency

To propagate legal aid awareness in communities, monetary investments were required to facilitate the Bar Council and Associations to help set up LADs for providing free legal aid at the courts across the different districts. This output had 13 percent (US$4,65 million) of the overall funds from the projects that were allotted for the interventions, including the scholarships and apprenticeships for women law students, capacity-building of the lawyers through trainings on legal aid and formation of LADs through the Bar Council and Associations. The total allotted amount for this output was $4.65 million, whereas the utilized amount was US$4.57 million (98%). The USD 0.3 million was used during a period (2019) for which an extension and additional funding of USD 0.4million has been granted by SDC. As illustrated in Figure 15, the funding remained relatively stable from the years 2013 to 2017 but witnessed a reduction in the last year as there were no major interventions planned.

Due to this continuous support, most targets were achieved; 22,000 citizens accessed legal aid services with almost half of this number being women. Moreover, a total of 175,967 individuals gained legal knowledge owing to the efforts by implementation partners and lawyers that received books and trainings. Finally, the funding has ensured the long-term presence of women in the legal workforce with more than 70 women law graduates joining the legal profession with SLRP support.




Tag: Efficiency Gender Parity Women's Empowerment Rule of law Human and Financial resources Operational Efficiency Financial Inclusion Awareness raising

13.

Impact

a. Status of cases at Legal Aid Desks

The data collected pursuant to a query shows that the LADs have been able to provide successful results. A large percentage (63 percent) of the population stated that their cases have been adjudicated as seen in Figure 16. There are cases that are still in the process but are being effectively pursued by the LADs. In the overall response as seen in Figure 15, only Bannu (3 percent of total population) was found to have beneficiaries whose cases had not been effectively pursued by the LADs. This indicates a strong case for establishment, strengthening and staffing of free LADs in the entire province to help facilitate indigent communities in acquiring access to the formal justice system.




Tag: Impact Rule of law Financial Inclusion

14.

b. Awareness-raising campaigns in community

The beneficiaries were asked if they were aware of the UNDP efforts in raising awareness of legal aid clinics and desks through the use of radio, SMS, etc. More than half (66 percent) of the survey respondents were aware of the media awareness campaign. The responses are illustrated district-wise in Figure 17, where it is clear that Bannu, Chitral and Lower Dir received a 100 percent agreement rate, showing that indeed, awareness campaigns were held in the region. However, there are regions such as Upper Dir where responses were recorded as being divided at 33 percent between 'Yes', 'No' and 'Don't know'.(see Figure 18).

The campaigns were able to reach and improve the knowledge of 175,967 people with 90,800 of those being women. Moreover, 10,324 women further accessed legal aid services. As mentioned in the SRLP notes, the programme has raised the legal awareness of 1,580,000 individuals through media, i.e. radio, cable tv, SMS, etc. More than half of the survey respondents were of the opinion that indeed they were aware of awareness campaigns launched through media, while 31 percent stated they were not aware as seen in Figure 20. Only 17 percent of the overall population responded 'don't know'. While some districts, such as Buner, Swat and Kohat do have a higher percentage of respondents replying positively, Lower Dir, Upper Dir, and D.I.Khan denounced the observation as shown in Figure 19.

This overall response illustrates the need for additional investment in awareness campaigns to further improve the outreach of the SRLP especially in Lower Dir, which reported the highest number of unaware respondents with regards to the campaigns on women rights issues.




Tag: Gender Parity Rule of law Communication Financial Inclusion Awareness raising

15.

d. Satisfaction with Legal Aid Desks

Majority of the population in all surveyed areas responded positively to the question of satisfaction with the LADs and LACs with 58 percent of all responses as 'excellent' and 38 per cent as 'good' with only 4 percent of the population terming the service as satisfactory (see Figure 22). The results suggest an overall positive image being instilled towards the legal aid desks. However, as indicated by KIIs and FGDs, some challenges remain, such as travel costs.

During the FGDs, most of the beneficiaries said that they do not have a stable source of income and hence they face problems with budgeting for the traveling cost between the court and their homes.




Tag: Challenges Effectiveness Rule of law Financial Inclusion

16.

Sustainability

This section on sustainability evaluates the success of an intervention and discusses its long-term viability to ensure continuity of the interventions and associated benefits to the community.

a. Development of women interest

As shown in Figure 24, 86 percent of the respondents were of the view that women had developed an interest in the formal justice sector and would be more inclined to approach the courts.

One of the anecdotes shared by the Principal of the Peshawar Law College illustrates a more optimistic image: "One of my students is now a district court judge in Chitral and girls were surprised to meet women judges. It motivated them (to pursue that career) and later we found that all 14 girls enrolled in a law college. This is how we have to do these things." The principal's story gives a credible example of how the interest of women into the legal sector can be approached – through inspiration. It is pertinent to highlight that according to UNDP, there was only one woman lawyer in district Swat and entire Malakand Division in 201228. Today, over 25 women (in Swat district alone) are practicing lawyers and the women lawyers' conference conducted under SRLP was attended by more than 125 women lawyers. The scholarships of PKR 25,000 disbursed by way of encouraging women participation in law has resulted in an increase of women lawyers in the district. Only 4 percent of the overall response, which was gathered from Upper Dir, claimed not having proper facilities as seen in Figure 23. Basic facilities such as women bar rooms and latrines were not available.




Tag: Sustainability Gender Equality Gender Parity Women's Empowerment Rule of law

17.

Key Challenges

a. Travel expenses, additional costs

While LAD's do provide considerable advantage over the expensive fees charged by lawyers and the statutory requirements of filing court fees, beneficiaries still find it difficult to access these services as they have to travel long distances (i.e. from 20 to 25 kms). In addition, though these services are free of cost, some minor costs, such as cost of printing and documentation become difficult for the beneficiaries to manage as well.




Tag: Challenges Rule of law Human and Financial resources Financial Inclusion

18.

c. Lawyers withdraw in appellate stages

It was noted in a Kohat KII that after some cases are contested on appeal from the lower courts to the higher courts, lawyers are unwilling to support and work pro-bono for those cases. This is due to funding constrains in the projects as travel expenses from lower to higher courts (situated in Peshawar) are not covered under the SRLP programme. As the case makes its way through the appellate process, the cost of litigation increased with the result that the deprived litigant seeking justice is still unable to afford it. Therefore, other legal aid mechanisms like the District Legal Empowerment Committees under the Law and Justice Commission of Pakistan should be involved to share the burden by taking additional cases.




Tag: Challenges Effectiveness Rule of law Financial Inclusion

19.

Output 2:

Alternate Dispute Resolution (ADR) mechanisms provide fair and effective services, in accordance with the Constitution of Pakistan and human rights standards

SRLP endeavoured to strengthen the informal dispute resolution mechanisms which were identified in the CCPAP document. This output was built upon a previous project titled 'Gender Justice to Muslahati Anjumans', in which 'Mushalati Jirgas' were supported as a statutory dispute resolution forum. Under this project, members of 'Musalihati Jirgas' were provided trainings and efforts were made to include more women members in these forums with the help of the local government departments.

With the advent of the Khyber Pakhtunkhwa Local Government Act 2013, the program worked with the Khyber Pakhtunkhwa Local Government Department to develop rules of business and training manuals for the Panel of Conciliators as per the act.

In 2015, an amendment in the police laws introduced another ADR forum called DRCs which were considered a vital solution to address petty-nature disputes by the Government of Khyber Pakhtunkhwa. In light of this decision, SRLP opted to sensitize the DRC members by building their capacities.

Moreover, under this output, community paralegals were mobilized who served as a link between community and access to justice sector institutions. The program designed a number of interventions like a certificate course at the university level for the training of paralegals, established paralegal networks and trained them in helping local communities in resolving their disputes.

A comprehensive analysis of ADR has been drawn from the interviews conducted with DRC members, FGDs with paralegals and the beneficiaries of ADR mechanisms along with field observations. For this assessment, the primary ADR mechanism is the DRC, as the team had greater access to this forum.




Tag: Human rights Local Governance Rule of law Capacity Building Institutional Strengthening

20.

Relevance

In Khyber Pakhtunkhwa, the DRCs under ADR is more relevant due to a number of reasons which includes it's affordability, fairness, effectiveness and speedy solutions to disputes as anchored in the UNDP core mandate and new Strategic Plan 2018-2022.

When analysing the utilization of informal mechanisms of dispute settlement, approximately 67 percent (Figure 26) of the sample respondents reported the utilization of DRCs as an alternate dispute resolution mechanism.

The following chart (Figure 25) clearly demonstrates that an overwhelming majority of the respondents (67%) relied on such informal mechanisms particularly in Bannu, Swat and Buner, where there was a high level of reliance on DRCs. The survey respondents stated that they deemed the DRCs to be considerably more affordable, accessible and quicker than courts. During FGDs, they claimed that people can save time and money through DRCs by allowing resolution in weeks or months, compared to courts which can take years, including the associated high professional fees of lawyers and experts.

Overall, 33 percent of the respondents did not consider the ADR mechanisms to be utilized at all. The primary reasons one-fourth of all the beneficiaries in our KIIs and FGDs were sceptical towards the utilization of these mechanisms included issues, such as recurrent absence of the other party in the councils, decisions being influenced by the defendants' socio-political status and refusal of one party to comply with the decisions. Furthermore, one senior civil judge in DI Khan stated in a KII: 'The DRCs have been very effective, but in some cases, their settlements are not legally binding and they cannot enforce decisions.' It is recommended that DRC's should have the required legal power and authority to deliver enforceable settlements.




Tag: Relevance Rule of law

21.

As pointed in the Khyber Pakhtunkhwa Rule of Law Roadmap 30 , accessing the judicial system is an expensive affair. Hence, ADR mechanisms have become critically important for legal assistance of the marginalized groups, particularly for women. Overall 76 percent women (See Figure 26) have shown more interest on ADR mechanisms because these forums include a wide range of remedies such as negotiation, mediation and conciliation. A woman in Buner claimed in an FGD that

'…these processes are relatively inexpensive and efficient compared to formal justice system therefore more women are experimenting with ADR forums for their dispute resolutions…

A family law judge in Bannu suggested the need to raise awareness about legal rights surrounding the ADR and how its forums can be used more effectively among the marginalized groups especially women.

It was also particularly mentioned by female respondents in KIIs and FGDs, that family related disputes were treated with more respect in ADR forums (Figure 27). One of the respondents stated:

"…particularly in divorce related matters females are not given respect in legal justice system. When a female visits the court to appear for her case, she has to face lots of challenges compromising her self-respect. She is made to wait outside in the presence of the general public; she is often asked humiliating questions. On the contrary, in ADR forums such as DRCs, she is provided with a proper sitting area ensuring privacy. During the hearing process, she is questioned privately and efforts are made to settle dispute with respect…"




Tag: Women's Empowerment Rule of law Human and Financial resources Vulnerable Women and gilrs

22.

c. Need for additional ADR forums

On the contrary, 90 percent of the respondents were of the view that there is a need to develop additional ADR forums (See Figure 28). The existing ADR forums (primarily DRCs), which are mostly based in the district's or tehsil headquarters, are not accessible by everyone People living in remote parts of the districts have little or no awareness about these forums and have to expend time and money to reach these areas.

During a FGD in DI Khan, one of the respondents stated that

"…coming to and going back from the DRC for a hearing takes half of my day, as I have to travel for almost 30 kilometres from one side…".

Another participant echoed similar views saying

"…it is difficult to reach the DRC from a distance of 20-25 kilometres. To come here on the day of the hearing I have to hire [a] vehicle and bear the cost…"

Therefore, there is a dire need to develop more ADR forums which is also a strong demand of questionnaire respondents as illustrated in the following chart (Figure 28): Development and mainstreaming of additional ADR forums increases an individual's access to a variety of forums that can resolve disputes and presumably increase the toal amount of resources devoted to ADR institutes. During a KII with the Kohat DPO, he stated that "ADR does have the potential of increasing access to justice for [the] people particularly for poor by providing additional forums for dispute resolutions." Recommendations from a KII in Swat indicate a need for the setting up of DRCs at each Union Council level.




Tag: Rule of law Financial Inclusion Vulnerable

23.

d. Relevance of Community-based Paralegals in Khyber Pakhtunkhwa

Community-based paralegals were preferred as an accessible means to promote mediation and awareness of legal aid opportunities available at LADs in communities. Thus, alongside the establishment of DRCs and free LADs, these paralegal networks would also strengthen the rule of law interventions by facilitating grass roots communities and villages, in the selected districts, towards accessing these alternatives. Paralegal Networks were registered with the Social Welfare Department as voluntary social welfare organizations.

Alongside the establishment of community-based paralegals, the SRLP also institutionalized a paralegal certificate course at the University of Malakand and a certificate course on Conflict Resolution and Peace building in the Institute of Peace and Conflict Studies at the University of Peshawar31. This allows for professional mediators to proliferate in the province echoing the targets set out in the UNDP Country Programme Document (2018-2022) to improve the access to informal justice mechanisms.

In addition to strengthening informal justice mechanisms, the SRLP also held trainings for judicial staff and lawyers to promote court annexed ADR in the courts as a means to quickly dispose off cases where desired and applicable. This would help save the time of the courts and make the dispute resolution process more efficient.




Tag: Relevance Civic Engagement Rule of law Conflict resolution Peace Building Education Financial Inclusion Capacity Building

24.

Effectiveness

The data clearly demonstrates that an overwhelming majority of the beneficiaries (80%) (See Figure 29) viewed the ADR forums as highly effective. These respondents stated that the effectiveness of these councils was rooted in the neutrality, impartiality, affordability, accessibility and swifter alternative to the courts.

An additional 17 percent of the respondents were of the view that ADR forums are somewhat effective and the remaining 3 percent of respondents stated that they did not consider these councils to be effective at all (See Figure 29). The primary reason regarding the effectiveness of these councils, included, recurrent absence of the defendants, decisions being influenced by the disputants' socio-political stature and refusal of one party to comply with the councils' decision).




Tag: Effectiveness Rule of law

25.

Affordability and Timeliness

During FGDs with communities, it was observed that there exists a substantial difference between the ADR forums and the local courts with regards to the associated time-lines for resolution of disputes and the costs of litigation. As conveyed by DPO Upper Dir, on average a civil case takes up to two years from institution of case to announcement of judgment and the associated cost is PKR 0.1 million. Conversely, in the DRCs, most disputes are resolved within a span of 3-4 months, where the litigants have to bear minimum expenses.

This gulf that exists between both these judicial systems in terms of their affordability and timelines has raised the likelihood of people consulting the councils to settle civil conflicts. In particular, the ADR forums have proven to be beneficial for the people in all 08 districts, all of whom were unanimous in reporting their preference of ADR forums over courts primarily because these forums circumvented the expensive, protracted and technical litigation process in the courts.




Tag: Effectiveness Rule of law Financial Inclusion

26.

Accountability and Transparency

When asked about the extent of accountability and transparency of DRCs, 75 percent of the respondents believed that DRCs functioned in a fully transparent manner (See Figure 31). This is primarily because the proceedings of the DRC are in full compliance to Pakistan's Constitution and are mindful of indigenous cultural norms and practices, without being swayed by a person's socio-economic standing. Additionally, several DRC members stated that to ensure transparency, if one party objects to a panel, then another panel is assigned to deal with their case. For instance, a staff member of the DRC, who was also a party to an inheritance dispute before the DRC, told us that, "It is made sure that members who share any relations with either of the two parties are not made part of the panel reviewing the case of those two parties so as to prevent the agreement from being biased in someone's favour". A DRC member in D.I. Khan said that DRC does not enforce parties to follow court etiquettes, since it can make the parties think that they are impartial towards them. 20 percent of the respondents were of the view that they are somewhat transparent , whereas the last 05 percent stated that there was no transparency in these councils. KIIs revealed that these council members often did not fully investigate and examine the details of a case before striking a compromise between the parties.




Tag: Anti-corruption Rule of law Service delivery

27.

Satisfaction level

According to the survey respondents, 85 percent of all beneficiaries were fully satisfied with the outcome of their cases (see Figure 31). This is also because the parties are provided free services and they are not bound to accept the agreement.

It is a win/win solution for both parties and if a party feels aggrieved from the outcome, they have a right to file a complaint to go the formal court. On the other hand, a 10 percent small share of the beneficiaries stated that they were partially satisfied with the ADR forum's decisions. While these respondents did acknowledge and appreciate the timely and inexpensive resolution of their cases, they still did not think that the outcome of the case was particularly fair for them. Especially in cases involving conflicts over money or property, both parties are convinced and persuaded to share their financial losses as well to maintain a degree of equitability in the outcome of the case.

Moreover, 5 percent of the respondents also stated that they were extremely dissatisfied with the way their cases and complaints had been handled by the DRCs and mediators. Because sometimes a defendant does not appear to the councils and DRCs members did not investigate the details properly which compromised the impartiality of settlement."




Tag: Effectiveness Rule of law Service delivery Civil Societies and NGOs

28.

Trustworthiness

Most ADR council beneficiaries feel that the councils are composed of reliable and trustworthy people. They also place their faith in them for proposing a relatively just outcome. This is illustrated by the fact that 95 percent of the respondents stated that they considered the councils to be highly trustworthy as seen in Figure 32. Only a minuscule portion of these respondents did not consider these councils to be partially (4%) or fully (1%) reliable (see Figure 32).

Quality

The beneficiaries were in near consensus regarding the quality of services provided by the ADR forums, with 90 percent rating them as excellent and an additional 7 percent also rating them to be good as seen in Figure 33. Respondents in most of the ADR forums stated that they had been provided with a space to sit and had access to sanitation facilities; something they would not be afforded in the local courts.




Tag: Anti-corruption Rule of law

29.

Effectiveness of Paralegals

The Paralegals proved to be effective in community mobilization, raising awareness and serving as a connection between community and service providers. A combined 1709 community-based paralegals were trained by implementation partners. The beneficiary survey responses show that only 4 percent of the beneficiaries viewed the performance of Paralegals as poor as compared to 29 percent who deemed it excellent, 54 percent who considered it good and finally, 14 percent who rated it as satisfactory, as shown in Figure 34.

Effectiveness of Capacity-building interventions

Regarding the setting up of the new Institute of Peace and Conflict Studies at the University of Peshawar, a KII from the academia tenured at the university, said from 2016 to 2018, about 13 trainings were delivered with each one having around 30 participants including senior students professionals. Overall, he mentioned that the responses and participation have been exceptionally good. Thus, as a medium to promote private and trained mediators, it can be an effective tool to promote the use of informal dispute resolution techniques.

DRC members also went through capacity-building trainings. In one of the KIIs held in a Kohat DRC, when asked about UNDP training workshop, the secretary of the DRC stated that three major benefits have arisen from all the trainings. First being the awareness of women rights to which he claimed the knowledge gained is tremendous. Second, the understanding of juvenile rights and the basic and fundamental rights awarded to children had also improved. Third, there was an improvement in resolving family disputes. Finally, he expressed full satisfaction and felt honoured to serve the community.




Tag: Effectiveness Women's Empowerment Human rights Rule of law Capacity Building Youth

30.

Financial Efficiency

ADR mechanisms cannot be a substitute for a formal judicial system, however ADR can complement and support judicial reforms. Development of ADR mechanisms in Khyber Pakhtunkhwa, particularly for women and marginalized groups, is a step towards proper administration of justice to all. Through ADR mechanism the parties can reach a harmonious settlement of the dispute because the win-win situation not only settles the disputes but also brings peace that cements the future relationship between parties.

Data clearly demonstrates that through ADR, most of the disputes are resolved in 2 or 3 appearances which save the cost, time and energy of litigants. Moreover, the vast numbers of disputes are settled through ADR which greatly reduces the pressures on the police and courts. Another important positive side of ADR is that the process absolutely maintains the privacy of the parties as privacy is a key value which underpins human dignity and it is a basic human right.

Efficiency of Resource Utilizations

On the whole, utilization of resources under Output 2 with reference to ADR mechanisms provides that fair and effective services can be termed satisfactory. A total of $ 2.25 million (6.2 percent) were allotted to this output against which US$ 2.26 million (101 percent) were utilized. An overwhelming majority of the beneficiaries, 80 percent, viewed the ADR forums in Khyber Pakhtunkhwa as highly effective.




Tag: Efficiency Human and Financial resources Operational Efficiency Vulnerable Women and gilrs

31.

Data clearly demonstrates that through ADR, most of the disputes are resolved in 2 or 3 appearances which save the cost, time and energy of litigants. Moreover, the vast numbers of disputes are settled through ADR which greatly reduces the pressures on the police and courts. Another important positive side of ADR is that the process absolutely maintains the privacy of the parties as privacy is a key value which underpins human dignity and it is a basic human right.




Tag: Human rights Rule of law Civil Societies and NGOs

32.

Efficiency of Resource Utilizations

On the whole, utilization of resources under Output 2 with reference to ADR mechanisms provides that fair and effective services can be termed satisfactory. A total of $ 2.25 million (6.2 percent) were allotted to this output against which US$ 2.26 million (101 percent) were utilized. An overwhelming majority of the beneficiaries, 80 percent, viewed the ADR forums in Khyber Pakhtunkhwa as highly effective.




Tag: Efficiency Human and Financial resources Operational Efficiency

33.

Satisfaction of UNDP Interventions for ADR activities

A sizeable number of respondents provided positive feedback, with 70 percent of the remarks being fully satisfied with the improvements in ADR mechanisms as seen in Figure 38. As gathered in KIIs and FGDs, beneficiaries praised the affordability, promptness and respect granted by the ADR mechanism. Whereas 25 percent of the respondents rated being somewhat satisfied with a minor 5 percent reporting that they were not satisfied at all (See Figure 36). The low satisfaction could be attributed to a lack of easy access to the DRCs. During KIIs, the respondents lauded the interventions and appreciated the role of UNDP in providing trainings in the region. During FGDs the beneficiaries of ADR greatly appreciated the role of UNDP in redeveloping citizen trust in informal justice councils. Through the SRLP interventions, the UNDP met its implementation targets as shown in Table 8, such as DRC member trainings on mediation skills, trainings for judicial officers and lawyers on ADR skills, financial support, outreach and effective campaigning of ADR methods.




Tag: Effectiveness UNDP Management UNDP management Awareness raising Capacity Building

34.

Impact

ADR Mechanisms Observations from the field suggest that SRLP interventions have had a positive impact on the communities which are increasingly relying on the ADR forums (particularly DRCs) for mediation. Therefore, the number of cases received and resolved is expected to increase as the acceptability of ADR forums increases each year.

DRCs were recognized as part of the justice system as a result of the amendments to the Police Order 2002 and Khyber Pakhtunkhwa Police Act (2017). Currently they are functional in 24 districts across the province and are settling mostly minor disputes. . Most DRC beneficiaries revealed in FGDs that the members of the councils are reliable and trustworthy and they do not feel uncomfortable when divulging intimate details about their personal lives. This sentiment is in stark contrast to their lack of trust in other judicial mechanisms. Additionally, they also place their faith in them to lead them to a relatively just outcome. Thus, looking at the data for 2015 to 2018 the number of cases received to DRCs increased as depicted in the following graph:




Tag: Impact Rule of law Service delivery

35.

DRCs were recognized as part of the justice system as a result of the amendments to the Police Order 2002 and Khyber Pakhtunkhwa Police Act (2017). Currently they are functional in 24 districts across the province and are settling mostly minor disputes. . Most DRC beneficiaries revealed in FGDs that the members of the councils are reliable and trustworthy and they do not feel uncomfortable when divulging intimate details about their personal lives. This sentiment is in stark contrast to their lack of trust in other judicial mechanisms. Additionally, they also place their faith in them to lead them to a relatively just outcome. Thus, looking at the data for 2015 to 2018 the number of cases received to DRCs increased as depicted in the following graph:




Tag: Rule of law Service delivery

36.

Looking at the data as shown in Figure 37, the number of overall cases received, mediated, referred to legal action and pending per year has proportionally increased. Among these districts, as far as number of cases is concerned, in Kohat the total number of cases received was highest in 2017. During this same period within Kohat a significant increase was observed for the cases that had been initiated and were under consideration. Bannu had the second highest number of cases; there were 642 cases received during 2018. As can be noted from figure 51 during 2017, there were a total of 441 cases received. Further it can be viewed that the percentage of mediated of cases also improved. However, Chitral witnessed a decrease in 2018 with 31 cases being received as compared to 405 in 2017. During 2016 in Chitral there were only 61 cases which were compromised whereas with the increase in number of cases received there was increase in number of cases compromised. In 2017 total of 384 cases were compromised, making it 79.08 per cent of the total cases. There were a minimal number of cases referred to legal action.




Tag: Impact Rule of law Service delivery

37.

Impact of Paralegals

a. Awareness of legal rights expanded

Their presence within communities has enabled them to listen to legal issues within the community and depending on the case either mediate between the opposing parties, refer them to the DRCs or refer them to the free Legal Aid Desks to pursue legal action.

b. Paralegal networks are sustaining

1272 paralegals have been trained by NGOs and 437 certified through the University of Malakand. Figure 38 illustrates a positive overall response to the efforts of the UNDP under the SRLP with 29 percent respondents rating the interventions as 'excellent'. Many respondents chose 'good' as their response, which increased the overall degree of satisfaction to 54 percent. There has been quantifiable progress made in all regions, but there exists a demand for more interventions in certain places, such as Buner.

As detailed in Chart 40, the beneficiaries responded positively to the efforts of the Paralegals. Beneficiaries welcome mediation by the paralegals as it is a cheaper alternative than holding jirgas (which can be biased) and opting for the complex formal judicial process. By including women paralegals, greater access was afforded to women in the community. In KIIs held in Bannu and Peshawar, the implementation partners ensured that half of all paralegals recruited were women to ensure a strong gender balance as women beneficiaries feel more comfortable talking to women paralegals and thus are more likely to pursue cases.




Tag: Gender Parity Women's Empowerment Rule of law Awareness raising Capacity Building Civil Societies and NGOs

38.

c. Impact of Course in University

The KII conducted at the University of Peshawar relayed that 329 students (140 of them women) received certifications in conflict resolution and peacebuilding. The team also measured the benefits of capacity building initiatives to help gauge the overall impact of the trainings and give a holistic look at the degree of impact in ADR sector. Results show that overall the interventions have improved the efficiencies of DRCs members. The feedback received through survey responses regarding UNDP trainings and their effectiveness was very positive.

A DRC member in D.I.Khan stated in a KII: "through UNDP trainings, they have learned about the ADR skills such as mediation, arbitration and conciliation but there is still a need to build capacity of key elements in addressing problems of bias, stereotype and power imbalances"32. In response to whether any benefits existed of the capacity building initiatives, 60 percent of ADR service providers claimed that trainings on ADR skills was very effective, 30 percent rated them as somewhat effective with only 10 percent rated as not effective at all (See Figure 39)

According to some DRC members in KIIs, there exists a lack of basic knowledge and skills related to basic rights of a citizen, legal procedures and practical approach towards alternate dispute resolutions. When asked about orientation trainings for new members they stated: "When new member joins DRC, he is made part of the panel where two senior representatives of DRC are actively participating. Following this approach, new member is involved in the discussion and this also becomes his initial training and practice". Moreover, when asked if the capacity of the ADR forums had improved to provide fair and effective services to all, most respondents answered affirmatively as seen in Figure 40.




Tag: Impact Rule of law Conflict resolution Peace Building Education Capacity Building

39.

Sustainability

Sustainability of ADR Forums

Compared to other ADR Forums, DRC's as a form of dispute resolution are more likely to be sustained due to a number of reasons.

Firstly, DRCs are legally covered under the Police Act 2017 which gives them more preference over traditional dispute resolution. Secondly, DRC offices have established dedicated premises with the support of the Khyber Pakhtunkhwa Government. Currently, the members of these DRCs provide voluntary services and hence have fewer financial implications. Lastly, DRCs are successfully providing the fair, effective, cheap and speedy justice to citizens as shown above in Figure 37 which details the increase in usage of DRCs which shows the increase in trust of the public.

Sustainability of Paralegals

As the community-based paralegal model is voluntary it does not support monetary compensation. A KII with an implementation partner in Peshawar revealed that "Just as doctors have medical staff, judiciary has paralegals. They are community-based, so people wish to discuss their issues with them. Even paralegals go out to help people. However, many of the paralegals we trained are now doing nothing. The concept is good, but in the long-run, not feasible." The professional mediation courses offered in the University of Peshawar enable the course attendees to provide professional best practices in dispute resolution. With reportedly increasing numbers and positive externalities as related in the KII, the long-term presence of the course is recommended which can help interested individuals gain accreditation to pursue conflict resolution in their communities.




Tag: Sustainability Rule of law Sustainability Financial Inclusion Civil Societies and NGOs

40.

Key Challenges

ADR forums have been recognized as an efficient and effective mechanism in the promotion of access to justice; however, there are some challenges that exist when it comes to the operation and functioning of these ADR forums such as DRCs and Jirgas. The following challenges are being faced by beneficiaries and service providers alike:

a. Lack of Knowledge and Awareness

For ADR to be widely practiced there needs to be awareness within communities about the ADR forums and mechanisms. A respondent in Chitral claimed that, "due to the availability of only a single dispute resolution council, based in the district headquarters, people living in remote and distant parts of a district have lesser or no awareness about it". A DRC member in Buner stated that "the most crucial work is the dissemination of information because the community must be aware that they have the power to determine how to settle their disputes quickly and effectively". A session judge in Swat further suggested that "legal professionals and lawyers must inform litigants about out-of-court methods of dispute resolutions even before the filing of cases".




Tag: Challenges Rule of law Financial Inclusion Awareness raising Civil Societies and NGOs

41.

b. Inaccessibility

Inaccessibility remains a problem in the promotion of ADR services. During field activities, the positive attitude of communities towards DRC services and the increasing trust placed on the DRC forums for effective resolution was observed. But in most districts, DRCs are only based in the district headquarters; people living in remote and distant parts of a district do not have easy access to these forums.




Tag: Challenges Operational Services Civil Societies and NGOs

42.

Absence of the second party

Absence of the second party is another problem in the implementation of ADR forums. The DRCs calls the second party through the nearest police station in the jurisdiction. In several instances, despite the issuance of numerous calls, the second party, in their defiance, remain absent, especially in cases where the plaintiffs hail from a weaker socio-economic background. In one such instance, a plaintiff who had lodged a complaint in one of the DRCs told us that:

"…I am present here for the second time but the other party hasn't turned up for the hearings. I am hopeful that he may appear on the next hearing because the DRC representatives called him and warned him of the legal repercussions of non-compliance to the summons..."




Tag: Challenges Rule of law Civil Societies and NGOs

43.

Impact of the decision

Due to the influence exerted by the political elite and tribal elders, the impact of the decision in the long run may get compromised in ADR forums. Even during the proceedings of the case, its progress might be impeded if the accused party does not appear before the panel owing to their higher socio-economic status and influence. While visiting one of the DRCs, the beneficiaries recurrently complained that:

"…Due to the political influence of some of the litigants, decisions of the DRC are not honoured, with the poor being the most vulnerable in case this happens…"




Tag: Challenges Impact Rule of law

44.

Limited Infrastructure

One member of the DRC held the view that: "There are challenges related to limited infrastructure. First and foremost is the challenge related to lack of space we have to accommodate male and female complainants/respondents under one roof and discuss matters in front of all." It was observed that the space provided for counselling is not standardized where the complainants and respondents waiting for their turn can be accommodated. With this limited space, the challenge of privacy (personal disputes are discussed openly in front of a crowd) also exists. Further it was also observed that there is an absence of sanitation system in these councils thus creating problems for people.




Tag: Challenges Sanitation Infrastructure

45.

Output 3

Improved capacity of courts to provide effective and timely justice services to the people

The formal judicial system of Pakistan is facing a number of serious challenges including a backlog of cases, severe delays and poor court and case management. The Khyber Pakhtunkhwa Rule of Law Roadmap states that the inefficiency, high acquittal rates for serious cases and the cost of access to justice in the formal judicial institutions led to citizens reverting to alternative solutions such as jirgas for mediation. In light of the security situation, with assistance from the ADB, EU Commission, World Bank and the UN, the government of Khyber Pakhtunkhwa formulated the Post Crisis Needs Assessment (PCNA) report which helped identify the sectors that required interventions. From this assessment, the Khyber Pakhtunkhwa Rule of Law Roadmap, Pakistan's Common Country Programme Action Plan's (CCPAP) Strategic Priority Area 4(c) and the UNDP's National Strategic Priority Area 4.2 based their approach towards improving the Rule of Law in Khyber Pakhtunkhwa. These strategic frameworks aim to build the capacities of the formal rule of law institutions, to strengthen the informal and formal judicial mechanisms and facilitate the dispute resolution mechanisms with emphasis on juvenile, women and vulnerable groups.




Tag: Rule of law UN Agencies Security Institutional Strengthening Vulnerable Women and gilrs Youth

46.

Relevance

Pakistan's formal justice system remains inaccessible for a vast majority of the public. Vulnerable groups, including women, minorities, the poor and people with disabilities face particular difficulties in accessing timely and affordable justice. Huge backlogs, estimated at around 1.9 million cases across Pakistan, are slowly overwhelming the court administration and undermining access to justice. There are multiple causes contributing to the state of the formal justice sector. Lack of adequate court staff capacity, outdated laws and complex procedures fails to deliver speedy, affordable and trusted outcomes for the public. In this context, the SRLP interventions regarding improvements in the capacity of courts to provide effective and timely justice services to the people in Malakand division were very relevant. The thematic scope was also aligned with the government of Khyber Pakhtunkhwa's plans and policies such as the Khyber Pakhtunkhwa Rule of Law Roadmap which focused on justice sector reforms and capacity building.




Tag: Relevance Public administration reform Rule of law Human and Financial resources Capacity Building Institutional Strengthening Vulnerable Women and gilrs Youth

47.

Effectiveness

Responses were evaluated from primary areas of the courts and the judiciary to form a holistic understanding of the footprint of the SRLP interventions. Around 90 percent respondents stated that they had been aware of the UNDP interventions.

a. Satisfaction with UNDP Interventions

60 percent of the respondents reported to be completely satisfied with UNDP interventions while 30 percent stated that they were somewhat satisfied (See Figure 41), concerning the improvements in the justice system. The FGD and KIIs Participants appreciated the efforts of the UNDP in providing training and facilitation in the region. They greatly appreciated the role of the UNDP in redeveloping the citizen's trust in the state institutions and justice system.

b. Improvements in the Capacity of Courts

The field team questioned judicial staff in each district regarding improvements witnessed in the capacity of the courts. Only 15 percent of the respondents stated that there were no significant improvements in the capacity of the courts, whereas 70 percent agreed that, the capacity of the courts had improved. The remaining 15 per cent cited marginal improvements as seen in Figure 42. Reportedly, the interventions included trainings (in detail below) which helped improve disposal rates and mediation training to settle disputes of a petty nature.




Tag: Effectiveness Rule of law UNDP Management UNDP management Capacity Building Institutional Strengthening

48.

a. Satisfaction with UNDP Interventions

60 percent of the respondents reported to be completely satisfied with UNDP interventions while 30 percent stated that they were somewhat satisfied (See Figure 41), concerning the improvements in the justice system. The FGD and KIIs Participants appreciated the efforts of the UNDP in providing training and facilitation in the region. They greatly appreciated the role of the UNDP in redeveloping the citizen's trust in the state institutions and justice system.




Tag: Effectiveness Service delivery UNDP Management UNDP management

49.

b. Improvements in the Capacity of Courts

The field team questioned judicial staff in each district regarding improvements witnessed in the capacity of the courts. Only 15 percent of the respondents stated that there were no significant improvements in the capacity of the courts, whereas 70 percent agreed that, the capacity of the courts had improved. The remaining 15 per cent cited marginal improvements as seen in Figure 42. Reportedly, the interventions included trainings (in detail below) which helped improve disposal rates and mediation training to settle disputes of a petty nature.




Tag: Effectiveness Rule of law Capacity Building

50.

c. Increased Knowledge and Awareness

A marked increase has been reported in the knowledge of the judiciary as shown in Figure 43. As defined in the SRLP program, judges and judicial staff responded with court and case management trainings as the most popular training module, followed by substantive and procedural laws. All these trainings helped in augmenting a more productive and efficient court process. When probed regarding effectiveness of these trainings, most of the respondents agreed that these had improved the productivity of the courts. Some respondent judges also highlighted the lack of human resources to address the backlog of cases.




Tag: Effectiveness Rule of law Human and Financial resources Capacity Building

51.

Strategy development

Another intervention, as mentioned in the Khyber Pakhtunkhwa Rule of Law roadmap, was the strategy formation of the Peshawar High Court for speedy resolution of petty-nature cases and introduction of special benches to cater to women and vulnerable groups. The strategy also involved the creation of special benches at the High Court and designating judges in districts with a high pendency of minor cases to decide matters in a timely manner. This strategy was successfully developed under the SRLP framework.

Automation in the Courts

Like the major courts in each provincial capital, i.e. Lahore, Islamabad and Karachi, the Peshawar High Court also put forward a proposal for an online system that would make it easier for litigants and the courts to keep track of cases more efficiently and improve accountability of judges and lawyers. SRLP assisted by providing technical support for the project. Unfortunately, due to a lack of funding, the proposal has failed to gain traction as was conveyed by a Session Judge at the Peshawar High Court during an interview. Hence, one of the recommendations is to facilitate the court to progress with their plan. Furthermore, many judges in districts such as in DI Khan and Kohat were of the opinion that a focused effort should be made to modernize the system. There were also calls to simplify complex legal procedures and make it easy for the layman to approach the courts. This, they stated, would bolster the institutional strength of the courts and develop further trust in the system. Overall, the targeted interventions were successful in reaching their intended actors and institutions.




Tag: Effectiveness Rule of law Human and Financial resources Innovation Strategic Positioning Technology Vulnerable Women and gilrs

52.

Financial Efficiency

Out of the total share of the SRLP program from 2013 to 2018, a total of 5.3 percent (US$ 1.8 million) were allotted to the Output 3. Out of the total of U$ 1.8 million US$1.7 million (97 percent) were utilized.




Tag: Efficiency Human and Financial resources Operational Efficiency

53.

Impact

The feedback received from session judges across various districts regarding UNDP trainings and their effectiveness was very positive (See Figure 45). For example, a session judge in Peshawar expressed satisfaction with the execution of seminars and trainings as they help increase the disposal rate in the court. Judges in DI Khan recalled receiving several trainings which improved their ability to tackle the backlog as well.

A Senior Civil Judges in D.I. Khan remarked that their disposal rate for civil cases had increased. Another Session Judge from Peshawar commented that while disposal rates have been improving, the process of getting justice is still too complex for the layman. This suggests that at the judicial level, there have been minor improvements, but certain issues still remain. A Session Judge posted at Peshawar noted that while benches and committees were constituted to enable quick decisions regarding cases concerning vulnerable groups and women, they had been retracted later on. A brief investigation into the limited life of these benches should ensue.




Tag: Impact Rule of law Vulnerable Women and gilrs

54.

Sustainability

To evaluate the long-term viability of the trainings imparted to the judicial staff, they were asked if they had started implementing the lessons learnt during their trainings in the courtrooms. Most respondents responded affirmatively adding that the techniques imparted through those trainings have resulted in an increased case disposal rate and hence generated trust in the institutions they serve. Some responses observed in regions such as in DI Khan indicated improved mediation skills leading to quicker resolutions of cases of a petty nature. While this does indicate towards positive long-term benefits, effort is required to ensure that the judiciary continues to maintain their developed skillset. The additional registrar of the Peshawar High Court mentioned in a KII that while benches and committees to facilitate speedy disposal of criminal cases of juveniles and women were created, they did not last long and hence, were revoked.




Tag: Sustainability Rule of law Sustainability Capacity Building

55.

Key Challenges

When questioned regarding the challenges the judiciary faces, judges' responses included a shortage of human resources, a burgeoning backlog and the inability to efficiently cater to all their responsibilities as a result. The lack of human resources leads to bottlenecks in the performance of the court. The judges also lamented the performance of lawyers who sought repetitive adjournments. The Secretary of the DRC, Bannu as well as a Senior Civil Judge in DI Khan recommended that senior lawyers should not take cases in lower courts, as their absence wastes the time of the courts and creates mistrust in the judicial institutions.

Moreover, during a KII, a District Judge from Kohat shared that as judges, they have to file monthly and weekly reports whereas private lawyers have no check-and-balance. Further he stated that,

"…At times, one lawyer appears and not the other, how is this justice..."

For accountability, he proposed that private lawyers should maintain a code of ethics. A Magistrate from Kohat also suggested that if the system is digitized, it would be much easier to keep track of litigants and lawyers and improve the efficiency of the court. This coincides with the demands of the judiciary based in Peshawar who highlighted that they have plans to digitize the system but need assistance in its execution (see page 74)




Tag: Challenges Rule of law Human and Financial resources

56.

Output 4:

Criminal justice system is improved through improved police, prisons and prosecution services to local communities.

This section presents the impact of improved police and prosecution services to local communities via policy and operational reforms in 10 selected districts of Khyber Pakhtunkhwa province. The interventions focused on improved investigations, promotion of gender responsive policing, administration and management skills. The impact has been measured through a set of indicators such as relevance, efficiency, effectiveness, impact and sustainability.

The provision of justice to citizens it is one of the foremost responsibilities of the State. The purpose of the criminal justice system is to protect the innocent and punish those guilty of committing crimes. The criminal justice system thus comprises of mainly three functions to achieve the objectives:

Investigation
Prosecution
Adjudication




Tag: Gender Mainstreaming Justice system Rule of law

57.

Within these objectives, prosecution occupies a critical position between investigation and adjudication. Without quality prosecution services, the criminal justice system will not be able to protect the weak and vulnerable and bring persons to account for wrong doing. Quality prosecution thus can be termed as an essential aspect of an effective criminal justice system.

Due to deteriorating trust in public institutions, deliberations were needed to conform to the Provincial Public Safety and Complaints Commission for undertaking the mandate and responsibilities (as per Khyber Pakhtunkhwa Police Act 2017). Within the Police Act 2017, the development and strengthening of a policing framework in the province was ratified with an inclusive capacity building road map taking into consideration administration, operation and investigation. Based on these objectives of Khyber Pakhtunkhwa Police, UNDP under SRLP, supported both police and prosecution services with the following facilities as shown in Table 11 and 12 respectively. A more detailed account of the interventions can be viewed in Appendix 6.




Tag: Justice system Rule of law

58.

Relevance

Police

Keeping in view the provincial needs and demands, various initiatives have been pledged to consolidate and improve the framework of policing across the country. With the introduction of the Police Order of 2002, there was a significant change in the police system with more oversight afforded to citizens. The Police Order, 2002, introduced Public Safety Commissions, Police Management Boards along with the introduction of concepts like the professionalization of investigation and functional specialization. Khyber Pakhtunkhwa Police has undergone significant change in terms of service delivery and capacity building with the support of affiliated institutes including development partners. As the police and prosecution services play a crucial role in the Rule of Law system, these institutions were strengthened in terms of training and provision of commodities across various districts.

A review of legislation concerning the police and ancillary policing system has been initiated to promote effectiveness within provincial police service in accordance with the laws and regulations. Under the SRLP, the capacity of the police has been strengthened with trainings delivered on supervisory skills, investigative capabilities, promoting gender responsive policing and administration and management of police stations.




Tag: Relevance Justice system Service delivery Capacity Building

59.

The Regional Forensic Science Laboratory (RFSL), established in Swat, has received continued support and institutional capacity building. The SRLP interventions regarding improvements in the capacity of Khyber Pakhtunkhwa police to enhance the criminal justice system were rightly placed. The thematic scope was also aligned with the government of Khyber Pakhtunkhwa's plans and policies such as Khyber Pakhtunkhwa Rule of Law Roadmap 37 and Khyber Pakhtunkhwa Police Act, 2017 which focused on police sector reform and capacity building.

During a field survey, senior Police officials were asked about the placement of interventions. Overall 93 percent (See Figure 46) of the respondents said that the interventions were rightly placed. 7 percent stated that there is still need for improvement. For further detail see following Figure 46:

Mainly senior officials were consulted before designing such interventions, which played a significant role in determining the interventions, such as trainings, investigation and IT skills. Under the SRLP, Khyber Pakhtunkhwa police was supported in various fields as demonstrated in figure 47:




Tag: Justice system Capacity Building Institutional Strengthening

60.

Effectiveness

Responses were evaluated from senior police officials and public prosecutors to form a holistic understanding of the footprint of the SRLP interventions. All respondents stated that they have witnessed a significant improvement in police and prosecution services with UNDP interventions.

Police:

a. Satisfaction with InterventionsWhen police officials were asked about the degree of satisfaction with UNDP interventions under the SRLP, 41 percent respondents marked these interventions as excellent as seen in Figure 49. 48 percent responded by stating that these interventions are good enough with regards to increasing the capacity of the police to improve efficiency. A district-wise breakdown of responses, as shown in Figure 48, also confirms that police officials were satisfied with UNDP interventions in most districts. This sentiment was corroborated by DPO Bannu who also marked the interventions as being excellent. He said,




Tag: Effectiveness Justice system Capacity Building Institutional Strengthening

61.

Improvements in Police Service Delivery

78.2 percent police officials believe that SRLP interventions have resulted in an improvement in police service delivery as seen in Figure 52. The police is providing effective and timely services to people from initiation of case to closure of the case. There has also been significant improvement in community outreach reported. Due to this improvement, respect for police officials has increased among the community. Corroborating this analysis, DPO Buner stated that,

"…positive relation of police and community create suitable environment for work…".

Furthermore, time management in terms of service delivery has also improved. This was reported by 4.35 per cent of the respondents, who said that within service delivery framework time management within cases and administrative work has improved significantly (see Figure 52). Community outreach improvement was reported by 6.5 percent of the respondents. This community outreach was also mentioned by the DPO's assigned to Buner, Chitral and Lower Dir; they had a lead role in initiating community level engagements for the resolution of issues. For example, police officials in Chitral, where the number of reported suicides has increased, also provide counselling services to at risk individuals.




Tag: Effectiveness Civic Engagement Justice system Service delivery

62.

This was further elaborated by DPO Chitral who said:

"To deal with this severe problem of suicides in Chitral, I do engage with community where target audience is parents because most of the cases reported are due to education." He further said that "parents are informed through counselling sessions that everyone cannot be in one profession, i.e. everyone cannot be doctor or engineer. There are other fields too where children can succeed and he or she will be much happier if allowed subject or profession of choice". He further stated 'to exemplify this success I do give examples. For example, there is a case where a girl is good in painting, and she got reward of PKR 32000 from me.''

Through these approaches the level of trust and confidence reposed in the police has improved showcasing that the police, especially in Chitral is working closely and efficiently with the community.



63.

Improvements in Police Forensics Techniques

Forensics investigations relate to the process and procedure of obtaining and securing evidence pursuant to the commission of a crime. Keeping it as the priority, the Provincial Government established Institute of Forensic Science (IFS) in Peshawar. Under the SRLP a Regional Forensic Science Laboratory is established in Swat to meet the need of the region. While responding to the question concerning meaningful change in forensic techniques, as a result of, UNDP interventions under SRLP, 80 percent respondents mentioned that there has been meaningful change witnessed in forensic investigation techniques. However, 20 percent of the respondents held the view that such change had not occurred.

As Figure 54 clearly illustrates, Swat has a 100 percent positive response rate in terms of the infrastructure support provided in the form of tools and equipment. Different sections of the RFSL Swat, i.e. finger printing, gun and bullet testing (ballistics), chemicals and other related departments were observed to be well equipped. The challenges within forensics were found to be mostly linked to a lack of training and development of resources. Additionally, the absence of a service structure has also hindered the functioning of the laboratory. Due to this reason forensics testing and reporting have been mostly referred to Punjab and Peshawar.




Tag: Justice system Infrastructure Technology Capacity Building Operational Services

64.

Improvements in Public Perception about Police

Prior to the reforms of the Khyber Pakhtunkhwa Police (2013-18), citizens' perception regarding the police was not positive. In the past, it was observed that the police had no interaction with the community thereby widening the gap between the police and community. With the new interventions and reforms introduced by the Khyber Pakhtunkhwa Government (2013-18), results significantly changed and public perception improved with more thought and action being devoted towards service orientation. This was echoed by 87 percent of the respondents of government officials responding positively towards improvements observed in the police as illustrated in Figure 58. Interventions such as the GRDs have considerably increased the level of trust on police among women. The police personnel who have been trained on Gender Responsive Policing have been instrumental in gaining the trust and confidence of women folk in the target districts.




Tag: Effectiveness Civic Engagement Justice system Communication Civil Societies and NGOs

65.

The change in perception could also be attributed to an increase in people-to-people interaction and the introduction of community policing. The establishment of GRDs and community policing activities have also contributed in improving the public perception and image. 87 % respondents who responded positively towards improvements observed were also of the view that they would encourage to seek assistance from police in times of trouble. In remote villages of districts like Chitral, the local police is also seen as the first line of support and humanitarian assistance during times of natural calamities and disasters. This is due to the proactive role played by the police personal during the floods and earth quakes which have affected the region over past few years.

The increase in interaction was reported by DPO Buner who said that

"…Gap between police and public has reduced particularly because of open forums which are being made mandatory for DPO to have monthly and RPO is supposed to have an open forum in each district under command. This is along with the introduction of new programmes..."

Further, DPO Chitral attributed the positive perception regarding Khyber Pakhtunkhwa Police particularly within Chitral, to police senior leadership who have imparted their knowledge and awareness to enhance public trust within the system. A district-wise response regarding public perception towards the police can be seen in Figure 56. Community policing activities like joint social work, dispute resolutions, youth engagements programmes, sports galas, anti-drug drives or other actions against anti-social behaviour and road safety awareness programmes play a significant role in galvanizing a meaningful change in perception regarding the image of the police.




Tag: Crisis Response Civic Engagement Justice system Communication Awareness raising Civil Societies and NGOs

66.

Prosecution:

Improvement in Prosecution Services

With regards to the question of improvement within the prosecution department, 85 percent of the prosecutors responded that they had observed significant improvement in terms of service provision due to interventions by SRLP. The remaining 15 percent responded that the improvement was not significant enough to be highlighted (See Figure 59). Specifically, this 15 percent dissatisfaction has only been recorded in Bannu where only 33 percent of the responses were in favour of positive improvements with 67 percent having responded against any observed improvements as seen in Figure 58. This could be due to the fact that Bannu had not been part of the programme; hence, not all prosecutors were given trainings. Prosecutors reported that the improvement could be due to the provision of law books and arrangement of capacity building programmes in the form of seminars and workshops. Prosecutors also mentioned the need for improvement in online support. Furthermore, prosecutors across the districts responded that they have observed a significant improvement in their preparation of cases with the availability of law books and journals and resources.




Tag: Effectiveness Service delivery Capacity Building

67.

Improvement in Forensic Techniques Forensic

Laboratories have enhanced and strengthened the role of police and prosecution in investigating and examining cases. Technology has advanced with regards to DNA testing, use of biological substances, examination of documents to ensure authenticity and ballistics testing.

The utilization of such technology makes it easier to discharge evidentiary burdens with accuracy, especially in criminal cases. When prosecutors were questioned regarding the efficiency of police investigations with the establishment of forensic labs; 54 percent responded that forensic services have improved, 8 percent responded somewhat improved whereas 38 percent said that they were not aware about any type of improvement (See Figure 61). Comprising the 54 percent response rate mentioned above were 100 percent respondents from Upper Dir and Lower Dir whereas 67 percent from Bannu and Kohat affirming that they had observed significant improvement. (See Figure 60).

38 percent of the respondents who mentioned being unaware of any improvement in forensics particularly focused on the absence of quality forensic services Figure 61. This observation is also consistent with the response of District the Public Prosecutor (DPP) of the Dera Ismail Khan who mentioned that, "all credit goes to Punjab province who has worked significantly on forensics in comparison to Khyber Pakhtunkhwa". Therefore, it can be deduced that a lack of focus and investment on forensics science and laboratories is hindering the effectiveness of the system.




Tag: Effectiveness Justice system Technology Data and Statistics

68.

Efficiency

The allocation of funds highlights the priority given to a particular sector. Thus, looking into the allocations made under SRLP, it can be judged from the numbers that Output 4 was given top priority. Over the period of 2013-18, the graph below depicts that a total of $15.9 million was allocated for Output 4 out of which $15.98 million was utilized. It should be pointed out that while both police and prosecutors are present within the output, the police received a much larger portion of the fund as it underwent cash-intensive reform and strengthening efforts.




Tag: Efficiency Human and Financial resources Operational Efficiency

69.

Impact

Police:

a. Impact on Police officers' behaviour and attitude

Gordon Allport defines attitude as

"a mental and neural state of readiness, organized through experience, exerting a directive or dynamic influence upon the individual's response to all objects and situations with which it is related." Similarly, P. Robbins says, "Attitude is a manner, disposition, feeling and position with regard to a person or thing, tendency or orientation especially in the mind".

Attitudes are formed through an individual's personal, professional and educational experiences. The SRLP trained the police force to encourage them to adopt a neutral attitude. Techniques such as dealing with the community members and passing resolutions that are fair and unbiased were the focus of the trainings. This emphasis on attitude resulted in noticeable differences. Most respondents felt the training was very useful. The training prompted the police officers to take an active interest in ensuring their community's welfare through tireless police work, mediation, and additional voluntary support for the communities and increased ownership and accountability of their own roles and positions within the police services as illustrated in the concept of Organizational Citizenship Behaviour or OCB42.




Tag: Impact Civic Engagement Justice system Communication Civil Societies and NGOs

70.

b. Impact on Police officers' knowledge

The knowledge gained during capacity building and skill development courses play a significant role in developing the skills of the individuals and of the organizations within which they work. Therefore, SRLP interventions and capacity building courses have systematically addressed the issue of lack of human capital and distrust in the legal and security institutions. Key courses, which have contributed to increased knowledge and awareness of the Khyber Pakhtunkhwa Police include collection of evidence after terrorist attacks, improved investigation, cellular forensics, case file management, basic and technical intelligence, computer knowledge and crowd management and dispersal UNDP interventions have significantly augmented knowledge related to crowd management and investigation system as well as case files management and computer skills. As illustrated in Figure 62 above, 34 percent of the respondents expressed that the knowledge gained in relation to crowd management improved their ability to address pertinent issues at work, including managing crime scenes and has increased their capacity to deal with a variety of disputes Similarly, 30 percent of the police respondents stated that as a result of the trainings there have been significant improvements in their knowledge regarding the investigation system which, in turn, resulted in better service delivery and early disposition of a case. In addition, 19 percent and 17 percent respondents mentioned improvement in case file management and computing knowledge respectively (see Figure 62).




Tag: Impact Justice system Technology Capacity Building Technical Support

71.

c. Impact on Technical and Management Skills

Technical and management skills comprise personnel planning, training and development, utilization of resources, performance evaluation, compensation and welfare. Technical and management skills also cater to an institution's development. Respondents were questioned regarding the effectiveness of technical and management skills training, which they received under the SRLP. 89 percent of the respondents within 08 selected districts (Bannu, Chitral, Dera Ismail Khan, Kohat Swat, Buner, Lower Dir and Upper Dir) stated that there has been significant improvement in technical and management skills as shown in Figure 63. Contrary to this, 11 percent (See Figure64) of the respondents (Buner, Upper Dir and Lower Dir) said that that there is no impact on technical and management skills. Those who responded negatively cited the location of the training in big cities, travel time and distance to the training and short duration of the training and notable issues. Respondents were also asked whether trainings or capacity development programmes contributed in the overall organizational development. While 83 percent of the respondents mentioned that they had observed improvement in the police department and officials. According to them, the police have now become service oriented as illustrated by the responses recorded in Figure 66. 17 percent responded that they had not observed any significant difference pre and post trainings due to short duration of the training. District-wise respondents can be seen in Figure 65.




Tag: Impact Justice system Service delivery Capacity Building Institutional Strengthening Technical Support

72.

d. Impact on Conviction Rate

The prevailing conviction rate of a district is another important insight into the quality of police services. This is because the conviction rate is considered as a measure of effective dealing of the cases through proper investigation and evidence collection. The SRLP trained police officials on techniques to be employed for the proper investigation of cases. There has been gradual improvement in the conviction rate after 2013, that is, after major reforms in the Khyber Pakhtunkhwa Police service-oriented structure were introduced.44 This gradual improvement in conviction rate has been due to structural changes within the police system along with interventions by SRLP. Out of all police respondents interviewed 78 percent (as seen in Figure 68) of the respondents said that there has been meaningful change observed in conviction rates after these interventions. 9 percent reported no change in conviction rates, while 13 percent were unaware of any change.

Respondents stated they had observed a significant change in the conviction rate reported viewing Swat, Upper Dir, Buner and Bannu as prominent districts. This can be attributed to the fact that interventions in these districts were particularly focused on improving skills pertinent to the areas of criminal investigations, core investigations, forensic and criminal investigations as well as criminal investigations and crime scene management. Similarly, Chitral and Kohat were other prominent districts in this regard where these trainings were imparted on community policing and dispute resolution as well. 78 percent respondents in Chitral whereas 75 percent respondents in Kohat reported a positive change regarding the conviction rate as seen in Figure 67. These districts were followed by Lower Dir and D. I. Khan.

As far as Lower Dir is concerned, the core focus of interventions was on educating police officials about information technology. Therefore, the responses received regarding the improvement of conviction rate was also low i.e. 50 percent. Based on similar interventions along with dispute resolution, Dera Ismail Khan also had a low response rate with 40 percent of the respondents reporting a change in conviction rates being observed as seen in Figure 67.




Tag: Effectiveness Impact Justice system Capacity Building Technical Support

73.

e. Impact on police dealings with community

The role of police officers has evolved over time. As our communities face novel challenges, the police force must adapt in response. Community policing, one of the core components of SRLP has significantly improved the police's process of interfacing with the community. This improvement has been seen with the establishment of MPSs with more facilities such as case registration, community counselling, gender representation through GRDs and the formation of PLCs within those stations. Furthermore, advanced engagement with the community has also improved with new programmes being devised for community engagements such as the Local Youth Engagement in Lower Dir.

Based on the above observations, it can be seen in Figure 69, within 08 selected districts that police officers have reported that trainings conducted by SRLP have significantly improved the police's engagement with the community. This intervention has also significantly impacted the community as was observed during interaction with the people. It was observed that individuals are frequently reporting complaints to the police due to a change in perception. The impact on the community can be further linked to a decrease in crime rate due to the formation of MPSs.

Along with interacting with local stakeholders and community, visits were also made to MPSs across districts to record the impact of these police stations on the community. Crime reporting by civilians has increased as observed in Dera Ismail Khan implying that the communities' collective trust in the policing system has increased. Similarly, in Kohat a decline in crime rate was reported by police officials at MPS. In comparison to 2017, there have been 13 percent fewer cases reported by residents of the community.




Tag: Impact Civic Engagement Justice system Civil Societies and NGOs

74.

f. Impact on Women access and Gender Balance in Police Institutes

A significant contribution by women police officers exists especially in dealing with cases concerning women and juveniles. The role of women officers depends significantly on the demography and prevalent culture within the area they serve. Thus, trainings for women officers' ought to be conducted while looking at the nature of their job and type of cases they deal with. The SRLP established MPSs to ensure gender representation while observing cultural constraints of the respective area these MPSs was to serve. Women police officers were trained at Police Training College (PTC) Hangu and Regional Training Centre (RTC) Swat with equal and significant gender balance in line with the work force present. 85 percent of the respondents stated that trust of women representation in police, or more precisely, women facilitation had increased.

MPSs, in Kohat and Dera Ismail Khan, specifically increased the participation of women. This has been ensured due to the presence GRDs for women to report incidents. This success can also be attributed to the creation of over 2,000 Gender Policing Boards in Khyber Pakhtunkhwa as defined in Table 11. As illustrated in Figure 70, only 11 percent of the respondents were reported as being unaware about women facilitation particularly at MPSs. 4 percent reported observing no change. A district-wise response can be seen in Figure 71.




Tag: Impact Gender Equality Gender Parity Women's Empowerment Justice system

75.

Prosecution:

a. Impact on Cooperation with Agencies for Investigation and Case Management

When one takes into account the concept of modern crime investigation, it highlights the importance of cooperation between the prosecutor and investigation officer. In order to uncover criminal acts in a quick and efficient way, there is a need for inter-departmental and inter-agency cooperation, i.e. prosecutors and investigation officers should cooperate and share knowledge to analyse a case effectively and manage cases accordingly. Prosecutors trained pursuant to the SRLP were questioned on whether cooperation with agencies improved investigation and case management. 77 percent of the respondents recorded positive response. They were of the view that, there has been significant cooperation from other departments in information sharing whenever required by the court to assist in a particular case. Concerns regarding cooperation were reported by prosecutors in Kohat, Dera Ismail Khan and Bannu. These concerns have an impact on the 23 percent recorded by respondents mentioning no cooperation by agencies. In certain cases, such challenges can result in delays thus making the process of case management arduous and weak.




Tag: Impact Justice system Harmonization Knowledge management Partnership

76.

b. Improvement of Prosecutors and Prosecution Department

Within this framework of interventions, UNDP under SRLP, also strengthened the capacity of prosecutors and the prosecution department. 100 percent of the prosecutors who were interviewed responded observing positives from the trainings which have had a beneficial result in terms of their legal role as seen in Figure 72. This improvement was largely in terms of knowledge management. 85 percent of the prosecutors questioned responded that the programme had improved the capacity and enhanced the performance of the prosecutors. Only 15 percent of the respondents reported observing no improvement (See Figure 73).

Out of the 85 percent of the respondents who responded positively, with the exception of Bannu, all respondents reported improvements in the capacity to perform in the prosecution department (see Figure 75). In the case of Bannu, there were challenges associated with the absence of basic facilities and very limited access to books resulting in minimal improvement of prosecutors' capacity. This minimal improvement was reported by 67 percent of the prosecutors from Bannu who further said that the impact of such trainings does not last for long as seen in Figure 74.




Tag: Impact Justice system Rule of law Knowledge management Capacity Building Institutional Strengthening

77.

c. Impact on Conviction Rate

Similar responses were reported by prosecutors when asked about improvement in the conviction rate. Overall, 85 percent respondents stated that there had been an impact on the conviction rate as seen in Figure 77. This low conviction rate, as seen in Figure 76, exists due to the police performance parameters as reported by judges during meetings in Dera Ismail Khan. A Senior Civil Judge said that one of the reasons for the low conviction rate is the professional approach of the police towards investigations. He mentioned that the police measures the number of FIR's registered as an indicator of performance instead of the rate of convictions. Faulty and defective investigations lead to a low conviction rate. In the absence of compelling evidence, the defendant/accused must be acquitted.




Tag: Effectiveness Impact Justice system Rule of law

78.

Sustainability

The impact of any project or activity can be measured by indicators of sustainability. For the purposes of this report, the indicator of sustainability is the adoption of skills by the beneficiaries, in their daily practice. This was discussed with both Police and Prosecutors. It was iterated that trainings and programmes should be across districts resulting in easy access, cost saving, and time management. Respondents further mentioned that for long term sustainability this programme can be more impactful if officials trained can translate knowledge to the locals. This process is only possible if there is more engagement with the community and local partners.




Tag: Sustainability Civic Engagement Justice system Rule of law Sustainability Capacity Building Institutional Strengthening Civil Societies and NGOs

79.

Key Challenges

Police

Although there has been significant improvement in the services of the police since reforms were introduced in 2013, however there have also been challenges when it comes to the functioning and capacity of the police department. The challenges are defined as follows:

Programme Specific

a. Outreach of Trainings

It was observed during discussions that trainings have mostly been confined to big cities or cities where facilities were already present.. By limiting trainings to certain geographic areas, officers were found difficulties in attending the trainings as extensive travel was involved. This was further highlighted by police officers in Chitral who said that,"…Chitral being far away district of Malakand Division is not getting any support and incentive for participating in such trainings as it involves travel cost. Therefore, these trainings become expensive…"

This is also due to logistical constraints, as these trainings are held in dedicated Police Training College Hangu, Regional Training Centre Swat, and other training institutions in Peshawar, Nowshera and Abbottabad.




Tag: Challenges Capacity Building

80.

General Problems

d. Weak Investigation System

Strong investigation systems play an important role in the establishment of law and order. During visits to different police stations and discussions with DPOs, it was found that there has been gradual improvement in the police system but the process of conducting investigations remains weak in the investigation system were linked to a lack of trainings, nepotism and a lack of decisions on merit.

Prosecution

The prosecution department faced certain challenges while ensuring quality services. These challenges are enumerated as under:

1. Programme Specific

2. General Operation Specific as limited space allocated for resource materials and workstations.




Tag: Challenges Justice system Rule of law Quality Assurance

81.

d. Women struggling to continue practicing law

During an FGD in Dir Upper, the team was informed by the President of the Bar Association in Upper Dir that 6 women lawyers who received scholarships and assistance, struggle to continue their work after marriage. However, marriage is not the only issue for several reasons, i.e. lack of separate bar room for women lawyers, gender-based discrimination, mobility issues, lack of skill-based trainings, family opposition, and other cultural barriers. This could potentially limit the presence of women lawyers and thus, women cases29 in some districts where this occurs.




Tag: Challenges Gender Mainstreaming Gender Parity Gender transformation Women's Empowerment Rule of law

82.

Programme Specific

Lack of Access to Libraries

It was observed during the visit to prosecution offices that prosecutors had been provided with law books and journals for assistance in legal matters. Some Prosecutors stated that reliance on information technology was non-existent precluding them from preparing for cases.

General Operation Specific

a. Weak Infrastructure

This challenge can be linked to a lack of access to libraries. Prosecutors focused on having access to e-libraries instead. This infrastructure challenge which was observed can be linked to a lack of physical space and small offices. It was observed that the current infrastructure provided.




Tag: Challenges Knowledge management Infrastructure Technology
Recommendations
1

Continued awareness drives

The process by which citizens acquire information on laws, rights and accessing legal aid services must be improved, particularly for women. Although UNDP, with assistance from CSO's, has made strides in addressing this issue, there is room for further improvement. This is especially true at the village level where people experience geographical, social and cultural barriers. More focused efforts are also required to disseminate information in all the local languages and through all knowledge mediums including print and digital means. Access to key information will increase the citizens' trust in available legal support services in justice system.

2

Continued support to LADs

LADs proved to be very effective in increasing access to justice; hence it is recommended that support to these services should continue and further extension to the province may be considered.

3

Scholarships

Considerable women lawyers have joined the legal sector because of the scholarship initiative introduced in Khyber Pakhtunkhwa. An increase in the women lawyers will in turn pave the way for increased access to justice for women given Khyber Pakhtunkhwa's cultural context and gender segregation norms. As the southern region of Khyber Pakhtunkhwa was added later into the SRLP, the programme should continue to support women law students to join the legal sector. It is recommended that scholarships should be concentrated in this area and focused towards incentivising women in these districts to continue legal education in addition to its expansion to other parts of the province.

It is recommended that financial support should be concentrated in Khyber Pakhtunkhwa and focused towards incentivizing women to continue legal education. As a Women Lawyer's Forum helped women lawyers to stay connected, the programme should continue support to the forum by expanding into the entire province.

4

Proper check and balance upon the cases.

A proper check and balance system should be in placed to refer cases to only those lawyers who are competent, willing and committed to provide legal aid to the poor and indigent litigants.

5

Proper State sponsored legal aid system for the poor and indigent litigants

A proper State sponsored legal aid system is the sustainable solution to lack of access to justice to the poor and indigent litigants, therefore long-term policy solutions should be explored by working with the entities at Federal and Provincial level.

6

Activation of other Legal Aid Mechanisms:

Apart from working with the Bar Council and Associations, options of working with other available legal aid mechanisms, e.g. the District Legal Empowerment Committees constituted under the Law and Justice Commission of Pakistan should be activated to share the load.

7

Support for Bar Council and Bar Associations

The Bar Council and Bar Association were crucial in the provision of facilities such as books, bar rooms and furniture to the courts. Women lawyers and litigants especially benefitted from the support of the facilities provided like separate bar rooms, washrooms and sitting areas in selected areas. However, not all the districts have received these facilities. Support for the Bar Council and Associations should, therefore, continue with routine checks to ensure accountability and further facilities for women.

8

Support for Bar Associations

Bar Associations have been supportive of the trainings for young lawyers and have expressed the need for further training for their lawyers.

9

Strengthen Coordination with Bar Associations and Bar Council

The Bar Council and Bar Associations can play pivotal role in the institutionalization and disbursement of legal aid services and therefore, should be viewed as potential legal aid service delivery partners. However, Bar Associations from the region still lack the capacity to efficiently manage these services. This situation requires attention and consideration to sensitize them through continued orientation and training. There is a need to strengthen Bar Council and Bar Associations, specifically their quality assurance and disciplinary functions. Being breading grounds for the entire justice and rule of law sector, focus should also be given to the law schools by engaging law students in clinical legal education, development of courses under LLB curriculum like optional and mandatory courses like ADR, Human Rights, and legal drafting, etc.

10

Awareness Raising

There is a need to disseminate information regarding ADR forums, to ensure the access to dispute resolution. The ADR mechanism can be promoted by Civil Society Organizations through advocacy and public awareness campaigns by highlighting their purpose and utility.

11

Capacity Building of Members

The program may be designed and conduct extensive trainings for the DRC members on fundamental rights, ADR skills and laws and procedures. Trainings should be held on a regular basis and based on their level of qualifications.

12

Capacity Building of Paralegals

Paralegals should be cognizant about the UN Principles and guidelines of legal aid services because the instruments shall be considered and implemented in national and local contexts. Therefore, trainings by UNDP and CSOs should be held on a regular basis.

13

ADR Legislation for Khyber Pakhtunkhwa

The Case Management rules for district judiciary developed by the Peshawar High Court provide room for effective implementation of court annexed ADR. However as recommended in the National Conference on ADR and other policy dialogues, the province needs a separate ADR act similar to those enacted at the federal level and Government of Sindh and Punjab.

14

Reforming statutory ADR mechanisms

Though the DRC provide effective ADR services, the rules and regulations should be amended to increase the representation of women, comply with mediation standards, develop a referral and monitoring system, include principles of 'do no harm', clear guidelines on tenure and selection and criteria for members.

15

Devolution to Union Council level

As per the Khyber Pakhtunkhwa Police Act of 2017, DRCs need to be formed at the Tehsil and Union Council level. This would provide greater access to the DRCs in remote areas.

16

Promotion of referral system

Considering their pivotal position in the justice system, some Standard Operating Procedures (SOPs) should be developed that allow judges and lawyers to refer cases to DRCs. Both judges and lawyers should be encouraged to propagate the use of ADR forums to further emphasize their importance as a means to reduce burden off the formal judicial system

17

The representation of the marginalized

Those segments of the population that have been and continue to be marginalized should have adequate representation. Since a substantial portion of cases relate to women, DRCs should have 30 percent women representation and 5 percent representation of minorities where applicable.

18

Uniformity in Documentation and record-keeping

There should be a system in all DRCs, where they should adapt a standardized system of maintaining records of all cases received in the DRCs.

19

Operational expenses

The government of Khyber Pakhtunkhwa should allocate funds to facilitate the functioning of the ADR forums. In order for this to happen, the Khyber Pakhtunkhwa Police Act 2017 can be amended to make a provision for this fund whose amount may be decided by the government. The district police office can act as auditors and custodians of the funds allocated for operational expenses of the DRCs.

20

Strengthening the Paralegal Networks

The SRLP has established two paralegal networks in Khyber Pakhtunkhwa in collaboration with local civil society organizations. The paralegal networks lack adequate resources for promoting and developing the paralegal services. The paralegal networks should be provided further support for developing national and international linkages, empowering grass roots paralegals and facilitating access to justice for the most marginalized.

21

Continuation of trainings

A continuation of the already successful trainings should be extended to the whole of Khyber Pakhtunkhwa. Moreover, capacity-building of Judicial officers and court staff in cyber-crimes, forensics, intellectual property rights, ethics, gender, juvenile and financial crimes should also be considered.

22

Strengthening the Khyber Pakhtunkhwa Judicial Academy

For the Khyber Pakhtunkhwa Judicial Academy, a modernized evaluation system should be appropriated, as it would allow the judicial officers to take advantage of advancements in technology. Furthermore, the institute should be supported in creating linkages with formal justice institutions through seminars, collaborative workshops and joint efforts. Linkages with national and international Judicial Academies are also suggested. The academy must serve as a hub for addressing problems faced by judiciary and courts. Judicial Research culture shall be inculcated in the Judicial Officers thereby the Research Wing established at Khyber Pakhtunkhwa Judicial Academy needs to be strengthened to advise policy makers on various current issues and way forward.

23

Improve Infrastructure and provision of basic facilities to litigants;

The goal set for judicial infrastructure is driven by the inadequate facilities available to courts for delivery of services. The aim is to ensure provision of purpose-built infrastructure to promote conducive environment to courts for improving service delivery. The SRLP has provided support to 7 districts of Malakand Division, now on the request of PHC planning to engage in the whole of Khyber Pakhtunkhwa and work on the concept of modern tehsils.

24

Need for human capital

Judges complained about a lack of human resources. They stated that a shortage of qualified people severely limits the ability of the courts to perform its judicial role effectively. Some judges pointed out that in the absence of available court staff, they are expected to fulfil the absent staff member's duties and responsibilities, in addition to fulfilling their own duties. As a result, they are routinely overburdened with work. A Sessions Judge in Peshawar summarizes the predicaments of the courts as "Too many cases, not enough judges, so the backlog creeps up." Hence, there is a need to recruit qualified and trained staff as well as increase the human capital to tackle the immense backlog and pendency of cases filed before the courts. Additionally, priority should be given to inducting judges and re-establishing separate benches to deal with cases of women and vulnerable groups

25

Reconstitution of benches for women and vulnerable groups

Under the directive of the Khyber Pakhtunkhwa Rule of Law Roadmap, the Peshawar High Court set up designated benches for women and other vulnerable groups that would facilitate the prompt disposal of cases. Unfortunately, these benches were retracted. The reasons for which are unclear. It is recommended that these benches should be reconstituted to address urgent cases of women and vulnerable groups.

26

Addressing complaints in Police trainings

For the police, a localized training programme, with closer proximity to trainees is recommended whilst ensuring trainings are conducted in the local languages to increase participation and retention of training content. Moreover, a dedicated continuous development training programme rather than brief, short-lived workshops should be developed to ensure standardization for learning, provide follow-up support for retention and encourage accountability by ensuring that the trainees put their new skill sets to practice in their relevant work. Finally, it is recommended that up-to-date skills development material should be routinely disbursed, and training courses should be frequently held in Khyber Pakhtunkhwa.

The database and software developed for the police should be utilized to the maximum to increase police efficiency, response and transparency. The community policing concept should be extended to other parts of the Khyber Pakhtunkhwa, enabling the police and communities to come closer and starting trust on one another.

The MPSs have proved to be effective but to increase the effectiveness of the GRDs, there is a need to take up the matter at the policy level with the police senior management and government; to deploy women police personnel on all GRDs and also encourage women join police service by incentivising the police service for women and provision of facilities for women police personnel in MPSs.

27

Capacity-building of Prosecutors

It is recommended that prosecutors be facilitated via the establishment of libraries or a centrally accessible e-library to help them continuously update their knowledge and promote record-keeping and documentation activities.

Linkages with international and national prosecution services can improve their service delivery and promote knowledge sharing amongst each other. Publishing of literature and reports should be promoted to make data and performance public. Additionally, establishment of basic infrastructure is needed efficiency which has been found lacking in certain districts.

28

Engagement with community

Local engagement with the police serves to increase the trust that communities have in their security forces and reduces the alienation. Most police officials support the idea that holding 'Khulli Kacheri' (joint community and police gatherings) to resolve community disputes is efficient and advantageous for the community. Similarly, PLCs have also been set up in police stations that can provide support in the mediation process within a community. Therefore, it is strongly suggested that police officials need to engage locals through aforementioned mediums and others as has been decreed by law under the Police Act, 2017.

29

Enforcement of Service Structure

The Swat forensic Lab is not operational due to the absence of a service structure. Consequently, it is recommended that a service structure be developed and notified. The responsibility and authority to ensure the constant functioning of the forensic laboratory can be delegated to junior officers.