Kiribati Enhancing National Food Security in the Context of Global Climate Change (KI LDCF)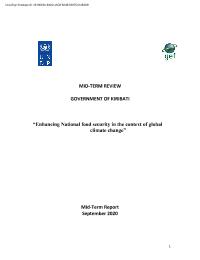 Evaluation Plan:

Evaluation Type:

Mid Term Project

Planned End Date:

09/2020

Completion Date:

09/2020

Status:

Completed

Management Response:

No

Evaluation Budget(US $):

25,000
Title
Kiribati Enhancing National Food Security in the Context of Global Climate Change (KI LDCF)
Atlas Project Number:

00087627

Evaluation Plan:
2018-2022, Fiji
Evaluation Type:
Mid Term Project
Status:
Completed
Completion Date:
09/2020
Planned End Date:

09/2020

Management Response:
Yes

Focus Area

:
Corporate Outcome and Output (UNDP Strategic Plan 2018-2021)

1. Output 1.4.1 Solutions scaled up for sustainable management of natural resources, including sustainable commodities and green and inclusive value chains
2. Output 2.3.1 Data and risk-informed development policies, plans, systems and financing incorporate integrated and gender-responsive solutions to reduce disaster risks, enable climate change adaptation and mitigation, and prevent risk of conflict

SDG Goal

Goal 13. Take urgent action to combat climate change and its impacts

SDG Target

13.1 Strengthen resilience and adaptive capacity to climate-related hazards and natural disasters in all countries

Evaluation Budget(US $):

25,000

Source of Funding:
Evaluation Expenditure(US $):

9,960

Joint Programme:
No
Joint Evaluation:

No

Evaluation Team members:

| Name | Title | Nationality |
| --- | --- | --- |
| Malcolm A. Jansen | International Consultant | |

GEF Evaluation:

Yes

| | |
| --- | --- |
| GEF Project Title: | Kiribati Enhancing National Food Security in the Context of Global Climate Change (KI LDCF) |
| Evaluation Type: | Mid-term Review |
| Focal Area: | Climate Change |
| Project Type: | FSP |
| GEF Phase: | GEF-5 |
| GEF Project ID: | 5414 |
| PIMS Number: | 4570 |

Key Stakeholders:
1. Ministry of Environment, Lands and Agriculture Development 2. Environment and Conservation Division 3. Ministry of Fisheries and Marine Resources Development 4. Office of Te Beretitenti
Countries:

FIJI
Recommendations
1

No cost-extension:Provide a no-cost extension of the project to allow for more substantive achievement of project outcomes.

2

Strategic Results Framework:Make Strategic Results Framework (SRF)indicators more relevant and measurable with the context and time period of the projec

3

Technical Support and Staffing:strengthen project capacities to provide technical support, oversight, capacity building and implementation support to the communities in the 3 pilot islands

4

Fund flows:While fund flows have Improved substantially in recent months, ensure submission of timely and complete work planning, reimbursement requests, financial and expenditure reporting

5

Monitoring and evaluation:Improve project level monitoring and evaluation with development of a robust M&E plan that will enable the assessment of progress towards achievement of project impacts

6

6. Communications:Improve communication between PMU and project staff in the islands

7

7. Training and Capacity Building:Improve staff and stakeholder training and capacity building

8

Stakeholder Engagement: Improve stakeholder engagement. A strong public campaign, initially on the pilot islands should be initiated relating to protection of marine resources, protection of atural resources, improving cropping systems to address food security and management of community resources

9

9. Reporting:Reporting between PMU and project partners and between PMU and Island administrations needs substantial improvement

10

Sustainability:Hire a short-term international consultant to review already undertaken activities and develop a plan for ensuring financial, institutional, and technical feasibility of project investment for the post-project period.

11

11. Asset Management:Improving assets and asset management.

12

12. Vulnerability Assessment:Complete vulnerability assessment as a priority

13

13. Integrated Resource Planning:Since the ISPs are focused at strategies to address a range of land and sea based activities at the individual atoll/level, these can serve as a good starting point for developing fully integrated village-level or atoll level resource management plans that recognize the inter-connectivity between the marine and terrestrial environments and hence avoid fragmentation in project focus. Use the vulnerability assessments to define activities, investments and outcomes from the village-level or atoll level resource management plans.

14

Establishment of MPAs and Open Access Management:Ensuring managed open access regimes. This would require fast-tracking by-laws, the organization and strengthening of community institutions to promote active community participation in setting up and managing MPAs, facilitating zoning and monitoring, monitoring implementation of fisheries regulations and by-laws.

15

15. Planting Materials: Timely availability of planting materials and tools for villagers.

16

Demonstration Plots: Setting up demonstration plots within the pilot villages to demonstrate best practices in food production, sustainable land and agricultural practices, home gardens, animal husbandry, nursery management, compost making, etc.