Livelihoods interventions impact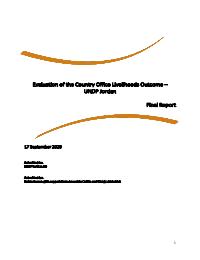 Evaluation Plan:

Evaluation Type:

Outcome

Planned End Date:

08/2020

Completion Date:

11/2020

Status:

Completed

Management Response:

Yes

Evaluation Budget(US $):

40,000
Title
Livelihoods interventions impact
Atlas Project Number:

122366,107000,116901,104537

Evaluation Plan:
2018-2022, Jordan
Evaluation Type:
Outcome
Status:
Completed
Completion Date:
11/2020
Planned End Date:

08/2020

Management Response:
Yes

Focus Area

:

1. Poverty
2. Governance
3. Sustainable
4. Others

Corporate Outcome and Output (UNDP Strategic Plan 2018-2021)

1. Output 1.1.2 Marginalised groups, particularly the poor, women, people with disabilities and displaced are empowered to gain universal access to basic services and financial and non-financial assets to build productive capacities and benefit from sustainable livelihoods and jobs

SDG Target

1.1 By 2030, eradicate extreme poverty for all people everywhere, currently measured as people living on less than $1.25 a day
1.2 By 2030, reduce at least by half the proportion of men, women and children of all ages living in poverty in all its dimensions according to national definitions
1.4 By 2030, ensure that all men and women, in particular the poor and the vulnerable, have equal rights to economic resources, as well as access to basic services, ownership and control over land and other forms of property, inheritance, natural resources, appropriate new technology and financial services, including microfinance
1.5 By 2030, build the resilience of the poor and those in vulnerable situations and reduce their exposure and vulnerability to climate-related extreme events and other economic, social and environmental shocks and disasters
12.4 By 2020, achieve the environmentally sound management of chemicals and all wastes throughout their life cycle, in accordance with agreed international frameworks, and significantly reduce their release to air, water and soil in order to minimize their adverse impacts on human health and the environment
13.1 Strengthen resilience and adaptive capacity to climate-related hazards and natural disasters in all countries
13.2 Integrate climate change measures into national policies, strategies and planning
16.3 Promote the rule of law at the national and international levels and ensure equal access to justice for all
5.5 Ensure women's full and effective participation and equal opportunities for leadership at all levels of decision-making in political, economic and public life

Evaluation Budget(US $):

40,000

Source of Funding:
Evaluation Expenditure(US $):

18,300

Joint Programme:
No
Joint Evaluation:

No

Evaluation Team members:

| Name | Title | Nationality |
| --- | --- | --- |
| Nahla Hassan | Ms | EGYPT |

GEF Evaluation:

No

Key Stakeholders:
Countries:

JORDAN
Recommendations
1

Livelihoods outcomes do not have a holistic framework for local economic development. There needs to be a clear framework or strategy that all projects contribute towards achieving. This could include the scaling up of some models, the introduction of innovation and acceleration labs or other methods that all projects could contribute to in a coherent and systematic fashion.

2

The CPD for 2013-2017 did not include an outcome/outputs specifically targeting Syria refugees' livelihoods/inclusive growth, neither does CPD 2018-2022. The Syrian refugee situation has become a protracted crisis that requires a specific focus by development practitioners. There is a need to realign the objectives and outputs of the CPD to the reality on the ground. This could be done either through an evaluation or an internal review and update of the CPD document itself. It is important to realign the objectives and outputs and adjust to rapidly changing socio-economic landscape, challenges and national priorities

3

UNDP has taken large strides to increase women economic participation and empowerment. However, these attempts are disjointed and lack a coherent and systematic approach. There is a need to ensure that all projects encompass strong gender analysis at the design stage and the capacity of the different teams are aware of key concepts in gender mainstreaming such as gender responsive budgeting.

4

UNDP has developed a system for monitoring and evaluation. Further efforts need to be exerted to ensure the development of common indicators and data collection methods to improve data quality and reporting.

5

UNDP has introduced many economic development models to the Jordanian landscape without assessing the value for money of each of the models. There is a need to move beyond the emergency employment schemes into more economic growth and market dynamics. UNDP should focus on rendering technical support to the GOJ on improving the labour market and developing sector strategies or area-based approaches.

6

UNDP has successfully worked on promoting SMEs in Jordan. There is a need to work on the policy reform agenda to ensure the adequate support and access to finance for newly established SMEs. UNDP should focus on creating an enabling environment for businesses by working on legal reform, IT support and software and other key requirements for the development of a sustainable economic growth.

7

Data generated from this evaluation indicate a level of success of smaller projects implemented at the governorate levels such as PLEDJ and the Dairy Production initiatives. It is recommended that the model be studied and replicated through partnership with the government and the private sector in other sectors and in other governorates.

8

MOPICs institutional capacity building for Jordan Response Plan was a positive partnership model developed and supported by UNDP at the onset of the Syrian refugee crisis. To ensure the continued relevance of the interventions the relationship needs to be enhanced considering the protracted nature of Syria crises and multiplicity of challenges facing Jordan.