Evaluation of UNDP inter-agency operational services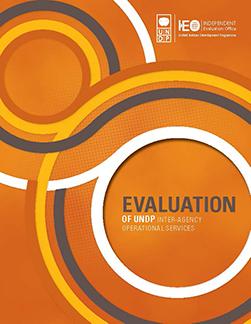 Evaluation Plan:

Evaluation Type:

Thematic

Planned End Date:

09/2018

Completion Date:

08/2018

Status:

Completed

Management Response:

Yes

Evaluation Budget(US $):

140,000
Title
Evaluation of UNDP inter-agency operational services
Atlas Project Number:
Evaluation Plan:
2018-2021, Independent Evaluation Office
Evaluation Type:
Thematic
Status:
Completed
Completion Date:
08/2018
Planned End Date:

09/2018

Management Response:
Yes

Focus Area

:
Corporate Outcome and Output (UNDP Strategic Plan 2018-2021)

1. Organisational Output 2.2 Cost-sharing agreements and projects ensure full cost recovery
2. Organisational Output 2.3 Quality and efficient management services to support programme delivery

Evaluation Budget(US $):

140,000

Source of Funding:
Evaluation Expenditure(US $):

85,000

Joint Programme:
No
Joint Evaluation:

No

Evaluation Team members:

| Name | Title | Nationality |
| --- | --- | --- |
| Aline Briseno Verdade | | |
| Christine Heyting | | |

GEF Evaluation:

No

Key Stakeholders:
Countries:

GLOBAL
Lessons
Findings
1.

3.1 FINANCIAL FLOWS AND OPERATIONAL TRENDS

All trends presented below will be explained further in findings ahead.

Finding 1. UN entities receiving services. UNDP has the largest geographical footprint of operational services among all UN agencies. It currently provides services to over 80 UN entities, including specialized agencies, missions, UN funds and programmes in over 170 countries. An increase in the number of client UN entities of 9 percent is observed from 2010 to 2017.




Tag: Operational Efficiency Service delivery Shared Services UN Agencies

2.

Finding 2. Cost recovery trends. UNDP has only partially recovered the cost of providing agencies services – a total of $427 million between 2010 and 2017, an average of about $53 million per year, which is less than 10 percent of the total amount UNDP recovers for implementing its own development projects. A decrease of 11.4 percent in recovered costs from agencies services was observed in 2017, following an 18 percent increase in 2016.




Tag: Efficiency Service delivery Shared Services

3.

Finding 3. Payroll and benefit services trends. UNDP provides global payroll, benefits and entitlements for almost as many staff members from other UN entities as from UNDP. The amount of services has remained relatively stable over the years. The organization is one of the few agencies able to make payments in local currencies, with existing banking and customary arrangements.




Tag: Efficiency Human and Financial resources Service delivery Operational Services

4.

Finding 4. Procurement trends. UNDP has procured $1.966 billion for other UN entities between 2010 and 2017. An increase of about 20 percent is observed since 2015. UNDP remains competitive even though other agencies are increasingly able to provide comparable procurement options and services.




Tag: Efficiency Procurement Service delivery Shared Services

5.

Finding 5. Transactions and investment trends. UNDP has managed a total of $1.6 billion in financial transactions and $7 billion in investments for UN entities, including UNDP, between 2010 and 2017. The organization has a solid banking network and is the only agency in most countries able to receive contributions and make payments in local currencies.




Tag: Efficiency Service delivery Shared Services

6.

3.2 EFFECTIVENESS AND EFFICIENCY OF UNDP OPERATIONAL SERVICES

Across its operational services globally, wide variations can be discerned in UNDP efficiency and effectiveness. This is hardly surprising across operations in 170 countries and the varying scope and roles for UN agencies across these countries. Below are some generalized findings to the extent that data gathered made possible, considering the context.

Finding 6. Effectiveness and areas of success. The effectiveness of UNDP in providing operational services to other UN entities has varied across different services and locations. UN entities expressed being more satisfied with services provided by UNDP specialized units, and less so with services provided at the country level that display greater variation and often require follow-up. The organization has been most successful providing Junior Professional Officers services, global payroll, benefits and entitlements and treasury services.




Tag: Effectiveness Efficiency Human and Financial resources Operational Efficiency Service delivery Shared Services

7.

Finding 7. Efficiency and areas for improvement. There is room for improvement in the efficiency of UNDP operational services provision and the organization indicates commitment to such improvements in the promises of the recently approved 2018-2021 Strategic Plan to "make the organization more nimble, innovative and enterprising to better serve as catalyst and facilitator of support to the UNS; and to accelerate efficiencies gains through BOS, mutual recognition and broader operational harmonization."




Tag: Efficiency Operational Efficiency Service delivery Shared Services UN Agencies Operational Services

8.

Finding 8. Client orientation and staff capacities. Overall, where clients were unsatisfied, UNDP lacked client orientation, linked to varying degrees of adequate staffing capacities to provide timely quality services and transparency in billing and cost recovery, which is worse at the country level.




Tag: Effectiveness Efficiency Change Management Human and Financial resources Service delivery Operational Services

9.

Finding 9. Harmonization and mutual recognition. Mutual recognition is not yet widely accepted by UN entities and the lack of harmonization of policies, procedures and systems throughout the UN system challenges integration of provision of services.




Tag: Coherence Communication Harmonization Service delivery Operational Services

10.

Finding 10. Service Level Agreements (SLAs) and Key Performance Indicators (KPIs). UNDP does not make consistent use of SLAs and KPIs. There are SLAs developed at the corporate level, but at the country level, for the most part, these are not in place, nor does the organization or agencies have prioritized consistently tracking and monitoring them.




Tag: Human and Financial resources Operational Efficiency Policies & Procedures Service delivery Operational Services

11.

Finding 11. Appraisal systems and feedback channels. UNDP lacks adequate appraisal systems for quality and satisfaction it provides to agencies, and there are no automated feedback channels for real-time adaptive management.




Tag: Operational Efficiency Service delivery

12.

Finding 12. Transparency of costs and value for money. The lack of transparency about the pricing of UNDP services and poor communication on the subject drives agencies to question value for money, despite recognizing that UNDP's services are often much cheaper than having their own entities provide them.




Tag: Anti-corruption Communication Operational Efficiency Service delivery Shared Services Country Government Operational Services

13.

Finding 13. Under-investment in information technology. Investments in ICT saw a spike from $2.6 million in 2016 to $8.5 million in 2017 to adjust to the UNDP restructuring of offices and functions, and as a result ICT under-investment of the period 2013-2016. However, the organization is still challenged by outdated systems, inadequate tools and a limited number of IT staff to address needs and demands adequately.




Tag: Effectiveness Efficiency Change Management Harmonization Human and Financial resources Policies & Procedures Service delivery Shared Services Technology

14.

Finding 14. Clustering. Full clustering of agencies non-location dependent services could have been delivering greater efficiencies, savings and economies of scale. However, UNDP lacks a clear vision for clustering with the adequate resources, tools, processes and implementation plans.




Tag: Effectiveness Efficiency Business Model Communication Country Support Platform Human and Financial resources Operational Efficiency Policies & Procedures Procurement Quality Assurance Service delivery Shared Services

15.

Finding 15. Advantages of integrated service models. Integrated service models at the country level are not necessarily more efficient and cost-effective but they have provided UNCTs with more ownership over operational services strategies and higher satisfaction levels. Models studied in Brazil, Cape Verde, Viet Nam and Copenhagen displayed more neutral, less-biased and shared governance mechanisms, improved client orientation and more open space to build on the professionalization of operations staff.




Tag: Effectiveness Efficiency Government Cost-sharing Integration Operational Efficiency Ownership Service delivery Shared Services UN Country Team Operational Services

16.

Finding 16. Challenges of the integrated models. Integration of operational services arrangements at the country level is still challenged in terms of buy-in by United Nations entities, financial sustainability and dependence on UNDP as the legal entity, a role with inherent costs, risks and liabilities.




Tag: Effectiveness Efficiency Sustainability Integration Operational Efficiency Policies & Procedures Risk Management Service delivery Shared Services Country Government UN Agencies Operational Services

17.

3.3 VALUE ADDED FOR UN ENTITIES TO HAVE UNDP AS A SERVICE PROVIDER

Finding 17. Value added for UN entities. Cost savings and value for money are key initial values added, but cost efficiencies are not enough to achieve and maintain UN entities' satisfaction. Agencies expect improved processes, quality and timeliness of services, responsiveness, and risk reductions.




Tag: Effectiveness Efficiency Gender Equality Gender Mainstreaming Gender Parity Women's Empowerment Human and Financial resources Joint UN Programme Policies & Procedures Programme Synergy Risk Management Strategic Positioning Agenda 2030

18.

3.4 VALUE ADDED FOR UNDP TO PROVIDE OPERATIONAL SERVICES TO OTHER UN ENTITIES

Finding 18. Value added for UNDP. Economies of scale are the most tangible value-added UNDP benefits from providing services to other UN entities. Other benefits are more intangible and include opportunities to position UNDP as a leader in the UN system; synergies built among UN entities; enhanced UN coordination; and greater visibility. To a limited extent, UNDP also benefits from generated innovations and improvements to address other agencies' needs. Advantages UNDP is not benefiting from are full cost recovery for its services and efficiencies at the country level from further offshoring of agencies services and integration of back office support services.




Tag: Effectiveness Efficiency Donor relations Knowledge management Policies & Procedures Procurement Service delivery Shared Services Strategic Positioning Country Government Operational Services

19.

3.5 UNDP CHALLENGES IN PROVIDING OPERATIONAL SERVICES TO OTHER UN ENTITIES

Finding 19. Challenges for UNDP. UNDP faces challenges in providing services to other UN entities due to the lack of financial and human resources; inadequate managerial tools and systems; and its inability to properly price and fully recover cost for agencies services. This is to some extent negatively affecting UNDP's reputation and attention to its development mandate and partners.




Tag: Challenges Effectiveness Efficiency Human and Financial resources Operational Efficiency Partnership Policies & Procedures Service delivery Shared Services Operational Services

20.

Finding 20. Lack of incentives and a vision with boundaries. The absence of incentives, such as performance assessments to serve other UN entities, and the absence of a vision with boundaries has often led to lack of buy-in and demotivates UNDP staff to provide quality services to other UN entities.




Tag: Human and Financial resources Operational Efficiency Service delivery Shared Services Operational Services
Recommendations
1

UNDP should develop a clear vision refining its role vis-à-vis the UNDS reform to serve United Nations entities with improved customer orientation and quality of services. In developing a clear vision, UNDP should strategically specify boundaries – what services are to its advantage to offer and how – and demonstrate that it wants the business of United Nations agencies with a plan to improve client orientation through proper incentives to improve quality of services. This includes developing SLAs with mandatory reporting of KPIs and establishing a real-time appraisal system with automated feedback channels incorporated into service delivery to ensure quality of services and timeliness of response.

2

The Bureau for Management Services should appropriately price and implement full cost recovery for all services to United Nations entities. It will thus be important to revise current cost-recovery methodologies, reconsider the universal price list and offer tools and capacity-building for country offices to customize costing methods that better capture the process chain behind each service line, including the cost of managing risks and liabilities absorbed by UNDP as a service provider. As it devises a more detailed costing strategy, UNDP should also identify where efficiency gains can be made in processes, compared to other agencies and include the cost of business sustainability enhancements.

3

UNDP should incrementally implement full clustering of non-location dependent services, for all regions and all country offices, on a mandatory basis at least for services to agencies. The Bureau for Management Services will thus need to assess the current capacities available at the GSSUs and develop a strategy to develop adequate structures and professionalize services, adapting locations as needed for languages and time zones. The role of leadership is pivotal to ensure that all regional bureaux adjust to this centralized model needed for further economies of scale and efficiencies. As the UNDS reform establishes new service hubs led by other United Nations agencies, these should be considered to absorb part of the services to be rendered to other United Nations entities, as appropriate.

4

UNDP should promote common shared integrated service arrangements at the country level for location dependent services. The Bureau for Management Services will need to conduct a more critical assessment of what are currently considered location dependent services and identify which services are absolutely necessary to be kept in country and cannot be provided by GSSUs. UNDP should then promote the idea that all location dependent services be provided by local common shared integrated services arrangements, by establishing a well-defined corporate structure to support an improved model for roll-out of United Nations business operations strategies to support these integrated arrangements. At the same time, to strategically position UNDP, the organization should make available tools, such as the business operations strategy automated cost-benefit analysis, to help UNCTs and UNDP country offices make more transparent and data-informed decisions around the cost and efficiencies of local shared integrated service arrangements.

5

UNDP should develop a phased approach to invest in ICT tools and systems improvements over the next five years and ensure that critical staff and an effective strategy are in place to harvest such investments. This includes investing in an upgrade of the ERP to improve its user interfaces and a realtime appraisal system with automated feedback channels to monitor and improve the quality of services. UNDP should also consider partnering with other agencies for e-commerce solutions and explore business partnership solutions to co-develop and pilot innovative and state-of-theart tools and systems, including eventually the replacement of the current ERP, better customized to the needs of all United Nations entities.
Management Response Documents