Terminal Evaluation BIOFIN Phase I (PIMS 3918)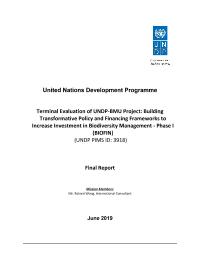 Evaluation Plan:

Evaluation Type:

Final Project

Planned End Date:

06/2019

Completion Date:

06/2019

Status:

Completed

Management Response:

Yes

Evaluation Budget(US $):

45,000
Title
Terminal Evaluation BIOFIN Phase I (PIMS 3918)
Atlas Project Number:
Evaluation Plan:
2018-2021, Bureau for Policy and Programme Support
Evaluation Type:
Final Project
Status:
Completed
Completion Date:
06/2019
Planned End Date:

06/2019

Management Response:
Yes

Focus Area

:
Corporate Outcome and Output (UNDP Strategic Plan 2018-2021)

1. Output 1.4.1 Solutions scaled up for sustainable management of natural resources, including sustainable commodities and green and inclusive value chains

Evaluation Budget(US $):

45,000

Source of Funding:
Government of Germany
Evaluation Expenditure(US $):

40,000

Joint Programme:
No
Joint Evaluation:

No

Evaluation Team members:

| Name | Title | Nationality |
| --- | --- | --- |
| Roland Wong | International consultant | |

GEF Evaluation:

No

Key Stakeholders:
Government agencies, Line Ministries, UNDP partners at the member countries
Countries:

GLOBAL
Lessons
1.

Lesson #1: The success of BIOFIN can be attributed to its design as an open structure where changes can be easily made. The design of the BIOFIN project was commenced in 2010 and 2011. Implementation of BIOFIN started at the end of 2012 with a fixed budget of €6.5 million supported by the EU and the Governments of Germany and Switzerland. Unlike GEF projects where finite budgets lead to ProDocs that have embedded targets and well defined exit strategies, the BIOFIN project was designed knowing that the €4 million was insufficient to achieve its primary objective of developing a new methodology to raise financing for closing the global biodiversity financing gap (Para 32). As such, the design of BIOFIN was left open ended with qualitative targets for which the cost of achieving was indeterminate early in BIOFIN. Donors for BIOFIN were cognizant of this issue and viewed the need for closing the biodiversity financing gap to be an extremely important development project. This resulted in several additions to the original EU BIOFIN budget of €4 million as illustrated on Figure 1 highlighted by the substantial contributions from the governments of Germany, Norway and Flanders. BIOFIN Phase II is also designed with such an open structure which can add funds from donors when they are available.



2.

Lesson #2: Significant resources that have been added to BIOFIN has accelerated adoption of the BIOFIN methodology globally. With the open-ended structure of BIOFIN referred to Lesson #1, these bilateral resources (as illustrated in Figure 1) were effectively utilized to provide technical assistance to 30 national implementation teams. The BGT also provided excellent technical assistance backup to these teams, involved them in soliciting feedback, and incorporated their feedback into new improved versions. This only served to increase the adoption of BIOFIN methodologies amongst these countries, thereby accelerating adoption of BIOFIN methodology globally.



3.

Lesson #3: Efficiencies in project implementation for a global project can be realized through an experienced and competent centralized project administration. In reference to Paras 86-89, the high competence of the BGT allowed BIOFIN to focus on its primary objective of closing the biodiversity financing gap through technical assistance, and an open-ended project design structure (as is mentioned in Lesson #1). In addition, administration of BIOFIN was managed out of New York HQ (with a key Project Associate based in Istanbul who is guided on procedures from New York HQ) whose execution of all UNDP administrative procedures appear to be compliant with all POPP procedures. This administrative arrangement allowed the BIOFIN Global Team in Istanbul to focus on biodiversity financing issues.



4.

Lesson #4: In consideration that the majority of current biodiversity expenditures come from government, any project dealing with the financing of biodiversity needs to develop a strong sense of ownership by the host government. In almost all of the BIOFIN countries reviewed by the evaluator, all national teams benefited from the presence of former personnel from that country's ministry of finance. In reference to Para 54 on key partnerships, this was important considering that the primary objective of BIOFIN was to unlock potential sources of finance for biodiversity conservation and management. This lesson is important in that some of the national implementation teams would likely have tried to focus such efforts on their Ministry of Environment, who are really only executing plans using government funds.



5.

Lesson #5: Highly successful models of implementation lend themselves easily for replication on other projects and other countries. One great example of this was the recruitment of former high-level Ministry of Finance government officials. This originally occurred in Costa Rica where the National leader of BIOFIN was a former minister of finance (see Para F-19). His recruitment and leadership and ability to convene other relevant stakeholders ensured that the outputs coming from the national team were effective in communicating with the Ministry of Finance, thereby accelerating BIOFIN knowledge transfers and creating ownership from Costa Rican government stakeholders, the main source of biodiversity financing. This example of recruitment of high-level financial sector personnel for BIOFIN national teams was encouraged by BIOFIN personnel with other BIOFIN countries. While not all countries were able to recruit such high-level personnel, they were able to hire capable personnel who were either from the ministries of finance or had good understanding of the financial sector in their countries. This was a very effective BIOFIN strategy.



6.

Lesson #6: Results-based budgeting is an excellent means of communicating with government financing personnel considering that it is based on providing rationale based on previous results for a request for finance. For almost all BIOFIN countries, proposed budget figures were never based on results considering the lack of documentation and credible monitoring reports on the performance of previous biodiversity management projects. BIOFIN activities were able to instill its 5 step BIOFINs methodology designed to account for previous biodiversity expenditures (under the BER process) that likely exposed the lack of accountability of these expenditures and absence of results on which future needs could be based on. According to BIOFIN financial experts, allocation of budgets based on previous results creates more certainty on how the budget allocation would be used, and what benefits it will provide to the country (as mentioned in Paras 69 and 71). This could only lead to confidence on how results achieved with previous expenditures would eventually lead to future allocations.



7.

Lesson #7: Successful projects have recruited professionals with related experience. BIOFIN was highly successful in the recruitment of its national implementation teams as well as global technical advisors (see Paras 44, 53 to 55). Since there was a clear linkage between BIOFIN and projects involving the preparation of NBSAPs, all national implementation teams recruited personnel involved with NBSAPs with the knowledge that finding persons with a joint skill set of biodiversity and financing would be almost impossible. With the need for BIOFIN technical assistance for other countries emerging, the Global BIOFIN Team promoted many of the leaders of the national implementation teams to become these technical advisors. If these persons were not involved in BIOFIN, national implementation teams would have struggled to transfer information from NBSAPs to inform PIRs and support other BIOFIN methodological steps.



8.

Lesson #8: Successful preparation of a BFP requires the complete application of all 5 BIOFIN methodology steps. The BGT provided several examples of various countries who wanted to participate in the BIOFIN program, but initially had chosen not to apply all the steps of the methodology. For those countries, this resulted in a deceleration of progress towards a credible and useful BFP. Para 122 mentioned that all BIOFIN countries near the conclusion of BIOFIN Phase I had rigorously completed all 5 steps of the BIOFIN methodology to be able to prepare BFPs. In many ways, this is vindication of the quality of the BIOFIN methodology workbook, with the latest version of 2018 close to reference quality with few if any edits in future to be made. This outcome has allowed BIOFIN Phase II to focus more on implementation of financing solutions for biodiversity.



9.

Lesson #9: Despite the success of a "demand driven" project, project implementers need to be constantly promoting the project outputs and not allowing project momentum to dissipate. The BIOFIN global team was constantly active in promoting the BIOFIN methodology to a number of other partners including global CSOs and other donors. This has resulted in the recognition by several BIOFIN countries that the BIOFIN approach and methodology can be applied to close financing gaps in other economic sectors such as energy, agriculture, and social services (as mentioned in the Philippines).



10.

Lesson #10: The importance of setting up appropriate venues for workshops is a key to early establishment of national project teams. In reference to the highly satisfactory rating of effectiveness in Para 113, some BIOFIN national teams had taken the position that BIOFIN activities were taking away from the valuable time of the stakeholders, many of whom are government officers. By assuming this position, several BIOFIN national teams arranged for appropriate venues with a level of comfort and food that would be viewed as adequate compensation and attract their interest. As a result, BIOFIN events were able to easily attract government officers, personnel from academia, and highly qualified consultants.



11.

Lesson #11: It is important to understand government budget lines and how they can be adjusted or adapted to reflect key biodiversity budget allocations. Several BIOFIN countries did not have specific biodiversity budget allocation expenditures. With biodiversity expenditures needing to be extracted from existing budgets, most of these expenditures fell under the general heading of "environment". Further to Para 82, the Philippine national implementation team understood the importance of these budgetary lines or cost codes, thus enabling the national implementation team in the Philippines recommend to their counterparts the addition of biodiversity budget lines to government cost code systems. Such actions can be replicated in other BIOFIN countries.



12.

Lesson #12: For a new project introducing new concepts such as biodiversity financing, the selection of pilot countries to introduce new concepts should have, as a baseline, good local capacities, and have made some initiatives on biodiversity financing. Examples of successful Phase I countries are the Seychelles and Costa Rica which are small countries where tourism is an important sector. Larger countries have generally not been as successful due to inherent and additional complexities to dealing with BD. However, a cross-section of the 8 pilot countries ranges from small countries to large countries that are very diverse. This wide cross-section of countries was able to provide several lessons in deploying a global methodology for determining levels of biodiversity financing.



13.

Lesson #13: Remote countries with small populations represent a higher risk of being unable to staff critical positions that promote and manage biodiversity. Such countries would include the Seychelles and Fiji, both of which have a high interest in biodiversity but would require highly skilled staff fulltime to manage, conserve and promote biodiversity in their countries. For both countries, populations are not large enough to fully staff highly qualified professionals such as veterinarians, plant specialists, pathologists and agricultural specialists who for example, would be able to provide oversight on the inflow of potentially invasive species entering their countries, for example, in cargo containers and air flights (Para F-18).



Findings
1.

The project preparations for BIOFIN described in Paras 26 and 27 are the origins of the BIOFIN design where national implementation teams assisted by a global team would implement a methodology consisting of policy and institutional reviews, biodiversity expenditure reviews, financial needs assessments, and financing plans, followed by implementation which was to result in revenue generation, delivering better, realigning expenditures and avoiding future expenditures. This conceptual methodology emphasized greater efficiency utilizing existing resources and less focus on external assistance.

Based on the BIOFIN design concept that acknowledges its predecessor initiatives and efforts, the BIOFIN ProDoc was prepared and signed by the EC and UNDP on 25 October 2012 for €4 million, followed by the signature of two other contributions within December 2012 with the Governments of Germany (€2.3 million) and Switzerland (CHF 300,000). BIOFIN operations commenced in October 2012 with the baseline scenario consisting of the absence of biodiversity baseline data, and the absence of any methodologies to create these baselines and develop more robust biodiversity strategies for raising financing, and the need to assist countries in meeting their biodiversity targets. Notwithstanding that BIOFIN had clear objectives and a target of 8 pilot countries for national implementation (under the EU proposal), its exit strategy was not clear in consideration of the uncertainties of the extent of technical assistance financing required to meet BIOFIN's specific objectives, especially at the national level. As a result, BIOFIN's design was specifically open ended as further explained in Section 3.1.1.




Tag: Biodiversity Environmental impact assessment Efficiency National Business Model Implementation Modality Programme/Project Design Data and Statistics

2.

3.1.1 Analysis of Logical Framework Matrix for BIOFIN Phase I

31. The BIOFIN log frame provided a general strategy for the BGT to implement activities towards an intended outcome, complete with a description of the actual baseline scenarios, a list of indicators which were actually activities within a particular outcome, followed by results that were achieved by specific activities (which were actually reflecting the outputs of each result). There were also suggestions for "sources of verification" as a means to verify the completion of some of the activities in the achievement of results.

32. The format of BIOFIN's log frame is vastly different from typical GEF Project Results Frameworks with indicators that generally, do not meet SMART criteria but appear to be sufficiently effective for use by the BGT as a global management tool to manage the development of a new global methodology (and not for managing national level activities). The general descriptions of the indicators, outcomes and results were mainly qualitative, with the knowledge that additional budgets to the original €4.0 million from the EU were going to available, and leaving the BGT to adaptively manage its activities towards the specific objectives of BIOFIN, as further described in Section 3.2.2. Moreover, since national level implementation of BIOFIN comprised a significant proportion of its activities, the log frame does not provide much guidance, again leaving the planning of activities at the national level to be adaptively managed by the BGT in close consultation with national level stakeholders and in concert with increasing budgets. The outcome of activities at the national level along with global guidance from the BGT has been guidance that has been provided in the BIOFIN Workbooks as to how outputs at the national level should be formulated.




Tag: Global Environment Facility fund National Transborder Human and Financial resources Implementation Modality Project and Programme management Results-Based Management

3.

3.1.2 Risks and Assumptions

34. Risks and assumptions were not outlined on the log frame or throughout the BIOFIN ProDoc. These are normally listed (at least in UNDP-GEF ProDocs) as a means of cross-checking the log frame logic and ensuring that the outcomes, outputs and results in the log-frame have thoroughly addressed all possible risk scenarios. Based on the Evaluator's experience, the normal risks to BIOFIN implementation that could have been listed would have included limited absorptive capacity of recipient governments to undertake the BIOFIN methodology, limited adoption of BIOFIN methodology by host governments, and inability of BIOFIN personnel to effectively deliver technical assistance to countries in the context of comprehending and utilizing new BIOFIN methodologies. The measures to mitigate these risks, however, were implemented through the specific actions of this Project as further discussed in Section 3.2.2 under "Project Implementation".




Tag: Implementation Modality Ownership Programme/Project Design Results-Based Management Risk Management Technical Support

4.

3.1.3 Lessons from Other Relevant Projects Incorporated into BIOFIN Phase I Design

35. The ProDoc of BIOFIN Phase I does not list any other relevant Projects into its design. However, there were several reports mentioned in Paras 26 and 27 including the 2010 TEEB report that serves as one of the foundational studies on which BIOFIN is designed. The lessons and findings from TEEB have highlighted the growing costs of global biodiversity loss and ecosystem degradation and a need to draw from a diverse source of expertise (from scientists, economists and policymakers) to formulate actions to address and mitigate biodiversity losses and degradation.

36. Moreover, TEEB was a predecessor study that deepened the understanding of how economic valuation studies can provide insight and guidance on biodiversity policy and planning, of which much of this guidance has been incorporated into the BIOFIN Methodology Process. In particular, TEEB has been useful in guiding the development of BIOFIN's PIR step where national teams review available economic valuation data, document their findings, both of which enable these teams to enhance their presentations of the business case for biodiversity. The 2016 version of the BIOFIN Workbook contains numerous linkages with economic valuation studies to provide insights and guidance for biodiversity planning and policies as a part of a broader process. This process helps to accelerate the identification of biodiversity financing gaps and proposing concrete financing plans.




Tag: Biodiversity Ecosystem based adaption Environment Policy Natural Resouce management Resource mobilization Programme/Project Design Data and Statistics

5.

3.1.4 Planned Stakeholder Participation

37. The BIOFIN ProDoc does not specifically provide plans or strategies for stakeholder participation. However, the 2010 TEEB report referenced in Paras 26 and 35 does make mention of the need to draw from a diverse source of expertise to formulate actions to increase the availability of financing for biodiversity. Moreover, the BIOFIN concept was based on the needs of participating countries in the Convention on Biological Diversity during 2010 to identify funding requirements, gaps and priorities and the development of national financial plans for biodiversity. As such, the approaches to stakeholder participation by each country and the BGT was to include stakeholders with the knowledge of biodiversity needs and access to public or private financing. This was conducted under a regime of adaptive management within BIOFIN which resulted in the provision of guidance (based on experience of pilot countries) in the BIOFIN Workbooks, as a priority, to engage with finance ministries and the private sector, as further discussed in Section 3.2.2.




Tag: Biodiversity Resource mobilization Donor relations Programme/Project Design Project and Programme management Country Government Private Sector

6.

3.1.5 Replication Approach

38. BIOFIN's replication approach is defined in this TE report as the development of the BIOFIN concept followed by the process of disseminating the BIOFIN approach to other countries and the subsequent adoption of the methodologies. The BIOFIN ProDoc does make mention of the replication approach in the context of biodiversity financing of the "need for countries to adapt and strengthen their governance and policy frameworks to catalyze and adequately manage an expected increase of financial resources", and the need for the BIOFIN to "support pilot countries whose governments are supportive of this approach, and laying the groundwork for a major focus of discussion on biodiversity finance at the CBD COP-11 in 2012 and beyond". As such, the precise design of BIOFIN's replication approach was left to the BGT in close consultation with pilot countries and under in adaptive management regime as further discussed in Section 3.2.1.




Tag: Biodiversity Environment Policy Sustainability Resource mobilization

7.

3.1.6 UNDP Comparative Advantage 3

9. UNDP has several comparative advantages to other donor agencies that are strongly relevant in its implementation of BIOFIN:

Its portfolio of projects are focused on policy-based and cross-sectoral approaches with strong components on building local capacities through effective collaboration with a wide range of local stakeholders, ranging from the public and private sectors to technical experts, civil society and grassroots level organizations;
UNDP's long track record on a wide variety of projects that support and conserve biodiversity of which there are over 400 global biodiversity initiatives, some of which are related to biodiversity financing, amongst other sectoral initiatives that includes climate change adaptation, rehabilitation of degraded lands and aquatic ecosystems, and promoting sustainable livelihoods in and near biodiverse landscapes;
UNDP's presence in several countries (long term in several countries) and serving as a key implementing agency to support government actions to comply with the CBD and other biodiversity-related conventions. This includes numerous countries where UNDP is operational and involved in the preparations and revisions of NBSAPs using GEF funding for biodiversity related activities, and in supporting governments in linking SDGs with national development plans, important work as it pertains to biodiversity financing. Moreover, each Country Office of UNDP has extensive stakeholder networks with the ability to recruit appropriate technical support, set up platforms for consultations with relevant stakeholders, and provide more thorough methodology development and testing in countries as it pertains to biodiversity financing17; and
UNDPs strength in operating regional hubs who can synthesize country experience in regions to accelerate learning especially in the context of biodiversity financing.

In conclusion, UNDP is well suited as an implementing agency for BIOFIN.




Tag: Biodiversity Effectiveness Global Environment Facility fund Resource mobilization Regional Implementation Modality Donor UNDP Management UNDP management Capacity Building Technical Support

8.

3.1.7 Linkages between BIOFIN Phase I and Other Interventions within the Sector

40. BIOFIN Phase I was intended to be linked with several other initiatives related to biodiversity, budgeting and financing. In addition to TEEB referenced in Paras 26 and 27, that is currently an ongoing initiative that continues to be linked with BIOFIN, other biodiversity-related interventions include:

The World Bank's Global Partnership for Wealth Accounting and the Valuation of Ecosystem Services (WAVES) that is undertaking work with Ministries of Finance and economic planning agencies to measure and value ecosystem services and integrate these values into national accounting. WAVES is complementary and supportive to strengthening national accounting systems for biodiversity and other natural resources (as opposed to BIOFIN that works through a budgetary financing approach only for biodiversity). Representatives from WAVES were mentioned as part of the BIOFIN's Global Methodology Team to ensure that there are lessons learned and methodologies are integrated with BIOFIN;
The United Nations System of Environmental Economic Accounting (SEEA) is an international standard for environmental economic accounting in national statistical reports and national accounts. SEEA has oversight from the UN Statistics Division (UNSD) with ongoing efforts to align the BIOFIN approach with international standards including the new BIOFIN classification that is fully compatible with SEEA categories. Alignment of BIOFIN's approach into a global standard development process only enhances and increases the acceptability of BIOFIN;




Tag: Biodiversity Ecosystem services Environmental impact assessment Natural Resouce management Programme Synergy UN Agencies Data and Statistics

9.

3.1.8 Management Arrangements

41. Management arrangements of BIOFIN are well covered in the BIOFIN ProDoc. With BIOFIN being implemented through joint management and multi-donor modality, its implementation was to be managed by UNDP's Biodiversity and Ecosystems Programme, with its regional centres in Pretoria (currently Addis), Bratislava (currently Istanbul), Panama and Bangkok and its country offices in 30 countries. 42. A Global Steering Committee (GSC) was to be established for BIOFIN oversight with representation from the EC, UNDP's Biodiversity and Ecosystems Programme, Norway, Switzerland, Flanders and Germany. The GSC was expected to convene at least twice a year (which was done) to evaluate progress, exchange information and provide guidance and orientation of BIOFIN's activities. On some occasions, some of the GSC members were video-conferenced for their views. The GSC has been an important venue for BIOFIN resources mobilization efforts, which resulted in significant additions to BIOFIN's budget from Germany, Switzerland, Norway and Flanders after implementation began, donated. In the absence of the additional financing, the enhanced expectation for the implementation phase finance solutions would not have been tapped.

42. A Global Steering Committee (GSC) was to be established for BIOFIN oversight with representation from the EC, UNDP's Biodiversity and Ecosystems Programme, Norway, Switzerland, Flanders and Germany. The GSC was expected to convene at least twice a year (which was done) to evaluate progress, exchange information and provide guidance and orientation of BIOFIN's activities. On some occasions, some of the GSC members were video-conferenced for their views. The GSC has been an important venue for BIOFIN resources mobilization efforts, which resulted in significant additions to BIOFIN's budget from Germany, Switzerland, Norway and Flanders after implementation began, donated. In the absence of the additional financing, the enhanced expectation for the implementation phase finance solutions would not have been tapped.




Tag: Biodiversity Ecosystem services Resource mobilization Regional Donor relations Human and Financial resources Implementation Modality Oversight Project and Programme management Donor

10.

3.2 Project Implementation

47. The following is a compilation of significant events during implementation of BIOFIN Phase I in chronological order:

An EU Contribution Agreement was signed with UNDP for €4 million to be disbursed during the October 2012 to December 2016 period targeting support for the development of the BIOFIN methodology, technical expertise and piloting of the methodology to 8 countries: Chile, Ecuador, Kazakhstan, Malaysia, Philippines, Seychelles, South Africa and Uganda.
The Switzerland Government (Federal Office for the Environment or FOEN) provided additional BIOFIN funding for an equivalent of US$318,135 (CHF 250,000) targeting specific assistance to the Government of Kazakhstan along with support to the development of the BIOFIN methodology;
The Government of Germany (German Federal Ministry for the Environment, Nature Conservation and Nuclear Safety or BMU) provided an additional €2.3 million for BIOFIN on 11 December 2012 for support to the development of the BIOFIN methodology, workshops, technical expertise and piloting of the work in Botswana, Costa Rica, Indonesia and Peru;




Tag: Resource mobilization Regional Donor relations Implementation Modality Partnership Donor

11.

3.2.1 Adaptive Management

48. Adaptive management is discussed in UNDP evaluations to gauge performance of project personnel to adapt to changing regulatory and environmental conditions and unexpected situations encountered during the course of implementation, both common occurrences that afflict the majority of UNDP projects. Without adaptive management, donor investments into UNDP projects would not be effective in achieving their intended outcomes, outputs and targets. During the early stages of BIOFIN, activities to draft BIOFIN's methodologies were adaptively managed more effectively to utilize the expertise of a Methodology Advisory Group (MAG) that BIOFIN was able to assemble, notably individuals known to many of the European-based donor group to BIOFIN. The process of formulating the initial methodologies involved the MAG, continuous peer review followed by national piloting and full consultations with pilot countries in the development of the methodology.

49. In Para 29, the design of BIOFIN was characterized as having "clear objectives and a target of 8 pilot countries for national implementation" but that "its exit strategy was not clear in consideration of the uncertainties of the extent of technical assistance financing required to meet BIOFIN's specific objectives, especially at the national level". In Para 32, the BIOFIN log frame was also described as "not providing much guidance for national level implementation..……. leaving the planning of activities at the national level to be adaptively managed by the BGT….". With national level implementation comprising a fair proportion of the activities in BIOFIN, adaptive management was also necessary for the BGT and its national teams to flesh out national level BIOFIN strategies and a results-roadmap. For most of the BIOFIN countries, these strategies and roadmaps would be achieved by national project teams in close consultations with a National Steering Committee (such as in the Philippines, Bhutan, Seychelles, and Costa Rica).




Tag: Implementation Modality Programme/Project Design Project and Programme management Results-Based Management

12.

3.2.2 Partnership Arrangements

53. As mentioned in Para 37, BIOFIN needed to involve "stakeholders with the knowledge of biodiversity needs and access to public or private financing". This is precisely how the BIOFIN partnership strategy was implemented, aligning stakeholders, both nationally and globally, with knowledge of biodiversity and access to public or private funding.

54. At the commencement of BIOFIN, the BGT focused on developing the key partnership between finance and environment ministries in pilot countries. Ministries of finances had to understand the importance of biodiversity to the country, why investment into biodiversity is important, and cobenefits of biodiversity to the country. These partnerships also needed to focus on the importance of finance to the ministry of environment as well as ministry of planning. Notably, ministries of environment generally do not have economists or financial people and thus do not have or have low capacity to articulate financing needs. Ministries of environment globally need a financing unit to officially liaise with ministries of finance or vice versa (such as in the Seychelles where a Biodiversity Financing Unit is housed within the Ministry of Finance). This is an important outcome, as coordination mechanisms for this level of engagement are not always functional or present in many countries. Such mechanisms are also the subject of institutionalization and of further enabling activities such as policy incentives and developing an enabling environment for public private sector engagement.




Tag: Biodiversity Resource mobilization National Transborder Knowledge management Partnership Strategic Positioning Country Government Coordination Private Sector

13.

3.2.3 Feedback from M&E Activities Used for Adaptive Management

58. Feedback from M&E activities was provided primarily through GSC Meeting Minutes (13 GSC meetings from April 2013 to October 2018), which provided details of the progress of BIOFIN activities, and discussions and actions recommended by GSC members and attendees to adaptively manage BIOFIN on a course to meet its objectives. In the absence of Project Implementation Reviews (which are normally prepared on GEF projects), GSC meeting minutes, which were on average held twice annually, provided ample evidence of the strong role of the GSC in steering the progress in the preparation of BIOFIN methodologies through until October 2018.

59. Most of the meeting minutes provided progress on a wide range of BIOFIN topics including methodology developments, organization and activities at the national level, regional and global events, linkages with CBD and COP processes, efforts for resource mobilization, and action points to be undertaken prior to the next GSC meeting. The quality of GSC meeting minutes was sufficient in providing details of BIOFIN progress, identifying needs to advance the quality of the BIOFIN methodology, feedback from various countries on their use of the BIOFIN methodology, and actions taken or to be taken to improve the BIOFIN methodology quality and ensure a higher rate of adoption. The GSC meeting minutes also provided details of implementing its communication and awareness raising strategies, approaches to ensure a higher visibility of BIOFIN at regional and global events, and details of efforts to mobilize additional BIOFIN resources identifying other countries and private sector entities to approach.

60. Supplementing GSC meeting minutes for M&E were the various "progress" or "final" BIOFIN reports between 2015 and 2017 that were prepared after the exhaustion of funds from EU, Switzerland, Germany, Norway and Flanders. These reports, as listed in Appendix D, reported on how each of these bilateral contributions were used to achieve specific progress and achievements.

61. In consideration of the successes under BIOFIN, the feedback provided by these GSC meeting minutes and progress and final reports to monitor progress towards BIOFIN objectives was satisfactory.




Tag: Implementation Modality Monitoring and Evaluation Project and Programme management

14.

3.2.4 Project Finance

62. The total budget for BIOFIN Phase I was US$28.898 million that includes contributions from the EU, and the governments of Germany, Switzerland, the Flanders, and Norway. Table 3 provides details of the cumulative expenditures to May 2019 as provided by the financial BGT team in New York. Table 4 provides details of the cumulative expenditures for the 30 BIOFIN countries that received support between 2013 and 2019 for their national programs. Considering the actual delivery of technical assistance to 30 BIOFIN national implementation teams, the expenditures described in Para 63 appear realistic. As per Table 3, the remaining BIOFIN Phase I balance of US$2.6 million (only German and Swiss funds) is to be expended in 2019 mainly for technical support to complete BIOFIN methodologies such as the FNAs and BFPs. Donor funds from the EU, Flanders and Norway were exhausted in 2017 and 2018.




Tag: Efficiency Human and Financial resources Multilateral Partners Bilateral partners Donor Technical Support

15.

3.2.5 M&E Design at Entry and Implementation

64. BIOFIN's monitoring and evaluation design was defined in the EU ProDoc in Section 5. This section basically articulates the expectations for appropriate levels of monitoring of BIOFIN through the use of the log frame as provided in Section 6 of the ProDoc that contains an M&E action plan. Para 32 characterizes the quality of the BIOFIN log frame as being "vastly different from typical GEF Project Results Frameworks with indicators that generally do not meet SMART criteria; however, it appears to be sufficiently effective for use by the BGT as a global management tool but weak for managing national level activities". Touted as an innovative project with no precedence, BIOFIN was intended to be a project that formulated new processes and methodologies for biodiversity financing to be piloted and disseminated at both international and national levels. As such, the planned M&E actions were to monitor BIOFIN activities on which work plans and monitoring progress reports were to be based on the log frame.

65. The ProDoc also mentions that EC representatives would be invited to participate in evaluation missions to monitor and evaluate the progress of BIOFIN. The Global Steering Committee was to have oversight of the findings of these progress reports and BIOFIN performance level results. In consideration of the unique "research" nature of BIOFIN and expected iterations of BIOFIN methodology, this M&E design for BIOFIN is rated as satisfactory.

66. Implementation of the M&E design had encountered issues during the early years of BIOFIN. With significant additions to BIOFIN's physical resources from 2013 to 2015, there were expectations of global growth of BIOFIN's objective. As a result, this led to BIOFIN being adaptively managed (as mentioned in Section 3.2.1) with the BGT not having the opportunity to complete a design for national implementation in pilot countries. While this created operational and monitoring issues, the BGT did develop standardised national level work plans with indicators that did aid the BGT in early M&E of national activities, despite not fully streamlining these work plans. By late 2015, the BGT did manage to recruit a highly capable team of global and regional advisors to provide advice and oversight of national implementation teams for all pilot countries, and to perform key M&E implementation activities including:

use of the log frame to prepare annual work plans;
use of quarterly reports and mission reports to report progress on a biannual basis;
incorporation of information from country calls, technical calls and regional calls to supplement progress information;
use of the "central dashboard" for the purposes of monitoring country progress. The Central Dashboard also provides functions to graphically illustrate progress of key indicators;
use of steering committee meetings for reporting progress;
conducting evaluation missions (EU – ROM missions, UNDP evaluation missions); and
a continuation of monitoring and evaluation of the BIOFIN methodology that includes peer review, regional workshops for country feedback, webinars and technical calls.




Tag: Biodiversity Challenges Global Environment Facility fund Implementation Modality Innovation Monitoring and Evaluation Programme/Project Design Results-Based Management

16.

67. Notably, through the early years of BIOFIN, much of the activity being reported was at the global level where BIOFIN methodologies were being formulated with detailed discussions being provided in the NSC meeting minutes. NSC meeting minutes provided details of mainly at the global level on BIOFIN methodology development, approaches to recruiting additional staff to meet demands for expanded BIOFIN technical assistance and improving exposure of BIOFIN at global events such as the CBD-COPs. These NSC reports gradually evolved from activity reporting into result-based reporting (with the emergence of more information at the country level) which is in part responsible for the rapid and accelerated development of the 2018 BIOFIN workbook. BIOFIN M&E was also strengthened in 2015 with the hiring of an M&E specialist to improve M&E reporting at both the global and national levels. NSC reports also provide accounts of other BIOFIN activities related to awareness raising, government involvement and policy making, and national efforts to develop financial solutions to counter biodiversity loss worldwide. These reports, however, do not present information on progress against the indicators, outcomes, activities and results in the log-frame.

68. While M&E of BIOFIN at the global level was satisfactory, and M&E of BIOFIN at the national level was undergoing its own evolution due to the growing number of BIOFIN countries from 2013. At its commencement, there were no exit strategies of BIOFIN at the national level with national teams focused on adoption of BIOFIN methodologies. At the time the M&E Specialist was recruited in 2015, the need for a BIOFIN theory of change (ToC) at the national level became more evident to assist national teams with outcomes, outputs and indicators on which they could more effectively report progress of BIOFIN and define an exit strategy. Considering BIOFIN objectives were innovative19 with no precedence of a project involving biodiversity financing for the purposes of conserving in promoting biodiversity, a ToC was urgently needed to ensure BIOFIN national activities focused on these tasks related to financing biodiversity and defining an exit strategy.




Tag: Challenges National Transborder Human and Financial resources Monitoring and Evaluation Results-Based Management

17.

69. Through efforts led by the Global M&E Specialist, 5 Biodiversity Technical Advisors and national teams in all pilot countries systematically developed a ToC in 201520. Prior to the ToC development, monitoring by BIOFIN national teams was operating on "floating targets". The process of developing a ToC required the development of a BIOFIN roadmap for each pilot country, followed by addressing M&E challenges that included:

moving from activity-based to results-based reporting (reporting against indicators and targets);
rolling out a global-level M&E framework across 30 countries;
harmonizing M&E reporting approaches that have been tested at global and national levels; and
capturing knowledge through case studies.

70. With a BIOFIN ToC developed in early 2016 (as illustrated in Figure 5), BIOFIN teams were able to test the ToC by monitoring and reporting of changes occurring within the pilots. With a variety of interdisciplinary teams implementing BIOFIN in 30 countries, BIOFIN developed reporting tools and tutorials that were standard and user-friendly. This prompted several countries to review their project log frames on the basis of the new ToC where there was an emphasis on hard indicators around cost and expenditures. The new ToC facilitated a gradual evolution of these log frames to new measurement indicators relating to BIOFIN progress and qualitative indicators that reflected the wider contextual and political realities under which national teams were operating. National teams visited by the Evaluator have mentioned that the ToC has been helpful in the design and exit strategies for national programmes.




Tag: Challenges Human and Financial resources Monitoring and Evaluation Theory of Change

18.

71. The Philippines has even developed its own log frame for national implementation in 2017 with an additional focus on outputs and indicators relating to Phase II activities of implementing BFPs. This log frame (as shown in Appendix H) provides an excellent example of a concise and well-articulated log frame that is "user-friendly" with hard targets for implementing effective M&E activities. The format of the log frame is relatively clean with the use of footnotes to provide details to some of the targets without cluttering the log frame. Another advantage of this format is its illustration of past results which can be used annually as justification for changing future targets that are results-based. This format is heartily endorsed by the Evaluator for replication of the BIOFIN countries. Some minor comments on the quality of the Philippines log frame are as follows:

many of the indicators do not need to mention within the log frame how the targets will be achieved. For example, indicators such as the "number of stakeholders with increased knowledge" do not need to describe how this will be achieved through workshops and trainings. Instead, how the indicator will reach his target could be mentioned as a footnote;
wherever possible, targets should be expressed as a simple number. For example, several of the targets mention at least a 5 or 20% increase from the previous year. This should be rewritten as a numerical value;
some of the targets have footnotes with names of stakeholders. While this provides indications of the extent of stakeholder partnerships undertaken by the national team, other countries may not be able to list stakeholder names considering strong likelihood of changes to the list of stakeholders.




Tag: Implementation Modality Results-Based Management Theory of Change

19.

3.2.6 Performance of Implementing/Executing Entities

76. BIOFIN was implemented by UNDP through the joint management and multi-donor modality. Initially, BIOFIN was implemented under the European Union's contribution, entrusted to UNDP through a Standard Contribution Agreement establishing the overall frame of the FAFA. With the contributions from the German Government (under BMU), the terms and conditions for implementation of BIOFIN were defined under the "Agreement between the Government of Germany and UNDP regarding contribution to the Thematic Trust Fund for Support to Energy and Environment for Sustainable Development", signed in December 2012 and subsequent contributions from the Governments of Flanders, Norway and Switzerland. Under this Agreement and its ToRs, BIOFIN was to be implemented by UNDP in accordance to UNDP Rules and Regulations.




Tag: Donor relations Implementation Modality Bilateral partners UNDP Management UNDP management

20.

3.3 Project Results

78. This section provides an overview of the overall results of BIOFIN Phase I and an assessment of the relevance, effectiveness and efficiency, country ownership, mainstreaming, sustainability, and impact of BIOFIN Phase I. In addition, evaluation ratings for overall results, effectiveness, efficiency and sustainability are also provided against the December 2012 EU log-frame (as provided in Appendix G)23. For Tables 5, 6, 7, 8 and 9, the "status of target achieved" is color-coded according to the following color coding scheme:

3.3.1 Overall Results

79. A summary of the achievements of BIOFIN Phase I at the Objective level with evaluation ratings are provided on Table 6. BIOFIN's log frame and action plan in the ProDoc does not include an overall objective with indicators. As such, the Evaluator set the overall objective of BIOFIN as "closing the global financing gap for the conservation and sustainable use of biological diversity by assisting developing countries in identifying, accessing, combining and sequencing source of biodiversity funding to meet their specific needs", a statement that underpins the evolution of the BIOFIN methodology which was "piloted" in more than 30 countries. As in Section 3.1 of the EU ProDoc, the specific objectives of BIOFIN were then used as the "objective level" indicators on which to evaluate and assess the achievements of BIOFIN's objectives. These are provided on Table 5.

80. BIOFIN process was initiated in 2010 by UNDP's Head of Biodiversity. It was his observation that after the Nagoya CBD that many of the biodiversity goals were not being met. One of the primary reasons for this failure was the lack of financing to meet these goals. This led to a standoff between ODA and developing countries with the latter claiming more ODA and technical assistance were required to meet these goals. This led to ODA countries agreeing to fund activities to investigate what developing countries were doing currently to finance biodiversity. Most developing countries had data and information on their biodiversity spending but had no ideas on what their financing needs would be to meet the CBD goals. This led to a conclusion that there was no methodology available to change the situation, and initial BIOFIN concepts to mainstream biodiversity financing flows in the context of what countries were currently spending in comparison to what was needed to meet CBD goals. By determining these 2 unknowns, quantification of biodiversity resources to be mobilized would then be better known. This led to the formulation of initial frameworks (beginning in 2012 at the commencement of BIOFIN), and the launching of the 2014 BIOFIN workbook.




Tag: Biodiversity Resource mobilization Programme/Project Design Technical Support

21.

81. The assessment of biodiversity financing needs required a process for transformational changes in the form of partnerships with governments. The basis for this change was the need for partnerships between the ministries of finance and environment in all pilot countries as a means to move forward with biodiversity financing. Most countries have information on biodiversity expenditures which require reviews with NBSAPs. By linking NBSAPs for actual biodiversity needs with these biodiversity expenditures during implementation of BIOFIN between 2012 and 2014, costing of NBSAPs would be feasible. The terminology during the early years of BIOFIN for raising finances was resource mobilization. This was subsequently changed with the focus away from mere resource mobilization, and looking more into the actual impact of existing biodiversity funding (for example, examining the actual utility of biodiversity financing, and assessing the effectiveness of the expenditures towards achieving biodiversity goals, leading to a strategy of "doing better").

82. This included the institutionalization of biodiversity financing by tagging biodiversity expenditures with existing official government budget lines. For example, an expenditure such as reforestation could be tagged as a biodiversity or climate change expenditure with the benefit to not having such a budget line being double counted. The challenge of tagging a biodiversity expenditure remains, however, considering there are many activities that contribute to biodiversity which can be more indirectly related to promoting biodiversity. For example, an afforestation activity can be tagged to land degradation or climate change mitigation in addition to biodiversity.




Tag: Climate Change Adaptation Biodiversity Natural Resouce management Resource mobilization Human and Financial resources

22.

3.3.3 Outcome 0: Project management and lead technical expertise in place and operational, and project objectives and results disseminated and welcomed

85. To achieve Outcome 0, Project resources would be used to:

set up and operational global central technical unit and national project units throughout the duration of the BIOFIN project (Result 0.1); and
disseminate project objectives and outline, interim results and products, and final results (Result 0.2)).

A summary of the actual achievements of the Outcome 0 with evaluation ratings are provided on Table 6.

86. The baseline of this outcome is captured in Para 80 where awareness of biodiversity financing only existed amongst a few key global experts with little to no knowledge of biodiversity financing in most countries. At the commencement of BIOFIN in December 2012, the BIOFIN Project Manager was appointed from within UNDP was at the time the head of biodiversity for UNDP. To service the 8 pilot countries as well as 4 additional countries added in 2013, a number of competent staff were hired raising the number of persons within the BIOFIN Global Team (BGT) to 8. With the rapid growth of BIOFIN and its available financial resources, the growth of the BGT team accelerated in 2014 with further additions to staff including regional technical advisers, each of whom managed 6 to 8 BIOFIN countries. Further growth of the BGT was experienced in the recruitment of a communications manager, financing expert, and several interns served as research officers within BIOFIN.

87. The BGT organized several global and regional workshops for BIOFIN countries to share the most recent drafts of BIOFIN methodologies, facilitating discussions amongst these countries on how each country would apply BIOFIN methodologies. In effect, many of these countries actually needed to adapt BIOFIN methodologies to fit with their existing scenarios. Moreover, the BGT needed to expend considerable efforts to ensure effective dissemination of the latest BIOFIN methodologies. This would have included having several conference calls amongst regional advisors to update them on the latest developments of the BIOFIN methodologies, on the best and most efficient means of addressing BIOFIN countries, and collection of feedback from BIOFIN countries after their adaptations of BIOFIN methodologies to their countries.

88. The results of these global and regional workshops in terms of developing the BIOFIN workbook to its version in 2018 have been excellent. From the early periods of BIOFIN in early 2013, the first version of the BIOFIN workbook was prepared followed by its issue in late 2014, a culmination of 15 months of discussion amongst the BGT and pilot countries. With more than 12 countries using the 2014 BIOFIN workbook, the BGT received plenty of feedback resulting in several substantial changes from the 2014 version to the 2016 version. Between 2016 and 2018, further improvements to the BIOFIN workbook were made resulting in the issuance of the 2018 BIOFIN workbook that included a number of examples from participating BIOFIN countries of the application of various steps of the BIOFIN methodology to enhance the readability of the BIOFIN workbook.




Tag: Transborder Communication Human and Financial resources Implementation Modality Technical Support

23.

3.3.4 Outcome 1: A framework for mainstreaming BD into national development and sectoral planning is developed, tested, refined and disseminated

90. To achieve Outcome 1, Project resources would be utilized to:

deliver an analysis of mainstreaming opportunities in development and sectoral planning at the country level (Result 1.1);
deliver a generic mainstreaming framework including tools (Result 1.2);
support piloting of a draft framework at country level (Result 1.3);
deliver lessons from piloting that could be incorporated into a final methodology (Result 1.4);
develop national biodiversity targets and mainstreaming strategies through NBSAPs revision processes (Result 1.5);
deliver a final mainstreaming methodology framework, tools and primer with a target of 8 pilot countries undertaking mainstreaming.

A summary of actual achievements of Outcome 1 with evaluation ratings are provided on Table 7.

91. The baseline scenario for this outcome were the difficulties of mainstreaming of biodiversity and ecosystem services given that these issues were difficult to distinguish amongst other wider environmental concerns that were articulated in national development plans. As such, most countries did not have any framework to mainstream biodiversity that could provide a basis for identifying biodiversity financing requirements. Furthermore, there were few if any examples globally of any widely accepted approach for mainstreaming biodiversity and its financing requirements into national planning processes.

92. Initial analysis globally of biodiversity related expenditures in 2010 during BIOFIN project preparations revealed that close to 50% of these funds came from public budget allocations. The other 50% came from green agricultural subsidies, ODA, and a number of other sources as illustrated on Figure 7. Initial approaches to identifying biodiversity financing needs, however, needed to unravel the complexities underlying these biodiversity related expenditures. By undertaking the initial analyses of national baseline scenarios for quantifying actual biodiversity financing and actual biodiversity financing needs, a cloudy picture would often emerge due to most countries not having the relevant information to undertake this analysis. Furthermore, existing expenditures for biodiversity in a country are driven by its policies.




Tag: Biodiversity Ecosystem services Environment Policy Resource mobilization National Policy Advisory

24.

93. As such, one of BIOFIN's primary purposes was to develop a framework to approach a country's biodiversity financing issues with the objective of closing the biodiversity financing gap (as brilliantly illustrated in Figure 2). A Theory of Change (ToC) for BIOFIN was constructed strengthening the understanding of required outcomes to achieve the objective of closing the biodiversity financing gap. This included the need to understand the drivers for biodiversity change, identifying actual biodiversity expenditures and the challenges to raising finances for biodiversity. This improved understanding would facilitate the formulation of actions to overcome these challenges. BIOFIN's ToC is illustrated on Figure 5.

94. As one of the first steps of BIOFIN's five-step methodology, BIOFIN created Biodiversity Finance Policy and Institutional Review (referred to as the PIR) for the purposes of understanding the existing policy framework to better comprehend the main drivers of biodiversity change in a country. With the improved understanding of the policy framework, existing biodiversity financing mechanisms could then be identified such as subsidies, fees and fines and placed into an inventory. This would also include perverse and harmful subsidies (such as subsidies for insecticides). This exercise would then facilitate the development of specific policy recommendations and identification of key actors to further implement the entire BIOFIN methodology. With over 30 countries completing PIR reports (as compiled by the BGT) during 2014 to 2018, several examples of PIRs do exist. For example, the PIR for Zambia found that 75% of biodiversity expenditures came from ODA contributions, signaling that the country needed to diversify its sources of biodiversity financing. Another PIR example is from South Africa as illustrated on Figure 8. The PIR process is compiled within Chapter 3 of the 2018 BIOFIN workbook.




Tag: Biodiversity Resource mobilization Theory of Change Institutional Strengthening Policy Advisory

25.

95. BIOFIN then created the second step of BIOFIN's methodology, the Biodiversity Expenditure Review (referred to as the BER) to further understand existing biodiversity financing mechanisms by collecting, calculating and reviewing data related to biodiversity expenditures. BIOFIN assisted countries in the collection of this data, tying this data to their obligations for CBD financial reporting. Since many countries have difficulties preparing CBD financial reports, BIOFIN has contributed to enhancing developing country abilities to prepare these reports, and improve reporting on CBD compliance. The biodiversity expenditure results of the BER generally range from 0.1 to 0.2% of GDP or 0.2% to 1.8% of national budgets. These results often identify issues related to the delivery of biodiversity expenditures which are classified according to specific categories (as specified in the 2018 BIOFIN Workbook on pg 100) and assigned rates of attribution for their contribution to biodiversity (as specified in the 2018 BIOFIN Workbook on pgs 102 to 104); in some cases expenditures are much lower than budget allocations. In Guatemala, 92.5% of biodiversity related expenditures are from the central government with only 7.5% from municipalities. In Colombia, 36% of BD related expenditures are for protection with 41% expended towards restoration. In Fiji, a BER was completed in 2014, as illustrated in Figure 9 that also catalyzed the Government to prepare projections of biodiversity expenditures, an indicator that the BER process is beneficial to improving local planning capacities for future biodiversity expenditures. The BER exercise proved to be very useful all participating BIOFIN countries that assist them in assessing the effectiveness of biodiversity expenditures (using their own data), and identifying bottlenecks that adversely affect their delivery. The BER process is compiled within Chapter 4 of the 2018 BIOFIN workbook with a number of examples of BER results from Fiji, the Philippines and Namibia.




Tag: Biodiversity Resource mobilization Monitoring and Evaluation Data and Statistics

26.

3.3.5 Outcome 2: A methodology for assessing a country's BD financing needs is developed, tested, refined and disseminated

99. To achieve Outcome 2, Project resources would be utilized to:

collect preliminary data that is analysed with national processes to integrate with the NBSAPs and national biodiversity targets (Result 2.1);
develop a draft methodology and tools to assist in the estimation of a country's biodiversity financing needs and gaps (Result 2.2);
testing of the draft methodology with pilot BIOFIN countries (Result 2.3);
incorporate lessons from pilot countries into a final methodology (Result 2.4);
place biodiversity financing needs and gap assessments under NBSAPs processes which in turn contributes data to the BIOFIN project (Result 2.5);
finalize the methodology framework for determining biodiversity financing needs and gaps with no less than 8 countries completing their FNAs. A summary of actual achievements of Outcome 2 with evaluation ratings are provided on Table 8.

100. Prior to the commencement of Component 2, there were no estimates or methodologies to determine a country's biodiversity financing needs and gaps. With this baseline scenario, the approaches to obtaining this estimate were complex requiring rigorous efforts to analyse barriers to the preparation of costable actions and governance needs required for biodiversity conservation and management as well as ecosystem services.




Tag: Biodiversity Communication Implementation Modality Data and Statistics

27.

102. The FNA methodology in Chapter 5 of the 2018 BIOFIN workbook was again a culmination of efforts by BIOFIN and its partnerships since 2013. These efforts included guidance such as establishing a team with the appropriate skills to prepare an FNA that involved translating the NBSAPs (that can also be linked with Aichi targets and SDGs as illustrated on Figure 10 with an example from the Philippines) into distinct biodiversity results and indicators that can be costed, prioritized for actions in terms of these distinct biodiversity results and strategies, developed with unit costs and common budget items to cost biodiversity actions, further developed by refining costs with experts, analyzed for results of the costing exercises, and provide estimates for unmet financing needs for biodiversity. The FNA guidance has even recommended national teams to use a logical framework to structure and clarify actions and results; in this regard, the BGT has been instrumental in providing assistance to national implementation teams.

103. The FNA methodology in Chapter 5 of the 2018 BIOFIN workbook was again a culmination of efforts by BIOFIN and its partnerships since 2013. These efforts included guidance such as establishing a team with the appropriate skills to prepare an FNA that involved translating the NBSAPs (that can also be linked with Aichi targets and SDGs as illustrated on Figure 10 with an example from the Philippines) into distinct biodiversity results and indicators that can be costed, prioritized for actions in terms of these distinct biodiversity results and strategies, developed with unit costs and common budget items to cost biodiversity actions, further developed by refining costs with experts, analyzed for results of the costing exercises, and provide estimates for unmet financing needs for biodiversity. The FNA guidance has even recommended national teams to use a logical framework to structure and clarify actions and results; in this regard, the BGT has been instrumental in providing assistance to national implementation teams.




Tag: Biodiversity Resource mobilization Implementation Modality Results-Based Management Technical Support Agenda 2030

28.

3.3.6 Outcome 3: A framework for national level BD financing is developed, tested, refined and disseminated

106. To achieve Outcome 3, BIOFIN Project resources were to be utilized to:

deliver a framework and methodology for the preparation of a biodiversity finance plan (BFP) complete with a suite of options for financing biodiversity at a national level (Result 3.1);
support BFP preparation in pilot countries (Result 3.2);
incorporate lessons from BFP preparations in pilot countries into a final framework for national level biodiversity financing (Result 3.3);
prepare national biodiversity financing strategies closely linked to NBSAP processes (Result 3.4);
develop frameworks for national PA financing and payment for ecosystem services and includes relevant policy and institutional support (Result 3.5);
finalize framework for determination of financing options with no less than 8 countries completing their BFPs.

A summary of actual achievements of Outcome 4 with evaluation ratings are provided on Table 9.




Tag: Biodiversity Resource mobilization National Strategic Positioning

29.

108. The guidance also recognizes the wide range of financing instruments and mechanisms that can be utilized for managing and promoting biodiversity. A catalogue of biodiversity finance solutions is provided (http://www.biodiversityfinance.net/finance-solutions) ranging from traditional lending and fee-based venues to innovative revenue generation activities (based nationally or internationally involving public and private sectors). With this wide suite of financing options, the 2018 BIOFIN workbook also provides screening criteria including the option's impact on biodiversity, financial impact41, and the likelihood of success amongst other criteria. The workbook also provides excellent guidance on "cognitive bias in decision-making", which raises awareness of implementers in biases commonly influencing decision-making in prioritizing and screening financing solutions.

109. The guidance also recognizes the wide range of financing instruments and mechanisms that can be utilized for managing and promoting biodiversity. A catalogue of biodiversity finance solutions is provided (http://www.biodiversityfinance.net/finance-solutions) ranging from traditional lending and fee-based venues to innovative revenue generation activities (based nationally or internationally involving public and private sectors). With this wide suite of financing options, the 2018 BIOFIN workbook also provides screening criteria including the option's impact on biodiversity, financial impact42, and the likelihood of success amongst other criteria. The workbook also provides excellent guidance on "cognitive bias in decision-making", which raises awareness of implementers in biases commonly influencing decision-making in prioritizing and screening financing solutions.




Tag: Biodiversity Resource mobilization Communication Knowledge management

30.

112. Although it is clear in the BIOFIN ProDoc that the extent of activities within this outcome were only intended to prepare BFPs, a number of pilot countries have forged ahead to implement their BFPs as a means of testing and validating the BFP guidance provided in the BIOFIN workbooks. This includes pilot outreach to government financial agencies and the private sector to inform them on a wide range of biodiversity financing strategies and instruments that were deemed appropriate given a particular country's specific circumstances. In addition to BFPs mentioned in Appendix F, there are more examples of BFP implementation in Chapter 7 of the 2018 BIOFIN workbook as a means of validating and strengthening the guidance being provided. The evaluation stresses the importance of continuing outreach especially to the private sector where significant amounts of financing for biodiversity can be unlocked (see Para 127).

113. In conclusion, the results of Outcome 3 can be rated highly satisfactory with the following rationale:

delivery of strong guidance in the 2018 BIOFIN workbook on the preparation of biodiversity finance plans;
adoption of BFP methodology and preparation of BFPs by over 25 countries (all 30 countries expected by 30 June 2019); • implementation of BFPs by over 25 countries, an outcome that was beneficial to the feedback and improvement of the BFP guidance.




Tag: Biodiversity Resource mobilization Strategic Positioning Country Government Private Sector

31.

3.3.7 Relevance

114. The BIOFIN Project is relevant to the development priorities of all governments of participating BIOFIN countries, all of whom were signatories to the CBD. This relevance is related to the high rate of adoption, demand and government ownership of the processes to determine biodiversity financing gaps in the preparation of biodiversity financing plans. Relevance is reflected in the numerous references made by countries on BIOFIN in global CBD discussions (notably during COP 12, 13 and 14) in the context of the need to expand and continue BIOFIN43. In discussions with the Evaluator, various government representatives had also mentioned that BIOFIN has been essential in assisting these governments to raise the national profile of biodiversity, to secure financing to promote and manage biodiversity in their countries, and to further strengthening their capacities to fulfil their obligations to international conventions such as the Aichi targets under the CBD framework.




Tag: Biodiversity Relevance Resource mobilization Ownership Country Government SDG accelerators

32.

3.3.8 Effectiveness and Efficiency

115. The effectiveness of the BIOFIN Project has been highly satisfactory, in consideration of the rapid development of the BIOFIN methodology, the unexpected growth of the number of countries interested in participating in BIOFIN, the unexpected scale up of resources being available for BIOFIN to accommodate these additional countries, and the high profile achieved by BIOFIN amongst more than 30 national governments, numerous international development organizations and at international events such as CBD-COPs. Moreover, in a small sampling of participating BIOFIN countries 44 , the evaluation found that BIOFIN national implementation teams had developed excellent relationships with national governments, particularly with the various ministries of finance, who all valued the technical assistance provided by BIOFIN (see Para 144). The scale up of the number of countries participating in BIOFIN has been impressive, strongly influenced by BIOFIN-supported global and regional workshops, and webinars, as well as technical missions undertaken by the BGT to various countries to inform, provide feedback, and to support scaling up of the number of countries participating in BIOFIN.

116. In comparing the biodiversity financing landscape prior to BIOFIN, the current situation at the time of writing of this evaluation is close to transformational. BIOFIN has delivered a methodology that can be used by all countries, large or small, to determine their biodiversity financing needs and plans for increasing financial resources devoted to promoting and conserving biodiversity. These methodologies also tap into both public and private sources of financing, with the potential for a significant closing of the biodiversity financing gap identified in 2010. The BIOFIN methodology has provided more credibility to NBSAPs and the Convention of Biological Diversity by enabling all signatories to the Convention to raise the necessary financing resources to meet Aichi targets 17 and 20. In addition, the rigorous approach of BIOFIN has been frequently mentioned by BIOFIN countries as a means of closing financing gaps of other economic sectors such as agriculture and energy.




Tag: Biodiversity Effectiveness Resource mobilization Regional Transborder Communication Harmonization Project and Programme management Strategic Positioning Country Government Technical Support

33.

3.3.9 Country Ownership and Drivenness

118. The applicability of BIOFIN methodology to government financing of biodiversity as well as other economic sectors has created strong government ownership and drivenness to apply the BIOFIN methodology to government budgeting processes, with many of them closely linked to NBSAPs processes. With BIOFIN involving ministries of finance, planning and environment in each of the national teams, these teams were active in providing feedback on BIOFIN methodologies that facilitated constant improvement of the methodologies and ensured national ownership of plans for funding biodiversity. This also improved local capacities for comprehension of financing and economics as it relates to biodiversity management and conservation.




Tag: Biodiversity Ownership Country Government

34.

3.3.10 Mainstreaming

119. The BIOFIN Project successfully mainstreamed biodiversity financing through its development of the BIOFIN methodology. Most notable of BIOFIN activities to mainstream biodiversity was the preparation of the FNAs and BFPs which were used to extract biodiversity expenditures from various budgetary allocations which were originally not tagged as biodiversity. These steps of the BIOFIN methodology proved to be useful exercises for national teams in mainstreaming biodiversity; this essentially forced all those involved in the raising of financing for biodiversity to rethink and redefine the objectives of biodiversity financing, carefully consider the actions required to conserve or manage biodiversity, and link those actions to NBSAP processes to ensure relevance to a country's overall biodiversity goals and targets. The resulting outcomes with policy changes and new budgetary processes for biodiversity financing in several countries are strong indicators of the increased mainstreaming of biodiversity.

120. BIOFIN has also made excellent strides in advancing gender mainstreaming within the BIOFIN processes and methodologies through policy reviews, gender-based budgeting, and gender in project cycle management, amongst other examples. While gender was first exposed in the 2016 BIOFIN Workbook, the 2018 BIOFIN workbook devoted a specific section on gender and biodiversity finance in alignment with the CBD's adopted 2015-2020 Gender Plan of Action. The guidance provided in the 2018 BIOFIN workbook includes specific gender guidance within all 5 steps of the BIOFIN methodology as well as specific gender guidance in the overall BIOFIN process. The mainstreaming of gender within BIOFIN processes has been very important in aligning BIOFIN with SDG gender goals and Aichi Biodiversity Targets while encouraging all CBD parties to ensure gender is considered in their NBSAPs and integrated into their national development indicators. The importance of gender considerations is strongly related to the different roles of women and men in managing and conserving biodiversity including knowledge management, decision-making powers, and labour responsibilities. The guidance provided in the BIOFIN workbook on gender appears to be designed to promote better understanding and exposure to gender differentiated biodiversity practices, and to close the gap on gender inequalities over the use of biodiversity fiscal resources. The challenge looking forward is ensuring the gender guidance has appropriate budgetary allocations and is utilized when implementing biodiversity initiatives.




Tag: Biodiversity Natural Resouce management Sustainability Resource mobilization Gender Equality Gender Mainstreaming Knowledge management Strategic Positioning Agenda 2030

35.

3.3.11 Sustainability of Project Outcomes

121. In assessing sustainability of the BIOFIN Project Phase I, the evaluators asked "how likely will the Project outcomes be sustained beyond Project termination?" Sustainability of BIOFIN Phase I's outcomes was evaluated in the dimensions of financial resources, socio-political risks, institutional framework and governance, and environmental factors, using a simple ranking scheme:

4 = Likely (L): negligible risks to sustainability;
3 = Moderately Likely (ML): moderate risks to sustainability;
2 = Moderately Unlikely (MU): significant risks to sustainability; and
1 = Unlikely (U): severe risks to sustainability; and
U/A = unable to assess.

Overall rating is equivalent to the lowest sustainability ranking score of the 4 dimensions. Details of sustainability ratings for BIOFIN Phase I are provided on Table 10.

122. The overall BIOFIN Project sustainability rating is Moderately Likely (ML). This is primarily due to:

a large number of countries that have either adopted or expressed interest in adopting the entire BIOFIN methodology;
US$ 25.6 million financing from the Governments of Germany, Flanders, Switzerland and Norway under BIOFIN Phase II, which is only 50% of what was targeted for a more rapid scale up of BIOFIN methodology adoption and likely insufficient in terms of providing technical assistance to successfully implement BFPs for more than 22 BIOFIN Phase II pilot countries;
the recognition that there will be challenges with local stakeholder capacities in the public and private sector in successfully implementing BFPs notwithstanding that a number of laws and mechanisms have been formally adopted in various countries45 .




Tag: Challenges Sustainability Resource mobilization Bilateral partners Country Government Institutional Strengthening Private Sector

36.

3.3.12 Impacts

123. Through the actions of the Global Project Manager heading the BGT, BIOFIN initially through the use of funds from the EU, and the Governments of Germany and Switzerland, assembled a Global Team in 2013 for initial formulation of the BIOFIN methodology with guidance from the GSC and engaged 12 Country Offices located in the pilot countries. With the dissemination of BIOFIN concepts through the BGT, BIOFIN experienced growth in the number of participating countries with the addition of 7 countries in 2014-15, and 11 countries in 2016-17, all supported with additional funds from the German Government and the Governments of Norway, Switzerland and Flanders. This is a significant impact globally in promoting a new global discourse on biodiversity financing, and in availing a robust and rigorous methodology for preparing biodiversity finance plans that has been adopted by more than 30 countries.

124. Moreover, the BIOFIN methodology is viewed as a means of determining the financing needs for not only biodiversity but other economic sectors such as agriculture and energy. The impact has been developing countries changing their approach to partnerships (with management and conservation of biodiversity and NBSAP implementation mainstreamed with the ministries of finance and planning), forcing several countries to methodically and rigorously estimating current biodiversity expenditures and biodiversity financing needs, and preparing biodiversity finance plans that present stronger biodiversity investment cases. This improved narrative on biodiversity financing needs by developing countries improves their dialogue with ODA financing sources with developed countries, other international sources of biodiversity financing, and the private sector. The greater impact of this is the increased likelihood of further closing of the biodiversity financing gap identified in 2010.




Tag: Agriculture Biodiversity Impact Resource mobilization Implementation Modality Bilateral partners

37.

72. With Phase II more focused on actual implementation of BD financing plans, the BGT during the latter stages of Phase I in 2018 and early stages of Phase II in late 2018 have undertaken activities to evolve M&E plans. With much data from governments and private sector entities on how their funds are spent, BGT activities now support stronger engagement with the CBD framework. In particular, the CBD declared a focus at COP 14 for undertaking a global baseline assessment on biodiversity, costing of a 2021 to 2030 Strategy, and a resource mobilization strategy. New actions from these recommendations justified BIOFIN being involved more in the setting up of new targets and indicators, an action justified through several official CBD COP decisions supporting a scale up of resource mobilization for biodiversity using the expertise of BIOFIN21 .

73. These new activities have also spawned some newer approaches to M&E during Phase II. The BGT have provided some initial concepts on the development of a biodiversity financing index (BFI) to enable countries to monitor and compare progress that combines multiple indicators into a scoring system. The vision of a BFI is to be able to track country and global biodiversity finance evolution over time and to fairly compare countries. With no standardized methods for determining progress in biodiversity financing, the BGT have been gauging demand from the various BIOFIN countries for this index, in consideration of the amount of biodiversity related information generated by BIOFIN, and the need for such an index by participating national governments, the CBD Secretariat and biodiversity experts globally. The BFI indices would be qualitative as well as quantitative. Examples include national direct public expenditures on biodiversity compared with total government expenditure, level of integration of biodiversity finance within the national planning system, and in country levels of capacity to manage biodiversity financing. Further development of the BFI concept is currently on hold pending responses from countries on the demand for the concept, and additional donor funds for further development.

74. Overall implementation of the BIOFIN M&E plan was satisfactory given the quality of NSC reports, the assessment and evaluation of progress, and recommendations provided. For all national BIOFIN implementation teams globally for. The M&E database and system are contained on BIOFIN's "Dashboard" that is contained on a Google Drive. A highly satisfactory rating would have been given had NSC progress reporting been presented against the log frame indicators, outcomes, activities and results.

75. Ratings for BIOFIN M&E according to the GEF Monitoring and Evaluation system22 are as follows:

M&E design at entry - 5;
M&E plan implementation - 5;
Overall quality of M&E - 5.




Tag: Biodiversity Environment Policy Resource mobilization Monitoring and Evaluation Strategic Positioning
Recommendations
1

As a means of reinforcing current benefits of the BIOFIN project, the BIOFIN Global Team should continue strengthening BIOFIN's network of stakeholders who have the capacity to finance biodiversity.

2

Provide support to appropriate institutions to encourage decentralization of or augment their efforts to decentralize NBSAPs processes to a sub-national level (to provincial levels or regional landscapes) on which off-the-shelf proposals can be based.

3

The BIOFIN Global Team with backstopping from UNDP should strengthen its technical assistance to national implementation teams on private sector engagement strategies

4

Provide comprehensive guidance to national teams on de-risking financing biodiversity during preparation of off-the-shelf biodiversity financing proposals.

5

Initiate efforts to undertake a full-fledged biodiversity expenditure review (BER) for the private sector.

6

Continue and strengthen the BIOFIN Global Team's oversight role on national team implementation to ensure proper M&E and to ensure national teams are "doing better" as a means of reducing the biodiversity financing needs.

7

It is important to make efforts to break down the meaning of biodiversity into "mainstream" terminology while introducing the topic of financing biodiversity with public and private investors.