Final Evaluation Strengthen integrated early warning systems for more effective disaster risk reduction in the Caribbean through knowledge and tool transfer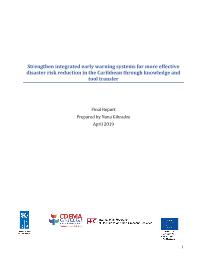 Evaluation Plan:

Evaluation Type:

Final Project

Planned End Date:

02/2019

Completion Date:

04/2019

Status:

Completed

Management Response:

No

Evaluation Budget(US $):

15,000
Title
Final Evaluation Strengthen integrated early warning systems for more effective disaster risk reduction in the Caribbean through knowledge and tool transfer
Atlas Project Number:
Evaluation Plan:
2018-2021, RBLAC
Evaluation Type:
Final Project
Status:
Completed
Completion Date:
04/2019
Planned End Date:

02/2019

Management Response:
Yes

UNDP Signature Solution

:
Corporate Outcome and Output (UNDP Strategic Plan 2018-2021)

1. Output 3.3.1 Evidence-based assessment and planning tools and mechanisms applied to enable implementation of gender-sensitive and risk-informed prevention and preparedness to limit the impact of natural hazards and pandemics and promote peaceful, just and inclusive societies

Evaluation Budget(US $):

15,000

Source of Funding:
EU-ECHO
Evaluation Expenditure(US $):

16,000

Joint Programme:
No
Joint Evaluation:

No

Evaluation Team members:

| Name | Title | Email | Nationality |
| --- | --- | --- | --- |
| Nana Gibradze | Team Leader | ngibradze@gmail.com | GEORGIA, REPUBLIC OF |

GEF Evaluation:

No

Key Stakeholders:
ECHO, IRFC, CDEMA, OXFAM
Lessons
1.

EWS fall within the bigger picture of preparing communities, and should not be considered as a standalone exercise, but need to be integrated into wider Risk Reduction programmes and targeted interventions based on the needs of the target communities and capacities of institutions. As such, the tools transfer was relevant as it provided a set of customizable tools that can be integrated into comprehensive national and regional risk reduction programmes in the Caribbean. In this regard, it is of utmost importance to further highlight the social aspects of the risk reduction, taking into account different types of vulnerabilities and social profiles of target communities.



2.

Cultural and political differences between Cuba and the beneficiary countries need to be taken into account when designing experience transfers. Cuban training methodology, while yielding results, was not necessarily the most optimal and user-friendly in that it relied mostly on the unilateral delivery of technical information and little practical work and interaction. While this may have been partly due to the time constraints, understanding cultural environments of the beneficiary institutions is essential for maximizing the benefits of the knowledge transfer and eventual sustainability of the results.

It is important to have adequate knowledge of the capacities of the national institutions, especially of those related to response and recovery and of the effects of disasters on their functioning and project implementation. Knowledge of the capacities of national institutions is also of utmost importance for the experience transfer. The success of know-how transfer/SSC does not depend solely on the offering country but the capacity of the recipient to provide quality information related to adequate preparation, carry out the planned activities and take ownership of the experience. It is therefore important to provide training on the South-South Cooperation processes and formats not only to the offering institution but the recipients as well to ensure successful adoption of the knowledge and practices.



3.

Sharing practices and tools effectively implies condensing years of accumulated experience and knowledge into a limited project timeframe and training format. Installing new structures and strengthening capacities in institutions is an incremental process and may take years. It is therefore important to define the scope and time of the knowledge transfer more realistically, factoring in the challenges and delays related to institutional characteristics, different procurement and implementation timeframes related to travel and workshop preparation, human resource capacities and the like, to avoid possible incompletion and sustainability risks.




Tag: Operational Efficiency

4.

Gender mainstreaming remains a challenging and sensitive concept not only among the institutions but some implementing agencies as well. It is therefore important to simultaneously address the issue of gender equality and linkages between gender and disaster risk not only with the beneficiaries but with partners as well, to ensure proper integration of gender-sensitive contents in project activities and foster a stronger commitment to and follow-up on gender mainstreaming agenda. Identification and strengthening of gender focal points in partner and beneficiary institutions is key for stronger gender equality action.



Findings
1.

1. The project is considered mostly relevant and responsive to national and regional needs; tools and know-how offered by the project and south-south cooperation mechanisms employed for knowledge generation and sharing are considered valuable, timely and relevant.

The project was viewed as timely as it consolidated years of technical assistance provided by ECHO, UNDP and other agencies for the strengthening of EWS and focused on institutionalizing the capacities and knowledge in recipient countries. Its timeliness was particularly valued as it allowed to assess the challenges and develop the solutions in the context of the hurricanes Irma and Maria that occurred during the project implementation and generated better understanding.



2.

2. The project has achieved almost all planned milestones and output-level results, establishing mostly effective coordination, communication and horizontal transfer mechanisms and achieving satisfactory visibility.

The project has completed all of the planned activities achieving most output-level results, and, according to the interviewed stakeholders, had a positive effect on the participating countries.



3.

3.1 The project is considered mostly efficient in terms of availability and use of funds and highly efficient in terms of use of time and human resources, especially considering the encountered challenges and delays.

The project funds were reasonable for the implementation of planned actions. While additional funds would have certainly allowed for expanding some country-specific actions and procuring additional goods and services (e.g. software for NODS in Antigua and Barbuda or water level monitoring equipment in Saint Vincent and the Grenadines ), the evaluation did not find any evidence of a significant shortage of funds affecting the achievement of the planned results.



4.

3.2 The project has encountered significant challenges in the course of implementation, of which most were exogenous and therefore, beyond the project's control.

The most significant challenge was the occurrence of the Hurricanes Irma and Maria, which affected the participating countries and diverted the national human resources to response and recovery efforts. National disaster agencies were fully vested in the process but were distracted by the hurricanes and functioning in recovery mode for most of the project's initial phase. Even the countries not directly affected by hurricanes participated in recovery efforts which led to slowing down the implementation and caused a significant delay in the project implementation and low execution rates in the first year of the project.



5.

4.The project is considered moderately sustainable as it laid strong bases for long-term sustainability, however, it is subject to challenges related to funding, institutional capacities, legal backing and political will.

The project had a strong sustainability aspect incorporated in its logic as it was considered the last DIPECHO-funded EWS project in the Caribbean and to a certain extent, was meant to provide exit strategies after years of implementation. The intervention logic built on the strengthening the four pillars of EWS and through this integrated approach, offered foundations for sustainability. Trainings, experience transfer and toolkits were aimed at strengthening institutional capacities and awareness while the gap analysis and development of solution packages intended to entrench the acquired know-how and instruments in national institutions.



Recommendations
1

Ensure the value, timeliness and relevancy of tools and know-how offered by the project and south-south cooperation mechanisms employed for knowledge generation and sharing.

2

Establish effective coordination, communication and horizontal transfer mechanisms to achieve a satisfactory level.

3

Ensure efficiency of time and human resources to avoid challenges and delays.

4

Plan for exogenous challenges that can manifest in the course of the project's implementation as much as possible.

5

Plan for sustainability despite challenges related to funding, institutional capacities, legal backing and political will.