Final Performance Evaluation of the Regional Citizen Security Project (InfoSegura)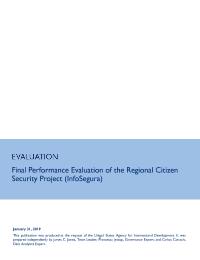 Evaluation Plan:

Evaluation Type:

Mid Term Project

Planned End Date:

12/2018

Completion Date:

01/2019

Status:

Completed

Management Response:

No

Evaluation Budget(US $):

30,000
Title
Final Performance Evaluation of the Regional Citizen Security Project (InfoSegura)
Atlas Project Number:

00080822 Infosegura

Evaluation Plan:
2018-2021, RBLAC
Evaluation Type:
Mid Term Project
Status:
Completed
Completion Date:
01/2019
Planned End Date:

12/2018

Management Response:
Yes
Corporate Outcome and Output (UNDP Strategic Plan 2018-2021)

1. Output 3.2.2 National and local systems enabled and communities empowered to ensure the restoration of justice institutions, redress mechanisms and community security

SDG Goal

Goal 16. Promote peaceful and inclusive societies for sustainable development, provide access to justice for all and build effective, accountable and inclusive institutions at all levels

SDG Target

16.1 Significantly reduce all forms of violence and related death rates everywhere

Evaluation Budget(US $):

30,000

Source of Funding:
USAID
Evaluation Expenditure(US $):

60,000

Joint Programme:
No
Joint Evaluation:

No

Evaluation Team members:

| Name | Title | Email | Nationality |
| --- | --- | --- | --- |
| Carlos Carcach | Data Analytics Specialist | | |
| James Jones | Team Leader | | |
| Francesca Jessup | Governance Expert | | |

GEF Evaluation:

No

Key Stakeholders:
USAID, SICA, National Governments and Civil Society
Lessons
1.

No lessons detailed.



Findings
1.

EQ1: To what extent has InfoSegura contributed to change the level of quality and timeliness of crime and violence data definition, collection, and recording in the region?

El Salvador

- InfoSegura has helped to consolidate data in the office of Management of Research and Analysis (DIA) of the Ministry of Justice and Public Safety (MJSP). From the USAID perspective, harmonizing crime data across different sources and making it available to users are key issues addressed by the project. The DIA website is a notable achievement in this direction.

- InfoSegura has supported the development of an advanced crime analyzer in the National Civilian Police (PNC).

-InfoSegura has supported development of both Municipal and School Prioritization Indices.

-InfoSegura has supported the harmonization of PNC geographical units with population census geographical segments.

-InfoSegura has supported data-systems integration and geocoding. The PNC is implementing a system that integrates geocoded crime data produced at the level of delegations, sub-delegations, and police posts into the institutional crime statistics at the Center of Police Operations.

-InfoSegura has helped to integrate a permanent monitoring system into the Plan for a Secure El Salvador (PESS).

Honduras

- InfoSegura has strengthened technical roundtables on violent deaths, domestic abuse/family violence, sexual abuse and crime, and victimization and violence prevention at the Technical Unit for Inter-Institutional Coordination (UTECI) and at 30 operational municipal observatories.

-Infosera has strengthened official statistics on 11 types of violence.

Guatemala

-InfoSegura's Municipal Prioritization Index was used to establish pilot observatories like the one in Chimaltenango Department with plans to expand the model in other departments.

- Data from the InfoSegura-supported Crime Victimization Survey were used to prepare five infographic reports on major findings, to be published on final approval.



2.

EQ1.1: To what extent has InfoSegura developed the capacity within STUs (located within each country's respective Security Ministry) to collect, record, and use crime and violence data for analysis?

El Salvador

- InfoSegura has helped to consolidate data in the DIA of the MJSP

Honduras

- InfoSegura-funded staff have been incorporated into positions within STUs and source institutions.

Guatemala

-The Guatemalan government has taken full advantage of the InfoSegura-supported processes to build capacities for crime prevention in relevant STUs.

-InfoSegura has strengthened the PNC statistics unit by providing it computing equipment and training on statistics and data analysis. The statistics unit is undergoing a process to achieve data-quality certification.



3.

EQ1.2: To what extent has InfoSegura developed the capacity of source institutions [such as the PNC, Fiscalía General de la República (Office of Attorney General of the Republic, or FGR), and the Instituto de Medicina Legal (Forensic Medicine Institute, or IML) in El Salvador] to ensure quality of data and improve information sharing between source institutions and STUs?

El Salvador

- InfoSegura has strengthened existing capacities within DIGESTYC to carry out national victimization and violence against women surveys.

- InfoSegura supported the Secretaría Técnica y de Planificación's (Technical Secretariat of Planning, or SETEPLAN) "Technical Committees" for Sustainable Development Goals (SDGs) #5 and #16.

Honduras

- UTECI, CEASCI, and UGAGLO used crime data to conduct research and make policy at both the national and municipal levels.

- InfoSegura enhanced data collection and the conciliation protocol of UTECI in 2016.

Guatemala

-InfoSegura sponsored several training events on data production and data quality for diverse institutions—e.g., Inter-institutional Technical Committee, National Institute of Statistics (INE), and Unit for Community Prevention of Violence (UPCV).

-InfoSegura has supported the consolidation of the inter-institutional technical roundtable and the "Sub Mesa" of data validation based on the UTECI protocol, which will yield crime statistics (eight crimes detailed) to be transferred to the INE.

-InfoSegura has strengthened the PNC statistics unit through technical assistance.



4.

EQ1.3: What is the potential that the capacity developed within STUs and source institutions increases or decreases after the completion of InfoSegura?

El Salvador

InfoSegura helped strengthen capacities, systems, and tools to continue serving policymakers in the future, independent of political transitions.

Honduras

Institutional capacities of STUs, local police statistics system units, and municipal observatories are being consolidated.

Guatemala

The STUs at the Vice Ministry of Crime Prevention have enjoyed staff stability despite political issues. However, significant staff turnover within the executing units of the Vice Ministry - PNC and UPCV - may make it difficult to ensure that key processes are maintained.



5.

EQ2: To what extent have Central American governments used (as planned) crime and violence data produced by InfoSegura, and by other institutions that have received technical assistance under InfoSegura, as input to effective citizen security-related policy decisions?

El Salvador

-InfoSegura has made a significant contribution to the formulation of citizen security-related policymaking in the diverse forms of support it has provided to El Salvador's national crime and violence prevention plan and PESS and its monitoring system and in developing the index to prioritize municipalities to be included at each of the three phases of PESS.

- Reflecting InfoSegura's commitment to make gender a centerpiece, the project generated an important and groundbreaking body of data and analysis regarding violence towards women in El Salvador that is informing policymaking in the area and responding to the legislative mandate to develop and implement an information system on violence against women.

- InfoSegura's activities in support of establishing a monitoring process of the SDG #16 agenda will permit SETEPLAN to generate key inputs to security sector policymaking focused on achieving this goal.

- InfoSegura supported the development of a methodology for a Prioritization Index on Educational Centers Related to Citizen Security Issues (IPCESC), which provides data on variables on security risks to schools and has provided the Ministry of Education (MINED) and the MJSP timely and concrete data for

targeting priority at-risk schools and developing relevant policy and action plans.

Honduras

- InfoSegura has made a significant contribution to citizen security-related policymaking via development of the Municipal Prioritization Index.

- Crime prevention initiatives are being developed and monitored at the local level. This is a significant achievement as it allows for the effective involvement and consequent empowerment of local actors in the identification of strategies for crime control and the implementation of promising social and situational crime prevention initiatives.

Guatemala

- InfoSegura has contributed to the formulation of citizen security-related policy decisions through its contributions to the National Strategy for the Prevention of Crime and Violence 2017-2027 (ENP), including developing the index to prioritize municipalities to be targeted for interventions and identifying key locations for departmental crime observatories, with pilots in Chimaltenango and Guatemala City.

- InfoSegura provided key support for the National Survey on Perceptions of Public Security and Victimization (ENPEVI), the first national survey of its kind in the NTCA, developed with both the Governance Ministry (MINGOB) and the INE. This survey is a key component of the ENP and will provide crucial data to underpin policy decisions.

- InfoSegura contributed to the development of a Model for Departmental Observatories on Citizen Security and Violence Prevention in Guatemala, permitting the launching of a pilot observatory in Chimaltenango and Guatemala City. This institutional model will serve to provide objective, reliable, up-to-date data to inform departmental plans and strategies to more effectively confront crime and violence and their causal factors.



6.

EQ2.1: What are the internal and external factors that foster or impede the governments to use data?

El Salvador

-Factors that serve to foster the use of data are existing policy frameworks and legislation for which data is key.

-A factor that impedes the greater use of data for policymaking is the lack of analytical capacity in many STUs and source institutions for this data.

-Perennial issues that threaten the ongoing use of data for public policymaking are staff rotation/turnover and changes in publica policies.

-An additional impediment in the use of data for evidence-based policymaking is the weakness of the General Directorate of Statistics and Census (DIGESTIYC).

-There is a lack of clear mechanisms or guidelines for the channeling of information to policymakers.

Honduras

- An intensely polarized political situation gave way to a complex election context in 2017 which brought major policy changes in the area of citizen security, shifting the policy orientation towards the local level.

- Some elements that impede the use of data for policymaking are linked to the lack of trained professionals in fields related with the sociology of crime and criminology.

- The limited capacity for analysis in relevant government entities impedes the use of data for policymaking.

Guatemala

- The political situation in Guatemala has created an uncertain national and institutional environment in general, but a positive note for InfoSegura in the context of these institutional uncertainties is that the technical staff of the Vice Ministry seems to enjoy a relatively high degree of stability.

- The insufficient capacity for data analysis in different state entities was cited by government staff as an impediment to using data for policymaking.



7.

EQ3: To what extent has the creation of partnerships and transparency (CONOSE) between government and civil society led to changes in national and regional collaboration with regard to the design of citizen security policy?

El Salvador – Honduras – Guatemala

-InfoSegura has made important strides in overcoming the historical lack of trust between government and civil society, which has, in specific instances, led to collaborative relationships between CONOSE institutions, civil society, and government.

- InfoSegura has undertaken a range of diverse initiatives in the areas of regional fora, training activities, conferences, and workshops, reflecting a recognition of the urgent need to strengthen training and research capacities in the region.



8.

EQ3.1: What are the internal and external factors that foster or impede collaboration among the members of CONOSE?

El Salvador – Honduras – Guatemala

A variety of impediments continue to prevent CONOSE from fully achieving its principal goals: 1) missing to date is a joint research agenda between state and civil society; 2) the absence of research within the framework of criminology and the absence of training opportunities in criminological approaches; 3) the CONOSE network structure and lack of legal status compromise access to broader funding opportunities, which are critical for chronically underfunded research institutes and Universities.



Recommendations
1

Training programs in the fields of official crime statistics, survey sampling, crime measurement scales, crime analysis for crime investigation and police operations, and evaluation of crime prevention policies and programs should be designed and implemented in the short term

2

InfoSegura should strengthen analytical capacity for evidence-based policymaking within relevant institutions to ensure the data available is fully exploited. With an increased focus on multidimensional analyses of citizen security and development such as the study of homicide and poverty conducted by CEASCI in Honduras, the challenge of translating this material into effective, concrete policies is even greater.

3

Efforts to provide training on the development of databases that integrate crime data with data on social and economic issues, and the development of capacities to link data with public policy should be among the future priorities of InfoSegura.

4

Given the threats to the sustainability of results due to major electoral changes or ongoing political volatility, InfoSegura should seek to strengthen institutional relationships through formal agreements, maximizing institutional commitments to policy frameworks and information sharing to consolidate the institutional architecture and spaces established by the project.

5

InfoSegura should identify priority areas for consolidation of critical areas of work in the three countries, rather than launching diverse new activities, which may result in dispersion. Identifying the principal weaknesses that serve as obstacles for the effective realization of core goals could provide a road map for concentrating efforts.

6

As InfoSegura has generated significant data and analysis on gender and violence against women, it should further help develop a knowledge management systematization to identify lessons learned and good practices in mainstreaming of gender in information management for citizen security.

7

If CONOSE is to fulfill the mandate originally envisioned for it, and generate effective inter-institutional collaboration, it will need to take steps to ensure that the research activities increasingly respond to a common agenda between government officials and academia. It would be useful to hold a forum specifically focused on establishing this agenda and exploring the current gaps that exist between government needs for evidence-based studies on efficacy/effectiveness of crime prevention initiatives/strategies versus the tendency in academia to pursue more theoretical concerns.