Terminal Evaluation of the Mainstreaming Global Environmental Priorities into National Policies and Programmes (Palau CB2)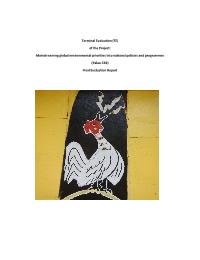 Evaluation Plan:

Evaluation Type:

Final Project

Planned End Date:

02/2020

Completion Date:

02/2020

Status:

Completed

Management Response:

Yes

Evaluation Budget(US $):

30,000
Title
Terminal Evaluation of the Mainstreaming Global Environmental Priorities into National Policies and Programmes (Palau CB2)
Atlas Project Number:

00087532

Evaluation Plan:
2018-2022, Fiji
Evaluation Type:
Final Project
Status:
Completed
Completion Date:
02/2020
Planned End Date:

02/2020

Management Response:
Yes

Focus Area

:
Corporate Outcome and Output (UNDP Strategic Plan 2018-2021)

1. Output 1.4.1 Solutions scaled up for sustainable management of natural resources, including sustainable commodities and green and inclusive value chains

SDG Goal

Goal 13. Take urgent action to combat climate change and its impacts

SDG Target

13.2 Integrate climate change measures into national policies, strategies and planning

Evaluation Budget(US $):

30,000

Source of Funding:
Evaluation Expenditure(US $):

23,113

Joint Programme:
No
Joint Evaluation:

No

Evaluation Team members:

| Name | Title | Nationality |
| --- | --- | --- |
| Bruce Chapman | Mr | |

GEF Evaluation:

Yes

| | |
| --- | --- |
| GEF Project Title: | Mainstreaming Global Environmental Priorities into National Policies and Programmes |
| Evaluation Type: | Terminal Evaluation |
| Focal Area: | Multifocal Areas |
| Project Type: | MSP |
| GEF Phase: | GEF-5 |
| GEF Project ID: | 5579 |
| PIMS Number: | 5049 |

Key Stakeholders:
Office of Environmental Response and Coordination (OERC)
Countries:

FIJI
Recommendations
1

PMU to pick up the concept of an 'exit strategy' as mentioned in the Prodoc and prepare a document that sets out the status of activities under the project and describes what is needed to take the work forward after the close of the project. Without being prescriptive, this could cover a number of issues from a list / compilation of documents and status of work initiated, through to describing potential areas of future donor support.

2

UNDP to investigate options for ongoing capacity support for Palau to ensure that momentum is maintained in the key area of capacity building for reporting under the Rio Conventions

3

UNDP-GEF to consider the lessons learned identified in this report in relation to future project design, implementation and execution, particularly in the areas of:

• Capacity constraints in SIDS

• Project inception phase

• Risk assessment

• Monitoring and evaluation
Management Response Documents
1. Recommendation:

PMU to pick up the concept of an 'exit strategy' as mentioned in the Prodoc and prepare a document that sets out the status of activities under the project and describes what is needed to take the work forward after the close of the project. Without being prescriptive, this could cover a number of issues from a list / compilation of documents and status of work initiated, through to describing potential areas of future donor support.
Management Response:
[Added: 2020/02/05]
At the moment, there is no exit strategy or a document that outlines what activities will be picked up by the government post-CB2. The development of an exit- strategy will also not be possible anytime soon as next year's activities are still in planning and discussion phase. The only confirmation received from is in regard to the placement of the two PMU staff (Amanda and Charlene), Amanda has moved to a different office (Office of Climate Change), leaving only one staff to carry on the work load of the NEPC Secretariat Unit.
This being the case (i.e., lack of an exit strategy and reduced personnel), key objectives of the CB2 will continue to be implemented by the ROP because of instilled sense of ownership to some of these key products and/or because it's within their mandates.
Key Actions:
Key Action

Responsible
DueDate
Status
Comments
Documents

Support the setup of a central database




[Added: 2020/02/05]

[Last Updated: 2021/01/13]

PMU/IP

2020/12

Completed

Existing databases for two offices (PALARIS and EQPB) as starting points, and receiving some hardware has been improved and thus no new database was created. Project is operationally closed.

History

Support the Nat'l Env Symposium Events




[Added: 2020/02/05]

[Last Updated: 2021/01/13]

PALARIS and NEPC Unit

2020/12

No Longer Applicable

[Justification: Project is operationally closed.]




Project is operationally closed.

History

Prepare and disseminate the 3rd State of the Env Report




[Added: 2020/02/05]

[Last Updated: 2021/01/13]

NEPC Members

2021/12

No Longer Applicable

[Justification: Project is operationally closed. ]




No longer applicable as project is operationally closed now

History
2. Recommendation:

UNDP to investigate options for ongoing capacity support for Palau to ensure that momentum is maintained in the key area of capacity building for reporting under the Rio Conventions
Management Response:
[Added: 2020/02/05]
The recommendation is acknowledged. This can be explored in the next phase of Palau CB project should there be an interest to pursue this beyond 2020
Key Actions:
Key Action

Responsible
DueDate
Status
Comments
Documents

Discuss with the RTA on next step plans for exploring a CB3 project for Palau




[Added: 2020/02/05]

UNDP

2020/02

Completed

Non annex 1 countries are requested to submit National Communications (NC) and Biennial Update Reports (BUR). While LDCs and SIDS can prepare and submit these reports at their discretion, the general expectation from non Annex 1 countries is to submit NC every 4 years and BUR every 2 years. Palau has received funds and is currently working on its Third National Communication with the support of UNEP. Palau can request GEF funding for the BUR and use it to build capacity and prepare for the transition to the enhanced tranparency framework under the Paris agreement. Parties under the Paris agreement are required to submit their first biennial transparency report and national inventory report in accordance with the MPGs at the latest by 31 December 2024. A joint UNDP-UNEP Golbal support programme is providing additional technical support to countries through sub regional and or national focus, if requested. The main goal is (a) to support countries to have high quality BURs/NCs every 2/4 years. Main areas are: GHG inventories - Mitigation - V&A and (b) to strengthen MRV capacities and linkage with NDCs. Palau can approach GSP through our UNV based in Fiji MCO or through UNEP.

UNDP to consider an overall assessment of Pacific CB2 projects to identify common issues and constraints




[Added: 2020/02/05]

UNDP

2019/12

Completed

Noting the above status of next funding phase for CB3, the identified recommendation will be considered should there any further changes to the development of CB3
3. Recommendation:

UNDP-GEF to consider the lessons learned identified in this report in relation to future project design, implementation and execution, particularly in the areas of:

• Capacity constraints in SIDS

• Project inception phase

• Risk assessment

• Monitoring and evaluation
Management Response:
[Added: 2020/02/05]
This is noted. The next phase of CB project will be built on lessons learnt from this project
Key Actions:
Key Action

Responsible
DueDate
Status
Comments
Documents

Discuss with RTA on opportunity for Palau CB3 and use the lessons learnt from this project to design and implement the project




[Added: 2020/02/05]

UNDP

2019/12

Completed

Noting the above status of next funding phase of CB3, the identified recommendation will be considered should there be any further changes to the development of CB3