Final programme evaluation on Joint UNDP-UNEP Poverty Environment Initiative (2013-2018)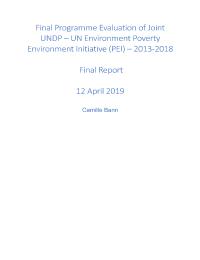 Evaluation Plan:

Evaluation Type:

Final Project

Planned End Date:

09/2018

Completion Date:

04/2019

Status:

Completed

Management Response:

Yes

Evaluation Budget(US $):

75,000
Title
Final programme evaluation on Joint UNDP-UNEP Poverty Environment Initiative (2013-2018)
Atlas Project Number:

00075132

Evaluation Plan:
2018-2021, Bureau for Policy and Programme Support
Evaluation Type:
Final Project
Status:
Completed
Completion Date:
04/2019
Planned End Date:

09/2018

Management Response:
Yes

Focus Area

:
Corporate Outcome and Output (UNDP Strategic Plan 2018-2021)

1. Output 1.1.1 Capacities developed across the whole of government to integrate the 2030 Agenda, the Paris Agreement and other international agreements in development plans and budgets, and to analyse progress towards the SDGs, using innovative and data-driven solutions

SDG Goal

Goal 17. Strengthen the means of implementation and revitalize the Global Partnership for Sustainable Development

SDG Target

17.16 Enhance the Global Partnership for Sustainable Development, complemented by multi-stakeholder partnerships that mobilize and share knowledge, expertise, technology and financial resources, to support the achievement of the Sustainable Development Goals in all countries, in particular developing countries
17.18 By 2020, enhance capacity-building support to developing countries, including for least developed countries and small island developing States, to increase significantly the availability of high-quality, timely and reliable data disaggregated by income, gender, age, race, ethnicity, migratory status, disability, geographic location and other characteristics relevant in national contexts
17.9 Enhance international support for implementing effective and targeted capacity-building in developing countries to support national plans to implement all the Sustainable Development Goals, including through North-South, South-South and triangular cooperation

Evaluation Budget(US $):

75,000

Source of Funding:
PEI 2018 AWP (EU donor funds)
Evaluation Expenditure(US $):

56,187

Joint Programme:
Yes
Joint Evaluation:

Yes

Joint with UN Agencies
Joint with

UNEP

Evaluation Team members:

| Name | Title | Nationality |
| --- | --- | --- |
| Camille Bann | Evaluator | |

GEF Evaluation:

No

Key Stakeholders:
UNEP, Bilateral Donors, Governments/ COs
Countries:

GLOBAL
Lessons
1.

PEI as a small project needed to be strategic and catalytic. PEI with its small budget could not do everything, therefore PEI needed to be clear on the most strategic entry points,
and catalyze support from strategic partners to ensure its sustainability. However, the identification of synergies with on-going and planned activities across different sectors at the
local, national and regional levels can be time consuming and needs to be assigned to capable people and resourced.
P-E mainstreaming requires long term support. P-E mainstreaming is complex, it
involves understanding inter-actions and feedback loops between bio-physical, economic and
social factors and working across different sectors of Government at the national and subnational level. P-E mainstreaming becomes more demanding as progress is made along its key stages, which can be broadly characterized as: (i) integrating P-E objectives into a national development plan; (ii) integrating P-E objectives into a range of sector plans, policies and strategies, while concurrently engaging in influencing national the sector budget and
monitoring processes; and, (iii) integrating P-E objectives and implementation at the subnational level. It is a long-term process of institutional change across Government and
capacity building. Sustainable shifts in the approach of country governments therefore require long term funding to undertaken technical studies, broaden ownership, develop co-ordination mechanisms, build capacity and develop and embedded tools and approaches.

Integrated approaches should target existing processes rather than creating
parallel systems. The most effective way to promote integrated approaches will usually be
by targeting existing planning, budgeting and institutional coordination mechanisms and tools
and enabling them to better respond to the three dimensions of sustainable development.
Creating mechanisms outside routine national systems or parallel processes can be
counterproductive.


Without finance, plans cannot be implemented. Working with the Ministry of Finance and
tracking expenditures are both key to increasing budget allocations to P-E.
• There is often a gap between the ambitions for environmental protection as articulated in
national plans and policies and the resources allocated to this in budgeting and
expenditure processes. PEI has demonstrated that increasing the ownership of
environment by finance ministries and the institutionalization of mechanisms to track
spending, can close this gap. Broadening ownership of climate and environment, with a
particular focus on Ministries of Finance, is therefore critical.
• The financial challenge is more acute at the sub-national level, where the links between
planning and budgets are weak and there is limited capacity / understanding of P-E
mainstreaming. It is therefore important to support Governments to ensure that the
delegation of powers to the sub-national level is accompanied by relevant budgets -
including target transfers from national to local budgets (AR, 2017).

Presenting environmental losses in financial terms helps provide an entry point to
discussions as does making the business case for poverty-environment investment
projects.
The inclusion of P-E objectives in national development plans does not automatically
lead to their integration in sector and sub-national plans. If the national poverty-environment
objective is not transformed into concrete actions through sector and district plans, change is
not realized. Realistically, substantive engagement in many sectors, districts or provinces is
beyond PEI staff and financial resources. Engaging in a small number of pilot districts and
sectors and seeking to integrate P-E objectives more broadly through the inclusion of P-E
elements in central Government guidelines to all districts, provinces and sectors has proved
to be the most realistic option in Africa. In Asia Pacific investment in local government is
considered to be critical given the evolving decentralization taking place in the region. To
incentivize local governments mainstreaming objectives should be tied to M&E systems or
performance assessment systems at the local government level.

Influencing policy is very much relationship based. Technical studies may be done
by short term consultants, but they are best 'sold' to Government by colleagues with an
established relationship with policy makers. As expressed by one consultee 'diplomacy is
more important than money' and a small contribution can have a big impact if good relations
with the Government exists. Effective technical assistance requires patience, perseverance
and presence. A long term presence allows a Technical Advisor to be perceived more as part
of the Government team, rather than an outsider, and better able to understand the
sensitivities around policy changes and how systems operate. Understanding the political
economy and vested interests is key to progress. P-E mainstreaming is a technical demanding process that requires proactive tactful staff who win the confidence of implementing partners. "Success with P-E mainstreaming is all about managing relationships" – building and maintaining a collegial and trusted working relationship with government is essential.

Pilots can be powerful tools for shifting policy. Buy-in at National Government level
is important and pilots can be used to test ideas and build a business case which can be used to influence policy. For example, in Tanzania, PEI pilots on fish farms led to their inclusion in its Fisheries policy on account of the demonstrated environment, social and economic benefits.

Capacity gaps are substantial in the Least Developed (LDCs) and Lower Middle Income
Countries (LMICs) especially at the local level, and on-going training and capacity building is
required to ensure skills and expertise are broad and deep enough to sustain P-E-C-G
mainstreaming.
• Often, public officials and local administrations do not have the skills or knowledge to
employ the mainstreaming tools or understand their relevance. It is therefore important to
assess capacity to apply tools in advance and, if necessary, include capacity-building
support as an integral part of the activity to develop and apply the tools. Working with and
through relevant government agencies and processes is vital when introducing new and
complex tools, which are likely to require considerable support to ensure
institutionalization and sustainability (AR, 2017).
• The introduction of poverty-environment guidelines in sector planning manuals and/or in
the budget call circulars requires follow-up capacity-building and fine-tuning for effective
application. On-going capacity building is needed to ensure that sufficient capacity to
sustain application and implementation are in place.
• Institutional capacity- building should be the priority, reflecting that poverty-environment
mainstreaming is a long-term process of institutional change and that institutional
weakness are a key barrier to effective change.

Data gaps are a key challenge and efforts are needed to build up data needed for policy
design and monitoring purposes, especially environmental data.
• Governmental action is more likely to be triggered if the analysis has used data regularly
compiled by central government agencies, with inputs from local government units (for
example, data collected through the national development plan monitoring system or the
national census). However, poverty-environment–related data are often lacking or
inadequate. Furthermore, the inclusion of a poverty-environment objective or indicator in
a monitoring framework does not automatically mean that data towards the indicator will
be collected. For example, while household surveys collect poverty related data,
environmental data are usually not collected. Government therefore need to develop
relevant poverty-environment indicators and support their application as part of their core
programme budget



Findings
1.

3 EVALUATION FINDINGS

3.1 Strategic Relevance

This section examines the relevance of PEI 2013-2018 from three inter-linked perspectives: • The strategic relevance of P-E mainstreaming within the context of the global sustainable development agenda; • PEI's relevance to the countries in which it operates; • PEI's relevance to the corporate strategies and delivery mechanisms of the UN partner agencies, and to other poverty-environment mainstreaming practitioners and donors. Overall the strategic relevance of the project is assessed to be Highly Satisfactory

3.1.1 PEI relevance to Global Sustainable Development Agenda

The 2030 Agenda and the Paris Agreement require the integration of environment and climate change in national policies, plans and programmes as critical dimensions of sustainable development. The project was therefore ideally placed to support the global sustainable development agenda, as elaborated below.

PEI and the Sustainable Development Goals (SDGs). The SDGs are cross-cutting and interrelated such that delivering on one goal will assist delivery of other goals. Therefore, taking an integrated approach to the delivery of the SDGs is essential for the success of the 2030 Agenda. A strongly held view is that the PEI embodies a proven model for helping countries implement the SDGs – a role that PEI itself consistently elaborates on in its Annual Reports (Box 1). PEI has 'road-tested' integrated approaches required to deliver the SDGs for over ten years and is seen by many as the precursor of the integrated approach. It also remains the only development programme providing dedicated support for povertyenvironment mainstreaming needed to deliver country level results. In line with the PEI Scaleup evaluation it remains true that with its localized work and experience integrating PovertyEnvironment-Climate–Gender (P-E-C-G) 7 PEI is well placed to help expedite SDG delivery. The fact that it is typically embedded in the Ministries of Finance and Planning, which is not the normal entry point for environment projects, further boosts its role in SDG delivery by offering a more viable route for ensuring that the environment aspects of SDG agenda are not left behind or out, as was the case with the Millennium Development Goals (MDGs). "The work of PEI in Africa has been ground breaking in terms of fostering better collaboration between ministries of environment and ministries of finance and economy and social players— a crucial aspect for attaining the Sustainable Development Goals." Juliette Biao Koudenoukpo, Director, UN Environment Africa Office (PEI Annual Report, 2017). While PEI is more closely linked with some SDGs that others (e.g. SDGs 1, 2, 13 and 15) and can therefore play a direct role in their delivery, PEI's holistic cross-government integrated approach, which has been tested over years, has general application across all SDGs.

PEI and the Paris Agreement. Increasingly though the project the PovertyEnvironment Initiative has been addressing climate change adaptation as a strategy to manage the risks posed by climate change to sustainable development, and in particular to vulnerable populations. National and local climate public expenditure and institutional reviews are helping governments direct resources to climate activities to improve the lives and livelihoods of the extremely vulnerable.




Tag: Climate Change Adaptation Environmental impact assessment Relevance Ownership Poverty Reduction Agenda 2030 SDG Integration SDG monitoring and reporting

2.

3.1.3 PEI relevance to UN Strategies and partners

The project was relevant to the mandate, strategy, functions, roles, and responsibility of the UNDP, UN Environment and to other UN agencies and partners including donors. PEI was embedded in UNDP's Strategic Plan 2014-2017 and UN Environment's Mid Term Strategy 2014-2017 and the Programme of Work 2014, 2015, 2016 and 2017. PEI supports the outcomes of the UN Quadrennial Comprehensive Policy Review (QCPR) of UN operational activities for development, which calls for working more in partnership with governments and promotes joint programming. PEI's continued relevance is demonstrated through its compatibility with the on going Secretary General Reform of the UN. The reforms will reinforce the movement towards a One UN. Activities of UN Agencies in country will be co-ordinated around the delivery of the United Nation Development Assistance Frameworks (UNDAFs), which serve as a contract between UN country teams and the host country to achieve national development. PEI used the UNDAF process to encourage governments to address important issues such as gender, environment and human rights, that are not receiving sufficient priority.




Tag: Relevance Donor relations Partnership UN Reform Bilateral partners UN Country Team

3.

3.2 Effectiveness: Attainment of project outcomes and objectives

This sub-section evaluates to what extent PEI attained its intended global, regional and national-level Outputs and Outcomes as set out in its Results Framework (sub-section 3.2.1) and the extent to which these are collectively contributing to meeting the overall programme objective and likelihood of impact. With respect to impact the evaluation considers if the joint project has contributed to measurable results for sustainable natural resource management and poverty reduction through applying an integrated approach (sub-section 3.2.2). Subsection 3.3.3 asseses whether the project achieved its planned goal and objective.

Effectiveness is rated as Highly Satisfactory on the basis that the project's Outcomes and Outputs have been attained, the likelihood of impact is 'Likely' and the project's goal and planned objective has been achieved (taken as the Global Programme Outcome). The intended Global Programme Outcome of PEI (2013-2018) was: "Enhanced implementation of development policies, plans and budgets that combine environmental sustainability and poverty reduction to contribute to inclusive and sustainable development goals." This is considered to have been achieved, backed by a review of how the project has supported the SDGs and contributed to inclusive development through its ambition to increase the integration of political economy aspects into its work.




Tag: Effectiveness Policies & Procedures Poverty Reduction SDG Integration

4.

3.2 Effectiveness: Attainment of project outcomes and objectives (continuation)

Outcome 1: P-E approaches and tools for integrated development policies, plans and coordination mechanism applied. Outcome 1 was over-achieved. The indicator for Outcome 1 were reformulated in 2015 to provide additional qualitative information reflecting the logical transition from the Output to the Outcome level. The reformulation defined five levels of achievement as set out in Table 3 and set the baseline in 2015 as: seven countries at Level 1 - Armenia, Burundi, Indonesia, Mongolia, Myanmar, Thailand, Uganda; ten countries at Level 2 - Bangladesh, Botswana, Guatemala, Kenya, Lao PDR, Nepal, Paraguay, Peru, Philippines, Tajikistan; nine countries at Level 3 - Burkina Faso, Dominican Republic, Kyrgyzstan, Malawi, Mali, Mauritania, Mozambique, Tanzania, Uruguay; and two countries at Level 4 - Bhutan, Rwanda. The baseline accounts for 28 countries.

The targets were - by 2016, at least 2 countries move up one level from baseline (2015) and by 2017/18, 3 countries move up one level from the previous year. In 2016 Bangladesh and Lao PDR moved from level 2 to level 3, Malawi moved from level 3 to 4 and Rwanda from level 4 to 5. In 2017, seven countries moved up one level - Bangladesh, Burkina, Kyrgyzstan, Lao PDR, Myanmar, Philippines, Tajikistan. Thus at the end of the project there were six countries at level 1, seven countries at level 2, eight countries at Level 3, six countries at Level 4, and one country at Level 5. The majority of countries did not increase a level (21 out of 28 countries included in the baseline), including 13 countries in which PEI had a country program, a clear indication that there is still more to be done to fully embed P-E-C-G in most countries. None of the countries in LAC progressed up a Level. DFID 2015 noted that while reasonable progress has been made in deepening the impact within PEI countries, embedding environment and natural resource considerations continues to be challenging due to a lack of data and political will. Two countries moved up two levels during the project – Bangladesh and Lao PDR. In 2015 the Government of Bangladesh standardized the number of national priority sectors across ministries to 14 and made environment, climate change and disaster management national priority sectors. Prior to this Ministries had followed different sector categorizations - the Ministry of Finance worked with 13 sectors, the Planning Commission 17 sectors and the Five-Year Plan documents followed 10 thematic areas, this created inefficiencies in the reporting and monitoring of public expenditures. Bangladesh mainstreamed poverty, environment and climate change issues both as a dedicated chapter in its 7th Five Year Plan 2016-2020 and across strategic sector strategies (e.g. agriculture, fisheries, forest, water, energy and infrastructure). The 7th FYP results framework that forms the foundation for the SDG monitoring process in the country also integrated poverty-environment indicators including specific indicators about climate resilience. This has led to improved coordination between the national planning and budgeting processes, and improved policy coherence on climate and environment between the National Planning Commission and the Ministry of Finance. The National Academy for Planning and Development led training on environment, climate change and disaster risk reduction mainstreaming for Bangladeshi public policymakers and planners in sector ministries and the planning commission.




Tag: Effectiveness Policies & Procedures Results-Based Management Poverty Reduction Coordination SDG Integration

5.

3.2 Effectiveness: Attainment of project outcomes and objectives (continuation)

Outcome 1: P-E approaches and tools for integrated development policies, plans and coordination mechanism applied. (continuation) Indicator 1.1: Number of policies and development plans that integrate P-E objectives and indicators in target countries. The number of policies and development plans produced at the national level was significant, with many countries approving multiple policies. By 2017, 4,542 national, and subnational plans included environmental objectives in 23 countries – exceeding the target number of plans (4,484), but not the original number of countries (28). The strengthened prioritization of poverty-environment issues in the second generation of national development plans and the increase in numbers of plans across all levels of government demonstrate growing commitment. The end of project level of achievement is noted as 36 national and 4,257 subnational plans including povertyenvironmental objectives in 18 countries (which is below the target of 4,484). The discrepency between the 2017 and 2018 reporting is not clear.

Indicator 1.2: Number of key sectoral policies and plans that integrate P-E objectives and indicators in target countries. By 2017, 112 sector policies and plans integrated poverty-environment objectives in 16 countries. This exceeded the target of 91 sectors plans, across a smaller number of countries than originally envisaged (28). The end of project level of acheivement is stated as 93 sector policies / plans integrated povertyenvironment objectives in 13 countries. Again, the reason for the discrepency is not clear. In Mozambique seven sectors included poverty-environment objectives in annual plans. Malawi included an annex on environmental sustainability and natural resourcemainstreaming in Malawi's Guide to Executive Decision-Making (GEDM 2015). In 2016, the wildlife, irrigation, mining and agriculture sectors used the mainstreaming annex when drafting their policies or sector strategies. The Office of the President has ensured compliance with the guidelines before approving four new sector policies (agriculture, forestry, fisheries and climate policy). The application of the Guide has helped to ensure a balance between agriculture production and environmental conservation in the draft national agriculture policy. Malawi's new fisheries policy demonstrated climate-resilient practices for sustainable development and poverty eradication based on Chinese technology that applies to deep fishponds; this technology improves water capacity and thus increases fish production from 0.8 to 1.2 to 4-8 tonnes per hectare. In Bangladesh PEI prepared a uniform template for the development of sector strategies, which was then used to prepare a sector strategy for education and economic governance, funded by the Japanese Government. An Agricultural sector strategy is now being prepared. The PEI ECIS Final Regional Progress report notes that it was challenging to influence sectorial strategies in Tajikistan and Kyrgyzstan due to the weak methodological and normative base for development of sectoral development programmes, and PEI resources were not sufficient to address these challenges.




Tag: Effectiveness Monitoring and Evaluation Policies & Procedures Programme Synergy UN Agencies Poverty Reduction SDG Integration

6.

Outcome 2: Cross sectoral budget and expenditure processes, and environmental economic accounting systems institutionalize.

By 2017, 6 countries had reported increased public sector expenditure for poverty-environment results, exceeding the end of project target of 4 countries. The six countries are – Bhutan, Mauritania, Mozambique, Rwanda, Tanzania and Indonesia. Rwanda reported an increase in its annual expenditure on environment and natural resources from 0.4 % of Rwanda's total budget in 2009/10 to 2.7 % in 2015/16. In Tanzania out of the total Vice President's Office budget of US$ 3.7 million, expenditure on the environment for development increased from 42.1% in 2015/2016 to 56.25% in 2016/2017, while the national annual budget for the 2017/18 fiscal year showed an overall increase in the development budget resources allocation. Programmes in Tanzania that will be funded using this budget cover climate change adaptation and Lake Tanganyika catchment area management. However, it is important to recognize that expenditure trends on environment and climate are not always linear, and an increase in one year may be followed by decreases in following years, reflecting changing political priorities. For example, the policy and budgetary changes PEI helped influence in Tanzania resulted in expenditures on the environment and climate change by the National Environment Management Council and the Vice President's Office more than doubling between 2013/14 and 2014/15. However, the total amount spent on the environment and climate dropped in 2015/16 (although it was still higher than the 2013/14 baseline), reflecting the overall reduced budget for sector activities in the country, as significant portions of the public budget were allocated to other new demands. In Mozambique 22 institutions use environment and climate budget codes, which has resulted in an increased budget allocation from 0.45 per cent in 2014 to a proposed 2.2 per cent of the 2017 state budget.




Tag: Challenges Effectiveness Efficiency Operational Efficiency Partnership Programme Synergy Bilateral partners Country Government International Financial Institutions Poverty Reduction Institutional Strengthening Technical Support Data and Statistics SDG Integration National Institutions

7.

Output indicator 2.1: Number of national budgeting and expenditure processes that integrate poverty-environment objectives in target countries. A variety of tailor made Public Expenditure Reviews have been applied to track expenditure on environment sustainability and climate change, and can be seen to be contributing to impact monitoring. There have been different levels of institutionalization. While Asia has seen a more successful uptake by government, Africa is facing challenges. By the end of 2017, PEI had successfully supported the integration of poverty-environment objectives into 76 budgeting and expenditure processes in 15 countries, partially meeting the end of project target of 80 budgeting and expenditure processes in 15 countries. By the end of the project this had increased to 84 budgeting and expenditure processes integrating poverty-environment objectives in 16 countries, thereby meeting the target.

In Indonesia, PEI support for budgeting approaches have led to the establishment of the budget tagging system. In the Philippines an Environment and Natural Resources Revenues and Expenditures Data Management Tool (ENRDMT) is operational in a total of 210 local government units and is used to triangulate information provided by Local Treasurers under a recent order by the Department of Finance to provide quarterly reports of the income from National Wealth.In Mauritania, policy briefs drawing on recent PEI-supported economic studies, budget guidelines and public expenditure reviews resulted in the integration of pro-poor environmental sustainability in six sector budgets, and medium-term expenditure frameworks. In Rwanda, the Ministry of Economy and Finance, in collaboration with Rwanda Environment Management Authority and with support from PEI, the integrated pro-poor environmental sustainability in its public budget process since fiscal year 2012-2013. The Ministry of Finance's Budget Call Circular (BCC) to all budget agencies includes the need for Government institutions to consider environment related projects and programmes in their sector budgets. Budget guidelines issued by the Ministry of Finance in Malawi directing ministries and public offices to "ensure environment and climate change priorities are appropriately reflected in the Budget submissions in accordance with the environment and climate change mainstreaming guidelines". The inclusion of sustainability aspects was informed by the dissemination of a PEI supported guidance note on integrating the environment and natural resource management into national budget guidelines.




Tag: Efficiency Private Sector Financing Policies & Procedures Poverty Reduction Data and Statistics National Institutions Private Sector

8.

Outcome 3: P-E approaches and experiences documented and shared to inform country, regional and global development programming by the UN and member states. Knowledge management / dissemination is key for the long-term sustainability of PEI in the UN system, countries and other organizations.The global target is based on the level of integration of pro-poor environmental mainstreaming approaches and tools in UN (UNDP, UN Environment) and partner strategies and programmes at country, regional and global levels (Table 5). According to the PEI Annual Report the target of level 3 was largely attained with evidence of progress towards level 4. Examples of how the project has met the requirements of level 3 are provided below. P-E mainstreaming approaches and tools have been adopted within revised UNDG Environmental Sustainability guidelines. Mainstreaming, Acceleration and Policy Support (MAPs) led by the UN Development Group has developed a Mainstreaming Reference Guide for UN country teams (2016) as part of the toolkit for implementing the SDGs. The Guide draws on Poverty-Environment Initiative tools developed and applied in the context of the Poverty-Environment Initiative's integrated socio-economic-environmental approach to environmental mainstreaming. PEI teams have engaged with a number of United Nations MAPs missions. P-E tools are adopted within UNDAFs in PEI and non-PEI countries. Since its inception, poverty-environment objectives have been included in 24 UNDAFs and 24 UNDP Country Programme Documents in targeted countries (PEI Annual Report 2018). The projectcontributed to the development of new United Nations Development Assistance Frameworks (UNDAFs) and Country Programme Documents following agreement of the SDGs, in Dominican Republic, Kyrgyzstan and Mauritania in 2017, as discussed further below.




Tag: Regional Communication Knowledge management Programme Synergy UN Agencies Poverty Reduction Mainstreaming, Acceleration and Policy Support (MAPS) SDG Integration

9.

Output indicator 3.1: Number of UNDAFs and Country Programme Documents (CPD) that are poverty-environment mainstreamed. By the end of 2017 Povertyenvironment objectives have been included in 48 UNDAFs / CPDs, exceeding the end of project target of 47. It should be noted that this target includes the achievements of the Phase 1 Scale-up Phase as well. Under the project PEI contributed to 15 UNDAFs and 10 CPDs. Box 3 provides an example from the Dominican Republic.

Output Indicator 3.2: Number of UN Strategic Documents such as United Nations Development Group guidelines and post-2015 debate that reflect PEI inputs. By the end of 2017, PEI had influenced 78 strategic documents, exceeding the target of 40 by 195%. At the end of the project PEI had influenced 91 strategic and post-2015 debates. Examples are provided in Section 3.4 of this report.

Output indicator 3.3: Number of PEI knowledge products shared with regional and global networks. By the end of 2017, 433 knowledge products had been shared, exceeding the target of 265 by nearly 150%. This increased to 451 knowledge products, including 5 regional papers on integrated socio-environmental policy tools by the end of the project. Examples are provided in Section 3.4 of this report.Knowledge products included a number of new videos on P-E related activities and themes available on the PEI website and PEI YouTube channel in English, French, Portuguese, Russian or Spanish languages and subtitled in English or French. Feedback from users suggests that PEI products are helpful, although a more formal and structured assessment is thought necessary (DFID).

Output 3.4: Number of references to P-E approaches and tools in UN and other UN development agency / strategies / plans. By the end of the project 382 references and 15 further citations were documented, well exceeding the target of 108 documented references and citations.




Tag: Effectiveness Impact Gender Equality Women's Empowerment Knowledge management Policies & Procedures Results-Based Management Theory of Change UN Agencies Poverty Reduction Institutional Strengthening South-South Cooperation SDG Integration

10.

3.2.2 Likelihood of impact using Review of Outcome to Impacts (RoTI) (continuation)

High level Country TOCs were developed at the mid term stage of the project. Figure 3 presents the TOC for Tanzania as an example. All country TOCs have a similar presentation and are available on the PEI website. The Outputs at the country level link to Outputs 1 and 2 in the global Results Framework. The short term Outcomes are country specific. It is assumed that the medium term Outcome was to be achieved within the project period (not specified). The Impact is poverty eradication and sustainable use of the environment and natural resources, compatible with the global impact although worded differently. By and large the project did not engage in impact evaluation and this needs to be given more emphasis under PEA. There is a need to understand the impact of PEI work, document changes reasonably attributed to PEI, and indicate needs, drivers and barriers. It would then be clearer what remains to be done and to thus to target and develop sustainable pathways with donors and other partners. The key assumption behind the PEI Africa Theory of Change is that increased public expenditure on environmental sustainability and climate change will reduce environmental degradation and enhance the productivity of natural resources that vulnerable groups depend on for their incomes and livelihoods. The PEI Africa Final Progress report states that there are currently no clear methodologies or attempts for establishing the link between increased public environment and climate expenditure and reduced poverty, enhanced climate resilience and improved environmental outcomes. In Africa expenditures have increased in 3 countries (Tanzania, Malawi and Rwanda) but no analysis has been undertaken to establish if that expenditure has had an impact on poverty and environmental outcomes. However, PEI Africa consider that they have catalyzed change in poverty and environmental outcomes through four main avenues: (i) by linking pilot interventions with district, sector and national policies (Rwanda, Tanzania); (ii) by ensuring the participation of local communities in the development of district and local plans; (iii) by providing support for the establishment and operationalization of environment funds and ensuring vulnerable groups access to such funds (Burkina Faso); and, (iv) by commissioning research and analysis (Mauritania) and supporting policy changes (Malawi) to inspire other actors to financially support povertyenvironment actions. The project level cost-benefit analyses carried out in Rwanda and Tanzania concluded that poverty was reduced through sustainable ENR project investments – see Boxes 4 and 5 below. The PEI Africa Final Progress report concludes that more thinking needs to go into how to analyze the links between increased environment and climate expenditure and reduced poverty, enhanced climate resilience and improved environmental outcomes. PEI Africa's work on including environmental aspects into multi-dimensional poverty indices can support this in PEA. Further, a better understanding is needed on how PEI has catalyzed actions that have an impact on poverty and environment outcomes on the ground to verify and or modify the project Theory of Change. This would help set out the drivers, assumptions and intermediate states to better grasp where countries are along the mainstreaming process and where support is most needed. Boxes 4 and 5 provide an example of how cost benefit analysis (CBA) was used to demonstrate the social and economic viability / impacts of projects, and thus provide insights into PEI's impact.




Tag: Effectiveness Impact Gender Mainstreaming Monitoring and Evaluation Programme Synergy Results-Based Management Theory of Change Inclusive economic growth Poverty Reduction Data and Statistics SDG Integration

11.

3.2.3 Achievement of project goal and planned objectives

The intended Global Programme Outcome of PEI (2013-2018) is: "Enhanced implementation of development policies, plans and budgets that combine environmental sustainability and poverty reduction to contribute to inclusive and sustainable development goals." This is considered to have been achieved. This section looks at how successful the project was in supporting the SDGs and contributing to inclusive development through its ambition to increase the integration of political economy aspects into its work (i.e. governance, equity, gender, inclusive green growth, job creation, social protection and a rights-based approach). Sub-section 3.2.3.2. focusses on PEI's work on gender. Compared to the previous phase the project had a stronger focus on poverty and in general the work became more complex and costly as the project pushed into more difficult and less explored mainstreaming areas. Figure 4 presents a simplified mainstreaming process. Early Poverty-Environment Initiative work focused on influencing the national development plan, which requires engagement in one process, albeit with different components. The project worked with a variety of strategic sector processes (typically ranging between 4 or 5 sectors) and had a much stronger focus on the sub-national level. Poverty reduction targeting is quite costly at the district levels on account of the substantive data gaps in relation to poverty-environment linkages and capacity constraints.

3.2.3.1 PEI and the SDGs

PEI has identified, and sought to fulfil, a demand from developing countries for support in Sustainable Development Goal implementation, particularly the integration of goals and targets into national development plans and monitoring systems. In Tanzania there is a strong appreciation of how the PEI approach can support SDG delivery. PEI has helped review how the SDGs are linked to the 5YDP and how they can be integrated and monitored. In 2016 the Government with the support of PEI started a process to ensure that district plans include SDG targets and indicators, backed by budget allocations. Some indicators are already in the plans, such as health and education, the key gaps relate to environmental indicators. The 5YDP introduced the LED (Local Economic Development) approach to ensure inclusive development and implementation of SDGs. It is a development framework to ensure that SDGs are taken into account at the local level, working with Local Government to integrate SDGs into local plans and budgets and the private sector. The LED approach was developed and tested with some local councils in 2018, and will be rolled out in the next financial year.




Tag: Effectiveness Sustainability Gender Mainstreaming Knowledge management Policies & Procedures Inclusive economic growth Jobs and Livelihoods Poverty Reduction Data and Statistics Mainstreaming, Acceleration and Policy Support (MAPS) SDG Integration

12.

3.2.3.2 Gender equality

It is apparent that the project greatly stepped up PEI's efforts to address gender issues as it sought to make gender equality a cross-cutting component of PEI's integrated approach. A range of gender initiatives were supported including: - Collaboration with UN Women, UN Environment and UNDP gender and poverty specialists across the four regions. - Providing evidence of the scientific, economic and policy interface on gender equality through sub-regional, national and local studies. - Strengthening the environmental and gender dimensions of UNDAFs. As an example, Malawi's new UNDAF includes evidence from the Soil Loss Study and the 2015 Cost of the Gender Gap study (PEI - UN Women - World Bank) to advocate for sustainable use of natural resources and gender equality in the fight against poverty and food insecurity. - The Dominican Republic is the first country to include gender violence and entrepreneurship as poverty-related indicators in its multidimensional poverty index. - Preparation of regional gender and equality strategies for use in integrated mainstreaming.

Assessments of the economic and social costs of the gender gap in productive sectors (e.g. agriculture, waste management, forestry and energy) have been particularly successful in mainstreaming gender into policies and strategies. However, it is also noted that the gender assessments and studies supported by the project typically revealed low levels of awareness and inadequate structures and capacity to integrate gender equality in the context of the poverty- environment nexus in development plans and budgets.




Tag: Gender Equality Gender Mainstreaming Gender-Based Violence Women's Empowerment International Financial Institutions UN Agencies Inclusive economic growth Poverty Reduction Awareness raising Data and Statistics SDG Integration

13.

3.3 Sustainability

The sustainability of the project is rated as Moderately Likely. Key factors requiring attention in order to improve the prospects of sustainability are – more effective dissemination of the project's mainstreaming toolkit and know-how, funding, capacity building and partnerships.This section complements the discussion on the likelihood of moving from the project's Outcomes to Impact presented above. While the indicator levels for Outcome 1 and Output 1.4 provide some measure of what remains to be done for countries to be on a sustainable footing also presented above. The issue of sustainability is also closely linked to the discussion on catalytic role and replication discussed in the next section 3.4. PEI as a relatively small project was designed to catalyze technical and financial support from a broad range of stakeholders and its sustainability is fundamentally linked to this. Sustainability is also linked to country ownership discussed in section 5.4. This section includes: (i) an overview of PEI's Exit and Sustainability Strategy; and, (ii) an analysis of the key factors influencing the project's sustainability – financial, institutional and socio-political.

The sustainability of PEI was a core discussion point of the evaluation. The sustainability of the project is on a fundamental level supported through the funding secured for the follow on project – PEA. PEA is designed to broaden and deepen the Outputs and Outcomes of the project. A key factor contributing to the sustainability of PEI's work is the working relationships it has established with Ministries of Planning / Finance, but it will depend on the capacity, financing and on going political will to support P-E mainstreaming. The partnership with UNDP COs also supports sustainability – for example, UNDP CO Rwanda formed a povertyenvironment unit, based on the results of PEI support to the country and the Government's commitment to addressing P-E challenges. In some countries it is believed that the work will continued even without PEI support, for example in Bhutan, while in other countries partners will continue the work of deepening and upscaling PEI's achievements, such as PAGE in Kyrgyzstan. However, for most countries on going assistance is considered to be needed to fully institutionalise P-E-G-C mainstreaming, especially in Africa.




Tag: Sustainability Knowledge management Operational Efficiency Partnership Bilateral partners Poverty Reduction Coordination Institutional Strengthening Technical Support SDG Integration National Institutions

14.

3.3.1 PEI Exit and Sustainability strategies

Initially it was not clear that there would be another PEI phase / follow on project and from the outset the project has had a keen eye on the sustainability of their outputs beyond 2018, as evidence in JMB minutes (17 September 2014).In 2015 (as part of the Internal Mid-term Review) Exit and Sustainability strategies were developed for all countries, setting out the exit process and options for sustainability post 2018. All countries felt that a 'hard PEI-Exit' without any continuing TA would endanger sustainability. According to the LAC Final Progress Report, to ensure country ownership of the projects and a sustainable transition during project closure, the Exit and Sustainability strategies were elaborated in close collaboration with the counterparts, following the PEI Global Guidelines. The strategies helped the countries to have a better understanding of what needed to be achieved during the last year of project implementation. In line with a request from the 2014 Donor Steering Group meeting, a Sustainability Taskforce (with regional representation and under the guidance of PEI Co-Directors) was set up in April 2015 to elaborate a sustainability strategy, including scenarios for PEI beyond 2018. The strategy clarified the roles and resources necessary for each agency to ensure sustainability of outputs beyond 2018. The strategy also considered how to address the unmet demand for PEI mainstreaming support, given that over 50 countries had requested PEI support. A Sustainability Report was shared in April 2016 with the 8th PEI DSG, following which PEI received initial support from key donors for the development of a successor Global Programme. In Africa all countries requested on-going country support due to significant capacity constraints and financing needs, and on account of the support P-E mainstreaming work provides to SDG implementation. In Asia-Pacific all countries strongly indicated the need for continued PEI support post the project to refine and institutionalize tools and approaches related to cross-sectoral co-ordination, integrated planning, budgeting and investment management systems. Support was also requested in new emerging areas such as natural resource investment management, fiscal decentralization and integrated financing. In Latin America and the Caribbean, the view was that PEI support beyond the project would be most beneficial in terms of evidence-based policy advice related to thematic areas where P-E links are important such as economic evidence for sustainable resource use. In ECIS for many countries the task of P-E mainstreaming has not been completed, and there is high expectation that PEI will serve as a mechanism for national level implementation of the SDGs (PEI Sustainability Report, 2015). Generally, in ECIS there is more to be done and more money needed. For example, while there are overall PEERs in place, there is a need to look at specific areas such as biodiversity (ECIS, Final Progress Report).




Tag: Efficiency Sustainability Regional Knowledge management Oversight Policies & Procedures Poverty Reduction Institutional Strengthening SDG Integration National Institutions

15.

3.3.2.2 Institutional Framework (including capacity) (continuation)

As another example, in Bangladesh the National Academy for Planning and Development (NAPD) trained 200 public officials in environment and climate change and Environmental Impact Assessment (EIA), through seven 3 day courses. Feedback on the course was that 3 days was too short and that such introductory courses can only serve to raise awareness. Follow up courses are needed to really build the capacity of practitioners. Bangladesh have a shortage of skills and knowledgeable manpower and continuous training is needed in many areas. For example, it is important to make officials more conscious of climate change and develop more people conversant in climate analyses across Government and in implementing projects taking into consideration the P-E-C nexus. Training is also required in Strategic Environment Assessment (SEA), which is not widely practiced. Therefore, while PEI has built capacity at the individual, institutional, and system scale, further interventions are considered necessary to ensure capacity is developed to a level that allows countries to independently steer and implement integrated planning. It is beyond PEI/PEA to finance capacity building at the sub-national level beyond pilot districts and across all the necessary sectors and therefore support from partners is required.




Tag: Efficiency Sustainability Election Communication Knowledge management Institutional Strengthening National Institutions

16.

3.4 Catalytic Role and Replication

This section is closely aligned with the sustainability of PEI, discussed above. It looks at six core and interrelated ways the project can leverage its work namely through – mainstreaming PEI thinking and approaches into the UN, developing partnerships to augment and or take forward PEI initiatives, promoting South-South cooperation to spread viable alternatives across similarly matched countries, knowledge management to ensure the best information is reaching and influencing people at all levels, resource mobilization and replication. Catalytic Role and Replication is rated as Moderately Satisfactory. The project had some success in promoting the adoption of poverty-environment objectives, tools and approaches across the United Nations system and within bilateral and multilateral partner agencies, but the widely held view is that this integration could have been more extensive / comprehensive. Some notable partnerships were developed and remain key to the sustainability of PEI. There is evidence of replication both within countries and across regions, and scope to enhance south-south learning as a means of catalyzing further uptake of PEI tools and approaches.

3.4.1 Mainstreaming into the UN

The project aimed to mainstream PEI thinking, approaches and tools into UN projects and programmes as a means of upscaling and sustaining PE mainstreaming efforts. The prospect of mainstreaming PEI within the UN has always been a strong rationale for donor support. Given that the project was the second five year PEI project to be funded, donors were keen to see, on the back of US$12 million of funding annually, the integration of PEI into the strategic frameworks of UNDP and UN Environment. DFID's 2016 Annual Review of PEI strongly encouraged the UN institutions, particularly UNDP and UN Environment, to further mainstream climate and environment into their operations and support to country Governments. The mainstreaming of PEI work into the UN is the focus of Outcome 3. Despite the targets being achieved across Outcome and Output 3, many felt that this is an area where more could have been achieved. To be more fully mainstreamed into the UN, PEI would need to be achieving components of level 4 and 5 of Outcome indicator 3 (Table 5). A few elements of components 4 and 5 have been achieved as documented in the PEI Final Annual Report, 2018. According to PEI's Management Response to the Scale up Phase evaluation UNDP's capacity for integrating P-E mainstreaming significantly improved following UNDP's 2014 restructuring and creation of the Sustainable Development (SD) Cluster. This structure was aligned to deliver on UNDP's Strategic Plan (2014-2017) and is measured against the Integrated Results and Resources Framework (IRRF). PEI is hosted within the SD Cluster and the Global Policy Centre on Resilient Ecosystems and Desertification.




Tag: Effectiveness Sustainability Communication Integration Knowledge management Partnership UN Agencies Post Conflict Poverty Reduction Coordination South-South Cooperation SDG Integration

17.

3.4.2 Partnerships

PEI recognizes that partnerships are essential to catalyze and sustain povertyenvironment mainstreaming, and critical for implementing the SDG Agenda. PEI's sustainability strategy, supported the development of partnerships to collaborate and continue P-E mainstreaming. It commited PEI to expanding its partnerships with other UN agencies (UN-Habitat, UNCDF, UN-OHCHR and UN WOMEN), and identifying technical and financial partnerships at regional/country level.

The project made efforts to explicitly set out its comparative advantage. For example this was formally set out in a strategic vision paper with PAGE and UN Environment Sustainable Consumption and Production (SCP) as discussed below. It was stated that some other programmes viewed PEI as competing for funds and did not agree with the PEI model of substantive engagement at the country level and working with Ministries of Planning/Finance. Overlap was not generally a problem at the country level as PEI had a different focus and therefore could complement the work of other programs. However concerns over duplication between similar finance / green economy partnerships programs remains an issues for PEA as discussed below. The value added of PEI was well appreciated by UNDP COs reflected in their willingness to support PEI and to integrate it into their portfolios, develop joint projects and make PEI an integral part of UNDAF clusters.




Tag: Environment Policy Effectiveness Partnership Bilateral partners Country Government International Financial Institutions UN Agencies Poverty Reduction Institutional Strengthening Agenda 2030 Data and Statistics SDG Integration

18.

3.4.2.1 Overview of Partnerships (continuation)

Partnerships within the United Nations system (see finding ___)

Bilateral and Multilateral development partners

A number of bilateral partners worked with PEI on specific technical activities and /or built on PEI achievements. Germany's GIZ and the United Kingdom's Department for International Development were strong technical partners and catalyzers of PEI work. For example: • In Mauritania climate vulnerability maps were developed with the support of the PEI and the Global Alliance against Climate Change (a jointly funded project by Germany's GIZ and the European Union). The maps will inform the Global Alliance against Climate Change project on capacity-building for local planners with a budget of €1.6 million from the European Union. The project also worked with GIZ to assist the Government of Mauritania to develop the new National Strategy on Sustainable Development 2016–2030 and Environment National Action Plan 2017–2021. • In Malawi, GIZ financed the review of the wildlife act inspired by the review of the national wildlife policy that the PEI assisted with. • The project collaborated with the GIZ programme in the Kyrgyz Republic on dataand information-sharing. • PEI coordinated a new partnership to strengthen the capacity of the Kyrgyzstan National Statistics Committee to introduce the SEEA that was launched with the Czech Trust Fund and GIZ in 2015. • The European Union scaled up the work of the Mainstreaming Reference Groups at the local level in Bhutan. • In Malawi, the national launch of the report on the cost of the gender gap was cohosted by the Government of Norway. • In Nepal, the United Kingdom's DFID collaborated with the Poverty-Environment Initiative through the Environment Friendly Local Governance Framework; this, along with the UN Capital Development Fund LoCAL, is a key programme to mitigate climate change and help communities adapt to climate change.

There is evidence of multi-lateral agencies building on PEI work. For example: (i) A Global Environmental Facility project in Guatemala on Conservation and Sustainable Use of Biodiversity in Coastal and Marine Protected Areas is using the result of the PEI supported Targeted Scenario Analysis to inform land use plans in the coastal area and to review environmental management plans; and, (ii) other studies have been taken up by the World Bank in Malawi to guide its country environmental analysis. In 2016, PEI initiated a collaboration with the UNDP Parliamentary Learning Centre, Natural Resource Governance Institute and the World Bank to deliver a learning seminar for parliamentarians - "The Myanmar Extractive Industries Transparency Initiative (MEITI) and Environmental Standards: An Introduction to Natural Resource Governance in Myanmar." The seminar was attended by 150 members, some 22 per cent of all members. PEI facilitated a presentation on environmental trends in Myanmar's extractive industries, how to apply the current environmental regulatory framework, and the implementation and monitoring needs of the country. The seminar contributed to participants' knowledge of Myanmar's national processes to improve resource governance, and assisted them in their work.




Tag: Climate Change Adaptation Environment Policy Green Climate Green Economy Effectiveness Efficiency Partnership Bilateral partners Inclusive economic growth Poverty Reduction Institutional Strengthening Data and Statistics SDG Integration Civil Societies and NGOs

19.

Green Economy – Sustainable Finance Initiatives

The new project PEA, with its increased focus on sustainable financing, investments and working with the private sector is moving closer to a number of on-going projects addressing similar issues e.g. the Partnership for Action on Green Economy (PAGE), the Global Green Growth Institute (GGGI) and Wealth Accounting and the Valuation of Ecosystem Services (WAVES). It is therefore important for PEA to be clear on its value added, how it complements other programmes and how it will avoid duplication. A recurring concern of donors is that they can justify their support to perceived similar programmes such as PEI and PAGE (DSG, April 2015). This concern was also raised at the PAGE's Mid-term Review. In response to this concern, PEI took the lead on a strategic vision paper in collaboration with PAGE and UN Environment Sustainable Consumption and Production (SCP) which outlines the value added of each programme and areas of collaboration including joint work plans, staffing and division of labour. The DSG in 2015 suggested that the Biodiversity Finance Initiative (BIOFIN), UN Reducing Emissions from Deforestation and Forest Degradation (UN REDD) and potentially GEF be included in the PAGE-PEI-SCP collaboration paper and that it provide a summary table to show co-location, commonalities and differences. Such an exercise would be useful and could also include the UN Environment Finance Initiative (UNFI) and GGGI. There is competition for resources from the same donors and while PEI was encourged to work in the same countries as PAGE by all donors, the EU has subsequnetly requested that a TA criteria for PEA be that work is not undertaken in the same countries as PAGE.




Tag: Forestry Climate Change Adaptation Biodiversity Environment Policy Green Climate Green Economy Efficiency Global Environment Facility fund Gender Equality Gender Mainstreaming Partnership

20.

Green Economy – Sustainable Finance Initiatives (continuation)

The range of projects looking at green economy and sustainable finance need closer engagement going forward given their similar objectives, so that they can be mutually supportive and avoid duplication. Under the Addis Ababa Agreement member states committed to integrate finance across the UN system, but this is reportedly not very well advanced and there is therefore an opportunity to better coordinate and integrate on-going initiatives.

While it was not possible to explore the relationship between the different project in detail as part of the evaluation, the main synergies going forward include: • PAGE responds to calls for support from countries wishing to embark on greener and more inclusive growth. These requests are mostly from upper middle income economies. The market-based instruments promoted by PAGE and investments promoted by UNF - including fiscal and trade policy, require fairly robust institutions. PEI has been characterized as PAGE for LDCs. PEI invests in institutional capacity building and policy development and has a longer term operational mode. Poverty-Environment Action can complement PAGE by offering cooperation on institutional transformation, which typically requires a sustained country presence. • UNFI fosters country level dialogues on sustainable finance (mostly in high-income economies), the newly launched PEA project will build and strengthen national institutions and governance (mostly in low income economies). • BIOFIN is focused on analysis and could use PEI in country to embed their work, building on PEI's relationship with Finance Ministries. • Reducing Emissions from Deforestation and Forest Degradation (UN-REDD). PEI did not engage much with UN-REDD, but there are linkages with PEA in terms of stakeholder engagement and governance / finance aspects. • PEA plans to use the economic analyses provided by TEEB to policymaking, particularly in low-income economies. A view was expressed that the environmental economics initiatives within the UN still operate in silos and that information needs to be better shared and integrated. • WAVES and UN Statistics work on Natural Capital Accounting, opportunities should be explored, perhaps in relation to SDG delivery and monitoring.




Tag: Climate Change Adaptation Environment Policy Environmental impact assessment Green Economy Effectiveness Knowledge management Partnership Policies & Procedures Poverty Reduction Advocacy South-South Cooperation SDG Integration National Institutions

21.

3.4.4 Knowledge management

The PEI constituency is far wider than the countries it directly services and the project was designed under Global Output 3 to generate and disseminate knowledge products as a means of increasing the uptake of PEI's tools and approaches. DFID stated in 2016 that a large part of ensuring the legacy of PEI would be through feeding learning into other programmes and initiatives working on climate and environment mainstreaming and funding, and that this should be a high priority for PEI in its final year. Learning from PEI will also be taken forward into PEA, further emphasizing the importance of capturing the PEI knowledge in an accessible and user specific manner. The PEF was responsible for knowledge management, namely setting a strategic vision on the type and number of knowledge products to be developed and how the products could be best disseminated. One view expressed through the consultations was that given its resources the project's achievements in terms of knowledge dissemination were reasonable and DFID consistently gave Output 3 related to knowledge management an 'A' rating in its annual reviews. The dominant view was however, notwithstanding the limited resources, knowledge management could have been better. A strongly expressed concern was that the range of examples and experiences at the country level were not reaching a broad enough audience. Knowledge management needed to be more strategic, coordinated and resourced. Some expressed a view that there was a difference in views between the agencies regarding the importance of Output 3. The knowledge management component was reportedly under resourced and downsized through the course of the project despite a strong and increasing demand. This meant that PEI was not able to meet many requests to speak at global and regional events (e.g. from PAGE) and it has been a challenge to secure the legacy of PEI, through key documents such as the PEI tools compendium.




Tag: Communication Knowledge management Poverty Reduction Coordination Institutional Strengthening Technical Support SDG Integration

22.

3.4.4 Knowledge management (continuation)

Examples at the regional / country level include: • PEI in LAC contributed to the first meeting of the Forum of the Countries of Latin America and the Caribbean on Sustainable Development in April 2018 with the paper 'Articulating Social and Environmental Policy for Sustainable Development: Practical options in Latin America and the Caribbean'. PEI in LAC consider knowledge management as well as the communication of project results, to have been a major area of their work (LAC Final Progress Report). Five regional papers were produced on integrated socio-environmental policy tools, Conditional Cash Transfer Programmes, Gender analysis of the waste management sector, the IVACC tool and the Multidimensional Poverty Index. • In Africa, PEI's and UN Women's experiences empowering women to uptake sustainable energy solutions to address climate change were presented at a side event at the UNCCC Conference of the Parties (COP) 2113. Accelerating Sustainable Development in Africa: Country lessons from applying integrated approaches14 was released at the Sixteenth Session of the African Ministerial Conference on the Environment (AMCEN) in June 2017. It also featured during the Nexus Dialogue on Poverty and Environment at the High Level Political Forum in New York. PEI's review of energy policies in East and Southern Africa was presented at a side event at AMCEN 201715. • In ECIS, 'Building an inclusive and climate-resilient future: An integrated approach to pro-poor sustainable development' (UNPEI Tajikistan, October 2017) was produced based on lessons learned from the ECIS portfolio. • 'The Poverty-Environment Accounting Framework: Application to Inform Public Investments in Environment, Climate Change and Poverty: Integrated Planning, Budgeting and Investment Tools for Achieving the SDGs' was presented during the regional workshop on lessons learned for UNPEI Asia-Pacific. PEI participated in the Green Fiscal Policy Network regional workshop held in Bangkok sharing PEI experiences in Lao PDR and the Philippines in promoting a more transparent and effective use of revenues from the extractives industries.




Tag: Climate Change Adaptation Environment Policy Gender Equality Gender Mainstreaming Communication Knowledge management Poverty Reduction Institutional Strengthening Data and Statistics SDG Integration National Institutions

23.

3.4.5 Resource mobilization

Donors see the value of investing in PEI due to the core contributions from UN Environment and UNDP Country Offices and the local resource mobilisation often achieved through PEI interventions. For the project, an average investment of US$ 5 million per year by the global donors resulted in US$ 13-15 million in expenditure. The Co-Directors highlight the mobilisation of core UNDP and UN Environment funds as a key management achievement. Others note that a high proportion of the core funds were raised at the country level by UNDP Country Offices, in which the PEF did not play a part, and that within the PEF the role of the donor relations officer was highly significant in mobilizing and securing donor funds. There is also a view that PEI relied too heavily on the continuity of core donor funds and have restricted their ambition to this core donor funding rather than looking for new and additional money to extend their reach. Resource mobilization will be important for the follow on program, PEA, for which donor funding has been reduced.

The primary source of funding for PEI's Global Programme is linked to voluntary donor contributions (as detailed in Table 8). However, at the country level, the resources mobilized through UNDP TRAC or other local development partners constituted a key financial component contributing to the delivery of results. PEI's country projects have identified ways to partner with initiatives which complement PEI, leveraging resources and strengthening national ownership and partnerships, which should improve the sustainability of PEI interventions. Table 5 provides an overview of in-country donors based on the PEI Annual Financial Reports. Support from in-country donors has fluctuated over the project, ranging from around US$6.3 million in 2014 (around 75% of which was support provided by DANIDA to Bhutan) and US$0.5 million in 2016. These resources are not pooled under the PEI Atlas award, but received at the country level under other projects.

Box 7 provides a summary of investments catalyzed by PEI Africa. For example, following the integration of poverty-environment objectives in the 2016 fisheries and forestry policies US$ 16 million have been mobilized from the World Bank, Government of China and civil society organizations to implement inclusive and sustainable fisheries practices. In 2016, construction of 210 deep fish ponds benefitted local fishermen and led to an increase in annual fish production from aquaculture from 4,742 metric tonnes in 2014 to 7,646 metric tonnes. The implementation of these practices is already increasing fish production in selected districts and sustainable forestry is being applied more widely. These positive changes have motivated China to invest another US$15 million for a drought recovery project that among other things will scale-up deep pond aquaculture (PEI Africa Final Progress Report). It is not clear why there are discrepancies between the amounts reported in Box 7 – namely a total of US$163, 900 from UN Women, the Food and Agriculture Organization of the United Nations–Kenya and UN Environment for joint research on the cost of the gender gap in agricultural productivity and the amount reported in the Global Financial Reports as presented in Table 5.




Tag: Environment Policy Efficiency Sustainability Government Cost-sharing Resource mobilization Donor relations Results-Based Management Poverty Reduction

24.

4 EFFICIENCY

This section describes cost or time-saving measures put in place in attempting to deliver project results within budget and on time. It also analyses how delays have affected project execution, costs and effectiveness. Overall the efficiency of the project is rated as 'Moderately Satisfactory'. The collaboration between the agencies has resulted in efficiencies and country level work has on the whole worked well, but management challenges and cash disbursement issues have resulted in delays and inefficiencies. Many of the issues introduced here are elaborated on in section 5 of this report.

The PEI scale-up evaluation found that PEI was increasingly being recognized as best practice in terms of UN agency collaboration, and an effective mechanism to deliver povertyenvironment mainstreaming capacity development support to countries for SDG implementation. Programme countries appreciate having a single system for programming, financial management and reporting. This view is still widely held. For example, DFID's annual review states: 'A particularly successful element of PEI is the joint working between UNDP and UN Environment. UNDP provides the reach and connection to country economic development planning through its larger set of Country Offices and UN Environment provides environment expertise'. PEI is seen as an example of inter-agency collaboration reducing duplications at the country level and leading on the Delivering As One agenda. The project has shared its model of inter-agency cooperation and best practices with other joint programs within UN Environment and UNDP. For example, it was invited by the new partnership on Green Cities between UN Environment and UN HABITAT to inform the design of their envisaged joint programme.




Tag: Environment Policy Efficiency Resource mobilization Donor relations Operational Efficiency Partnership Poverty Reduction

25.

FACTORS AFFECTING PERFORMANCE

This section looks at nine criteria which affect project performance and hence complements the evaluation of efficiency in section 4. The nine criteria are: preparation and readiness (project design); project implementation and management; partnerships; stakeholder participation and awareness; country ownership; financial planning and management; supervision and technical backstopping; monitoring and evaluation; and, reporting and communications.




Tag: Relevance Programme/Project Design Theory of Change

26.

5.2 Programme implementation and management - Project implementation and management is rated as Unsatisfactory.

5.2.1 Joint working

The Joint UNDP - UN Environment approach adopted by PEI has motivated donor support from the outset and places PEI at the forefront of the UN reform process. PEI has presented the two UN agencies with the opportunity to make use of their complementary strengths – namely UNDP's country operations and poverty expertise and the environmental expertise of UN Environment. For UN Environment PEI is a vehicle for a broader engagement acting as a gateway to country level work and an opportunity to engage in the UNDAF process, which not many other projects are structured to provide (Box 8). Both UNDP and UN Environment experienced structural changes during the project period. The UNDP Sustainable Development Group, formed in 2014 and located in New York, is comprised of the Chief of Sustainable Development at UNDP's Bureau for Policy and Programme Support (BPPS). It is essentially a poverty environment group focused on how to bring social and environmental issues together, and to assist the organization towards the planning of development towards sustainable pathways. It is staffed with environment and poverty practitioners, and provides support to PEI initiatives. Support is also provided through the regional policy centers located in Addis Ababa, Panama, Bangkok and Istanbul. The Sustainable Development Group allows UNDP to work in a more integrated way on development planning issues inclusive of the PE nexus (JMB meeting minutes, 17 Sep 2014). UN Environment restructured to 7 sub-programmes18 responsible for the implementation of its Programme of Work, with sub-programme coordinators based in Nairobi and regional subprogramme coordinators. PEI is part of UN Environment's Ecosystem division. In view of these changes is was expected that PEI would become more regionally based, which was viewed as a positive development presenting further opportunities for sustaining P-E mainstreaming efforts (JMB meeting minutes, 17 Sep 2014). Under its new corporate structure which came into effect in October 2014 UNDP co-management of PEI was transferred from New York to the new Global Policy Center on Resilient Ecosystems and Desertification based in Nairobi, Kenya (GPC-Nairobi). This presented the potential for closer coordination between UNDP and UN Environment and efficiency gains in programme delivery. During the 2013-18 phase there has been successful joint working at the regional and country levels. However, at the global level the relationship has faced difficulties, which were not apparent in the Scale up Phase, as discussed below.




Tag: Human and Financial resources Partnership Project and Programme management UN Agencies UN Country Team UNDP Regional Bureaux

27.

5.2.2 Global level analysis 5.2.2.1 The Poverty-Environment Facility (PEF)

The PEF is responsible for overall management and coordination of the programme, including financial operations. Under the project it consisted of the two Co-Directors, Programme Management Specialist, Financial Analyst, Donor Relations Officer, Knowledge Management Specialist, and Project Closure Specialist (although not all these staff members have been in place for the full duration of the project).The original vision for the PEF was that it was to become an umbrella for deeper cooperation between UNDP and UN Environment. This is reflected by a Norwegian sponsored UNEP Governing Council decision in 2010 that the PEI example be adopted more widely across both organisations (UNEP GC26, 201120)

The PEF is recognized to have played a beneficial role in liaising with and reporting to the donors, which were cited as major successes at the global level. The global team also led on resource mobilization, increasing the visibility of PEI, knowledge management and monitoring and evaluation. They also had a role in providing technical support. These activities are assessed in other sections of this report, while this section is specifically focussed on management aspects. This section is also closely related to section 5.5 on financial planning and management. The project encountered a range of operational difficulties / management challenges, most notably over the period 2014 to mid 2018. The key challenges included significant discord between PEF members which affected morale quite widely across the team, disagreements over the need for a range of new management mechanisms introduced, a reduction in PEF staff, a lack of technical guidance, and a lack of timely action by senior management to address difficulties. These challenges are elaborated on below, discussion on which dominated the evaluation consultations. An on-going difference in views was apparent through the evaluation process highlighting that many issues remain unresolved.




Tag: Environment Policy Efficiency Donor relations Human and Financial resources Knowledge management Monitoring and Evaluation Operational Efficiency Project and Programme management Results-Based Management Poverty Reduction Coordination

28.

5.2.2 Global level analysis 5.2.2.1 The Poverty-Environment Facility (PEF) (continuation)

The operational changes introduced increased the administrative burden for countries. This is especially true for countries with small PEI budgets, where the restrictions at the country level on the use of funds and the administrative burden related to the PEI new procedures relative to budget is disproportionate causing frustration. For example as PEF developed their own format, countries had to develop two work-plans – one approved at the country level and one approved in the PEI format. From the country perspective PEI has enforced a number of procedures which are inconvenient and require a lot of work, increase transaction costs and slow country implementation. This has caused tension at the country level as the administrative costs are high while PEI resources/funding is small (ranging from around US$20,000 to US$500,000 at the country level). Many feel that processes need to be more streamlined and proportionate.




Tag: Environment Policy Challenges Effectiveness Efficiency Donor relations Policies & Procedures Project and Programme management Poverty Reduction

29.

5.2.2.2 Joint UNDP/ UN Environment PEI Management Board

JMB meetings were used to prepare for DSG meetings, approve work-plans and budgets, discuss the strategic direction of PEI, and discuss attendance at high level meetings and conferences. Senior management presence on the board is seen as a strength and an indication of the two agencies' commitment to PEI. Some felt that the involvement of senior management in PEI was proportionate to the size of the programme. However, others noted a decline in senior management focus through the current project and a lack of action on the management challenges facing the PEF. Under PEA, the management board will have wider representation consisting of JMB / Executive Board, donors, and Regional Directors for UNDP and UN Environment.

5.2.2.3 Technical Advisory Group

The PEI TAG was set up to provide technical advice, for example on the PEI project document, the handbook and criteria for country selection. The TAG consisted of some 15 members, although precise membership is unclear. In 2016, the TAG membership was reportedly enlarged to include GGGI, OECD, and ESPA. The group has been fairly dormant and under-utilized with some members also feeling that their advice was not being heeded. Some members had very little involvement with the project and no minutes of meetings were made available. The TAG generally met face to face once a year linked to the Poverty Environment Partnership annual meeting.




Tag: Effectiveness Efficiency National Regional Donor relations Human and Financial resources Oversight Project and Programme management Donor UN Agencies Coordination

30.

5.2.3 Regional level analysis

The project had teams in 4 regions. The objectives of the regional teams were to provide technical support, monitoring and reporting, to upscale PEI initiatives across the region and fund raise. PEI regional teams were governed by PEI Regional Steering Committees (RSCs) put in place as an additional quality assurance mechanism to discuss regional strategies, workplans, budgets, delivery and prioritization for decision-making. The RSCs are said to have met twice a year in AP, ECIS, and LAC and once a year in Africa, although only a few minutes of these meetings were made available to the evaluation. The JMB sought to ensure consistency across countries and regions, while taking into account national and regional contexts and demands. However, during project implementation it was acknowledged that, due to the different realities and priorities of the various PEI regions, some work areas of the global programme may not be addressed to the same extent by all regions. The regional programmes differed in terms of their size and focus. Total budgets for regional teams were around US$2.4 million in the Asia Pacific for nine PEI countries, US$ 2.2 million in Africa for 9 PEI countries, US$1.6 million in ECIS for 2 PEI countries and US$ 0.9 million in LAC for 5 PEI countries. ECIS had a relatively high budget given that it covered only 2 fully supported PEI countries. This is said to be due to the higher staffing costs and TA activities in Armenia and Albania. LAC had less funding than Africa and AP per fully supported PEI country.

In Africa, poverty-environment mainstreaming gaps in the public policy and budget process were still considerable at the beginning of the project and needed to remain the focus of PEI Africa's work portfolio. In Africa the project had a strategic emphasis on (climate-smart) agriculture and gender, as a key policy driver and area on which the poor are highly dependent. There was continuing emphasis from 2013 on economics, with a number of studies completed, for example in Rwanda on cost-benefit analysis of the Rubaya green village and Malawi's economic analysis of soil loss in collaboration with FAO. Further there was increasing emphasis on influencing budget processes. Work around natural wealth and beyond GDP measures and the private sector was not made a priority. Further, the informal, highly distributed nature of many elements of the private sector in the agricultural sector in Africa, and the lack of suitable private sector umbrella organization relevant to key P-E sectors made it challenging for PEI to find entry points. The delays in starting the work to integrate environmental sustainability aspects in multi-dimensional poverty-measures that was intended to inform PEI Africa's work on beyond GDP measures also contributed to the lower focus on this part of the global portfolio. In Africa PEI partnerships with UNDP country offices has generally been very strong and PEI Africa have been able to build relationships with Governments (in most cases with Ministries of Finance / Planning), influence policies and build capacity (individual and institutional). PEI has brought in international experts to partner with local institutions and organized exchange visits. PEI in Asia-Pacific focused on two thematic areas: managing investment in natural resources to achieve poverty reduction and maintaining natural capital and integrated financing for climate change and sustainable development.




Tag: Environment Policy Effectiveness Efficiency Sustainability Regional Monitoring and Evaluation Quality Assurance Poverty Reduction Institutional Strengthening Technical Support SDG Integration

31.

5.2.3 Regional level analysis (continuation)

Evaluation of performance Regional teams in general are considered to have worked well, although there were differences in experiences across the four regions. Achievement / benefits of regional teams: • Regional strategies were developed for each region linked to the Business Review (2012), which identified the staff requirements for the regions. The regional strategies helped to coordinate programmatic thinking and coherence and added value in terms of regional direction. In Asia It was felt that stronger management from the PEF to the regional team could have resulted in a stronger regional strategy and more focus was placed by the regional team on designing effective country programs. In LAC, two additional regional strategies were elaborated - a gender and a communication strategy. This resulted in actions at the country level, for example, in Peru several articles were elaborated analyzing the challenges that women face in the waste management sector. • The regional teams were key to global reporting, translating the results from the Country Offices into the global Results Framework, as discussed further below. • Support to the Country Offices and projects in terms of technical support / quality assurance varied across regions. It was rated very highly in Africa. • The involvement of senior management helped support joint working within UN. Furthermore, UNDP and UN Environment Regional Director's knowledge of PEI, facilitated integration of PEI and the championing PEI in some regions (e.g. Asia, LAC) • Joint working was generally good at the regional level. In Asia a close / cohesive working relationships between UNDP and UN Environment was built facilitated by the fact that both organisational at the regional level are located in Bangkok. Weekly skype calls were held with countries including both UNDP colleagues and Government Ministries. In Africa UN Environment is in Nairobi and the UNDP regional office is in Addis Ababa, although the the Africa PEI regional team is collocated with the PEF in Nairobi. There is scope for enhanced involvement of the regional hub in Addis Ababa. Operational advantages include: - There are basic logistical advantages related to being on the same time zone and closer to the field. - Regional teams have a good grasp of the political economy at the country level. - Regional teams are better able to build relationship with UNDP Country Offices and Governments. Although it takes time to go and meet people in Country Offices this is considered to be important for delivery. • The regional teams helped in decentralisation of the programme. • They were important for knowledge management and communications, which is not resourced at the country level.




Tag: Challenges Effectiveness Efficiency Sustainability Resource mobilization Regional Human and Financial resources Monitoring and Evaluation Procurement Quality Assurance Results-Based Management Institutional Strengthening Technical Support

32.

5.2.4 Country level analysis

A key achievement of the project is its interventions at the country level, although the level of success varies across countries for a range of reasons. For example, in Africa success in Rwanda is due to the commitment of the Government, excellent working relationship with the UNDP office and a collective focus on results. On the other hand, difficulties were experienced in the previous phase in Botswana and Kenya due to changes in Government and a reduced level of commitment from the UNDP Country Office; work in these countries was discontinued prior to or during the project. Mali and Burkina Faso are not going forward due to the reduction in the budget for PEA.

In general, key factors explaining success at the country level are:

• Government commitment. • Stable Government and a PEI Champion in Government. • Strong partnership with Ministry of Finance / Planning (MOF/P). In Africa a key decision was for the PEI institutional home to transition from the Ministry of Environment to the Ministry of Finance / Planning (with the except of Rwanda where PEI was working well). In Mauritania PEI was not progressing as planned in 2013 and the work was suspended until they accepted the Ministry of Finance (MOF) as the lead. In Asia, PEI are working with MOF/P in Bangladesh, Nepal, Indonesia, Lao PDR. • Good in house advisors within key Government ministries are a key ingredient to PEI's success in Africa and Asia. TAs based in country Governments have been able to build and sustain relationships overtime and be fully integrated into the working and politics of the Ministry. The level of engagement that has been achieved is difficult to realize through ad hoc visits by technical staff and should not be underestimated, as one consultee put it - 'Diplomacy is more important than money', suggesting that such relationships are the cornerstone of influencing and realizing change. In Tanzania a full time technical advisor had been based in the Ministry of Finance and Planning for 3.5 years (but is now leaving). • Good relationships with UNDP CO. In many countries PEI is embedded in a larger UNDP project, bringing a specific area of expertise and often an existing relationship with key Ministries valued by Country Offices and helping to build linkages with other areas of work. For example, in Bangladesh PEI was part of the Support for Sustainable Inclusive Planning (SSIP), in Tanzania it was part of the Pro Poor Economic Growth and Sustainable Development project, and in Myanmar PEI is embedded into the US$15 million Myanmar Governance Programme. • Joint working. There is generally good cohesion between UNDP Country Offices and UN Environment at the regional level. • PEI's long term engagement has resulted in PEI becoming a respected brand. PEI is a well know programme on account of its long term engagement in countries. It has been 'persistent and present' and this has helped build trust and a legacy in areas where support is increasingly needed by Governments. In Tanzania PEI is a well respected and vibrant brand, which is well understood by decision makers. The mainstreaming work at the country level has been built up step by step building trust and helping to ensure the work becomes self sustaining.




Tag: Environment Policy Challenges Effectiveness National Partnership Poverty Reduction Technical Support National Institutions

33.

5.2.5 Adaptive management

The project has adapted its focus in response to political changes and environmental disasters. Some key examples of this include:

Changes in technical advisory in Africa. In the 2014-2018 PEI Africa regional strategy it was envisioned that regional technical advisory would be provided to the Government of Kenya, Botswana and Mauritius. While Kenya did receive technical advisory support that generated results, due to political changes and coordination challenges such support was not fully provided to Mauritius and Botswana. However, PEI Africa responded to a request from the Government of Benin for technical advisory support and have through its partnership with UN Women around the cost of the gender gap provided technical support to Uganda and Ethiopia (PEI Africa Final Progress Report, 2018). Several non-PEI-Africa countries have also benefitted from PEI organized regional trainings on poverty-environment budgeting and gender- environment linkages and these include Benin, Kenya, Ivory Coast, Senegal and Uganda.

In Nepal the Gorkha earthquake in late April 2015, led to the diversion of many ongoing projects towards disaster relief, recovery and rehabilitation. In response to this, PEI realigned its existing work plan to support the Ministry of Local Development in responding to the immediate and longer-term planning needs of local governments in the disaster context. This focused on developing pro-poor and green recovery and rehabilitation plans in selected districts and villages, integrating this into existing local development plans and budgets and facilitating implementation.




Tag: Challenges Efficiency Monitoring and Evaluation Project and Programme management Coordination Technical Support

34.

5.2.6 Management Structure - Lessons for PEA

While not part of the project 2013-2018, a key area of tension within the PEF and regional teams during the project period was over the development of the PEA project document and specifically the PEA structure / organogram. While the 2013-2018 PEI project was a continuation of PEI Scale up Phase, the design of PEA was more challenging due to the need to: (i) design a new program at the request of the donors; (ii) define a new process reflecting the perspective from 2 regions, rather than 4; (ii) incorporate a new management agreement given that exceptions granted for PEI would not be granted to PEA. These challenges were compounded by the different views between UNDP and UN Environment, concerning the structure and content of PEA, and a lack of strategic leadership. With the knowledge that the PEI team had accumulated over 10 years of PEI it was felt that they should have had a clearer strategic vision on where to go next. Donors also expressed concerns about the drafting of the project document. The PEA project document was ultimately finalised successfully, with external consultancy support – although it was much delayed.




Tag: Efficiency Donor relations Human and Financial resources Knowledge management Operational Efficiency Policies & Procedures Programme/Project Design Project and Programme management Results-Based Management

35.

5.3 Partnerships and stakeholder awareness and participation

This section looks at how partnerships and stakeholder awareness and participation have been promoted by the project in support of the project's objectives. Partnerships have been discussed in detail in Section 3.4; this section therefore focuses more on the role of stakeholder awareness and participation. Partnerships and stakeholder participation and awareness is rated as Satisfactory.

The Scale up Phase evaluation set out a number of recommendations aimed at partnerships and stakeholder awareness. It recommended 'building upon and improving collaboration and partnership for P-E mainstreaming and sustainability of PEI project and programme results' and 'the use of diverse fora to increase the exposure for PEI experiences and tools to other countries'. The importance of partnerships and stakeholder awareness and participation were acknowledged in the project design and during project implementation. For example, the Global project document required regional meetings as part of facilitating a community of practice. The DSG (2015) stressed the 'need to continue and expand meaningful participation of non-governmental actors - particularly civil society and private sector (both as donor and partner) in the future given their key role respectively in advocacy for transparency in the context of high level environmental governance and as driving force for a transition to more sustainable production and consumption/ green economy'. There are various examples at the country level of how the project has increased its engagement with civil society. Engagement with the private sector has however been fairly limited and this is an area that will need greater focus under PEA.




Tag: Environment Policy Efficiency Parliament Operational Efficiency Partnership Advocacy Awareness raising Coordination Civil Societies and NGOs National Institutions Private Sector

36.

5.4 Country ownership and drivenness

As discussed above strong country ownership is a key factor explaining the success of PEI at the country level, without which it is hard for P-E mainstreaming to progress. County ownership is essential to ensure the uptake of the financial tools and instruments developed with Poverty-Environment Initiative's support. Further, the level of Government commitment affects implementation given the complexity of P-E mainstreaming which requires time to engage with multiple ministries and their departments and projects. Country ownership is rated as Satisfactory.




Tag: Environment Policy Environmental impact assessment Monitoring and Evaluation Oversight Ownership Policies & Procedures Poverty Reduction Coordination

37.

5.5 Financial planning and management ; 5.5.1 Overview of financial management

PEI contributions from donors and other sources are pooled and programming is undertaken as a single award (budget) in the UNDP-ATLAS system. UNDP serves as the Managing Agent of the pooled fund (PEI ATLAS Award). The financial management of PEI therefore follows UNDP's rules and procedures at the global, regional, and country level. UN Environment channels funds to the PEI account in UNDP's ATLAS system where it becomes part of the pooled funding, resulting in one project at all levels and ensuring a 'One UN' approach seen from a programmatic as well as an operational perspective. This differs to other UN multi agency projects such as the UN REDD programme for example, which operates with 3 workplans and budgets. Financial planning and management is rated as Moderately Unsatisfactory.




Tag: Efficiency Resource mobilization Donor relations Operational Efficiency Policies & Procedures Project and Programme management Country Government UN Agencies Technology

38.

5.5 Financial planning and management 5.5.1 Overview of financial management (continuation)

The extension allowed for key global, regional and country level activities to be completed that were also essential for ensuring a smooth transition to the start up of PEA. Country level activities centered on achieving key milestones of their Exit and Sustainability strategies (elaborated in mid-2016) in order to achieve Outputs and Outcomes of existing Country Results Frameworks. For counties not supported by the PEA project the no-cost extension provided additional time to complete main activities to sustain PE mainstreaming approaches by Government institutions and their partners including the UNDP Country Offices. For those countries to be supported through PEA the extension assisted with sustained PE environment mainstreaming actions and maintaining the country level staff until the new PEA project started.At the regional and global levels, the extension allowed: (i) the completion of regional consultations with national partners on project closure, final reporting and evaluation, lesson learning and planning for the start of PEA; (ii) provision for the demonstration, dissemination and use of online capacity building and information services (PE mainstreaming handbook and Compendium on PE mainstreaming Tools, Experiences and Results), however, these outputs were still not finalized at the end of 2018; (iii) completion of knowledge products on PEI achievements and lessons learned, and for project staff to communicate and inform the design and implementation of UN Environment programmes that adapt and apply P-E mainstreaming approaches and tools in support of integrated approaches for strengthening the environmental dimensions of the SDGs. However, some knowledge products on lessons learned were still not finalized at the end of 2018.




Tag: Efficiency National Human and Financial resources Integration Operational Efficiency Partnership Policies & Procedures Project and Programme management

39.

5.5.2 Expenditure and Income 2013-2017

Proposed budgets are based on annual work plans for PEI countries, regions and the Poverty-Environment Facility (PEF); which are aligned to country level project documents, regional strategies and the Global PEI Project Document respectively. Budgets in Atlas match the proposed annual work plan with cash only disbursed once all anticipated income is received from donors to cover the proposed budget. Thus, when funding tranches were delayed, PEI faced cash flow challenges that restricted implementation of activities. Cash flow issues were furtherd aggrevated by delays in budget revisions. PEI Project level budgets are based on allocations from the Global Programme and complimented by locally mobilized resources for country projects. The anlysis in this section is based on financial data for the period 2013-2017. Data for 2018 / project closure was not available for this final evaluation, as the final financial report is expected around June 2019. PEI total expenditure per full year of operation ranged from US$ 11,866,258 to US$ 15,986,759 (Table 8).Table 8 includes in-kind contributions from UNDP and UN Environment towards staffing and operational support. UN Environment as a non-resident UN agency brings value through staffing and operations at the regional/global levels, whereas UNDP as a development agency embedded at the country level provides both services and mobilization through core allocations.




Tag: Efficiency Resource mobilization Donor relations Human and Financial resources Operational Efficiency Project and Programme management

40.

5.7 Monitoring and evaluation - Monitoring and Evaluation is rated as Satisfactory

5.7.1 Revisions to the Results Framework

The transition from the PEI Scale-up Phase to PEI 2013–2017 shifted the emphasis of the initiative, and the M&E system was adjusted accordingly. Indicators focusing on awareness raising and improved understanding of poverty-environment linkages, which reflected the need to make the case for poverty-environment mainstreaming and to integrate poverty-environment objectives in key planning frameworks, were replaced by a new indicator set addressing implementation of poverty-environment objectives. However, on endorsement of the project, a number of issues were raised over the Results Framework presented in the project document including: (i) the need to align indicators under each of the outputs in an aggregated manner, so that these could in turn align with the outcome indicators; (ii) the original Results Framework implied each activity would be carried out in every country, which was unrealistic; and, (ii) the country project documents and Results Frameworks were not aligned with global indicators. Concerns over the Results Framework were raised in the DFID annual review (2014) and the donors pushed for its revision. Considerable effort was put into revising the indicators and targets. The PEF convened an M&E Working Group to review and revise the global indicator and targets, which met for the first time in December 2014 and subsequently held a number of meetings focused on revising the Results Framework. The meeting minutes and reports of PEI M&E Working Group detail the work carried out. The revision of the project's M&E system was developed in the first half of 2015, successfully piloted between June and December 2015 and concluded in May 2016 with the approval by the Joint Management Board.

PEI indicator definition sheets were developed for each indicator at the Outcome and Output level by June 2015. The main purpose of the sheets was to ensure a common and consistent interpretation of each indicator across countries and regions by providing a full description of the indicator in terms of its links to its related upper level indicator, its relevance/rational, and what needed to be included in the reporting. This was very important because the regional teams had to transpose country results against global indicators. The definition sheets were included in the 'Guidance Note on PEI's Monitoring and Evaluation Framework 2014–2017'.Regional teams provided critical support to global reporting, ensuring that the country level reports aligned with the Global Results Framework. Countries were incentivized to report their achievements by the potential opportunity to have their stories included in PEI publications and Annual Reports. Data sheets were introduced to complement the (bi) annual progress reports to collect quantitative information about results / achievements. Based on the recommendation of the M&E working group the following revisions to the Global Results Framework were introduced: (i) Baselines, Milestones and Targets were provided for each Project Outcome and Output Indicator; (ii) Outcome Indicators 1 and 2, and Output Indicators 1.1, 1.2, 1.3, 1.4, 2.1, 2.2 and 2.3 were revised; (iii) Some targets were adjusted, taking into account the number of countries where PEI was operating in 2015 (24).




Tag: Effectiveness Efficiency Monitoring and Evaluation Project and Programme management Results-Based Management Poverty Reduction Awareness raising

41.

5.7.1 Revisions to the Results Framework (continuation)

The rationale is that both MPI and natural wealth valuation related work refers to measurements that complement GDP with indicators that are more inclusive of environmental and social aspects of progress. In this way, the target was relevant to just under half of the portfolio of countries. • Output Indicator 2.3 was introduced to capture government engagement in identifying private sector expenditure. • Output Indicator 3.3 and 3.4: In November 2014, PEF reported to DFID that 81 new PEI knowledge products had been shared between January 2013 and October 2014, with evidence of positive feedback in communications, web traffic statistics, social media engagement and published testimonials. DFID recommended "to review options for gathering feedback more formally and routinely on the value of PEI products, and report to the Donor Steering Group (by Sept 2015)". In a subsequent exchange with DFID, online user surveys were discussed but found wanting as a means of measuring the impacts of PEI knowledge products. For future publications it was felt that there should be a means of auditing impact. For example, in addition to tracking the number of State and non-State actors trained on the use of the revised Handbook, evidence would be collected on the application of lessons learned from the Handbook and how these were applied in their actions or activities. Ideally, feedback would be collected on how the knowledge product contributed to meeting one or more of the other indicator PEI targets, demonstrating a causal link. Regional and country teams were therefore encouraged, when reporting on the other output indicators, to document the influence of PEI knowledge products on the outcomes. However, it is not clear to what extent this actually happened. In response to requests from regional teams a user-friendly electronic reporting system, was establish within the PEI web platform Teamworks. PEF and regional team members semiannually reported through this space on the data sheets and the number of PEI knowledge products shared with regional and/or global networks, and the number of references to P-E approaches and tools in UN and other development agencies/strategies/plans. The reporting user space was launched by 23 January 2015, and a guidance on its use was developed. However, it was also reported that limited use made of Teamworks.




Tag: Environment Policy Knowledge management Monitoring and Evaluation Oversight Project and Programme management Results-Based Management Poverty Reduction Data and Statistics SDG Integration

42.

5.7.2 Review of scale up phase evaluation recommendations on M&E

The PEI Scale-up Phase evaluation put forward a number of recommendations related to M&E. This sub-section addresses how they have been addressed through the project. 'Channel improvements for PEI Global, Regional and Country level RBM management and results delivery'; and, 'PEI to improve monitoring on the application of PEI tools (guidelines, templates, databases, indicators, etc.) for impact monitoring'. According to the PEI management response, in Asia the PEF took forward initial work to consolidate analysis on PEI tools and linkages to results, which the PEF will incorporate in a global mapping exercise. It is assumed that this relates to the tools compendium, which was progressed in Asia by the regional team, and is in the process of being finalized at the global level. The PEF in partnership with regional teams planned to work together to develop an approach to PEI impact monitoring with countries that have achieved sufficient maturity for assessment, however this was reportedly not done.




Tag: Efficiency Human and Financial resources Knowledge management Monitoring and Evaluation Project and Programme management Results-Based Management Data and Statistics

43.

5.8 Reporting and communications - Reporting and communications are rated as Satisfactory.

5.8.1 Reporting

An ad-hoc meeting with DSG members followed up on the 2014 DSG meeting where it was agreed the communications of PEI results needed to improve. DSG members agreed to PEI's proposal to produce from 2014 onwards: (i) One narrative report (in line with PEI's Results Framework) and one financial report for donors; and, (ii) a short publication highlighting progress, achievements, opportunities and challenges for outreach purposes. The PEF agreed to ensure that PEI annual reports strengthened the message of coherence and synergy between regions. The annual reports aimed to present the diversity of experiences grouped under relevant PEI themes in line with PEI's Theory of Change and to highlight South-South cooperation experiences and lessons (JMB, February 2015). Following the adoption of these improvement the donors have consistently commended the project on its high quality reporting linked to the Results Framework with concrete examples, and recommended that PEI share it with other programmes as best practice for UN reporting. The Donor Steering Group members also commended the inclusion of a dedicated section on gender equality in the report (DSG Minutes April, 2015 and May 2017). There is a set format for the regional annual reports. In 2014 it was agreed to also capture challenges to account for indicators for which no achievement/progress is reported under a Risk Analysis subsection in section 3. Final Progress Reports were prepared at the regional level for all the regions. They include sections on lessons learnt, challenges and recommendations.According to the Final Progress Report for the Asia Pacific different requirements set out in country project documents for audits and project board meetings led to problems during project closure. A standardized set of requirements across countries, and ensuring that Midterm Reviews were carried out at the same time in a standard format would make it easier to compare across countries and aggregate findings.




Tag: Communication Donor relations Knowledge management Oversight Project and Programme management Quality Assurance Results-Based Management Risk Management Theory of Change South-South Cooperation

44.

3.4.2.1 Overview of Partnerships

Partnerships within the United Nations system (excluding finance / green economy partnerships which are discussed in a separate section separtely below) and summarized in this sub-section. PEI has joined forces with a range of United Nations institutions to maximize impact and avoid duplication, leveraging respective comparative advantages. PEI expertise has been sought on gender-environment nexus, environmental mainstreaming and the inter-linkages among the three dimensions of sustainable development.

For example: • UN Environment and the United Nations System Staff College drew on PEI expertise in integrated approaches when updating training material to strengthen sustainability and resilience in United Nations country programming processes to address implementation of Agenda 2030. • Food and Agriculture Organization of the United Nations (FAO) o PEI Africa and FAO signed a UN interagency agreement in May 2015 to conduct a soil loss assessment in Malawi. Based on the work completed in 2016, FAO produced 10 district soil loss maps using its own funding. On the request of the Ministry of Agriculture, in 2017 the Poverty-Environment Initiative and FAO undertook an economic evaluation of soil and nutrient loss. The UN Resident Coordinator and FAO Resident Representative in Malawi expressed a desire to see collaboration deepen and be a feature of any successor programme to the PovertyEnvironment Initiative in Malawi in line with the Delivering as One approach. In 2017 PEI and FAO undertook a joint policy review for the National Forestry Policy of Tanzania. • UN Women. o In 2014, PEI Africa established a technical and financial partnership with UN Women's Regional Office for Eastern and Southern Africa. In 2015, the partnership was expanded to include the World Bank to study and report on "The Cost of the Gender Gap in Agricultural Productivity in Malawi, Tanzania, and Uganda," which was launched at the Committee on World Food Security meeting hosted by FAO in Rome in October 2015. PEI Africa participated with UN Women in the gender pavilion hosted by the Centre for International Forestry Research (CIFOR) at the Global Landscapes Forum. o In collaboration with the United Nations African Institute for Economic Development and Planning, PEI Africa organized a Francophone genderenvironment training inspired by the Gender and Economic Policy Management Initiative in June 2015. PEI partnered with UN Women in Kyrgyzstan to address knowledge gaps on the links between gender equality, climate change and environmental sustainability in Central Asia. A joint high-level regional conference, "Gender Equality and Sustainable Development for Transformative Change," was held in Kyrgyzstan bringing together 105 experts and representatives from government, UN organizations, civil society and academia. The conference outcome document provides recommendations on integrating poverty, environment and gender objectives into governance for the SDGs. o The PEI–UN Women collaboration is also active in Latin America and the Caribbean, where it is primarily operating through the UNDP and UN Environment Gender Units.




Tag: Climate Change Adaptation Green Climate Green Economy Gender Equality Gender Mainstreaming Partnership International Financial Institutions UN Agencies Poverty Reduction Coordination Institutional Strengthening Technical Support National Institutions

45.

5.2.6 Management Structure - Lessons for PEA (continuation)

PEA is understaffed for delivery and 'more boots on the ground' are needed to deliver the work in the countries. It was argued that the structure more closely reflects an approach that failed in 2005, and was thus scrapped. Given the importance of the country level work, as the testing ground for PEI tools and approaches, from which lessons and achievements can be up-scaled, it is critical the work at country level is well resourced. This is linked to the previous point in that a more streamlined management structure could free up resources for country level implementation.

• Enhanced technical support is needed. This can be provided through more technical leads in core areas of the programme, better use of the TAG and development of a rooster of experts who can provide timely support across the regions. A Sustainable Finance and Investment specialist is part of the PEA global level, but it is questionable if one person will be enough. More expertise is most likely to be required given the very limited work PEI has done to date with the private sector, investments and sustainable finance. More emphasis needs to be placed on countrytechnical advisors. Technical support can also be provided through better peer to peer support and strategic partners.




Tag: Efficiency National Regional Human and Financial resources Operational Efficiency Oversight Project and Programme management Risk Management Technical Support

46.

5.3 Partnerships and stakeholder awareness and participation (continuation)

There has been limited direct engagement with the private sector. As an example, PEI Rwanda and the Private Sector Federation signed an MOU to advance the country's environmental sustainability agenda. PEI Rwanda trained 180 private sector representatives on how the private sector can support the implementation of the Rio conventions and opportunities related to carbon finance and renewable energy (DFID, 2014). The project has however worked with Governments in a number of countries to strengthen their safeguard mechanisms to ensure the approval and implementation of 'quality investments'. The most notable example in this regard is Lao PDR, where a number of tools have been developed and implemented.




Tag: Energy Environment Policy Natural Resouce management Partnership Project and Programme management Poverty Reduction Awareness raising Capacity Building Private Sector

47.

5.2.2 Global level analysis 5.2.2.1 The Poverty-Environment Facility (PEF) (continuation)

Disharmony within the PEF. It is clear that the manner in which the operational changes were introduced and the very challenging inter-personal relationships between staff, particularly over the period 2015 to mid 2018, caused extreme distress for a number of PEI staff members and discord within the PEF. It was felt that concerns were not adressed in a timely manner by management, despite the issues being raised and due process being followed in some instances, e.g. raising concerns about staff through performance reviews. Tensions between the Co-Directors were apparent. A number of staff stated they had approached the UN Ombudsman over various incidents relating to different combinations of UNDP and UN Environment staff, or had considered doing so.

A lack of consultation, transparency and teamwork within the PEF and regional teams. For example, the Africa regional team recommended that the new PEA country proposal templates should not be applied as they were not a UNDP requirement or used by UNDP COs and would duplicate the standard UNDP Project document template, which they recommended should continue to be used. The PEA country proposal template was however enforced despite UNDP CO concerns that mirrored those of PE Africa and that CO and Governments had already drafted country PEA PRODOCs using the standard UNDP project template. In Africa the request for inputs into the PEA project document came with tight timelines and a lack of consistent strategic direction. This resulted in a lot of work for the regional team and did not allow time for consultation with the countries. There were also frequent changes of decisions from the PEF in terms of reporting and the carrying out activities.




Tag: Effectiveness Efficiency Human and Financial resources Project and Programme management Results-Based Management

48.

5.5 Financial planning and management (continuation) 5.5.1 Overview of financial management (continuation)

Delays in budget approvals and disbursements, which have taken longer with the introduction of the new systems. PEI was the first agreement signed under the new PAGODA rules which caused delays at the beginning of the project as processes were established for allocating EU money, as per EU and UNDP rules. It was argued that now that these processes have been established, finances would run more smoothly. The disbursement of funds has reportedly improved since 2016/17 but is still not as good as it should be, and it was felt by some that the problem was not the introduction of the PAGODA rules, on which the UNDP GPC staff received training, but on weak (financial) management. At the start of the year, PEF promised money in February / March, but at best money was disbursed in April, and often not until June / July. This money covers staff contracts not only implementation. Many UNDP CO lent PEI money, which was reimbursed later. The feedback given to this evaluation is that this is not at all popular with Country Offices and would be best avoided. Some COs have formally stated that they have faced major implementation challenges as a result of the repeated late cash disbusements, late budget revisions and approvals and the need for repeated reversals causing stress and delays and affecting implementation. The delays have affected Country Offices and relations with Government.




Tag: Efficiency Operational Efficiency Project and Programme management Technology

49.

5.5 Financial planning and management (continuation) 5.5.1 Overview of financial management (continuation)

Capacity of UNDP staff to implement PEF rules and regulations. Money is transferred by the PEF from the UNDP Bureau for Policy and Programme Support (BPPS) in New York to UNDP Country Offices, with Country Offices then advancing a portion of the funds to the Government implementing partner. At all levels (global, regional, country) working with PEI required an understanding of the way the UNDP-UN Environment joint programme is managed under UNDP rules. PEF money to countries could be comprised of money from more than one donor with different restrictions required for each donor, so an understanding of how funds could be spent was needed (although all donor funds were treated the same under PAGODA rules from 2015, which also needed to be understood). Capacity in Country Offices in terms of understanding these requirements is often limited, requiring oversight from the regional team. A further complication was that UN Environment regional staff did not have enough understanding of ATLAS (as UNDP's corporate ERP system) to adequately advise UNDP COs which contributed to misunderstandings at the country level despite wellintentioned efforts. However, there were differences of opinion on whether the capacity of UNDP and UN Environment staff was the main issue and it was indicated that there were not such capacity related problems in terms of applying UNDP rules and regulations in the first half of this phase of PEI or in the previous phase. Under PEA, quality control will be done globally. However, training is needed at the country level to formally orientate staff and ensure efficient financial management, such as capacity building workshops, rather than relying on learning by doing.




Tag: Challenges Efficiency Human and Financial resources Operational Efficiency Policies & Procedures Project and Programme management Operational Services

50.

5.6 Supervision and technical backstopping

Supervision and backstopping is rated as Moderately Satisfactory.

As discussed above, while senior management involvement is considered to have been a strength of the project, many held the view that senior management support had dwindled over the project period and that the pronounced management challenges were not addessed. A clear message from the evaluation consultations was that project technical support fell short, especially from the PEF Co-Directors. The general feeling was that technical support and leadership had not been provided by the Co-Directors, who had very much focused on operational delivery (budgets and reporting) while feedback on technical reports had not been substantive and without strategic guidance. This focus may have been the result of the management difficulties the project faced for much of its 5 years of operation, but the capabilities of some staff was also questioned.




Tag: Challenges Effectiveness Efficiency Human and Financial resources Oversight Project and Programme management Technical Support

51.

5.7.3 Internal Mid-term Review and regional –country terminal review process

The PEI global programme M&E plan included a Mid-term Review (MTR) and final evaluation (page 47 in PEI project document 2013-2017). Given the intensive nature of midterm evaluations and the time they therefore can take away from project implementation, the PEI Co-Directors decided to conduct the review internally, with the PEF supporting regional and country teams through the process. This decision was probably also influenced by the fact that the Final Evaluation of the Scale-up Phase was significantly delayed and only finalized in 2016 – completion was originally planned for December 2014. This meant that the Scale-up Phase Final Evaluation and MTR for the second phase overlapped. The decision to settle for an internal review at mid-term was regrettable in that many of the management issues would have been very apparent at the mid-term and presumably would have been captured more candidly through an independent evaluation. This would have provided evidence to support swifter decisions by management and for a more informed discussion on the management structure for PEA. The internal MTR also took up a lot of regional and country time, taking country and regional teams away from projet implementation to a far greater extent than would have been the case through an independent MTR.




Tag: Effectiveness Efficiency Sustainability Donor relations Monitoring and Evaluation Project and Programme management Results-Based Management Risk Management Theory of Change
Recommendations
1

6.3 Recommendations

The recommendations set out in this section are intended to inform PEA (the follow on project to PEI) as well as other projects focussed on the integration of poverty, environment, climate and gender across Government policy processes. The recommendations are broadly categorised under – management, leveraging of PEI and developing sustainable pathways, and implementation of the SDGs. It should be noted that concerns over the management challenges that faced PEI dominated this evaluation as many felt that PEA delivery would be compromised if they were not adressed. Recommendations around management are therefore the priority. It should also be noted that there is a view that many of the management issues are on-going and have not yet been satisfactorily resolved.

6.3.1 Management recommendations

Strengthened strategic leadership at senior management level.

Leadership and a clear strategic vision is critical going forward given the management difficulties PEI faced and the need to start PEA on a secure footing. The success of PEA depends on the high level political commitment from both organisations. The spirit of joint working was eroded through the past phase but can be rebuilt to be even stronger based on the lessons learnt through the project. This requires:
• Greater participation of senior management, especially in the start up phase of PEA, to ensure that they fully understand the remaining management issues and action
changes to best position PEA at the outset to flourish, build morale and set the strategic direction.
• Senior management and PEA management / Co-Managers to identify and nurture champions in UNDP and UN Environment to broaden UN uptake of PEI tools and
approaches and involvement in PEA. This is important for the integration of PEI / PEA into the organization and sustainability of the PEI/PEA approach.
• Time needs to be allocated and budgeted for operational and technical oversight from senior management.
• Early action needs to be taken by senior managers to address issues (e.g. to understand and act swiftly on issues of staff underperformance, and cases where the
level of discord is affecting delivery / moral). This requires being better appraised of the management aspects and swift follow up on concerns raised.
• PEA management need to speak in one voice and clearly communicate on all aspect of the project (financial, administrative, strategic, technical).

2

Ensure that the management structure of PEA, and staff hired for each post under PEA, are compatible with its efficient and effective delivery.
• Senior management to urgently review and address management challenges at the global level and ensure that the PEA structure and associated team members are best
suited to efficiently and cost-effectively deliver PEA. The views of consultees indicate that this requires a substantively more comprehensive review than is reflected in the revised organigram. This should take into account the evaluation findings and options presented in Section 5.2.6 and bear in mind that cohesion among global team
members, especially between the Co-Directors (Co-Managers) which was problematic during the project and counter productive to the smooth running of the programme, is
critical for efficient and effective delivery of PEA. A number of consultees are of the view that new leadership is required. Leadership needs to have the capability to inspire and move the programme forward and champion joint-working, and the working culture should be open and foster fairness. The cost-effectiveness of the PEA structure should
also be considered and whether there is the right balance and combination of junior and senor members and country level support.
• It is critical that PEA staff have the right skills / expertise to deliver. A careful review of TORs and skills required to deliver PEA is recommended. Clear roles and
responsibilities for all PEA members should be set out. In particular, the structure and capabilities of the global team should be reviewed to ensure it can provide strategic
leadership, technical advice, and engage globally to enhance the project's reach and impact through wide uptake within the UN systems, partnerships, mobilization of
funding and knowledge management.
• Under PEA there is to be a clear delineation of responsibilities with UNDP staff leading on all operational management issues and UN Environment staff leading on technical
/ programmatic issues. This arrangement however should be implemented in the spirit of joint working, with an appreciation that technical focal points need to be well appraised of operational issues to best support the work on the ground and build relations with country level staff. This requires a move to a more integrated and harmonious working relationship between programmatic and operational teams.
• The work at the country level is the foundation of PEI. It is thanks to the country level achievements that the regional and global teams have the information needed to
upscale the work through knowledge dissemination and other means. The country level work therefore needs to be properly resourced and supported. It is therefore
recommended that the allocation of resources between the global and country level activities ensures country level delivery. This allocation should bear in mind the
lessons of the project in terms of the complexity of mainstreaming and the data and capacity challenges.
• At the country level staff should be embedded in the lead government ministry – which should be the ministry of planning/finance.

3

Strengthened technical support is recommended going forward especially as PEA moves into new challenging areas, where PEI has had limited engagement to date.
Suggestions to enhance technical capabilities include:
• Establish a long-term agreement at the global/regional level with consultants in the areas of expertise where the project needs support. A PEA roster could be established
to allow quick access to qualified international/national consultants as needed. This would need to be established in the first year of the programme to be of core technical
advice / peer review going forward.
• Build strong relationships with technical advisors in regional hubs and look at ways of drawing on their technical expertise (this may need to be funded).
• Link PEA technical advisory to larger UN Environment, UNDP or other partner support to countries to ensure impact and ability to deliver.

To ensure PEA gets off to a strong start hire temporary outside technical support if required.

4

Financial Management
• PEA needs to ensure that it does not suffer with the same disbursement issues as the project.
• Countries should be empowered with Delegated Authority (DA) that is consistent with the Delegated Authority that applied to Tanzania and Mozambique under PEI.
(Tanzania has indicated that the current approach is more restrictive than the previous version of DA).
• The rules and restrictions on the use of funds need to be better communicated and understood by all parties, given the high level of frustration the existing PEI system,
introduced under the project and proposed for PEA, has caused. Regional focal points and Country Offices and Governments need to be clear on the restrictions on donor
funds and on UNDP/PEA restrictions.
• PEA should ensure that it adopts the most streamlined and cost-effective financial management structure as possible. If in any case the restrictions and requirements are
not donor or UNDP requirements, they should not be applied unless there are compelling reasons to do so and the UNDP Country Offices are consulted and agree
to them in advance of their adoption. Maintaining strong relationships with the Country Offices is key given the core role country activities play in the programme and the
significance of CO TRAC funding. In any event the project should consider whether the administrative burden is proportionate given the level of funding and the
significance of this funding within the context of UNDP country programs, and if anything can be done to reduce this burden to alleviate frustration at the country level
and operate more smoothly and cost-effectively.
• It is recommended to carry out training on UNDP and donor rules at the regional and country level (especially for financial staff) setting out what can and cannot be done,
so people are clear. This will be important under the current proposed structure for PEA, as Country Offices may not have a full grasp of donor rules and PEI/PEA
procedures.
• In Africa PEI funding was reasonable – US$ 250,000 – US$ 400,000 per country a year from PEF plus additional TRAC resources contributed by the COs. However, in
Asia it was below US$50,000 a year for a number of countries and from a country's perspective was hardly worth the effort, especially in light of the high administrative
burden experienced with the change in project procedures. A minimum level of financial engagement of US$100,000 per year per country is recommended, to make the engagement worthwhile, given the administrative costs associated with PEI /PEA.

5

Results based management/M&E needs to be strengthened to provide a clearer picture of how the project contributes to the impact it is designed to reach, and what aspects
need particular attention to ensure the project is on track. By and large PEI did not engage in impact evaluation and this needs to be given more emphasis under PEA.

• TOC should be more developed at the global and country level for project management purposes; the high level TOC can be used for communication purposes. The TOCs
should include information on the drivers and assumptions associated with each Output and Outcome and any intermediate states envisaged linking Outcomes and the project's desired Impact. The TOC should provide a clear picture of the obstacles that need to be overcome to progress. Country TOC should provide information on the
specific country processes the project is trying to influence and be accompanied by explanatory narrative. These TOCs at the country, (regional) and global level should
also be standardized and connected.

• Results Framework Ensure clear linkages between country and global Results Frameworks at design phase / outset.
- The indicators should facilitate an assessment of P-E mainstreaming progress and align with the project impact. The RRF for the project tried to capture this through Outcome/Output indicator 1, where a numerical number or level change was associated with a characterization of progress,

• Independent Mid-term Reviews, led by the Evaluation Offices, are recommended to ensure a candid and comprehensive review of the project at the important mid-term
stage. They are important to signal any changes that may be needed at mid-term to ensure the smooth running of the project and to maximize the project's ability to
achieve its goal and objectives.

6

6.3.2 Levering PEI/PEA and developing sustainable pathways

More emphasis on resource mobilisation to increase financial allocations to implement Poverty Environment Action.
• The Resource Mobilization strategy needs to be completed and to include both regional and in-country mobilization efforts to assist with up-scaling of pilot activities
and co-financing. It should also consider options for diversifying funding beyond the current PEI/PEA DSG members at the global level and potential in-country donors.
Increasing the proportion of non-EU funds through a more diversified funding base could allow PEA to revisit some of the restrictions on non-EU donor funds, which would
be welcomed by the UNDP Country Offices and Governments.
• Ensure PEA team have the skill set to mobilize funding
• Explore opportunities with regional development banks. A donor expressed the view that PEA's role is not to mobilize funding from development banks, but rather to help
countries put in place the policies and systems to attract investments that integrate PE and ensure appropriate impact assessment and control on these investments. However, PEA can play a role in raising awareness of PEA work with the development banks and helping draw out possible investment opportunities that will help countries
accelerate their PE mainstreaming objectives.

• Strengthen Engagement with donor country offices / embassies

- Better synergies at country level with bi-lateral donor programmes
- Donors can also help integrate PEI / PEA into their country office work

7

Involvement of private sector is crucial going forward.

Work with the private sector is a core focus for PEA and important for generating new and additional finance. To date PEI has largely been working with Governments to strengthen the quality of investments and to institute safeguards (albeit in a small number of countries), and this will remain the focus of PEA. Strategic investments need to be identified that benefit Government, communities and private sector. It is important to ensure that the PEA team has the skills to undertake this work and create synergies with other projects undertaking similar work across the regions. Here linkages with blended finance initiatives by PEA donors such as the European External investment plan will be vital.

8

Links to other programmes and partnerships to be actively promoted and strengthened.

PEI/PEA should play more of a role in connecting the dots between other projects, programmes and potential partners in order to catalyze investments.
• PEA needs to actively promote its agenda through increased efforts to engage with other UN agencies, non-UN projects / programmes and partners with compatible objectives and donors. This needs to happen at the country level through in-country teams, and regionally across both PEA and non-PEA countries through regional based staff involved in PEA. It is recommended that a more systematic approach be adopted to achieve which could include – a review of on-going/planned projects at the country /regional, level, the identification of opportunities for joint working, efforts to influence proposals upfront, regular meetings to brainstorm on opportunities, and training at country level on how P-E-C-G mainstreaming may be integrated into programmes /projects.
• PEI / PEA needs to be better integrated with other UN programmes and projects so that PEI / PEA thinking can be replicated into other areas of work and attract new funding. Anchoring the new programme in the UN agencies' agendas at the highest level requires the commitment of PEA management and Board to champion and push the work and identify new opportunities. Specific actions include: linking with directors in other units of UN Environment / UNDP; involving Regional Bureaus in determining the entry points and priority areas to be addressed in each region in addition to consultation with global and regional centers; and, consulting with Resident Representatives on how PEI can help achieve crosscutting and multidisciplinary work to address national development priorities consistent with UNDP's new approach to work.
• It is recommended to deepen the engagement with other on-going initiatives with similar mandates as PEA (e.g. PAGE, BIOFIN, UNFI, UN-REDD) with the objective of increasing the effectiveness and efficiency of services offered to countries, and avoiding duplication. PEI should take a pro-active role in identifying synergies with these programmes along with opportunities for developing joint packages of services and cost-sharing, joint programming and missions. A more systematic visibility of PEI/PEA in the countries in which PEA donors are active is recommended along with a collaboration and exploration of how the tools and approaches developed could be used to better influence bi-lateral programmes in country. The joint project and the donors can both play a more active role in facilitating this.
• Strengthen stakeholder engagement. It is recommended that PEA continue to expand the participation of civil society given their key role in advocacy and the importance of
promoting transparent environmental governance.

9

Knowledge management will be very important under PEA and more emphasis needs to be place on it than in the project to both increase the visibility of PEA and package
knowledge products in a way that can be easily accessed and inform specific areas of interest.
• Ensure knowledge management is properly resourced and strategically planned. PEA should set out a knowledge management strategy, which accounts for resource constraints and specifies the number and nature of priority knowledge products to be developed over the course of the project, and an efficient approach to their generation and dissemination. The knowledge management strategy should also specify how the knowledge and tools generated under the previous PEI, will be disseminated through a well designed knowledge platform, south south cooperation and other means.
• Ensure knowledge management has high level strategic leadership.
• Consider whether it would be better to have others take over the dissemination role if resources are limited. For example: (i) UN Environment and UNDP Communications have a wider reach and resources and could be paid to the disseminate work; and / or, (ii) Green Growth Knowledge Platform (GGKP) potentially through a dedicated window on PE mainstreaming.
• Tools and methodologies need to be disseminated in a more targeted way. For example, portfolios for analysis, learning and experience exchange could be developed around key areas of interest to countries. For example, a portfolio could be focussed on Expenditure and Budget reviews, which would be useful to Finance Ministries and financial reform processes.

Develop South South cooperation. It is recommended that such exchanges are structured and strategic. They could be based on a topic of interest to a region and engage regional consultants to deliver training or seminars in addition to the sharing of printed materials. Opportunities for civil servants from PEI/PEA countries to share their knowledge and experiences on PE mainstreaming with administrations in similar countries interested in applying the approaches and tools should also be identified and supported with technical assistance as necessary.

10

6.3.3 SDG and other
PEI has extensive experience in integrated policies and their implementation, but this needs to be highlighted much more at the UN corporate level if PEI is to establish itself as a
delivery platform / approach for the SDG. This requires much stronger and strategic engagement with senior SDG actors within the UN system, which is contingent on UNDP and
UN Environment senior management / PEA Board members members lobbying for PEI / PEA. The PEI poverty-environment mainstreaming model should be better promoted as a model for
SDG implementation support to countries, and better integrated into SDG support structures at the country level. While there has been some progress in integrating P-E into the UNDAFs,
in general there is still much to do to ensure that the environment does not get left behind (for example in general there is not much mention of P-E in Voluntary National reviews for the
SDGs). There is a need for a stronger focus on poverty at the strategic and implementation level. This needs to be resourced. More poverty assessments and distributional impact analysis of actions are needed to address P-E challenges.


Capacity building needs to be a component of PEA. Addressing the capacity gaps for vertical (national, regional, local) and horizontal (sectoral) planning and implementation of
sustainable development plans/programmes is a fundamental issue, especially in the light of the SDGs localization and implementation. Targeted capacity building programmes for
governmental staff at all levels remains critical in many countries.