Mid-term evaluation on Phase I of ACP-EU Development Minerals Programme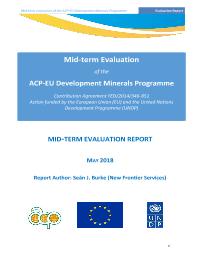 Evaluation Plan:

Evaluation Type:

Mid Term Project

Planned End Date:

03/2018

Completion Date:

05/2018

Status:

Completed

Management Response:

Yes

Evaluation Budget(US $):

68,000
Title
Mid-term evaluation on Phase I of ACP-EU Development Minerals Programme
Atlas Project Number:
Evaluation Plan:
2018-2021, Bureau for Policy and Programme Support
Evaluation Type:
Mid Term Project
Status:
Completed
Completion Date:
05/2018
Planned End Date:

03/2018

Management Response:
Yes
Corporate Outcome and Output (UNDP Strategic Plan 2018-2021)

1. Output 1.4.1 Solutions scaled up for sustainable management of natural resources, including sustainable commodities and green and inclusive value chains

Evaluation Budget(US $):

68,000

Source of Funding:
EU-UNDP Contribution Agreement
Evaluation Expenditure(US $):

68,000

Joint Programme:
No
Joint Evaluation:

No

Evaluation Team members:

| Name | Title | Email | Nationality |
| --- | --- | --- | --- |
| Seán J. Burke | Author | info@frontierservices.eu | |

GEF Evaluation:

No

Key Stakeholders:
European Union; African, Caribbean and Pacific Group of States
Countries:

GLOBAL
Lessons
1.

Regarding lessons learned, the project has provided a valuable laboratory in which learning can be distilled from a number of the activities carried out. Firstly, on the capacity development side, the project has shown the value of having a framework for capacity development that targets the different levels (individual, organisational and enabling environment. Moreover, the project's focus on cost-efficiency and value for money has shown that significant capacity development can be accomplished without a corresponding proportionate increasing funding resources, through identifying key impact and leverage factors such as motivation, train-the-trainer approaches and follow-on training, and of course the Programme's excellent Return to Work Plan concept. UNDP's work with, and the supporting of, the Programme's Country Delivery Teams, has also provided real value, and shown the importance of an organisation that understands the national environment, and it has played an important role in helping the Programme to become operational quickly in the Focus Countries.



2.

The DMP has provided evidence of some clear good practice. One horizontal good practice was the sheer scale of reach the Programme has achieved, in terms of the numbers of DM sector actors reached across the project activities, including consultations on baseline studies, capacity building across a wide range of topics, and supporting the development or roadmaps. A related good practice has been the Programme's focus on extensive national consultation, dialogue and building of local ownership, which as mentioned has created a significant level of national ownership and thus developed a strong 'sustainability asset' that can be built upon in a successor Phase 2. A third good practice, has been the relatively logical process which has been followed by the Programme delivery team, for example in first focussing on evidence-based/fact-driven baseline studies to provide real information and argument for increased awareness of the sector and supporting advocacy. In addition to the high output productivity of this project, another good practice has been its adaptive capacity to the specific local needs and circumstances in each of the 6 focus countries.



Findings
1.

Overall, the ACP-EU Development Minerals Programme is demonstrating strong performance in achieving the target outcomes and has registered a significant increase in momentum during 2017, which augurs very well for a high rate of achievement of targets (or in a significant number of instances exceeding targets) during 2018.



2.

Outcome 1 "The small-scale operators in African, Caribbean and Pacific (ACP) countries operating in the Low Value Minerals and Materials (LVMM) sector have the technical and entrepreneurial capacity to enhance productivity" is highly satisfactory, with impressive results achieved in 2017. Operating standards and access to capital and markets have been improved for a significant number of artisanal and small-scale enterprises (588 in 2017), and most of the indicators have already achieved the initial targets set. Such performances should continue in 2018, with particular attention given to making sure these improvements are extended to more ACP countries.



3.

Outcome 2 "Industry associations/chambers in ACP countries that represent small-scale private operators in the LVMM sector have capacities to fully support miners and provide them with services" demonstrates strong quantitative performances, with 153 new mining associations established to support artisanal and small-miners in 2017.



4.

With regards to Outcome 3 "Public institutions in ACP countries in charge of the mining sector and mineral policies have capacities to regulate and create an enabling environment for small-scale private operators and their representatives", achievements are particularly impressive, with a significant number of Programme targets already exceeded in 2017.



5.

Under Outcome 4 "Civil society, communities and indigenous peoples have the knowledge to ensure that the mining sector meets the economic, social and environmental standards and violence conflict is prevented", the activities carried out exhibit positive results as well, effectively addressing all relevant outputs. Strong performances include the implementation of conflict analysis in 6 communities, which hadn't been done in 2016.



6.

Activities implemented under Outcome 5 "ACP countries benefit from exchange of knowledge and experiences through South-South learning and cooperation" are satisfactory, various indicators exceeding targets set for the Programme. For instance, 50 ACP countries were engaged in South-South learning and cooperation as a result of participation in Programme trainings and other events in 2017.



Recommendations
1

Evaluation recommendation 1: Place increased focus on extracting and distilling learning from the current project during the last 7 months of the project's duration.

2

Evaluation recommendation 2: Use the remaining period of the current Programme to start large-scale preparatory work on key aspects of a Successor Phase 2 Programme.

3

Evaluation recommendation 3: Develop and chart a clear timing and plan for the finalization of a Phase 2 programme concept and launch of this Phase 2 ACP-EU Development Minerals Programme.

4

Evaluation recommendation 4: Develop a Development Minerals Business Acceleration and Support System as a Core Component of a Phase 2 Programme.

5

Evaluation recommendation 5: Develop a Development Minerals Capacity Development Strategy and Work Programme for a scaled-up Successor Programme.

6

Evaluation recommendation 6: Develop a medium-term Framework for the Development Minerals Programme.

7

Evaluation recommendation 7: Carry out detailed and intensive formulation work on the Financing and Investment Component and the Business Acceleration Component (including in-country pilots).