End Of Project Evaluation of the Global Policy Centre on Public Service Excellence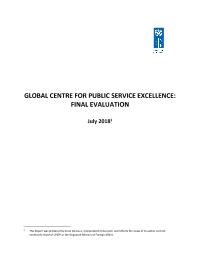 Evaluation Plan:

Evaluation Type:

Final Project

Planned End Date:

06/2018

Completion Date:

07/2018

Status:

Completed

Management Response:

No

Evaluation Budget(US $):

25,000
Title
End Of Project Evaluation of the Global Policy Centre on Public Service Excellence
Atlas Project Number:
Evaluation Plan:
2018-2021, Bureau for Policy and Programme Support
Evaluation Type:
Final Project
Status:
Completed
Completion Date:
07/2018
Planned End Date:

06/2018

Management Response:
No
Corporate Outcome and Output (UNDP Strategic Plan 2018-2021)

1. Output 2.2.1 Use of digital technologies and big data enabled for improved public services and other government functions

Evaluation Budget(US $):

25,000

Source of Funding:
GCPSE
Evaluation Expenditure(US $):

25,000

Joint Programme:
No
Joint Evaluation:

No

Evaluation Team members:

| Name | Title | Email | Nationality |
| --- | --- | --- | --- |
| Kevin Deveaux | Independent Evaluator | kevin.deveaux@gmail.com | |

GEF Evaluation:

No

Key Stakeholders:
Government of Singapore, OECD
Countries:

GLOBAL

Comments:

Status box does not respond (notes "planned"). Status should be near completion (evaluation has been completed, final draft under review).
Lessons
Findings
1.

Findings & Analysis

A. Summary of GCPSE Key Deliverables

Prior to an analysis of the work of the Centre, it is important to provide a summary of some of the key outputs from the Centre. The project document was written in a manner that left the work of the GCPSE open to a flexible approach to what would be delivered. This is noted on page five of the project document where it states that the outputs are intentionally broad and any sub-themes noted in the document are indicative only. Through the past five years in which the GCPSE operated it has identified four key areas in which it works:

1. Intrinsic Motivation: In the past decades the academic community has produced significant work and research related to the methods and benefits of intrinsic motivation of civil servants, yet such work has been almost exclusively focused on developed countries. GCPSE established a high level working group of academics working in this field and senior civil servants from key developing countries. The group has worked, with GCPSE guidance, on the development of a global motivational survey that is being rolled out in key ministries (i.e. – planning; finance) in a set of countries starting in 2017. The results of the data collected will form a baseline for what motivates civil servants to be productive and effective.

2. Transformational Leadership: GCPSE has established an annual event in which high level officials (i.e. – ministers; permanent secretaries; directors-general) from various countries are convened in Singapore. Originally the goal was to create a developmental leadership programme, but that has more recently transformed into transformational leadership. The goal is to discuss the intersection between politics and bureaucracy and to use the Singapore model as a means of having open discussions as to what is an effective approach in the context of each country. The Centre works through UNDP COs and Regional Hubs to identify participants each year.




Tag: Effectiveness Relevance Civic Engagement Global Policy Network Knowledge management Policies & Procedures Country Government UNDP Regional Bureaux Technology Capacity Building National Institutions

2.

B. Evaluation of GCPSE Project Document

Based on these key interventions (and others) by GCPSE, the report will review the work of the Centre through the lens of the five evaluation criteria for development projects as set out by OCED-DAC. Through the application of these criteria the report will be able to determine if the GCPSE has achieved what was expected of it in its foundational documents.

Relevance

When considering the relevance of the work of the Centre, it is key to determine the extent to which the GCPSE was designed and has been implemented to meet the needs of its beneficiaries. This report considers the beneficiaries of the Centre to be UNDP country-level programme and project staff, national and sub-national governments and public sector employees and decision-makers.

Design GCPSE was designed in 2012 to be a centre for forward-thinking on public services. It has two main programmatic areas – research and convening. Beyond these broad themes, the Centre was given much flexibility in how and what it implemented.This flexibility has resulted in the evolution of certain thematic issues as the demand and interest of beneficiaries has changed. For example, what is now transformational leadership started as a developmental leadership program. Issues, such as foresight, which were not considered during the start of the Centre, have been allowed to develop organically and have resulted in much demand from beneficiaries. Flexibility has also enabled the Centre to venture into areas that were not part of its original mandate. In order to provide more financial support to the Centre beyond the agreed terms signed in 2015, the Ministry of Foreign Affairs engaged GCPSE to collaborate on technical assistance programmes, where additional funds were disbursed upon successful completion of each training programme. In addition, the direct work with COs was not anticipated. This work has been fruitful and, in some cases, impactful, but, as will be discussed later in this report, was not part of the initial mandate of the UNDP policy centres (after the 2014 restructuring).




Tag: Capacity Building South-South Cooperation National Institutions Relevance Public administration reform Knowledge management Policies & Procedures Programme/Project Design Project and Programme management

3.

Efficiency

The key issue with regard to efficiency is whether or not the GCPSE was able to deliver its outputs through cost-effective inputs. It is necessary to review what the inputs of the Centre were and if those were delivered in a manner that ensured value for money.

Inputs

The work of the Centre can be divided into three key inputs:

• Knowledge Development: The Centre created new knowledge related to public service excellence, including its work on foresight, the role of technology in delivering public services and the development and collection data on the intrinsic motivation of civil servants. In some cases, the Centre conducted its own research, while in other circumstances it commissioned or facilitated research by others. An example of the latter is the commissioning of research related to peer-to-peer capacity development within the public sector.

• Advisory Services: GCPSE has provided direct technical advice to governments and UNDP COs related to public services. For example, in Mauritius, Capo Verde and Myanmar, the Centre provided technical advice to the relevant UNDP CO and worked with senior officials in the relevant government to support the strategic thinking that resulted in public sector reform plans.

• Knowledge Brokering: GCPSE has established in the past five years a network of public service experts and implementers, both within UNDP and externally, that has allowed for the exchange of knowledge within the network and allowed the Centre to be at the centre of a number of interactions and knowledge events that have added to the thinking on the topic.




Tag: Efficiency Knowledge management Partnership Country Government Technology Policy Advisory Civil Societies and NGOs National Institutions Private Sector

4.

Efficiency & Effectiveness

Analysis

Based on the inputs and tools identified above, it is possible to reflect on the effectiveness of the Centre in delivering its work. To start, it is important to note that the Centre delivered significant results with a limited budget. Though its annual operating budget has been consistent over the years, it has been at a level that has been significantly lower than adequate. When compared to other GPCs within UNDP (See table below) it is receiving a lower amount of funding from the host country and, as a result, has an insufficient amount of funding to fully conduct its work. This has been one of the major impediments to the successful development of the centre into a global hub of excellence. As a result of the limited funds for the Centre, it has been motivated to build partnerships in order to deliver activities. In this regard the Centre has been successful. It has been able to deliver trainings and workshops at minimal cost (especially in Singapore) by sharing the costs with various partners. A good example of this was the Conference on Disruptive Technology held in September 2017 where the GCPSE worked with the Nanyang Technological University to deliver the event. The work of the Centre with the Effective Institutions Platform resulted in funding from USAID for the EIP Joint Secretariat and work on peer-to-peer learning. Other partnerships – such as with Microsoft, Konrad Adenauer Foundation, the Government of Sarawak (Malaysia) also resulted in extra funding going to the GCPSE, albeit some of these funds were minimal and not sufficient to create longer term sustainability. As a result of the limited funds for the Centre, it has been motivated to build partnerships in order to deliver activities. In this regard the Centre has been successful. It has been able to deliver trainings and workshops at minimal cost (especially in Singapore) by sharing the costs with various partners. A good example of this was the Conference on Disruptive Technology held in September 2017 where the GCPSE worked with the Nanyang Technological University to deliver the event. The work of the Centre with the Effective Institutions Platform resulted in funding from USAID for the EIP Joint Secretariat and work on peer-to-peer learning. Other partnerships – such as with Microsoft, Konrad Adenauer Foundation, the Government of Sarawak (Malaysia) also resulted in extra funding going to the GCPSE, albeit some of these funds were minimal and not sufficient to create longer term sustainability.

However, as will be discussed later in this report, the ability to leverage the partnership with GoS was less impactful. Though there were clear examples of where different segments of the government were engaged in a workshop or to present at an event, there was limited evidence that the knowledge within GoS and its added value was used to further build the capacity of beneficiaries beyond static knowledge events. Many of the technical missions that were conducted were funded by UNDP COs as a means of direct project support, again enabling the Centre to deliver technical advice in a cost-effective manner. These missions often had a direct impact on strategic planning and national development plans with limited funds committed from the Centre. Most of these missions were primarily in the form of knowledge events. Through the use of in-house expertise and leveraging partnerships, the Centre could have gone further in sharing knowledge and building capacity of national partners related to key topics. For example, with regard to foresight, the Centre conducted a number of missions that related to workshops in which foresight was introduced and applied to the national context.




Tag: Effectiveness Efficiency Knowledge management Operational Efficiency Partnership Technology Capacity Building Policy Advisory Data and Statistics Civil Societies and NGOs National Institutions

5.

Effectiveness

With regard to evaluating effectiveness of the GCPSE it is key to consider if the Centre achieved its outputs and outcomes.

Outputs

Output 1: A credible body of research findings generated and disseminated As noted above, the project document upon which the work of the GCPSE was established was written to allow significant flexibility in how outputs were delivered. This output is often referred to within the Centre as the Research Output – the Centre will conduct and generate new research. It is clear from the evidence gathered for this report that the GCPSE has achieved this output. Internally, the Centre had capacity for conducting its own research. The Director of the Centre came with significant capacity and knowledge that was applied to many ongoing issues related to public administration reform (PAR). This capacity was applied to create the initial concept related to foresight. GCPSE also utilized the work of GoS secondees to develop the intrinsic motivation research, which is still ongoing. In addition to the internal capacity to conduct research, the Centre commissioned research from external sources. For example, with funding from Microsoft (via the National University of Singapore), GCPSE contracted an expert to develop a knowledge product on policy frameworks for the digital economy. ; Output 2: Visible and effective convening In addition, in some cases, the platform resulted in further engagement of UNDP at the country level upon the return of the officials to their home country. A good example of this is Samoa. Originally the Prime Minister of Samoa participated in a study visit to Singapore in 2017, hosted by the Singapore Government. As a result of his participation in a dialogue session at the GCPSE during this visit, the Government invited UNDP, including the Centre, to engage with the Government as it considered how to leverage better and more affordable broadband connectivity (subsea cable) for enhancing its digital services and building a digital economy. This included a number of interventions, most notably the 2018 regional and national conferences that brought 160 regional and global experts and actors to Samoa to discuss regional and national priorities for policy exchange established. The second output is simplified to be the Convening Output – the role of the Centre in gathering and facilitating the exchange of knowledge and ideas. The evidence gathered shows that the Centre was able to achieve this output as well. The convening power of the Centre can best be expressed though the key knowledge events and interventions it was able to organize. One example is the transformational leadership annual events held since 2016. GCPSE was able to leverage its access to UNDPs global network of offices and personnel to identify and congregate senior officials from a disparate range of countries and bring them to Singapore to exchange ideas and to hear more about the Singapore model of development. Interlocutors within the GoS were particularly impressed with the range of actors and the level of their status.




Tag: Effectiveness Anti-corruption Public administration reform Communication Global Policy Network Knowledge management Partnership Policies & Procedures Technology Policy Advisory South-South Cooperation Data and Statistics National Institutions Private Sector

6.

Impact

The impact criteria of an evaluation of a development project focuses on the intended and unintended and the positive and negative consequences of the work of a given project. Being a governance project, for the GCPSE, the report will focus on where the Centre has contributed to concrete changes to the laws, policies and procedures of a government (national or subnational) that have been related to the delivery of services to citizens by that government. With its work in the promotion of foresight as a means of strategic planning and visioning, the GCPSE had its greatest impact. The Centre conducted more than 15 foresight workshops with national governments. In a few cases – outlined below – the result of the foresight processes led to reforms to the civil service.




Tag: Effectiveness Impact Public administration reform Global Policy Network Knowledge management Policies & Procedures UN Country Team Advocacy Capacity Building National Institutions

7.

Impact (continuation)

In the case of Mauritius, the country had a new government after elections in 2014 and a key objective of the new government was to reform the civil service. As a middle income, stable, democratic country, Mauritius was at a stage in its development where issues such as service delivery by the government were rising as concerns amongst the citizens. The new government reached out to the UNDP CO in Mauritius to seek support in developing a civil service reform plan. The CO engaged the Centre in 2015 to help with the early stages of the support required. GCPSE organized the foresight workshop, which, in turn, produced a visioning document. That document, in turn, was the basis of the Government's civil service reform plan which was launched in 2017. Myanmar also had a change in government in 2015 and the new government there wanted to also consider the reform of the civil service. UNDP already had a public administration reform project with the government and that project reached out to GCPSE for support in the visioning process. In 2016 GCPSE worked with the Country Office in Myanmar on a workshop on public service motivation that led to the development of a visioning document. Like with Mauritius, the Government of Myanmar used the visioning document as part of its civil service reform strategy that was introduced in 2017.




Tag: Effectiveness Impact e-Governance Public administration reform Global Policy Network Innovation Knowledge management Partnership Strategic Positioning Technology Policy Advisory National Institutions Private Sector

8.

Sustainability

Sustainability as an evaluation criterion relates the institutionalization or systematization of practices and procedures within beneficiaries who have received support from GCPSE. In short, have governments and UNDP COs that have received support from the Centre been able to turn that support into permanent or long-term changes to their processes and procedures as they relate to public service delivery. There is limited evidence that the direct programmatic work of the Centre has already been translated into new systems or procedures for governments or UNDP COs. The foresight approach has been used and demonstrated on a number of occasions, yet with the exception of the Philippines where the government announced that foresight would be included in the planning guidelines, there are no other examples as of yet where this approach has been adopted as a standard way of conducting strategic planning in any country or CO where it was applied by the Centre. Though it must be noted that the introduction of such systems within government take time, beyond the initial testing phase. Some of the impact achieved so far may not yet be fully entrenched.

The work of GCPSE on intrinsic motivation may have long-term implications, but the data collection phase of the work has just recently commenced and there has not been enough time for this to be determined. The transformational leadership and innovation work has primarily been focused on the Centre's role as a knowledge broker and, therefore, has not resulted in sustainable changes to the actions of beneficiaries. However, looking at sustainability and public service reform a little more broadly, there is evidence of the institutionalization of public sector reforms. Noting the same countries where an impact can be detected, the development of civils service reform strategies in Mauritius and Myanmar and the digital economy transition in Samoa have resulted in new policies and procedures in these countries as a result of interventions by UNDP and the Centre in particular. As noted above, the Centre's role is to work within the UNDP system to provide specific support to regional bureaux and COs. Given this niche role, the Centre has contributed to broader institutionalization of public service reforms.




Tag: Sustainability Public administration reform Global Policy Network Knowledge management Partnership Policies & Procedures Policy Advisory Data and Statistics National Institutions

9.

C. Strategic Role of GCPSE

Strategic Positioning

In addition to the review of the GCPSE as it relates to the outputs and outcomes that were identified in the original project document in 2012, the Terms of Reference for this report also posed a series of questions that can best be described as a "strategic review" of the Centre and its place within UNDP and the key actors it was established to engage. Operating a global policy centre by a UN agency requires many actors and variables to be considered. GCPSE, like other UNDP GPCs, was established with a number of mandates to: • Provide forward-thinking ideas and solutions on a given thematic area (in the case of the Centre, as related to public service reform); • Build and maintain a working relationship with the host government; • Provide a backstopping role within UNDPs architecture in support of COs and Regional Bureaux; • Strengthen UNDPs relationship with partner organizations through the establishment of platforms and networks to share knowledge and identify opportunities for collaboration; and • Coordinate work with other components of UNDPs global policy and programming efforts.

Each of these points will be discussed below; however, at this stage, it is important to understand how GCPSE fits within UNDPs system. With the reorganization of UNDPs internal policy development capacity in 2014, the agency established the Bureau for Policy and Programming Support. Within that Bureau there are a number of thematic units, each with global policy advisers and specialists who work in New York (Headquarters) and provide policy direction, technical support and quality assurances for UNDP regional and country-level programmes. In certain circumstances, where funding is secured, global programmes are established to provide extra funding for the enhancement of the services noted above. Within the Governance and Peacebuilding Cluster is the Responsive and Accountable Institutions (RAI) Team, which is responsible for Core Government Functions (CGF) work (which includes public administration reform). However, RAI is focused essentially on post-conflict and fragile countries. Its advisory services have limited engagement with countries that are not transitioning from conflict or fragility although the team does work also in Middle Income Countries and non-crisis affected countries, in particular through the Open Government Partnership. Other parts of BPPS are also engaged in public sector initiatives, the most notable being the "Inspectors without Borders Project" implemented by the Strategic Policy Unit in BPPS in collaboration with the OECD.




Tag: Effectiveness Efficiency Relevance Public administration reform Global Policy Network Knowledge management Partnership Policies & Procedures Strategic Positioning UNDP Regional Bureaux Policy Advisory National Institutions

10.

C. Strategic Role of GCPSE (continuation)

Alignment with Strategic Plan

The 2018-2021 UNDP Strategic Plan is the third plan under which GCPSE is operating. The original Strategic Plan (2008-13) was the basis for the establishment of the Centre in 2012. Under the current Strategic Plan UNDP is focused on the achievement of the 2030 Agenda and the Sustainable Development Goals (SDGs), neither of which were created when the Centre was opened. In general, given that the original Centre was established under the 2008-13 SP, it is important that the Centre be aligned effectively with the current SP which may require some further consideration. As noted in the 2018-21 Strategic Plan: "Guided by the integrative approach embodied in the 2030 Agenda, the UNDP approach aims to effectively support sustainable development across these three broad development settings. The UNDP vision for the Strategic Plan, 2018-2021 is therefore: to help countries to achieve sustainable development by eradicating poverty in all its forms and dimensions, accelerating structural transformations for sustainable development and building resilience to crises and shocks. The scale and ambition of the 2030 Agenda requires analytical, planning and implementation capacities that can address links, choices and connections across many issues and sectors of government. Many programme country Governments have recognized the need for additional system capacities in fields such as planning, finance, data and analytics, equality and universality (leaving no one behind), gender, innovation and partnerships, amongst others, to be able to apply integrated, multidimensional approaches. There are as yet no comprehensive, widely applicable systems or methodologies for integrated approaches to interconnected development challenges. Helping countries to build such capacities is therefore one of the key objectives of the UNDP Strategic Plan in the coming years." (Emphasis added for this report).




Tag: Relevance Gender Equality Public administration reform Global Policy Network Knowledge management Coherence Service delivery Policy Advisory Agenda 2030 Leaving no one behind Mainstreaming, Acceleration and Policy Support (MAPS) National Institutions

11.

C. Strategic Role of GCPSE (continuation)

Partnership Development

As has been noted above in this report, the GCPSE has done an excellent job of expanding UNDPs network of partners and in providing added-value to those partners in their work. All of which has resulted in UNDPs reputation being enhanced with organizations and experts in the field of PAR. For example, the work of the Centre on intrinsic motivation has enabled UNDP to be the facilitator of the steering group that includes some of the world's top academic thinkers on the topic. These academics have acknowledged the value added by UNDP and its network of COs and links to developing country governments as providing access to new data. GCPSEs work on the Effective Institutions Platform with OECD, and others, has enabled UNDP to provide high level engagement with other multi-lateral and bilateral organizations working on the same issues. UNDP does engage in other aspects of PAR – notably on CGF in fragile states, the Open Government Partnership as well as on revenue policies through the Tax Inspectors without Borders Initiative with the OECD. But given the limited architecture within UNDP for CGF/PAR work, the Centre certainly filled a gap and was able to enhance UNDP's position at the table to discuss key issues as they arise and are addressed by development partners. The Centre has also built good links with applied research and policy institutes in Singapore that have enabled the Centre to organize more and better workshops and conferences in the host country. The Centre has drawn upon Singaporean experts from the National University of Singapore (Lee Kuan Yew School of Public Policy; Institute of Systems Science), Nanyang Technological University (Centre for Public Administration; Technopreneurship Centre), Singapore University of Technology and Design (Lee Kuan Yew Centre for Innovative Cities) and GovTech (the Singapore Government's Technology Agency). All of these partnerships have enabled the Centre to produce and share more knowledge of its own making and from collaboration. It has also extended UNDPs links within the CGF/PAR field of work, especially in Asia.




Tag: Relevance Public administration reform Global Policy Network Knowledge management Partnership Strategic Positioning Capacity Building

12.

Relevance of the Thematic Focus of GCPSE (continuation)

Another example of a broader perspective on public service excellence is Financing for Development - a catch-all concept for the various means in which resources can be raised to fund development, in general, and the SDGs, in particular. Almost all types of financing have some link to the government (national; sub-national; local) that will either raise the funds nationally (i.e. – taxes) or receive sources from outside (i.e. – FDI; ODA) and disperse those funds to promote development. The role of government is critical in this process and the raising and managing of resources will be left to civil servants. Therefore, by expanding the concept of public service excellence to include some emerging issues, such as Smart Cities and Finance for Development, the Centre could increase its relevance within UNDP and the broader UN system and international development community, while still reflecting at its core the need to enhance the capacity of how governments deliver public services. However, the reasons why the Centre was not able to significantly expand its work into these areas are well known: resources (both financially and in terms of human resources) were simply not available to take on a more ambitious and expanded mandate. The challenge of limited resources is addressed in the next section.




Tag: Efficiency Sustainability Private Sector Financing Global Policy Network Knowledge management Partnership Capacity Building Policy Advisory

13.

Relations with the Government of Singapore

Based on recent experiences with other Global Policy Centres operated by UNDP, there appears to be a clear and decisive link between the success of a GPC and a strong relationship with the host country's government. For sure, the provision of adequate funding by the host government is critical to such success, but the relationship needs to be more substantial than that of a donor-recipient relationship. As has been discussed previously in this report, the Singapore model has much to offer other governments globally who are striving to develop their countries, both at the national and local levels. Since it has opened, the GCPSE has used its location in Singapore to convene high level government officials from various partner countries who are keen to learn more about the Singapore model of success and to more broadly gain knowledge as to how they can reform their civil service and deliver public services.Yet, programmatically, the link between Singapore and other countries seems to have been limited to knowledge events, mostly in Singapore. There is an obvious next step which has not been taken – the provision of other forms of capacity development in-country. This may include the short or medium-term exchange of counterparts between GoS and other governments to allow for a richer exchange of knowledge. It may also include coaching and mentoring of counterparts in other countries through in-country visits and technical advice. This was not accomplished during the first six years the Centre was operational.




Tag: Effectiveness Government Cost-sharing Global Policy Network Knowledge management Partnership Country Government Capacity Building Policy Advisory National Institutions

14.

D. Staffing & Delivery Issues

Staffing

GCPSE operated with a minimal contingent of staff – one Director at a D1 level, a programme specialist at a P3 level, two secondees from GoS and one administrative assistant. From 2013- 15 the Centre had a Junior Professional Officer and from 2015-17 a full-time technical adviser/consultant at a P5 level who worked on the implementation of the foresight programme. Other consultants were also contracted from time to time as funds and demand provided. It is beyond the scope of this report to evaluate individual staff of the Centre, but it is important to note the expectations of key staff based on the standards set by other GPCs.

All GPCs are led by a D1 Director. This post plays a critical role in the success of a GPC. The person in the post must balance a number of roles and skills, including: • Content Expert: The Director must be seen as a leading thinker on the thematic topic of the GPC; • Manager: It is vital that a Director have experience as an effective manager of multimillion dollar programmes, both from the financial and the human resource perspectives; • Relationship Builder: In addition to the above roles, a Director has to be effective at building and maintaining relationships with stakeholders – donors, technical experts, academics, government officials and implementers in the field of work; and • UN/UNDP Engager: Beyond the normal relationships that must be built for a think tank or similar centre to a GPC, a Director of a GPC must also have the requisite skills to engage within the UN and UNDP systems. As very large, global organizations, there are unique opportunities and cultures that must be respected and nurtured in order to ensure the work of a GPC fits well within the given architecture.




Tag: Efficiency Global Policy Network Human and Financial resources Project and Programme management Policy Advisory

15.

D. Staffing & Delivery Issues

Staffing (continuation)

Delivery Issues The role of a GPC within UNDPs architecture is to research and develop new thinking, ideas and solutions that have been tested and are ready for practical application by programmes and projects at the regional and country levels by UNDP and other development partners. This involves a GPC performing the following key functions:

• Knowledge Broker • Knowledge Developer • Incubator • Network Manager GCPSE met these roles. As noted in some detail under Part A of this section, the Centre's work on foresight, for example, shows the Centre building new knowledge and incubating its practical application. Its work on intrinsic motivation is a good example of managing a network of experts and national partners that could benefit from new data and knowledge. And its work on transformational leadership and innovation showed how the Centre can broker knowledge between high level officials in a number of countries.




Tag: Efficiency Global Policy Network Human and Financial resources Partnership Technology Capacity Building Coordination Policy Advisory

16.

E. Cross-cutting Issues

In addition to the delivery of outputs and outcomes and its strategic place within UNDP, it is important to briefly look at how GCPSE managed cross-cutting issues.

Gender Equality

SDG-16 speaks to the need for effective, accountable and inclusive institutions to deliver on the other SDGs. This includes, as an indicator of this SDG, the need for political empowerment of women and an increase in the number of women in decision-making roles. This would include senior government officials, both elected and within the civil service.Therefore, a key measurement of public service excellence would be the reforms required by national government partners to increase the number of women within the senior ranks of their civil service. In turn, GCPSE should have provided as part of its mandate some focus on how this could be achieved, both from technical and practical perspectives. Unfortunately, there is limited evidence of this area of work being a focus of the Centre. Perhaps it was mainstreamed in the work of the Centre, but it is widely understood that to achieve gender equality there is a need for both mainstreaming the issue and for targeted interventions in support of women.

The issue of gender equality and women's empowerment in the public service is addressed by the RAI team in headquarters (through the Gender Equality in Public Administration (GEPA) project). That project focuses on the collection of data, research and CO engagement related to the impact of gender on public administration. It has also worked in Myanmar in the testing of its research and the application of some of its ideas in a real world scenario. However, apart from a workshop organized in Singapore by the headquarters team in collaboration with the GCPSE in June 2014 the project has had limited collaboration with GCPSE, even though they have similar mandates and are working in very similar thematic areas. The existence of GEPA may have limited the need for the Centre to address gender equality in the public service in a targeted manner, but should not have prevented the Centre from mainstreaming relevant gender issues in its other work. The lack of collaboration, though, was a missed opportunity that could have added greater value to the work of the Centre.




Tag: Effectiveness Gender Equality Gender Parity Anti-corruption Public administration reform Service delivery Capacity Building Policy Advisory Data and Statistics SDG Integration National Institutions
Recommendations
1

Recommendations

Based on the findings and analysis of this report, the following changes to the GCPSE are recommended:

Broaden Defined Work Related to "Public Service": The work of the Centre, pending adequate resources, should reflect a broader definition of "public service" to include emerging issues that have a significant component related to the effective operation of the public sector. The Centre must be prepared to take on issues that are strategically relevant to the work of UNDP, the UN system and the international development community. It is recommended that the following topics be given consideration for attention from the Centre:

• Smart Cities: Leveraging the experiences of the Government of Singapore to work with national and local governments to support transitions to innovative cities; and

• Financing for Development: There is a need for support to governments on how they adjust to ensure they have the capacity to raise revenue and resources to implement the SDGs.

• SDG Implementation: How can the work of the Centre be better organized to ensure its ideas and knowledge is linked to the need for enhanced delivery of public services if the SDGs are to be achieved in each country?

2

Focus on Knowledge Development, Brokering and Incubation:

GCPSE must have a clearly defined role within UNDP and then implement according to this role. GPCs should be focused on the:

(i) Research new ideas and solutions (Knowledge Development) – both internally and commissioned, building platforms;

(ii) Networks and partnerships to exchange and share ideas related to public service excellence (Knowledge Brokering), and

(iii) Trying and testing of new concepts and ideas to ensure they are of value to technical advisers and programme and project implementers (Incubation).

3

Build and maintain strong relationships with BPPS colleagues:

GCPSE must find its place within BPPS and manage its relationship with those in the Bureau who are working in the same field. There should be well-coordinated work with the RAI Team within the Governance and Peacebuilding Unit as well as other units working on the SDGs, financing for development and urbanization issues and relevant global programmes. The Centre should have stronger links with each regional hub and enhance its ability to build and share the knowledge it is developing.

4

Limit engagement of Country Offices to Incubation:

The Centre should not see its main role as a direct provider of advisory services to COs, but consider Country Office engagement as an opportunity to test ideas. As was largely the case in the past, its engagement of COs should be limited to piloting of its ideas and solutions to ensure they have had some practical application prior to being rolled out across the organization. This will require discipline on the part of the Centre and a commitment from UNDP to ensure COs have access to advisory services in each regional hub.

5

Secure Adequate Funding for Programming:

GCPSE requires at least $1 million USD per year in programme funding and a total operational budget of at least $1.5 million - $2 million USD per year and UNDP should avoid creating new centres if these conditions are not present at the outset. Sufficient resources will enable the staff to focus on their mandate and not on resource mobilizing to ensure delivery of its outputs. Realistically, given its location in Singapore, the Centre must be able to rely on the Government of Singapore and limited UNDP funding for its operations.

6

Minimum Staffing Requirements Should be Enhanced: The Centre must ensure it has the following posts to ensure it can deliver on its mandate:

• D1 Director (1) – core UNDP funding

• P5 Technical Adviser (1) – project funded

• P4 Specialist (3 – either FTAs or secondees from GoS) – project funding

• Finance & Administrative staff (1 G6) to ensure internal management and liaise with the Malaysia CO services.

7

Enrich the Centre's Relationship with the Government of Singapore: GCPSE must make a concerted effort to understand the added value that the GoS can bring to UNDPs work and nurture a relationship that is evolving towards one that is perceived as a trusted relationship by both parties. Potential avenues for enrichment include:

• Increased Use of Government Experts for In-Country Capacity Development: Working with GoS to identify a pool of experts that can be utilized by UNDP COs when they are engaging in public service reform with national government partners. This would allow the Centre and GoS to go beyond trainings and to allow for more impactful knowledge sharing and capacity building with beneficiaries.

• Addressing Issues that Relate to Singapore's Competitive Advantage: Issues such as Smart Cities allow the Centre to leverage the knowledge in Singapore that can be of interest to national government partners.

• More Routine and Informal Engagements: The Centre management needs to regularly be engaging counterparts in the GoS at multiple levels, to share opportunities for collaboration and to build a relationship that is organic and adaptable.

8

Embrace New Forms of Knowledge Sharing: GCPSE has built a strong network of partners and beneficiaries who receive the Raffles Review each week, but it must do more to embrace newer forms of communication to promote the knowledge its is developing and the information it is gathering. This may include webinars, e-courses video presentations (e.g. – TED Talks).

9

Monitor the relevance of its services: GPCs do not only operate on demand as is the case with other units in UNDP. GPCs also have an important mandate to think out of the box, explore newareas of work and, therefore, have a supply function for new knowledge. There is however a need to take the pulse within UNDP on whether some of these services receive an audience. The Raffles Review is produced every week, but there is limited data available on how many staff in UNDP (or outside) really use and benefit from this offer. Regular monitoring of the usefulness of some of the services provided by the GCPSE and GPCs in general is recommended.

10

Further Integrate the Work of GCPSE:

(a) Internal Integration: The linking up of the various outputs and activities of the Centre will lead to greater synergy and opportunities for knowledge development and brokering. The Centre should ensure its use of knowledge events is well integrated into a broader capacity development methodology. For example, the use of the transformational leadership courses as an entry point for other engagements should be seen as a main objective of the high level events when they are organized.

(b) Within UNDP & UN System: The work of GCPSE must be closely linked to the priorities of UNDP and the broader UN system. This is most relevant to how the Centre can ensure it is contributing to the achievement of the SDGs. Effective public services are both an objective of the SDGs (SDG-16) and a significant contributing factor to the achievement of all of the 17 Goals. The Centre's work must be focused on this outcome in the years to come.
Management response not available