Global Focal Point for Police, Justice and Corrections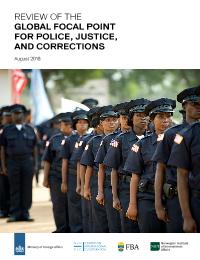 Evaluation Plan:

Evaluation Type:

Thematic

Planned End Date:

06/2018

Status:

Deleted

Management Response:

Yes

Evaluation Budget(US $):

100,000
| Title | Global Focal Point for Police, Justice and Corrections |
| --- | --- |
| Atlas Project Number: | |
| Evaluation Plan: | 2018-2021, Bureau for Policy and Programme Support |
| Evaluation Type: | Thematic |
| Status: | Deleted |
| Planned End Date: | 06/2018 |
| Management Response: | Yes |
| Corporate Outcome and Output (UNDP Strategic Plan 2018-2021) | 1. Output 3.2.2 National and local systems enabled and communities empowered to ensure the restoration of justice institutions, redress mechanisms and community security |
| Evaluation Budget(US $): | 100,000 |
| Source of Funding: | GFP earmarked funding from the UK |
| Evaluation Expenditure(US $): | 100,000 |
| Joint Programme: | No |
| Joint Evaluation: | No |
| GEF Evaluation: | No |
| Key Stakeholders: | UK/FCO (CSSF), NYU/CIC, Netherlands MFA, SIDA/FBA, Norway/NUPI |
| Countries: | GLOBAL |
Recommendations
1

Expand the scope of the GFP to include SSR under the theme Rule of Law

2

The GFP should renew its mission statement and value proposition

3

Dedicate Additional Financial and Administrative Resources to the GFP; Engage Senior Leadership; and Unblock practical and procedural constraints
1. Recommendation:

Expand the scope of the GFP to include SSR under the theme Rule of Law
Management Response:
[Added: 2019/01/29]
UNDP agrees with the recommendation.
Please note that the Global Focal Point is a joint working arrangement between UNDP and DPO and brings together other partner agencies, funds and programmes. Therefore, all decisions on how to implement the recommendations from the GFP Review have to be taken jointly. To this effect, a Partner meeting was organized on 18 September 2019 between ASG Page, ASG Zouev and ASG Mar Dieye. A workshop has also been held in Entebbe between 4-6 December to get buy-in from staff. Three working groups have been established on inter-operability, funding and management of the GFP.
Key Actions:
Key Action

Responsible
DueDate
Status
Comments
Documents

SSR included in the arrangement




[Added: 2019/01/29]

GFP

2018/12

Completed

History

Name changed to Global Focal Point for Rule of Law




[Added: 2019/01/29]

GFP

2018/12

Completed

History
2. Recommendation:

The GFP should renew its mission statement and value proposition
Management Response:
[Added: 2019/01/29]
UNDP agrees with the recommendation
Key Actions:
Key Action

Responsible
DueDate
Status
Comments
Documents

A New Mission Statement has been issued




[Added: 2019/01/29]

GFP

2018/12

Completed

History
3. Recommendation:

Dedicate Additional Financial and Administrative Resources to the GFP; Engage Senior Leadership; and Unblock practical and procedural constraints
Management Response:
[Added: 2019/01/29]
UNDP agrees with the recommendation
Key Actions:
Key Action

Responsible
DueDate
Status
Comments
Documents

Three working groups are being established on - sustainable financing - the management of the GFP; and - inter-operability




[Added: 2019/01/29]

Different chairs within UNDP and DPO are proposed for the different working groups

2019/06

Overdue-Initiated

The Inter-Operability WG has met once under the chairmanship of ASG Page. The ToRs of the three working groups are to be approved by managers on 29 January 2019. The working groups will have a three month mandate.

Additional staff are being recruited to the GFP.




[Added: 2019/01/29]

GFP

2019/06

Overdue-Initiated

A P4 in JSC/DPO has been recruited until 31 March 2019 A p4 police planner/DPO is being recruited for 6 months. Shortlist received. A junior consultant to serve the GFP 100% is being recruited (contract to be signed probably next week) A consultant working 30 % on the GFP has been recruited (contracts to be finalized)