Overall Regional Programme Mid-term review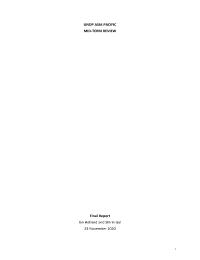 Evaluation Plan:

Evaluation Type:

Outcome

Planned End Date:

12/2020

Completion Date:

01/2021

Status:

Completed

Management Response:

Yes

Evaluation Budget(US $):

35,000
Title
Overall Regional Programme Mid-term review
Atlas Project Number:
Evaluation Plan:
2018-2021, RBAP
Evaluation Type:
Outcome
Status:
Completed
Completion Date:
01/2021
Planned End Date:

12/2020

Management Response:
Yes

Focus Area

:
Corporate Outcome and Output (UNDP Strategic Plan 2018-2021)

1. Output 1.1.1 Capacities developed across the whole of government to integrate the 2030 Agenda, the Paris Agreement and other international agreements in development plans and budgets, and to analyse progress towards the SDGs, using innovative and data-driven solutions
2. Output 2.6.1 Capacities strengthened to raise awareness on and undertake legal, policy and institutional reforms to fight structural barriers to women's empowerment
3. Output 3.2.1 National capacities strengthened for reintegration, reconciliation, peaceful management of conflict and prevention of violent extremism in response to national policies and priorities

Evaluation Budget(US $):

35,000

Source of Funding:
UNDP TRAC
Evaluation Expenditure(US $):

40,000

Joint Programme:
No
Joint Evaluation:

No

Evaluation Team members:

| Name | Title | Nationality |
| --- | --- | --- |
| Ian Holland | | |
| Shirin Gul | | |

GEF Evaluation:

No

Key Stakeholders:
Regional initiatives within the RPD, Country Offices and implementing partners
Recommendations
1

Recommendation 1. Strengthen the utilization of the RPD as a tool of strategy and management.

Complete the RRF in the next cycle of RPD, ensuring strong internal coherence between the TOC and RRF. Employ regional metrics to baseline and set targets against. In addition, for regional RRF indicators, there should be a balance between innovation-specific metrics and standardised metrics as well for scale and impact.
Create an annual work plan for RPD implementation consisting of a smaller number of strategic areas, or portfolios, for focused integrated acceleration, results and learning. Translating the RRF into an annual workplan (AWP) of activities for better prioritisation, planning and focus would help improve reporting and attribution. In addition, COs and regional projects could synchronise the annual planning exercise to bring about strategic alignment and coordination of AWPs.
Revisit the RPD AWP and TOC at least annually as a collective exercise. It is a manageable expectation for BRH staff to keep themselves appraised of the regional AWP. The AWP exercise can also provide an opportunity to review the TOC and test the validity of its key assumptions. Employ a more experimental approach to spaces for collaboration, dedicating time for key teams and development partners to come together to reflect, think and co-design.
The COVID-19 pandemic is just one example of the rapidity and severity with which the operating environment of a project can change. It is not enough to make superficial adjustments to outputs and activities in the face of such dramatic and long-lasting changes. During implementation of the next RPD, regular review (and revision as required), of the TOC should be a part of the AWP and M&E process, ensuring projects remain relevant and effective.

2

Recommendation 2. Strengthen the connection between the results reported by the regional projects and COs, and the RPD TOC.

Regional projects must identify clearly the regional public good being sought. The TOC of each regional project must clearly identify the regional 'public bad' which it sets out to resolve.
The regional project appraisal committee (RPAC) may be tasked to ensure this is part of approved regional projects.
If in the next RPD planning cycle, UNDP decides to proceed with a standardised TOC and RRF approach to designing projects, which seems to be the default for all five projects reviewed, then it might be useful to develop standardised guidance on the TOC which underscores minimum criteria on elements for inclusion, with guidance as well on identifying desired change, levels of change, change pathways and causal pathways or causal assumptions. This would allow projects to more clearly think through their activities at the strategic level. Most importantly, guidance is required on linking the project TOC with the project RRF in an effective and coherent manner. Online tutorials and sessions on TOC development and integration with the RRF could be introduced for project staff. Guidance on TOCs for regional projects could include a set of guiding questions, leading to the thinking through of the desired change and how to achieve it, innovation based. This will help to better translate the vision of regional projects around experimental space for development solutions (working with the unusual suspects as ecosystem actors, disrupting business as usual, reframing the problem as a solution, etc.). Ideally, project TOCs should be derived from and build upon knowledge of the local or regional context and subject matter, and this should be made explicit in the project TOCs, which would also increase the strategic relevance and effectiveness of interventions.

3

Recommendation 3. Within the frame of designing the next RPD, give further consideration to the TORs of the RPD Advisory Board with a view to making this oversight body more dynamic, engaged and accountable for RPD implementation. Allied to this, give further consideration to establishing portfolio priorities through which to invite partners (donors, Government's, private sector, civil society, academics) in areas demanding a strategic collaboration and coalition building for region-wide results at the highest level.

4

Recommendation 4. In line with LNOB centrality to the 2030 Agenda, and in particular the RPD poverty eradication outcome, the current and next regional programme should seek to capture the impact of the upstream policy work on the lives of people and communities. Moreover, in the final year of the current RPD, BRH should extend stronger support to Government's SDG implementation strategies, to ensure the 'farthest' are actually 'reached first'. This is a necessary accompaniment for the purposes of demonstrating impact in outcome one of the current RPD to the extensive up-stream policy support provided for SDG planning, financing, budget integration and VNR reporting.

5

Recommendation 5. UNDP should carry out a review of its strategic regional partnerships with a view to strengthening their long-term durability and joint positions on key issues in ways that further extend their impact and enable greater leverage of each other's GPNs at the regional and country level. For example:

ESCAP and ADB regarding the production of the annual regional SDG progress report, APF-SD, SDG diagnostics, databases, platforms and VNRs, as well as strengthened collaboration with ESCAP on DRR and the post-COVID-19 resilience agenda;
The EU and OECD with respect to anti-bribery, anti-corruption, integrity, transparency and accountability, including Business and Human Rights;
The EU, UK, SIDA, UNEP and UN Women on matters relating to Climate/SDG finance, should consider expanding to regional networks working on climate finance, the Coalition of Finance Ministers for Climate Action and other development partners. Synergies with the World Bank, IMF and other partners which work on core public finance issues will help the sustainability of reforms around climate and SDG finance;
UNOCT, UNODC, the EU and UK on PVE.

6

Recommendation 6. As UNDP transforms into an organisation ready to provide innovative and sustainable solutions for the 21st century, it is important to maintain a balanced portfolio across its constituencies of working with: i) institutions (Governments, private sector etc); ii) communities (often civil society, academic and CBOs etc), and; iii) people (often from LNOB groups). This is important in and of itself, but also allows initiatives to be more effective and responsive to identified needs.

7

Recommendation 7. In the final year of the existing RPD UNDP should reflect on how it wishes to engage in the livelihoods, employment, skills and enterprise sector, given the rapid structural transformation affecting the region. In doing so, with whom best to partner. Similarly, with urbanization being one of the mega-trends affecting the region, UNDP should give further thought as to its positioning and offer in the urban arena. Both areas offer opportunities for UNDP, but require clarity, focus and clear linkages with other parts of the portfolio. UNDP may also wish to revisit its gender strategy for Asia Pacific, including with other key UN coalition actors.

8

Recommendation 8. NCE results of regional significance should be incorporated into the RPD AWP and ROAR.

9

Recommendation 9. To address and reduce areas of duplicative and/or over-lapping reporting, UNDP needs to support better coherence, alignment and results reporting across these various universal development frameworks: i) Agenda 2030/SDGs; ii) Paris/Climate change; iii) Sendai/DRR. This will help demonstrate the value of UN coordination.

10

Recommendation 10. At an appropriate moment in the near future UNDP should give consideration to conducting an internal after-action review into its COVID-19 response to understand how and where it might have performed better in what has clearly been a testing period for the organisation and its staff at all levels and in all capacities. In doing so BRH may wish to revisit and revise its Business Continuity Plan, including contingencies, SOPs and 'special measures' which could be invoked in times of crisis. Such a review could include consultations with COs following on from the social/economic assessments that were carried out to identify key issues and themes arising from those studies which might require priority implementation and follow up.

11

Recommendation 11. Many countries are now engaged in fiscal stimulus as a route out of the devastating COVID-19 impact on health, jobs and economies. In the region, there may be US$ 260 billion in investments underway in projects across all sectors. For UNDP and its strategic regional partners this presents an opportunity to support Governments achieve higher levels of risk, resilience, inclusion and sustainability in the design, build and management of these investments. UNDP offer 2.0 identified alternate pathways to achieving desired change by pushing for agendas building on health security, social protection, inclusion and poverty alleviation. There is also an important role for regional projects in this regard, in line with solutions and pathways set out in UNDP Offer 2.0, which may have been less welcome in a business as usual scenario.

12

Recommendation 12. Continue to pursue the current close and networked juxtaposition of policy advisory services and regional project teams, since they create synergies and support the strong curation of regional networks. There appears to be good value added from teams being able to work in integrated ways. Where possible, look to create more favourable contractual conditions for regional project staff. Furthermore, based on positive recent experiences of deployed GPN colleagues to country offices, continue to experiment with extension of the GPN in this way where is makes good sense to do so.

13

Recommendation 13. In the near term, UNDP needs to make better use of a business plan for COs which would facilitate better management of both the demand and supply of BRH resources to COs. This would enable a more strategic, sequenced and timely response to COs. In addition, it could be derived and/or linked to the AWP process set out in recommendation 1(b) above.

14

Recommendation 14. Learning must be closely tied in with M&E and with monitoring and tracking of NextGenUNDP work under innovation and sensemaking. In this regard, within the current and next RPD cycle, UNDP should:

Continue to work on integration, innovation, sensemaking and systems thinking across COs in the region with special attention paid to learning generated along the way to know what works and what does not work. In addition, a review of the back-office systems supporting innovation is recommended from the perspective of what fits and what does not fit. This will help locate gaps and propose solutions to align the system well to portfolio management as opposed to project management that these systems (ATLAS etc) are currently set up for.
Approach acceleration and innovation from a scale and impact lens. Track innovations in projects from proof of concept to impact at scale. Introduce monitoring tools that speak to scale and impact within innovation, at programme and project level. (e.g early outcome harvesting designed for regional projects and for portfolio sensemaking).
Adopt a stronger orientation towards results and impact, rather than results reporting being regarded as a compliance issue. Creating spaces for conscious learning and regarding learning as a systematic team-based pursuit will help the organisation. Investment will be required in M&E systems geared towards learning. Without such an investment, whatever learning in terms of what works, and what does not, remains implicit learning. Some upfront investment is required to make this learning explicit, regular and accessible across the organisation through learning sessions and learning products by the MEL team.
Develop systems to capture and share learning from on-going and concluded projects. These lessons should be used at the programme level to inform new interventions and strengthen on-going ones. For example, thematic evaluations, outcome harvesting, participatory workshops for stories of change with contribution analysis, process and TOC case studies and case studies capturing UNDP access and influence should be made part of the M&E cache for the new RPD.