Independent Country Programme Evaluation: Azerbaijan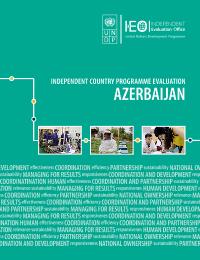 Evaluation Plan:

Evaluation Type:

ICPE/ADR

Planned End Date:

12/2019

Completion Date:

12/2019

Status:

Completed

Management Response:

Yes

Evaluation Budget(US $):

35,000
Title
Independent Country Programme Evaluation: Azerbaijan
Atlas Project Number:
Evaluation Plan:
2018-2021, Independent Evaluation Office
Evaluation Type:
ICPE/ADR
Status:
Completed
Completion Date:
12/2019
Planned End Date:

12/2019

Management Response:
Yes

Focus Area

:

1. Poverty
2. Governance
3. Sustainable
4. Energy
5. Not Applicable
6. Others

Corporate Outcome and Output (UNDP Strategic Plan 2018-2021)

1. Output 1.1.1 Capacities developed across the whole of government to integrate the 2030 Agenda, the Paris Agreement and other international agreements in development plans and budgets, and to analyse progress towards the SDGs, using innovative and data-driven solutions
2. Output 1.1.2 Marginalised groups, particularly the poor, women, people with disabilities and displaced are empowered to gain universal access to basic services and financial and non-financial assets to build productive capacities and benefit from sustainable livelihoods and jobs
3. Output 1.4.1 Solutions scaled up for sustainable management of natural resources, including sustainable commodities and green and inclusive value chains
4. Output 2.1.1 Low emission and climate resilient objectives addressed in national, sub-national and sectoral development plans and policies to promote economic diversification and green growth
5. Output 2.2.1 Use of digital technologies and big data enabled for improved public services and other government functions
6. Output 2.5.1 Solutions developed, financed and applied at scale for energy efficiency and transformation to clean energy and zero-carbon development, for poverty eradication and structural transformation
7. Output 3.1.1 Core government functions and inclusive basic services4 restored post-crisis for stabilisation, durable solutions to displacement and return to sustainable development pathways within the framework of national policies and priorities

Evaluation Budget(US $):

35,000

Source of Funding:
Evaluation Expenditure(US $):

35,000

Joint Programme:
No
Joint Evaluation:

No

Evaluation Team members:

| Name | Title | Nationality |
| --- | --- | --- |
| Elinor Bajraktari | Consultant | |
| Nino Partskhaladze | Evaluation Specialist | |
| Anna Guerraggio | Evaluation Specialist | |

GEF Evaluation:

No

Key Stakeholders:
Countries:

AZERBAIJAN
Lessons
Findings
1.

Finding 1: Support for women, youth and people with disabilities was a strong theme of the Inclusive Growth portfolio. UNDP's work in this area contributed to the enhancement of employment opportunities, the reduction of disparities between urban and rural areas, and the advancement of the rights of vulnerable groups, aligning with the 'leave no one behind' principle. In this area, UNDP forged important partnerships with the State Committee for Family, Women and Children and other United Nations agencies.




Tag: Inclusive economic growth Inequalities Jobs and Livelihoods Youth Gender Mainstreaming Women's Empowerment Strategic Positioning Coherence Relevance Technical Support

2.

Finding 2: UNDP supported the modernization of the vocational education and training (VET) system. Work focused on strengthening the capacity of vocational education centres to provide students with knowledge and skills for a successful transition to the labour market. The CO assisted the Tourism and Management University to improve the quality of teaching and obtain international accreditation. VET is receiving increased attention, and UNDP can build on its growing portfolio in the area of skills and employment to position itself more strategically.




Tag: Capacity Building Education Operational Efficiency Effectiveness Technical Support

3.

Finding 3: UNDP's approach to economic diversification and decent work focused on the creation of employment for vulnerable populations. Its involvement in policy development in this area was somewhat more limited. The CO's theory of change shows a gap between the problem statements and the CO's role in addressing key issues affecting sustainable growth, which may offer opportunities for future collaboration.




Tag: Capacity Building Inclusive economic growth Jobs and Livelihoods Youth Project and Programme management Effectiveness Technical Support

4.

Finding 4: UNDP provided multidimensional support to the nationalization of the Sustainable Development Goals (SDGs). It actively promoted dialogue around the SDGs, with the inclusion of civil society. It led both capacity building and policy support efforts to identify priority areas. Additional work is needed to further promote the availability and use of data for evidence-based decision making and to advocate for the full nationalization of the SDGs through national budget allocation.




Tag: Effectiveness Civic Engagement Sustainability Capacity Building Inclusive economic growth Policy Advisory Agenda 2030 SDG accelerators

5.

Finding 5: UNDP's long-term engagement in the area of mine action, IBM and e-governance contributed to stronger national institutions. Customs control checkpoints at the border with Georgia reportedly resulted in secure overflow areas and reduced processing times for cargo




Tag: Operational Efficiency Extractive Industries Natural Resouce management Sustainability Advocacy

6.

Finding 6: UNDP's engagement on public administration strengthening and service delivery was fairly limited and fragmented. The CO did not engage in key aspects of good governance, such as judiciary reform, access to justice, and accountability, given the limited space that exists for international organizations in these areas.




Tag: Justice system Public administration reform Operational Efficiency Coherence Relevance Policy Advisory

7.

Finding 7: UNDP effectively supported the efforts of the Government of Azerbaijan to monitor greenhouse gas (GHG) emissions and put in place nationally appropriate mitigation actions to reduce the impact of climate change in the oil and gas sector, as well as around land and forest management. The need for continuous work in this area, particularly to develop national monitoring capacities, remains.




Tag: Green Climate Climate Change Adaptation Climate change governance Emission Reduction Strategic Positioning Coherence Relevance Policy Advisory Technical Support

8.

Finding 8: UNDP contributed to the conservation of natural resources through the preservation of biodiversity in marine ecosystems, forests and pasture lands, as well as through the promotion of native crops.




Tag: Operational Efficiency Biodiversity Natural Resouce management Site Conservation / Preservation Effectiveness Impact Technical Support

9.

Finding 9: UNDP interventions in the environment area contributed to strengthening livelihoods of local populations and reducing vulnerabilities to natural, climate change and human-induced hazards, which in turn had beneficial effects on poverty reduction.




Tag: Jobs and Livelihoods Climate Change Adaptation Resilience building

10.

Finding 10: UNDP established itself as a reputable development partner in Azerbaijan. It developed close ties with the government and national and international stakeholders. The positive relationship with the government, combined with a more favourable financial landscape after 2015, promoted renewed partnerships with key ministries and favoured increased cost-sharing of UNDP activities. The CO played a key role in promoting the work of CSOs, particularly around gender and social inclusion issues.




Tag: Operational Efficiency Partnership Strategic Positioning Coherence Relevance Civil Societies and NGOs Country Government Donor Policy Advisory Technical Support

11.

Finding 11: Fundraising is challenging for UNDP Azerbaijan due to the country's upper-middle-income status and oil wealth, coupled with limited donor interest. Having faced pressure over the diversification and sustainability of funding, UNDP was able to emerge from a challenging financial situation thanks to some streamlining measures and renewed cost-sharing by the government.




Tag: Operational Efficiency Resource mobilization Efficiency Donor Coordination

12.

Finding 12: As far as the integration of the programme into a cohesive set of activities is concerned, the picture was mixed. While some interventions were well integrated and synergetic, contributing to efficiencies and economies of scale, others appeared more fragmented, with fewer opportunities for significant impact.




Tag: Gender Equality Women's Empowerment Operational Efficiency Programme Synergy Coherence Relevance Policy Advisory

13.

Finding 13: The sustainability of UNDP's work was promoted by working through and reinforcing the capacity of existing national structures. In some cases, the prospects of new institutions created through UNDP's support seemed less certain, due to the short nature of the support provided and because these institutions depend on future grants and the availability of financial resources from donors and/or the government. Further work can be done to promote closer engagement between financial institutions and the private sector, and to ensure the sustainability of policy work through developing action plans.




Tag: Sustainability Sustainability Technical Support

14.

Finding 14: Engagement at the sub-national level was significant, especially in the area of inclusive growth. However, activities were largely fragmented across projects and geographical areas. There is a need to explore further integration of these activities through area-based local development.




Tag: Inclusive economic growth Programme Synergy Coherence Technical Support

15.

Finding 15: The CO does not have an M&E system that allows an assessment of outcome-level results either at project or programme level. Most of the scant resources available for M&E focus on annual global reporting on CPD results, with limited ties to internal decision making.




Tag: Monitoring and Evaluation Project and Programme management Effectiveness Technical Support

16.

Finding 16: The UNDP programme had a strong gender component, especially at the sub-national level. There is potential to further promote gender equality and mainstreaming, internally and across the country.




Tag: Gender Equality Gender Mainstreaming Women's Empowerment Operational Efficiency Effectiveness Impact Technical Support

17.

Finding 17: During the current programme cycle, the CO focused on social innovations, aiming to merge tech-savvy and entrepreneurial solutions with the SDG agenda. The CO promoted dialogue around the use of technology, organizing events and involving the private sector to encourage innovation. No practical innovation has yet been taken to scale.




Tag: Effectiveness Efficiency Civic Engagement Innovation Sustainability Bilateral partners Technical Support Agenda 2030
Recommendations
1

Strategic positioning and programme design – UNDP should develop its next CPD based on theories of change that, starting from a clear definition of the problem, define its contribution vis-à-vis that of other development partners. The CO should move away from priority-area-based theories of change towards issues-based theories of change, to which different portfolios can contribute and where government and development partner inputs are reflected. This will help reinforce synergies among different portfolios and promote partnerships. To the extent possible, the theories of change should be aligned to the three SDG accelerators. In the formulation of the next CPD, the following elements should be considered:

• In areas where it has had long-standing engagement (such as border management and mine action) the CO should reassess its position by taking into account the maturity of national institutions and its value-added potential. Where the partnership has matured into full national capacity, the CO needs to develop a clearly articulated exit strategy.

• In the area of democratic governance, UNDP should seek to create more depth and consider stronger involvement around public administration reform and human rights, despite challenges related to limited space for work in this area. This will require more advocacy, especially at the political level.

• In the area of SDGs, the CO should continue to provide support to the nationalization of the SDGs (in terms of policy making and financial allocation). It should provide methodological advice to the State Statistics Committee to improve the quality of socio-economic indicators, measure the country's progress in human and sustainable development, and promote the use of data among national institutions for evidence-based policy making. Opportunities to engage in developing the new National Development Strategy 2020–2030 should be explored.

• In the area of health procurement, the CO should focus not only on the efficient delivery of goods to counterparts, but also on supporting the establishment of robust national procurement systems which are open, transparent and bring savings to the country.

• In the area of skills, employment and business development, UNDP should seek to elevate its work to a more strategic policy level, promoting structural and institutional change, while maintaining its presence at the community level and its focus on vulnerable groups. A stronger partnership with the Food and Agriculture Organization in promoting rural development should be sought. • In the area of environment and energy, the CO should consider how to institutionalize capacity building around nationally appropriate mitigation actions and GHG reduction.

2

Integration – UNDP should ensure further synergies among its areas of intervention. Where feasible, the CO should seek to integrate the management of projects, especially smaller projects, to further increase efficiency and strengthen results.

UNDP should explore options for more efficient structuring of programme activities that allow for better links and synergies between projects operating in similar areas. The CO should establish clear criteria for how projects are clustered and ensure that projects are managed in practice in the same way they are structured on paper (and Atlas). Activities related to VET and employment (working with career centres and SYSLABs) may be linked more closely to each other. Activities targeting self-employment of women through WRCs may also be linked more effectively with activities related to skills development and training through the VET infrastructure. The CO should work to further integrate environment in its VET and employment portfolios, to promote the creation of green jobs. There is potential for linking work in the tourism sector with activities in the area of VET and management of protected zones.

3

Sub-national level – UNDP should reassess its engagement at the sub-national level, aiming to identify opportunities for further integration of activities into a more cohesive framework. To facilitate this process, the CO may consider elaborating jointly with the government a concept for local development based on an area-based approach, linked to the attainment of the SDGs. The CO should assess opportunities for more effective engagement of local governments in project activities as a way to strengthen the sustainability of structures promoted at the local level.

4

Sustainability – UNDP should pay greater attention to the sustainability of the structures its interventions help create. The CO should elaborate sustainability plans and exit strategies for the structures it establishes, including specific measures that ensure the replication, scale up and institutionalization of piloted activities. Where feasible, UNDP should ground its activities more firmly in market-based mechanisms, such as micro-finance or banking institutions.

5

Funding – UNDP should develop a more solid, long-term resource mobilization strategy which articulates funding diversification objectives and identifies appropriate actions and partners. In addition to maintaining its relationship with the EU and GEF, the CO should further pursue cost-sharing opportunities as a crucial aspect of its operations in the country and communicate this clearly to government counterparts. The CO should identify, more systematically, possibilities of funding from international financial institutions and the private sector. This will require a well-articulated plan of engagement that will provide clear guidance for the interactions of staff with partners.

6

M&E – UNDP should significantly strengthen its M&E capacities.

• The CO should formulate clear programme outcome-level indicators around issues-based theories of change. These indicators would be tracked through projects. These indicators should, to the extent possible, link to the SDGs and be included in the CPD.

• Each project should include a sound RRF, with indicators at both output and outcome level. Indicator-related information should be included in a dashboard that the UNDP resident representative regularly discusses with programme analysts.

• Tools to track the sustainability of its interventions, such as the absorption of training for national partners or the performance of pilots over time, should be developed.

• M&E capacities should be enhanced through a dedicated staff officer and/or M&E training for programme and project officers. In case resources were not available to fund a dedicated M&E position, the CO should consider hiring M&E officer(s) covering multiple projects and operating within the project implementation units.

7

Gender – UNDP should continue strengthening its work around gender and women's empowerment and develop a gender strategy outlining the CO's opportunities and approaches, covering both organizational and programmatic aspects.

• At the organizational level, the CO should identify a gender advisor and focal team and provide the necessary training for them. With their support, the CO should identify ways to enhance gender mainstreaming and increase gender expenditure, particularly in its governance and environment portfolios.

• At the programmatic level, the CO should elevate its gender-related work at a higher policy level. In partnership with other UNCT members, UNDP should identify ways to further support the State Committee for Family, Women and Children and other government stakeholders in promoting gender-sensitive policies.

8

Evaluation Recommendation 8: Innovation: UNDP should further promote innovation across its portfolio, by using technology and behavioral research to promote ground-level social and environmental change.