Independent Country Programme Evaluation: Bahrain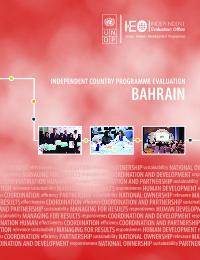 Evaluation Plan:

Evaluation Type:

ICPE/ADR

Planned End Date:

12/2019

Completion Date:

12/2019

Status:

Completed

Management Response:

No

Evaluation Budget(US $):

100,000
Title
Independent Country Programme Evaluation: Bahrain
Atlas Project Number:
Evaluation Plan:
2018-2021, Independent Evaluation Office
Evaluation Type:
ICPE/ADR
Status:
Completed
Completion Date:
12/2019
Planned End Date:

12/2019

Management Response:
No
Corporate Outcome and Output (UNDP Strategic Plan 2018-2021)

1. Output 1.1.2 Marginalised groups, particularly the poor, women, people with disabilities and displaced are empowered to gain universal access to basic services and financial and non-financial assets to build productive capacities and benefit from sustainable livelihoods and jobs
2. Output 1.6.1 Country-led measures accelerated to advance gender equality and women's empowerment

Evaluation Budget(US $):

100,000

Source of Funding:
Evaluation Expenditure(US $):

100,000

Joint Programme:
No
Joint Evaluation:

No

Evaluation Team members:

| Name | Title | Email | Nationality |
| --- | --- | --- | --- |
| Nicki Mokhtari | Research Consultant | nicki.mokhtari@undp.org | |

GEF Evaluation:

No

Key Stakeholders:
Countries:

BAHRAIN
Lessons
Findings
1.

Finding 1: While it is a core national priority, UNDP has provided limited support to the economic diversification agenda as initially envisaged in the CPD.




Tag: Energy Coherence Effectiveness Relevance Gender Equality Women's Empowerment Country Government UN Agencies Inclusive economic growth Jobs and Livelihoods Trade and Development Policy Advisory Agenda 2030 SDG Integration

2.

Finding 2: UNDP has facilitated advisory and development service support to the Government of Bahrain to establish institutional capacity to initiate implementation of national action plans on renewable energy and efficiency policies set out in the country's strategy for energy sustainability. Implementation of measures is at an early stage, but the national ownership and progress achieved so far suggest a strong likelihood of contribution to the diversification of the country's energy mix, and potential to create new markets and jobs moving forward.




Tag: Energy Effectiveness Relevance Sustainability Public administration reform Human and Financial resources Strategic Positioning Capacity Building Trade and Development Operational Services Policy Advisory

3.

Finding 3: Building on a partnership initiated in 2002, UNDP and UN Habitat supported the Government of Bahrain to revise its housing policy. Despite limited funding, this project was able to achieve intended outputs.




Tag: Effectiveness Impact Sustainability Partnership Quality Assurance Risk Management Country Government UN Agencies Social Protection

4.

Finding 4: Building on long-standing engagement, UNDP effectively supported the Bahrain Institute for Public Administration (BIPA), to fulfil its core mandate by providing a business model for its training, consultancy and research activities, helping it to become a respected and recognised public administration institution within and outside Bahrain.




Tag: Effectiveness Relevance Sustainability Public administration reform Operational Services Technical Support

5.

Finding 5: The establishment and development of MENAPAR, spearheaded by BIPA and UNDP, is a positive example of promotion of South-South and triangular cooperation in the area of public management research. While there is no direct evidence that MENAPAR has enhanced BIPA's core function performance at this stage, the initiative was highly valued by BIPA for affirming its global reputation and expanding opportunities for collaboration.




Tag: Effectiveness Relevance Sustainability Public administration reform South-South Cooperation

6.

Finding 6: UNDP makes a modest but valuable contribution to Bahrain's efforts to strengthen rule of law through institutional capacity development of the special investigation unit (SIU) in charge of prosecuting police misconduct and abuse of authority.




Tag: Effectiveness Impact Sustainability Anti-corruption Human rights Justice system Public administration reform Rule of law Bilateral partners Country Government Capacity Building Technical Support

7.

Finding 7: Building on a strong commitment of the Government of Bahrain to promote the 2030 Agenda for Sustainable Development, UNDP has played an active role in supporting awareness raising on the SDGs and their mainstreaming into national initiatives, while supporting the participation and visibility of Bahrain in UN international fora.




Tag: Coherence Relevance Civic Engagement e-Governance Parliament Donor relations Partnership Country Government Private Sector Youth Advocacy Policy Advisory Agenda 2030 SDG Integration Voluntary National Review

8.

Finding 8: Most projects are reported to contribute to gender equality significantly (GEN2), or in some way (GEN1), though overall the country office has had limited opportunities to mainstream gender into its projects.




Tag: Effectiveness Relevance Sustainability Gender Equality Gender Mainstreaming Women's Empowerment Partnership Project and Programme management Civil Societies and NGOs Private Sector Technology Technical Support

9.

Finding 9: As the only UN entity with a formal country presence in Bahrain, UNDP has provided a platform for the Government to engage with, and access the expertise of, various entities in the UN system. Recent changes in the national and global UN context may challenge this dimension of UNDP added value in Bahrain in the future.




Tag: Coherence Effectiveness Relevance Strategic Positioning UN Agencies UN Country Team UNDP management Coordination Policy Advisory

10.

Finding 10: There is scope for the country office to more actively leverage the wealth of UNDP global experience in support of Bahrain's national plans and to support the sharing of Bahrain's experience in other countries.




Tag: Coherence Effectiveness Relevance Knowledge management Policy Advisory South-South Cooperation

11.

Finding 11: The implementation of the country programme is challenged by low availability and predictability of funding. The unfavourable fiscal and budgetary context and funding modality limits opportunities for engagement. An expected reduction in GLOC is likely to further reduce the ability of the country office to operate and implement its programme.




Tag: Efficiency Sustainability Government Cost-sharing Human and Financial resources Implementation Modality Technical Support

12.

Finding 12: Gaps in programme management and oversight of UNDP interventions may affect the capacity of the country office to demonstrate its contributions and added value.




Tag: Effectiveness Efficiency Relevance Monitoring and Evaluation Oversight Project and Programme management

13.

Finding 13: The implementation of the country programme is challenged by the requirement to adapt UNDP corporate procedures and programmatic tools to a high income NCC context.




Tag: Effectiveness Relevance Country Support Platform Policies & Procedures
Recommendations
1

Given the nature and scope of UNDP engagement in Bahrain, the results and performance framework of the next CPD should reflect the UNDP comparative advantage and added value in a high- income context. This should include thematic areas in which UNDP can provide technical assistance, as well as more explicitly reflecting UNDP development support services for national objectives.

There are limitations in the operating context, which affect the value of the CPD as the main accountability tool for the UNDP Executive Board and for monitoring and evaluating performance. In this regard, the design of the next CPD should be more aligned with the nature of engagement and provide greater transparency and accountability over UNDP performance. This should include a mix of output- and processlevel performance indicators, and reflect on the range of development services that UNDP can deliver. Focusing performance monitoring around the key advisory and support service functions of the country office will provide a more accurate and transparent performance framework for the country office for national stakeholders and the UNDP corporate reporting system.

2

Building on its existing engagement, the country office should use the facilitation of development support services as an entry point to develop longer-term project engagement in line with its human development mandate.

The nature of engagement in Bahrain results in requests for UNDP support that are often ad-hoc and narrow in the scope of development services provided. However, the experience of the country office suggests that there is room to build on the delivery of ad-hoc services to ministries and incrementally build project-level engagement oriented around capacity development, innovative policy development and service delivery, conducive to the achievement of national plans.


3

UNDP Bahrain should seek balance between the demand-driven nature of its engagement in a NCC context, with a more forward looking approach to project development and resource mobilisation based on clear and proactive communication of its value proposition to government authorities, in line with its mandate and operational capacity, and within the framework of national priorities.

Bahrain is a competitive funding environment for UNDP, despite being a NCC context, due to the high capacity and fiscal restrictions. Based on the funding modality in place, UNDP may have to adopt a more forward-looking approach to its programme development and resource mobilisation. This in turn requires UNDP to develop clear and detailed communication of its value proposition to attract engagement within the SPF. This should include clarity over the type of development services and areas of technical expertise available to support implementation of national plans, and conditions under which UNDP can facilitate them. Dependent on budget availability for cost sharing by line ministries, these efforts should be aligned with the government budget process to maximise chances for financing.


4

With the support of the Regional Bureau for Arab States, UNDP Bahrain should proactively engage with the UNDP global network and roster of expertise to develop a programmatic offer that promotes innovative solutions and practices in support of Bahrain's national objectives, and for opportunities to leverage Bahrain's assets and experience to benefit other countries where UNDP operates.

The NCC context in which UNDP operates in Bahrain requires it to demonstrate the full strength of its comparative advantage to compete for funding and find entry points to advocate for its human development agenda. In the absence of resources to invest in programme development and resource mobilisation efforts, the country office needs to be actively supported by the UNDP corporate architecture to fully leverage its global network of knowledge and access to experience of other countries relevant to Bahrain's national priorities. Such efforts should also seek to identify opportunities to promote and share Bahrain's experience with other countries where UNDP operates.