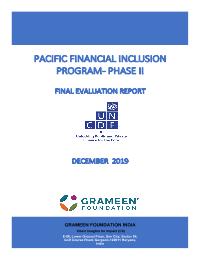 Final Evaluation of the Pacific Financial Inclusion Programme (PFIP)
Summary
The Pacific Financial Inclusion Programme (PFIP) was developed to support the expansion of financial inclusion in one of the least -banked regions in the world: the Pacific islands. The Pacific Islands Countries (PICs) form not only one of the least developed regions of the world but also the most underbanked. The Pacific Financial Inclusion Programme (PFIP) was launched in 2008 to increase financial inclusion and improve livelihoods among low-income populations, particularly among women, in Fiji, Papua New Guinea (PNG), Samoa, Solomon Islands (SOI), Tonga and Vanuatu with recent entry into Kiribati and Tuvalu. The first phase of PFIP (PFIP-I) was implemented between 2008 and 2014; by the end of 2013, 687,620 individuals and/or small and micro enterprises in the PICs had gained access to one or more financial service. PFIP Phase II (PFIP-II) began in 2014 and is slated to end in June 2020. The goal of this report is to outline the findings from the final evaluation of PFIP-II.
PFIP-II is supported by the United Nations Capital Development Fund (UNCDF), United Nations Development Programme, the Governments of Australia and Zealand, the European Union's Papua New Guinea (PNG) delegation and the UNDP-Russian Federation powered RESPAC. The latter provided indirect support to PFIP-II through the UNDP Disaster Resilience for Pacific Small Island Developing State project.
PFIP–II is organized by macro-, meso- and micro-level interventions implemented through three workstreams: 1) Policy and Regulations, 2) Financial Innovation and 3) Consumer Empowerment. PFIP-II also emphasizes the importance of financial inclusion through a gender- and human rights-lens, which are aligned with the United Nation's goal of "Leaving No One Behind" in pursuit of the achievement of the Sustainable Development Goals.
---
Final Evaluation of the Pacific Financial Inclusion Programme (PFIP)