Mid-term Evaluation: Collaborative Management for Watershed and Ecosystem Service Protection and Rehabilitation in the Cardamom Mountains, Upper Prek Thnot River Basin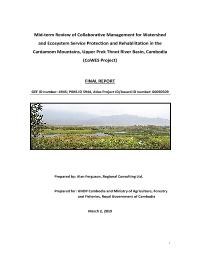 Evaluation Plan:

Evaluation Type:

Mid Term Project

Planned End Date:

04/2019

Completion Date:

03/2019

Status:

Completed

Management Response:

Yes

Evaluation Budget(US $):

25,000
Title
Mid-term Evaluation: Collaborative Management for Watershed and Ecosystem Service Protection and Rehabilitation in the Cardamom Mountains, Upper Prek Thnot River Basin
Atlas Project Number:

00090509

Evaluation Plan:
2019-2023, Cambodia
Evaluation Type:
Mid Term Project
Status:
Completed
Completion Date:
03/2019
Planned End Date:

04/2019

Management Response:
Yes

Focus Area

:

1. Poverty
2. Sustainable
3. Others

Corporate Outcome and Output (UNDP Strategic Plan 2018-2021)

1. Output 2.1.1 Low emission and climate resilient objectives addressed in national, sub-national and sectoral development plans and policies to promote economic diversification and green growth

SDG Goal

Goal 15. Protect, restore and promote sustainable use of terrestrial ecosystems, sustainably manage forests, combat desertification, and halt and reverse land degradation and halt biodiversity loss

SDG Target

15.1 By 2020, ensure the conservation, restoration and sustainable use of terrestrial and inland freshwater ecosystems and their services, in particular forests, wetlands, mountains and drylands, in line with obligations under international agreements
15.2 By 2020, promote the implementation of sustainable management of all types of forests, halt deforestation, restore degraded forests and substantially increase afforestation and reforestation globally
15.4 By 2030, ensure the conservation of mountain ecosystems, including their biodiversity, in order to enhance their capacity to provide benefits that are essential for sustainable development

Evaluation Budget(US $):

25,000

Source of Funding:
Project Budget
Evaluation Expenditure(US $):

18,775

Joint Programme:
No
Joint Evaluation:

No

Evaluation Team members:

| Name | Title | Nationality |
| --- | --- | --- |
| Alan Ferguson | International Mid-Term Review (MTR) Consultant | |

GEF Evaluation:

Yes

| | |
| --- | --- |
| GEF Project Title: | Collaborative Management of Watershed and Ecosystem Service Protection and Rehabilitation in the Cardamom Mountains, Upper Prek River Basin, Cambodia |
| Evaluation Type: | Mid-term Review |
| Focal Area: | Land Degradation |
| Project Type: | MSP |
| GEF Phase: | GEF-6 |
| GEF Project ID: | 4945 |
| PIMS Number: | 5944 |

Key Stakeholders:
Countries:

CAMBODIA
Lessons
Findings
1.

3.1 Project Strategy

3.1.1 Theory of Change and Key Assumption

The theory of change (TOC) outlined in Figure 2 remains relevant and functional although it may underestimate the institutional barriers to progress. It recognizes the key role of local communities, governance institutions and public and private entities in shifting land use and farming practices toward a more sustainable model. The scale and degree of change envisioned by this TOC may not be feasible within the remaining project time but significant momentum toward improved local watershed management is achievable through a collaborative community approach.

The project's approach is consistent with UNDP Cambodia's Country Programme Document (CPD) 2016-2018 which specifies "building resilience" by contributing to strengthening environmental services and the system of forest management and protected areas, including sustainable land and watershed management. The project also directly supports the implementation of the NAP workplan, and in particular two recommended actions of NAP that are relevant to the Cardamom area:

Inclusion of Sustainable Land Management Techniques in the Implementation of Economic Land Concession, and
The Preparation of Procedures and Instructions to Consider Watershed Approach in planning processes at the levels of sector and local authority as well as line Ministries and Institutions in planning and implementation in watershed areas.

Technical assessment, training and field demonstration of land management best practices are expected to stimulate awareness, interest and consensus building forwards collaborative watershed management. The key assumptions underlying the strategy, are as follows:

A coordinated watershed governance system can be established involving national, provincial, district and commune levels and stakeholder involvement; local CF organisations can be effectively strengthened and empowered to undertake forest protection and restoration activities.
MAFF, DALRM, FA CF administration and the ELC office are able to raise the profile and commitment to implementing SLM practices and community forest protection in the government operations.
Best practices for forest conservation and soil and water conservation can be disseminated through agricultural and agroforestry demonstration sites and EC land management initiatives.
Policy directives are developed through the implementation of NAP to establish a new watershed management action framework for SLM and Community Forestry.
Financial drivers in the form of enhanced crop yields and income diversification provide incentives for reduced unsustainable forest exploitation.

All of the above assumptions, set out in the project design, are key factors for successful project implementation. The last two – policy drivers under NAP and financial drivers for the spread of best practices will be particularly important for project sustainability.



2.

3.1.2 Project Results Framework and Indicators

The project aims to restore and maintain forest cover and watershed stability through improved soil conservation and agroforestry practices, community forestry and watershed management capacity development. Given the significant deforestation, land degradation and land use issues in the watershed and the scale of the problem, the two year time frame (recognizing the first year had little progress) is inadequate. The extensive preparatory work during the May-Dec 2017 inception phase led to refinements to the framework. But the expectation that targeted community forests and watershed attributes will be restored and community-based management fully established by June 2020 may be over-optimistic.

The Results Framework indicators are mostly quantitative and are sometimes difficult to interpret in terms of the actual results expected and delivered. For example, the GEF Capacity Development (CD) Scorecard provides an order-of-magnitude estimate of baseline and targeted capacity change, covering systemic, institutional and individual capacities. These are theoretical, indicative scores based on the GEF tracking tool procedures. They have a limited level of resolution to explain the specific capacity status, gaps and requirements for MAFF, line agencies and local authorities to establish and maintain a realistic Prek Thnot watershed restoration and management system. There have been clear limitations in the ability of the project to enhance watershed management capacity other than provide initial orientation and training. The project has a high dependence on government contractors and on the partner NGO to deliver outputs. The problems with the project indicators are reflected in both Table 3 and 4 of this report: they have in some cases been difficult to apply due to data requirements, or do not accurately measure progress on all of the expected results.



3.

3.1.3 Challenges and Issues Noted by Stakeholders

There is a complex set of issues that present significant constraints to community-based watershed management:

Land issues (e.g. land speculation, decreasing farm sizes, land tenure, encroachment of CFs, boundary issues, etc.) may limit adoption of on-farm SLM innovations.
Obtaining EC commitments to SLM best practices remains a major challenge.
The means of scaling-up proven SLM and Community Forest practices beyond the project demonstration sites is uncertain.
A Technical Working Group to Combat Land Degradation and Sub-National Committee for Watershed Management will be established under NAP's guidance, but the formation of the committees and the working group will take time.
Delays have been also attributed to the 2018 election and time needed for establishing the NAP committees, and revising the Results Framework. The remaining 14 months may not provide inadequate time to achieve the full expected results of the project.
Employment in unauthorized logging is the main source of income for men in the project villages, some of whom are involved in protecting their local CPA but also claim to log or transport logs in the adjacent areas outside of their communities. Reducing deforestation may only be possible once the industry runs out of accessible timber.
Local people complain about salinated groundwater making it unsuitable for domestic or agricultural use. The causes of the contamination have not been identified.
Reduction in available water for rice growing purposes below some ELCs was mentioned as a watershed issue.
Some community forests are highly degraded, making the development of sustainable livelihoods more difficult; and clearing trees in some cases has led to delisting of CPAs and eventual sale of the land.



4.

3.2 Progress Towards Results

3.2.1 Outcome 1 – On-farm soil conservation and agroforestry practices

The Project Annual Report and Annex 2 summarize Component 1 achievements. Situation analysis on agricultural productivity and community natural resources has been completed at the three targeted communes using participatory rural appraisal. This involved commune authorities, district administrations, provincial administration, Provincial Department of Agriculture, Forestry and Fisheries (Kampong Speu), Provincial Department of Environment (Kampong Speu) with technical supports from Department of Agricultural land Resource Management (DALRM). Commune and community action plans have been prepared at the three target communes in the form of community livelihood improvement plan (CLIP) for the purpose of mainstreaming CoWES project actions/concepts into commune plans. Based on CLIP, agreements between target communes and NGO partner (MB, on behalf of CoWES Project) was signed during the district integration workshop. Communes agreed to include watershed conservation as well as forest projection into their investment plan and development plan. Districts also agreed in principle to include watershed and nature/forest into the plan next mandate (after 2019 council elections).

A 'preliminary assessment' of ELCs was conducted by local authorities with supported from MB field staff and DARLM for seven agribusinesses: Veng Sokleng, Thong Sokheng, Great Field, and Yellow Field, Kim Sour, CPL-Maiysak Plantation (in Tasal commune) and Slak Sannan, Sovann Vuth (in Krang Devay commune). It was reported in the 2018 Project Annual Report that some companies promised to plant trees, grow bamboo along the riverbank to reduce soil erosion and water pollution.

An agroecosystem analysis report and power point presentation (training materials) were also developed by a national consultant (under DARLM management and coordination). The consultant's report has introduced concept of sustainable land management (SLM) for Preak Tnoat Watershed to the target communes, including multi-purpose land-cover crops/flora guidance to improve quality of land (nitrogen, carbon and phosphate) and to maintain the ground water table and minimize use of chemical pesticide and fertilizer. Micro-watershed planning and management were introduced to communities and local authorities through training organized in December 2018.

CoWES also supported small scale of water supplies for Krang Devay community with MB facilitation, and micro-irrigation for home gardens in Dok Por village and a pond to demonstrate/pilot agroforest activities. Trainings, exposure visits, technical assistance and on-the-job trainings were provided by MB, DALRM, PDAFF, MAFF and consultants (GIS, Micro-watershed and agroecosystem) to local authorities and communities. Demonstration farms were initiated in Dok Por, Lgem and Tang Bampong villages. The agroforestry-demonstration initiative is expected to provide short-term benefits to CF members. Agroforestry piloting is also in preparation.

Output 1.3 to engage ELCs has shown little tangible progress. There are 12 agro-industry ELCs in the project area involving almost 10 percent of the watershed.

The transition away from unsustainable forest work depends primarily upon water supply availability for small-scale irrigation as an alternative and access to extension support. Model farmers have effectively demonstrated productivity and income effects. The mid-term target of 10% of the population adopting SLM practices may be difficult to confirm but the project is generally on the path to generating local interest in this agricultural option. Ability to market the produce is a problem for some of the farmers. Expertise from the ASPIRE program on the outreach strategy could be useful.



5.

3.2.2 Outcome 2 – Community forests restored and sustainably managed

The Project Annual Report and Annex 2 summarize Component 2 achievements. One CF in Damrey Chark Thlork and two CPAs (Reaksmey Samaki in Trapeang Chor Commune and Tang Bampong in Tasal Commune) were selected for forest conservation work. The initial assessment included review of CF/CPA legal documents (registration, ministerial recognition, current status of land tenue) and field observations (zoning and boundary check to these communities). Some ownership issues were identified (for example, Tasal CPA).

A training course on community organization management was delivered to Tang Bampong and Reaksmey Samaki Community Protected Areas for an improvement of management skill on planning, coordination, budgeting etc. Digitization of forest-cover maps was completed by a GIS national consultant for each target commune, providing maps for forest monitoring and expansion at the commune level. The management plan for Damrey Chark Thlork, CF was updated and endorsed by PDAFF. The management plan for Reaksmey Samaki CPA is under legal application and Tang Bampong CPA is re-starting after transfer of authority/management function from MAFF to Ministry of Environment (MoE) in 2016.

Re-activation and strengthening of the CF and CPAs appears to be broadly supported by local participants and commune officials. The no-cutting rules are said to be respected by local residents. The success for Outcome 2 will be whether the committees can gain enough self-sufficiency to maintain operations on their own after the project.



6.

3.2.3 Outcome 3 – Watershed management and monitoring capacity

The Project Annual Report and Annex 2 summarize Component 3 achievements. A key output of Outcome 3 has been the Economic Valuation Study on Preak Thnoat Watershed, presented in September 4, 2018. It included a draft roadmap for Preak Thnoat watershed management. An ethnographic study has also been completed to provide a detailed overview of development and land use issues in the watershed.

Agricultural land and forest maps produced through GIS mapping and remote sensing, were printed and delivered handed to the 3 target communes for future uses. The consultant has also trained communities and local authorities about geography, water system and landscape in December 2018. Household surveys at target communes (pilot-farming areas) were conducted. The baseline survey questionnaires related to poverty, income generation, loan, and benefits from community forestry. The data and information will be used as baseline and to track for project progresses. M&E Training was conducted in November 2018.

Annex 9 summarizes the 23 training and workshop sessions completed to date. This was linked to 23 field assessments/studies conducted by MAFF, DALRM, MB and PDAFF. There were 732 participants (26% females) trained on different skills and theories regarding agricultural technologies. Selected participants visited model farms in Takeo Province and participated in management courses of community forestry and community protected areas (CPA) in Battambang Province. On-the-job training related to home-garden, mushroom growing, making composed fertilizer, making natural pesticide and other technologies was conducted by MB, DALRM, MAFF and PDAFF. As part of the knowledge management and communication strategy, a video producer has been engaged to record field activities and to interview key stakeholders regarding their participation and commitment for the project implementation.

The project document originally proposed a new provincial regulatory and administrative system for watershed management. This was latter downsized in the inception report to a proposed set of collaborative agreements and actions to coordinate stakeholder efforts to address issues and to monitor key watershed program indicators as basis for long term watershed management. This has not been possible to complete.



7.

3.2.3 Overall progress toward achieving the project objective

The 2018 PIR rated Development Progress as Moderately Satisfactory (June 2018). No tangible results were reported during the reporting period (2017-18) because "the project spent considerable amount of time in establishing a good foundation for project implementation such as understanding and redefining the Project Results Framework including revising the baseline and End of Project target, seeking buy-in of the decision makers in MAFF, and constituting the Project Board. However, deliverables have greatly improved in the second half of 2018, with expenditures at 73% of the approved annual work plan.

The progress on the project objective essentially turns on (a) the level of household participation in irrigated farming as an alternative to current forest degradation, (b) the protection and enhancement of community forests and development of sustainable forest livelihoods, and (c) the spread of SLM methods on smallholder and large agribusiness lands. Some progress, though limited in scope, has occurred on the first two aspects. The third one displays less progress.



8.

3.2.5 Critical factors and barriers to achieving the expected results

The policy and institutional mechanisms needed to initiate watershed management in Upper Prek Thnoat drainage are largely beyond the scope of the project.

There is a general expectation that the NAP and the creation of the Sub-national Committee on Watershed Management will provide the policy impetus and directives to stimulate watershed rehabilitation and management. It may take another year to fully establish the committee. The NAP lists Prek Thnoat as one of ten national priorities. The committee operation is a basis for completion of some of the project outputs so this partly affects project results. While local activities can be effectively implemented in the three pilot communities with the support of the partner MB (NGO) to enhance forest conservation and alternative livelihoods, it is not evident that the project has the governance systems in place to deliver the scale of watershed and ecosystem results that are envisioned in the project Objective, especially given the limited time frame available.

The watershed approach is not sufficiently understood or recognized at both the government and community levels.

The watershed approach, including recognition of the upstream and downstream linkages, was described by stakeholders as a new concept for MAFF and the provincial and local authorities. Understanding how to address inter-related land, hydrology and ecosystem issues at various scales within a watershed context will take time to be developed. It was clear from the MTR mission that few stakeholders and implementing partners could see beyond their individual issues and work tasks/contracts or recognize the particular land use/cover and physical processes that underlie watershed and ecosystem services, including their effects on critical water supply and quality. This lack of a watershed perspective affects the potential for collaborative watershed management.

MAFF does not have sufficient mandate, capacity and resources to undertake multi-sector watershed rehabilitation and management.

The project design focuses on watershed conservation and rehabilitation, and restoration of forest cover and ecosystem functions. The project has been able to integrate notional commitments to soil and water conservation and SLM into some commune and district investment and development plans. It has not, however, been able to introduce let alone establish larger-scale landscape level approaches in the selected project communes, to which Outcome 3 is dedicated. The interventions are very limited and delivered principally by contractors, as described below. There is no experience in DALRM and no watershed management unit in MAFF to establish the watershed approach and guide its application in Prek Thnoat or elsewhere. MAFF staff recognize that they do not have the capacity to deliver watershed management programs, or the resources to sustain the current project outputs on completion of CoWES. The general expectation is that this institutional challenge will somehow be addressed by the pending Sub-National Committee on Watershed Management.

The project reach is limited to small-scale forest protection, livelihood and water supply issues, with only minor impact on watershed threats such as deforestation and streamflow disturbance/diversion.

A review of the project outputs shows the modest level of watershed management change that is being pursued so far in the three pilot communes: strengthening forest protection in two CPAs and one CF, introduction of vegetable and mushroom growing by a few lead farmers, water supply and farm pond development and proposed agroforestry and tree planting. The most important of these activities to the communities is the water supply investments. The larger concerns about high rates of deforestation, watercourse instability, flooding, land slippage and soil erosion, runoff of polluted water into local reservoirs and other matters (as noted in the situational analyses reports prepared by the project) appear to be outside the scope of the project. The project demonstration activities will have only minor contribution to addressing the significant problems facing Upper Prek Thnot. Illegal logging inside and outside of CPAs is a major concern to be addressed by offering alternative livelihoods.

There is no readily available means of engaging private sector Economic Land Concession agri-business in watershed management but further discussions are needed.

The project has yet to engage ELC companies in any significant way in discussion of land and water management issues. Output 1.3 proposes "suitable land use practices demonstrated among medium to large scale agribusiness entities". ELCs that involve large scale land conversion and commercial plantations have a significant role in watershed stability and water balance. The project has undertaken some discussion to identify local complaints related to ELC land uses. But there is no formal process for collaboration with ELCs. There is some uncertainty about how to move forward with this activity although the governor of Phnom Schrouch district and the Provincial Administration office have offered to facilitate a technical workshop on SLM methods. Some minor discussion is reported at the field level to identify possible themes for discussion (although no endorsement for this from companies):

Establishing stream setbacks (undisturbed streamside buffer strips as required by law but it seems largely ignored on the ground), to reduce flooding, soil erosion, biological and water quality impacts, and to encourage bamboo and other vegetative cover to stabilize stream banks; and
Introduction of cover crops to reduce the adverse effects of rainfall runoff and erosion on lands that have already been cleared of vegetation.

Linkages between community water supply problems and catchment area management are not well-defined.

The water supply concerns in the pilot villages are being addressed through small scale infrastructure investment but without clear attention to the catchment area sources of water. The water supply development at the three pilot communities could be usefully expanded to include micro-watershed protection and rehabilitation of water sources and drainage systems. Water shortages are severe for three months in the dry season and the development of water supplies is considered key to the introduction of small-scale irrigated farming as an alternative livelihood to cutting trees. The project has also assisted strengthening the management of CPAs but these interventions are not sufficient to fix the watershed degradation problems. The project should ideally be demonstrating a community-based water supply catchment area concept, to show the integral linkages with watershed processes and their important role in supporting community water availability for domestic and agricultural purposes.



9.

3.3 Project Implementation and Adaptive Management

3.3.1 Project Management

The 7 month start-up phase after signing the project document has created a backlog on project implementation. As noted elsewhere in this report, there have been extenuating circumstances that explain the lengthy delays in the project. It is nevertheless difficult to be completely satisfied with the management system, heavily dependent on MAFF that until recently has been slow to meet the timetable and remains under pressure to deliver on time.

The Project Board's first meeting was held in January 2018, and clear directives were issued along with an approved workplan and budget. Kampong Speu Provincial Department of Water Resources and Meteorology was not invited to join the board as proposed although their expertise is needed. But management has been pro-active in extensively refining and clarifying the project through a lengthy inception phase. A project technical meeting and reflection workshop was held in November 2018 to further mobilize action.

The project management issues relate directly to the high expectations of the project design and the considerable factors that affect the introduction of watershed management in. Most of the government contractors are ex-government or government staff on leave with duties focussed on producing discrete outputs that may are not always be useful for advancing watershed management during the life of the project. The problems of slow delivery on activities and outputs and assumptions about capacity reflect the need to field test project design outcomes and indicators in the early stages, and to consider the complexities of government modalities for implementation.

PIR comments identified the delays and action needed. UNDP undertook a 'project monitoring report' (Nov 2018) which proposed actions to consider a HACT micro assessment, follow up appointment of a new CoWES NPD, approval on the revised Evaluation Plan, review of different options for cash transfer including direct payment to responsible parties if it could help speed up project implementation, and possibly recruiting contract staff for PDAFF to support the implementation. Nevertheless, there have been difficulties gaining progress on Output 1.3 (ELC participation) and Outcome 3 (watershed management framework) due to the larger issues noted elsewhere in this report.

The Project Board and Project Team have attempted to respond to some of the constraints on progress by – i) hiring a "start-up advisor" to re-focus the project and guide initial steps, b) providing additional support to DARLM to engage in project implementation, and c) shifting more responsibility to MB to facilitate progress on field activities.

The project organisation may have been adequate for the early stages of the project but it now needs some simplification to improve focus on final results. It is clear that MB is the lead implementing partner for CoWES and will continue to be the main driver of results. They should be designated the field coordinator for the key agronomic and forestry outputs



10.

3.3.2 Annual Work Planning

The work planning appears to have been participatory, although the annual under-spending indicates that the planning has not been good at anticipating actual deliverables.



11.

3.3.3 Finance and Co-Financing

The project expenditures to December 31, 2018 were 37.4% of the total budget at just past the half-way point of the project period. Table 6 shows some significant under-spending of several activity budget lines, most notably activities to undertake participatory monitoring and assessment (only 13% delivery), accelerating Community Forestry implementation (15% delivery), demonstrating suitable SLM practices (20%), and developing capacity of key stakeholders (30% delivery)

The scale-up of project activities in 2018 is also evident in Table 7. The delivery rate during Year 2 was 85/86% for Components 1 and 2, and 57% for Component 3. The total 2018 expenditures were 73% of the annual budget. Despite the obvious ramp-up of activities the annual expenditures were still under-budget by one-quarter the planned amounts.

Activity 1.3 (suitable land use practices demonstrated among medium and large-scale agribusiness entities) was an exception, with annual expenditure 11% over-budget. This may be high given the lack of Output 1.3 progress. The highest expenditure in 2018, ($112,764) was for Outcome 3 but this was mostly for MAFF overhead costs. The technical activity reports under DARLM provide useful background data and mapping but few short term benefits.

The financial data highlight the need to significantly increase the rate of implementation during the final 14 months of the project. Any application to extend the project timelines would require sufficient justification.

A spot checking financial audit was undertaken by an independent accounting form, finding some minor issues. It recommended that management should consider this rating within the context of the recommendation that the Project management team should attempt to strengthen its management practices in the following areas: 1. Accounting recording and documentation and 2. Compliance with law of taxation.

Co-financing commitments include in-kind support from the government and UNDP funding of selected activities. These contributions are generally in line with planned commitments and GEF project expectations, although in-kind contributions are not currently tabulated. The practice of contracting on-leave and recently-retired government staff may have affected the actual government co-financing contribution.



Recommendations
1

The CoWES project team should, as a matter of priority, review the scope of work and budget for the community water supply infrastructure being constructed by the project. The total project budget to effectively complete the three community water systems needs to be increased to a minimum of $50,000 USD.

2

The CoWES project team should immediately identify a demonstration micro-watershed and initiate a set of soil and water conservation measures and related training aimed at stream rehabilitation and stabilization with the participation of ELCs and local authorities.

3

The CoWES project team should update the workplan, budget and implementation arrangements to accelerate progress on a clear set of field activities with a focus on (i) alternative livelihoods development, (ii) soil and water conservation demonstrations, and (iii) sustaining community forest and water supply management committees

4

The Project Board should invite the Kampong Speu Department of Water Resources and Meteorology to join the project and to provide technical review and advice on the water storage structures being constructed by the project.

5

The Project Board should seek extension of the project period by at least three months to capture the 2020 planting season, and to plan for this extension in the updated workplan

6

The CoWES project team should organize monthly meetings with MAFF/DARLM and MB to review workplan implementation progress, to identify any issues that need the attention of UNDP or senior government officials, and to improve overall communications

7

The CoWES project team should distribute Information on the project, NAP status and the watershed management concept to senior officials at Provincial, District, commune offices and the major EC agri-business companies in the project areas in order to promote awareness of watershed management. A quarterly e-newsletter should be considered

8

The DARLM should further elaborate the strategic 'roadmap' that has been prepared for Upper Prek Thnoal watershed management and facilitate its endorsement by MAFF in preparation for the program to be initiated by the NAP Sub-national Watershed Management Committee

9

The CoWES project team should refine the monitoring and reporting based on a core set of relevant Outcome indicators (see suggested indicators)