Final Evaluation: Forest Carbon Partnership Facility Phase 2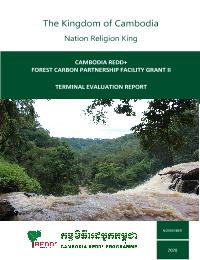 Evaluation Plan:

Evaluation Type:

Final Project

Planned End Date:

11/2020

Completion Date:

11/2020

Status:

Completed

Management Response:

No

Evaluation Budget(US $):

35,000
Title
Final Evaluation: Forest Carbon Partnership Facility Phase 2
Atlas Project Number:

00091590,76292

Evaluation Plan:
2019-2023, Cambodia
Evaluation Type:
Final Project
Status:
Completed
Completion Date:
11/2020
Planned End Date:

11/2020

Management Response:
Yes

Focus Area

:
Corporate Outcome and Output (UNDP Strategic Plan 2018-2021)

1. Output 2.1.1 Low emission and climate resilient objectives addressed in national, sub-national and sectoral development plans and policies to promote economic diversification and green growth

SDG Goal

Goal 15. Protect, restore and promote sustainable use of terrestrial ecosystems, sustainably manage forests, combat desertification, and halt and reverse land degradation and halt biodiversity loss

SDG Target

15.1 By 2020, ensure the conservation, restoration and sustainable use of terrestrial and inland freshwater ecosystems and their services, in particular forests, wetlands, mountains and drylands, in line with obligations under international agreements
15.2 By 2020, promote the implementation of sustainable management of all types of forests, halt deforestation, restore degraded forests and substantially increase afforestation and reforestation globally
15.4 By 2030, ensure the conservation of mountain ecosystems, including their biodiversity, in order to enhance their capacity to provide benefits that are essential for sustainable development

Evaluation Budget(US $):

35,000

Source of Funding:
Project Budget
Evaluation Expenditure(US $):

24,400

Joint Programme:
No
Joint Evaluation:

No

Evaluation Team members:

| Name | Title | Nationality |
| --- | --- | --- |
| Nelson Gapare | International Consultant | |

GEF Evaluation:

No

Key Stakeholders:
Countries:

CAMBODIA
Recommendations
1

ENDORSEMENT OF THE ACTION & INVESTMENT PLAN FOR THE IMPLEMENTATION OF NATIONAL REDD+ STRATEGY (AIP-NRS)

The success of REDD+ will require access to sustainable finance. The NRS-AIP is a commendable milestone, which provides a clear platform for financial resource mobilization. Finalization (specifically for the financial mechanism) and endorsement of this document should be considered a high priority to build confidence among potential funding providers.

2

FINALIZATION AND ADOPTION OF THE REGULATORY FRAMEWORK FOR REDD+ PROJECTS (PRAKAS & GUIDELINE)

Clear rules and methodologies for carbon accounting, a fair system to share REDD+ benefits among various stakeholders, and a registry or database to keep track of REDD+ emission reductions at multiple spatial scales, the designed "nested" system will build confidence to attract private finance for forest conservation and enable carbon crediting at multiple scales (project, subnational, national). Finalization and endorsement of the Regulatory Framework for REDD+ Projects (Prakas) will be instrumental to unlock private finance for REDD+ actions and should be considered an important priority.

3

ENDORSEMENT OF THE REFORMED INSTITUTIONAL ARRANGEMENT FOR REDD+ IMPLEMENTATION.

Efforts to generate sustainable funding must be coupled with efforts to build a supportive institutional framework. With the creation and staffing of technical units within the RTS, the RGC would invest its own financial and human resources, and therefore, demonstrate a real ambition to achieve REDD+ objectives, which will, in return, build trust and attract investments from potential investors and donors.

4

EXPLICIT BUDGET LINE FOR CONDUCTING NATIONAL FOREST MONITORING

The absence of an NFI has been pointed out by many stakeholders, including development partners. Understandably, NFIs are costly exercises. However, there would be immense benefits in developing a multi-purpose NFI which can provide useful information for economic planning and investment decisions as well as data on biodiversity indicators and forest health. The Monitoring and Evaluation (M&E) Framework for the NRS-AIP mentions NFI as one of the indicators related to forest and land use data management systems, but there is no explicit budget line for the NFI. The NRS-AIP is an opportunity where financing the NFI could be considered.