Mid-Term Evaluation of Mobile Money for the Poor (MM4P)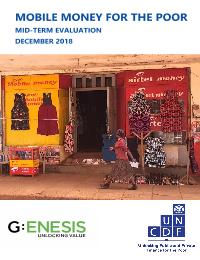 Evaluation Plan:

Evaluation Type:

Others

Planned End Date:

09/2017

Completion Date:

12/2018

Status:

Completed

Management Response:

Yes

Evaluation Budget(US $):

168,000
Title
Mid-Term Evaluation of Mobile Money for the Poor (MM4P)
Atlas Project Number:
Evaluation Plan:
2016-2017, UNCDF
Evaluation Type:
Others
Status:
Completed
Completion Date:
12/2018
Planned End Date:

09/2017

Management Response:
Yes
Corporate Outcome and Output (UNDP Strategic Plan 2018-2021)
Evaluation Budget(US $):

168,000

Source of Funding:
Evaluation Expenditure(US $):

178,146

Joint Programme:
No
Joint Evaluation:

No

Evaluation Team members:

| Name | Title | Nationality |
| --- | --- | --- |
| Richard Ketley | Team Leader | |
| Mauro Mela | Digital Financial Services specialist | |
| Caitlin Smit | Senior Evaluator | |
| Comfort Phelane | Digital Financial Services specialist | |
| Mark Schoeman | Digital Financial Services specialist | |
| Ashleigh Flynn | Evaluator | |
| Thandiwe Ng'ombe | Evaluator | |
| Dikshya Dawadi | Local Consultant (Nepal) | |
| Suman Gelal | DFS Expert: Nepal | |
| Agnes Fall | DFS Expert: Senegal | SENEGAL |
| Rasmi Pillar | DFS Expert: Uganda | INDIA |

GEF Evaluation:

No

Key Stakeholders:
Countries:

GLOBAL
Lessons
Findings
1.

5. EVALUATION FINDINGS

5.1. RELEVANCE

MM4P plays a unique role in the markets where it operates by bringing strong technical knowledge and DFS experience locally, accentuated with international experience; in its responsiveness and level of engagement with partners; and in its role as convenor and honest broker within the ecosystem. While DFS has been demonstrated to have a development impact in LDCs, there are a number of constraints – regulatory, digital infrastructure bottlenecks, and on the demand and supply side – that may limit a market's potential to realise these gains. MM4P's ecosystem approach is designed to address these binding constraints. However, the ability to adequately address all of these binding constraints in each country is constrained by funding limitations and in some instances the mandates of the funding donor. These limitations aside, the programme's design, partner selection and phasing of engagement have been appropriate for the LDC market contexts where the programme has operated. The TOC has played out as expected with some potential for changes going forward. The use of TA in combination with small grants has been relevant to the needs of both partners and the programme. While external consultants have been effective, in-country technical teams have been critical to the success of TA by managing external relationships or delivering the TA directly. The programme has collaborated well with other UNCDF programmes, with the broader UN system, and with other development stakeholders. Despite a few challenges with some partnerships and room for improvement in cross-programme collaboration, these partnerships have been built on synergies between development stakeholders and have removed duplication of effort when supporting the same partner organisations. In addition, MM4P has provided critical learning and a number of institutional assets which will assist UNCDF in the execution of its new strategic vision of digital innovation to support the sustainable development goals.



2.

5.2. EFFICIENCY

MM4P's TA support (both from its staff and consultants) is considered to be one of the most valuable activities by the programme. Partners particularly valued the MM4P team's level of expertise, professionalism, and availability on-the-ground to help guide the partners throughout the implementation of a project and also keep implementation on track. The DFS Working Group has been an important contributor to DFS development and established MM4P as a go-to DFS expert in most of its markets. Implementation delays at inception, and short project durations could negatively affect MM4P's results in the future. MM4P's internal processes were cited as being cumbersome for partners, but MM4P also faced a challenge with having to spend more time than anticipated to negotiate with partners and thirdparty partners before implementation. Projects were also a year-long on average and were considered too short to achieve the anticipated results. In Uganda, this was also exacerbated by the mandate from BMGF to identify and conclude up to ten value chain projects within 16 months—which was ultimately extended through negotiations for another year, six months before the original agreement expiration date. A few donors were unaware of the total amount of programme overhead, which amounts to 23% of overall MM4P funding, composed of the standard 8% UNCDF overhead, plus the cost of the Brussels hub structure. This indicates that UNCDF needs to better communicate its overhead costs to funders at the outset. A more detailed analysis of the direct versus indirect charges related to Brussels and the countries may also help clarify for funders the relative cost effectiveness of the programme and help identify if any efficiencies can be gained. The results measurement function of MM4P has achieved a number of successes thus far. MM4P has done well at measuring changes within partner institutions and tracking market development shifts, however, not all outcomes of MM4P's ecosystem activities are systematically captured in the RM framework. Staff find it easier to report on set indicators and outcomes of TA and grant work in comparison to the informal DFS advice offered to different ecosystem players (which is where many important market system contributions are being made).



3.

5.3. EFFECTIVENESS

The TA support provided by MM4P to its private-sector partners, including MNOs, financial institutions and FinTechs has successfully contributed to building all of their capacity to develop and/or improve DFS. Partners attribute changes in organisational processes, strategy and increased managerial buy-in "It would be natural that we would come across MM4P reports when looking at a particular issue. But I think that as an industry we are producing too much. I have every interest to look at these reports, but just don't have the time". - External "Challenges are part of the programme's success because you cannot understand how the market operates without experiencing these challenges". - MM4P "When I looked at it and shared it with colleagues I felt that it was too much selfpromotion… it's not constructive for knowledge exchange". - External 26 and investment in DFS to the TA provided by the MM4P team and/or the external consultants. Although the grants were also beneficial in conducting research and piloting digital solutions, partners reported that the TA was more valuable in effecting how organisations approach DFS. In a few instances, the MM4P programme has also contributed to positive changes in regulatory environments through its relationships with regulators. The provision of formal and informal TA, benchmark visits and supporting improvements in internal practices has resulted in an increase in regulators' commitment to building a supportive environment for providers to offer digital financial solutions. The key success drivers of the programme include the local presence of the MM4P programme; the MM4P team's DFS expertise and experience working with private sector organizations; and the flexibility in programming approach to suit the respective markets of intervention.



4.

Success drivers at the partner level

Building good relationships is a key success driver of MM4P's partner engagements. Across all four countries, three themes were noted as contributing factors to the success of the program: local presence, in-house DFS expertise, professionalism and commitment of the MM4P team and flexible approach to programming.

Local presence of MM4P team: This has enabled the team to develop close relationships with partners and establish its presence in the market. Partners, consultants and external stakeholders value MM4P's in-country presence as it eases the provision of strategic advice and discussions on project ideas, both formally and informally. MM4P's successful establishment in-country as a trusted broker and go-to market player for DFS has improved partners' willingness to share organisational data "It's great that the MM4P team can easily pop into the office and give insights on a particular idea." – Partner 28 and made it easier for partners to request assistance. From a programme perspective, having a local presence has enabled the MM4P teams to assess potential partnerships and has been valuable in allowing MM4P to assess the impact and sustainability of the partners. Additionally, it provides the team with opportunities for MM4P to monitor implementation as well as find more partner opportunities.
MM4P team's DFS expertise, professionalism and reliability: The MM4P team is highly valued for their technical skills and experience in the DFS sector. In Zambia, partners reported that the MM4P team plays a strategic role in their everyday thinking through the open channels of communication that allow for feedback and discussions. Partners also valued the MM4P team's professionalism, openness, willingness to help and reliability. Partners also shared that the MM4P team has a rigorous approach to project management that is beneficial in ensuring that both parties are aware of project deliverables, developments and any potential challenges as implementation is carried out. As a result, partners consider MM4P as their strategic, thinking partner and value both the formal and informal support provided. Partners also reported that the TA support offered through external consultants was found to be highly valuable. Prior to UNCDF's intervention, most partners had not engaged with consultancy services due to financial constraints and the availability of local consultants in the market. Partners were impressed with the engagements with the consultants and quality of outputs produced. The MM4P team played a key role in ensuring the success of the TA provided by consultants. Both partners and the consultants interviewed shared that the projects were framed as a tripartite agreement between the partner, consultant and the MM4P team which allowed for buyin and a shared understanding of the objectives of the project across all stakeholders. The MM4P team enhanced the success of the projects by establishing and managing the relationship between the consultant and the partner which allowed partners to see the consultants as a part of their team and not externals. Additionally, the MM4P team's provision of project oversight allowed any projects challenges that arose to be dealt with in a timely manner.
Flexibility: Partners and external stakeholders believe that MM4P is good at assessing the market and adapting their implementation strategy to accommodate the different market needs and dynamics, for example the partner selection process. MM4P Senegal implemented the request for applications (RFA) approach to uncover innovations and market actors they could partner with (which they did not feel were emerging from the short-term TA and concept note process employed by the other country teams). In Nepal, the programme shifted its partner focus to working with different financial institutions other than banks where there was high donor dependency and, as a result, risks of non-unsustainable solutions.



5.

Challenges

The implementation of projects experienced delays due to a number of reasons, such as:

Contextual challenges that interfere with the time allocated for project implementation: For example, partners in Uganda stated that given the contextual challenges that inhibit the DFS market, it was difficult to see any impact of the projects or report on set key performance indicators due to delays in implementation or challenges in rolling out their solutions. For example, the Heifer project on digitising farmer payments in the livestock value chain was a year-long project that required more time as the mobilisation of booster teams and sensitisation of farmers took 6 months. While the project was able to show farmers the value of DFS, customer uptake was low. The Mukwano project also experienced delays in implementation due to a longer than anticipated time to finalise agreements and the challenging nature of the agricultural sector. This resulted in partners feeling rushed to complete the project within the set timelines. Other examples of projects in Uganda that experienced this challenge include Laboremus and DanChurchAid. This challenge is particularly difficult where technical assistance is contracted through consulting firms, who are not always as flexible in accommodating delays given their structure and workflows.
High staff turnover in large organisations, such as financial institutions and MNOs: This challenge was mostly prevalent in Senegal and Zambia. According to KIIs, key staff in these institutions rotate around the market, which affects continuity in projects. To overcome this challenge in Senegal, MM4P established a steering committee with various stakeholders to build and maintain relationships across the organisation, and preventing the loss of institutional capacity when staff leave.
Time taken for partners to establish third-party agreements: Under the Mukwano project in Uganda, there was a lag in the time it took for Yo! Uganda to sign agreements with MNOs, which led to a delay in project implementation. In Senegal, the Orange youth kiosk project was delayed due to prolonged negotiations between BASIF and PAMECAS.
Lack of capacity to implement projects. Where partners did not have the appropriate resources, the implementation of projects was challenging. For example, an MNO in Zambia had a small team who were required to provide oversight and implementation of the TA project implemented by a partner. Both the partner and consultant reported that staff struggled to balance their set daily tasks with what was considered to be an "extra" work under the MM4P project. A number of projects in Uganda also required more time than anticipated, as partners did not have the necessary staff and systems in place to implement the projects.
Varying commitment of partner senior management to implement project recommendations. While partners found the support provided by MM4P valuable and well-tailored to meet organisational needs, there were instances of a lack of commitment and buy-in from senior management to implement recommendations and make additional investments (which is exacerbated in instances of high staff turnover). This in turn poses a threat to the success and ultimate sustainability of the projects. For example, MM4P had to stop providing TA to Living Goods in Uganda due to the lack of commitment from management. As mentioned above, MM4P Nepal's programming was also affected by the lack of commitment of banks to invest in the scaling up of their agency banking solutions due to a heavy reliance on donor funding.
Competing organisational priorities and changes in strategy. For example, the TA provided to NCell in Nepal was negatively affected by the sale of the company. This led to delays in the piloting of the digital solution and in turn the cancellation of the partnership between MM4P and NCell.
Partner readiness to commit to projects. For example, the partnership between BASIF and PAMECAS experienced delays in the pilot of the Orange youth kiosk project due to BASIF not having the necessary DFS expertise required to manage an agent network.
Low customer awareness and adoption of DFS. The main challenge that partners face in offering DFS is low consumer awareness and trust of DFS, especially in rural areas. Partners, MM4P and consultants reported the need to invest resources to sensitise customers on the use and value of DFS. Through the HCD research conducted in Zambia, and Prabhu's use of word-of mouth marketing and training of agents, there has been an improvement in the uptake of digital services. Overall, ecosystem actors reported that there has not been sufficient investment in customer awareness, financial and digital literacy by partners and regulators, which continues to threaten the uptake of DFS. MM4P's role in this regard should draw on its existing strengths – convening stakeholders and providing data and information on the importance of building the financial and digital capacity of consumers – as well as supporting distinct initiatives within partners through TA.



6.

5.4. LIKELY IMPACT

Partners: MM4P's direct financial and technical support to partners, facilitated by strong in-country technical teams and partnerships with good consultants, has contributed to greater interest among partners in DFS, improvements in partners' capacity, the formation and improved implementation of partnerships, and specific instances of increased investment in DFS. However, commercial sustainability remains a challenge for many MM4P-supported projects. "When people ask me questions about DFS, I call MM4P." – Regulator 32 DFS systems: The DFS systems in all MM4P countries have developed and availability and usage of DFS products has increased. However, it is insufficient to use national statistics for active DFS accounts as a headline measure of success of the programme (and the programme's contribution to market development). Rather, these indicators are important as diagnostic tools for understanding the market context and how the DFS market is shifting in each country. This evaluation did not attempt to quantify MM4P's contribution to national DFS usage numbers, but instead focused on the programme's theory of change and building a qualitative narrative of contribution. Evidence from this evaluation shows that some positive linkages can be made between MM4P's activities and some sector and customer outcomes, as well as the programme's ultimate goal. MM4P's activities have increased the level of awareness, capacity and commitment to DFS within the sector. At the DFS stakeholder outcome level, DFS offerings have been made more accessible and available (rural outreach is still proving to be a challenge) with MM4P support, but continue to struggle with affordability (largely due to high MNO charges), reliability (due to poor MNO coverage), and customer understanding (prevalence of low customer trust, awareness, literacy and financial capability). These challenges have had a negative impact on the commercial viability of a number of MM4P's partnerships. As a result, there is little evidence that increasing access to DFS is occurring within non-MM4P partners as a result of demonstration effects (sector outcome level). MM4P's contribution to the DFS markets in each country is a result of both the programme's direct support to partners and MM4P's ecosystem activities, specifically industry data and information, convening and facilitation, and formal and informal support and capacity building provided to regulators. Clients: Considering MM4P's theory of change, and achievements at the DFS stakeholder outcome level, it is likely that MM4P will contribute (and has already contributed in specific instances) to increasing access to DFS for underserved clients. However, at this stage, sustained uptake and usage of DFS remains a challenge in many MM4P-supported projects. UNCDF: MM4P has had a significant impact on how UNCDF is approaching future programming and is considered critical to the agency's new strategy, which is centered on leveraging digital solutions to support the achievement of the Sustainable Development Goals.



7.

5.5. SUSTAINABILITY

The sustainability of the projects MM4P has supported is mixed across the portfolio. Provider projects tend to have commercial viability built in as a consideration due to the operating nature of for-profit providers, but there is not yet much evidence that provider projects are commercially sustainable. In comparison, regulator and policymaker projects tend to have a slower pace of change, requiring longerterm support and engagement. At the client level, the programme is still in the early stages to assess client outcomes, but a significant challenge thus far has been the client preferences for agent-assisted transactions rather than conducting transactions using a mobile phone, although this is beginning to change. Overall, the type of support and nature of engagement provided by MM4P is better for the continuation of partner outcomes compared to other types of donor support, such as large grant-making that subsidises providers' costs of operation. At the ecosystem level, there is an ongoing need for a market facilitator to catalyse DFS development to the tipping point at which market development takes off organically. This suggests a strong potential role for MM4P to play going forward, particularly within the regulatory and policymaker space and playing a strong convening role within the ecosystem. Where funding and programming will end, this means MM4P requires a plan to continue the programme's convening role in its absence. However, the programme's early ecosystem work has already generated outcomes which are contributing to the momentum of DFS market development



Recommendations
1
2

Evaluation Recommendation or Issue 1:

The programme TOC and country results chains should be updated to reflect what has been learnt in each market. MM4P has been operating in each market for some time and has generated important learning about the market context, the key barriers to DF market development, and programming opportunities that have arisen in each country. Since the programme's TOC and country results chains were developed at inception when programming activities had not been rolled out, there is now an opportunity for these to be updated. These should also explicitly state assumptions, risks and possible external factors for each link in the ToC, to assist with future assessments of MM4P's contribution to market development shifts. The learning generated from this mid-term review should provide some input to this process, such as the role of innovation as a potential workstream and the need to incorporate KM and ecosystem work as causal links in the chain, as well as better articulating gender outcomes at the customer outcome level. However, each country team should consider how the state of the market has evolved since inception, and where results chains need to be updated and adapted as a result.

3

Evaluation Recommendation or Issue 2:

MM4P will have to incorporate innovation into its work stream as DFS markets develop and new types of providers emerge. Innovation here relates to the development of new business models for financial services providers, such as fintechs, and other service providers where digital payments form part of the new business models. Examples of innovation already emerging from the programme include fintechs (agile tech-focused financial service providers that use technology to change or improve the way financial services are produced and consumed) and digital platforms and marketplaces in the sharing economy that make use of digital payment options (such as Tootle in Nepal). Once digital payment rails are in place and the focus shifts to developing use cases around these rails, supporting innovation becomes an important activity for DFS market development. MM4P is already thinking about how to incorporate this into its programme design from the outset, including how to encourage and engage with non-traditional financial service providers, such as fintechs, which should be continued and formally built into the programme design.

4

Evaluation Recommendation or Issue 3:

MM4P should articulate the impact of its programming beyond financial inclusion to account for shifting funding priorities. The funding of financial inclusion activities within the donor community has shifted from considerations of financial inclusion as the end objective, to a broader focus on financial inclusion as a means to other objectives. These include improvements in the livelihoods of specific customer segments – such as women, refugees, and the youth – and the support of particular sectors – such as energy, food security, and agriculture. MM4P should monitor these shifting funding priorities among key donors and articulate the impact its work has on these priority segments/sectors in order to attract funding going forward

5

Evaluation Recommendation or Issue 4:

Given funding restrictions and donor priorities that have resulted in limitations on regulatory/policy and infrastructure work in some countries, MM4P needs to have plans in place to work around these limitations. The table below (see final report for the table as it was too long to insert here) provides a few examples from the programme of where policy/regulatory impact was created despite the limitations, in countries where these limitations existed. These examples should be replicated across the programme where possible. Importantly, these plans need to be in place at the outset of programming and built in to the programme design. MM4P can also draw on its existing strengths at ecosystem-level, namely information provision and convening to focus stakeholders' attention on these limitations, even where MM4P does not have funding or resources to directly address these limitations.

6

Evaluation Recommendation or Issue 5:

MM4P needs to develop careful sustainability plans for its ecosystem facilitation role and start implementing this plan now to provide enough time before programming winds down. MM4P is playing a critical convening function within the DFS ecosystem, for example with the formation of DFS working groups. However, MM4P is often the only stakeholder playing this convening role and so needs to develop mechanisms for stakeholders to continue collaborating once the programme ends. Taking a lesson from MM4P in Malawi, the formation of an industry association with funding contributed by members appears to be a sustainable approach to having this convening function continued. MM4P should look to set up similar industry associations in countries with DFS working groups, and in Nepal where a DFS working group has yet to be formed.

7

Evaluation Recommendation or Issue 6:

MM4P can better incorporate the mainstreaming of gender into its programming activities over the second half of the programme. To date, requiring providers to collect sex-disaggregated data has been a tick-box exercise rather than encouraging providers to make use of the data. Programming should therefore focus on building the business case for using sex-disaggregated data among providers as part of MM4P support. This could include capacity building/TA or research such as market sizing and opportunity analysis for female customers, encouraging providers to make use of their data to tap in to latent opportunities, or using the data to show providers where women are desirable clients to attract. In addition, as programming matures to specific DFS use cases, there is scope for the programme to focus on use cases and sectors that are known to have a livelihood impact on women in particular, such as digital education and healthcare payments. The work that has been completed already on Zambian mothers and female farmers in Nepal, as well as the DFS4Women partner even that led to Orange Liberia rolling out a pilot on onboarding female agents, is promising in this regard.

8

Evaluation Recommendation or Issue 7:

Knowledge management activities need to capture and disseminate lessons on project failures as well as project successes. Thus far, MM4P's KM activities have largely focused on successful projects with limited coverage of the challenges and failures experienced by providers. This information is equally useful for stakeholders in the ecosystem to learn from the experience of other providers, and more focus should be placed on covering these lessons on failure. KM activities can also disseminate learnings on failures throughout a project's lifecycle, rather than waiting for the end of a project to publish lessons[1].

---

[1] See http://www.cgap.org/blog/series/embracing-failure-ultimate-success-branchless-banking and https://www.raflearning.org/post/smallholder-finance-big-learnings-start-sharing-real-failures

9

Evaluation Recommendation or Issue 8:

Country teams will have to carefully consider which stakeholders to partner with as programming matures. Since MM4P has established its credibility in the markets where it operates, country teams are receiving more requests for support. This evaluation has found that MM4P support is most impactful when it is longer-term and where in-country DFS experts are embedded in the partner organisation. While it was appropriate for the programme to experiment with different partner types at the beginning of the programme, this suggests that MM4P should now focus on fewer projects with larger budgets and longer ongoing technical support. This does not necessarily mean that MM4P should only partner with a particular partner type, or those that it has partnered with before. For example, working with fintechs may become a priority in the future as DFS market development continues. Given that fewer partners equate to higher risk, these partnerships must have a high focus on sustainability and demonstration of a viable business case as selection criteria.

10

Evaluation Recommendation or Issue 9:

UNCDF's procurement and selection process for partners should be reviewed given the changing dynamics in the market. With the emergence of new types of financial service providers, such as fintechs which tend to be more innovative and fast and flexible, UNCDF will have to adapt its procurement process for partners to reflect these changing market dynamics. This should be achieved through a review of the current process against its ability to respond to the current and future needs of the DFS market.

11

Evaluation Recommendation or Issue 10:

MM4P country teams will have to assess the capacity of their technical staff given the importance of longer-term TA provided directly by DFS experts in-country. Most of the country teams are currently coping with the pipeline of projects but would require additional in-country staff should this pipeline increase further. In cases where current technical specialists' contracts are ending, it is important for the programme to replace these with in-country specialists that can develop long term relationships with partners. In countries where a greater focus on policy/regulatory work is required, the programme may need to consider widening its skill set to include staff with experience in policy and regulatory issues.

12

Evaluation Recommendation or Issue 11:

The programme should consider how to strengthen its pre-project feasibility assessment to improve the likelihood that investments will lead to sustainable customer outcomes. In several cases, projects were unable to be implemented as they were planned in the design phase. The table below provides a few examples from the programme where this was the case. MM4P undertakes a thorough assessment of prospective partners before providing support, including a peer review of the project document by a technical specialist in another country and review by the investment committee. However, these examples suggest that the programme could benefit from other tools or frameworks for assessing viability, particularly methods for assessing whether the economics of a project makes sense (sufficient customer numbers and appetite, adequate infrastructure coverage, right regulatory approval processes in place, etc.). Learning from the programme thus far suggests that the first project with a partner should be short, with a relatively short feasibility assessment, since the team learns most about a partner and their feasibility by working directly with them. These small projects can act as the feasibility assessment for larger projects going forward.

13

Evaluation Recommendation or Issue 12:

MM4P should not focus solely on its market development indicators, and should simplify its country and project RM frameworks by significantly reducing the number of indicators it tracks. Priority indicators should be decided on by identifying a) priority outcomes for donors, b) indicators that the MM4P team frequently uses to make strategic and operational decisions. The programme's market development stages provide a helpful framework for understanding market dynamics to inform programming decisions, but do not adequately capture MM4P's contribution to shifts along the spectrum.