Mid-Term Portfolio evaluation on thematic area of YOUTH covering Youth Employment Project and Youth & Social Cohesion Project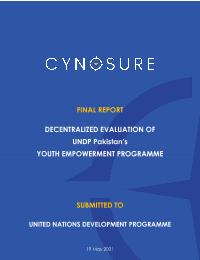 Evaluation Plan:

Evaluation Type:

Thematic

Planned End Date:

04/2021

Completion Date:

05/2021

Status:

Completed

Management Response:

Yes

Evaluation Budget(US $):

40,000
Title
Mid-Term Portfolio evaluation on thematic area of YOUTH covering Youth Employment Project and Youth & Social Cohesion Project
Atlas Project Number:

86132,68851

Evaluation Plan:
2018-2022, Pakistan
Evaluation Type:
Thematic
Status:
Completed
Completion Date:
05/2021
Planned End Date:

04/2021

Management Response:
Yes

Focus Area

:
Corporate Outcome and Output (UNDP Strategic Plan 2018-2021)

1. Output 1.1.2 Marginalised groups, particularly the poor, women, people with disabilities and displaced are empowered to gain universal access to basic services and financial and non-financial assets to build productive capacities and benefit from sustainable livelihoods and jobs
2. Output 3.3.2 Gender-responsive and risk-informed mechanisms supported to build consensus, improve social dialogue and promote peaceful, just and inclusive societies

Evaluation Budget(US $):

40,000

Source of Funding:
Donor
Evaluation Expenditure(US $):

20,000

Joint Programme:
No
Joint Evaluation:

No

Evaluation Team members:

| Name | Title | Nationality |
| --- | --- | --- |
| Faqir Hamim Masoom | Dr | PAKISTAN |
| Umm e Zia | Dr | PAKISTAN |

GEF Evaluation:

No

Key Stakeholders:
UNDP; Provincial Home, Tribal Affairs and Planning & Development departments
Countries:

PAKISTAN
Recommendations
1

At present, a large number and diversity of activities are being implemented under YEP through a myriad of implementing partners based in KP, Baluchistan, Sindh, and Islamabad. However, as elaborated in the sections on Efficiency and Impact, this approach can be counterproductive, requiring extensive management resources and resulting in scattered impact. Therefore, it is recommended that the program's logical framework is reviewed at the output and activity levels with a view to consolidating programming. Accordingly, high-impact activities from the current program should be retained to continue building on the results thus far. Similarly, there is a need to consolidate partnerships with Implementing Partners (IPs) by combining various related activities under single contracts. For instance, instead of the current practice of sub-contracting similar activities to multiple partners, it is recommended that single IPs are engaged for the delivery of such activities. Examples in order are YEP activities related to policy engagement and university engagement. Furthermore, for comprehensive and sustainable impact, it is recommended that instead of implementing single-purpose activities, youth are provided a suite of inter-related services. For instance, university engagement for social development can be combined with establishing or strengthening job placement centers at universities, policy engagement, as well as the delivery of advanced digital skills, and so on. Similarly, there are opportunities for connecting social entrepreneurship with digital skills

2

While a number of activities implemented under YEP have yielded high impact, others for instance those related to policy engagement have not demonstrated any evident impact, mostly due to lack of incorporating follow up activity. Resultantly, neither participating youth nor policy makers were tracked or supported for post-program engagement. It is therefore recommended that activities are designed with a view to not only warrant outreach but also ensure impact.

Furthermore, it is recommended that activities are modified according to the needs and capacities of the participating youth. For instance, a high dropout of younger youth has been observed in the case of TVET, skills, and entrepreneurship activities as these students are not yet ready to start practical life or intellectually prepared to take on the responsibilities of such tasks. In addition, there is a need to develop practical selection criteria. For example, youth without home internet access or prior IT knowledge should not be included in Advanced Digital Skills programs as was observed in some instances, since these aspects are essential prerequisites to effective learning and implementation.

Similarly, considering the specialized needs of highly marginalized youth, for instance transgender or disabled youth, it is recommended that tailored activities are designed for such demographic groups. For instance, when it comes to sports or idea competitions it is important to develop separate activities for such youth in order to provide them a level playing field. In this regard, it is important to dovetail efforts with the ongoing support mechanisms and initiatives of the GOP and civil society in the country, such as collaboration with the Office of the Commissioner for Transgender Persons at the Federal Ombudsman's Secretariat or the Pakistan Special Persons Games, an initiative of the Pakistan Sports Board, etc.

Furthermore, it is recommended that based on the experience of YEP implementation, UNDP conducts research to understand the drivers for successes and results are fed into future program design. Important areas of research in this regard include exploration of the facilitating factors that encourage higher funding levels from private sector partners, comparison of employment outcomes among younger and older age groups, and impact of availability of internet at home on IT-related training activities, etc.

3

Considering the limited YEP resources and the immense scale of youth development needs in the country, it is important to ensure that the program directs its efforts at the most underserved groups, where possible. At present, the majority of YEP activities are being implemented with university students/graduates and blue collared youth, with KP and Sindh provinces receiving the highest proportion of resources and only a limited number of activities being implemented in Balochistan. However, the majority of youth in the country comprises is uneducated or has low literacy levels and limited or no skills, putting them at high risk. It is therefore recommended that the YEP orients some of its work to include such marginalized youth. This can be accomplished through engagement in economic sectors where such youth are active, such as agriculture and construction, etc. Moreover, it is recommended that instead of directly accessing youth, the program addresses the needs and priorities of youth leaders and influencers first. For instance, in the case of madrassas, students are highly influenced by their teachers and madrassa administration. Hence, it will be more cost effective as well as sustainable to build the capacity of these individuals before or in tandem with providing development support to seminary students. Furthermore, geographically the program is advised to deliver services in the most underserved areas such as second or third tier districts. For instance, in the case of university engagement, some of the participating universities were found to be leading institutions based in major cities which already have substantial support from other sources. Instead, it is recommended that universities from remote and conservative districts, such as D.I. Khan, Kohat, and Mansehra, etc. are provided such support. Similarly, while in Sindh the program has supported prisons in Karachi, prisoner needs in other major jails, such as the Special Prison for Women in Larkana and the Central Prison Sukkur are reported to be higher due to limited support from other resources.

Similarly, while Balochistan has received limited attention under YEP due to insufficient donor interest, it is a known fact that the province is the most marginalized, thereby leading to a sense of disenfranchisement among its youth. It is therefore recommended that UNDP works in collaboration with the Government of Balochistan to mobilize public and donor resources. For instance, the UNDP can offer assistance to the GoB for the implementation of the Prime Minister Youth Loan Scheme of PKR 2.0 billion.

Finally, while the Government of Pakistan and youth are identified as the primary target groups of the program, the program results framework/theory of change do not include activities specifically aimed at the GOP. Also, evaluation interviews revealed that, there is a common understanding among the YEP management team that the program is youth-centric with the GOP being one of the key stakeholders to support program implementation. It is therefore recommended that the program document and results framework/theory of change are modified to reflect this understanding

4

Partnerships formed by YEP have been a major driver of the program's success. In order to further leverage these partnerships with its public, private, and civil society stakeholders, further measures are recommended in this section.

While the program has partnered with several private sector as well as civil society partners, the partnership with public sector has been limited. However, in the interest of efficiency and sustainability, it is recommended that YEP establishes stronger programming linkages with its government counterparts at the provincial level. Such partnerships will facilitate access to existing physical infrastructure while also enabling the program to build the capacity of government staff at the local level, strengthening of existing physical infrastructure, as well as ensure broader outreach.

For instance, instead of working with individual TVET centers to deliver entrepreneurship training, as was done by IP Kashf Foundation, it would have been more efficient and sustainable for the YEP to sign an MOU with NAVTTC or Sindh TEVTA to enable access to the various training institutions. Furthermore, as entrepreneurship is not included in the official TVET curriculum, such a partnership could have included the incorporation of the subject in the official curriculum for sustainable impact. Similarly, MOUs with the HEC and the provincial education departments can ensure easy access to universities and high schools for various activities, such as engagement and training, etc.

Moreover, in order to build on its existing strength of ICT based outreach, YEP is advised to explore further venues for such programming in the interest of innovation, efficiency, and sustainability by developing relevant private sector partnerships. Furthermore, to strengthen its partnership with the private sector, it is recommended that UNDP seeks ways to establish partnerships on more equal footings when it comes to financial contribution. Thus far, the program is seen to carry the greater portion of the financial burden while private sector partners have contributed mostly in kind despite deriving substantial benefits from the program, such as recruitment of qualified staff.

In addition, the positive experience from inter-UN agency partnership can be built upon through similar other partnerships. In particular, such partnerships can be effective in the context of implementation in remote areas or when addressing diverse program areas. For instance, YEP can leverage on FAO or IFAD's longstanding experience in Balochistan in the area of farm-based livelihoods. Similarly, there is a possibility for partnering with the UNODC which is already working in prisons in Sindh or with UNWOMEN that is also implementing a Royal Netherland Embassy (RNE)-funded project on digital skills training under its Women's Economic Empowerment (WEE) portfolio.

5

Under YEP, UNDP has generated significant research on youth in Pakistan, including formal studies such as that on hyper masculinity as well as insights acquired as a result of lessons learned from implementation. These programs findings need to be disseminated to relevant audiences in order to benefit future youth programming in the country. It is therefore recommended that a YEP Knowledge Management strategy is developed and such program knowledge is shared through relevant UNDP-approved channels.

Similarly, while activity-level has been assessed in some instances the impact of other activities is not yet determined. The availability of positive impact data from implemented initiatives is likely to not only encourage donors to contribute to future YEP programming but also inform other youth programs. Hence, it is recommended that a systematic program-wide impact assessment is undertaken at the output and outcome levels and its results be disseminated widely among relevant stakeholders.

6

The program monitoring data is not available in a unified database and is instead stored in scattered resources, including progress reports and activity-specific beneficiary lists, etc. To ensure availability of consolidated progress and beneficiary data for facilitating Program planning, it is recommended that a monitoring database is developed and updated regularly. The utility of this database can be further enhanced through the development of reporting tools such as dashboards to provide readily accessible information snapshots

7

In addition to the USD 8.6 Million received in direct funding from various donors, YEP has received approximately USD 2 Million to implement youth-related initiatives of the Regional Office Bangkok, UNDP Global Youth initiatives, and UNDP Units in Pakistan. However, these funds are reflected under their respective parent projects and not under the YEP ATLAS ID, thereby making it difficult to readily assess the full financial extent of YEP. It is therefore recommended that the linkages to YEP are clearly shown in ATLAS for all such funding in order to get a fair estimate of the project's resources and capacities.

8

As lack of donor funding is a major challenge being faced by YEP, it is recommended that alternative financing resources are explored, including private and public sector channels. For instance, a potential funding venue could be the engagement of private sector philanthropists from the country.

Moreover, at times program funds of the GOP remain unspent due to lack of implementation capacity. For instance, reportedly the budget allocated to the GoP Madrassa Education Board remains largely unutilized. A potential venue for collaboration could be with such programs in exchange for building organizational capacity.

9

The program's experience after the onset of COVID-19 has demonstrated all too clearly the need for reliable internet availability as a catalytic factor for youth's development. However, at present, Pakistan's internet connectivity is limited and rural areas are further marginalized in terms of access. This presents an opportunity to the UNDP to delve into policy and strategic support to improve online connectivity which can be capitalized upon through partnerships with the Government of Pakistan (e.g., the Universal Service Fund under the Ministry of Ministry and Technology), private internet service providers, and mobile phone companies, and educational institutions, etc

10

Through collaboration with the private sector, YEP has trained and placed youth in TVET-related jobs. However, while the training were responsive to the needs of the employers, they were often not delivered according to an accredited certification, an element that is critical to ensure long term employability of trainees. It is therefore recommended that all future TVET training follow an agreed industry standard certification, such as the standards developed by NAVTTC.

Furthermore, in the interest of efficiency, outreach, and long term sustainability, it is recommended that the design of all training programs, regardless of their nature, consider Training of Trainers (TOT) approach. For the implementation of this approach, institutions and individuals engaged in learning and teaching, e.g., educational institutions, teachers, and community leaders should be targeted for such trainings.

11

At present, the program's economic empowerment component targets job placement and entrepreneurship. However, the provision of critical facilitating factors, such as access to markets and finance was overlooked in these activities. While a separate output was designed to address value chains, it could not take off due to lack of donor interest. Nevertheless, to ensure effectiveness and sustainability, there is a greater need to integrate such linkages with the existing training activities. Such an effort will not only be beneficial to trainees of entrepreneurship but will also enable skill trainees to explore options other than employment. It is therefore recommended that any future economic empowerment activities include the abovementioned missing components.

These linkages can take direct or indirect form. For instance, in addition to traditional methods such as market visits and job fairs, YEP is advised to explore further ICT-based solutions. For instance, currently, despite being one of the top supplier countries of freelancers in the world, nearly all the freelancing job portals in Pakistan are international and pose problems for workers in the area of receiving payments from international clients. YEP can therefore capitalize on this opportunity to work with the GOP to streamline international payment receipts for these youth. This will not only benefit youth trained in IT skills by the program but will also have wide reaching impact on the freelancing landscape in the country.

12

Under its engagement component, YEP has engaged several policy actors at the national and provincial levels. However, in Pakistan as elected representatives are more concerned with the views of their local constituencies, it is recommended that engagement activities such as youth dialogues and forums are carried out at the district level. This will result in more direct engagement between youth and policy makers with the possibility to yield some tangible benefits and also build the capacity of both to eventually contribute at the provincial and national level debates.