Mid-Term Evaluation of Programme for Consolidating Economic Governance and Public Finance Management Systems (PFMS) in the PALOP-TL SAI (Phase II))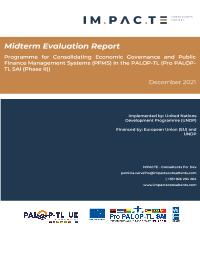 Evaluation Plan:

Evaluation Type:

Mid Term Project

Planned End Date:

03/2022

Completion Date:

12/2021

Status:

Completed

Management Response:

No

Evaluation Budget(US $):

40,000
Title
Mid-Term Evaluation of Programme for Consolidating Economic Governance and Public Finance Management Systems (PFMS) in the PALOP-TL SAI (Phase II))
Atlas Project Number:

00102650

Evaluation Plan:
2018-2022, Cape Verde
Evaluation Type:
Mid Term Project
Status:
Completed
Completion Date:
12/2021
Planned End Date:

03/2022

Management Response:
Yes

Focus Area

:
Corporate Outcome and Output (UNDP Strategic Plan 2018-2021)

1. Output 2.2.2 Constitution-making, electoral and parliamentary processes and institutions strengthened to promote inclusion, transparency and accountability

Evaluation Budget(US $):

40,000

Source of Funding:
Evaluation Expenditure(US $):

61,750

Joint Programme:
No
Joint Evaluation:

No

Evaluation Team members:

| Name | Title | Nationality |
| --- | --- | --- |
| Patricia Carvalho | Consultant | |

GEF Evaluation:

No

Key Stakeholders:
MINISTRY OF FOREIGN AFFAIRS AND COMMUNITIES; MINISTRY OF FINANCE OF AND PUBLIC ADMINISTRATION; EUROPEAN UNION DELEGATION IN PRAIA
Countries:

CAPE VERDE
Lessons
1.

LL1. The Annual Work Plan (AWP) methodology is effective and contributes to good levels of relevance, flexibility, implementation, as well as appropriation (buy-in) of the Programme.
There is no one size fits all approach when it comes to regional programming. Project activities should be flexible and adapted to the changing needs of the beneficiaries, especially in the context of COVID-19. The AWP approach fosters political buy-in and ownership which is crucial for ensuring sustainability, especially for interventions linked to economic governance. Political buy-in is indispensable in interventions that deal with sensitive national sovereignty matters.



2.

LL2. Training and development of skills in the multiple layers of the PFMS contribute to the effective and sustainable transformation of institutional practices. Training and development of skills of technical staff, decision-makers, parliamentarians, and civil society, strengthen economic governance and the PFMS. It can occur in multiple settings, and through multiple means, including academic courses, technical training, seminar, sharing of practices, field visits, and so forth. South-south and triangular exchanges are often valuable in training and skills development initiatives.



3.

LL3. South-south and triangular cooperation within the PALOP-TL region are relevant from the linguistic, legal, and political perspectives. PALOP-TL countries share a language, have similar legal frameworks, and relevant economic, social, and political interests. The countries perceive cooperation within the PALOP-TL region as highly relevant to enhance the political dialogue and sharing of best practices. Triangular cooperation is also highly relevant to expose national institutions to international best practices and standards.



4.

LL4. The Programme has the potential of becoming an international good practice. The results of the Programme align with the fact the Programme was already identified as good practice within the context of the PALOP-TL cooperation opening the possibility for the programme to aim at becoming recognized as an international good practice.



5.

LL5. The centralization of the Programme's management contributes to the good implementation of the Programme, yet local presence is required when beneficiaries diverge in their implementation rate. One of the LL from the first phase of the Programme was the benefit of having a centralized PMU. Phase II indicates a similar benefit, yet it also seems to indicate that when a beneficiary country shows early signs of divergence in terms of project implementation when compared with its counterparts, it is beneficial to establish a national PMU field officer to provide additional assistance.



Findings
Recommendations
1

SR1. Consider the elaboration of an exit strategy. The evaluation found that across the beneficiary countries there is a clear need for the continuation of the Programme. Nonetheless, a clear exit strategy should be discussed with the beneficiaries to ensure that they have been adequately capacitated to undertake the Programme's outcomes and that they are committed to a swift transition when the Programme ends, including at the financial level.

2

SR2. Reach out and link the Programme to Global Platforms like the Integrated National Financing Framework (INFF) in order to increase the visibility of the Programme, and its promotion as an international best practice.

3

SR3. Strengthen the governance coordination mechanisms and communication. Consider increasing the frequency of the Country Coordination Committees and increasing the EU's involvement through the Steering Committee meetings. This is not only relevant to ensure communication of results, but also to increase the political dialogue and uptake.

4

SR4. Foster closer coordination with national and regional EU-funded projects through formal and informal dialogue and explore potential synergies with those projects. EU delegations can capitalize on their role as donors to foster more coordination opportunities between projects. This is especially relevant to step-up targeted efforts in Timor-Leste, notably to foster closer relationships with the beneficiaries. This recommendation is also linked to SR3.

5

OP. Affecting financial resources to local UNDP offices and revisiting responsibilities. The strengthening of country officers may be crucial in addressing the local difficulties of partners.

6

OP. Consider the development of a task force to rapidly respond to the foreseen and unforeseen changes of public officials and representatives. Due to regular democratic processes, it is natural a certain turnover of elected or appointed officials. The task force should immediately initiate contacts with newly elected or appointed public officials, in order to guarantee that the Programme becomes as quickly as possible appropriated by the newly elected or appointed public officials.

7

OP. Consider resorting to specialized sources in the beneficiary countries to facilitate future capacity-building and knowledge sharing actions (eg. Local universities) so that the training is sustainable in the countries.