Terminal Evaluation of the Strengthening the Marine Protected Area System to Conserve Marine Key Biodiversity Areas (SMARTSeas Philippines) Project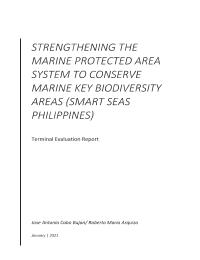 Evaluation Plan:

Evaluation Type:

Final Project

Planned End Date:

01/2021

Completion Date:

02/2021

Status:

Completed

Management Response:

No

Evaluation Budget(US $):

50,000
Title
Terminal Evaluation of the Strengthening the Marine Protected Area System to Conserve Marine Key Biodiversity Areas (SMARTSeas Philippines) Project
Atlas Project Number:

00076994

Evaluation Plan:
2019-2023, Philippines
Evaluation Type:
Final Project
Status:
Completed
Completion Date:
02/2021
Planned End Date:

01/2021

Management Response:
Yes

Focus Area

:
Corporate Outcome and Output (UNDP Strategic Plan 2018-2021)

1. Output 1.4.1 Solutions scaled up for sustainable management of natural resources, including sustainable commodities and green and inclusive value chains
2. Output 2.4.1 Gender-responsive legal and regulatory frameworks, policies and institutions strengthened, and solutions adopted, to address conservation, sustainable use and equitable benefit sharing of natural resources, in line with international conventions and national legislation

SDG Goal

Goal 14. Conserve and sustainably use the oceans, seas and marine resources for sustainable development

SDG Target

14.2 By 2020, sustainably manage and protect marine and coastal ecosystems to avoid significant adverse impacts, including by strengthening their resilience, and take action for their restoration in order to achieve healthy and productive oceans
14.5 By 2020, conserve at least 10 per cent of coastal and marine areas, consistent with national and international law and based on the best available scientific information

Evaluation Budget(US $):

50,000

Source of Funding:
Project budget
Evaluation Expenditure(US $):

45,000

Joint Programme:
No
Joint Evaluation:

No

Evaluation Team members:

| Name | Title | Nationality |
| --- | --- | --- |
| Jose Antonio Cabo Bujan | Evaluation Specialist | |
| Roberto Arquiza | Evaluation Specialist | |

GEF Evaluation:

Yes

| | |
| --- | --- |
| GEF Project Title: | Strengthening the Conservation, Protection and Management of Key Marine Biodiversity Areas in the Philippines |
| Evaluation Type: | Terminal Evaluation |
| Focal Area: | Biodiversity |
| Project Type: | FSP |
| GEF Phase: | GEF-5 |
| GEF Project ID: | 4810 |
| PIMS Number: | 4389 |

Key Stakeholders:
Department of Environment and Natural Resources- Protected Areas and Wildlife Bureau, Dept. of Agriculture - Bureau of Fisheries, National Fisheries Research and Dev't. Institute, Haribon Foundation, Kabang Kalikasan ng Pilipinas Foundation (WWF Philippines)
Countries:

PHILIPPINES
Lessons
1.

Marine protected area networks are a flexible and effective tool that will ensure conservation benefits from MPAs. The project has proven that setting up a marine protected area is a relatively straightforward process, provided the participating LGUs have common interests in coordinating enforcement of their fishery ordinance or Integrated Management Plans. Once established, MPAN also functions as an "insurance" against political changes in a given LGU unfavorable to conservation goals.

Municipalities favor protected area networks over other area-based conservation measures and fisheries management tools. Contrary to a NIPAS protected area, LGUs do not relinquish control over their marine protected area and deal directly with issues without a cumbersome PAMB, widely seen as inefficient. They also enable efficient coordination, harmonization of ordinances, pooling of resources, and leverage to mobilize financial support and enforcement actors. Moreover, an MPAN offers the possibility of increasing marine protected areas' effect and advancing towards conservation targets without closing other sites to artisanal fisheries.

For future projects, Smart Seas Philippines' experience shows that MPANs are flexible tools that enable enhancement of the conservation outcomes of small, locally managed no-take zones. MPANs promote community and local government participation. MPANs could be applied in contexts where local government organizations have devolved powers over their coastal resources. For instance, in other Southeast Asian, e.g., Thailand, or Latin American countries, e.g., Guatemala, El Salvador.

Smart Seas' management arrangements have proven very successful, albeit not exempt from risks. Executing projects through technical organizations with experience and competence in coastal resource management facilitates efficient progress towards the project targets. The risks involved are miscoordination, the more significant, the more organizations involved, and the loss of ownership by the implementing partner. Still, the project's implementing agency correctly identified reliable partners. The management arrangements enabled an efficient project execution from inception, without the long delays typical of implementing a GEF biodiversity project due to the selected responsible partners' characteristics. Future projects should seek such features in implementing partners for future biodiversity projects in the Philippines and elsewhere:

Established organizations with robust technical and scientific standards and know-how. The project's local responsible partners also had access to global conservation networks and expertise.
Strong links to local communities, local government units, and decentralized government offices lasting over several electoral cycles (since the late 1980s in the case of the project's responsible partners)
Independent organizations without any political or ideological affiliation beyond commitment to conservation and co-management of biodiversity

Contrary to previous experiences on alternative income-generating ventures, this project has developed viable community-based business ventures (biodiversity-friendly enterprises) based on ecosystem services from MPAs that can also strengthen the financial sustainability of marine protected areas. The following necessary conditions for the success in developing viable business plans are identified:

Preparation of a robust, realistic plan including market study and financial projections, entailing the support of an accompanying organization already present on the ground, like the project's responsible partners, with links to both communities and government organizations.
A grant mechanism to catalyze the ventures' launching and sustain them through the first three years of implementation. In this case, UNDP's low-value grants have been essential to ensure the viability of the project's biodiversity-friendly enterprises



Findings
1.

Smart Seas Philippines had a robust, logical, and feasible theory of change. However, its design included contradictions between the stated goal of conserving key biodiversity areas and the project sites defined by the local responsible partners. Still, implementation of the projects by four renowned conservation NGOs and the National Fisheries Development Institute (responsible partners)was key to the project achievements: consolidating marine protected area networks, raising management effectiveness and financial sustainability of MPAs. The responsible partners achieved significant results in increasing awareness of government actors and communities, considerably increasing their capacities for MPA management causally linked with improved management effectiveness scores and ecological outcomes.

However, the management arrangements caused some degree of overlap and coordination deficits between local responsible partners and the BMB-based project management unit (PMU). The PMU's focus on issues outside the traditional roles of the DENR's central and decentralized offices caused some initial loss of ownership and coordination issues with the regional and provincial DENR offices. However, actions taken by the national project director, the PMU, and the local responsible partners, including intensified contacts and liaison with the national project direction and the DENR decentralized offices, mitigated the frictions and allowed for better integration of regional and provincial DENR officials in project activities and improving the communication of the PMU with the rest of the BMB structure.

Smart Seas Philippines has contributed to the Philippines' national development targets as expressed in the National Development Plan and the Philippine Biodiversity Strategy and Action Plan. By consolidating marine protected area networks as other effective area-based conservation measures (OECMs), the project has added 1.48 million hectares (over three times the target) of marine areas under some conservation measures in the Philippines. However, the project's achievements in terms of the actual protected area have been more limited. The project has decisively contributed to increasing the area under protection by 53,195 hectares. But this has resulted from the consolidation of existing marine protected areas in Palawan as multiple-use IUCN category V-like protected areas. Thus, the project's activities have not led to any additional no-take zone area, deemed already insufficient to ensure conservation outcomes at the project's design stage.

Moreover, the project has made minimal gains in increasing the number and area of KBAs under protection. Even if eight MKBAs, out of a commitment of 13, are now enclosed in the project's OECMs, only 10,000 hectares of one KBA (Brooke's Point) have been effectively included within a protected area. In this regard, the project's main policy result, the proposed Joint Memorandum Circular (JMC), which should facilitate and guide declaration of marine protected area networks at different locations, could be strengthened by including provisions to systematize and enclose KBAs within their geographical limits, as well as encourage the expansion of no-take zones. Expanding strict protection zones has proven challenging and not yet accepted by most local stakeholders, who consider that most areas have already reached the maximum sustainable number of "sanctuaries" (no-take zones). Extension of protection (no-take zones) and threatened species (including more KBAs) are key to coastal ecosystems' environmental sustainability in the Philippines, which are already under threat by climate change, compounded by ongoing severe anthropogenic pressure. Poor foreshore management is still a primary driver of coastal degradation. While the project has not solved foreshore management issues, the improved coordination between decentralized government offices and LGUs that MPANs may help overcome this critical threat. Provided there are significant advances on those fronts, the coral reef in the Philippines will have a chance to adapt to climate change and continue to deliver ecosystem services to coastal populations, including adaptation benefits (e.g., coastal protection).

Despite these challenges, the project's results consolidating marine protected area networks and improving management effectiveness seem to have catalyzed improvements in marine protected areas' ecological outcomes. While the project's targets seemingly committed ecological outcomes beyond the project's capabilities, including increases in fish biomass, cetacean populations' status, and pollutions levels, Smart Seas Philippines was able to report on all targets, providing essential insights. Smart Seas has supported the BMB's seascape approach to marine conservation by showing increasing threats to cetacean populations by fishing effort and shipping and the role of land-based activities in determining the amount of pollution affecting coastal ecosystems. Moreover, the project reports an increase in target fish biomass in protected areas, linked to management effectiveness. The project's monitoring activities have contributed to producing valuable knowledge products such as the connectivity study, the pollution model, the cetacean, and fish visual surveys that have supported the establishment of the MPA networks and raised awareness among local stakeholders (LGUs and POs). The knowledge generated by the project has been used to create technical guidelines issued by the BMB and has informed the proposed Join Memorandum Circular. Beyond that, Smart Seas has collected a wealth of information about 125 locally managed MPA in the Philippines, including their management effectiveness, threats, and governance, which can still be used to generate other knowledge products. They need to be appropriately packaged and made available to relevant stakeholders: LGUs, environmental civil society organizations, and fisherfolk associations, which in turn may facilitate further conservation measures as cited above.

Smart Seas Philippines has developed 25 viable business plans associated with ecosystem services of MPAs (biodiversity-friendly enterprises) that could generate a significant stream of revenues for MPAs. The project has demonstrated that the finance gap for MPAs is still substantial and that the vast majority of MPAs are still entirely dependent on LGU budget allocations. The LGUs allocation for MPAs and coastal resource management has increased over the project's implementation period, which can be partially attributed to the responsible partners' work. The UNDP and the PMU developed and implemented a small grants mechanism (low-value grants) with relevant national government agencies' participation to kickstart the biodiversity-friendly enterprises (BDFE). However, BDFE's products and services were dependent on pre-pandemic market conditions. Travel restrictions and lockdowns continue to be enforced to control the spread of COVID-19 but prevent tourist arrivals and sales of aquaculture products. Hence, the BDFEs have yet to start operating and producing any revenue stream for MPAs. The presence of the responsible partners and the UNDP's low-value grants are key for the project's biodiversity-friendly enterprises' sustainability.



Recommendations
1

The DENR-BMB should continue promoting the declaration of further MPANs. To ensure delivery of ecological outcomes, the DENR-BMB,the DENR regional and provincial offices could coordinate with the project's LRPs to encourage LGUs to expand the no-take zone area.

2

2. The DENR-BMB should strive to increase coordination among the DENR divisions, bureaus, and units to ensure foreshore management guidelines better compatible with sustainable use and conservation of coastal ecosystems.

3

3. DENR and BFAR need to harmonize BFAR's planned fishery management areas with MPAs and MPA networks and mainstream the knowledge generated by Smart Seas, particularly its ecological surveys, connectivity study, and pollution model.

4

4. DENR-BMB should increase support for the systematic monitoring of marine ecosystems by allocating funds for surveys in a coordinated and organized manner, involving the deployment of technical resources lodged at the DENR regional and provincial offices.

5

5. The PMU and responsible partners need to consolidate the project's knowledge management system by systematizing and packaging. In this way, it would enable communicating and disseminating the project results and wealth of technical information to relevant coastal actors in the Philippines and elsewhere, especially within the Sulu Sulawesi Large Marine Ecosystem and within the Coral Triangle Initiative on Coral Reefs, Fisheries, and Food Security (CTI-CFF). Moreover, the PMU needs to transfer the project's knowledge management system into the BMB's permanent structure.

6

6. DENR-BMB and UNDP need to devise a mechanism to ensure that LVG tranches can be fully released in the future, even beyond the project life, whether within the UNDP system or lodged with implementing partner DENR-BMB. Although project activities have decisively encouraged and people's organizations to participate in biodiversity-friendly business ventures, community-based actors manifest the necessity of expanding technical and financial support for at least the first three years of the venture's operations. The COVID-19 related economic slowdown and recession affecting the tourism sector makes it imperative to adjust the delivery of low-value grants to the post-pandemic economic recovery pace.