Terminal evaluation of the Scaling Up Implementation of the Sustainable Strategy for the Seas of East Asia Project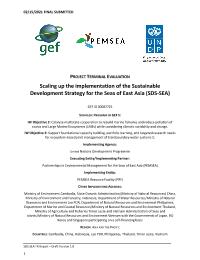 Evaluation Plan:

Evaluation Type:

Final Project

Planned End Date:

01/2021

Completion Date:

02/2021

Status:

Completed

Management Response:

No

Evaluation Budget(US $):

40,000
Title
Terminal evaluation of the Scaling Up Implementation of the Sustainable Strategy for the Seas of East Asia Project
Atlas Project Number:

00076225

Evaluation Plan:
2019-2023, Philippines
Evaluation Type:
Final Project
Status:
Completed
Completion Date:
02/2021
Planned End Date:

01/2021

Management Response:
Yes

Focus Area

:
Corporate Outcome and Output (UNDP Strategic Plan 2018-2021)

1. Output 1.4.1 Solutions scaled up for sustainable management of natural resources, including sustainable commodities and green and inclusive value chains

SDG Goal

Goal 14. Conserve and sustainably use the oceans, seas and marine resources for sustainable development

SDG Target

14.2 By 2020, sustainably manage and protect marine and coastal ecosystems to avoid significant adverse impacts, including by strengthening their resilience, and take action for their restoration in order to achieve healthy and productive oceans

Evaluation Budget(US $):

40,000

Source of Funding:
Project budget
Evaluation Expenditure(US $):

24,000

Joint Programme:
No
Joint Evaluation:

No

Evaluation Team members:

| Name | Title | Nationality |
| --- | --- | --- |
| Stephanie Hodge | Evaluation Consultant | |

GEF Evaluation:

Yes

| | |
| --- | --- |
| GEF Project Title: | EAS: Scaling up the Implementation of the Sustainable Development Strategy for the Seas of East Asia |
| Evaluation Type: | Terminal Evaluation |
| Focal Area: | International Waters |
| Project Type: | FSP |
| GEF Phase: | GEF-5 |
| GEF Project ID: | 5405 |
| PIMS Number: | 4752 |

Key Stakeholders:
Department of Environment and Natural Resources, Partnerships in Environmental Management for the Seas of East Asia
Countries:

PHILIPPINES
Lessons
1.

Complex challenges facing coastal and ocean ecosystems require a combination of science and policy, legislation, education, financing, capacity building, and partnerships to effect change.
Given limited budget and time, establish synergy and partnerships with relevant agencies and organizations with similar programs and build on the accomplishments of completed and existing programs on coastal and marine management for cost effectiveness and efficiency.
Identify national and local leaders who can serve as champions
Recognizing the contribution of partners and stakeholders encourages greater participation.
Showcasing local benefits creates better appreciation of project's impacts
Strategic adaptive management needs to be applied in cases where political and administrative conditions and changes are affecting the implementation of agreed project work plans/actions.
Project implementation is not a "one size fits all" arrangement. The process of adaptive change takes time.
People with capacity, capability and commitment to carry on required work, even after donor funding terminates contributes to sustainability.
Do not underestimate the time and resources to make meaningful progress to develop projects to attract private capital. There is a need to invest in building entrepreneurial skills and capacity within PEMSEA and local partners. Collaborating with business training enterprises could be useful.
The crisis triggered by the Covid-19 pandemic offers valuable lessons on how project implementation can still be effectively undertaken through remote and online work. It is anticipated that the pandemic will shape future planning, implementation and monitoring of projects by instituting adaptive measures that are proven to be working in the current crisis.



Findings
1.

186. Generally based on this TER, PEMSEA has performed BASED on the plan and countries are happy. However, at this juncture of UNDP/GEF support, the critical things that need addressing including sustainability and how emerging needs and priorities are being raised. Continuing to address the needs and priorities requires a reflection on governance and coordination of the regionally available evidence and with expert guidance. In terms of transformation on the institutional side, there is a room to fully embrace the blue economy in the governance plan as evidence by the SOC reports.
186. There were some issues raised during the TER evaluation about how to more concretely link the local level downstream work to upstream to policy work but, generally, countries have some form of related policies in place that are linked to the work at building capacity and expanding the ICM approach the relevant coastlines. PEMSEA's governance and management mode has always been directed at three levels: local, national and regional. The work program on the other hand has tended to be more bottom-up than top-down, with the objective of validating approaches and policy on-the-ground before advancing/proposing national and regional policy. Previous statements in this TE report indicate that all PEMSEA countries, including developed country partners, have learned from PEMSEA's approach and have incorporated the experiences and knowledge products into national ICM and/or ocean policies.
187. Furthermore, if PEMSEA wishes to differentiate itself from other regional organizations operating in the Seas of East Asia, it must continue to be provide leadership and innovation in sustainable development of coasts and oceans, and continually refresh its outlook. "Similar or at a minimum" should not be acceptable to PEMSEA… only a PEMSEA that helps countries achieve successful and replicable solutions to sustainable development and blue economy growth should be acceptable.

Outcome 1: Partnership and 'Oceans and Coasts Governance' PEMSEAs Business Model
188. Key stakeholders put forth that for regional efforts to be meaningful, the work must be complemented by actions at the national and local levels, particularly the planning and decision-making processes. At the national level, for instance key stakeholder put forth that PEMSEA countries supported by this project have set pragmatic, measurable targets that are indicative of progress for improved coastal and ocean governance, including adoption and/or upgrading of national ocean policy, national SDS-SEA/ICM implementation plans, multi-agency/multi-stakeholder institutional mechanisms, scaling-up ICM coverage of national coastlines, capacity building, ratification, and implementation of ocean-related international conventions, and monitoring, evaluation, and adjustment of progress toward national and regional policy objectives and targets (e.g., State of Ocean and Coasts). Most of these targets have been be achieved by the completion of this project. Additionally, the devolution of work authority to local levels has been viewed by stakeholders as 'progress" in ocean governance in various areas discussed.
189. Stakeholder share a consensus that solid leadership is an essential element in successful ocean governance. Leadership in the sense that it does not simply refer to rank or position, but more to actions "that demonstrate conviction and determination to bring about change, willingness to champion, effective use of available resources and networks, willingness to take risks, efficient teamwork and collaboration, innovation and creativity, effective communication and knowledge sharing, and a result- and impact-oriented focus". The role of leaders and champions say stakeholders interviewed, is critical to further coastal and ocean governance in the region. Identifying innovative measures is essential to overcome existing governance challenges, and empower persistent and committed leaders from not only government but also civil society, business, and the community as well to take positive steps that effect change and bring benefits. It is not an easy task, but stakeholders agree that PEMSEA has been able to take it on in the past and must stay committed for a successful future transformation.
190. Proposals for improving governance were put forth by key informants to consider. For example, several put forth the following: a) develop sub regional conventions or agreements between neighboring countries (e.g., Gulf of Thailand) where sociopolitical and economic conditions are similar and which could later be incorporated into a greater whole, b) merge various institutional programs on ocean management into a unitary institutional regime (e.g., ASEAN +3); or c) create business model innovations that cut across and are shared by different regional arrangements, thereby strengthening cooperation and interaction across institutions and programs. Other approaches or combinations of approaches may be considered in close collaboration with countries and regional institutions. Stakeholder say "that while it may not be possible to reach a consensus before the next Ministerial Forum, it may be possible to reach an agreement on a road map to strengthened ocean governance with acceptable signposts and a timeframe". The TER conclusion is that PEMSEA consider moving forward with an informed discussion on Governance.
Outcome 2: Substance and work program, Science-for Policy Related ICM work
191. Stakeholder share a view that PEMSEA is getting better at delivering to needs and with adaptive management, an approach learned through this project assistance. There were some issues raised during the TER evaluation about how to more concretely link the local level downstream work to upstream to policy work but, generally, countries have some form of related policies in place that are linked to the work at building capacity and expanding the ICM approach the relevant coastlines.
192. The approach has been to advocate through these active networks for national-level coordination and/or build on what exists. More might be done to network the business community and the ministers of finance into this work, especially for the blue economy-development nexus.
193. The technical meat of ICM and ICM assessment work, i.e. SOC reporting, is viewed to be central to the PEMSEA mandate and might continue with greater focus on supporting holistic data sets and GIS pictures (Evidence for Policy) and linking this to PEMSEA's 'binding ' governance potential and work planning processes. SOC is one instrument in the ICM tool box, but the entire tool box needs to be employed to achieve sustainable development. To this end, PEMSEA's work can better link to existing scientific organizations and institutions through partnerships, not to duplicate their work. Based on this evaluation, there is a need to have discussion on monitoring during the governance meetings for clarity.
194. Other cross-cutting issues such as land-use change and climate change, the nitrogen cycle, ridge to reef management, etc. ential transboundary, regional governace and management. In the past this has been achieved through advocating and being a knowledgeable ambassador with a wide range of stakeholders to mobilize (a key value-added). Being a science STEM to policy mangement lead has begun in the subregion, but more work is needed. This could be through LMEs in order to better coordinate the science. Gaps and clarity on regional ocean monitoring program are needed. Improved networking and partnership arrangement would strengthen opportunities for scientific input into PEMSEA strategies and work programs and to identify emerging concerns and prioirties for targetted research.
Outcome 3: Knowledge management and sharing
195. In terms of good practice and promoting regional cooperation, the need expressed is to continue to build the partnership model, share regional and nationally the good practices and provide the capacity building on needs on priorities expressed by the countries with our audience and scientific inputs at a minimum to remain relevant.
196. The work under component three is regarded as central to PRF and project good performance and expected results. Knowledge management approaches have been a key asset of the PRF. In this regard, PRF can continue its good practice on resourcing partnerships, knowledge management (products and services), visibility, and communication and specifically on quantifying the expected results. PEMSEA can continue supporting local and regional knowledge networks to support national implementing and downstream-upstream policy work, share the innovations and good practices regionally and nationally, and support networking and capacity building on the need for priorities expressed by the countries to remain relevant.



Recommendations
1

On institutional Sustainability. PRF to improve its capability of accessing and working within the GEF programming and portfolio and other fund sources to fulfil the needs of countries for SDS-SEA upscaling

2

Impact Study of PEMSEA Value added in local and regional Ocean governance

3

Increased monitoring and capacity for ICM science-based policy, priority setting and implementation of SAP through increased partnerships and expansion.

4

Knowledge management and building capacity for policy and SAP implementation