Independent Country Programme Evaluation: Bangladesh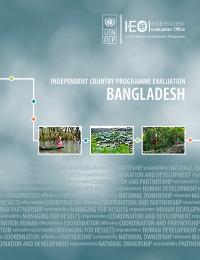 Evaluation Plan:

Evaluation Type:

ICPE/ADR

Planned End Date:

12/2019

Completion Date:

12/2019

Status:

Completed

Management Response:

Yes

Evaluation Budget(US $):

54,000
Title
Independent Country Programme Evaluation: Bangladesh
Atlas Project Number:
Evaluation Plan:
2018-2021, Independent Evaluation Office
Evaluation Type:
ICPE/ADR
Status:
Completed
Completion Date:
12/2019
Planned End Date:

12/2019

Management Response:
Yes

Focus Area

:

1. Poverty
2. Governance
3. Sustainable
4. Others

Corporate Outcome and Output (UNDP Strategic Plan 2018-2021)

1. Output 1.1.2 Marginalised groups, particularly the poor, women, people with disabilities and displaced are empowered to gain universal access to basic services and financial and non-financial assets to build productive capacities and benefit from sustainable livelihoods and jobs
2. Output 1.2.1 Capacities at national and sub-national levels strengthened to promote inclusive local economic development and deliver basic services including HIV and related services
3. Output 1.4.1 Solutions scaled up for sustainable management of natural resources, including sustainable commodities and green and inclusive value chains
4. Output 2.1.1 Low emission and climate resilient objectives addressed in national, sub-national and sectoral development plans and policies to promote economic diversification and green growth
5. Output 2.1.2 Capacities developed for progressive expansion of inclusive social protection systems
6. Output 2.2.3 Capacities, functions and financing of rule of law and national human rights institutions and systems strengthened to expand access to justice and combat discrimination, with a focus on women and other marginalised groups
7. Output 3.1.1 Core government functions and inclusive basic services4 restored post-crisis for stabilisation, durable solutions to displacement and return to sustainable development pathways within the framework of national policies and priorities
8. Output 3.2.1 National capacities strengthened for reintegration, reconciliation, peaceful management of conflict and prevention of violent extremism in response to national policies and priorities

Evaluation Budget(US $):

54,000

Source of Funding:
Evaluation Expenditure(US $):

44,000

Joint Programme:
No
Joint Evaluation:

No

Evaluation Team members:

| Name | Title | Nationality |
| --- | --- | --- |
| David Slattery | Lead Evaluator | |
| Edris Alam | Consultant | |

GEF Evaluation:

No

Key Stakeholders:
Countries:

BANGLADESH
Lessons
Findings
1.

Finding 1. UNDP has made important contributions to urban poverty reduction, but progress has been stymied by prolonged delay in getting approval for the current phase of work.




Tag: Poverty Reduction Operational Efficiency Effectiveness Technical Support

2.

Finding 2. In concert with other donors, UNDP has played a useful niche role in strengthening Bangladesh's social protection systems.




Tag: Social Protection Partnership Effectiveness Efficiency Donor Coordination

3.

Finding 3. UNDP has developed an effective approach for addressing the needs of impoverished and disadvantaged rural women. This model has attracted a high level of support from the Bangladesh Government. However, there is currently no plausible strategy for taking the pilot to scale.




Tag: Poverty Reduction Gender Mainstreaming Women's Empowerment Operational Efficiency Effectiveness Technical Support

4.

Finding 4. UNDP has provided significant leverage to the Bangladesh Government's efforts to improve service delivery using e-governance. However, there is significant room for improvement in the clarity and transparency of reporting about UNDP's contribution to progress, challenges, and priorities.




Tag: e-Governance Public administration reform Operational Efficiency Effectiveness Technical Support

5.

Finding 5. UNDP has had very little influence on the operation of the key formal justice sector institutions, and through them, access to justice and human rights for Bangladeshi people. UNDP has been unsuccessful in mobilizing funding for a continuation of past work in this area, despite having invested significant core resources towards that end. The exception to this is a programme of work with the Bangladesh National Human Rights Commission, which UNDP has supported since it was established in 2010. The poor quality of documentation available about this project makes it difficult to assess the quality or impact of the work undertaken.




Tag: Human rights Justice system Operational Efficiency Effectiveness Technical Support

6.

Finding 6. UNDP has made a major contribution to the development of the Bangladesh Government's system for resolution of disputes, which is providing an increasingly useful alternative to the formal justice system for addressing minor criminal and civil disputes.




Tag: Human rights Justice system Conflict resolution Crisis prevention Promotion of dialogue Effectiveness Technical Support

7.

Finding 7. Baseline surveys suggest the village courts project may be having limited impact on gender equality despite performance claims to the contrary. Substantive analysis of the gender dimensions of this work is largely absent from project documentation. Overall, the evidence base about the impacts of the village courts project on gender equality needs to be improved.




Tag: Gender Equality Gender Mainstreaming Women's Empowerment Coherence Relevance Technical Support

8.

Finding 8. UNDP has contributed to improvements in the effectiveness of the local government bodies it has supported. This has included improvements in civic engagement, completion of annual plans and budgets, revenue collection and budget execution and allocation of resources to advance gender equality.




Tag: Local Governance Operational Efficiency Effectiveness Technical Support

9.

Finding 9. The incremental improvements UNDP has supported to local governance, and impact of the support on poverty in Bangladesh is bound by the limited progress the country has made in delegating additional resources and autonomy to local government institutions. This situation is unlikely to change in the foreseeable future.




Tag: Poverty Reduction Local Governance Operational Efficiency Effectiveness Technical Support

10.

Finding 10. Over the last four years, UNDP has maintained a substantive focus in three areas: village courts, support for the Human Rights Office, and supporting local governance, including in the Chittagong Hill Tracts. Other democratic governance support has been fragmented. There have been seven initiation plans in this period funded through Bangladesh's declining core resource allocation. A further three short-term projects have been established that rely heavily on core funding. Overall, UNDP's governance programme looks to be driven by a mixture of donor priorities, and desire to maintain relationships with key stakeholders in the Bangladesh Government, rather than an analysis of opportunities and constraints on development, and UNDP's comparative advantages.




Tag: Human rights Local Governance Strategic Positioning Effectiveness Technical Support

11.

Finding 11. UNDP has made a significant contribution to Bangladesh's shift from relief and response to risk reduction over the last 15 years. UNDP played a major role in the establishment of the Ministry of Disaster Management and Relief (MoDMR) and over 15 years has supported it to develop and update legislation, rules, policies and actions plans. Contributions extended to the capacity development of the MoDMR staff and enhancing volunteerism among communities. There is further scope for improvement in M&E, and documentation of major DRR projects in Bangladesh.




Tag: Disaster Recovery Disaster Risk Reduction Resilience building Operational Efficiency Effectiveness Technical Support

12.

Finding 12. UNDP has been playing a proactive role in earthquake risk reduction, including establishing community-based disaster management and voluntary networks for immediate search and rescue operations in the wake of disasters. It has developed a novel approach for assessing seismic exposure of buildings and socio-economic exposure assessment and supported contingency planning in Mymensingh Municipality.




Tag: Disaster risk management Disaster Risk Reduction Natural Disaster Strategic Positioning Efficiency Technical Support

13.

Finding 13. The ERF and DRRF have funded a variety of early recovery activities benefiting victims of natural disasters, responding to the Bangladesh Government appeal to extend support during the north-western flood, landslides in CHT and south-eastern tropical cyclone Mora emergencies in 2017. Although the ERF was able to target assistance to the most affected victims of flood disasters, some aspects of local-level relief interventions were poorly designed, which suggests UNDP needs to pay more attention to monitoring its field-level interventions.




Tag: Disaster risk management Disaster Risk Reduction Natural Disaster Resilience building Efficiency Technical Support

14.

Finding 14. UNDP initially found it difficult to establish a clear role in the international response to the Rohingya crisis, and was criticized as being slow, and individualistic in the first phase of its response. In the form of a well-staffed sub-office headed by a long-term officer in Cox's Bazaar, UNDP has established the foundations for future work.




Tag: Displaced People Refugees Efficiency Technical Support

15.

Finding 15. UNDP has helped the Bangladesh Government develop a budgeting and accountability framework for climate finance, encouraging a shift in Bangladesh from climate change being an environmental agenda to it being a core development issue. However, it is not clear how or to what extent these fiscal frameworks and budgetary protocols will contribute to adaptation on the ground, and weaknesses in monitoring and evaluation make it difficult if not impossible to assess the significance of major results, including the extent to which they can be attributed to support provided by UNDP.




Tag: Climate Change Adaptation Climate finance Effectiveness Efficiency Technical Support

16.

Finding 16. Through the IBFCR project, UNDP piloted a planning and budgeting methodology to address climate risk at the local level and financed some micro-scale adaptation initiatives. This approach is currently only happening at a very small scale, focused on just two of Bangladesh's 4,500+ unions, the lowest tier of the local government system, and generating livelihoods activities that provide a short-term benefit to a very small number of people. There is no credible strategy in place evaluating the value for money of, or potential for scaling up of any aspect of this pilot. In the absence of credible information, it is impossible to verify claims that knowledge and information generated from pilots have been integrated into other interventions in UNDP's climate change adaptation portfolio.




Tag: Climate finance Climate change governance Effectiveness Efficiency Technical Support

17.

Finding 17. UNDP Bangladesh is implementing separate projects and clusters on climate change adaptation and disaster resilience with substantial overlaps between the areas of work of different projects. There is little evidence of intersectoral coordination or attempts to exploit synergies between the different areas of work. Rather, individual activities have been designed and implemented in isolation by the same national stakeholders and managed by separate teams within projects and the UNDP country office. This is contrary to the aspirations of the CPD 2017-2020, which emphasized the importance of institutionalizing a whole-of-government and broader society approach to risk management.




Tag: Climate Change Adaptation Disaster Risk Reduction Resilience building Effectiveness Efficiency Technical Support

18.

Finding 18. UNDP has a longstanding and well-regarded role in supporting peace and development in the Chittagong Hill Tracts, one of the most impoverished and disadvantaged regions in the country. Despite designing a comprehensive programme of assistance, including areas such as access to justice, youth and volunteer engagement, and gender-based violence, the scope of UNDP activities is narrow, focused on watershed management and food security. These activities are valued by donor partners and the Government and are performing well.




Tag: Natural Resouce management Effectiveness Efficiency Technical Support

19.

Finding 19. Interventions in coastal afforestation and reforestation, aquatic biodiversity conservation, and community-based forest management in the CHT are well-designed but complex. Unfortunately, weaknesses in the benefit-sharing regimes and integration of alternative livelihood interventions, combined with weak monitoring and evaluation undermine the learning potential from these activities, and prospects for taking them to scale.




Tag: Biodiversity Environment Policy Effectiveness Efficiency Fishery Forestry Technical Support

20.

Finding 20. UNDP has made a few positive contributions to improving the capacity of policy and institutional stakeholders to implement Rio convention commitments.




Tag: Biodiversity Environment Policy Site Conservation / Preservation Effectiveness Technical Support

21.

Finding 21. Climate change mitigation interventions were successful in delivering outputs, laying the foundations for future carbon emission reduction. It is not possible to assess from the available evidence whether or how these interventions will be leveraged to secure Government buy-in for scaling-up carbon emissions reduction.




Tag: Climate Change Adaptation Emission Reduction Effectiveness Technical Support

22.

Finding 22. Use of the gender marker exaggerates the focus of the programme on gender equality. There is significant room for improvement in the gender balance of staffing in the country office and project offices, and in the conditions that will make UNDP an attractive place to work for women.




Tag: Gender Equality Gender Mainstreaming UNDP management Efficiency Operational Services

23.

Finding 23. Programme development has been hugely affected by prolonged delays in the approval of major donor-funded interventions by the Bangladesh Government, the number and length of which call into question the strength of UNDP's dialogue and communication with the Government. Communication with partners about these delays has been lacking, and UNDP has failed to involve donors in the resolution of the delays. Partners also noted a reluctance by UNDP to connect and collaborate with major partners working in areas related to its work.




Tag: Partnership Strategic Positioning Efficiency Donor Coordination

24.

Finding 24. Reporting frameworks are poorly designed and fail to promote either learning or accountability. There is insufficient focus on programme quality, and a tendency to equate quality with delivery.




Tag: Quality Assurance Results-Based Management Efficiency Operational Services

25.

Finding 25. The UNDP programme has become progressively more fragmented, creating a major burden on staff over a time when staff capacity has decreased. There is an urgent need for the programme to reduce the number of small projects under management and develop broader issue-based programmes.




Tag: Programme Synergy UNDP management Coherence Efficiency Relevance Operational Services
Recommendations
1

The country office should address fragmentation in its portfolio by:

• Minimizing the number of small projects that rely mostly or exclusively on core funding;

• Reducing the number of projects it manages;

• Developing larger, more integrated and more flexible programmes.

In developing its next country programme document, UNDP will need to consider how many different agendas it can effectively pursue with the resources it has to work with, and be more disciplined in its choice of objectives to pursue, and partners to work with. Fragmentation of the programme is affecting the quality of delivery and partnerships, factors that will reduce the attractiveness of UNDP as a development partner over the long term.

UNDP should use its SDG platform as a basis for the consolidation of its governance support within a single governance project. The design for this work should be flexible but underpinned by an analysis of what UNDP considers to be the highest priority areas for investment, given the prevailing political economy and constraints of Bangladesh, and the role that UNDP can realistically play given available resources.

In the expansion of its work on the Rohingya crisis, UNDP should be mindful of the need to work within the scope of the expertise and capability it has built within its existing programme, rather than risk over-extending itself into too many new or different areas. UNDP should seek to integrate the focus on the development needs of host communities within its major development programmes and look for opportunities to complement and enhance the work being undertaken by other donors, rather than focusing too heavily on resource mobilization and delivery.

Consolidating the portfolio will require working with the Government of Bangladesh and donors to buy into larger, more flexible integrated programmes.

2

The country office should improve the quality of project monitoring and evaluation by:

• Increasing investment in ensuring high-quality monitoring and evaluation expertise is available for supporting implementation across the programme;

• Ensuring all projects have results frameworks that reflect approved funding allocations, to provide a basis for monitoring and accounting for results;

• Establishing a standard format for performance reporting that clearly distinguishes between inputs and activities, and the outputs, outcomes and impacts they underpin, and only includes results that can be reasonably attributed to UNDP's contributions;

• Ensuring appropriate attention is paid to the quality of outcomes achieved, rather than simply numbers of results achieved (i.e. people trained), and to challenges.

Currently, accountability at the project and programme level is being undermined by weak results frameworks and poor quality of reporting. Reporting exhibits an excessive preoccupation with numbers, at the expense of a focus on the quality and relevance of the results achieved against objectives.

3

To maximize the potential impacts of programme interventions, especially, but not exclusively in the case of pilots or geographically delimited interventions, UNDP should:

• Avoid engaging in small pilots of untested interventions that have limited prospects of influencing Bangladesh Government policies or programmes;

• Increase attention to the feasibility of increasing the scale of proven interventions, reflecting on the institutional capacity to replicate them at a larger scale.

In the case of the village courts and SWAPNO programmes, UNDP has developed effective models that have relevance to, and could potentially provide a basis for system-wide impacts. To maximize the potential system-wide benefits of its work, UNDP needs to move beyond simply testing the effectiveness of its interventions, to focus on the feasibility of adopting proven interventions at a larger scale. Currently, there is too much focus on implementing small-scale pilots of unproven interventions that are not accompanied by a sufficient focus on learning, thus limiting prospects for achieving a wider impact. Looking forward, UNDP should only get involved in service delivery projects if there is a strong learning dimension to them, and prospect to use this as a way to influence delivery at scale.

4

The country office should increase its focus on promoting gender equality in its programmes, and in its business environment. To ensure it has a foundation for doing so, the country office should:

• Increase the resources it commits to ensuring appropriate attention to gender equality in programme design and delivery and in its business environment;

• Ensure active measures are taken to address the imbalance in staffing, and marked differences in the satisfaction of male and female staff evident in staff survey results;

• Annually review and update gender marker coding so that the data provides an accurate picture of the level of focus on gender equality of the country programme.

There is strong evidence that the country office needs to make a more concerted effort than it is currently making, to address gender imbalances in staffing, and workplace satisfaction.