Independent Country Programme Evaluation: El Salvador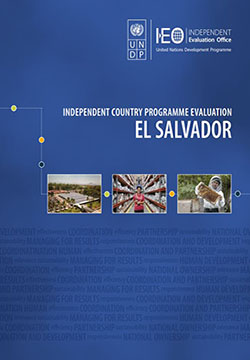 Evaluation Plan:

Evaluation Type:

ICPE/ADR

Planned End Date:

12/2019

Status:

Overdue

Management Response:

No

Evaluation Budget(US $):

50,000
Title
Independent Country Programme Evaluation: El Salvador
Atlas Project Number:
Evaluation Plan:
2018-2021, Independent Evaluation Office
Evaluation Type:
ICPE/ADR
Status:
Overdue
Planned End Date:

12/2019

Management Response:
No
Corporate Outcome and Output (UNDP Strategic Plan 2018-2021)

1. Output 1.1.1 Capacities developed across the whole of government to integrate the 2030 Agenda, the Paris Agreement and other international agreements in development plans and budgets, and to analyse progress towards the SDGs, using innovative and data-driven solutions
2. Output 1.1.2 Marginalised groups, particularly the poor, women, people with disabilities and displaced are empowered to gain universal access to basic services and financial and non-financial assets to build productive capacities and benefit from sustainable livelihoods and jobs
3. Output 2.1.1 Low emission and climate resilient objectives addressed in national, sub-national and sectoral development plans and policies to promote economic diversification and green growth
4. Output 3.1.1 Core government functions and inclusive basic services4 restored post-crisis for stabilisation, durable solutions to displacement and return to sustainable development pathways within the framework of national policies and priorities

Evaluation Budget(US $):

50,000

Source of Funding:
Joint Programme:
No
Joint Evaluation:

No

GEF Evaluation:

No

Key Stakeholders:
Countries:

EL SALVADOR
Lessons
Findings
1.

2.1.Overall Programme Implementation

Finding 1. Strategic positioning – UNDP has positioned itself as a reliable partner for administrative support services to the government and other UN agencies, and as a credible and trusted actor to convene dialogue between the government, the private sector and civil society. Its policy and technical advice skills have been supported by a strong capacity to generate knowledge and data.




Tag: Relevance Sustainability Procurement Strategic Positioning Civil Societies and NGOs Country Government Private Sector Operational Services Policy Advisory Technical Support Data and Statistics

2.

Finding 2. Partnerships – UNDP's positioning in the country has not been coupled with the development of strategic partnerships with civil society and the private sector; this has affected its capacity to leverage synergies. A greater emphasis on south-south and triangular cooperation, tapping into UNDP's global network, has also been missing to better adapt and position UNDP to respond to government needs with more state-of-the-art innovative solutions, particularly with the change in government.




Tag: Impact Relevance Gender Equality Gender Mainstreaming Women's Empowerment Local Governance Joint UN Programme Partnership Programme Synergy Theory of Change Civil Societies and NGOs Country Government Private Sector UN Country Team South-South Cooperation

3.

Finding 3. Financial resources and pipeline development – UNDP El Salvador uses a business model common to the operational environment of Middle Income Countries (MIC), but it did not position itself strategically with some key donors during the programme period. The programme portfolio has declined over the years and the CO remained dependent on the provision of administrative support services to government for procurement of health products (and infrastructure until 2016) and implementation of grants and procurement processes for IFAD. This dependency of government funding may have presented reputational risks.




Tag: Efficiency Sustainability Government Cost-sharing Business Model Donor relations Human and Financial resources Operational Efficiency Procurement Operational Services

4.

Finding 4. Office structure – The decreasing level of resources led to a realignment of the office structure in 2016 to ensure financial sustainability for a medium size office. This process did not yet significantly impact UNDP's strategic positioning, but the office has found difficult to deliver substantive programmatic results and develop a programmatic pipeline in areas where UNDP has comparative advantages (see findings 1, 2 and 3).




Tag: Effectiveness Efficiency Business Model Country Support Platform Delinking - RR/RC Human and Financial resources Monitoring and Evaluation Operational Efficiency Procurement Strategic Positioning

5.

2.2.Coverage and universal and equitable access to goods and basic services of quality

The government prioritized safety and productive development as key pillars of the National Development Plan. Aligned to these national priorities, the UNDAF focused on strengthening access to basic goods and services (UNDAF outcome 1) as well as safe environments and social cohesion (UNDAF outcome 5). Within this area, UNDP's programme strategy focused on: i. improving public investment planning and implementation capacities and management tools (outputs 1 and 2), including a) improving access to health care; b) bringing basic services closer to the population; c) capacity development of government institutions; and d) improving the policy framework; ii. strengthening effective evidence-based response to violence from institutions of security and criminal justice sector (output 3) including strengthening violence prevention mechanisms and systems to protect victims and to secure access to justice at national and local levels (outputs 4 and 5).

The outcome on universal and equitable access to goods and basic services envisaged $188,7 million resources from government, the PBF, USAID, Luxembourg, Netherlands and UNDP core funds. Between 2016 and July 2019, 24 projects were implemented with $46.5 million in terms of expenditures, reaching a 55 percent financial execution rate. This represented 71 percent of the total CO expenditure for the period.

Interventions targeted mostly government institutions: Ministry of Justice and Public Security; National Police; Technical and Planning Secretariat of the Presidency; Secretariat of Governance; Ministry of Governance; Ministry of Health; Salvadoran Institute of Welfare; Salvadoran Institute of Social Security; Directorate of Migration and Foreign Affairs; Ministry of Public Works, Transport, Housing and Urban Development; Autonomous Executive Port Commission. Several other UN entities were also expected to contribute to this outcome, including UNOPS, UNICEF, UNFPA, UN WOMAN, WHO, FAO and UNODC.

Finding 5. Public and social investments – Despite the reduction in operational capacity, UNDP has ensured transparency and efficiency in the management of government funds for public investment in strategic assets (infrastructure and passport procurement). However, there is no evidence of progress towards the implementation of an exit strategy through institutional capacity development for the planning and execution of public investments




Tag: Efficiency Sustainability Government Cost-sharing Gender Equality Women's Empowerment Monitoring and Evaluation Operational Efficiency Partnership Procurement Programme Synergy Country Government Donor UN Agencies Migration Capacity Building Inclusive economic growth Social Protection Youth Operational Services

6.

Finding 6. Health - UNDP has facilitated access to international markets for MINSAL, ISSS and ISBM for the acquisition of medicines, medical supplies and technological equipment efficiently and effectively, allowing for economies of scale, the acquisition of good quality products and the diversification of suppliers. However, capacity development support has been very limited.




Tag: Effectiveness Efficiency Global Fund Local Governance Access to Medicines Health Sector HIV / AIDS Pandemic Partnership Procurement Service delivery Country Government Capacity Building Technology Trade and Development

7.

Finding 7. Citizen security – UNDP contributed significantly to position a comprehensive security approach based on human security in the national agenda, providing technical assistance to the development of the El Salvador Security Plan, strengthening integrated approaches on violence prevention and access to insecurity information and data. However, the limited work at local level and with justice institutions has constrained a greater contribution to increased citizens' access to security and justice services through a rule of law approach.




Tag: Effectiveness Sustainability Gender Equality Women's Empowerment Civic Engagement Human rights Justice system Local Governance Rule of law Communication Knowledge management Monitoring and Evaluation Security Technical Support Data and Statistics

8.

Finding 8. Human rights – Although UNDP developed specific interventions to respond to human rights abuses and violations in the country and participated in a UNCT consultative process to review the applicability of the Policy on Due Diligence on Human Rights, its continued support to the National Security Plan and Council represented a reputational risk which could impact on its credibility. Actions taken were not timely conducted and did not fully address the risk of providing this continued support based on the political and operational context in which it was delivered, concluding that the ongoing cooperation was "non-support" in a strict sense of the word.




Tag: Effectiveness e-Governance Human rights Justice system Rule of law Integration UN Country Team Security Capacity Building Technology

9.

2.3.Governance

El Salvador is characterized by high levels of political polarization which impact progress on public policies and governance. To respond to it, the UNDAF focused on creating national agreements to enable the population to fully exercise its rights (UNDAF outcome 3). Within this area, UNDP's programme strategy focused on (i) enhancing dialogue mechanisms and processes; (ii) improving electoral management capacities; (iii) increased women political and social participation; and (iv) social auditing.

The outcome on democratic governance and dialogue envisaged $10,3 million resources from government, USAID, the PBF, Germany and UNDP core resources. Between 2016 and July 2019, eleven projects were implemented with $4.2 million in terms of expenditures, reaching a 71 percent financial execution rate. This represented 6.4 percent of the total CO expenditure for the period.

Interventions targeted mostly government institutions: Ministry of Foreign Affairs, Secretariat of Governance; Technical and Planning Secretariat of the Presidency, Supreme Electoral Court; and Parliamentary Women's Group within the Legislative Assembly. UNDP did not plan to target civil society institutions as a main contributor to this outcome. Several other UN entities were also expected to contribute to this outcome, including UNICEF, UNFPA, WHO and FAO.

Finding 9. Promotion of dialogue – UNDP's historical credibility and neutrality allowed it to significantly contribute to the promotion of dialogue on national priorities and sensitive issues, leading to consensus on public policy agreements among different actors. Although it was out of UNDP sphere of control, results were limited as the approved public policies were partially implemented and the dialogue processes were not institutionalized to ensure sustainability.




Tag: Effectiveness Sustainability Gender Equality Women's Empowerment Civic Engagement Civil Societies and NGOs Country Government Private Sector Promotion of dialogue Security Education Youth Coordination Technical Support

10.

Finding 10. Promotion of citizen engagement – UNDP invested significant efforts to create spaces for dialogue, generate data and information, and provided targeted support to the 2018 and 2019 electoral processes, which contributed to increase credibility and confidence in the elections by the public and international community. However, efforts to promote citizen participation were limited and did not enabled to comprehensively implement a rights-based approach, with an adequate balance between right-holders and duty-bearers.




Tag: Effectiveness Sustainability Gender Equality Gender Mainstreaming Gender-Based Violence Women's Empowerment Anti-corruption Civic Engagement Election Human rights Justice system Ownership Promotion of dialogue Security Capacity Building Technology Data and Statistics

11.

Finding 11. SDGs – The support provided by UNDP to the national implementation of the SDGs has been diminishing during the period under evaluation and has been limited to the ad hoc financial support of some activities. Despite being identified by the UN as the agency expected to strategically engage on economic development, UNDP has not yet developed interventions as a result of the Mainstreaming, Acceleration and Policy Support (MAPS) process of identifying priority areas for action at national level.




Tag: Local Governance Strategic Positioning Capacity Building Inclusive economic growth Operational Services Agenda 2030 Mainstreaming, Acceleration and Policy Support (MAPS) SDG Integration SDG monitoring and reporting Voluntary National Review

12.

2.4 Decent work, sustainable livelihoods and resilience

Aligned to the national priorities, the UNDAF focused on decent work and inclusive livelihoods (UNDAF outcome 2) and resilience (UNDAF outcome 4). Within these outcomes, UNDP's programmatic areas of work were interlinked, with some projects contributing to both outcomes through capacity development and evidence-based discussions. The main strategies focused on i) creating economic development opportunities for vulnerable and excluded populations; ii) promoting productive value chains; iii) prioritizing the conservation and management of natural resources, biodiversity and ecosystem goods and services; and iv) providing policy advice and promote dialogue for the achievement of national agreements on strategies that lead to decent employment and sustainable livelihoods.

The outcome on decent employment and sustainable livelihoods envisaged $50,96 million resources from GEF, government, the Montreal Protocol, Luxembourg and UNDP core resources for projects on the promotion of value chains, conservation and management of natural resources, biodiversity and ecosystem goods and services. Between 2016 and July 2019, eleven projects were implemented with $12.7 million in terms of expenditures, reaching a 71 percent financial execution rate. This represented 19 percent of the total CO expenditure for the period.

The outcome on resilience envisaged $10,3 million resources from GEF, government, UNOCHA, the European Union, Germany and UNDP core resources for projects on promoting sustainable urban development models, ensuring disaster risk reduction, climate change governance and post-disaster recovery. Between 2016 and July 2019, six projects were implemented with $2.4 million in terms of expenditures, reaching a 75 percent financial execution rate. This represented 3.7 percent of the total CO expenditure for the period.

Interventions targeted government institutions (Ministry of Environment and Natural Resources, National Energy Council, Secretariat for Vulnerability Issues, Ministry of Agriculture and Livestock, Ministry of Economy, Ministry of Labour and Social Welfare), local governments, rural population, and the private sector. Several other UN entities were also expected to contribute to these outcomes, including WFP, FAO, UNICEF, WHO, ONUDI and ILO.

Finding 12. Poverty Reduction – Despite being UNDP's core mandate, UNDP programmes in El Salvador did not directly tackle the issues of poverty, inequality and exclusion through a coherent sustainable development strategy. UNDP institutional support to the area of poverty reduction was discontinued during the period under evaluation and its local level project support was limited to the administration of funds.




Tag: Rural development Vulnerable Impact Relevance Global Environment Facility fund Gender Equality Women's Empowerment Local Governance Monitoring and Evaluation Results-Based Management Country Government UN Agencies Capacity Building Jobs and Livelihoods Poverty Reduction Operational Services Technical Support Data and Statistics Mainstreaming, Acceleration and Policy Support (MAPS) SDG Integration

13.

Finding 13. Rural development and decent employment – UNDP's economic development initiatives were not adequately geared towards decent employment creation. UNDP's contributions to rural development were limited to a fiduciary role for IFAD projects and, in the area of women economic empowerment, efforts are at initial stage.




Tag: Rural development Effectiveness Relevance Gender Equality Gender Mainstreaming Women's Empowerment Operational Efficiency UN Agencies Migration Inclusive economic growth Indigenous people Jobs and Livelihoods Operational Services

14.

Finding 14. Biodiversity and Environmental Sustainability – UNDP's efforts increased attention to environmental sustainability at national level, through the creation of a multi-partner space for dialogue and policy discussions. At local level, UNDP has contributed to the expansion of protected wetlands through the establishment of institutional frameworks for biodiversity and environmental protection, but its sustainability and effectiveness is challenged by a limited focus to develop alternative sustainable livelihoods through an integrated sustainable development approach.




Tag: Biodiversity Protected Areas Effectiveness Sustainability Partnership Promotion of dialogue Policy Advisory

15.

Finding 15. Knowledge management on climate change – UNDP's support to knowledge management on climate change issues has been crucial for El Salvador to comply with its international reporting requirements on climate change and develop a better understanding of its vulnerabilities. The development of technical studies has led to the adoption of relevant policies, but it was not accompanied by a strengthening of national capacities for handover and there has been insufficient dissemination/use of the studies produced. These efforts were not enough linked with more integrated responses to development issues.




Tag: Climate Change Adaptation Climate change governance Impact Sustainability Government Cost-sharing Local Governance Communication Integration Knowledge management Monitoring and Evaluation Programme Synergy Strategic Positioning Country Government Capacity Building Policy Advisory Technical Support

16.

Finding 16. Access to climate change financing – UNDP's support helped El Salvador to effectively access international climate funds. Nevertheless, UNDP was not able to further leverage direct access to funds or partnerships and become an implementer of GCF financing.




Tag: Climate Change Adaptation Climate change governance Effectiveness Efficiency Global Climate Fund Resource mobilization Knowledge management Operational Efficiency Partnership Programme Synergy Programme/Project Design Bilateral partners UN Agencies Policy Advisory Technical Support

17.

Finding 17. Disaster risk reduction – UNDP's initiatives on disaster risk reduction (DRR) were fragmented and limited with no evidence of results achieved to ensure sustainable development and resilience at national level, despite the strategic relevance of this area considering the vulnerability of the country.




Tag: Rural development Disaster Risk Reduction Natural Disaster Vulnerable Impact Relevance Gender Equality Women's Empowerment e-Governance Local Governance Partnership Programme Synergy Programme/Project Design Project and Programme management Capacity Building Inclusive economic growth Indigenous people Technology

18.

2.5 Cross-cutting issues

Finding 18. Youth and gender – The CO received a Silver Gender Seal which recognized the efforts made to establish internal mechanisms to improve attention to GEWE and design targeted programmes for women. However, opportunities were not used to respond to their specific needs and interests and further mainstream gender and youth beyond their participation in projects and data collection of disaggregated indicators. The programme is not sufficiently oriented to the particular challenges of a very young population.




Tag: Disaster Risk Reduction Vulnerable Effectiveness Relevance Sustainability Global Environment Facility fund Gender Equality Gender Mainstreaming Gender-Based Violence Women's Empowerment Civic Engagement Election Parliament Ownership Programme/Project Design Private Sector UN Agencies Promotion of dialogue Resilience Capacity Building Inclusive economic growth Jobs and Livelihoods Youth Data and Statistics

19.

Finding 19. Result-Based Management and Knowledge Management –The programme's Theory of Change lacked sufficient clarity of assumptions and causal pathways for integrated results. UNDP RBM efforts were mostly oriented towards reporting and compliance but did not managed to use evaluations, risk assessments and information generation as sources of learning and knowledge management to improve programming, partnerships and informing public policies.




Tag: Protected Areas Sustainability Global Climate Fund Global Environment Facility fund Communication Knowledge management Monitoring and Evaluation Partnership Programme/Project Design Results-Based Management Theory of Change Civil Societies and NGOs Promotion of dialogue Security Capacity Building Data and Statistics
Recommendations
1

Recommendation 1. UNDP El Salvador should review the office operational and programmatic structure to ensure it can effectively address the country's priorities in line with UNDP's mandate and adapt its way of working to proactively position itself strategically with the new government, promoting more innovation and south-south cooperation.

In light of the UNDP-Resident Coordinator Office delinking, the arrival of a new government and a new Resident Representative, it is important for the CO to seek a more coherent and efficient division of labor within the office, reassessing and adjusting the human capacities it has in place at all levels, in alignment with the 2019 audit recommendations. This should enable the CO to deliver on the strategic, thematic and operational fronts with more efficiency, effectiveness and state-of-the-art innovative solutions to development.

It would also require ensuring an improved balance between a substantive programmatic pipeline of work, to secure its positioning as a key technical and policy advisory partner at country level, and the provision of administrative services for the government, with the adequate oversight and exit strategies to limit operational and reputational risks and ensure capacity development. At the time of the evaluation, UNDP was, while engaging in discussions, mostly waiting to have clearly defined government strategies and had not positioned itself as a clear partner of choice. The CO should build upon its south-south and triangular cooperation capacities to respond to the emerging needs of the government and should leverage staff ideas and pilots showing approaches which can be upscaled. UNDP should also urgently prioritize the development and implementation of a resource mobilization strategy to diversify its sources of funding and support the delivery of a coordinated programme.

2

Recommendation 2. UNDP El Salvador should review the underlining strategies and theories of change of its programme for enhanced effectiveness of the human-rights based approach, institutional capacity development strategies and knowledge management.

To improve the relevance, coherence and sustainability of its interventions, the CO should promote adequate attention to: i. Pathways of change focused on right-holders and duty-bearers, strengthening citizenship participation and engagement in development processes; ii. Clear exit strategies for its work with the government embedded within capacity-building activities, particularly regarding the generation of information and data, compliance with international standards, and procurement of goods and assets; iii. Strategic partnerships to influence the design, implementation and M&E of public policies, ensuring transparency and social auditing through the dissemination and use of the information generated, expanding its collaboration with the civil society and academia.

3

Recommendation 3. UNDP should reposition itself as a lead agency on inclusive economic development and, through joint initiatives at local level, develop integrated inclusive sustainable development initiatives to further promote resilience and sustainable livelihoods which address the most pressing needs of women and youth in terms of inequality and poverty reduction.

Given UNDP's core mandate and considering it was identified as the agency to work on economic development accelerators by the MAPS, UNDP should strengthen its engagement on inclusive sustainable development through joint and cross-sectoral thematic initiatives positioning itself as the lead UN agency with the new government. This would require facilitating an area-based development approach in selected locations with other agencies which would help to respond to the local drivers of migration and displacement. It would be key for UNDP to frame its environment sustainability, natural resource management, climate change and disaster risk reduction objectives and initiatives, within a broader resilience strategy to address vulnerabilities and promote resilient livelihoods. The CO should also tackle the barriers for youth and women employment building on local economic development objectives. The CO support to improved social public investments should focus on strategically targeting it to the most vulnerable places.

4

Recommendation 4. UNDP should expand its institutional strengthening support to justice entities with a comprehensive rule of law approach as an enabler of good governance.

To improve citizen security and social cohesion results, the CO should provide significant capacity-development to the justice system for a more coherent response to the country's violence and insecurity challenges through a rule of law approach. This would also require continuing to pilot models for scale up at the local level, such as the Pionero initiative or restorative justice models, with cross-sectional thematic objectives such as social reintegration and inclusive economic development. It would be important that the CO maintains its support to internal controls and expand it to external controls to reduce impunity in cases of possible violations of human rights, along with clearly defined strategies and frameworks to mitigate risks in line with the Policy on Due Diligence on Human Rights and in partnership with human rights agencies.

5

Recommendation 5. The CO should ensure organizational learning and risk management takes places at all levels, moving away from a compliance-focused approach without proper knowledge management.

UNDP should implement the recommendations of previous evaluations that remain valid and unimplemented, including those from the 2011 Assessment of Development Results that were not fully addressed. Some of risks identified, which have materialized, should be carefully mitigated, particularly:

i. The effective and timely implementation of UNDP's Quality Assurance Policy for Health Products with support from the Health Procurement Centre of Excellence, including a health procurement review mission to provide quality assurance and support to the CO to quickly solve the situation and avoid financial and operational risks; ii. The measures, frameworks and instruments put in place to ensure the impartiality and credibility of UNDP considering its high financial dependency on government resources which can create political and reputational risks, particularly in sensitive areas such as security and justice.