Independent Country Programme Evaluation: Guinea-Bissau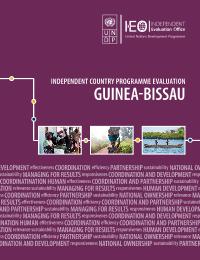 Evaluation Plan:

Evaluation Type:

ICPE/ADR

Planned End Date:

12/2019

Completion Date:

11/2019

Status:

Completed

Management Response:

Yes

Evaluation Budget(US $):

50,000
Title
Independent Country Programme Evaluation: Guinea-Bissau
Atlas Project Number:
Evaluation Plan:
2018-2021, Independent Evaluation Office
Evaluation Type:
ICPE/ADR
Status:
Completed
Completion Date:
11/2019
Planned End Date:

12/2019

Management Response:
Yes

Focus Area

:

1. Poverty
2. Governance
3. Others

Corporate Outcome and Output (UNDP Strategic Plan 2018-2021)

1. Output 1.1.1 Capacities developed across the whole of government to integrate the 2030 Agenda, the Paris Agreement and other international agreements in development plans and budgets, and to analyse progress towards the SDGs, using innovative and data-driven solutions
2. Output 1.1.2 Marginalised groups, particularly the poor, women, people with disabilities and displaced are empowered to gain universal access to basic services and financial and non-financial assets to build productive capacities and benefit from sustainable livelihoods and jobs
3. Output 1.2.1 Capacities at national and sub-national levels strengthened to promote inclusive local economic development and deliver basic services including HIV and related services
4. Output 2.2.2 Constitution-making, electoral and parliamentary processes and institutions strengthened to promote inclusion, transparency and accountability
5. Output 2.2.3 Capacities, functions and financing of rule of law and national human rights institutions and systems strengthened to expand access to justice and combat discrimination, with a focus on women and other marginalised groups

Evaluation Budget(US $):

50,000

Source of Funding:
Evaluation Expenditure(US $):

48,000

Joint Programme:
No
Joint Evaluation:

No

Evaluation Team members:

| Name | Title | Nationality |
| --- | --- | --- |
| Mar Guinot Aguado | lead Evaluator | |
| Ana Rosa Soares | Associate lead Evaluator | |
| Carl de Faria | Consultant | |
| Raul Mendes Fernandes | Consultatn | |

GEF Evaluation:

No

Key Stakeholders:
Countries:

GUINEA-BISSAU
Lessons
Findings
1.

Finding 1. UNDP has not been able to adapt its projects and strategy to the context of protracted political instability and institutional crisis in Guinea-Bissau, affecting the relevance of its programmatic offer in the country. Effective contributions to the achievement of expected outcomes were limited. UNDP approaches and investments have not been based on sound context- and conflict- analyses and risk assessments. RBA oversight has mostly focused on financial delivery instead of timely programmatic oversight to help the country office adapt its programme to the country's context.




Tag: Programme Synergy Efficiency Relevance Technical Support

2.

Finding 2. UNDP provided continuous investments in capacity building and institutional strengthening to the judiciary system to improve service delivery and the rule of law. Given the political instability and institutional fragility of the country, and a lack of coordination in the justice sector, the planned UNDP support was overambitious, particularly to anti-corruption. Sustainability is not clear for any results. Given the limited human and financial resources of UNDP, it is highly unlikely that it could to take over the work of UNIOGBIS after withdrawal.




Tag: Capacity Building Anti-corruption Rule of law Effectiveness Sustainability Technical Support

3.

Finding 3. UNDP interventions contributed to a total of 12,000 vulnerable people benefiting from free legal aid services and access to formal justice over the past nine years. The construction of district courts and centres for access to justice has allowed for justice services to be closer to citizens, but the focus has been on court buildings rather than their functioning.




Tag: Justice system Rule of law Operational Efficiency Effectiveness Technical Support

4.

Finding 4. The country office did not engage strategically in raising the awareness of local traditional justice actors on human rights, gender and alternative dispute resolution methodologies. The UNDP exit strategy for CAJ was inadequately implemented and has put nine years of investment at risk.




Tag: Human rights Justice system Rule of law Gender-Based Violence Conflict resolution Effectiveness Technical Support

5.

Finding 5. UNDP engagement in strengthening the capacities of oversight institutions and NGOs to oversee public policy, budget and government expenditure has produced very limited results. While these types of intervention are relevant to a stable context, UNDP should have refrained from investing in this area without a strategy that adequately considered the risks emerging from the country's chronic political instability.




Tag: Capacity Building Public administration reform Effectiveness South-South Cooperation

6.

Finding 6. UNDP credibility and support were fundamental to mobilise resources and effectively manage a donor basket fund for the organisation of the 2018 national elections. UNDP support to elections did not, however, adequately consider a more sustainable approach to reduce the cost of elections and improve data reliability through an integrated registration system and/ or a single citizenship identification and registration mechanism.




Tag: Operational Efficiency Strategic Positioning Resource mobilization Relevance Technical Support

7.

Finding 7. With the Global Fund, UNDP contributed to health outcomes through: enhanced monitoring of the medication supply chain; enhanced prevention, diagnostic and treatment capacity of health centres; and health sensitisation and information. Challenges remain to ensure coordination with partners and transfer capacities to national counterparts to promote behaviour change and avoid disruption of the timely availability and distribution of medication and supplies.




Tag: Health Crises Operational Efficiency Global Fund Effectiveness Technical Support

8.

Finding 8. The country office did not invest in poverty reduction, developing economic opportunities, inclusive financing and the sustainable transformation of the economy, despite their relevance to development results and the UNDAF and UNDP core mandate. The country office did not follow the wider corporate shift towards an integrated sustainable development approach, instead focusing on poverty reduction and environmental protection as two separate areas.




Tag: Inclusive economic growth Poverty Reduction Sustainability Efficiency Technical Support

9.

Finding 9. For the past ten years, UNDP has worked to strengthen the capacity of the public administration in Guinea-Bissau to deliver basic services and coordinate development aid. Results have been limited by a fragmented and over-ambitious approach, which proved inadequate to operationalise the necessary mechanisms and systems for an effective public administration and economic governance.




Tag: Capacity Building Public administration reform Programme Synergy Effectiveness Efficiency Technical Support

10.

Finding 10. UNDP supported mainstreaming of the SDGs into the national development strategy. However, strategies for SDG acceleration areas were based on a scenario which was not adequately sensitive to the fragile context and did not adequately analyse risk or contemplate possible deterioration in the country context.




Tag: Strategic Positioning Sustainability Coherence Relevance Technical Support

11.

Finding 11. UNDP investments in local governance have contributed to participatory development planning processes. This has not translated into local economic development results, given the overambitious focus on replicating multiple planning processes before implementing plans. Given the protracted political crisis, sustainability remains to be ensured with the approval of the legal framework for decentralisation and funding for implementation of the development plans.




Tag: Local Governance Operational Efficiency Effectiveness Technical Support

12.

Finding 12. The upstream work of UNDP on environmental and natural resource management was designed to respond to international commitments and improve national policy instruments and tools. However, it presented limited adaptation and consideration to the country's challenging institutional circumstances, compromising its sustainability.




Tag: Operational Efficiency Environment Policy Natural Resouce management Effectiveness Technical Support

13.

Finding 13. UNDP contributed to the establishment of two terrestrial protected areas and three biological corridors in Guinea-Bissau and the related institutional framework. However, the sustainability and effectiveness of results is affected by the limited efforts to develop alternative sustainable livelihoods to adequately protect the areas. Sustainable financing and management of an expanded national protected area system remains a concern.




Tag: Sustainability Biodiversity Protected Areas Effectiveness Technical Support

14.

Finding 14. UNDP support to climate and disaster resilience has been fragmented, with limited results. The country office did not attempt to scale up climate resilience, livelihoods and risk management initiatives to bring multiplier development effects.




Tag: Climate Change Adaptation Disaster Risk Reduction Resilience building Operational Efficiency Effectiveness Technical Support

15.

Finding 15. The corporate financial sustainability exercise that led to a reduction in the number of staff has negatively impacted human resources, leaving an inadequate country office team to effectively implement the programme and respond to the country's needs. In addition, the country office has faced important challenges in attracting and retaining talent. This has generated risks in terms of internal control and accountability at senior management level; bottlenecks and inefficiencies in the operations team; an over-burden of work in both programmes and operations; and limited synergies across thematic areas and units with projects being implemented mostly in isolation.




Tag: Operational Efficiency Human and Financial resources Sustainability Effectiveness Operational Services

16.

Finding 16. The UNDP country office has not established an effective results-based management (RBM) system across the programme portfolio. This has led to programme activities not being underpinned by theories of change and clear results frameworks, limiting timely adaptation of the programme to respond to systematically identified risks and enable the achievement of results.




Tag: Results-Based Management Efficiency Operational Services

17.

Finding 17. UNDP has shown low capacity and commitment to mainstream gender, youth and human rights issues in the programme and has not focused on transformative approaches to address the root causes of inequality. UNDP has made some steps with regard to including gender considerations in some projects, but results have been limited and remain only gender-targeted.




Tag: Youth Human rights Gender Mainstreaming Operational Efficiency Effectiveness Operational Services
Recommendations
1

Risk and conflict analysis – UNDP must ensure that its new CPD and initiatives in Guinea-Bissau are based on sound risk and conflict analysis. This will enable improved and more realistic entry points for programming, more effective and sustainable results and timely adaptation to the fragile context. It will require a better balance between upstream and downstream initiatives and between short-term responsiveness to government requests and long-term development objectives, until a more stable political environment is in place.

Applying a business-as-usual approach, with capacity building of Government and upstream work at the centre of the UNDP strategy, has not proven to be conducive for effective and sustainable results in the Guinea-Bissau context of protracted political and institutional crisis. UNDP should refrain from investing in these approaches without embedding its strategies in adequate consideration of risk and political scenarios. In addition, the country office should advocate for the deployment of a Development Peace Advisor to help UNDP reposition and undertake strong risk management to improve the relevance and effectiveness of its actions in an unstable environment.

2

Programme design – UNDP should review its approach to programming through the lens of a complex systems approach and co-evolutionary processes. This requires an adaptive management approach to build long-term capabilities, moving the focus from form to function and from imitation to effective innovation, through an iterative process of localised solutions before scale-up.

UNDP initiatives should refrain from building infrastructure without adequate consideration for its function or importing models from other countries which encourage imitation such as ambitious Government reform projects or study tours which are not adapted to the pace of progress or state capabilities in fragile settings. The country office should consider exploring pockets of effectiveness and localised solutions through an iterative process, such as in livelihood development and local economic development, before scaling up to promote incremental change.

3

Poverty reduction – UNDP should prioritise efforts for poverty reduction and employment creation through an integrated sustainable development approach to ensure that the next programme responds adequately to the most critical needs of the population in alignment with the UNDP mandate to "eradicate poverty and build resilience to crisis and shocks".

At least until there is greater political stability in the country, UNDP should invest more strategically in localised solutions for inclusive growth, employment and sustainable livelihoods to generate scalable and transformative solutions through an iterative process of learning, with adequate consideration for women and youth. The country office should better integrate the Strategic Policy Unit into programmes to help reposition and lead the work on poverty reduction and economic growth, including a shift in approach from separate environment and poverty work towards integrated sustainable development. The country office should ensure more consistent collaborative engagement to address the immediate needs of the population, taking advantage of its access to partners in the country, particularly in its work on local planning, biodiversity protection, livelihoods and resilience.

4

Programme approach and knowledge management – Country office senior management should promote a coherent and integrated programme approach and ensure that evaluation recommendations are implemented, lessons are incorporated into the programme and projects, and concrete steps are taken to ensure sustainability before completing projects and terminating assistance.

Steps taken by the country office to move away from isolated projects have been insufficient. Country office senior management should promote more integrated efforts, explore new ways of working and ensure projects clearly contribute to planned outputs and outcomes, with a clear results chain and better focus on sustainability strategies. The country office should take serious action on previous evaluation recommendations to improve its programming and strengthen understanding of results-based management, risk assessments and theories of change with clear stakeholder mapping. UNDP should systematically reaffirm and strongly encourage the Government to move from commitments to clear concrete steps to promote continued and viable efforts. This could include advocating for a functioning professional public civil service to limit the effects of instability and turnover. Attention should always be paid to first sustainability planning and ownership, based on a committed exit strategy for when concrete results are delivered.

5

Oversight, human and financial resources – RBA should help UNDP Guinea-Bissau to review its human resources and financial structures, to increase its capacity to adequately respond to the needs and challenges of the country. RBA should progressively shift its demand-driven, financial delivery-focused approach to one of continuous and systematic programmatic oversight to identify and respond to strategic guidance and support needs.

The country office should promptly increase and, in alignment with programme growth, adapt the capacity of the operations team to be more efficient, learning from the Global Fund experience. The RBA drive for high country office delivery should be balanced with country office ability to flexibly adapt its structure to respond to administrative and programmatic delays and needs, given that its funding sources cannot be much diversified due to limited donor interest in the country. Considering limited donor engagement, RBA should support the country office to develop a strong resource mobilisation strategy, complemented by appropriate RBA oversight to support the country office to acquire and retain a more permanent senior management team with adequate skills (including languages) to ensure appropriate

6

Human rights, women and youth – UNDP Guinea-Bissau should seek to systematically mainstream gender, youth and human rights into its programming. This requires designing and investing in pilots to create opportunities for women and youth to more actively and effectively participate in economic life, and identifying approaches to effectively promote behaviour change, including on masculinities and cultural norms. UNDP work on access to justice and health should, if continued, focus on increasing awareness of gender and human rights issues, aimed at behaviour change. As initially planned, specific projects should be developed with the economic empowerment of women and youth at their core, strengthening their capacities to take advantage of market opportunities with due attention to social and cultural conventions. In addition, UNDP should build the capacity of the office to mainstream youth, gender and human rights approaches in all programmatic initiatives and not rely on one gender focal point, thus ensuring that the entire office is invested in, and capable of, promoting transformational change.